Djinn Oshaninus And Harklaw Added To My Card Collection
Am so happy right now after i was able to gather some dec and add some monster card have been eyeing to my card collection, this is one of the things we all hope to do as a splinterlander because we will be able to increase our collection power (CP) and also have stronger card to battle. Achieving this might be hard at times because cards price keep increasing with time but grinding and accumulating more dec can actually help out.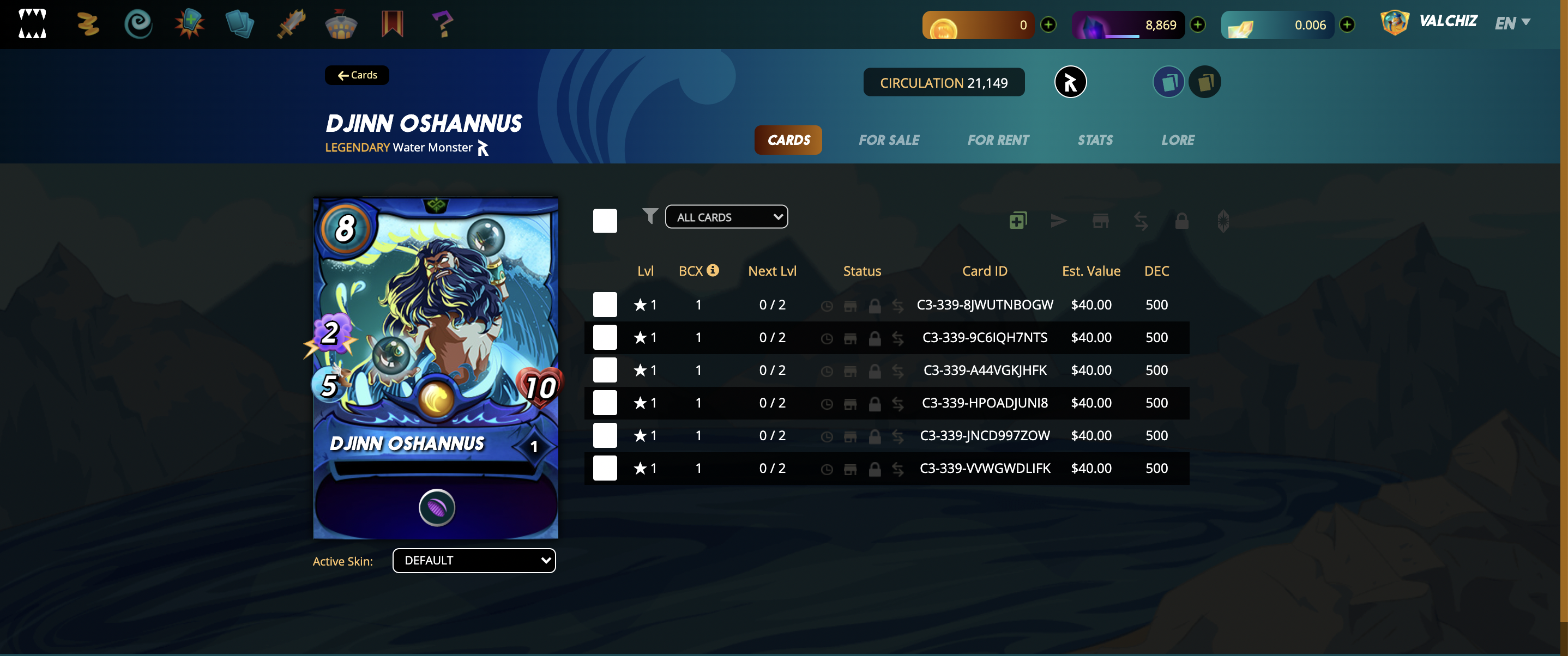 Djinn Oshaninus is one of the top card I always wish to have in my collection and finally, I have levelled it up to lvl 3 which have 3 amazing abilities. if you have been making use of this particular card, you will know how strong it is, a magic card with such amount of health and speed, most times i have to choose it over Prismatic Energy because they both have same mana cap(8).
This card possess the void ability which always reduce the damage received from enemy magic cards, Phase ability which is new and can make enemy magic cards miss this particular monster (both ability are against magic attack) and lastly the Forcefield ability which make this cards to only receive one damage form other enemy attacks with 5+ power. This particular ability is really new to me and yet to really see it implement or maybe i rarely notice it. At times i wish the ability work against 5 power below, it will be super amazing.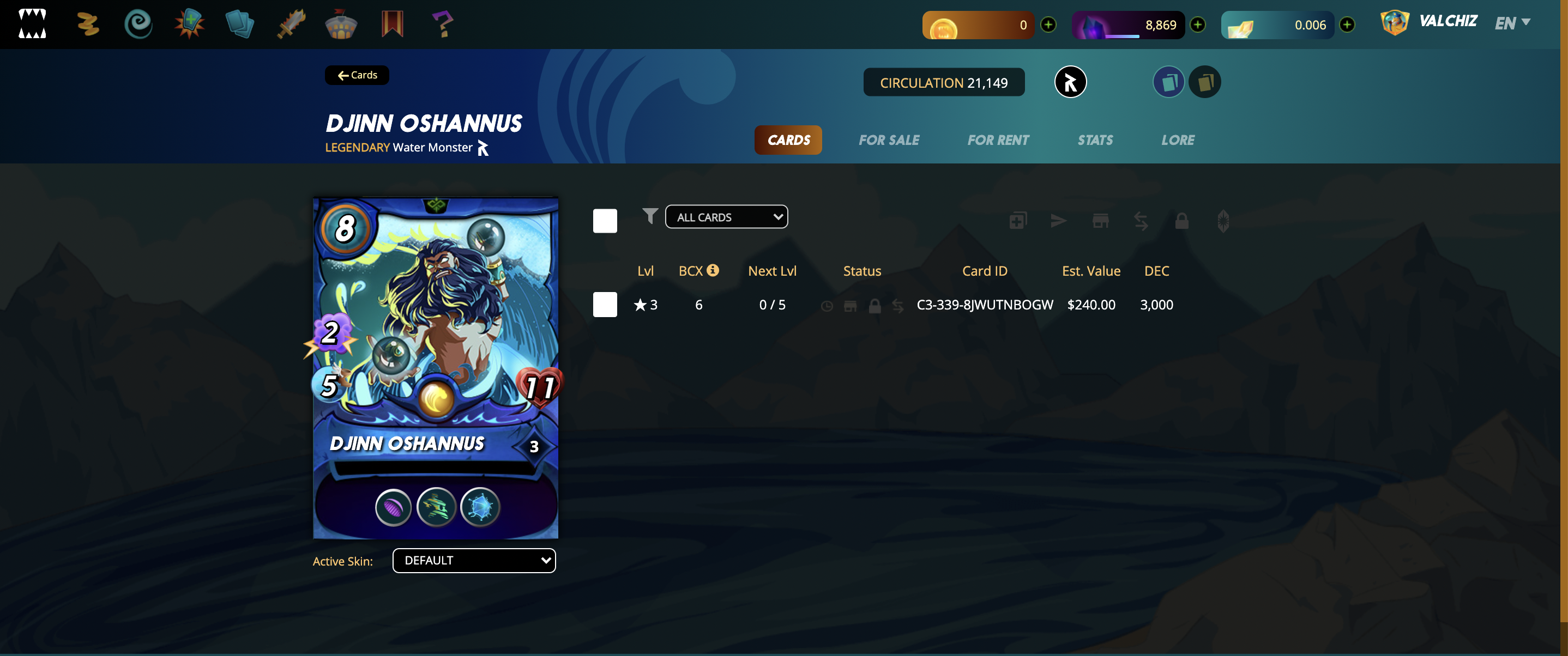 This legendary card currently, is still very cheap to purchase now, wish i can just max it up but since my water summoner isnt max yet, i will just let it be in lvl 3 for now and concentrate on other cards to purchase and with time, i will max it up before the price shoot up.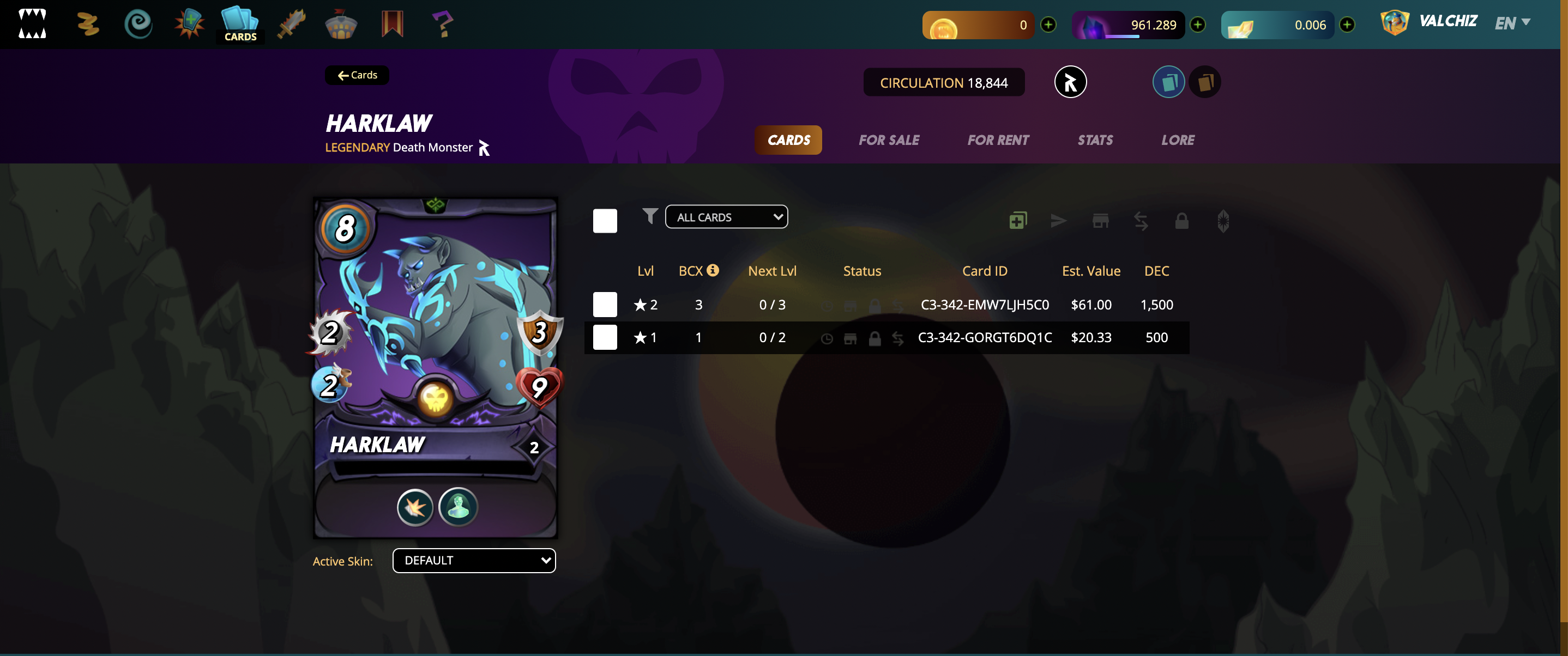 I keep wondering why am not really serious with my death monster cards collection, maybe because i rarely use them to battle, sighting Harklaw legendary card, omo i couldnt take my eyes of it, apart from the price which is currently cheap, you cant neglect the ability it possess, the Shield which reduce melee and ranged attack, Immunity, who doesnt want to have immunity all over his/her monster cards so it can be immune to negative effects. Still waiting for a summoner to have such ability so it can distribute it all over. Mission to max this card ongoing. Are you trying your best to max your card?
Join the splinterland train through this link. Dont miss out
---
---