3 More Days To Go | What Next After The Drop| My Terrible Splinterland Mistake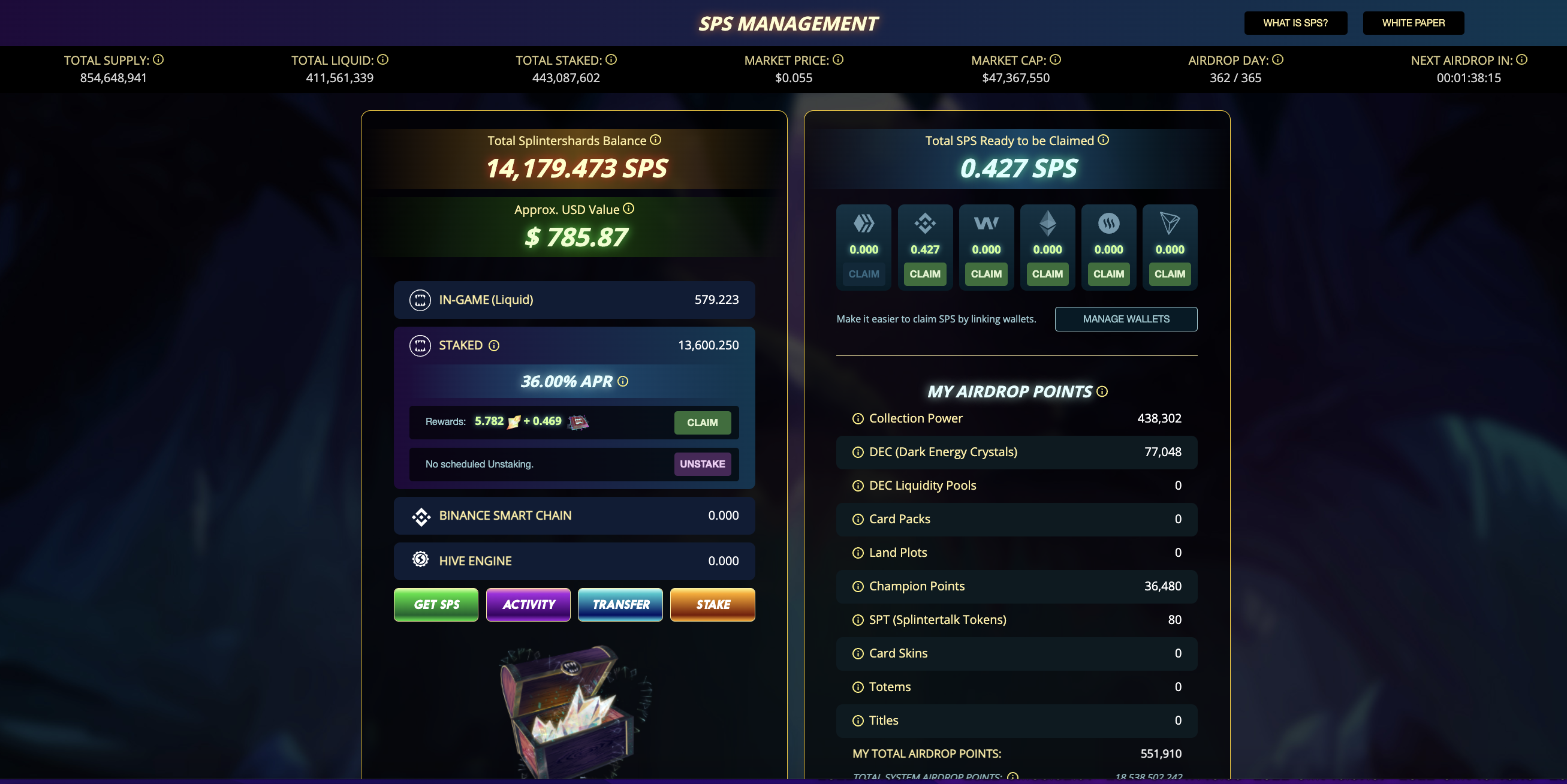 It all felt like yesterday when the team made a big announcement about creating sps token on splinterlands and airdropping to all users for the next 365 days. I was really happy based on many reason, firstly it is a free money ( after investing and building up my deck using my blog earnings), I really love staking and this is another staking opportunity and to top it all, I know there will be more goodies attached to the sps token and I wasn't surprised when vouchers came in, sps having some usecase and also more ways to earn sps tokens (Tournament and the rest) and yet we still believe some unknown goodies will still come. The airdrop is coming to an end now, just 3 days remaining and lot of questions have been going around and the most important one is What Next?
Well we dont know and we cant really say but one thing for sure is, The journey will really be a good one (I hope). Many have been thinking at this current price, there is high probability many will unstake and dump the price which is possible because some will want to exit and take profit, some will use part of it level up there spl cards which is somehow good but here I am waiting for the price to boom while I hold and keep enjoying the apy attached to the stake and wait for the next big announcement. Let Take A look at the price over the years.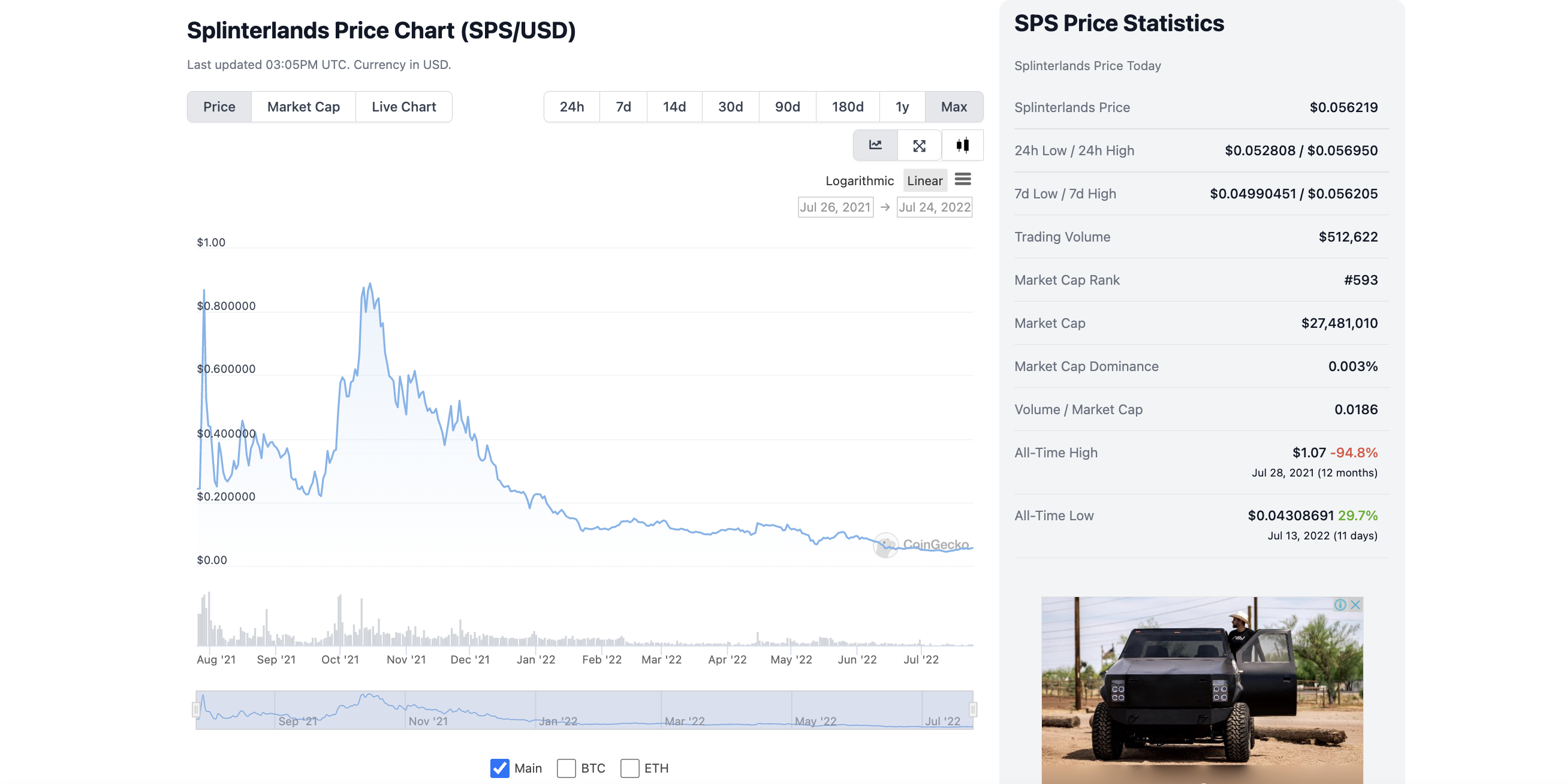 We are still in the bear market even down we have seeing some green for some days now but still no good news yet, we are still hoping for more. check out the sps price from way back we have experience the all time low which was 0.04$ and also the all time high which was around 1.07$ on July 28 2021, I saw it pump before dropping back, and we hope it we reach a new ATH another day but before then, I need to reach some milestone by getting more of the token during this dip.
My First Ever Mistake On Splinterland
This happened 3 days ago and it really hurt because there are some mistake you will do and there might not be a solution to it. After the ECR announcement was made where your ecr will reduce by 5% per battle when ever it fall below 50% which wasnt good to be honest, I had to stop playing and wait for mine to recharge even thou all the recent update have been draining the ecr, I decided to just rent out my cards instead of leaving them idle at least they will generate some dec as return to me. While trying to rent them out, I didnt remember to lock them first before renting them out until I made a big mistake.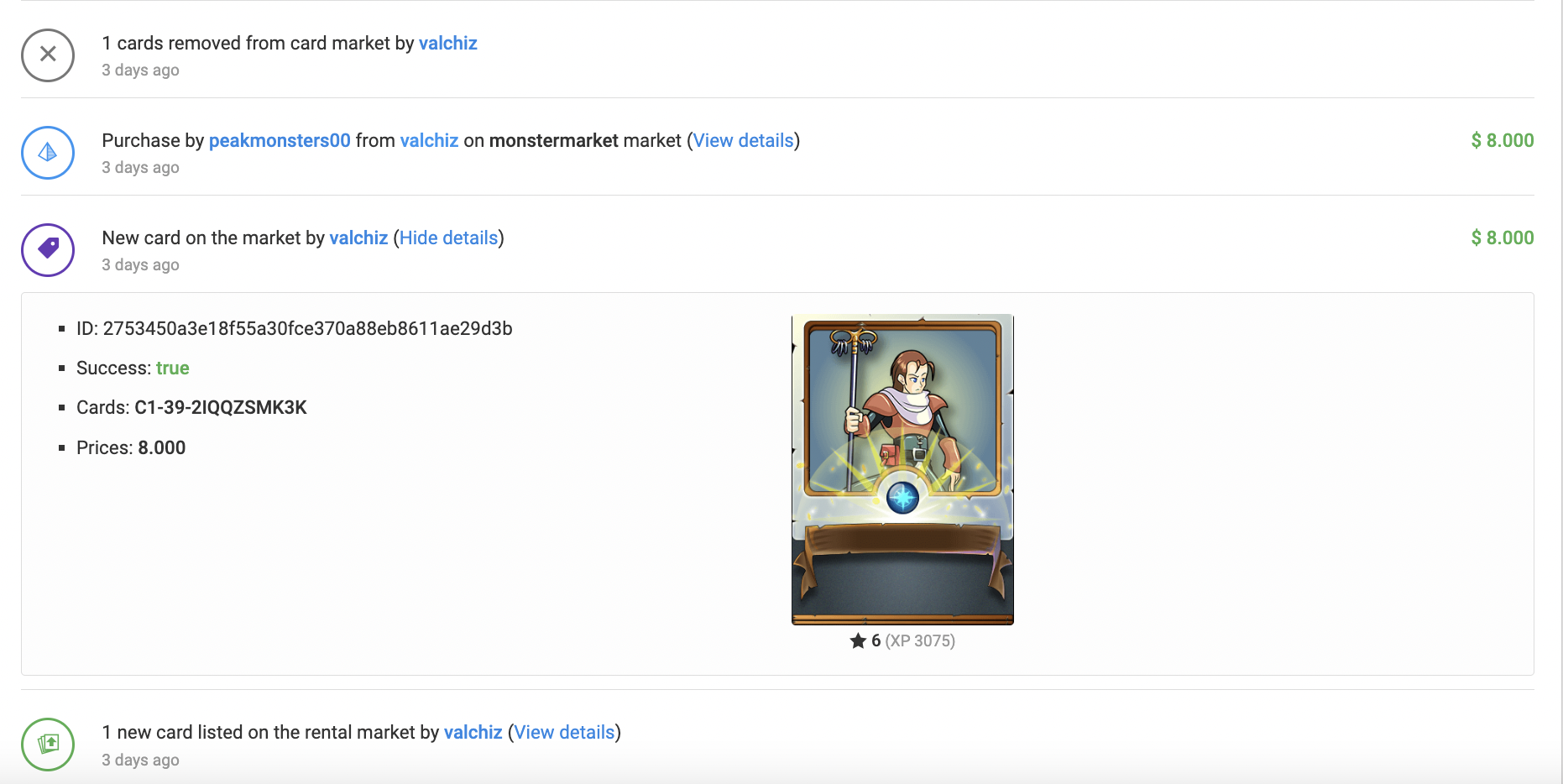 I thought I was on the renting section, not knowing I was selling, I wanted to rent my level 6 Peacebringer card for 8 dec/day and mistakenly list it at 8$, I noticed immediately I did the wrong thing and try to unlist it immediately, it all happened within a mins and i didnt see it again, It was sold off to @peakmonsters00 Something that worth 123$, I was pained because it was a loss and that is one of my favorite ranger card anytime i use life element.
Had to Lock all cards immediately before renting them out so I dont make such mistake again and probably get the card later when I have spare fund to do so. We keep grinding as usual and keep enjoying the goodies Splinterlands offer us.


Posted Using LeoFinance Beta
---
---