I am one of the Foremost Hive Users who counted 4-digit Dollars with LEO Earnings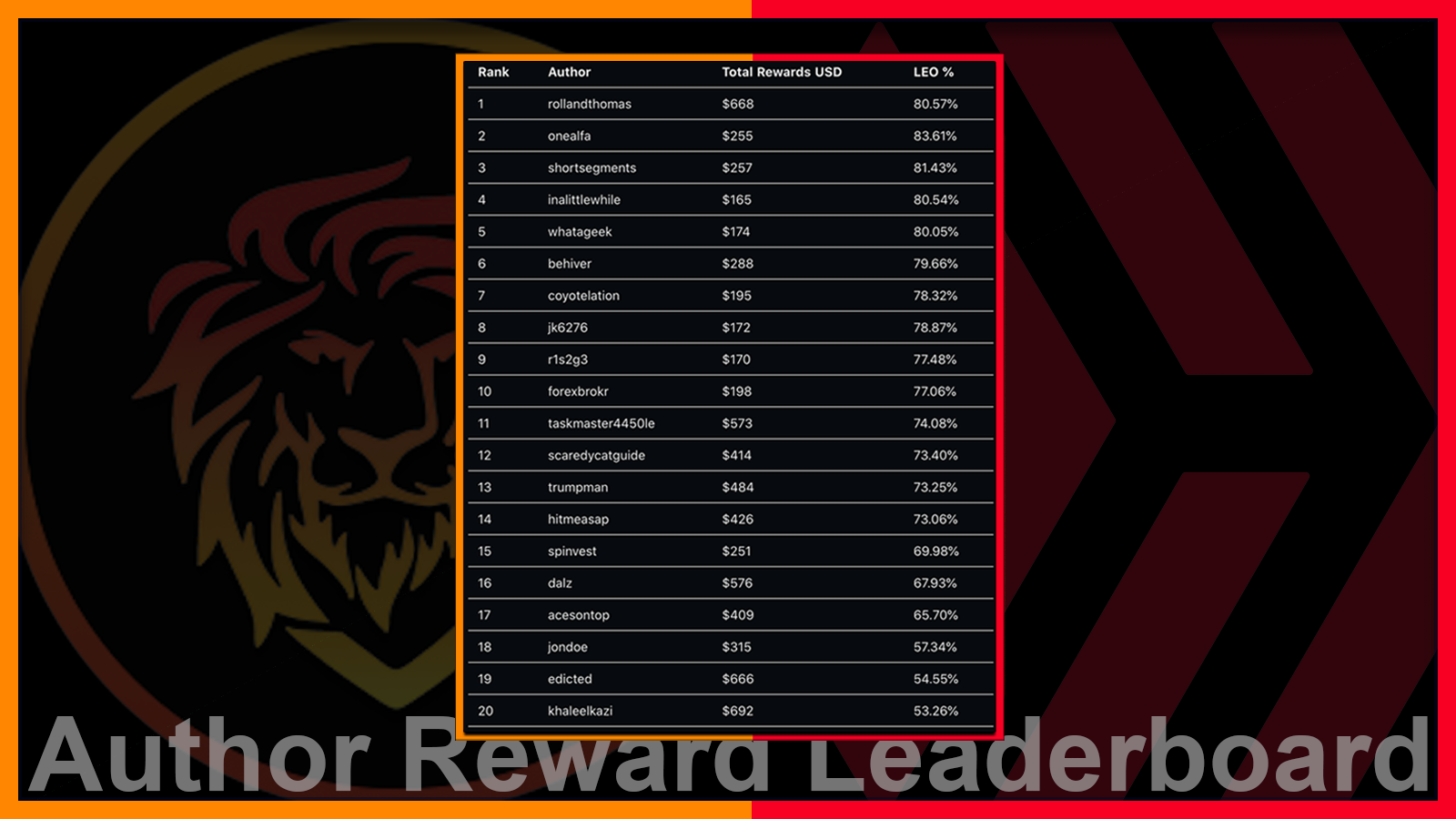 As I read yesterday's LeoFinance update on author reward leaderboard, I noticed that this is probably the first time my name missed since the monthly update of this stat started. I was motivated to roundup my rest days after the tedius project I undertook a week ago. I just needed the rest after many runarounds and LEO earnings was of great support (that's a story for another day).
Looking back at how the flip in rewards between LEO and HIVE stated in this post, I agree with @khaleelkazi that this trend has come to stay and the ratio would further grow to the highs of 95% and more in the coming months when LEO finally finds it way into exchanges like Binance, Bittrex etc.
I pride to identify with the truth that LEO pays more than HIVE as per authorship rewards when it comes to cryptocurrency and finance posts. Anything short of this would be wrong as LEO is dedicated to the core of finance while HIVE supports general content genres. As a mother token, HIVE still gains the honour of birthing second layer tokens that gives so much value to humanity and continuously brings more new users to the Hive blockchain.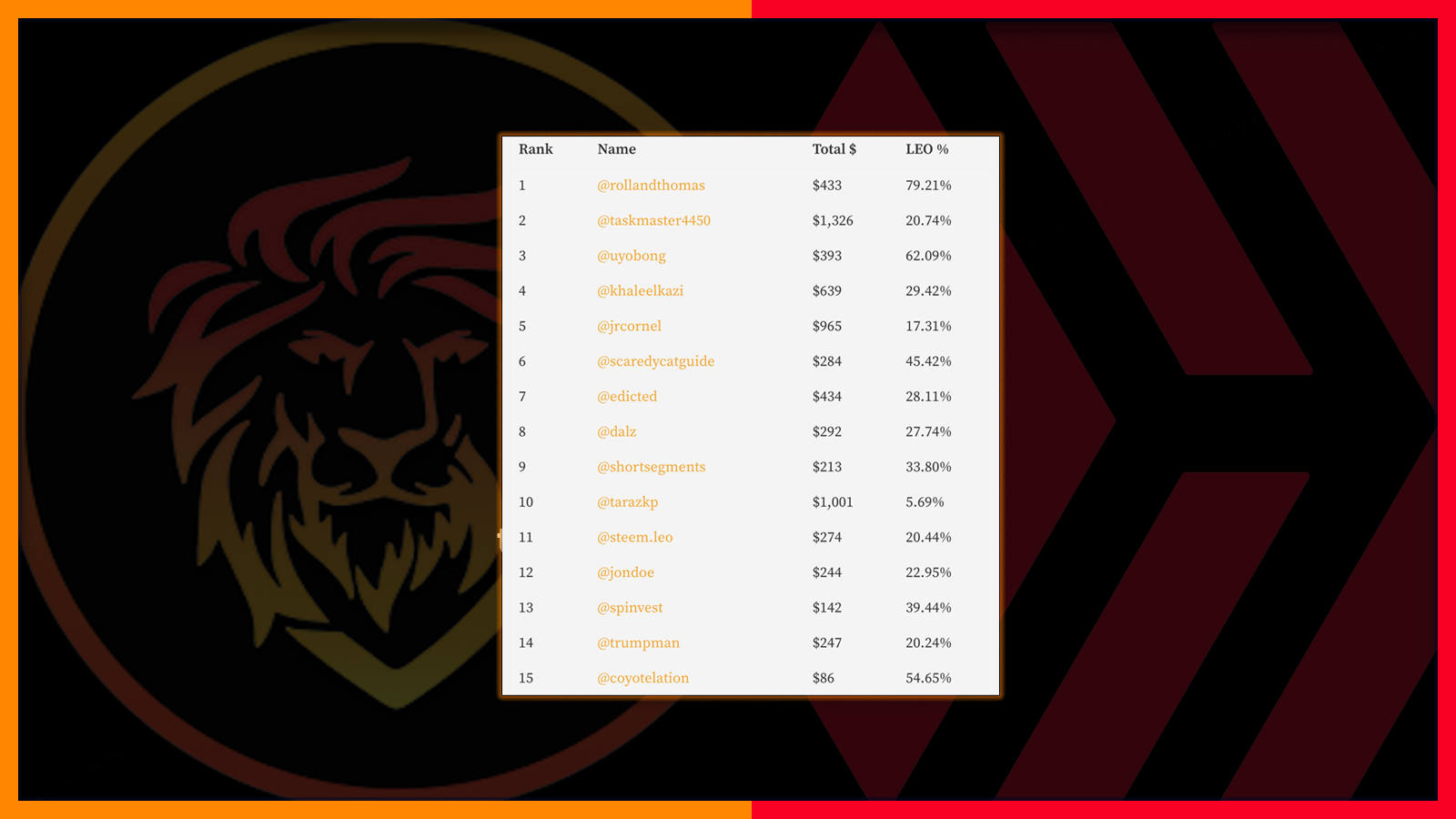 Looking above at the first chart for the month of JUNE 2020 where I ranked top 3rd LEO earner ($244) with 62.09% contribution of LEO to my total earnings over the month, the value kept increasing in the following months. This actually happened when the price of LEO was $0.047, that is 5.3 times of what it is today.
In face, I am one of the Foremost Hive Users who counted 4-digit Dollars with LEO Earnings. Interestingly, this was the first time my account would hold a 4-digit worth of dollar at a single time and the balance had since stayed till date as it approaches a 5-digit value.
It may sound quite insignificant to some, but it means a lot to me as a person as this has helped in numerous way financially in a year like 2020 with is uniqueness as far as economy was concerned. I sincerly thank Khal, the team of developers and awesome curators who had been my backbone while the growth lasted.
I remember how discouraging it was in the first two years on Hive when you'll put in several hours of work to put up a writing and it gets lost in the crowd of many Hive posts and ends up with 1 cent or no reward. The advent of second layer tokens changed the narrative as value started coming for every Hive user through the second layer token. LEO's growth crowned it all.
Authors who post consistently and build their brand on the Hive blockchain through https://leofinance.io are the most rewarded users on the entire chain. Not only do they earn their normal HIVE rewards, they're actually earning LEO rewards that are - in many cases - more than 3x as valuable as the HIVE they're getting.
Today, we can see the improved activities in the leofinance.io community and this can only increase in the coming days. The nine month academic strike in my country has been called up and school would resume soon after the Christmas and New year break. This would mark another surge for a new wave o growth in the LeoFinance as my promotional project would have a smooth course.
Last Month, the top 25 authors earned 30,842 LEO and 30,768 HIVE in author rewards only.
It's simply amazing to see about $7,700 was shared among 25 authors for sharing their thoughts on finance, cryptocurrency and economics in the 30 days of November. We actually see a shift in wealth creating options from hard word=k to socializing. Soon, we;ll have writers make it into the list of the world's billionaires and this would be made possible with cryptocurrency.
Congratulations to all passionate authors on LeoFinance who made the November's update an interesting one for LEO and the LeoFinance community. You simply deserved it for your dedication and hardwork. O'll be excited to make it to the list by the end of January 2021 and I'll never stop sharing my testimonials.
All of these testimonials about LEO was not possible without a cause. There has been a purposeful build of the community by the lead in terms of development and other members responding by improving engagement. This stops at nothing but brings more investors to the project as we see on daily basis.
The future can only get better!

LeoFinance is a blockchain-based social media community for Crypto & Finance content creators. Our tokenized app allows users and creators to engage and share content on the blockchain while earning cryptocurrency rewards.
Support LeoInfra's Onboarding Efforts by Delegating HP to @leo.voter (Currently at 2.2M HP). This is used to Claim Accounts and Delegate RCs to Newly Onboarded Users
Posted Using LeoFinance Beta
---
---