Is the 50% Tax Operational on Sportstalksocial.com? The Implications

It's exciting to see the huge support that the proposal for inclusion of 50% tax on #sportstalk posts not created on "https://www.sportstalksocial.com/". With over 51 votes in support including those from 4 out of the top 10 SPORTS stakeholders, I'm hopeful that the proposal would have successfully passed the 51% needed thresh-hold.
The proposal had general some decent discussions and debate over the last few days. One of which was very interesting and attention-capturing was from @botefarm- a dedicated member of the Sports Talk Social (STS) community. Here is the link to his post.
I also shared my perspective of the proposal which would also make a good read. Incidentally, all these posts has earned awesome engagement in the last few days and hours. Such engagement is what we are desiring from a community like STS and its's been an amazing ride.
The product of such beautiful engagement that has ensued from the community has been the improved ranking of https://www.sportstalksocial.com/ on alexa. STS websites moved by over 190k positions in the ranking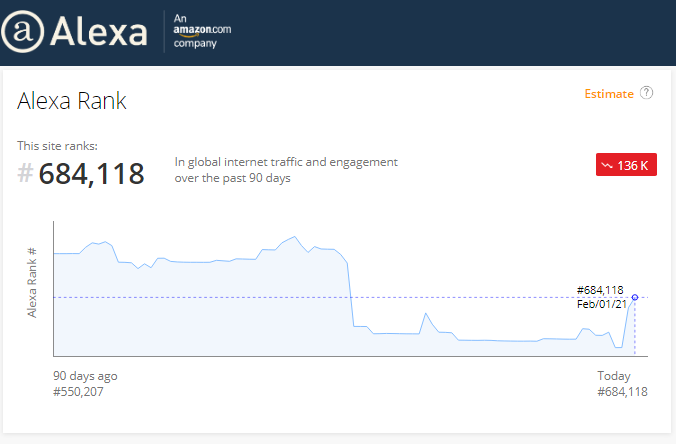 Such is how a community like STS should be. I'm hopeful that with the 50% tax on non-native sports posts on STS, many sports lovers would tend to start using the sportstalksocial.com UI i n order not to lose a whooping 50% of their rewards especially in a time that SPORTS token is beginning to see an upward price movement.
We are approaching a thrive mode for the community which once served as the most active tribe on Hive. That glory can be regained as we put our hands on deck to rebuild this community. Certainly, it is possible to see SPORTS back to $0.0001 in the next few weeks and that can only drive more users to this end.
Seeing SPORTS rallying supports to stay above 0.0005 HIVE in price is something worth being a part of. Two days ago, I helped a friend invest $80 in SPORTS and today, his worth of investment has crossed the $100 mark. That can only be an invitation for more activity and more investment.
We are in the beginning of things and in the near future, everything will make more sense Hive is getting noticed in the crypto space. It's important for all users that have stayed here through the fall times of SPORTS to take advantage and fill their bags as much as possible as the space shutter is ready to take SPORTS to the moon. My grand goal is to hold as much as 200 million SPORTS in stake and I'm already getting scared how possible that would be before the price jumps ahead.
In case you're too busy to take advantage of your SPORTS stake, join my curation trail to maximize your profits. SPORTS is heading back to $0.001 soonest.
It can only get better here.
---
---