Binance Smart Chain --> Hive Smart chain Version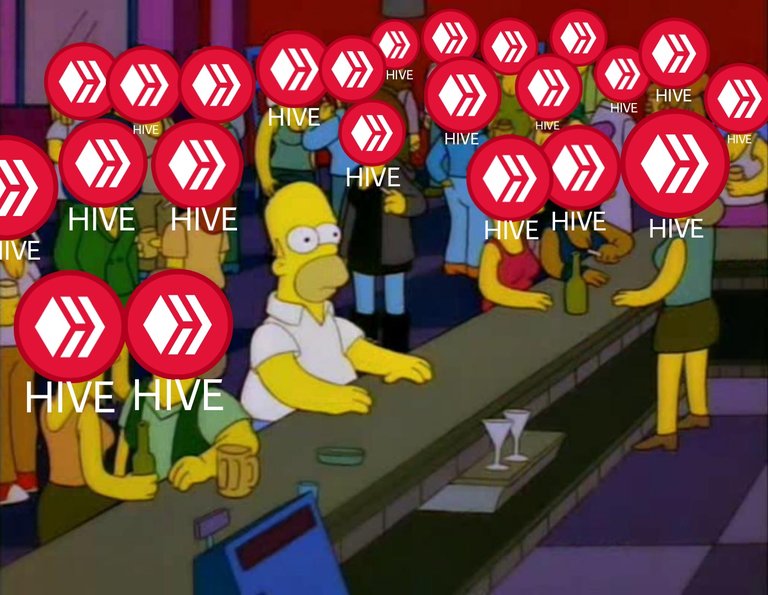 Today on Twitter @therealwolf brings something cool up. A sidechain is similar to the Binance smart chain, which uses Hive as the Main token.
It would bring Smart contracts to Hive, allow ETH apps to switch easily from Binance / Eth to hive or we can simply fork them and have our own Hive version.
Hive-uniswap
Hive pancake sushi burger and so on.
In short real defi with lower fees !!!!!!!!AND FASTER!!!!!!!
If you use uni swap sometimes transactions fail.
If I think about a Hive version I get a really long green candle...
Besides that i also think its a fact people that work on ETH don't want to to change their style to build. If they can use the same mechanics they use on ETH with all the edges Hive brings in is awesome and would get them think about come to us.
therealwolf
BNB = HIVE = current chain
BSC = HSC = new chain with new witnesses but uses HIVE as token for fees, etc.
It is super Smart. The Hive token will become more useful and valuable. We would have a sidechain without some crazy new token ( and I want Hive to be the master token).
It would mean,
PowerGames8
so current chain = wallet chain with balance/ keychain and so on and HSC is executing smart contract chain. COOOOOOL, i want it.
Lets do it.
It would be in my opinion the best thing we can have on Hive. Every Token Holder would benefit. We can easily connect to any other chains. Have a proven concept binance shows us it works perfect + a way to burn Hive in a smart and useful way and many many more things.
We would also have some Version of ERC20 Tokens on Hive.
I'm not a technical expert, I think if binance can do it, why we shouldn't. But because of that, I ping you the top 20 Witnesses to enlight me :)
@blocktrades @gtg @roelandp @good-karma @ausbitbank @themarkymark @steempress @steempeak @anyx @pharesim @arcange @yabapmatt @therealwolf @fbslo @nathanmars @someguy123 @stoodkev @aggroed @followbtcnews @abit @cervantes @ocd-witness @emrebeyler @drakos @quochuy
A short technical pro/con would be awesome.
---
Sidenote: I think if we add 1000 Different Smart contract tokens, Hive becomes a Shitchain + Shittoken. To complex to use and to invest in. Hive needs to be the Key Currency to grow like ETH or BTC.
Hive Mastertoken for app Tokens
That is also the reason for Currency Unions in real world, also proven concept.
---
Because not Everyone is on Twitter on Hive, here the conversation (I'm sure I miss some Tweets, but there are so many):
From @therealwolf https://twitter.com/therealwolf42/status/1362696351180599299
Rant 1/
I KNEW #BSC using #BNB was a BRILLIANT move. That's why I made the suggestion (before BNB bull run) that #Hive should go the same way and fork (cosmos/bsc) and use HIVE as currency on HSC instead of reinventing the wheel with its own SC solution. But did someone listen?
2/
Look, I care for Hive, which is probably not the smartest thing.
First rule in crypto: don't invest with emotions.
It's not that I'm attached to the coin though; it's the community that I can't just leave behind. And I can be quite stubborn in that sense.
3/
Why am I writing this? Because I'm tired of seeing #Hive getting left behind and 2021/2022 WILL be crucial.
We've a strong decentralized community but we're slow AF when it comes to decision makings. Centralisation is still king in this area.
4/Now, I can't tell you what the next steps for #Hive are.
My personal way is that I'm still working on my project which had some unforeseen difficulties that I'm solving, just takes more time.
But for the rest: ...
5/ We're so many people on #Hive and we've got the DHF to bootstrap things, but instead of building and funding "mediocre" products/tech from scratch, let's finally do something smart and leverage the hundreds of talented devs across crypto.
6/@binance
showed that using a single currency across multiple chains is a genius move.
We've already got a fairly distributed currency, we're just missing some tech and I don't think we should be developing that only ourselves, which WILL be a time sink; time we don't have.
7/
Instead, I believe "forking" Cosmos/BSC to create a via "Hive Smart Chain" is the way.
This would also make Hive compatible with existing dapps within ETH/BSC ecosystem due to EthVirtualMachine support.
Another genius move by binance, but I'm repeating myself.
8/
As I'm writing this, I'm fairly sure that I'm not the only one who's got this idea. So, once again, time is not on our side.
Will #Hive, after years of mismanagement, finally be one of the leading innovators? We'll see, but I'm rooting for it and will support any effort.
9/PS: I don't hold any BNB. Don't ask me why. I could slap myself for that.
10/PS2: I bought (and sold) BNB very early. In 2017, there was a video on Youtube from Binance, where the whole company got introduced. I thought that was very transparent so I bought some BNB (below a $) but got spooked with the "China Crypto Ban" and sold it. Noob mistakes
I think its also very interesting and should be also on Hive:
PowerGames8
make a proposal for it. I love that idea.
I think proposals and market the idea in a fanatic way is the only way to get the ears and eyes on hive :)
How much work would it be?
Now to the conversation that follows.
therealwolf42
I might, but I don't have the technical knowledge to setup cosmos/bsc chain; nor do I have smart contracts dev exp. So I think the first step would be to get consensus whether that's a path Hive should go on and then create a team around it.
Dirtygringo1234
Well, that's something worth proposing to blocktrades. Would it affect Hives sovereignty as the main chain?
PowerGames8
I cant answer that, but if more i think about it, i more like the idea.
Hive main token, has a better distribution as ETH/BNB. So huge advantage get the tech to hive.
The next hive token would become more valueable.
One think is i think it will be a shit ton of work.
therealwolf42
There would be no "Next Hive Tokens". Again, not completely sure how they do it on a technical level (prob. with some cross-chain magic), but there's only BNB for both chains. Not Next BNB; so also no Next Hive.
Dirtygringo1234
"Because BSC is EVM-compatible, it launched with support for the rich universe of Ethereum tools and DApps. In theory, this makes it easy for developers to port their projects over from Ethereum."Based on this, I think #Hive would act as a sidechain.
PowerGames8
But we can fork BSC to hive, but they cant it do the other way. point for us :D
As long its good for hive i like it.
Dirtygringo1234 Oh, you were referring to copying the source-code, add some adjustments and run it on #Hive? If so, that's completely different from what I understood.
therealwolf
BNB = HIVE = current chain
BSC = HSC = new chain with new witnesses but uses HIVE as token for fees, etc.
Dirtygringo1234
Oh i get it.
Nice.
Should be our top priority.
PowerGames8
so current chain = wallet chain with balance/ keychain and so on and HSC is executing smart contract chain. COOOOOOL, i want it.
Lets do it.
therealwolf
The path is already laid out. Now it's on those who have the skills/experience to get Hive on the right track.
---
therealwolf42
It would give HIVE so much value being able to use it for Smart Contracts (fees would be also paid in HIVE) and as you correctly pointed out: the distribution of HIVE is really good.
therealwolf42
No. I'm not 100% sure how it works on a technical level, but it would work similarly like the images below. (right is a quick mockup) src: https://docs.binance.org
therealwolf42 And yes, I think blocktrades & team would be a very good fit to implemented smth like that; they've got the exp.
therealwolf42
Clarification: HSC would give HIVE Smart Contracts, which we need (HiveEngine is a good proof).
DczCat
#Hive definitely needs this open SC chain where developers can deploy their own code on
*dapp developers
---
PowerGames8
1/How much work would it be? I think the same 1000 sidechains with own tokens makes Hive useless. It become to complex and shit. One master Token for all Main chain uses and sidechain tokens for something else.
A fork should doable and copy good ideas always NICE.
PowerGames8
2/ Can it be used to add light wallets too? Becasue with this it should be easy possible to add number wallets too. With this we would have light wallets + Smart contracts and all benefits from our super fast chain Hive. Remove HDB. Take loan system to HIve token = BEST TOKEN
PowerGames8
/3 if you think we can do it with the work and skills. I would help to lobby it. But im not that technical to see what problems it can bring in terms of work/ time / scalability/ and so on.
marcabisaleh
What was the argument against that? Hard to see one
PowerGames8
maybe technical, i dont see one too.
---
On Twitter it looks the same, it's hard to follow the full conversation. But I think it's worth having this content also on Hive. Because fuck WEB2.0 :)
In retrospect, it was inevitable.
Posted Using LeoFinance Beta
---
---