The Attractions, Opportunities, And Prospects Of The Most Populous Country In Africa.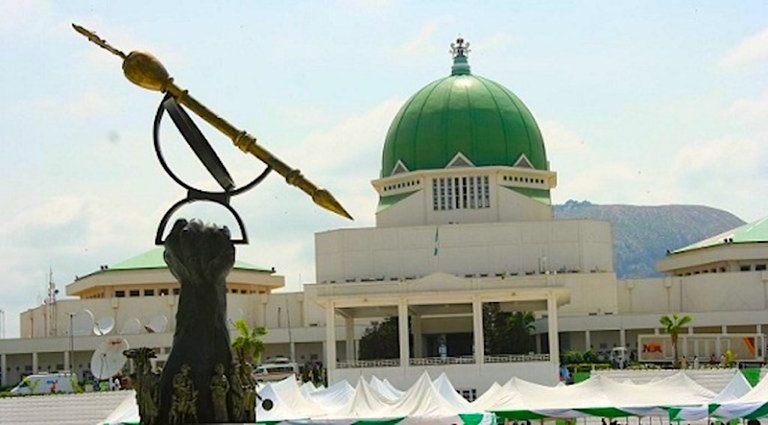 The Nigerian National Aseembly, Abuja
What are some of the things you are proud of about your country?
Nigeria, located in the western part of Africa, is the most populous country on the continent. The country is renowned for its rich cultural heritage, abundant natural resources, amazing geographical features, and clement tropical weather. As a Nigerian, I am proud of my country, and I would like to share some reasons why.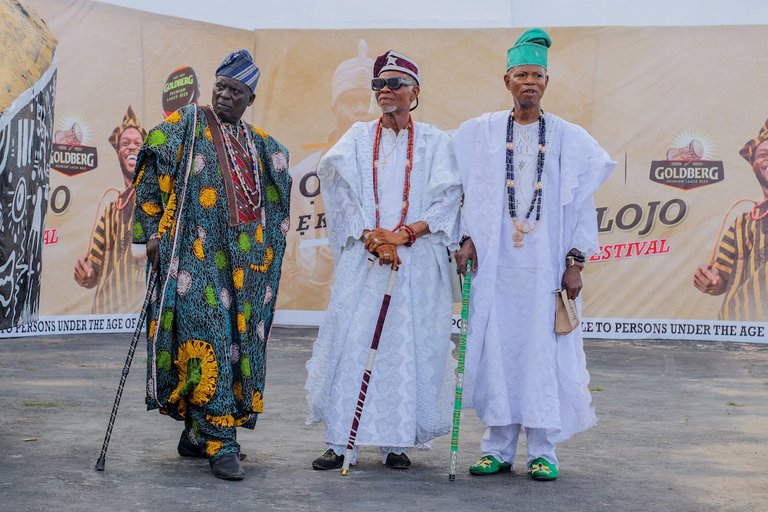 People of the Yoruba ethnic group
Firstly, Nigeria provides me with a unique sense of identity. Being a Nigerian makes it easy for individuals from other parts of the world to recognise my origin. Nigeria is also home to over 300 ethnic groups, each with its own rich cultural heritage. These ethnic groups have coexisted for many years and have contributed immensely to the development of the country. Moreover, the people of these ethnic groups uphold strong moral values and principles, which they use to engage with different people in an honest manner.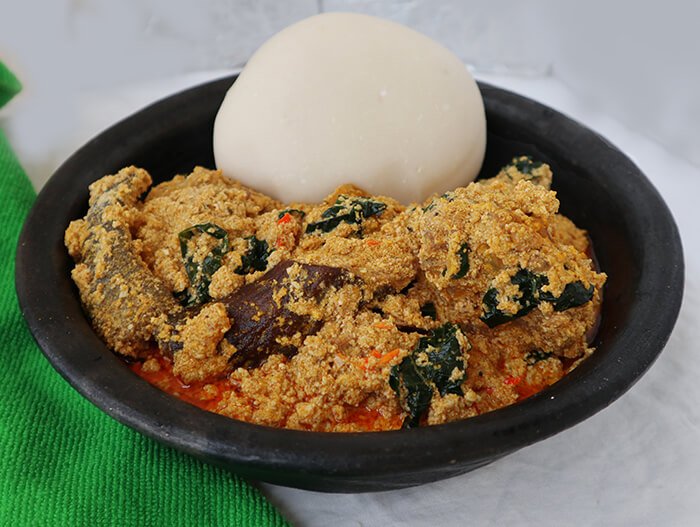 Nigerian dish, Pounded yam and egusi soup
Secondly, Nigeria is known for its wide variety of foods and exotic dishes. Each region of the country has its own unique dishes that are both palatable and wholesome. Some of the popular foods eaten in Nigeria include Amala and Ewedu, Eba and Efe riro, Ewa Agoyin and dodo, Pounded yam and Egusi soup, Fufu and Ogbono soup, Tuwo shinkafa, Masa and Fura De Nono. These dishes are enjoyed by both indigenous people and foreigners, and they energise the body and satiate the appetite.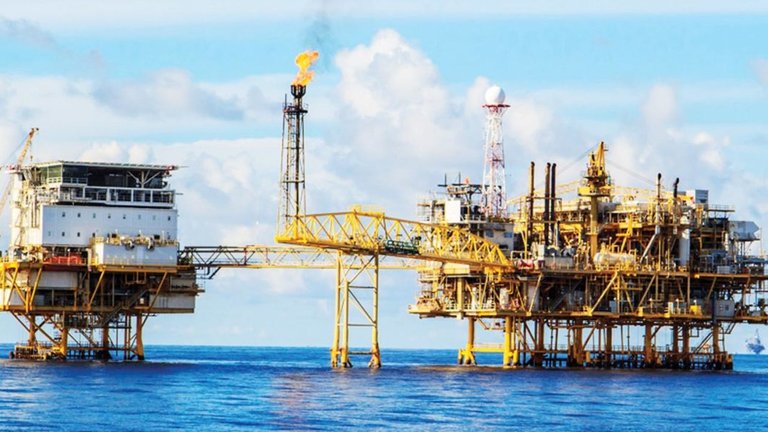 An oil rig
Thirdly, Nigeria is one of the wealthiest countries in Africa, with large deposits of natural and mineral resources. The country is the largest producer of crude oil in Africa and a major exporter of agricultural commodities like cocoa, sesame, oil palm, and cashew nuts. The sale of these resources to its trade partners has generated high revenue for the country and made it a big player in international trade and business. Nigeria's local financial and commercial sector is also vibrant and strong, and the economy is reputed to be one of the largest in Africa.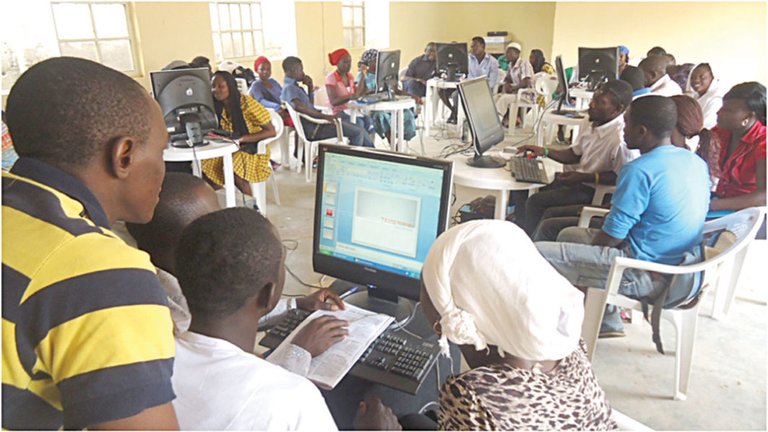 A skill acquisition programme in IT for youths
Fourthly, Nigerians are enthusiastic about human capital development and have made significant investments in this area. Private organisations and individuals like the Tony Elumelu Foundation and Aliko Dangote have made significant investments in equipping beneficiaries with valuable skills that they need to employ in their respective vocations. Consequently, many Nigerians have achieved a lot of success in entrepreneurship, business, academics, health, sports, entertainment, science and technology.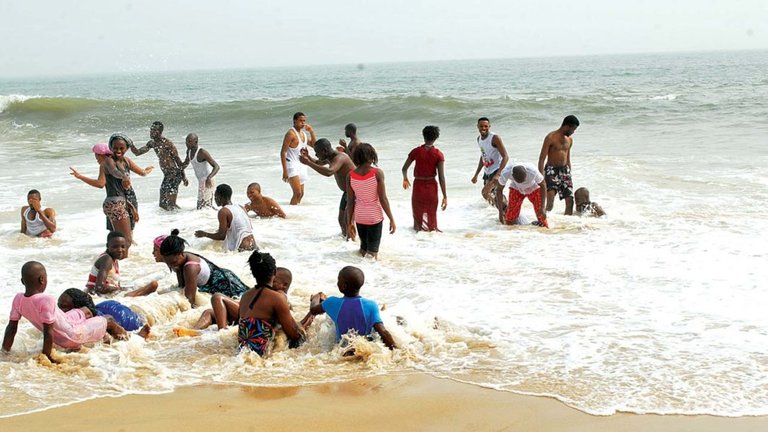 Fun-seekers at a beach
Lastly, Nigeria is blessed with numerous beautiful places that have fascinating geographical features and serve as tourist destinations. From the beautiful beaches that lie along the coast of Lagos State to the undulating hills, mountain ranges, and tropical rain forests in Cross River State, there are numerous amazing places to visit and explore in the country to appreciate nature and have fun.
Do you think your country has all it takes to help you develop as a person?
Despite the numerous challenges faced by Nigeria, including the lack of critical infrastructure and amenities that hinder Nigerians from maximising their potentials and excelling, I believe that the prospects of the country are great. I believe that Nigeria can provide a conducive environment to support my development, especially when the right set of leaders take charge of government.
If you could leave to another country, would you? If yes or no, explain why?
If an opportunity to migrate to another country is presented to me, I will take advantage of it. This decision is based on my passion for travelling, exploration, and broadening of my horizon. I see such an opportunity as a temporary quest and a way of gaining more perspective of the world. Nevertheless, as the popular saying goes, "There is no place like home," and I will definitely return to my motherland.
---
Thanks for reading.
Have a splendid day folks.
---
all image source added in photo caption
---
You can join the neoxian city prompt here
Posted using Neoxian City
---
---