Typeearn Updates: Fastest finger, Daily dose, Discord roles for every milestone, and other Updates.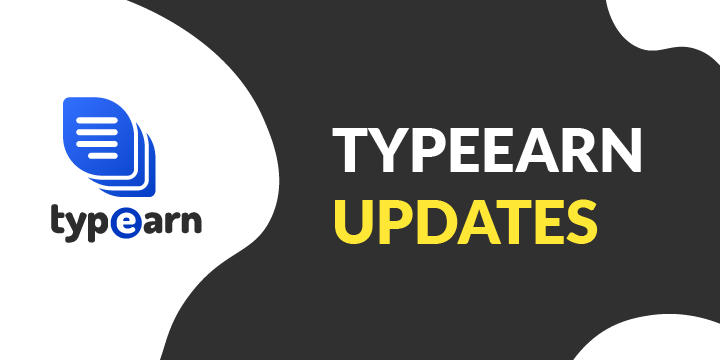 Hello TypeEarners!
We bring to you updates and news on the Typeearn platform.
Fastest finger contest
We made an announcement a few weeks ago that we will start the Fastest finger contest on our discord server. We gave a target of 150 users, and as we hit the spot, we are very happy to go live with the contest.
For new users that haven't heard about this contest, the Fastest finger is a name given to a contest on our discord. Everyone can participate. You simply need to do the same thing you are doing on our front-end, typeearn.com. An image that contains random texts will be uploaded on a channel, and everyone will start typing immediately after the image has been uploaded. The fastest person that finishes typing the words and push to the channel will be the fastest typer.
Benefit for the fastest typer.
This is organized for fun and engagement. However, there will be a nice tip for the fastest typer. The winner of every section will receive 3 Steem and 10 TPC. The reward may change later, but it is more likely to increase.
Rules/Guides
Ensure your texts are correct before pushing the enter key.
No editing should be made after submitting the texts.
Again, ensure your texts are 100% accurate before you push the enter button.
Days for the contests
Mondays, Wednesdays, and Saturdays. All through 5 PM UTC.
Channel Name
#fastest-finger on our discord server.
Discord roles for every milestone
We came up with these roles for everyone to display their progress and be pushed to do better. One of the purposes of Typeearn is for people to improve their typing skills, and we are always keen to create drives that would help achieve this goal. We created a channel #milestone in the discord server where every user can drop the screenshot of their best typing speed achieved. Below is how the roles will appear on discord.
Beginners 10-39 WPM
Professional 40-59 WPM
Expert 60-79 WPM
Master 80-99 WPM
Guru 100-129 WPM
Sensei 130 Above
For example, if your highest WPM fall between 80-99, you will upload the screenshot on the channel to get the role. An example from @playitforward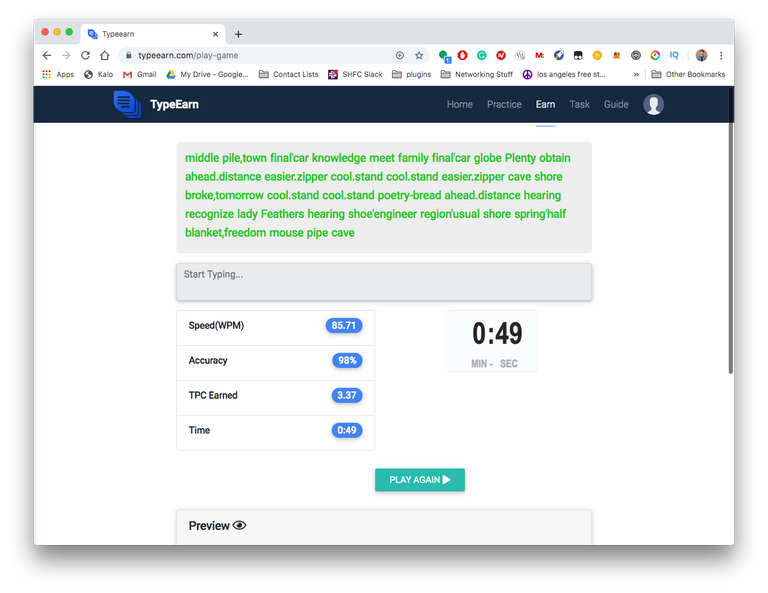 Ensure the screenshot shows your whole page so that everyone can know it is yours.
Daily Dose
The daily dose henceforth will no longer be announced on discord. Mentioning @everyone always seems not ideal as some find it as a disturbance. We respect everyone's opinion, that's why we decided to include it in our daily update.
Tips to type fast
Find a good position and sit upright. Your sitting position will affect your typing speed, so make sure you are comfortable
Always scan the words you are typing, a word or more in advance. This will allow you to type the words without looking at the content you are reading while typing.
Do not rush. Make sure you hit the right word when your finger is on it. This will improve your accuracy, and your speed will increase as you practice more often.
---
Remember to always follow the upward trend of the TPC with your sell biddings. Do not be too anxious and bid at lower prices, for this hurts TPC and reduces its market value.
---
Thank you for following our updates and being part of this wonderful family. Continue to type and earn!
---
Our Wonderful Team
@tykee | @ckole | @sahmmie | @katerinaramm | @anharismail | @teekingtv| @forykw
Our Influencers/Inspectors
@darewealth | @alokkumar121| @alvinckc| @lanzjoseg

---
Follow Us On Social Media




---
---