Typeearn Updates: Bug fix, improvement of the home page, fastest finger winner, and other updates.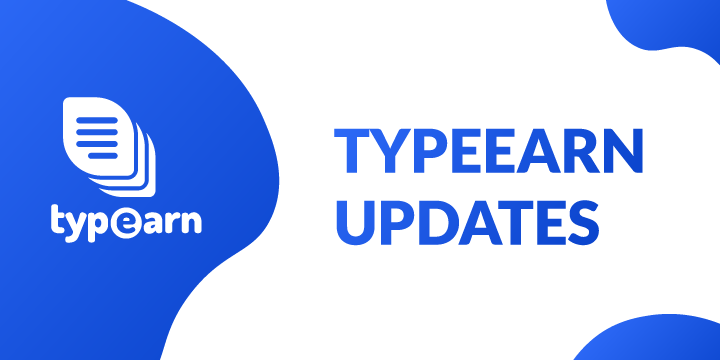 Hello TypeEarners!
We bring to you updates and news on the Typeearn platform.
Delete button now works as expected
We got some reports from the community members that the back/delete works to clear off texts, and it causes a delay. We are glad to announce that the issue is fixed. Please try to use it and get back to us on our discord server if you encounter any anomalies.
Home page improvement.
Explainer video and steemit sign up feature are now present on typeearn.com. The explainer video will help new users learn and understand more about typeearn. We are sure it will help bring more people to the platform as well because people are bound to key into what they understand pretty well. More so, the steemit signup page was added. People can now get a link to steemit sign up page through our site.
Typeearn Practice section made easy.
With respect to our plan to create levels to make the practice section more fun and challenging, we've scrapped the difficult part at the moment. If you are a regular user of the practice section, you must have noticed some changes. You can now type freely without any punctuations, and symbols between the texts. This is the first step forward. We are working on other levels, and we will keep you updated as we progress. For now, play with the simple version and gain moral till the new levels sets in.
Fastest Finger winner.
As announced yesterday, the fastest finger contest has started on our discord, @alokkumar121 is the winner for the first-day event. This is a record to keep. Congratulation @alokkumar121.
A short recap of what Fastest Finger is:
Benefit for the fastest typer.
This is organized for fun and engagement. However, there will be a nice tip for the fastest typer. The winner of every edition will receive 3 Steem and 10 TPC. The reward may change later, but it is more likely to increase.
Rules/Guides
Ensure your texts are correct before pushing the enter key.
No editing should be made after submitting the texts.
Again, ensure your texts are 100% accurate before you push the enter button.
Days for the contests
Mondays, Wednesdays, and Saturdays. All through 5 PM UTC.
Channel Name
#fastest-finger on our discord server.
Daily Dose
We all see things differently. If Mr. A sees 6, and Mr. B sees 9, they shouldn't argue over it at length. The fact is they are both right. The figure has two meanings depending on where it faces. They are at the different edge of the figure.
We are moving to a greater height, and we hope everyone sees that.
Tips
Find a good position and sit upright. Your sitting position will affect your typing speed, so make sure you are comfortable.
Always scan the words you are typing a word or more in advance. This will allow you to type the words without looking at the content you are reading while typing.
Do not rush. Make sure you hit the right word when your finger is on it. This will improve your accuracy, and your speed will increase as you practice more often.
---
Remember to always follow the upward trend of the TPC with your sell biddings. Do not be too anxious and bid at lower prices, for this hurts TPC and reduces its market value.
---
Thank you for following our updates and being part of this wonderful family. Continue to type and earn!
---
Our Wonderful Team
@tykee | @ckole | @sahmmie | @katerinaramm | @anharismail | @teekingtv |@forykw
Our Influencers/Inspectors
@darewealth | @alokkumar121| @alvinckc| @lanzjoseg

---
Follow Us On Social Media




---
---