Tales of a Place Untold - The Abandoned Linseed Oil Mills

The Linseed Oil Mills of Sorauren
I stumbled upon this beauty while biking around my local city.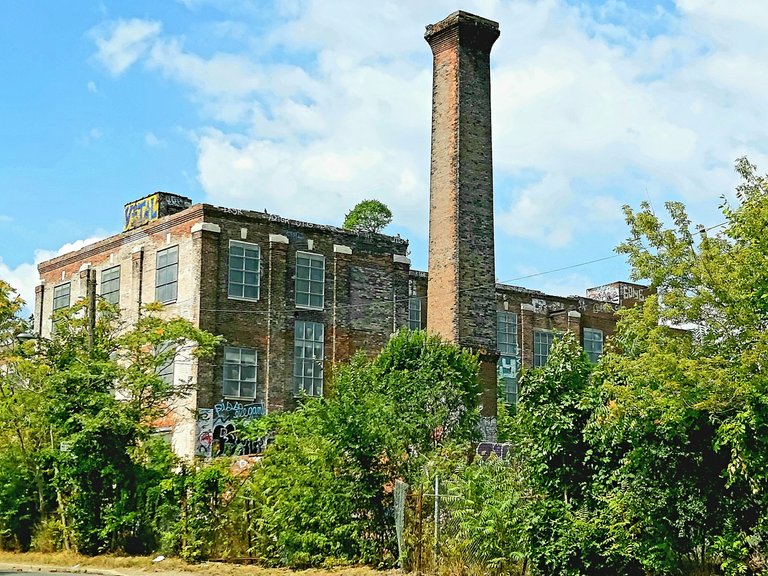 Being an active #actifit user, https://actifit.io/trezzahn ; figured I'd toss a post on here of where my adventures took me and get involved with this community!
Onward, following the fence line and finding a rather creepy but colourful exit vent on the side of the mill, a jolly adventure had introduced itself.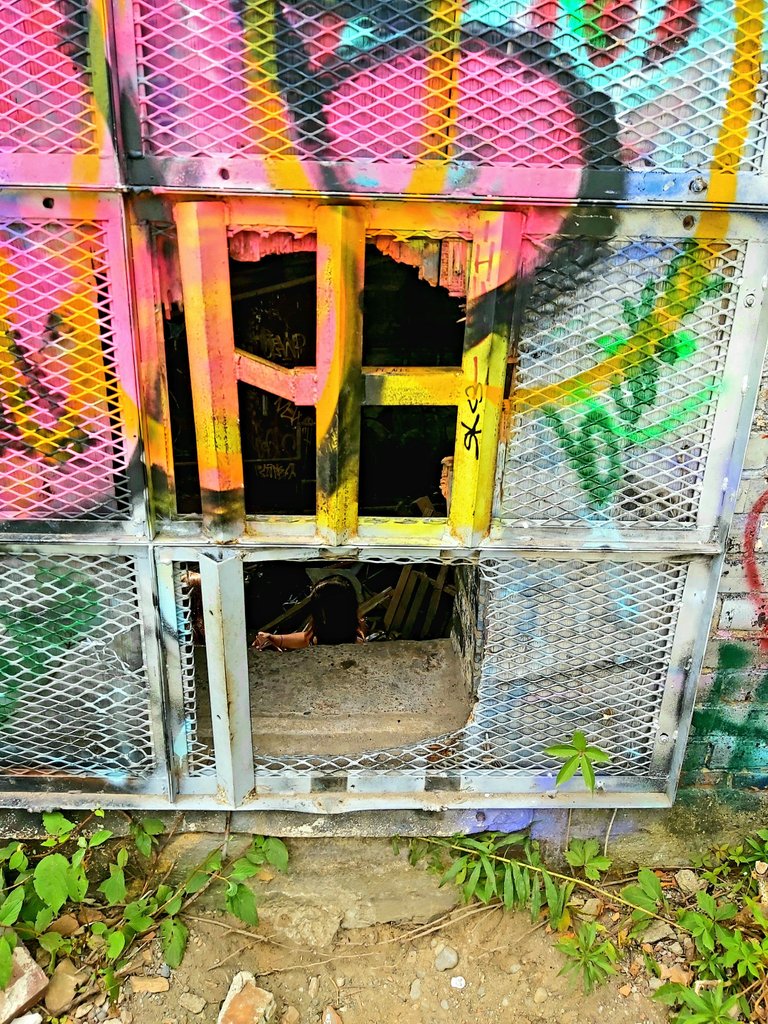 Starting off in the engine room,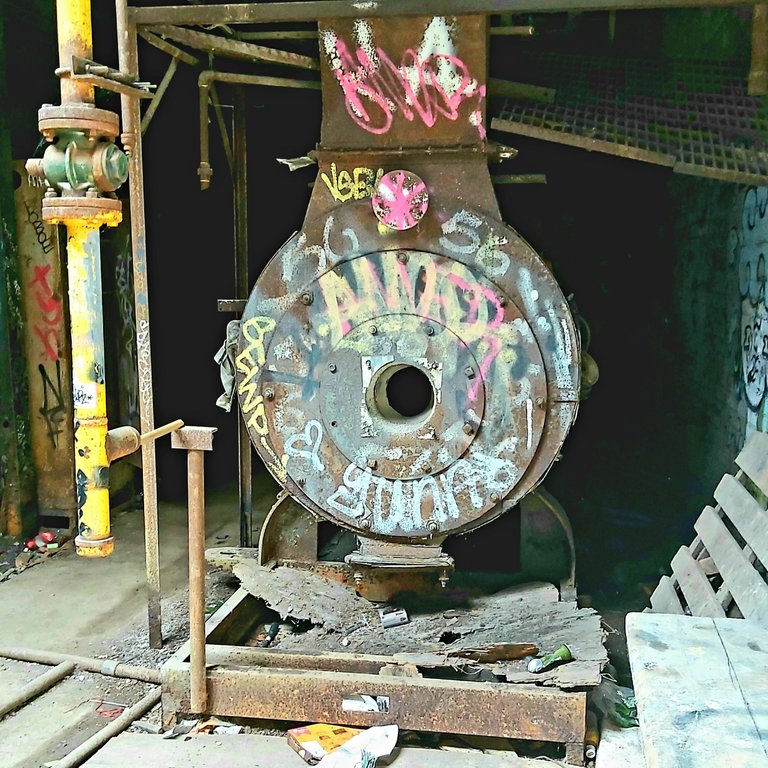 the beauty had just begun!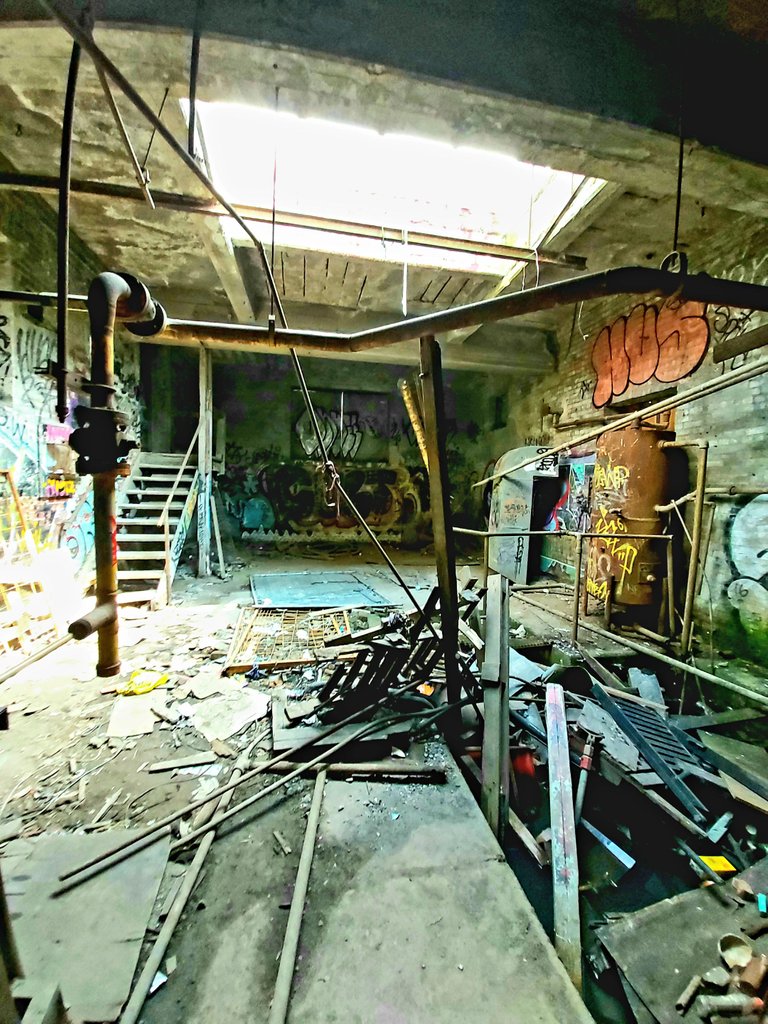 Now, turning around from this picture and continuing, the basement stairs, which I thought would lead up, were approached in the dark.
I came across the stark reality that I had to go further down, and creepily followed...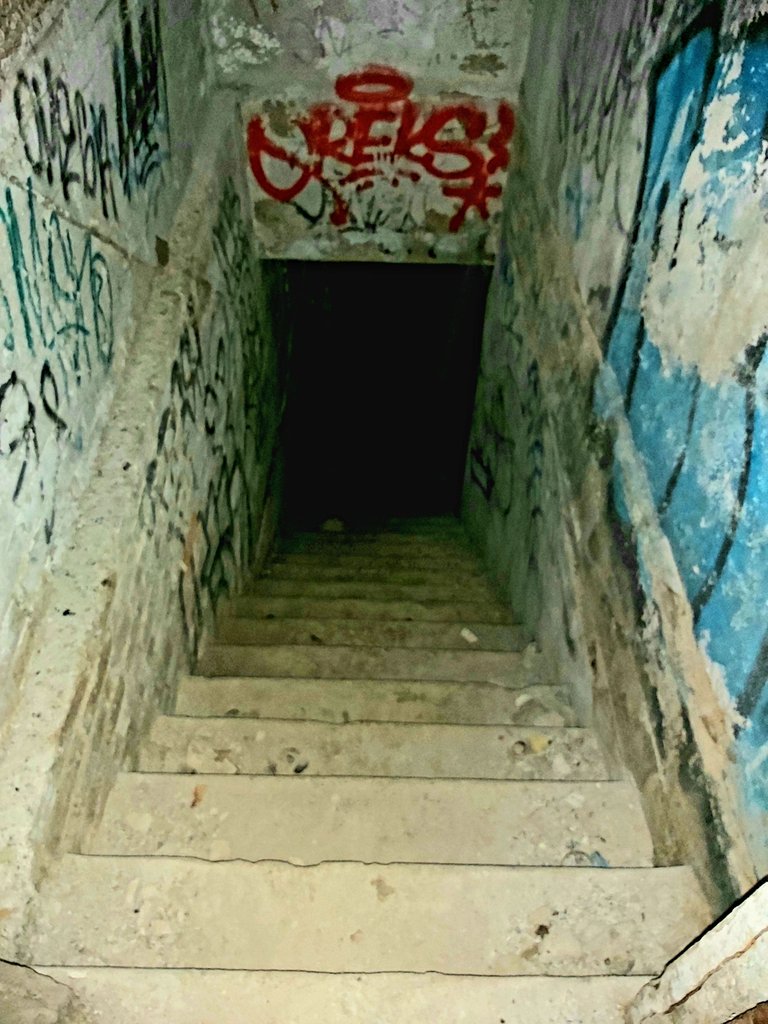 Shining up the area once I got down, I was in a sub-basement level, possibly the main basement below the mechanical floor:
Eventually, walking aimlessly around this massive room with nothing but my 10m flashlight -which 100% didn't do the trick!- I found stairs up. Finally.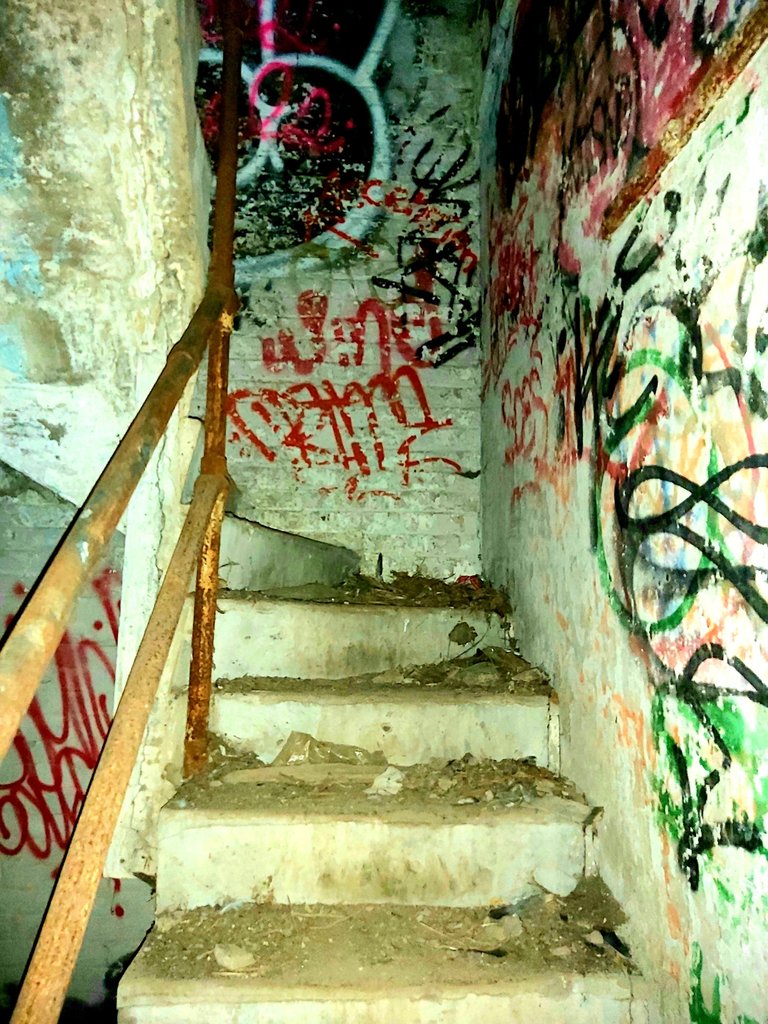 Following these stairs they led up two levels, so I was able to rise past the initial mechanical level that I was on, and reach the second -or first how you look at-, main floor.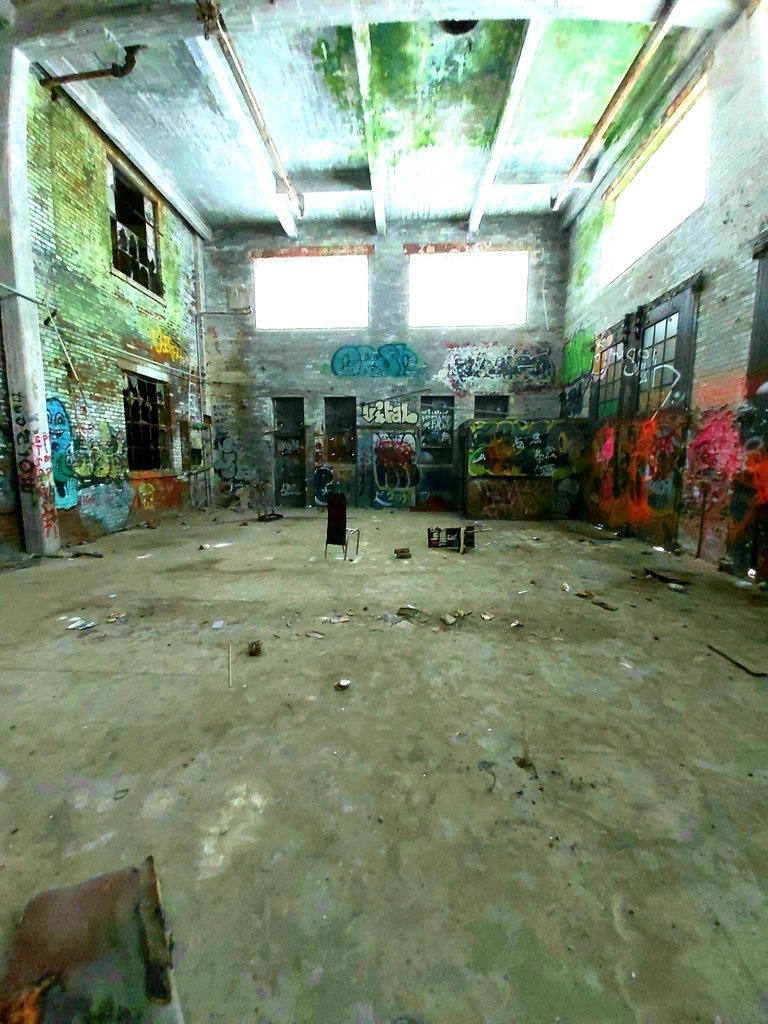 I looked to my left and saw a rise,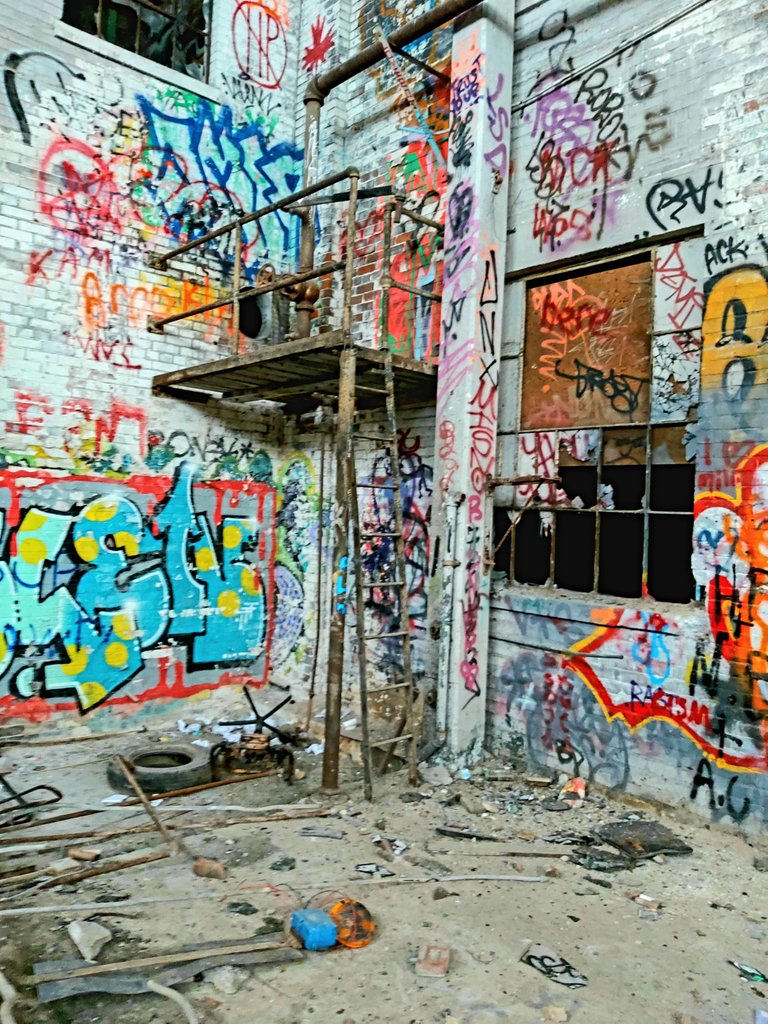 Had to,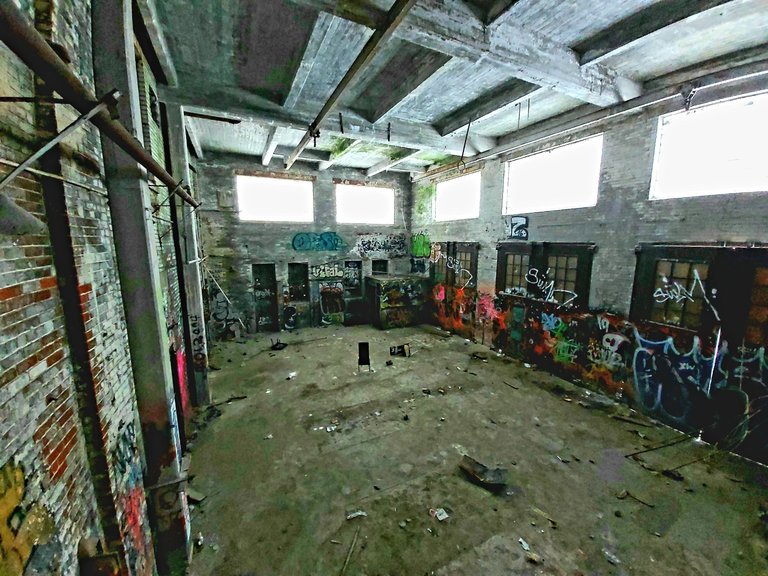 Climbing down; along the side of the wall to the right of that picture,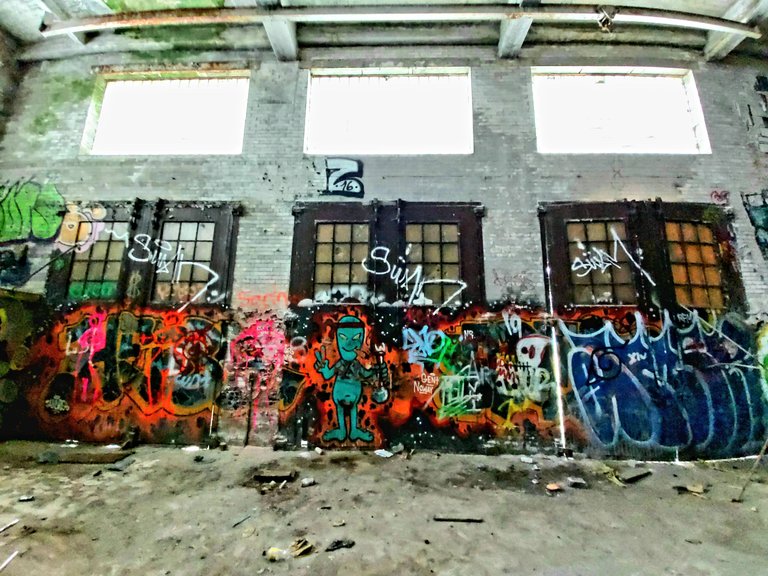 Continuing forward,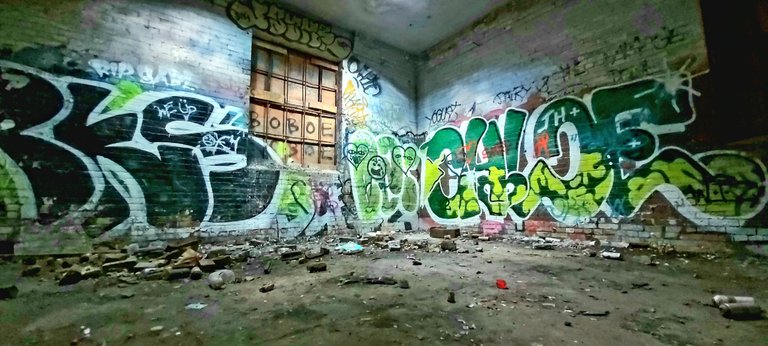 There was beauty in all corners of this floor,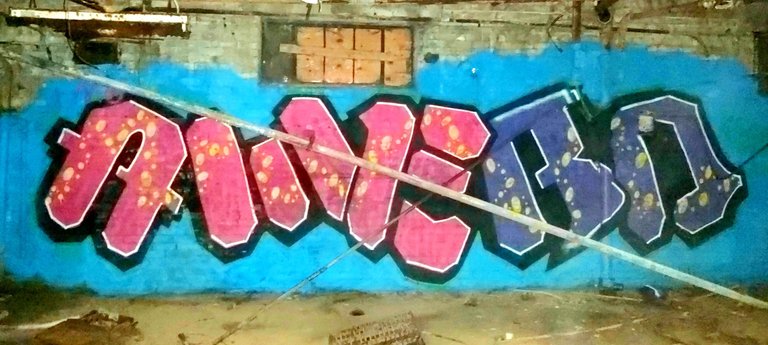 Before heading up, a moment was taken to admire the damage and graffiti to the elevator shaft -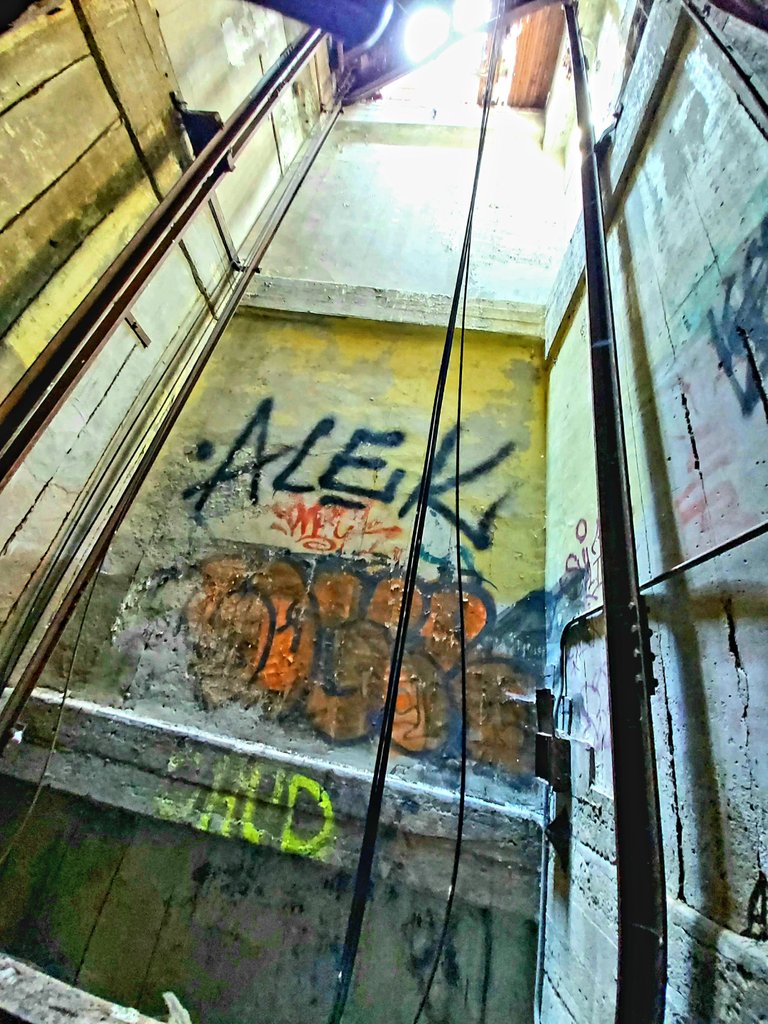 Now, venturing back to those same stairs I took up originally, I continued to the final floor that then led to and ended on -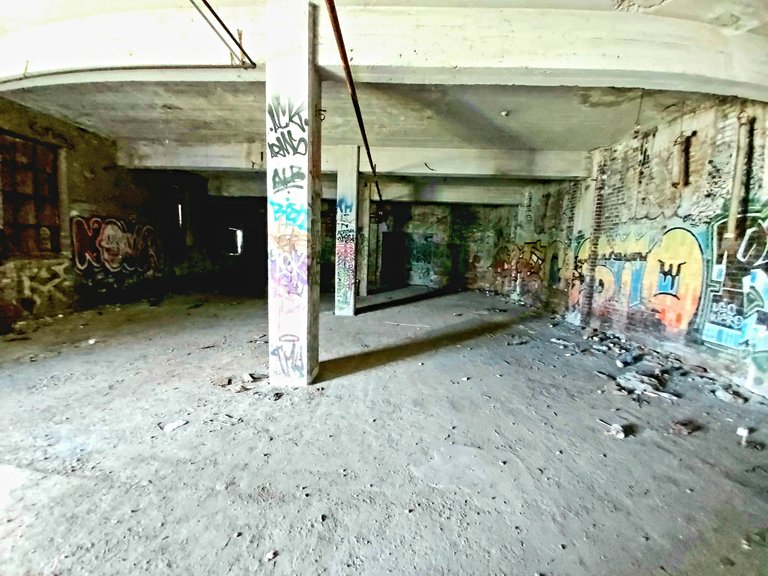 And the latter room,
From here though, it was noticed that there was light. Natural light and it was gleaming in from somewhere.
Found it.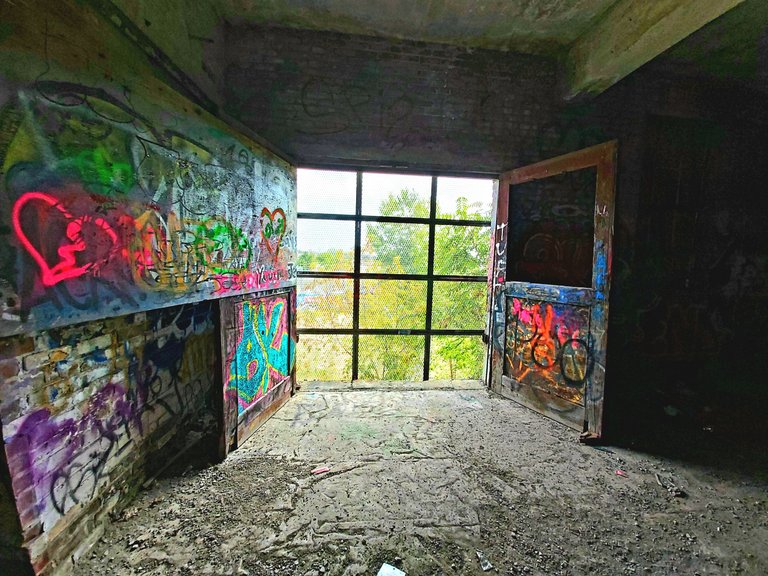 With this beautifully painted behind,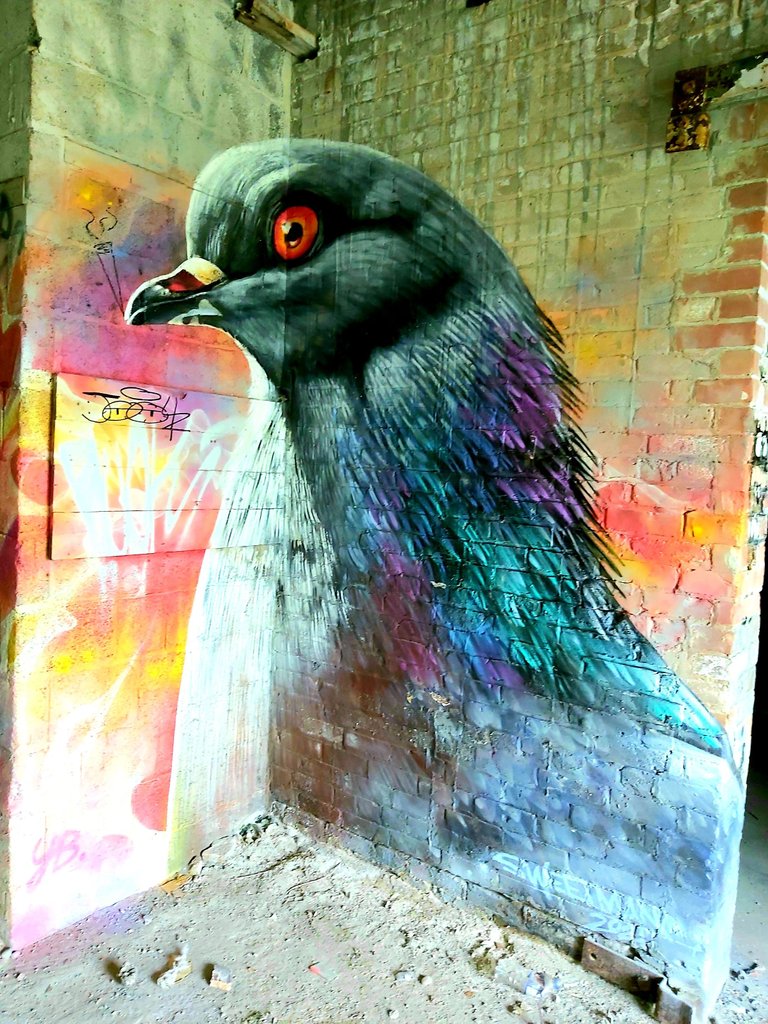 ...time to head up to the final floor!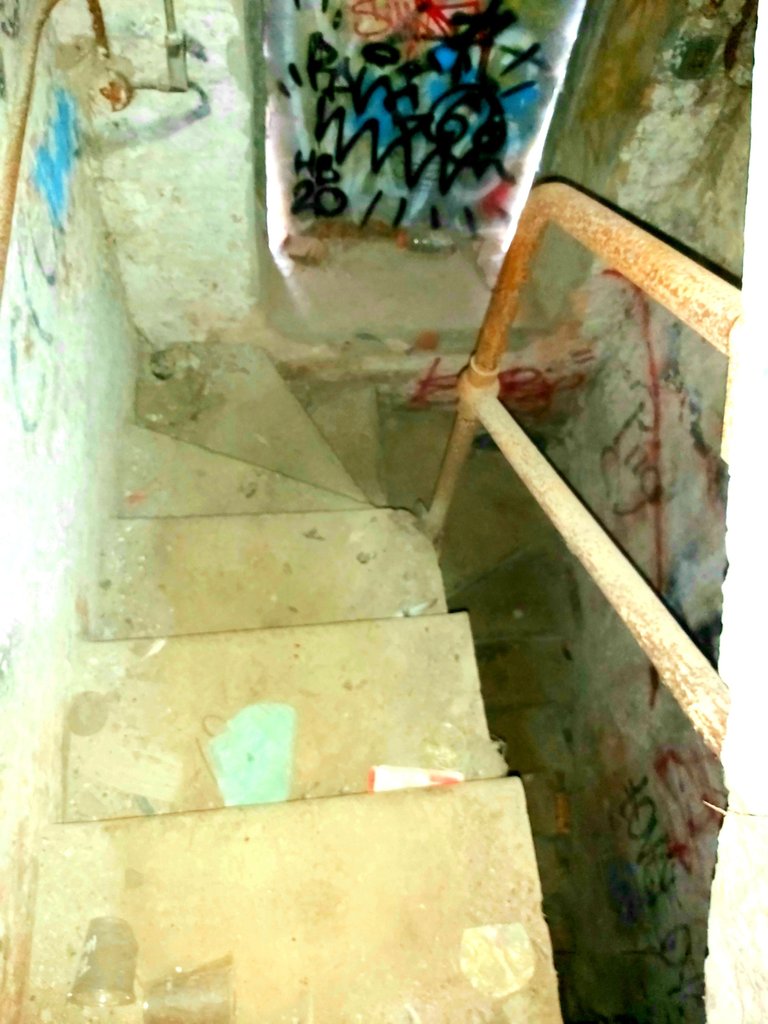 Getting up there,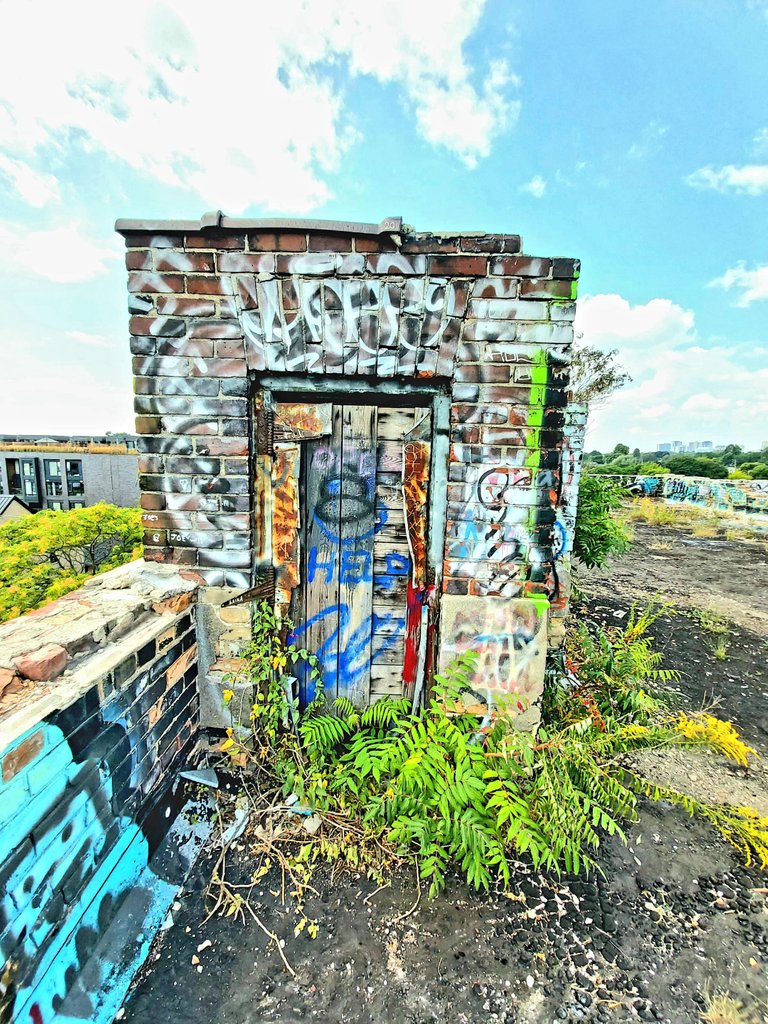 The adventure to the top was 1000% worth it.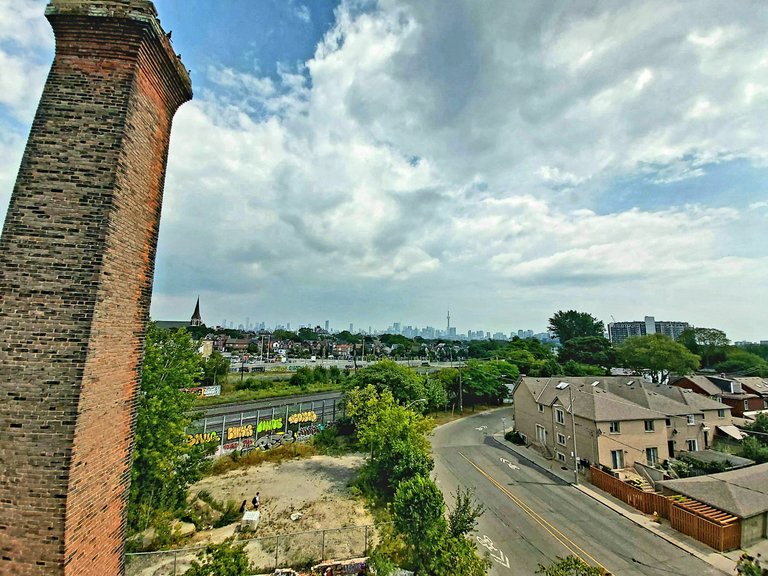 I really want to do more excursions like this. I used to post hundreds of albums myself. I've been everywhere from abandoned hospitals and universities, to ghost towns and coal mines.
If any of this interests you check me out, from time ago; send me a message and I'll shoot you a private link to dozens of hidden gems from my website!
Thank you @slobberchops for the motivation to start this. Let me know if, being new to this community, I may have posted anything incorrectly.
This community seems friendly enough that I can start some activity on here so I'm going to start posting, not on a regular schedule, but whenever I come across something, additional to my other blogs, @trezzahn, with all blogs connecting to Ecency, Actifit, Hypnochain and StemGeeks for anyone who is interested in psychedelia, scientific method and photography.
Hopefully this post was enjoyable to at least one individual? I love blogging, even if its for myself alone, and I'm going to continue doing so, so minus well get an audience!
Stay safe everyone :)
Edit: Pinmapple'd
---
#urbex #proofofbrain #lassecash #palnet #hive #steem #steemit #ecency #abandoned #old #exploring #adventuring #urban #heritage #urbanexploring #trezzahn #pinmapple
---
---