Tales of a Place Untold - Alderwood Collegiate Institute

Abandoned Heritage - Alderwood Collegiate Institute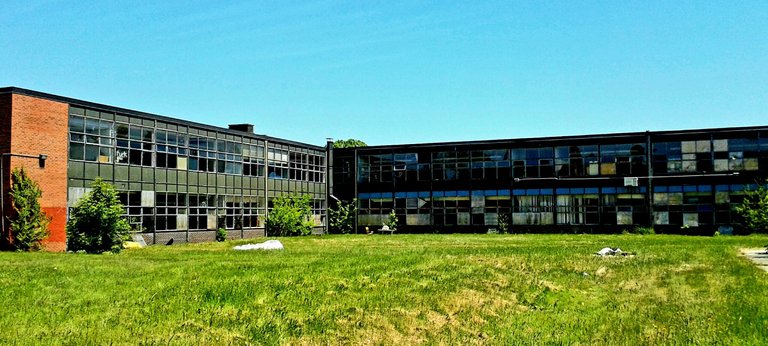 Father John Redmond C.SS (1988)
---
Many years ago I stumbled upon something that sadly no longer stands. A beauty, in my aspect, that deserves to be viewed and seen by those whom may have never had a chance.
Being so, the below pictures have all had substantial work completed on them to help ensure at least some clarity, but I do apologize for any blurriness/shakiness. These were taken over 10 years ago.
Alderwood was built in 1955 officially under the jurisdiction of the then non-amalgamated "Etobicoke Board of Education" -now "Toronto District School Board" (TDSB)- off Horner Dr and Thirtieth St, at 300 Valermo Dr.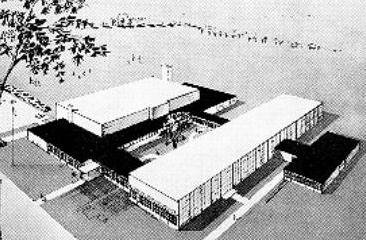 Of surprising history, is that of the construction of the institute, that which was halted and delayed greatly as a result of Hurricane Hazel and the disastrous flooding.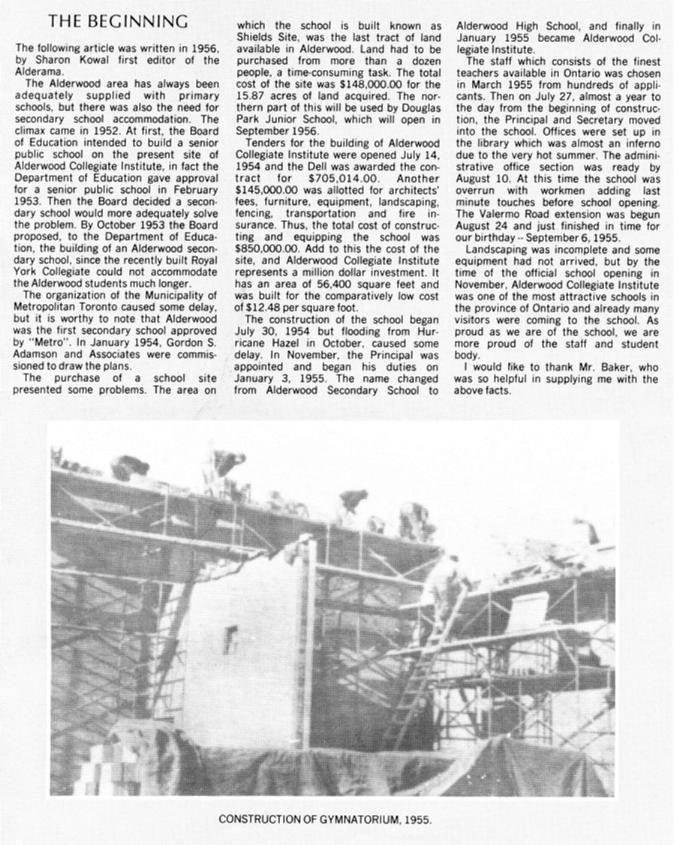 Retrieved from
http://alderwoodcollegiate.org/index1.html
09/02/21, http://alderwoodcollegiate.org/
Opening September 6th, 1955 to approximately 400 students grade 9-13, the school was constructed to deal with overcrowding at the nearby "Royal York Collegiate Institute" in 1952. By 1960, several other classrooms were added, including a science lab, commercial room, and larger cafeteria. However, with an increase in population in the neighbourhoods surrounding, overcrowding becamse an issue, and student numbers exceeded 800 ultimately ending in closure/transfer.
The institute later combined in 1983 with the New "Toronto Secondary School" to form the "Lakeshore Collegiate Institute", which also had a merger from "Mimico Collegiate Institute" around the same time, and this new Lakeshore Collegiate Institute (at 350 Kipling Ave) became the main high school in Ward 3 for students 9-12 in the Alderwood - Longwood-Long Branch - New Toronto - Mimico neighbourhoods of Etobicoke to attend.
After this collegiate merger, two Catholic High Schools, St. Michael Power and St. Joseph's -under the "Metropolitan School Board's" jurisdiction at this time, before 1988's conversion of the TDSB-, these schools merged and moved to the previous location of Alderwood at 300 Valermo Dr, and was then renamed "Father John Redmond Catholic Secondary School"
In 2012, northern portions of the institute still stood in ruins, but it is unknown what remains today in terms of these ruins as the property has now been sold to a townhouse condo complex developer and the property itself has been demolished as of late 2014.
The original website for Alderwood is still active, and alumni can definitely find some interesting things on there! You can find it here
http://alderwoodcollegiate.org/a.html
And the portal, here:
http://alderwoodcollegiate.org/
I dearly hope you enjoy this journey through time, and hopefully, some of you may even have some memories of your own here!
---
---
Alderwood Collegiate Institute
Father John Redmond Catholic Secondary School
---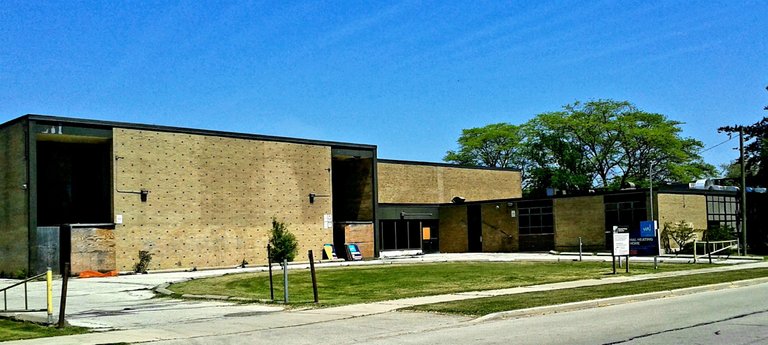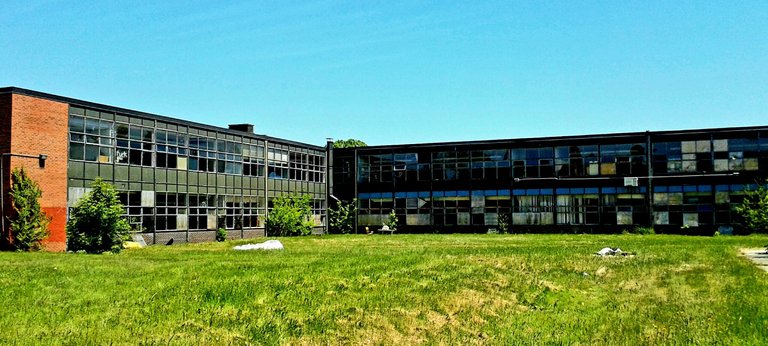 Above, see the exterior of the school itself and its' inner courtyard!
Beginning my adventure, I remember exploring this beauty to the very last locker. It truly was a marvel to be walking through an abandoned school.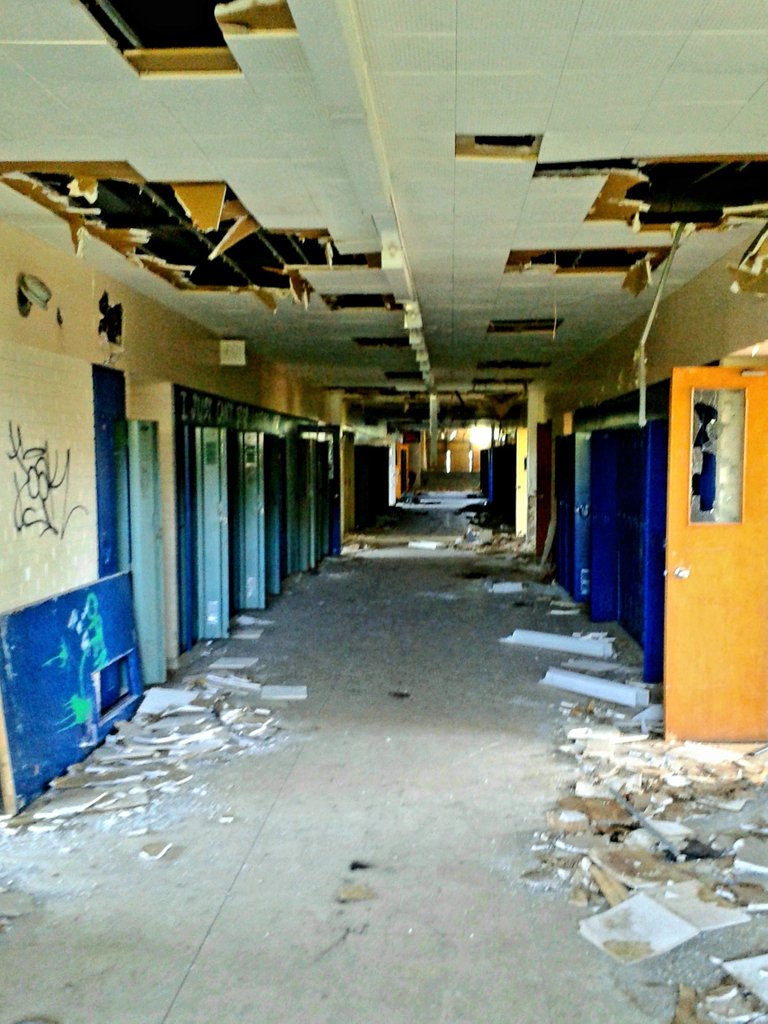 Entering the first classroom, it was clearly rummaged through but many of the old furniture still stood!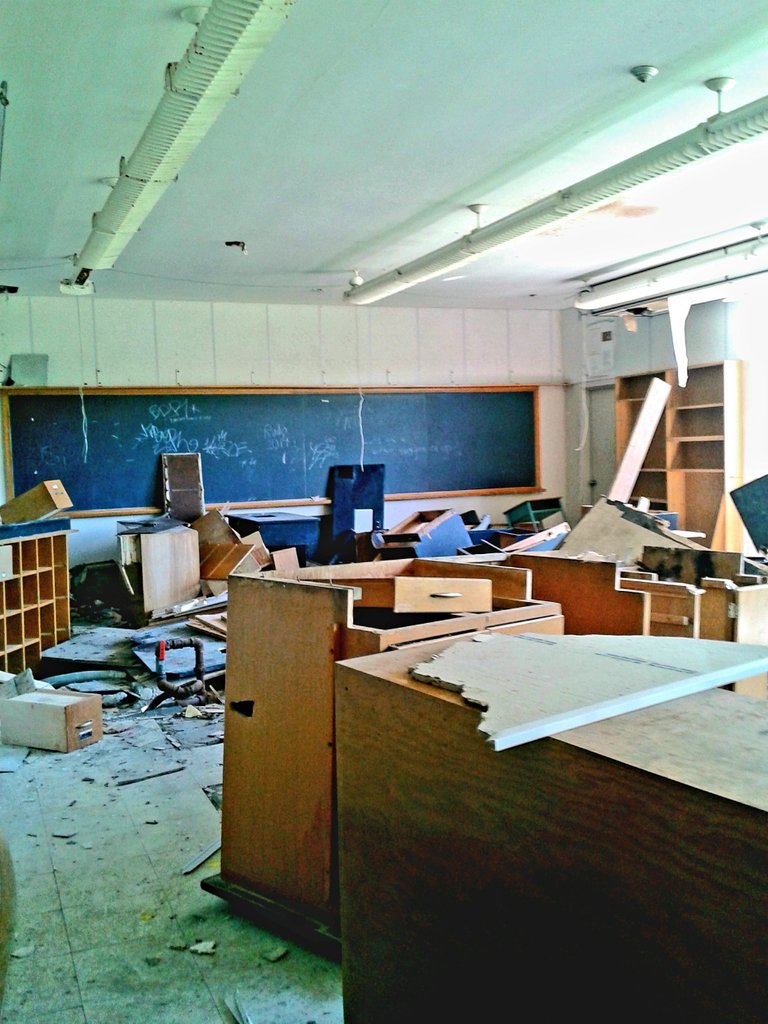 Exiting the classroom, you could see truly how dark the way back was,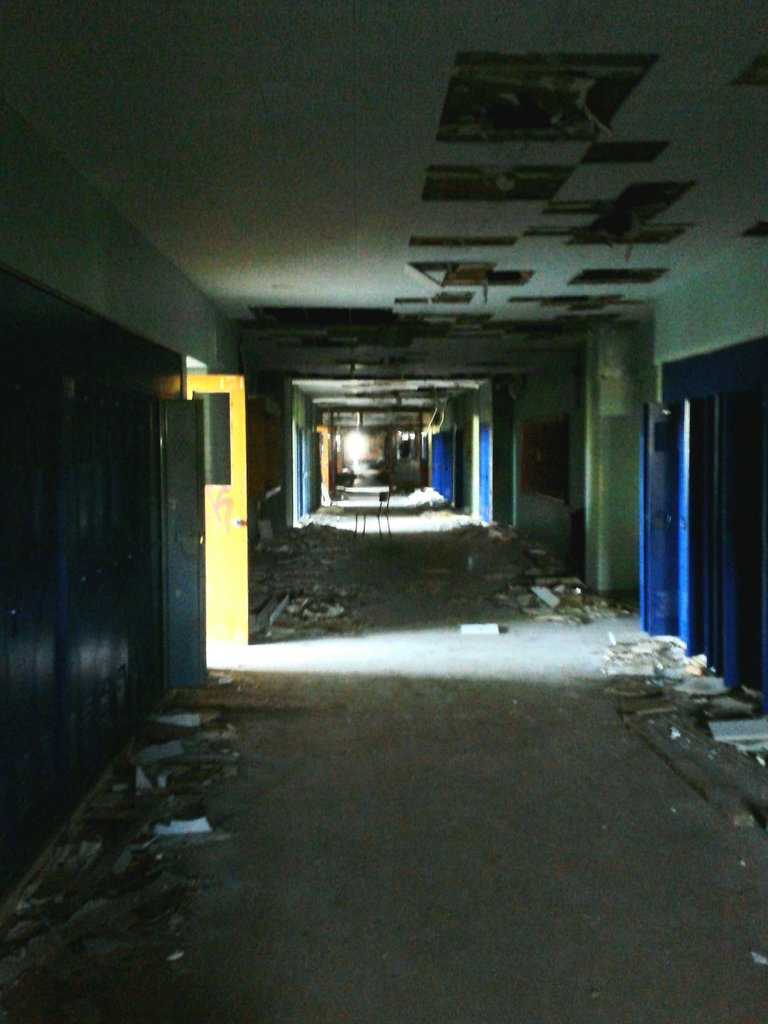 Facing behind, another dark hallway began...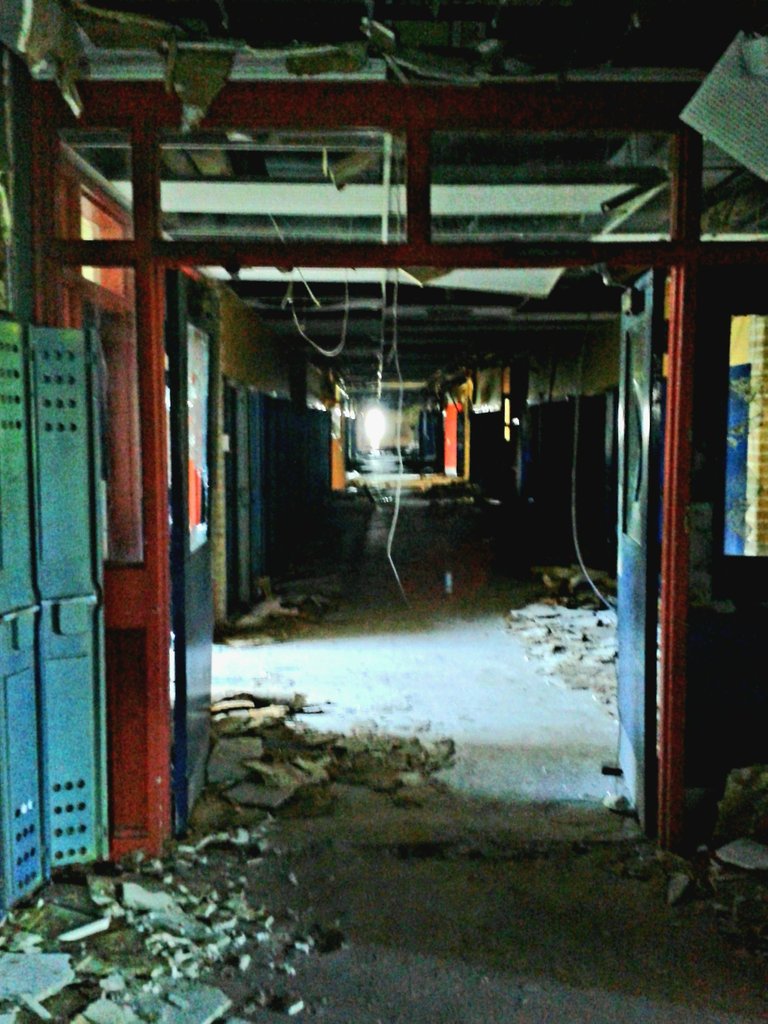 Eventually, following this hallway led to a corner and the end of the corridor,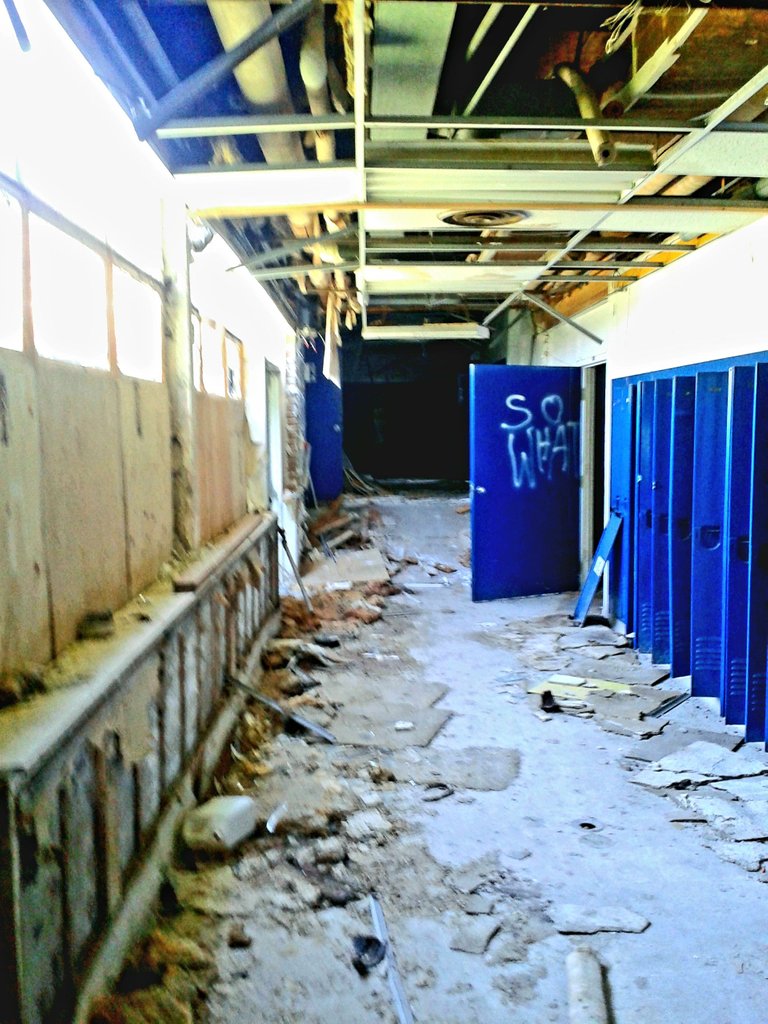 Turning led to the beginning of the science labs, constructed after the school was originally built and added on;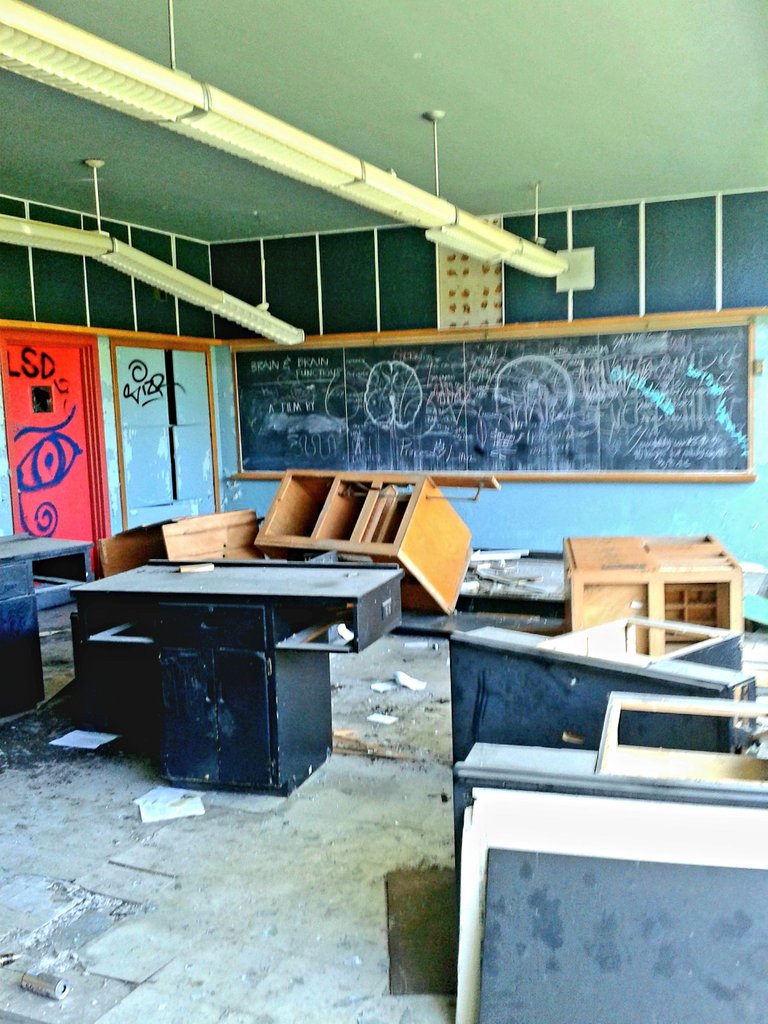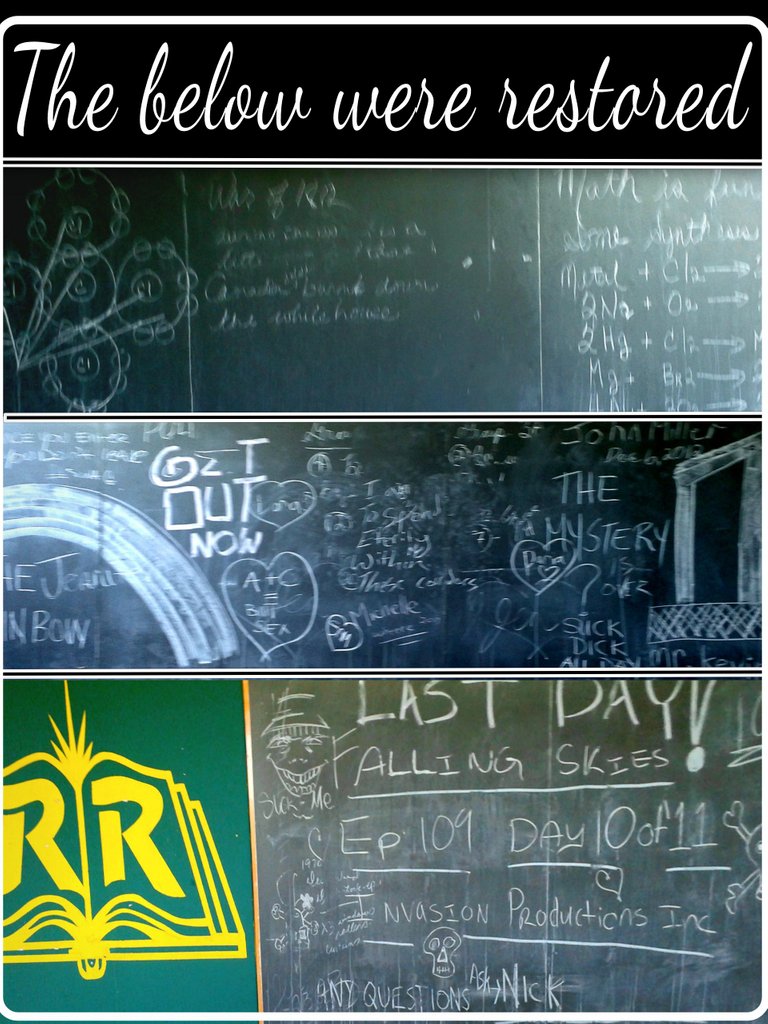 See below some graffiti and artwork left in the room;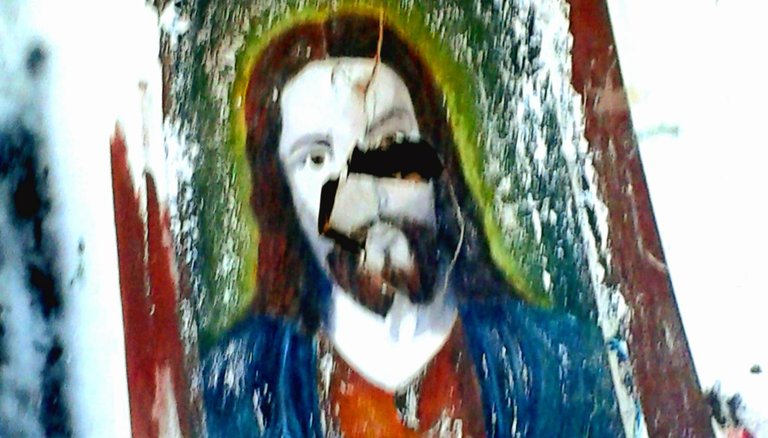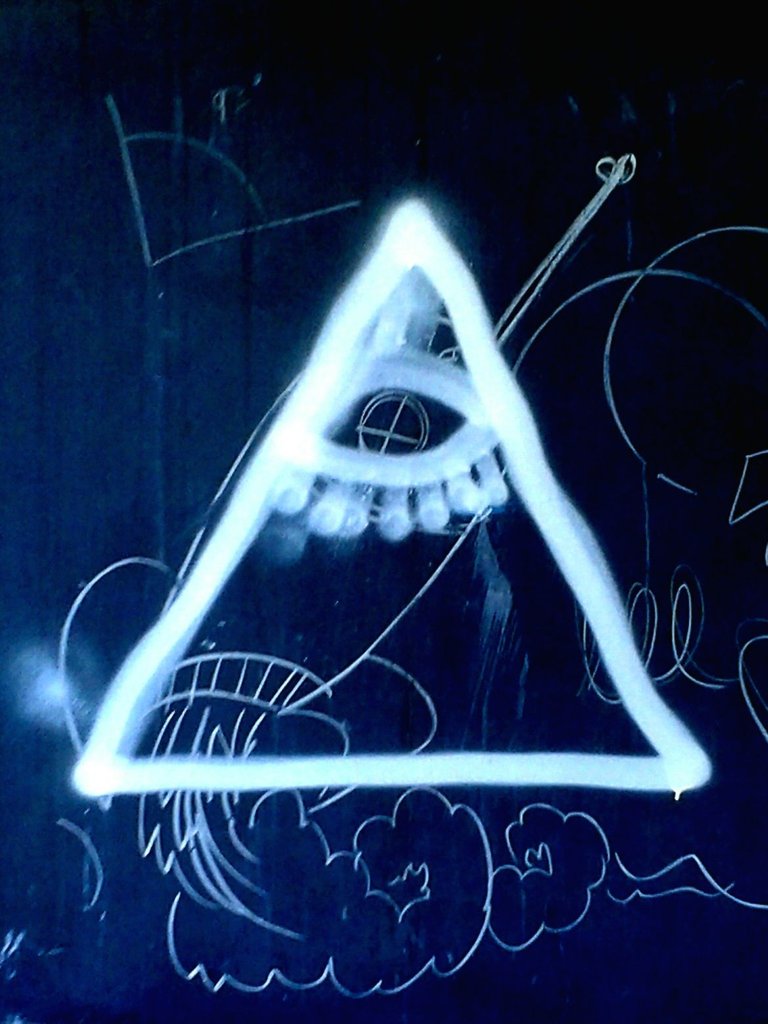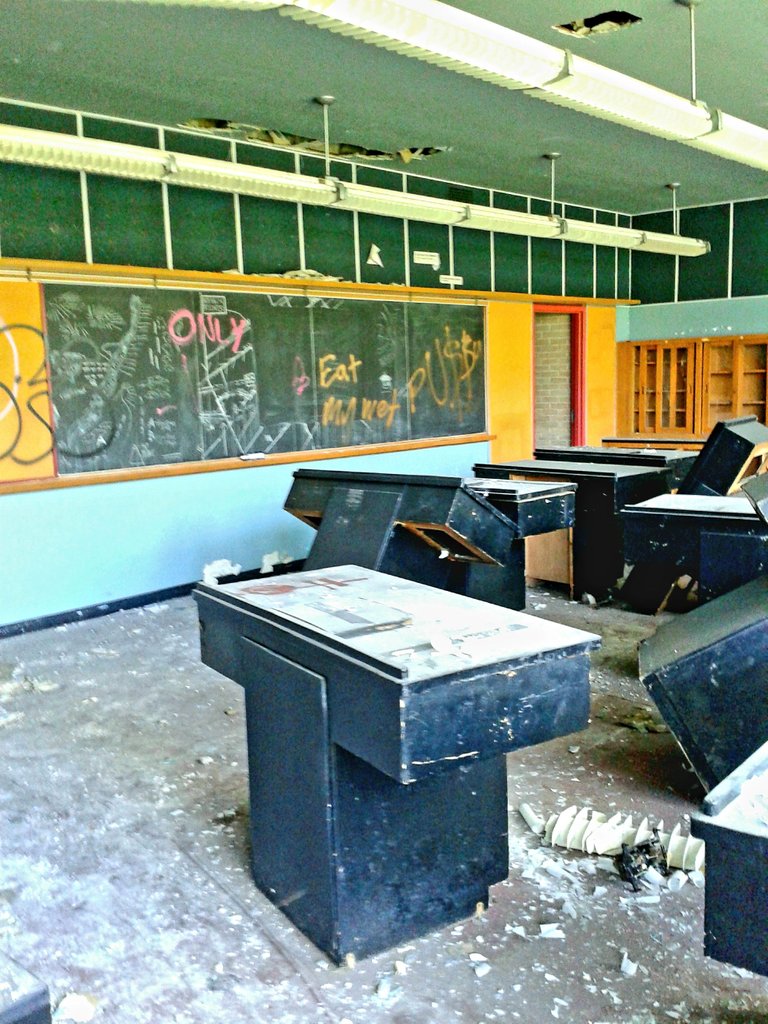 Following this open door facing back led here,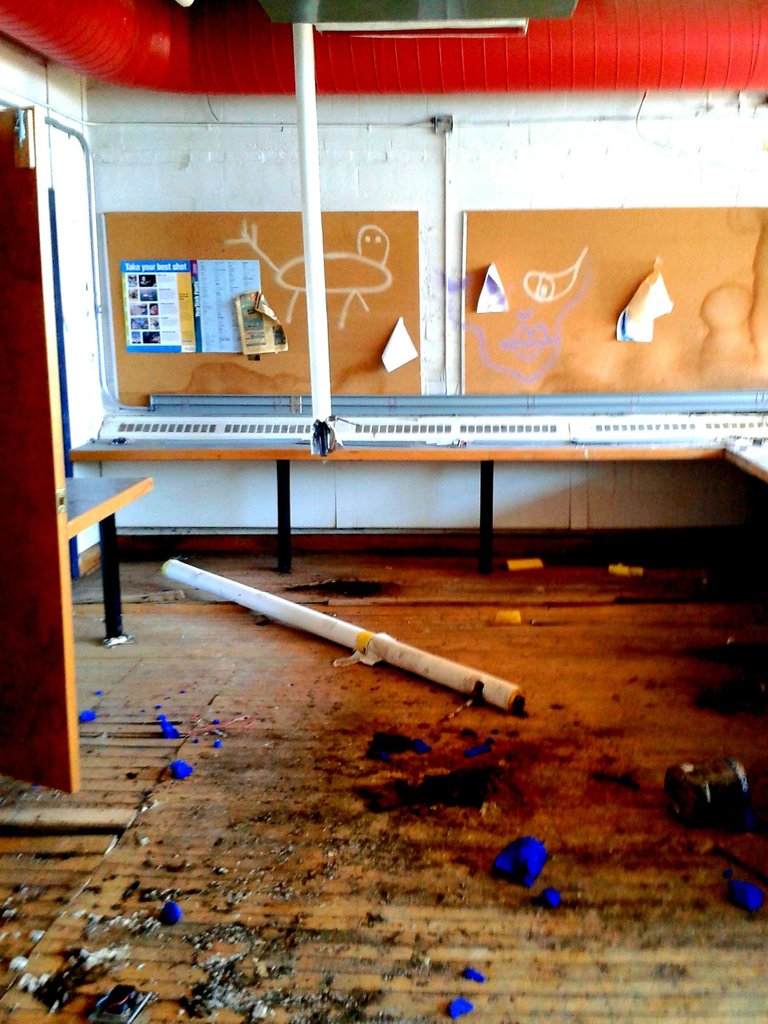 Turning out this room led to another hallway,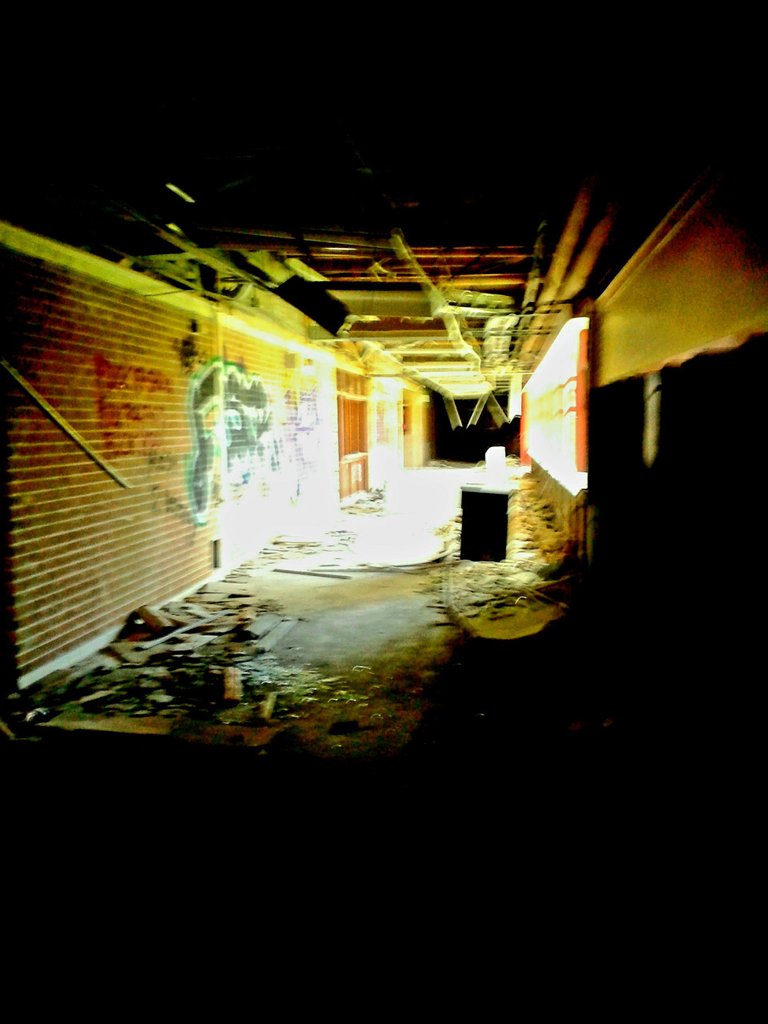 This hallway led to and gave a great view of the courtyard.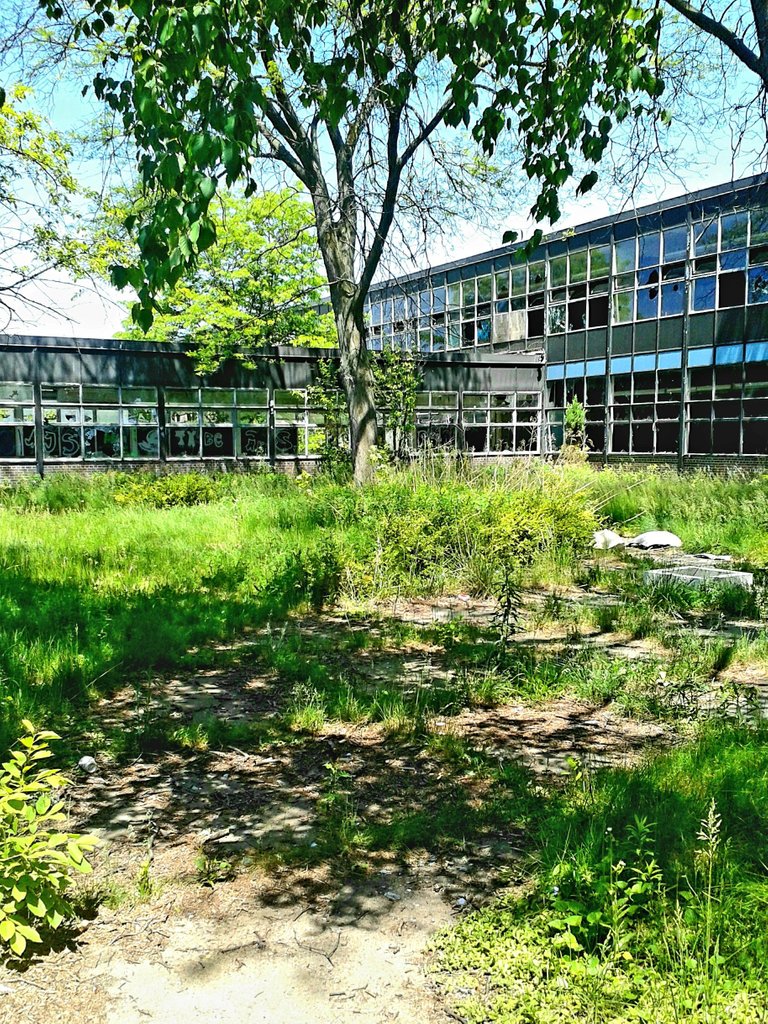 Crossing this courtyard led to the gymnasium of the school. Now this was awesome...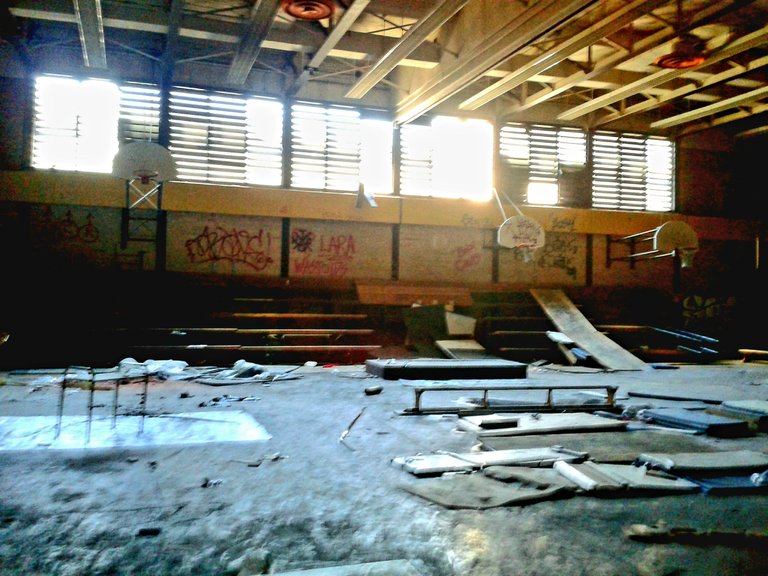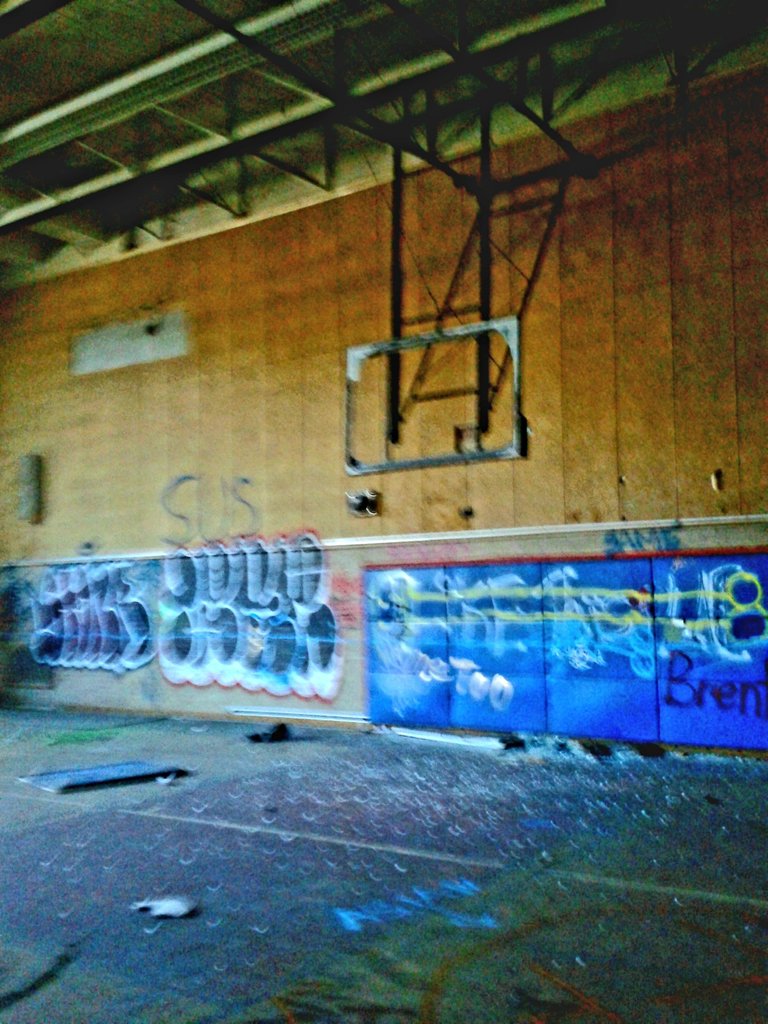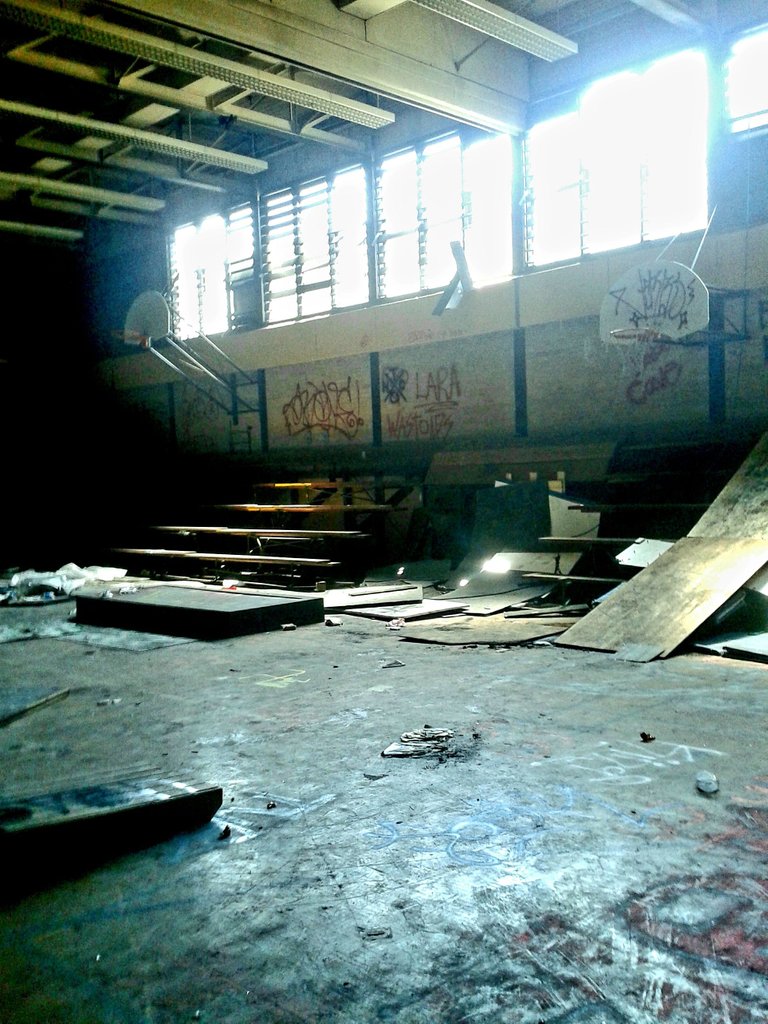 The back locker room was a little destroyed though!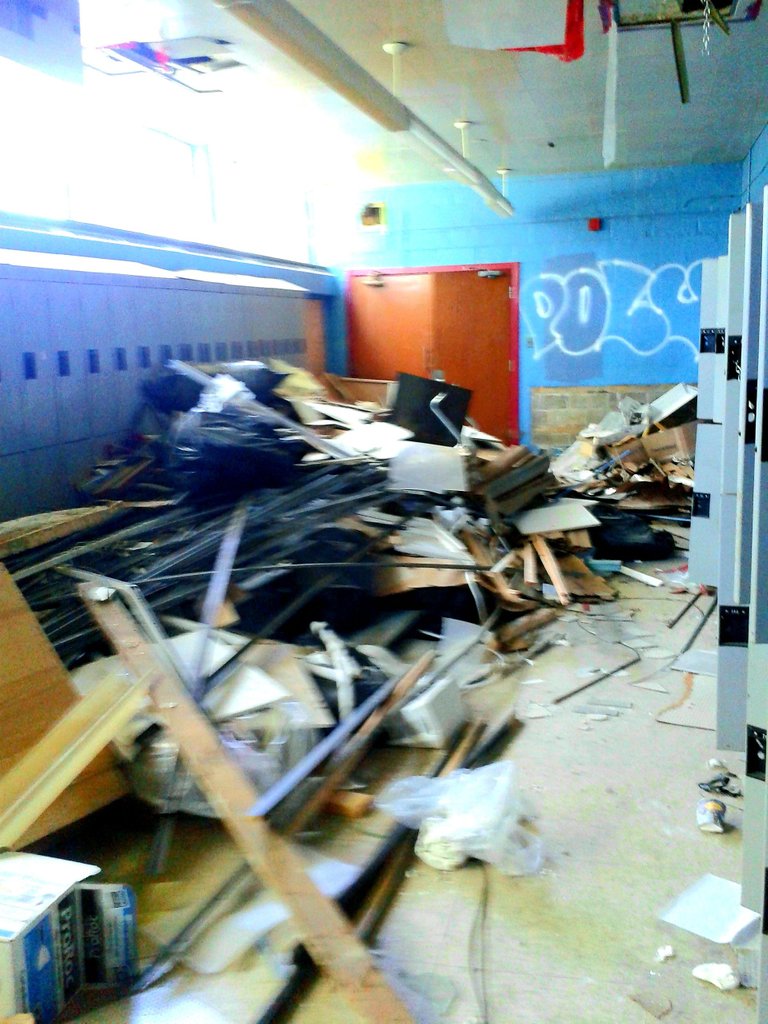 Leaving the locker room led me back to the main courtyard, and I eventually went to the north access, as I had now checked all the three other directions.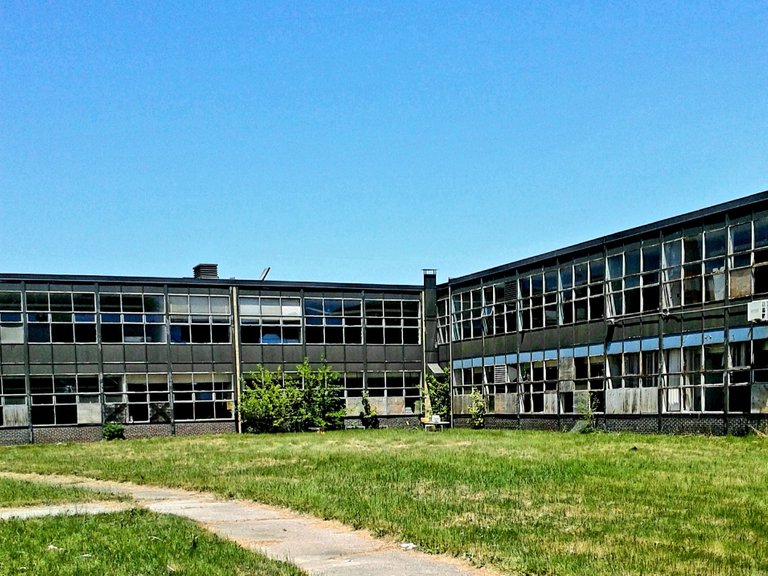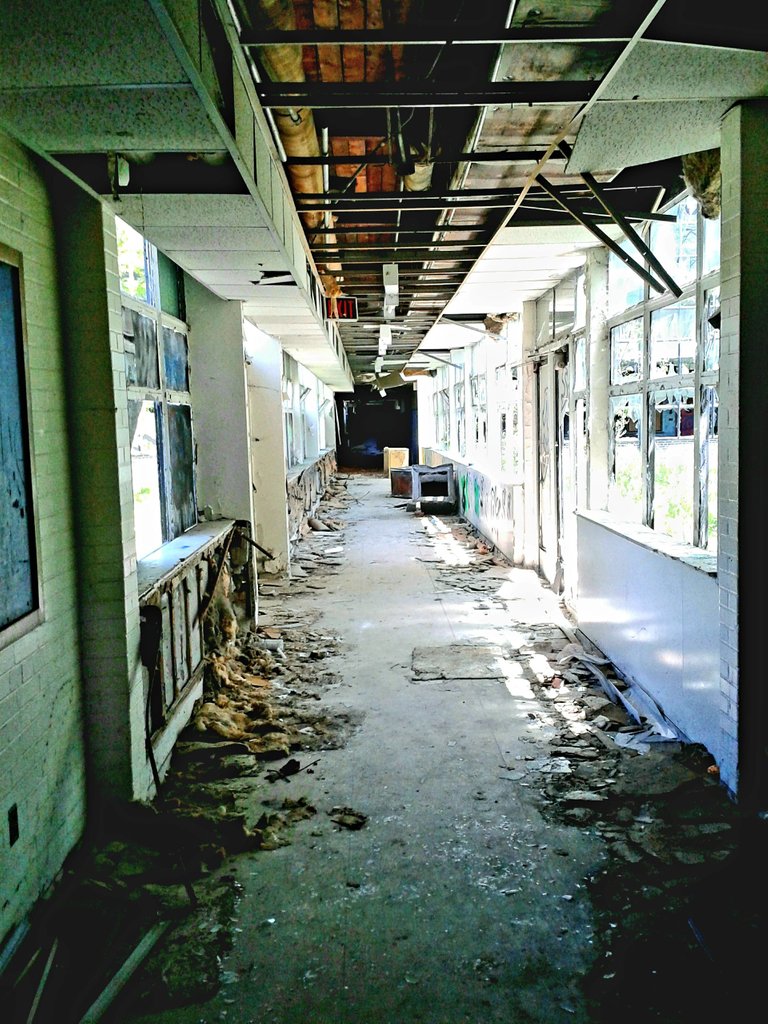 Reaching a larger lecture-style classroom, there was still many-a-remnant of what lay remain.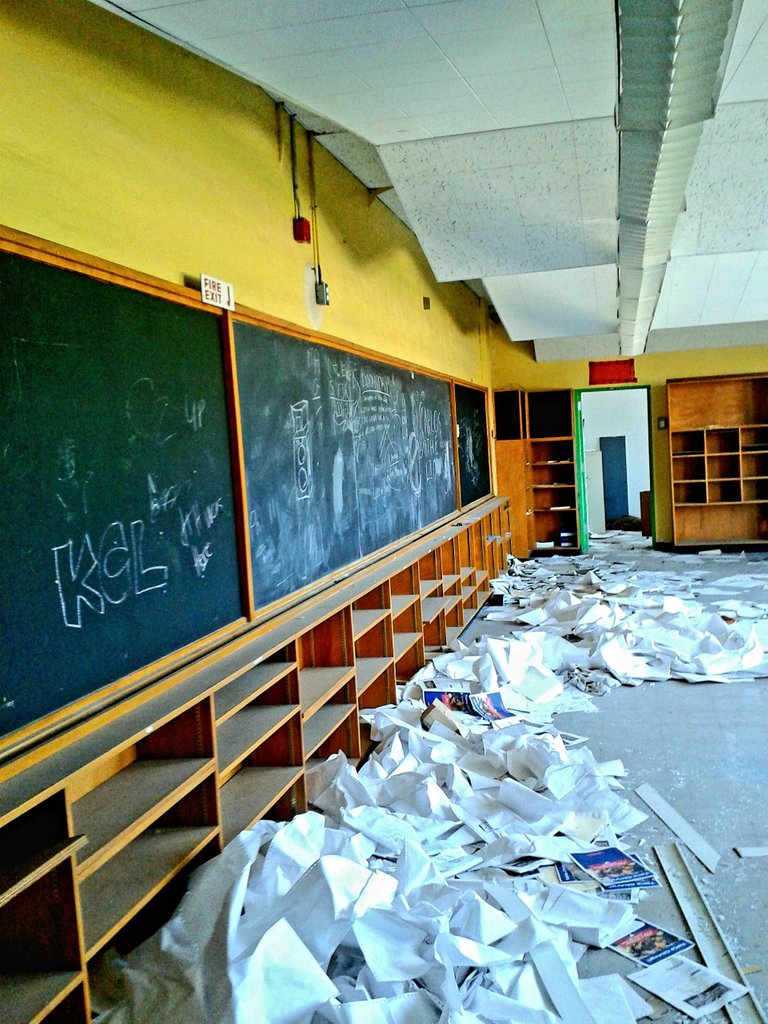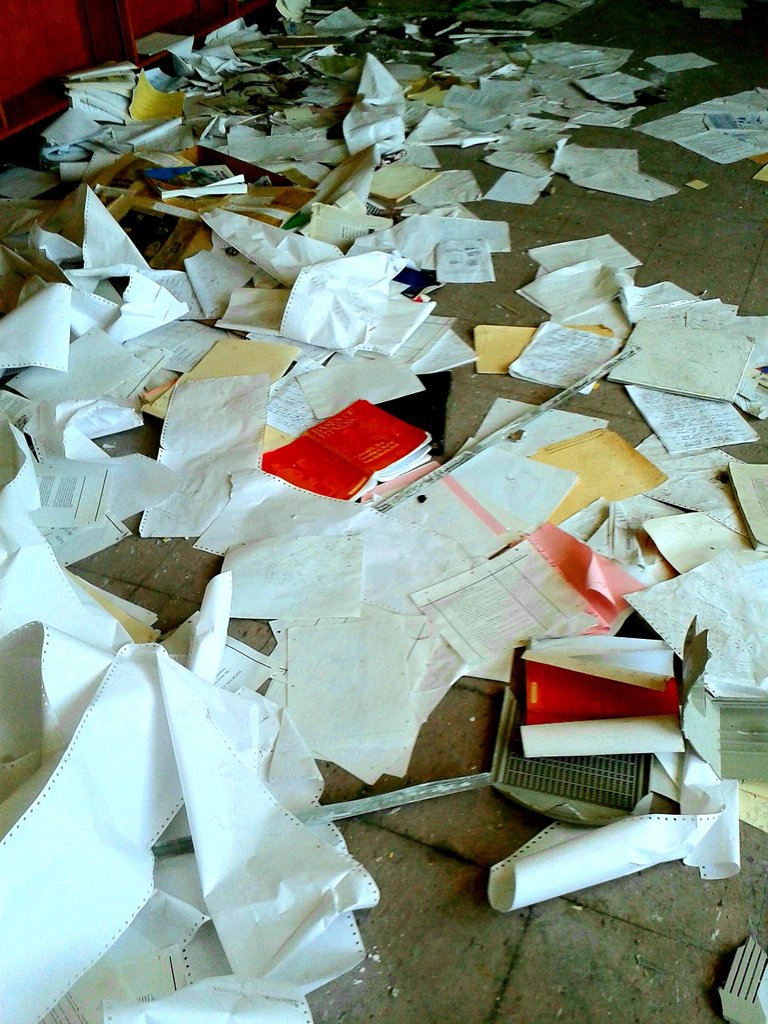 Leaving here, I turned into an open area that led to the auditorium,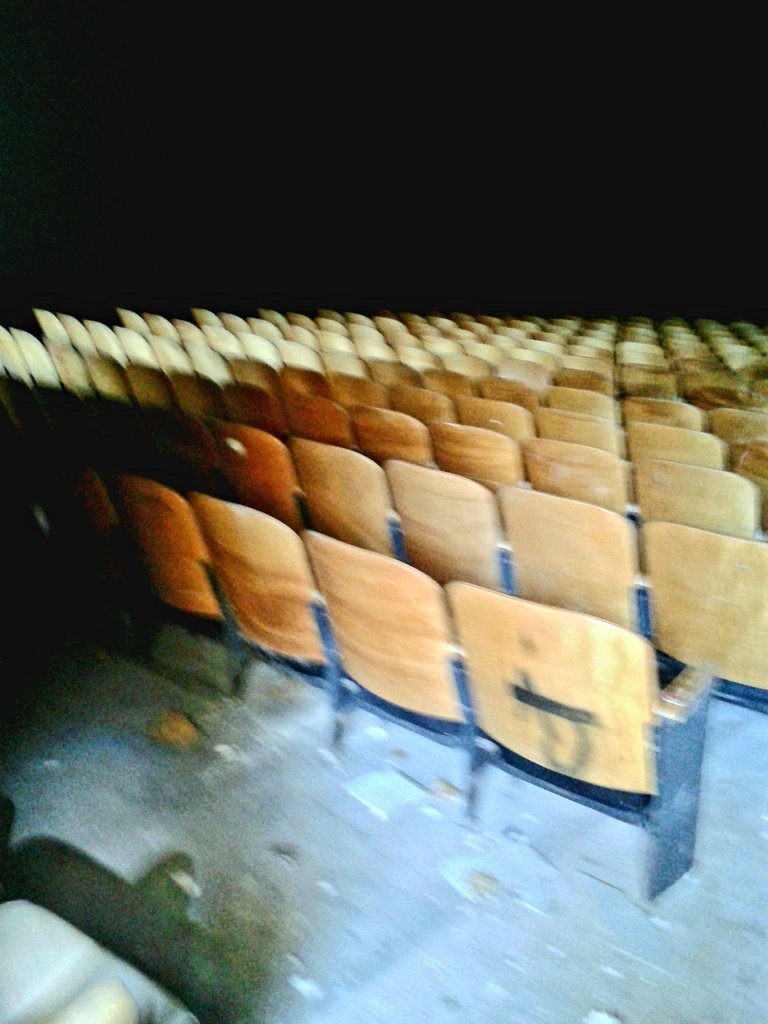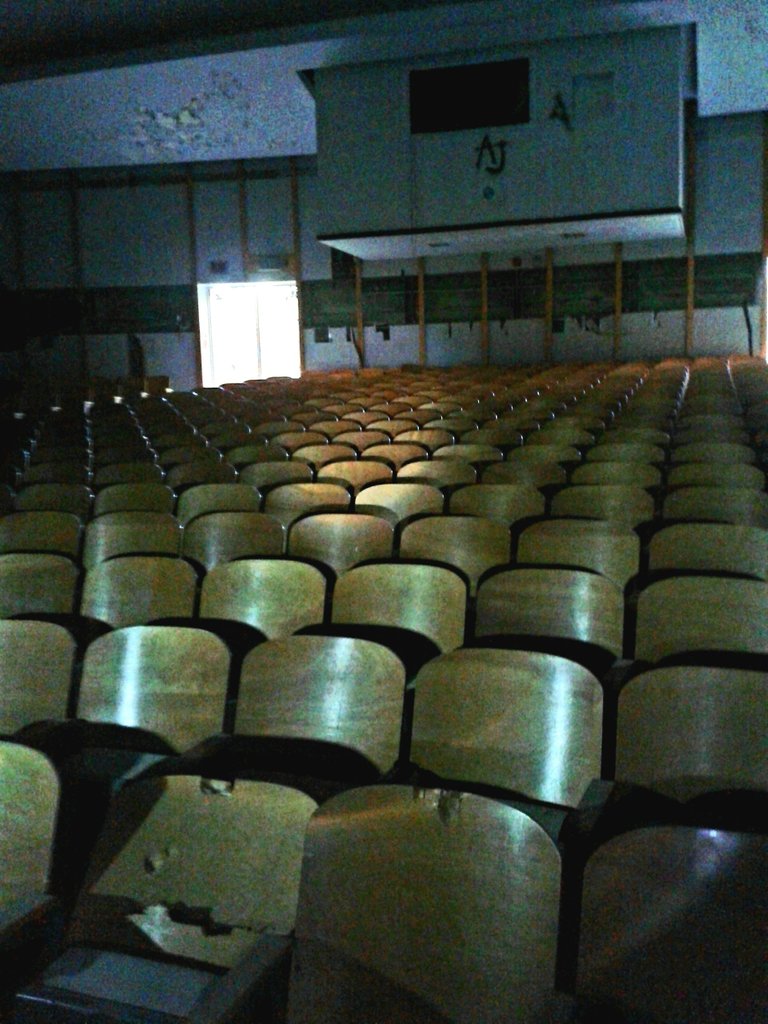 I went up the stairs and checked out the second floor.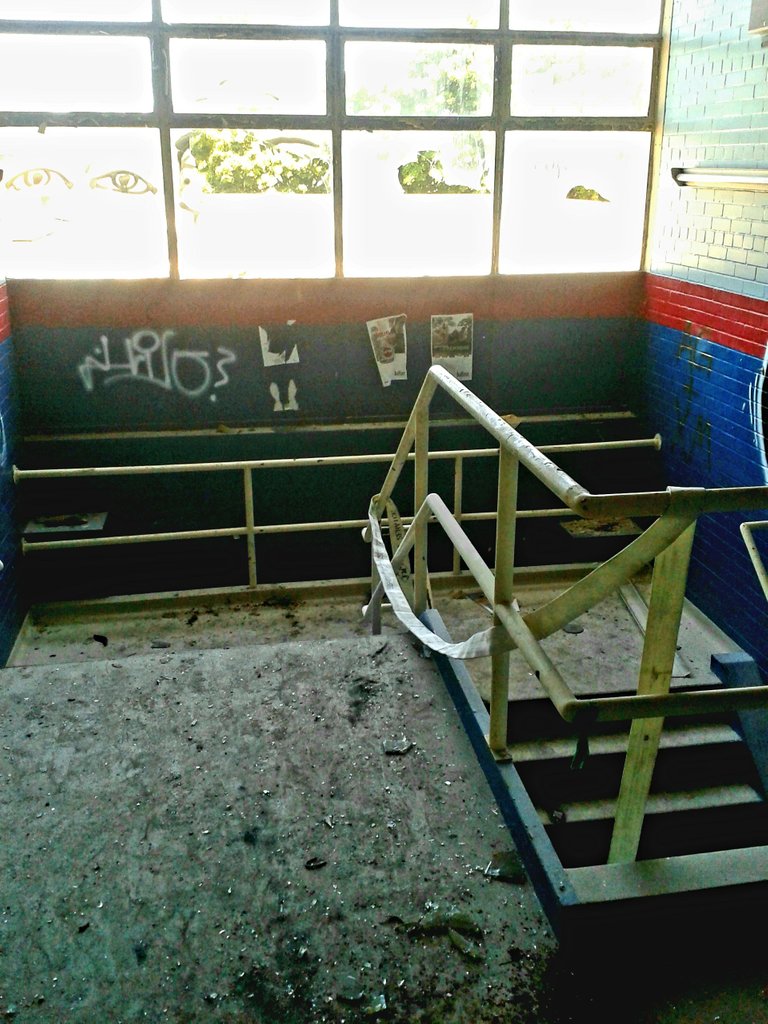 Hmph, nice view they had.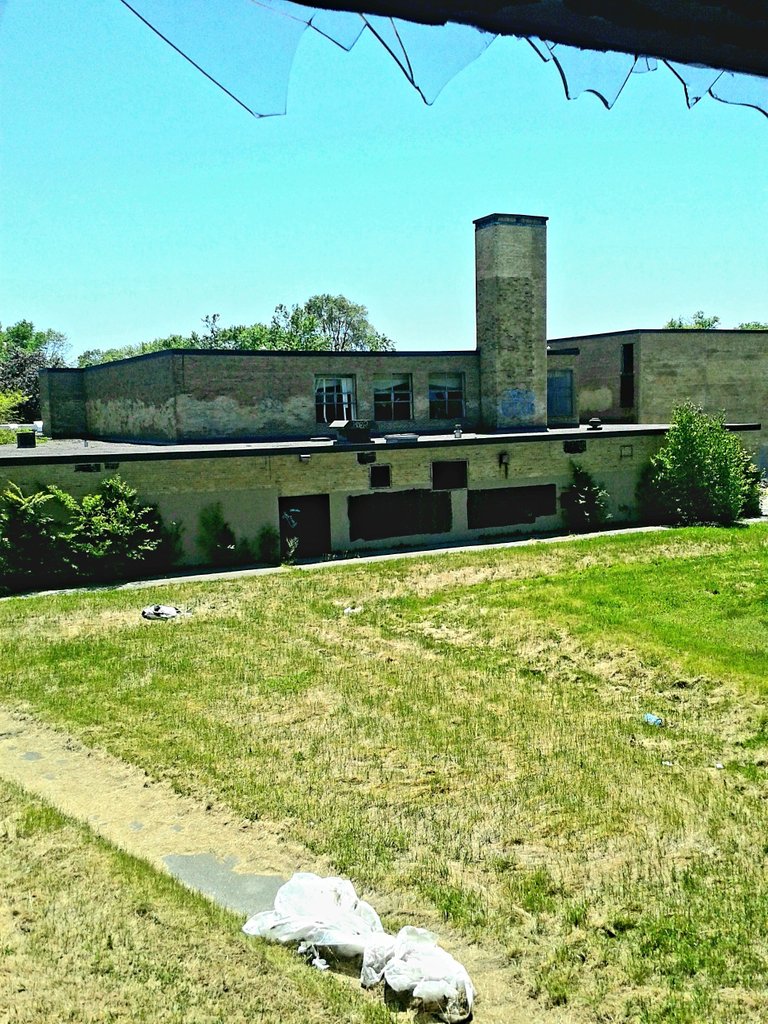 Staring down this hallway seriously creeper me out, so turning to the left,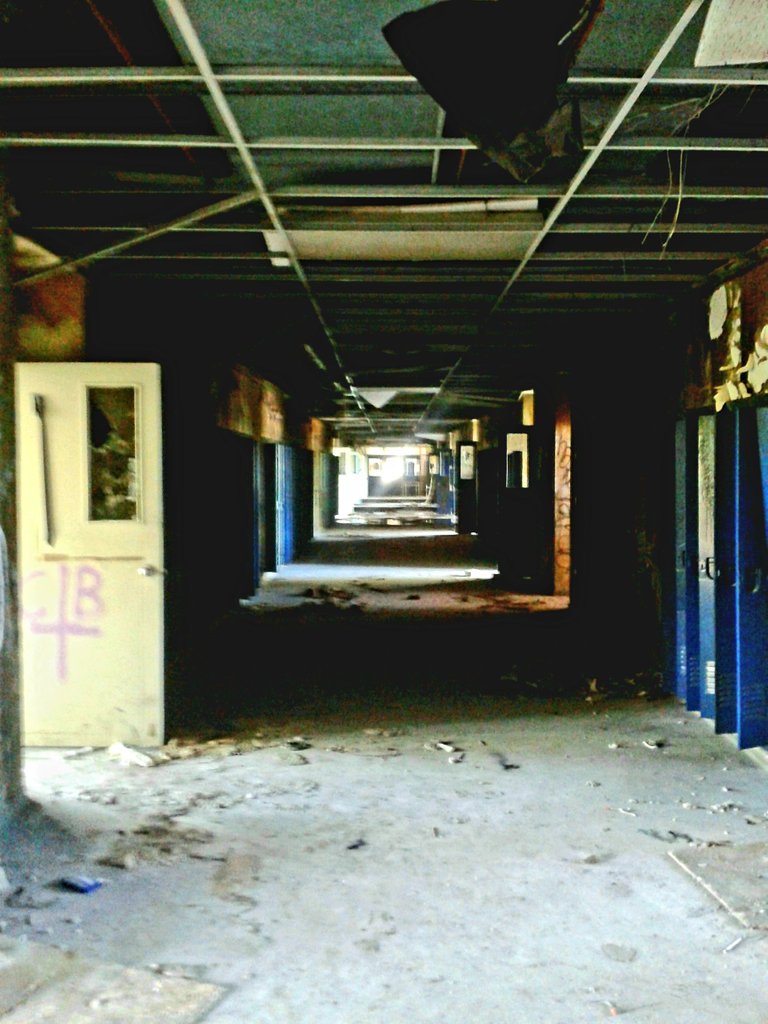 I entered here!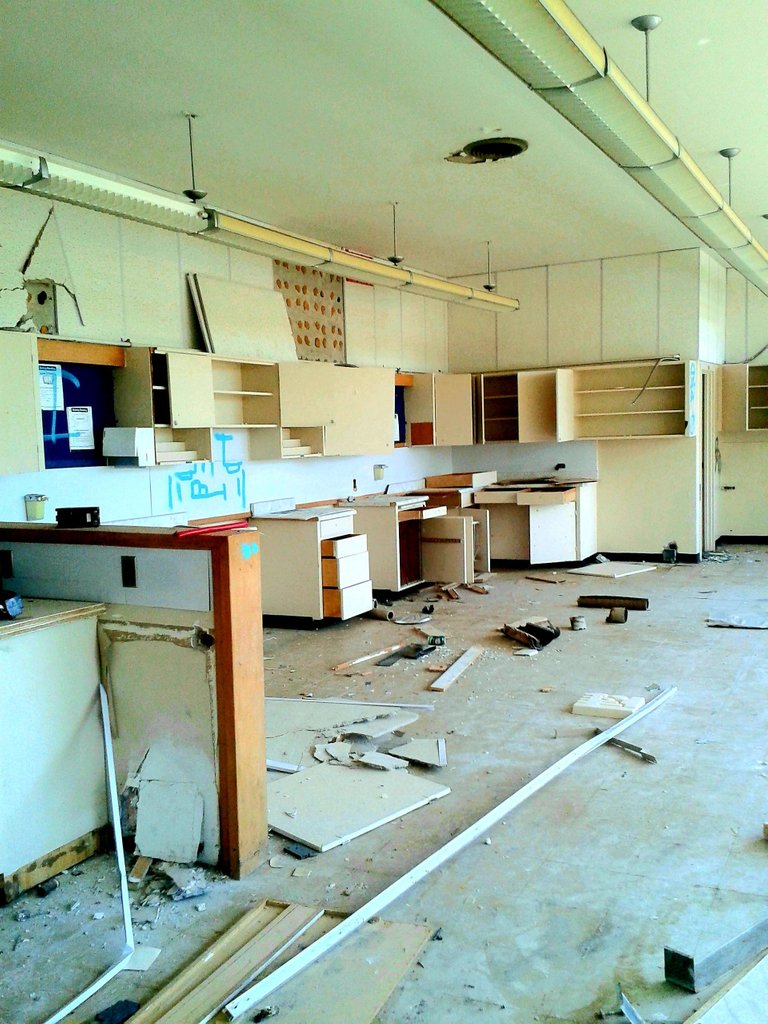 With some tags on the chalkboard (woohoo, looks wonderful bleh);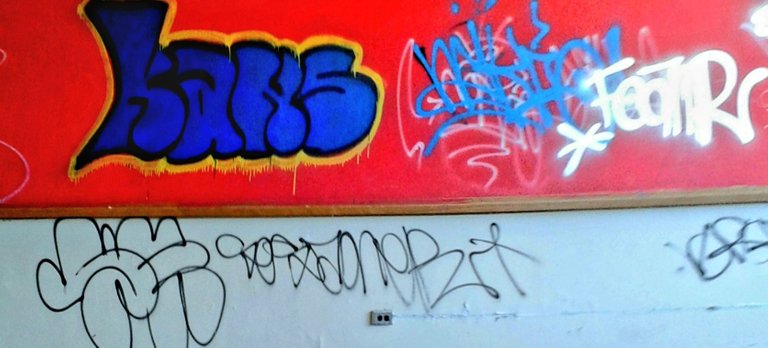 Decided to have some fun on this cupboard :)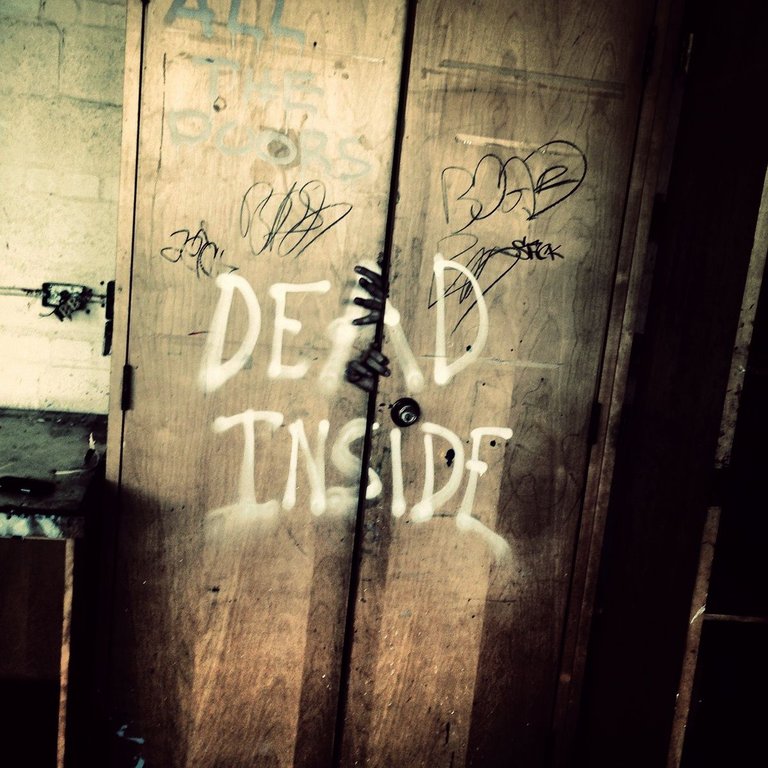 Forward, I found a maintenance door open and stumbled upon this...reminds me of a certain classic game, "Nazi Zombies", there's a part you could play in such where you would teleport to the top of a large auditorium for a few seconds to refurbish in-game ammo, get perks, etc., then throw grenades and shoot at zombies from atop with the time left on your timer counting down before being teleported back.
This, looking back, looks so much like that auditorium and that memory for me. I love it.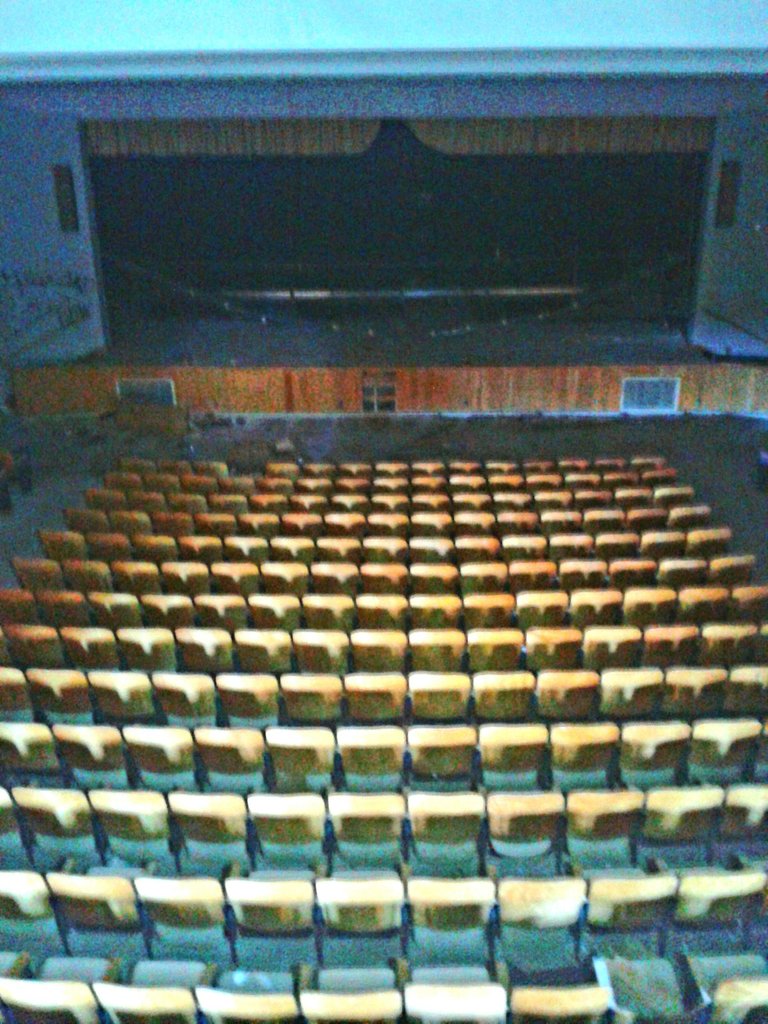 And I had the guts to go on the shaking wooden rafter's even back then (I was ballsy) haha!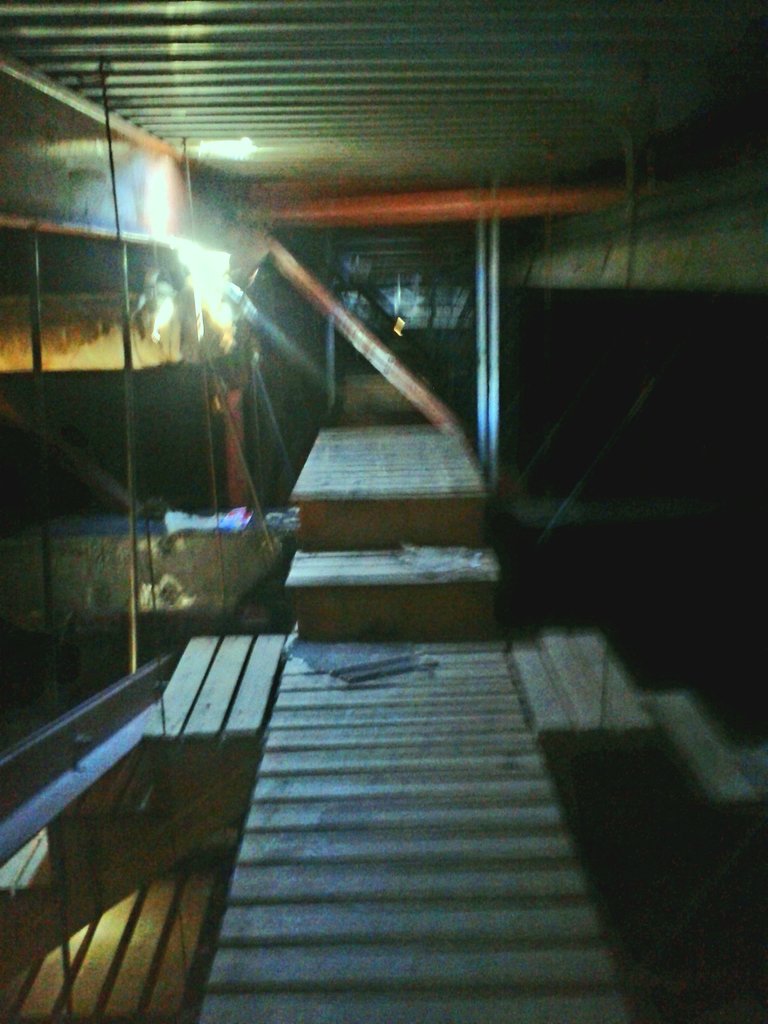 Having taken my look, I headed back from whence I came and back through the maintenance door. I went again through the spooky hallway, the science laboratory and to the stairs, snapping this out the aide window along the way.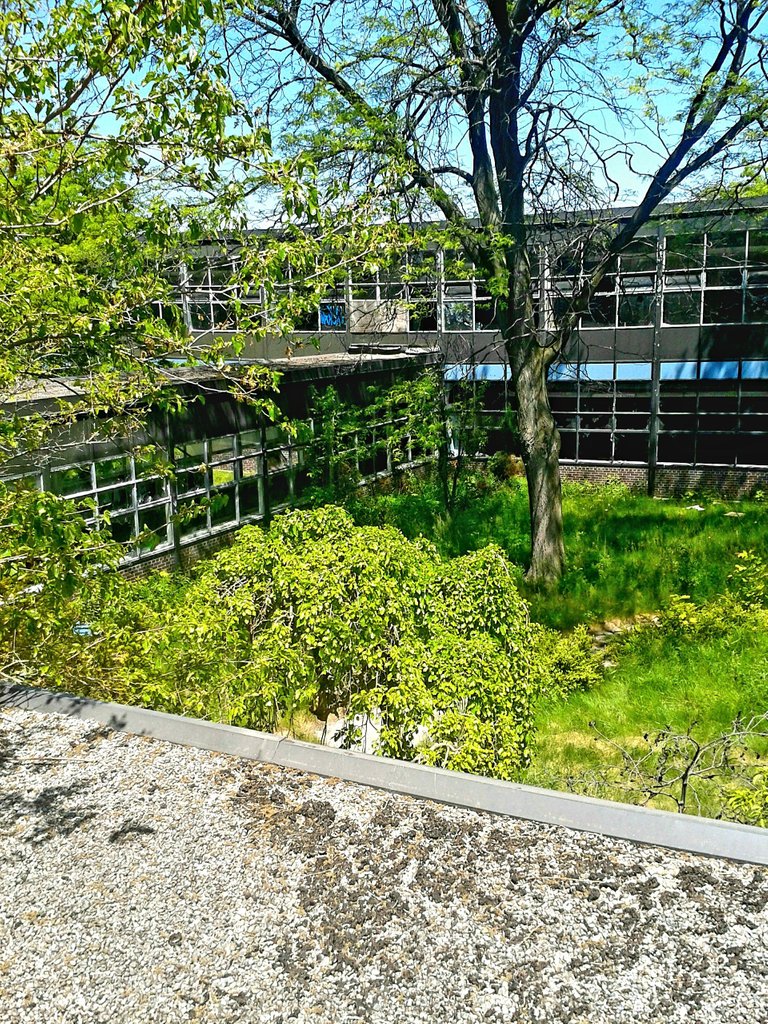 When I reached the bottom of the stairs, I went back to the open area by the entrance to the auditorium.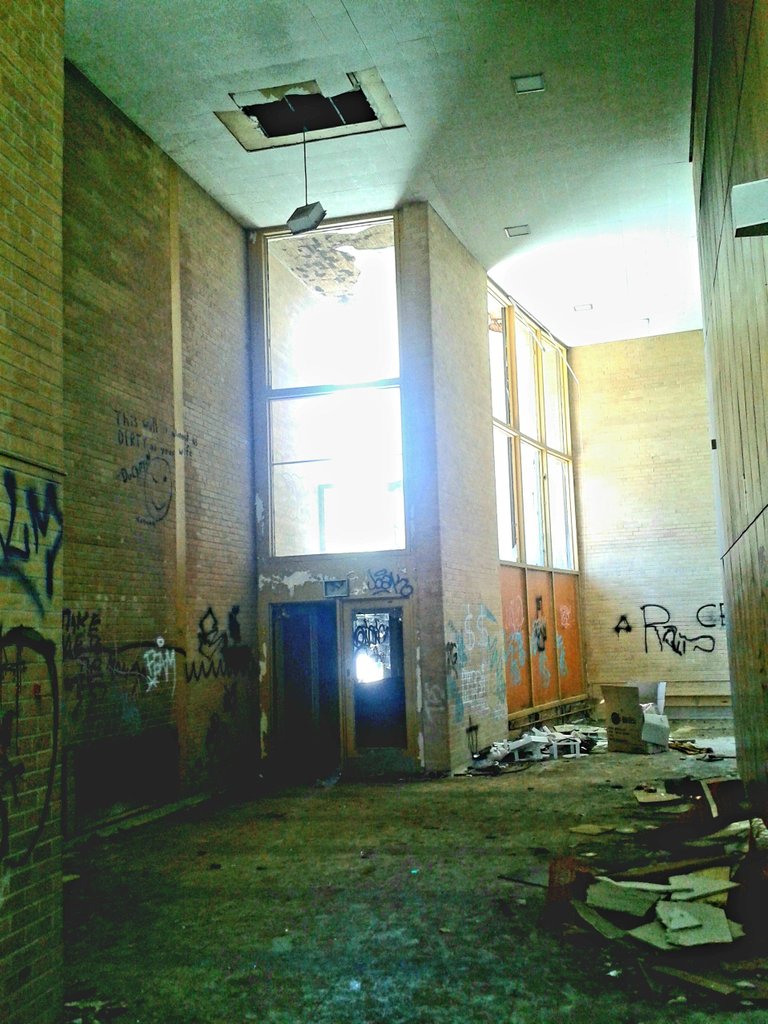 Upon getting out the side doors, I snapped another shot of the smoke stack and west side and walked my way back along to the east road.
Just like yesterday I remember walking right back to Valermo and taking one last glance at the collegiate before I left. That's a memory I hope I'll never forget, and I hope I brought to life some for people that decided to actually go through this as well.
---
Thank you so much to every viewer for your continued support with all of my new postings, and a special thank you as well to @slobberchops and his amazing #urbex community that I am so thankful to have kindly actively become a part of.
---
---
Ontario Place:
https://peakd.com/hive-104387/@trezzahn/tales-of-a-place-untold-ontario-place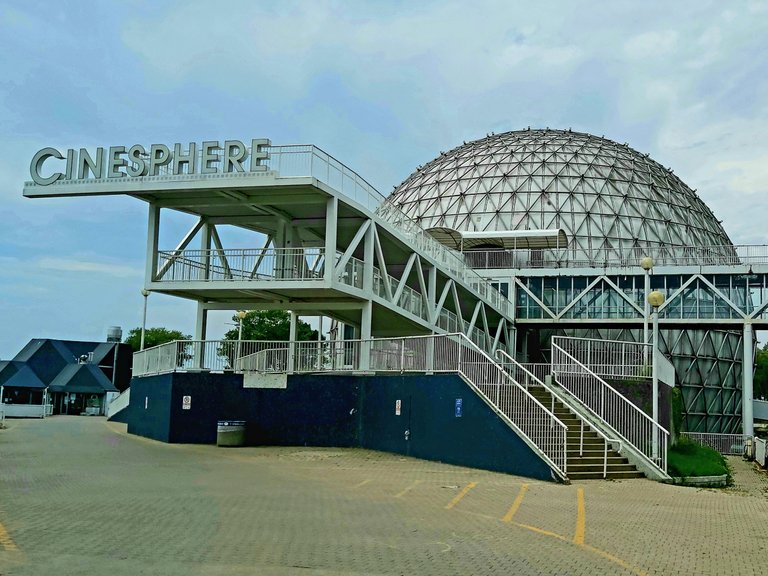 ---
---
Linseed Oil Mills:
https://peakd.com/hive-104387/@trezzahn/tales-of-a-place-untold-the-abandoned-linseed-oil-mills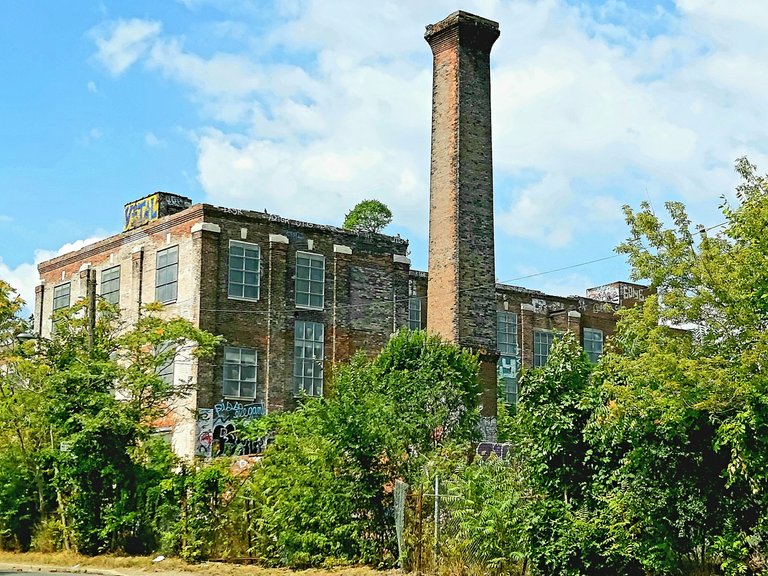 ---
Pinmapple'd
---
#urbex #proofofbrain #lassecash #palnet #hive #steem #steemit #ecency #abandoned #urbanexploring #old #exploring #adventuring #urban #heritage #abandonedschool #alderwood #alderwoodcollegiate #alderwoodcollegiateinstitute #trezzahn #pinmapple
---
---