Splinterlands Chaos Legions Packs & Airdrops - Best Investment!
Hi Everyone,
Today marks half way of the Chaos Legions airdrops with the 7th million pack sold last night. Since the sale of Chaos Legions, many players including myself was determined to buy packs early to take advantage of the airdrops as early as possible to maximise the chances of getting these precious legendary cards. With us half way through the airdrops, it is still not too late to join in the fun and get these packs. Not only you are in the chance in getting the remaining 7 airdrop cards, you will get various SPS airdrop points depending if you hold the packs unopened or have them opened, they all earn some sort of points. In the long run, these SPS will come in handy when the game continues to expanding in particular land.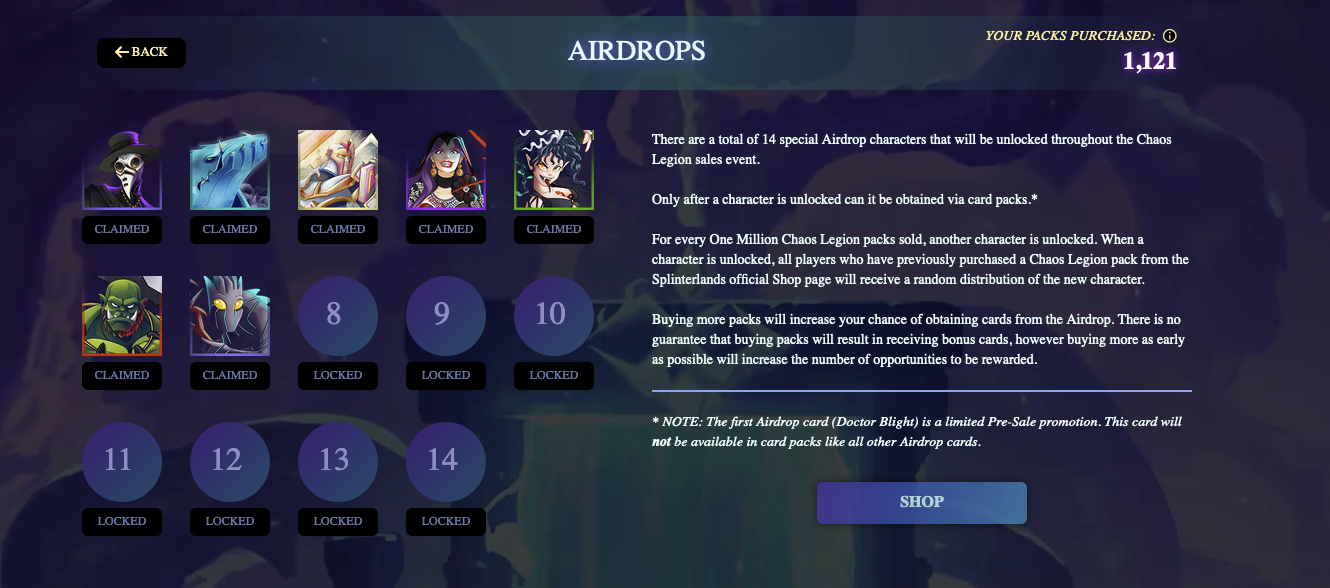 Pack to these packs, as I have bought over 1000 packs, at this stage, I have been getting all the airdrop cards. If you look at the history of the game, the airdrop cards are all pretty unique and in the long run are great to hold to keep value and in most cases like myself, I end up using them in my normal day to day game play. Once the airdrop finishes and packs are gradually opened, we will see the demand of these valuable cards go up. If you are one of players who started collecting the airdrop cards from day 1 from the Chaos Legion set, this could be your best investment yet just looking at these cards (not even the unopened packs or cards you have opened). What is given to you for 'free' is essentially giving you a head start advantage. As a player who have been here since the start, these are sure valuable in some way or form. Just look at the past airdropped cards and you know what I mean.
Out of the 7 cards dropped so far, I have two that I love and see myself using in the future. First is the one which was airdropped today, Spirit Hoarder. Funny enough when I saw the name, this card was pretty much made for me as I've been told I'm a hoarder at home and like to collect all sorts of things at home in particular Hello Kitty bits and pieces. This legendary card is a neutral monster meaning it can be used with any splinter in the game which makes it attractive. Second is the triage ability allowing to heal the back line monster when it gets hit. With the splinters I play, I don't have any cards with the triage ability so this one will be a good one to add to my line up. Of course as you level up, more abilities but even at level 1, this card is enough for the time being. At $15, it is sure worth it!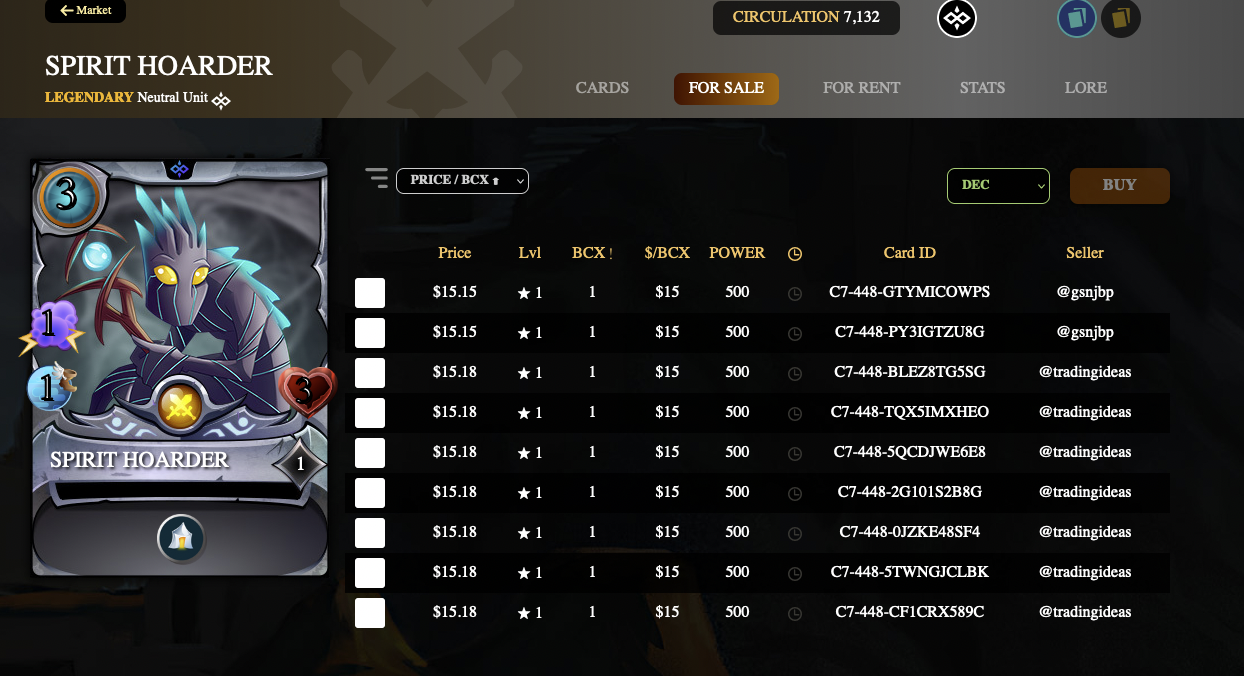 The other card I like which was airdropped was the card number 6 called Grum Flameblade. I don't play fire splinter except on my alt account but I can see this card being really powerful in the long run. Matched with summoner Qid Yuff, Grum could be pretty dangerous. You would ask why I don't play fire splinter but like the card, it is because of the potential. Since the announcement of Chaos Legions, I am hoping to work on the other splinters I don't have at a level so I can have a more all rounded set. Fire is one of them and I am hoping my plan will play out and be able to use it in the near future. The card is not cheap currently listed around $19 as many players can see how useful it can be so best bet could be finding them in packs or wait for a cheap deal on the market. I am fortunate to have 6 in hand so will definitely make good use of it when the time comes.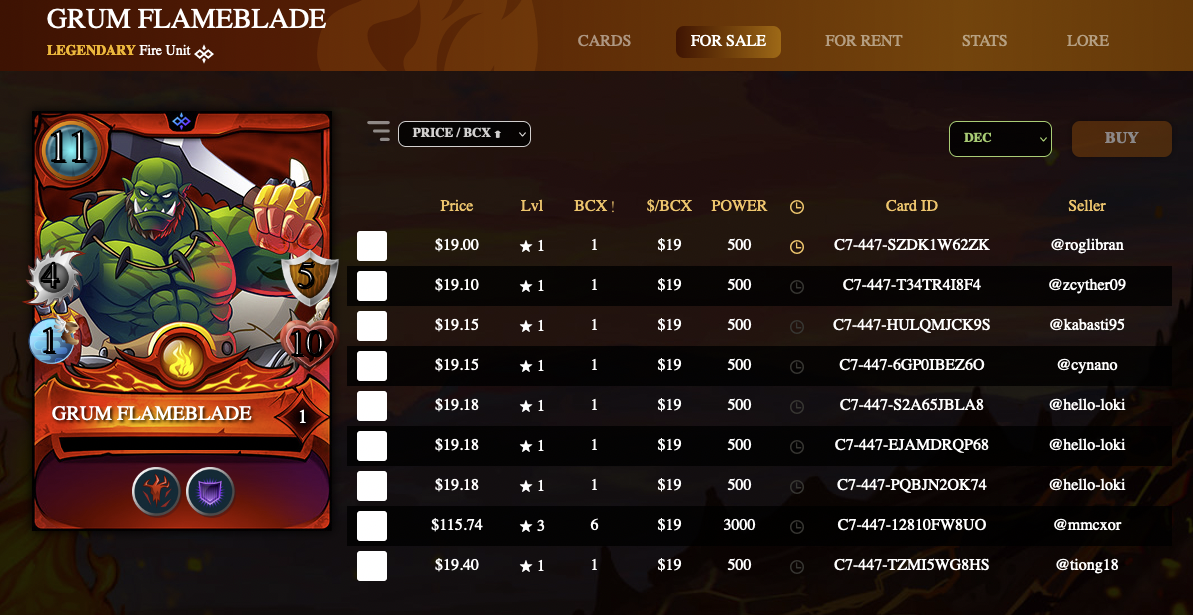 Source - Splinterlands.com
As I mentioned, there is still time for you to get into Splinterlands and get some packs with a chance of getting the remaining 7 airdrop cards. There are plenty of cheap cards on the market to get you started so don't miss out!
If you haven't joined Splinterlands yet, do join us here as things will only get exciting from now on wards. See you on the battlefield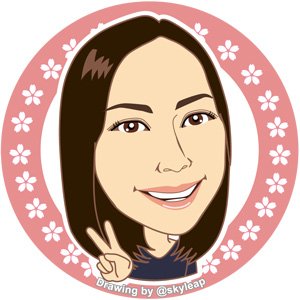 ---
Thanks for reading. If you like my post, please follow, comment and upvote me. There will be more exciting posts & destinations to come.
All photos & videos are taken by me & co in all my blogs/stories unless quoted.
Posted Using LeoFinance Beta
---
---