Countdown For Splinterlands Chaos Legion Presale
Hi Everyone,
We are now into the final week of the voucher distribution with just over 11 days to go until the presale finishes. From my stake, I can see the daily airdrop of vouchers gradually going down which means that more and more players are staking their SPS to get more vouchers. It is become very competitive in this final week to get our hands on the vouchers and I anticipate that the last few days of the presale campaign will become a mad rush to get whatever ticket is out there. I have to admit my plan of getting 300 packs isn't going to happen by my calculations on how things are going but there is still hope as I am trying to see where I can get the few tickets I might be missing.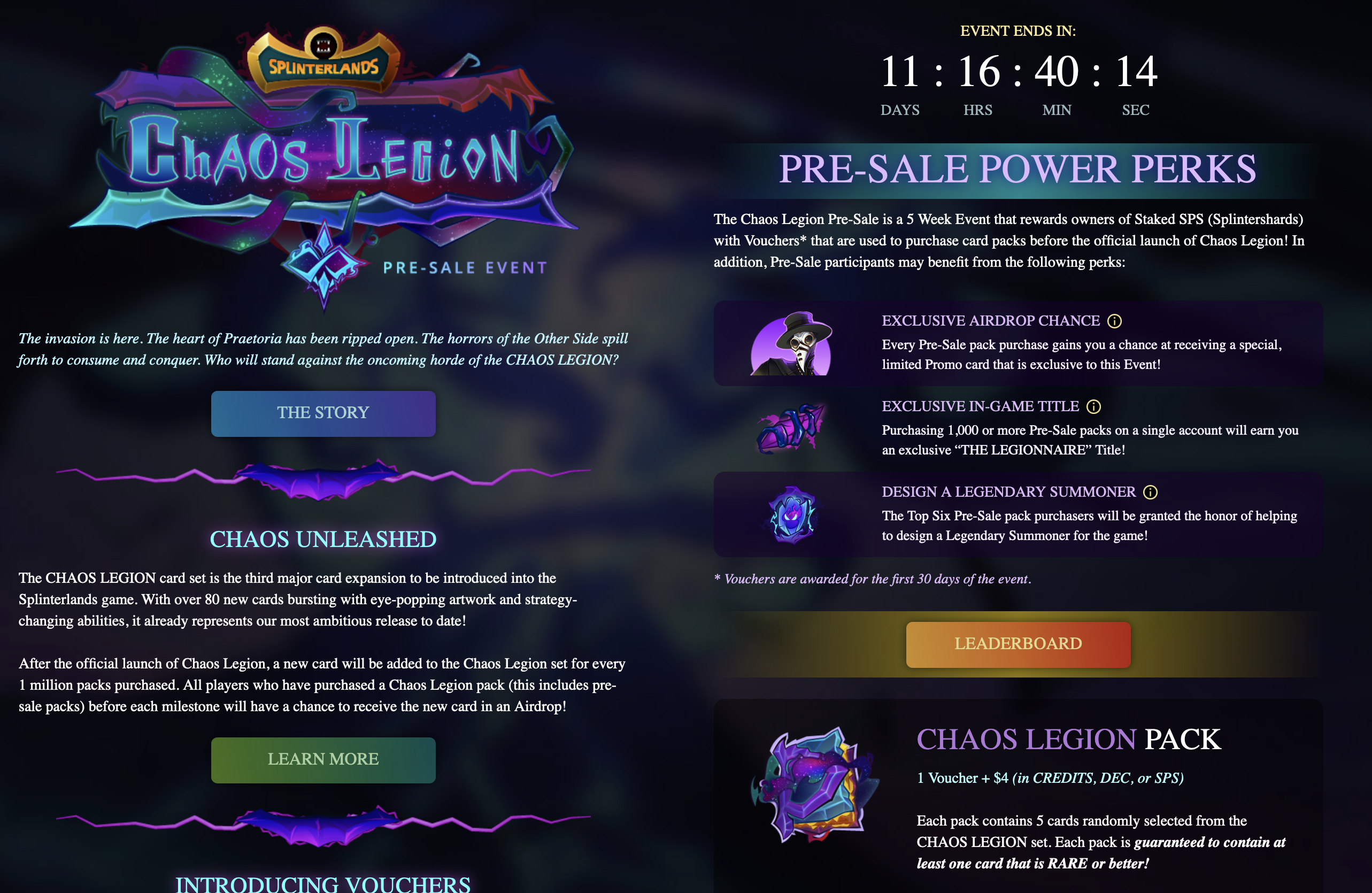 The price of vouchers on the market have been steadily going up and is selling just under $18 at the time of writing. I am anticipating it will go close to $25 each by the end of the presale event or may go higher for those who wants to get their last few tickets. Over $220K of volume in the last 24 hours which means the vouchers are still in very high demand and possibly higher next week. There are plenty of buy orders so the demand is definitely there.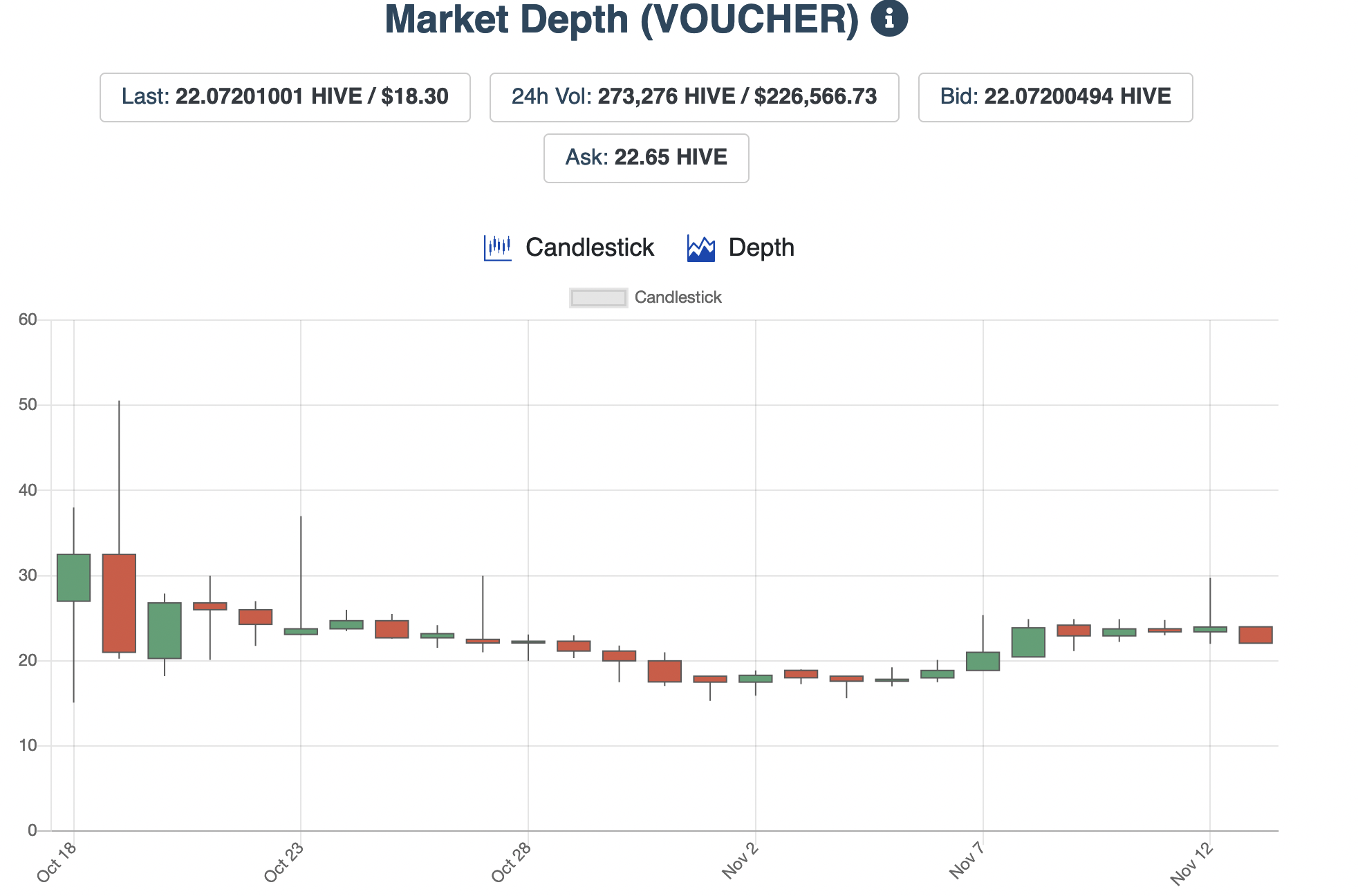 I'm currently sitting with 220 packs plus a few I bought on Hive-engine with the extra Hive which has been sitting there not doing much. I bought those backs for around $8 each which I think is an acceptable price in case I can't get them in the general sale in a couple of months time. I am sitting at position 186 with my pack purchase in game but I think most people will be waiting last minute to buy their packs to get the maximum bonuses if they get 100 packs or more. I chose to buy them a bit early is I can get the 300 airdrop points per pack in turn hoping to get more SPS each day. Not sure if that is good move but at least I bought them which what I have. I am also guaranteed to get 4 of the promo cards which I am excited about. Although I am getting way less promo cards than last time which was the Chain Golem, but under these circumstances, I am quite happy with how things are going at the moment.
Although I am very excited for the new packs to come out, at the same time I am worried I won't be able to get enough. The strategy probably will be like previous times, get as many packs as I can afford/possibility get and get the rest I need from the market. In the past, I didn't buy that many packs BUT I did pick and choose what I need from the market and built my deck from that. There will be over 80 new cards from this series, it will be a challenge to get everything from packs so I won't be putting all my eggs in one basket (ie packs) and will leave some funds for the market buys.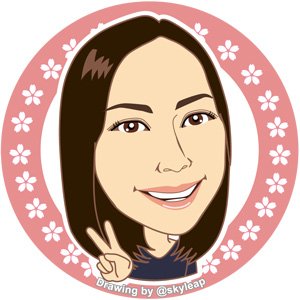 ---
Thanks for reading. If you like my post, please follow, comment and upvote me. There will be more exciting posts & destinations to come.
All photos & videos are taken by me & co in all my blogs/stories unless quoted.
Posted Using LeoFinance Beta
---
---