ANNOUNCEMENT POST - Hive Power Up Day, November 1st 2020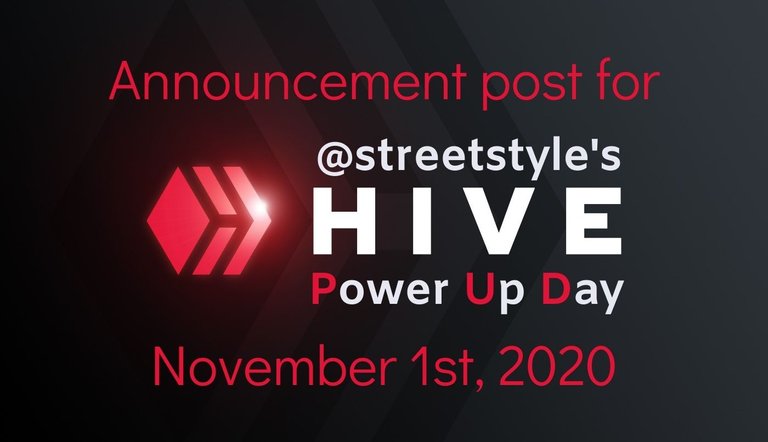 Hard to believe, but one week from today (on November 1st, 2020), the next Hive Power Up Day will be here! In fact, the @hivebuzz countdown timer has already started ticking down the minutes - be sure to check it out HERE. How the hezmana is October already almost over?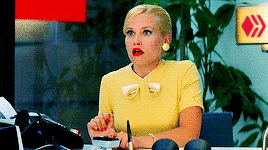 And since @streetstyle continues to be AFK (away from keyboard), I'm stil running his initiative in his absence, as well as sending good thoughts in his direction and hoping we hear from him soon that all is well.
We had some cool changes a couple months ago, like the merging of #HivePUD with the Spanish #HPUD initiative, as well as some AMAZING new badges for Power Up Day courtesy of the @hivebuzz team. This month, in addition to some rumored additional awesomeness from Hive Buzz (as mentioned at the end of their feedback post last month, I'm happy to say we have a few new prizes in the pool!
Now, to get on with all the details...
What is HivePUD?
Hive Power Up Day has been taking place on the first day of every month since it's inception on that other blockchain over a year ago. There's a great old post from
@sndbox
that explains all the reasons
you personally benefit from powering up
. For the community as a whole, it's a great way to show support for our blockchain home by staking (aka powering up) Hive and adding to its value. And as
@streetstyle
has always said...
On the first day of the month...
• ...we ask that everyone who can do so, power up any amount of HIVE they are holding on the first of the month.
• ... we ask accounts that are currently powering down to please pause the powerdown during the hours of the first of the month.
• ... we ask that those who are trading and/or selling Hive, not to do so during the hours of the first of the month (and if possible, cancel any type of sell order on any exchanges for the same hours).
How to qualify for prizes
For those who have done Power Up Day in the past, please be aware these requirements changed a bit starting with the September 1st 2020 PUD, so please read carefully:
Your reputation must be above 39 and below 70.
Your total Hive Power (before the 1st) must be more than 100 and less than 8000.
NEW: You must power up at least 10 Hive on November 1st.
To be included in the winners list, you must meet all four requirements above. The order of the list (first place, second place, and so on) will be determined by the biggest PERCENTAGE of Hive powered up, not necessarily the most Hive powered up. As
@streetstyle
explained it -
If you have 1000 HIVE Power already powered up prior to NOVEMBER 1, and on NOVEMBER 1 you complete steps 1-4 with a 100 HIVE Power Up,

and

another HIVE member has 300 HIVE Powered up prior to NOVEMBER 1, and on NOVEMBER 1st Powers Up 60 HIVE Coin, then this 2nd user would be winning with a 20% power up versus the first example with a bigger power up but smaller percentage of only 10% based on their account.
What are the changes from previous months?
I know this is kind of old news by now, but I thought it was worth including again this month. Simply that...
if you've always participated in #HivePUD, the only thing that changes is that your minimum power up to qualify for the prize pool is 10 Hive Power.
If you've been participating in @victoriabsb's #HPUD, the rules above are now the ones to follow to qualify for this prize pool. Victoria also has a special plan to ensure the smallest Spanish participants are able to win some delegations, the details of which will be in her upcoming post.

 

HIVE POWER UP DAY Prizes

In addition to making your own vote more valuable and adding to your curation rewards (as well as earning interest on your stake), some amazing members of the Hive community are offering prizes that include delegations, Hive giveaways, and other cool stuff (listed below, with a special section for new prizes this month).

And once again in @streetstyle's own words...

The prizes are meant to incentivize the smaller members of the HIVE, the young bees looking to turn blogging nectar in honey for the HIVE. By Powering Up Hive coins into Hive Power, members of the HIVE show support for the HIVE BLOCKCHAIN and the HIVE Community while helping to grow their own account as well.

If you'd like to jump in and offer a prize for future #HivePUDs, simply shout out either in the comment section, or on Discord (traciyork#4860) and I'll be sure to update the prize list accordingly!

And no worries if your account is too big/small to qualify for an "official" prize - remember that any time you power up, you "win" a bigger upvote and more power on the blockchain. Can't go wrong with a prize like that! 😍

Prize list

For now, based on the past few months, I'm leaving all the prizes marked as ✔️ (CONFIRMED) as they seem to be fairly consistenly awarded. If that changes, I'll update the prize to ⛔ (NOT CONFIRMED) until I know for sure. And sponsors, if you'd rather I left your prize marked ⛔ each month until you shout out, please let me know and I'll be happy to change it.

 

1st Place -

500 HIVE Power delegation for 30 days - Sponsored by @sgt-dan ✔️
300 HIVE Power delegation for 4 weeks - Sponsored by @traciyork ✔️
5 HIVE Basic Income units/levels Gift - Sponsored by @improv ✔️

 

2nd Place -

300 HIVE Power delegation for 30 days - Sponsored by @sgt-dan ✔️
200 HIVE Power delegation for 4 weeks - Sponsored by @traciyork ✔️
5 HIVE Basic Income units/levels Gift - Sponsored by @improv ✔️

 

3rd Place -

200 HIVE Power delegation for 30 days - Sponsored by @sgt-dan ✔️
100 HIVE Power delegation for 4 weeks - Sponsored by @traciyork ✔️
5 HIVE Basic Income units/levels Gift - Sponsored by @improv ✔️

 

4th-20th Place Each -

5 HIVE Basic Income units/levels Gift - Sponsored by @improv ✔️

 

ADDITIONALLY -

 

PLUS -

 

NEW THIS MONTH -

All HivePUD Prize participants who qualify for the prize pool will be entered into a giveaway for a delegation of 500 HIVE Power for 4 weeks (3 lucky winners) - Sponsored by @theycallmedan ✔️
All HivePUD Prize participants who qualify for the prize pool will be entered into a giveaway of 10 HIVE POWER (5 lucky winners) - Sponsored by @traciyork (courtesy of Hive supplied by @theycallmedan) ✔️

 
 

Special #HPUD Prize pool


As I've said before, when @victoriabsb started her #HPUD initiative, she wanted to make sure the smallest Spanish participants were still able to win some delegations, even if they didn't qualify based on the above rules. The details can be found in her post from last month, but essentially those winners will receive:

1st Place -

200 HIVE Power delegation for 15 days - Sponsored by @victoriabsb ✔️
150 HIVE Power delegation for 4 weeks - Sponsored by @traciyork ✔️
75 HIVE Power delegation for 21 days - Sponsored by @r1s2g3 ✔️

2nd Place -

100 HIVE Power delegation for 15 days - Sponsored by @victoriabsb ✔️
150 HIVE Power delegation for 4 weeks - Sponsored by @traciyork ✔️
75 HIVE Power delegation for 21 days - Sponsored by @r1s2g3 ✔️

   




Timeline Reminder




Power up Hive on November 1st, 2020
Post about your power up on November 1st, 2020
Unofficial winners list will be posted November 2nd or 3rd (allowing time to correct for errors/omissions)
Official winners list will be posted on November 5th, after which sponsors will disperse prizes

 

 


That's it for now!

Shout out to the new-ish (still in Beta) UI from @leofinance (check out, LeoFinance Beta UI Live Demo | Improved Content Discovery, HiveOnboarding, Themes for more info) which is what I used for creating this post. I really enjoy using this interface - well done, Leo Finance team!

Oh, and be sure to follow @hivebuzz so you don't miss upcoming announcements about some other fun features they're working on for Power Up Day, as well as other awesome initiatives like the Mental Health badge for the Natural Medicine Community and the Papillon Charity badge to support @papilloncharity and @combination's amazing fund raising efforts!

Thanks once again to everyone for all you do to make our new blockchain space a home. Special shout out to my numbers guy @abh12345 for always pulling together the data when the time comes - Asher, you're a ROCKSTAR!

And here's to another awesomesauce Hive Power Up Day - I know we're doing @streetstyle proud!





Image Credits: blog thumbnail created on Canva, using a graphic created by @nateaguila in his Free HIVE Social Kit post. #HivePUD GIF created using both Giphy and ezGIF.

 
 





Thanks for stopping by!






My posts may occasionally contain affiliate links. If you click through,
I might get a wicked small commission, with no extra cost to you.

My photographs are taken with my trusty Nikon,
sometimes utilizing my handy dandy tripod.
Blog graphics created on Canva

All words and images are mine (unless otherwise indicated),
and can also be found on my various social media sites.
Speaking of witch which...


 
 




Posted Using LeoFinance Beta
---
---