Would you give yourself the chance to be a Leo whale on this LPUD ?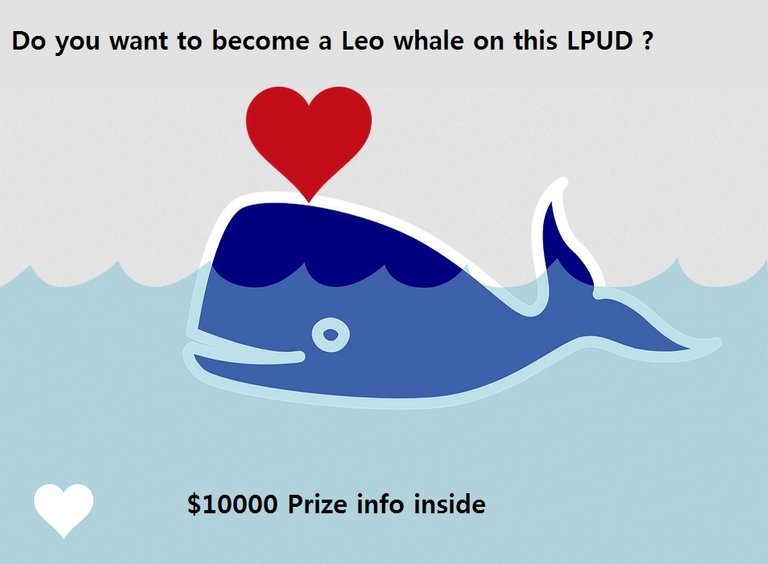 source
Who does not want to be a whale on the blockchain. A whale wields a lot of power on the blockchain and a leo whale is gets not only power but also the respect of users on the Hive blockchain.
Not to mention the high voting power and fat curation rewards such an account holder earns.
Building a whale account is the aspiration of practically everyone who joins the hive blockchain.
However most can only dream what it feels like to be a leo whale.
Your chance to be a leo whale is here
15th day of every month is marked as the LPUD or the Leo Power Up Day
On this day leo account holders power up their leo tokens.
Any one who powers up 150 or more leo tokens becomes eligible to go into a draw and the winner gets a delegation of leo power from existing leo whales.
Check out the Leo delegation Prizes
What if you do not win any of these prizes ?
That would be bad luck right ?
Well there are even bad luck prizes for those who do not win any of these prizes.
Check out the Bad luck prize
10k-100k Leo Power for the Bad Luck prize by @onealfa
There is a lot more to LPUD then meets the eye
Besides these prizes LPUD is a habit that one inculcates.
It is all about buying or accumulating Leo tokens and powering them up.
This habit when done on a monthly basis increase the health of your leo wallet.
slowly the vote value goes up and as a result the curation reward earned by a LPUD participant goes up.
So if you get into the discipline of powering up then it helps in a healthy growth of your crypto portfolio.
What are the requirements to be eligible for the LPUD prizes ?
Your total Leo Power (on the 15th) must be less than 25k.
You must power up at least 150 Leo on February 15.
You must not have powered down Leo since November 15.
Make a post (preferably) or send a Thread on Leo Finance about LPUD, perhaps you'll get a visit from @leo.voter if you make a post!
Please read more about the super bad luck prize details here
Take action
Leofinance.io is a front end of a layer 2 platform dedicated to crypto, blockchain and financial content.
however with the launch of leo threads https://alpha.leofinance.io/threads it has launched the decentralized short form platform that is like the twitter of the hive blockchain.
currently there are some great opportunities present to the hive community members.
One is to power up on LPUD and try your luck to win a big Leo delegation.
Another huge opportunity is to take part in the $10000 leofinance.io quest which can be joined and won by doing a series of simple steps.
You can read more information about the quest here
Posted Using LeoFinance Beta
---
---