Would you get lucky or make your own luck this LPUD ?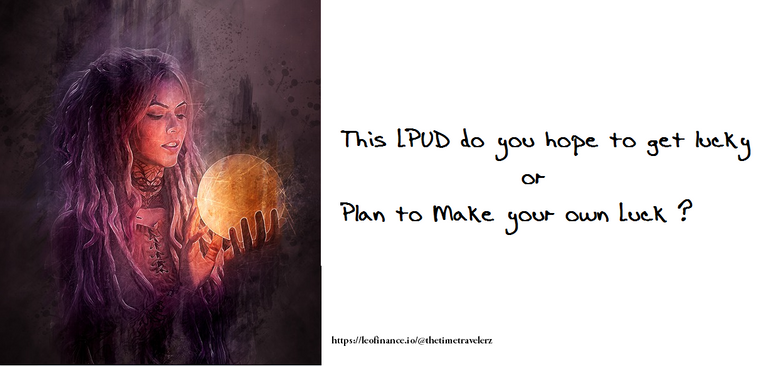 source
Hello friends LPUD is just a day away. 15th of every month is the LPUD or the Leo power up day. It is a day celebrated with a lot of fanfare.
The day is marked by powering up your leofinance account. To make the event even more remarkable there is a raffle draw or a give away every month.
This time the rewards are 170,000 Leo in delegation.
The LPUD reward detail are
10k from @edicted
10k from @investing-dude
10k from @bitcoinflood & @anomadsoul
8k from @leomarkettalk, @taskmaster4450 & @lbi-token
8k from @alexvan & @leogrowth
5k from @jongolson & @mcoinz79
4k from @steemstreems & @forexbrokr
2k from @whatsup & @scaredycatguide (1k each)
60k Leo Power - BAD LUCK Prize from @onealfa
source
Eligibility for the draw
Minimum powering up 150 $LEO on 15th January.
You Leo Power must not be greater than 25,000 $LEO on 15th January.
No power down since October 2022.
You have at least powerup 150 $LEO in December 2022.
Make a post or a #thread on Leo Finance about LPUD.
In addition to a chance to win the big delegation prizes there is a fair chance that @leo.voter may visit your post and up vote your it.
Winning is a matter of chance
With the entire Leofinance community enthusiatically participating everyone gets a fair chance to win the draw.
What if you do not win ?
Well every participant wins the participation badge and this gives a great felling of being part of the leofinance.io community.
How can one make their own luck on LPUD
Every time you power up on LPUD the vote weight of your leofinance account goes up.
What this means is that you can give out bigger votes.
Giving bigger votes means bigger curation reward to you
If you give vote worth $10 then 50 % of it comes back to you as curation reward.
Also your voting power goes down with each vote you give but gets recharged fully over a period of 24 hours.
This means you keep growing your account and crypto on a continous basis. This way by powering up you are creating your own luck.
How much you power up is in your hands and the more you pwer up the more is your voting power and more rewards for curation come back to you.
Final thoughts
If you are lucky you may win a big prize this LPUD even if this does not happen there is nothing stopping you from creating your own luck and grow your crypto portfolio.
With leo price howering around 0.052 USD it is not very hard to buy leo and power up.
LPUD is an opportunity and how we use it to carve our crypto future is entirely in our hands.
Pro Tip: As you power up keep an eye on the bigger target
The moment you hit 2000 LP you are assigned a Leo discord role and you find you have more powers and opportunities to earn.
For more information check the post by @leogrowth about discord roles here
As a communiy leofinance.io foucuses on crypto, blockchain and financial content and is always looking to discover and invent new and innovative ways to grow wealth.
Posted Using LeoFinance Beta
---
---