How to use Robiniaswap to exchange STEEM without KYC ?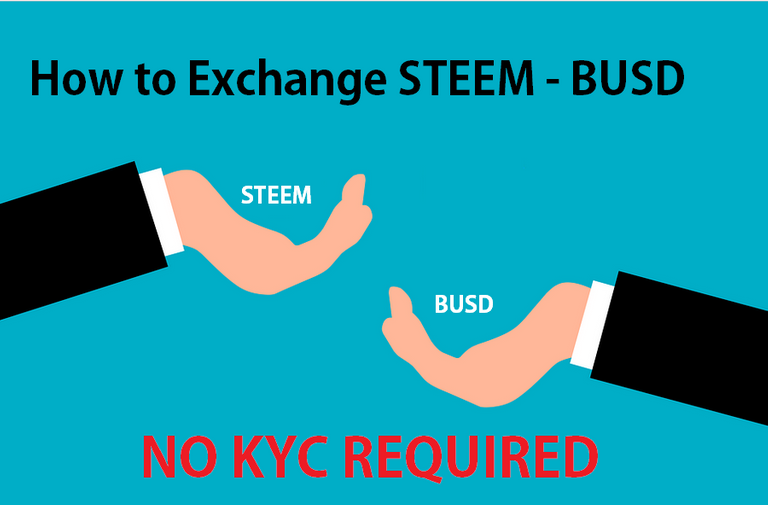 Source with modifications
How to use Robiniaswap to exchange STEEM without KYC
Robiniaswap is being writen about more for the fact that it is a DeFi platform which is offering Pool and Farm earning opportunities to its investors.
The interesting part about Robiniaswap is that the team is striving to get more and more features to enhance and enrich the user experiences for users to its site https://robiniaswap.com/
However https://robiniaswap.com also offers a bridge functionality so that users can convert their Blurt and STEEM tokens into equivalent tokens on the Binance Smart chain BSC
The equivalent token of STEEM is BSTEEM and the
equivalent token of Blurt is Bblurt
1 STEEM = 1 BSTEEM and
1BLURT = 1 BBLURT
Most people use a crypto exchange to convert one crypto to another. If you use a centralized exchange like Poloniex them you may be reuired to do a KYC that is Know Your Customer before you can transact or withdraw your currency.
What is wrong with KYC?
Well not everyone is comfortable in sharing the identity documents with a third part exchange.
In addition there is a time lag due to the time it takes for you to submit your documents and get the permission to trade on the CEX (centralized exchange)
In addition depending about a persons citizenship there may be restrictions in dealing with cryptos.
The crypto movement so far ha been free of boundaries and restrictions and should remain so except for government restrictions in your country which may restrict buying selling or holding crypto.
Anonymous crypto exchanges are good
Indeed they are and in addition there are services that allow one to exchange crypto without KYC but there may be a significant fee involved depending upon the service on offer.
Today we explore a method to exchange STEEM to other crypto without KYC
For this we are going to use the Robiniaswap bridge
To use the Bridge one can visit the following url
https://bridge.robiniaswap.com/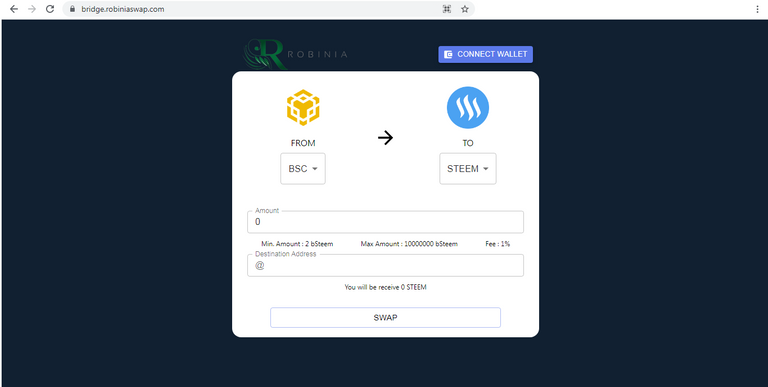 One needs to connect the STEEM wallet to the bridge and to do this press the connect button.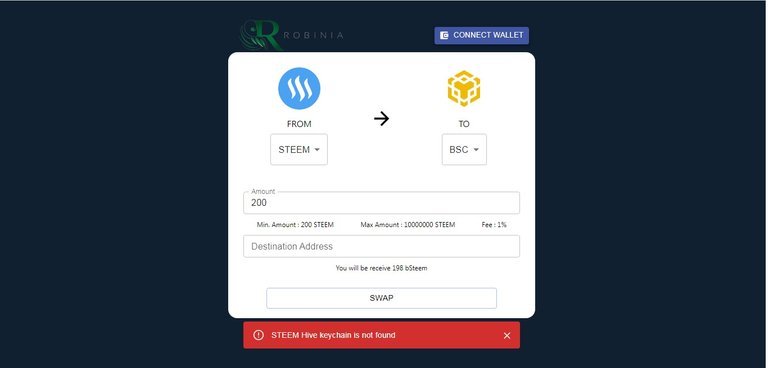 STEEM Hive Keychain is not found error
In case you get an error "STEEM Hive Keychain is not found"
This means you need to install the STEEM Keychain and input your STEEM wallet details in order to connect your STEEM wallet to the bridge service.
How to install STEEM Keychain ?
You can install the STEEM Keychain as a browser extention from here:
For chrome
https://chrome.google.com/webstore/detail/steem-keychain/lkcjlnjfpbikmcmbachjpdbijejflpcm?hl=en
For firefox use this link
https://addons.mozilla.org/en-US/firefox/addon/steem-keychain/
In
If steem keychain is installed it would look like this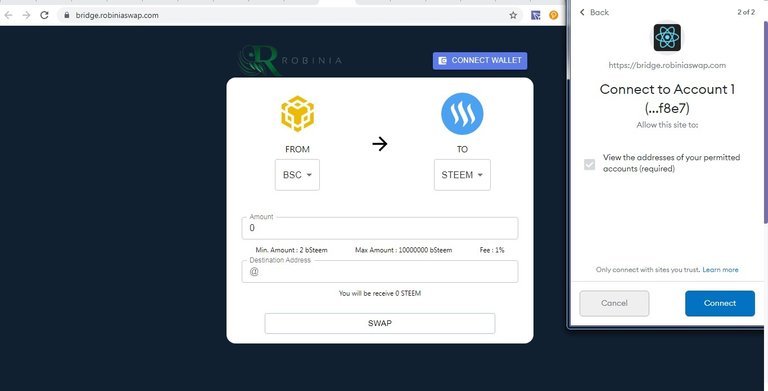 Now when you click the connect button the wallet should get connected seamlessly.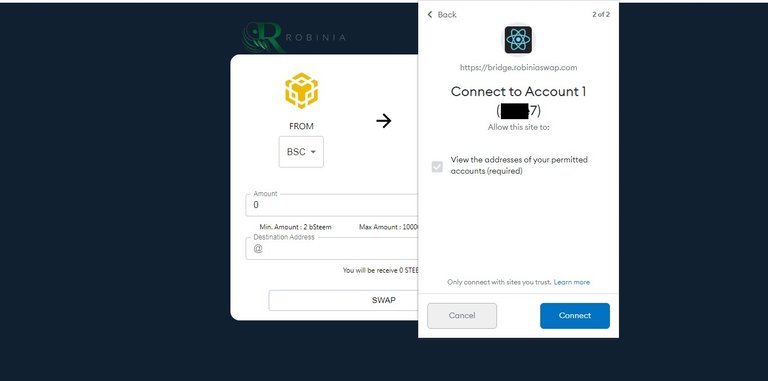 Fill the amount of steem you want to convert to bsteem and the metamask bsc address.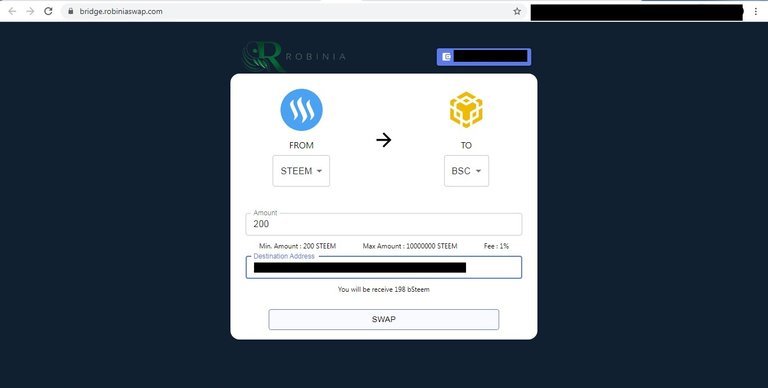 Next Click the swap button
In a short time interval the bsteem would reflect in your metamask
In case they are not visible then make sure you have added the bsteem contract address in metamask
Congratulations !!! You have moved your STEEM to BSTEEM that is the equivalent token on the Binance Smart chain.
Next visit https://pancakeswap.finance/swap
The interface would look as follows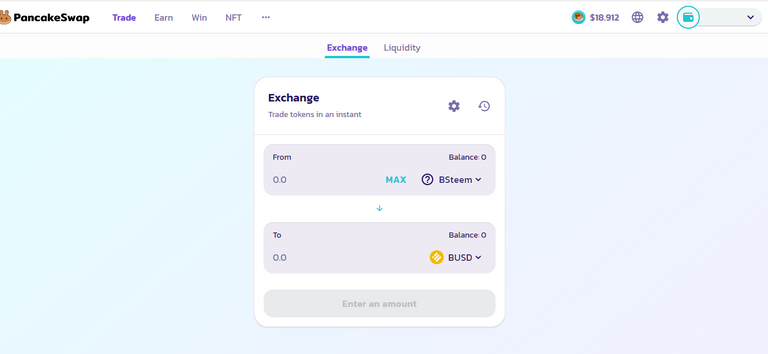 The exchange function of the site uses two drop downs
Pick bSTEEM in the top drop down as you are planning to exchange your BSTEEM to another crypto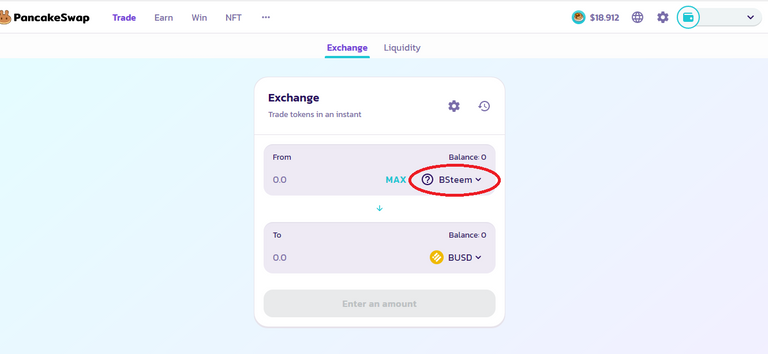 Enter the amount of BSTEEM that you want to exchange
In the lower field enter the Crypto that you want to receive.
In our case I have selected BUSD
Next click the SWAP button below


A small amount of BNB tokens are required to pay for the transaction fee.
So to get your approval a transaction popup would appear in the Metamask extention pop up window.
Approve the onscreen instructions and approve the transaction to convert BSTEEM to the desired and available cryto options.
Doing this step completes the exchange of your STEEM tokens =>BSTEEM => Crypto of your choice (That is available on pancakeswap.finance)
This is a straight forward crypto exchange process that requires No KYC
In case you want to know more about Robiniaswap here are the links which can be used to connect with the project or find more information.
RobiniaSwap
https://robiniaswap.com/
Robinia Swap Audit Report.
https://github.com/TechRate/Smart-Contract-Audits/blob/main/September/RobiniaSwap.pdf
Robinia Swap Official Document: https://blokfield.gitbook.io/robinia/
Discord Channel: https://discord.gg/JYNVSuWFF7
Global Telegram Channel: https://t.me/officialrobinia
Korea Telegram Channel: https://t.me/robiniakr
Kakao Talk 1:1 Inquiry: https://open.kakao.com/o/s9uEwEyb
Business Partnership: [email protected]
Standard Disclaimer: Please do your own due diligence and research before making an investment. The purpose of this post is for educational purpose only and it should not be considered as financial advice.
---
---