How to HODL STEEM yet Grow it with robiniaswap ?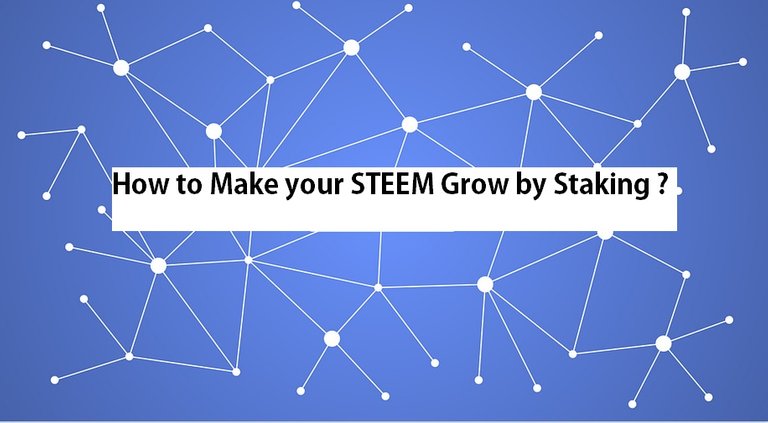 Source
Lets put your Crypto to work
We all work to earn money. How about our money work to earn us some money.
Real world Banking hardly gives us any returns. however the world of crypto is different.
If we talk in terms of crypto here is a method.
Today in this post we explore what we can do with the liquid STEEM that may be lying idle in our wallets.
Lets explore STEEM staking
If you are aware of the STEEM coin you are perhaps part of an eco-system of a coin with a Market Cap of $216,598,773 at the time of writing this post.
STEEM's Fully Diluted Market Cap is $226,113,919
Its 24 Hour volume is $20,457,375
The Circulating Supply as of now is
392,279,244.15 STEEM
This means we are looking at a pretty robust ecosystem of a Coin that is ranked at 200 on the coinmarketcap.com
So if you have idle STEEM on your account doing nothing then that means your crypto is growing at 0%
That is not at all.
Instead you can put it to staking
Staking STEEM is that even Possible?
Yes absolutely. Thanks to https://robiniaswap.com/
Robiniaswap and STEEM are working on different blockchains so how can this be?
Yes they are on different blockchains and robiniaswap works on the Binance Blockchain BSC however there is a
STEEM bridge that is operated by robiniaswap.
This is a two way bridge using which a use can move not only STEEM but also BLURT to the Binance Smart chain.
You can check the Bridge over here
https://bridge.robiniaswap.com/
Once there you can stake the STEEM which now becomes BSTEEM and BBLURT tokens (BLURT )
While you stake these respective tokens you earn a staking reward.
You can check the staking returns by visiting
https://robiniaswap.com/pools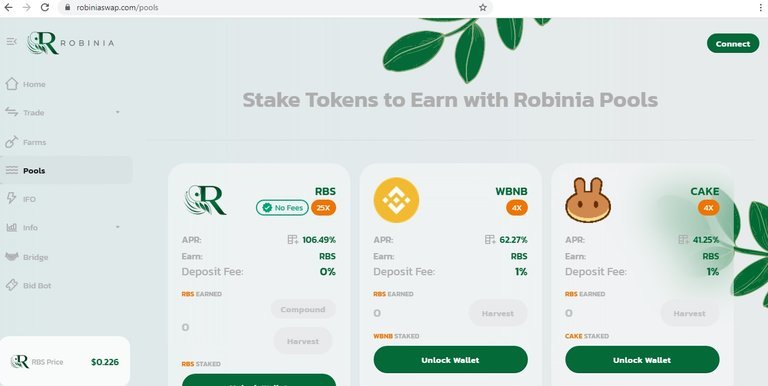 I have illustrated the step by step process of converting STEEM to BSTEEM
You can follow the steps in this post
https://hive.blog/rpromo/@thetimetravelerz/how-to-convert-and-stake-steem-tokens-on-the-binance-smart-chain
By using this method you do not lose your STEEM and you are free to unstake it at any time and take it back as STEEM.
The good part is that all this operation happens on the Binance Smart chain BSC and not ETH so the fee is relatively low and would cost you about a dollar.
If you are here with me till this point then I might give you a bonus TIP
Grow more your returns with reinvesting the RBS coins
The returns of the https://robiniaswap.com/pools are earned as RBS tokens.
To grow your crypto assets further instead of selling them one can re invest them in the RBS Pool and grow the RBS tokens further.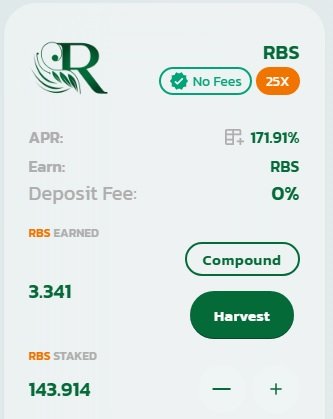 For more information refer the project links
RobiniaSwap
https://robiniaswap.com/
Robinia Swap Audit Report.
https://github.com/TechRate/Smart-Contract-Audits/blob/main/September/RobiniaSwap.pdf
Robinia Swap Official Document: https://blokfield.gitbook.io/robinia/
Discord Channel: https://discord.gg/JYNVSuWFF7
Global Telegram Channel: https://t.me/officialrobinia
Korea Telegram Channel: https://t.me/robiniakr
Kakao Talk 1:1 Inquiry: https://open.kakao.com/o/s9uEwEyb
Business Partnership: [email protected]
Standard Disclaimer: Please do your own due diligence and research before making an investment. The purpose of this post is for educational purpose only and it should not be considered as financial advice.
---
---