How Robiniaswap is helping token holders earn more via delegation ?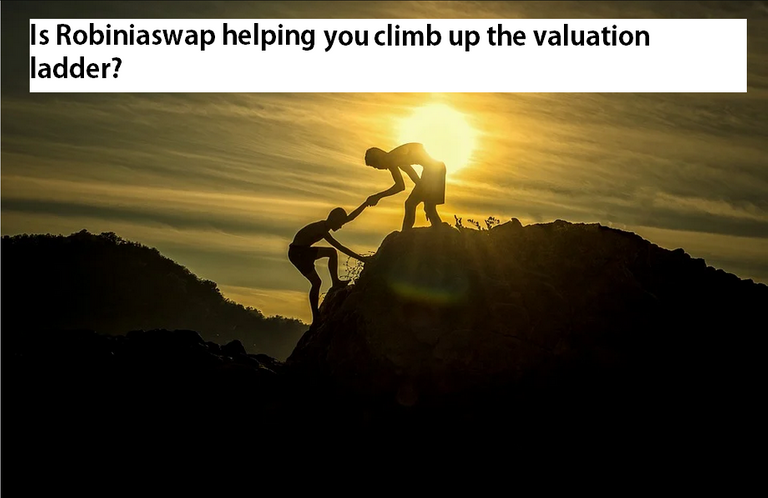 Robiniaswap that we all know as a DeFi platform has been growing steadily.
After its successful foray into Pool staking of various tokes and liquidity farming it has been able to stabilize its token price to a great an extent.
Its STEEM/ Blurt bridge is running successfully helping investors move their STEEM and Blurt tokes to the Binance Smart chain and in the process getting BSTEEM tokens for their STEEM and BBLURT tokens for their BLURT tokens in the ratioo of 1: 1 which they can put to work on the staking pools or use to provide liquidity in the liquidity farm.
Both of these investment opportunities have the potential to earn the investor a decent return on their idle crypto and in the process are helping them generate a passive income.
The newest addition to the bouquet of services that the Robiniaswap defi platform offers is the Delegation farm
The launch of the delegation farm from steem users saw a lot of enthusiasm from STEEM holders.
This enabled them to state their idle STEEM Power to earn them RBS tokens on the Robiniaswap platform.
This would help those who have enough steem power to delegate to the robiniaswap delegation farm be able to earn a decent amount of RBS tokens.
At the beginning the entry fee was 50 Steem for a user to be able to use the delegation function

The delegation Pool was 25X
The APR was hovering around just below seventy.
Breaking news from the delegation pool on Robiniaswap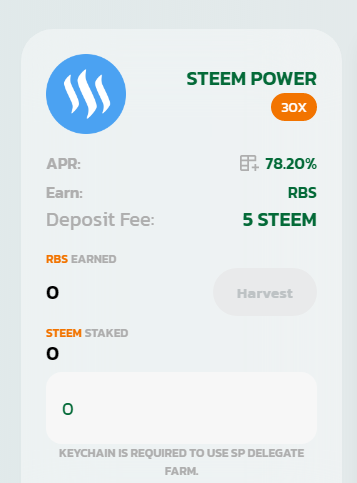 Just now the APR has shot up to 78.22
The delegation pool multiplier has been hiked upto 30X (simply incredible isn't it ?)
The best part is that the deposit fee which used to be 50 STEEM tokens has been slashed considerably.
Initially it was planned that it would be slashed to 10 STEEM
However at the time of writing this post it stants at 5 STEEM
that is one tenth or 10 percent of when it was launched.
This 90 percent drop in delegation would be a tremendous incentive for people to delegate their STEEM power and earn some nice RBS tokens.
Currently at the time of publishing this post the price of RBS toke is $ 0.192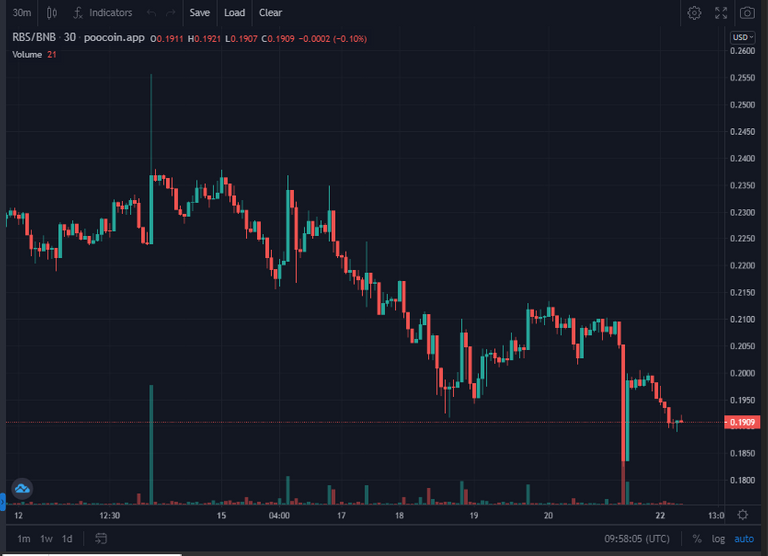 source
In the light of the above development one can see that this can be an incentive for STEEM users to power up and lease there STEEM power as delegation to earn RBS tokens in a pool which has a 30X multiplier.
This could reduce the selling pressure in STEEM token and perhaps cause people to power up and lock in their steem for the long RUN.
In this process the end result may cause a STEEM valuation to see a northwards movement and start of a new uptrend.
For more information refer the project links
RobiniaSwap official website
https://robiniaswap.com/
Robinia Swap Audit Report.
https://github.com/TechRate/Smart-Contract-Audits/blob/main/September/RobiniaSwap.pdf
Robinia Swap Official Document: https://blokfield.gitbook.io/robinia/
Discord Channel: https://discord.gg/JYNVSuWFF7
Global Telegram Channel: https://t.me/officialrobinia
Korea Telegram Channel: https://t.me/robiniakr
Kakao Talk 1:1 Inquiry: https://open.kakao.com/o/s9uEwEyb
Business Partnership: [email protected]
Standard Disclaimer: Please do your own due diligence and research before making an investment. The purpose of this post is for educational purpose only and it should not be considered as financial advice.
---
---