How Robiniaswap is becoming a launchpad for Defi Projects ?
There are many DeFi projects but what matters in the DeFi space is how a project survives in its initial stages, its service offerings and how it evolves and builds on its experience.
Here is the journey of Robiniaswap and how its its building on its learings.
The Beginning
A few weeks ago, On first October 2021 Robiniaswap rolled out its DeFi services.
The Offerings
Its Defi services included
a) A Bridge service : STEEM token and Blurt token holders could swap their respective tokens and get equivalent tokens on the Binance Smart Chain.
https://bridge.robiniaswap.com/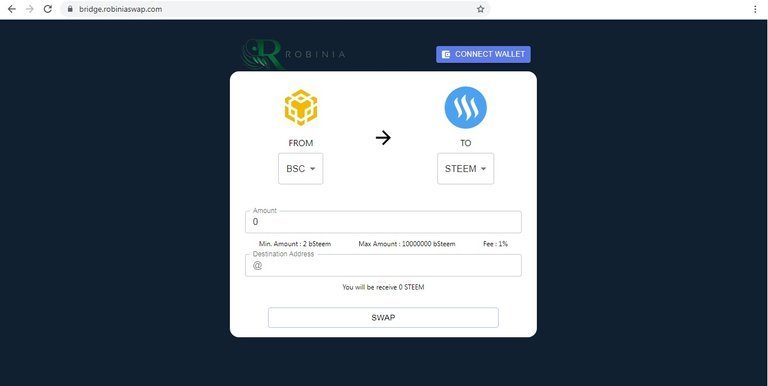 This helped them stake their STEEM and Blurt tokens that were lying latent in their respective wallets.
b) The Pool service helped crypto investors stake their single tokens and earn the native token of Robiniaswap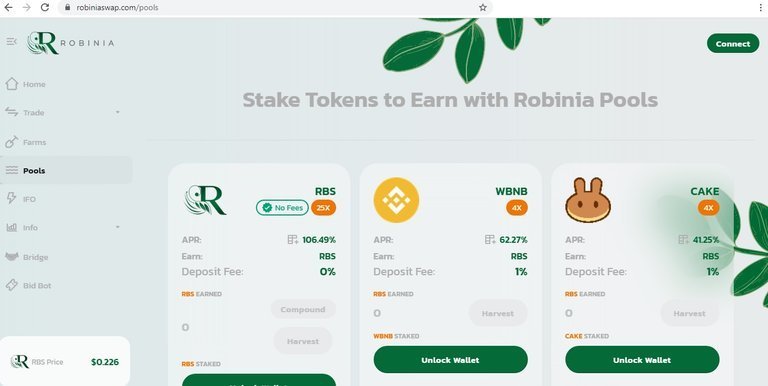 At the time of writing the post the current pool offerings are
The RBS Pool ~ Stake RBS Earn RBS this has a pretty high APR currently
WBNB Pool ~ Stake WBNB earn RBS tokens
CAKE Pool ~ Stake cake earn RBS tokens
BTCB Pool ~ Stake BTCB and earn RBS tokens
ETH Pool ~ Stake ETH and earn RBS tokens
BUSD Pool ~ Stake BUSD and earn RBS tokens
USDT Pool~ Stake USDT and earn RBS tokens
DOT Pool ~ Stake DOT and earn RBS tokens
RINI Pool ~ stake RINI & earn RBS tokens
ADA Pool ~ stake ADA & earn RBS tokens
BBLURT Pool ~ Stake BBLURT & earn RBS tokens
MOON Pool ~ stake MOON & earn RBS tokens
As these pools are single token pools so one can stake the respective pool tokens and earn RBS tokens the process.
c) Farms
https://robiniaswap.com/farms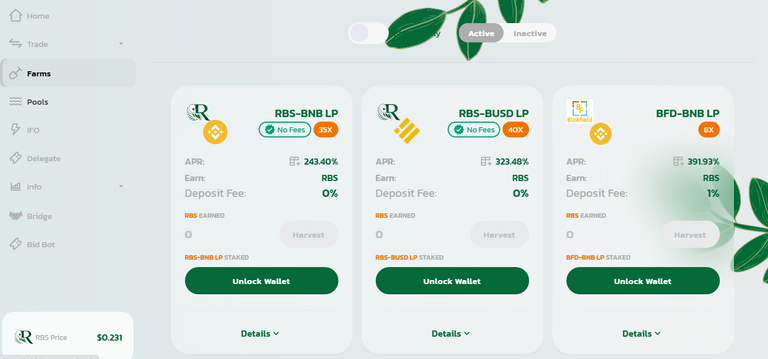 The Farms option enables an investor to provide liquidity in the respective farms,
By doing so the investor can earn some RBS tokens.
RBS is getting some solid price support.
The initial launch saw some wild price movements for the RBS tokens however in the last few days the token has taken a support around the $0.20 mark and is climbing higher.
Building on its experiences
There is more to robiniaswap than the above mentioned services.
Based on its experience of its own successful launch and management of pools and farm economy centred around the RBS token Robiniaswap team is helping other projects launch their own DeFi projects.
In this manners Robiniaswap can act as a launchpad for other projects to not just launch their DeFi projects but also have an accelerated growth based upon robiniaswap teams own learning.
A project leveraging this experience is the YANABU Farm project.
It has had its initial token sale on 7th November 2021
Currently its is running its own pool and farm based on its collaboration with Robiniaswap.
It would be interesting to see which would be the next token defi project to be launched in collaboration with Robiniaswap
For more information refer the project links
RobiniaSwap
https://robiniaswap.com/
Robinia Swap Audit Report.
https://github.com/TechRate/Smart-Contract-Audits/blob/main/September/RobiniaSwap.pdf
Robinia Swap Official Document: https://blokfield.gitbook.io/robinia/
Discord Channel: https://discord.gg/JYNVSuWFF7
Global Telegram Channel: https://t.me/officialrobinia
Korea Telegram Channel: https://t.me/robiniakr
Kakao Talk 1:1 Inquiry: https://open.kakao.com/o/s9uEwEyb
Business Partnership: [email protected]
Standard Disclaimer: Please do your own due diligence and research before making an investment. The purpose of this post is for educational purpose only and it should not be considered as financial advice.
---
---