How Robiniaswap could help STEEM reach the moon ?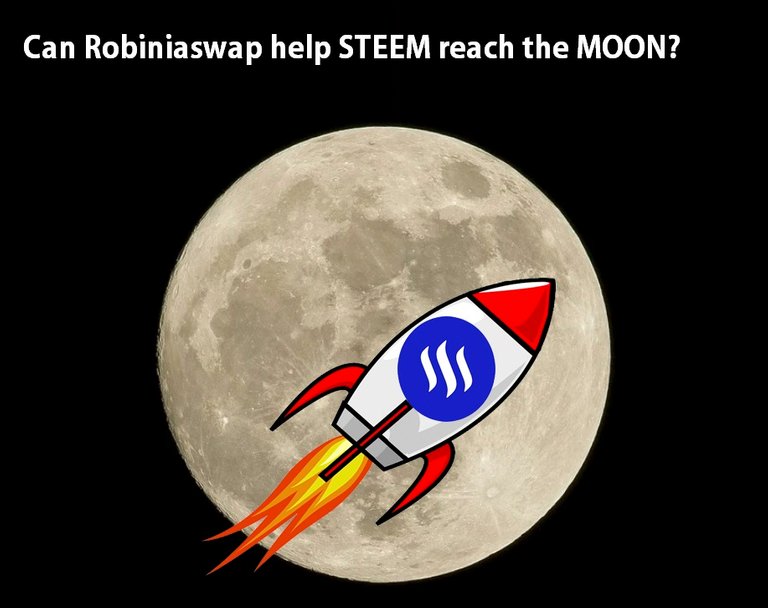 Source with modifications
When does a Coin or token Moon?
When the supply and demand is such that there is more demand than supply.
This would mean that more people want to buy and few want to sell.
Let us start with a real world example
Early in the covid19 pandemic there was a great demand for sanitizers. People began to buy them in large numbers and as a result the humble sanitizer bottles disappears from the supermarket shelves.
Not only that there was a black market of people selling it online on platforms like ebay for several times the normal price.
This was a typical case of the demand outstripping the supply.
The same happens with crypto when people see value in a token or coin or at other time there is a sense of FOMO or the fear of missing out.
These first two scenarios usually see a price increase and then it stabilizes or the coin or token slips off the radar and its price might fall leaving retail investors buying at all time high prices and then being stuck as the prices tank.
A third scenario is when a value emerges in the coin and people begin to benefit by holding read HODLING such a ctypto.
This third scenario is the healthier and more stable condition.
To grow crypto holding is human need and those who are using the FIAT world banking rate of returns as an example would feel that the crypto rates are remarkably or sometimes outlandishly good.
Take it with a pinch of salt
The good rates when one sees in the crypto DeFi world are at times due to some genuinely good projects gaining momentum and at other occasions it is a case of high risk high returns.
To make a wise choice and intelligent decision one need to invest crypto in projects which have stood the test of time.
One such project is STEEM
Going by the info available at https://coinmarketcap.com/currencies/steem/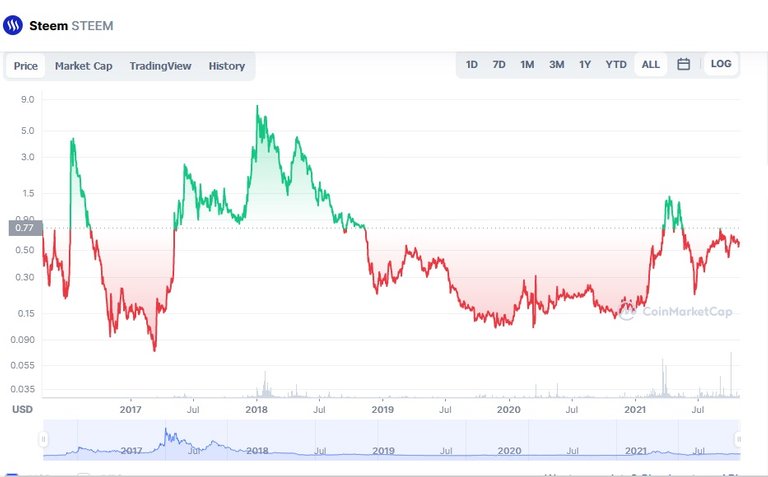 source : coinmarketcap.com
STEEM has seen a all time high of $$8.57
That was back in Jan 03, 2018
Steem holders and users would surely like to see the same levels of STEEM attained or even better surpassed.
The way to take STEEM towards an all time high is here.
For a coin / token to reach higher and approach its all time high the demand supply equation has to tilt in such a way that the demand outstrips.
So what can the average STEEM holder do to take the price higher?
Simple tell every STEEM holder not to sell their steem instead HODL
Why would STEEM holders listen or agree to such an argument ?
Fair enough the holders of STEEM would very much like to see the STEEM price to go higher however they themselves might not be keen to hold on to the steem for very long.
Tell STEEM holders about the Robiniaswap opportunity
The robiniaswap opportunity for STEEM holders is as follows
i) Instead of holding liquid STEEM into their wallet which gives them zero returns for HODLING look towards robiniaswap.
ii) Using the robiniaswap bridge that is found at https://bridge.robiniaswap.com/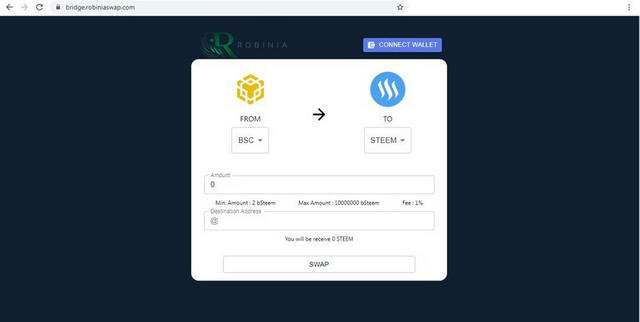 A steem holder can move his/ her liquid steem to the Binance Smart Chain BSC
This makes his STEEM token become BSTEEM tokens
Here he can stake it in the BSTEEM pool to earn RBS tokens
currenly the APR of the BSTEEM pool is 15.18%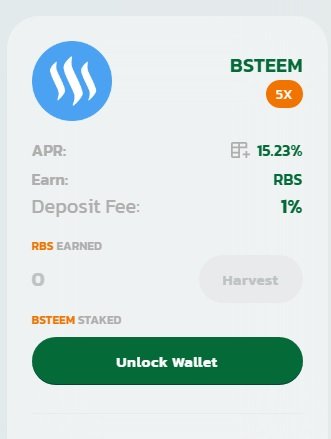 So from holding STEEM at zero APR to getting an APR of 15.18% should be a wise decision as you are earning an additional return without doing anything.
Additionally you can reinvest your RBS in the RBS pool and earn even more.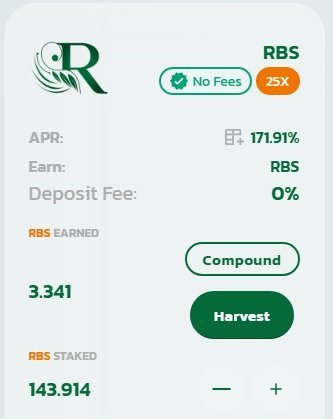 The good part is that by doing these steps you are not selling your STEEM
So if more and more people invest their STEEM and start earning RBS tokens an additional of income is generated.
Not only this the coin velocity of STEEM token decreases.
There would be more people willingly HODLING STEEM and lesser people selling.
The Buy sell equation would shift in such a way that there are more buyers and less sellers.
This would surely make the STEEM prices go up.
Spread the word
If you want to see the STEEM prices go up then spread the word and together we should see more people earning some extra passive income.
Not only that the HODLING should take STEEM prices going up, up and away towards the moon.
For more information refer the project links
RobiniaSwap
https://robiniaswap.com/
Robinia Swap Audit Report.
https://github.com/TechRate/Smart-Contract-Audits/blob/main/September/RobiniaSwap.pdf
Robinia Swap Official Document: https://blokfield.gitbook.io/robinia/
Discord Channel: https://discord.gg/JYNVSuWFF7
Global Telegram Channel: https://t.me/officialrobinia
Korea Telegram Channel: https://t.me/robiniakr
Kakao Talk 1:1 Inquiry: https://open.kakao.com/o/s9uEwEyb
Business Partnership: [email protected]
Standard Disclaimer: Please do your own due diligence and research before making an investment. The purpose of this post is for educational purpose only and it should not be considered as financial advice.
---
---