How Robinia swap is working to change the crypto Horizon ?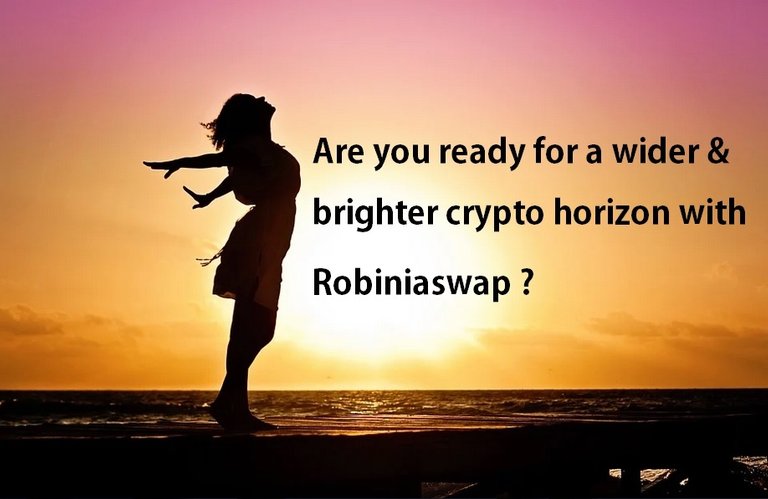 Source
What is Robiniaswap ?
In simple terms RobiniaSwap is a BSC based project that is offering both a Yield Farm DeFi project as part of its roadmap working on development of an AMM exchange.
The current stage of development of Robiniaswap
Currently RobiniaSwap offers a fully functional crypto bridge that lets a crypto user take his STEEM or blurt tokens and use the RobiniaSwap to take it on to the binance smart chain BSC.
One can explore & use the crypto bridge here :
https://bridge.robiniaswap.com/
Why would you anyone like to take STEEM/ blurt tokens to BSC?
So that you can stake them on a crypto pool or add liquidity on a pool and earn more crypto tokens.
With this very intent Robiniaswap has created the
https://robiniaswap.com/pools and
https://robiniaswap.com/farms
Now that you know what Robiniaswap.com is offering lets scratch beneath the surface and explore what is brewing beneath the surface and what changes can be expected
Robiniaswap is already working full steam and currently till now at the time of writing this post it has secured about 500,000 SP.
Most of the 500,000 SP was obtained through market price purchases, and the team is planning to increase its value even further.
1) Bid Bot work in Progress and update
As of now the team receives and sells STEEM , RBS and BUSD on a weekly basis, and 100% RBS is used for bi-incineration.
The Bid Bot development is under development. Till the time this gets completed and functional the manual sales would continue.
BitBot functionality modification: The initial plan was to use RBS however their is an inherrent inefficiency in the networkork due to a 0.50$ network fee.
Therefore the modified plan is to have the bot working with STEEM.
It would receive STEEM sell votes and Buy RBS.
2) SP Delegation Farm & Steam Power rental Farm
The main development thrust also involves creating a system where RBS would get mined by renting SP.
The mechanism would go under test phase tentatively in the next 7 days barring any unforeseen glitches.
The aim is to achieve a rental yield of 30-40%
As the SP Delegate Farm is developed and the number of SPs delegated increases, the amount of RBS token burning would increase.
3) AMM V2
Currently, Robinia Swap uses Pancake Swap AMM, so transaction fees are paid to Pancakeswap.finance
Therefore, in order to reduce this part and manage it more efficiently the team is developing its own AMM system.
When AMM is released, major LPs such as STEEM-BNB will be added to the Robinia LP.
Once AMM V2 is developed, the team plans to set the transaction fee below 1% and distribute it to a significant number of STEEM-BNB liquidity providers.
If the transaction fee is more than 1%, the team would like to set it to 1% or less because it is more efficient to use the exchange.
However, since we need more incentives for liquidity supply, we want to provide an additional revenue model for liquidity providers.
4) DeFi onboarding initiative
Robinia Swap operates a partnership program so that anyone can start the DeFi service.
So far, several companies and users have applied, and the first Partner DeFi will be released on November 1.
To enter a partnership and enter the RBS DeFi ecosystem RBS token must be added this would increase the demand and should along with this BFD, STEEM, BLURT, etc. will be added.
Therefore, STEEM users are expected to generate additional revenue by participating in the new DeFi service.
5) STEEM APR should remain high
STEEM is close to the heart and top of minds for the development team so its constantly thinking and working on ways to maintain a high APR for STEEM
The team plans to keep the APR as high as possible, and it plans to adjust the multiplier according to price changes to provide an appropriate level of APR.
The team plans to adjust the STEEM related multiplier within this week, and the APR of STEEM coin is expected to increase further.
6) SBD cross-chain bridge
Currently, STEEM cross-chain bridge only supports STEEM, but SBD support is still under consideration.
If SBD is supported, it should be possible to trade, but liquidity supply such as SBD-BNB or SBD-STEEM is absolutely necessary, so it is not easy to add.
When this part is resolved, SBD will also be added to the cross-chain bridge, and it is expected that the profit model of STEEM users will be further diversified.
7) Other services being developed
In addition to the STEEM cross-chain bridge, other convenience services are in the development stage.
More services still need to be developed.
The team is exploring the development of a mortgage service.
STEEM and SBD can be connected quickly however the STEEM Power part would be something that requires designing a mechanism that can incorporate its dynamics.
First, when the DeFi service is fully serviced, the team would proceed with the development of the secured loan service and ultimately launch the secured loan service using STEEM.
RobiniaSwap
https://robiniaswap.com/
Robinia Swap Audit Report.
https://github.com/TechRate/Smart-Contract-Audits/blob/main/September/RobiniaSwap.pdf
Robinia Swap Official Document: https://blokfield.gitbook.io/robinia/
Discord Channel: https://discord.gg/wGv4UjER2f
Global Telegram Channel: https://t.me/officialrobinia
Korea Telegram Channel: https://t.me/robiniakr
Kakao Talk 1:1 Inquiry: https://open.kakao.com/o/s9uEwEyb
Business Partnership: [email protected]
Standard Disclaimer: Please do your own due diligence and research before making an investment. The purpose of this post is for educational purpose only and it should not be considered as financial advice.
---
---