Can the Robiniaswap model help the Leo token go beyond $1 mark ?

This is not a click bait
Neither The title of the post not the opening image is a clickbait designed to make the readers think that the Leo tokens can be staked on https://robiniaswap.com
It is just that I have held this secret desire that one could stake the Leo tokens on the Binance Smart Chain BSC
A little about Robiniaswap
Robiniaswap is a DeFi platform started not too long ago.
It provides two kinds of investing opportunities currently that is Pool staking available via
https://robiniaswap.com/pools
and farming option
https://robiniaswap.com/farms
In addition it runs a STEEM/Blurt Bridge but more about it later.
Leo token is great
Early in the post I use this sub heading because I am a great fan of Leofinance.io platform and the Leo token
For me Leofinance.io is not just any other platform but instead it is a melting point of idea specially related to finance and crypto.
Behind leo finance is a great team driven by @khaleelkazi and supported by people like @taskmaster4450 it is everything a crypto platform should be.
However there is just one thing that I feel can do better and that is ...
The Leo token price
I have been following and silently accumulating and filling my little piggy bank with Leo tokens.
There was a time when the Leo token took the rocket from around 3 cents a piece to touch the $ 1 mark if memory serves right there saw so much talk of the Leo token doing better and better.
Even the Leo token moving to ethereum and the staking on the ethereum was a big leap.
When the Leo token took off and over took the price of Hive we all got the feeling that the Leo token was finding its own place in the crypto universe.
However somewhere along the way its price slipped and hive has taken a lead once again.
Would it help if
A lot less people sold their LEO tokens?
I know we are a community o HODLER's and we like to HODL or power up.
However if you need funds the road to power down is a long drawn process so one cannot leave the emergency or short term funds as powered up LEO
Instead how about having a Robiniaswap kind of model for LEO tokens.
If we look at Robiniaswap and for the sake of this discussion we could have a pool where the Leo tokens can be staked.
For reference a STEEM/Blurt bridge is already in place and a similar bridge can be implemented for Leo tokens on Robiniaswap.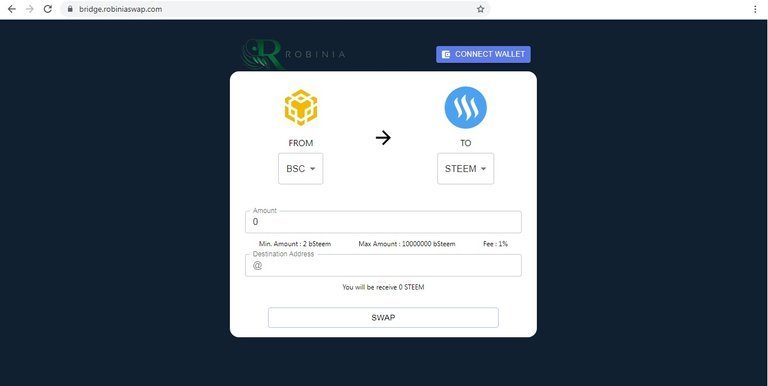 Taking Leo to the BSC can help small holders stake LEO tokens with low BSC fee and with no lock in associated with a power up.
This should help more people HODL the Leo tokens and help the upwards movement of the LEO token price.
For reference there are a number of pools that operate on Robiniaswap here are the pools that are available at
https://robiniaswap.com/pools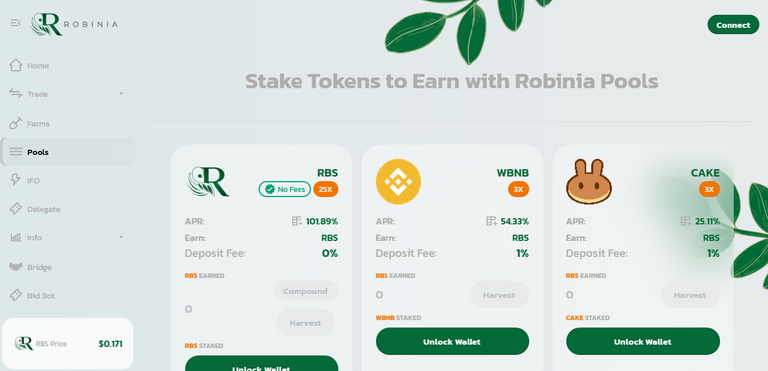 The RBS Pool ~ Stake RBS Earn RBS this has a pretty high APR currently
WBNB Pool ~ Stake WBNB earn RBS tokens
CAKE Pool ~ Stake cake earn RBS tokens
BTCB Pool ~ Stake BTCB and earn RBS tokens
ETH Pool ~ Stake ETH and earn RBS tokens
BUSD Pool ~ Stake BUSD and earn RBS tokens
USDT Pool~ Stake USDT and earn RBS tokens
DOT Pool ~ Stake DOT and earn RBS tokens
RINI Pool ~ stake RINI & earn RBS tokens
ADA Pool ~ stake ADA & earn RBS tokens
BBLURT Pool ~ Stake BBLURT & earn RBS tokens
MOON Pool ~ stake MOON & earn RBS tokens
All these pools are designed to stake a particular Token and earn RBS tokens in return as staking reward.
So is it possible to stake LEO tokens on Robiniawap?
Going through the Robiniaswap one finds that they are open to collaboration and ready to onboard projects.'
Would this be the path taken by Leo finance ?
Well I am not the right person to answer this. However all I can say is that Leo tokens certainly deserves better valuations.
My closing thoughts
I do not know if it would be possible to stake Leo tokens on Robiniaswap or in any other way on BSC
However this process looks like a good one to help a project to garner support from crypto users and encourage them to HODL and earn staking rewards at the same time.
For anyone wanting to know more about Robiniaswap and how to stake , join a pool or do a project collaboration here are some links that may help
RobiniaSwap
https://robiniaswap.com/
Robinia Swap Audit Report.
https://github.com/TechRate/Smart-Contract-Audits/blob/main/September/RobiniaSwap.pdf
Robinia Swap Official Document: https://blokfield.gitbook.io/robinia/
Discord Channel: https://discord.gg/JYNVSuWFF7
Global Telegram Channel: https://t.me/officialrobinia
Korea Telegram Channel: https://t.me/robiniakr
Kakao Talk 1:1 Inquiry: https://open.kakao.com/o/s9uEwEyb
Business Partnership: [email protected]
Standard Disclaimer: Please do your own due diligence and research before making an investment. The purpose of this post is for educational purpose only and it should not be considered as financial advice.
---
---