7 Things that the Robiniaswap team wants to tell the Crypto Community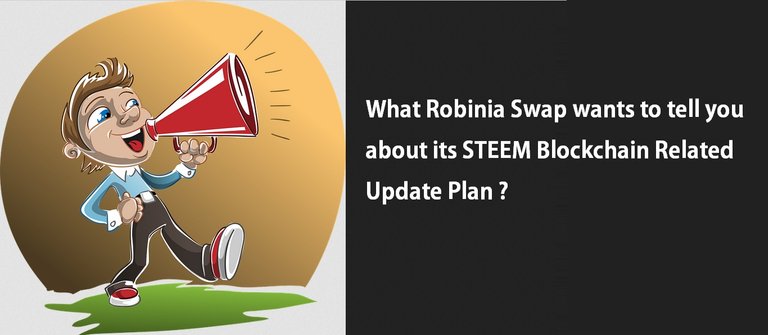 Source
Blokfield.INC, is behind the Robiniaswap service company.
In relation to STEEM, the team would like to introduce what services will be updated in the future for RobiniaSwap and what advantages it would offer.
First, RobiniaSwap has secured about 500,000 SP a few days back. Vote sales are taking place every week.
Most of the 500,000 SP was obtained through market price purchases, and we plan to increase its value.
1) BidBot Status
Currently RobiniaSwap BidBot is still not made functional.
Therefore the receiving and selling of STEEM, RBS and BUSD is done on a weekly basis, and 100% RBS is used for bi directional token burning.
Although BidBot is currently in the development stage, it is expected that manual sales will proceed like this for the time being, as more testing is required according to price changes.
Initially, it was planned to use BidBot using RBS, but the BSC blockchain has an inefficiency problem because a network fee of about 0.5$ occurs, so we are planning to proceed only with STEEM.
Therefore, BidBot will operate in the form of receiving STEEM, selling Vote, and buying RBS.
2) SP Delegate Farm. Steam Power Rental Farm.
This is the function currently being developed as the main focus of Robinia Swap.
The team behind Robiniaswap is developing a system for mining RBS by renting SP.
The team has been working hard and they have tried to simplify the function as much as possible from the connection with the smart contract.
Though the initial planning part has been completed and the team is currently working on it.
The team would be testing it out in a few days and expect to be able to release soon if there are no issues.
The team is working towards achieving a yield of 30-40%.
As the SP Delegate Farm is developed and the number of SPs delegated increases, the amount of RBS burning will increase, so this should see a positive boost.
3) AMM (Automatic Market Maker) V2
Currently, RobiniaSwap uses Pancake Swap AMM (Automatic Market Maker), so transaction fees are paid to Pancake.
Therefore, in order to reduce this part and manage it more efficiently, we are developing our own AMM system.
When AMM is released, major LPs such as STEEM-BNB will be added to the Robinia LP.
Once the AMM V2 is developed the plan is to set the transaction fee below 1% and distribute it to a significant number of STEEM-BNB liquidity providers.
If the transaction fee is more than 1%, the team would want to set it to 1% or less because it is more efficient to use the exchange.
However, since the team feels the need for more incentives for liquidity supply thus they want to provide an additional revenue model for liquidity providers.
4) DeFi/DeFi
Robinia Swap operates a partnership program so that anyone can start the DeFi service.
So far, several companies and users have applied, and the first Partner DeFi will be released on November 1.
In order to start a DeFi project on the platform RBS tokens must be added. Thereafter BFD, STEEM, BLURT, etc. can be added.
Therefore, STEEM users are expected to generate additional revenue by participating in the new DeFi service.
5) STEEM APR
The team is constantly focusing on the APR related to STEEM.
The team plans to keep the APR as high as possible, and plans to adjust the multiplier according to price changes to provide an appropriate level of APR.
The team plans to adjust the STEEM related multiplier so that the APR of STEEM coin is expected to increase further.
6) SBD cross-chain bridge
Currently, STEEM cross-chain bridge only supports STEEM, but SBD support is still under consideration.
If SBD is supported, it should be possible to trade, add liquidity supply such as SBD-BNB or SBD-STEEM. This is absolutely necessary though it is not easy to add.
When this part is resolved, SBD will also be added to the cross-chain bridge, and it is expected that the profit model of STEEM users will be further diversified.
7) Other services
In addition to the STEEM cross-chain bridge, other convenience services are in the development stage.
More services still need to be developed, however the team thinks the ultimate goal is a mortgage service.
A single STEEM and SBD can be connected quickly however the STEEM Power part has a lot of work to solve so this part is in the process of refining the planning part.
First, when the DeFi service is fully serviced the team would proceed with the development of the secured loan service and ultimately launch the secured loan service using STEEM.
For more information refer the project links
RobiniaSwap
https://robiniaswap.com/
Robinia Swap Audit Report.
https://github.com/TechRate/Smart-Contract-Audits/blob/main/September/RobiniaSwap.pdf
Robinia Swap Official Document: https://blokfield.gitbook.io/robinia/
Discord Channel: https://discord.gg/JYNVSuWFF7
Global Telegram Channel: https://t.me/officialrobinia
Korea Telegram Channel: https://t.me/robiniakr
Kakao Talk 1:1 Inquiry: https://open.kakao.com/o/s9uEwEyb
Business Partnership: [email protected]
---
---