Let the strike begin!
It feels so sad to be in a bad system of government and I mean a system where the government doesn't care about any other thing but embezzlement of money and forget about it's subjects and responsibilities.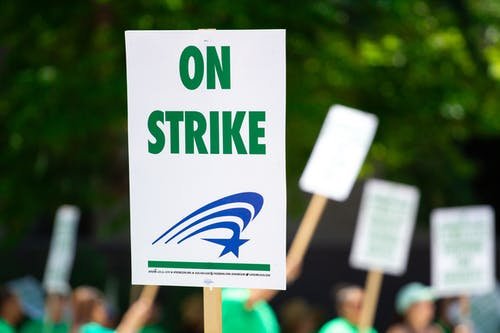 Source
It's sad that the Nigerian government is finding it difficult to pay workers and to my knowledge they owe about 30million dollars which they have refused to pay for decades now.
The workers are pained and therefore have put heads together as a union and come to the conclusion that they are going on a strike and won't call it off till their needs are met.
This is sad because on several occasions this has happened, the strike lasts for about a year or prolly months endangering the students who are supposed to be learning and of course graduate on time.
The strike kicked off yesterday and today we've not been allowed into the school premises. Students who choose to attend the federal universities like myself are at the risk of delay because if the strike is extended then that means the year at which I was supposed to graduate out of the university would be extended. i.e my course of study is four years and if the strike lasts a year then I'm seeing myself spending five years in school.
The worst part of this whole situation is that the government is doing nothing about it rather they sit back and say nothing about what's going on. They fold their hands and so nothing but watch our years waste. Even if we protest as students, they hearken not because their hearts are made of rocks.
Now the good thing here is, I won't be sitting and wasting time in my house if the strike is to be extended to months or years. I'd go learn how to do professional makeup.
It has always been my dream to be a makeup artist and of course maybe the opportunity is now because if we're to be on school sessions, I won't have the time to go for my makeup classes so why won't I just grab this opportunity and make good use of it.
So I say let the strike begin, it's a disadvantage and an advantage to me and I don't think I'm regretting anything. I'll make hay while the sun shines.
Also I'll have more time to engage with a lot of users on the blockchain and make more friends enlarging my circle here on hive.
Do have a nice day lovelies 💖!
---
---