Has anyone read Chinua Achebe's "Things Fall Apart"??
Though I'm a Nigerian I never had the opportunity to get a hold of this novel not until I got into the University. This book was introduced in high school. I didn't show interest in it at all because it wasn't as compulsory as it is to me now.
Our prose fiction lecturer asked us to get this book and read it because we were gonna be enumerating it in either as a class test or examination. He made it clear that it was compulsory to read it compared to other books he mentioned.
On hearing this , I rushed to the bookstore to get one for myself but they were out of supply so I had to download a PDF. It seemed amazing just looking at the back cover but I felt a little reluctant to open it and read. Lazy me!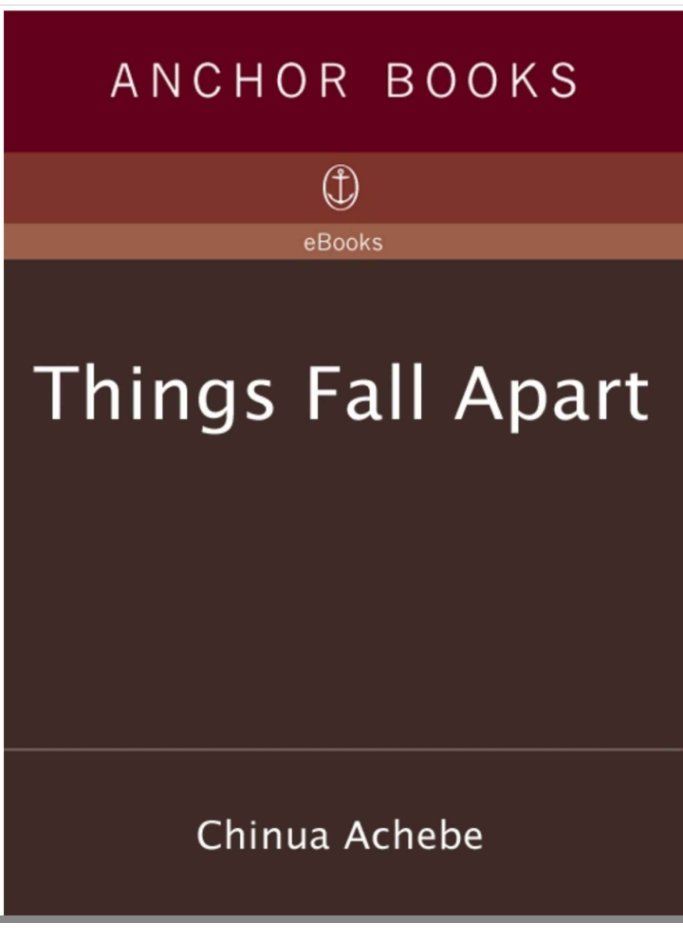 My image (a screenshot of my PDF).
I finally turned the cover of this book swiping through the screen of my phone. The first paragraph seemed appealing so I continued reading until I was totally drowned and lost in imaginations of every action taking place.
I read on and on and I found myself swimming in the writer's concept and exploring the character's mindset and anticipating every move he or she would take next.
This book according to history was written as a reply due to the misconception about Africa and Nigeria in quotes. Reading this book is more like going on a bumpy ride where you need to sit tight and just have fun.
You're so gonna be set on edge or prolly cry at some instances if you're a soft hearted person like myself lol. I cried for one of the characters when he got eliminated like a common animal. At that point I went numb and just had to come back to reality just to dissolve the whole thing I read so far.
I shut my book for the meantime and here I am. In case you don't find me later, know that I have gone back to my fantasy land in the minds of the characters in this amazing fictional prose.
With love from teknon 💙.
---
Posted via proofofbrain.io
---
---