Finally a year old on hive🥳.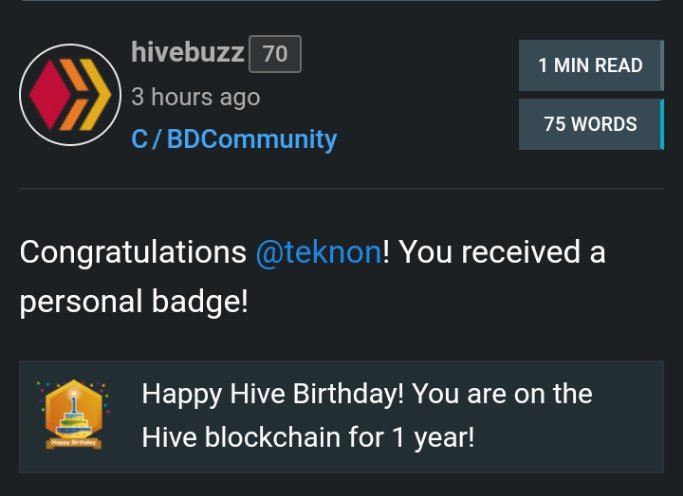 I'm finally a year old on hive hurray! Since the year ran in, I've been looking forward to getting this notification from hive buzz that I'm finally a year old on hive and honestly when I came online to see this today I got really excited.
It's been an amazing one year journey so far, many people who came in with me gave up and lost hope but I don't think I'm the type that gives up so soon though it wasn't easy at all. I'm a fighter, so I try hard as possible to make sure that I fight to the very end.
My first three months were like hell but I had to encourage myself and stay in the line without losing track or focus. The only thing that really sustained my stay here is because I see hive as a dairy where I can keep all my amazing creativity for future purposes. Tomorrow, I can always go back to what I wrote months ago and laugh or learn a thing or two.
Come to think think of it I made friends too
Can I ever forget the number of amazing personalities and writers I met here? No, I can't. If I should tag them all here, I think there won't be enough space.
In the physical world, I'm limited to a few humans I call friends but here, I think I've made a lot that I can't keep track of. They inspire me a lot because of their energy to create content on a daily basis.
I won't say it's been sweet all through my one year journey, there were times I just wanted to give up but thanks to @malopie for always encouraging me. I had to combine posting here and school work.
At times I stress so much that while thinking of what to write I sleep with my phone on me which isn't healthy at all just to keep my blog alive. Also @bdcommunity has really helped me a lot with all the support I got from a lot of people I met here, made me have fun writing.
I'm really glad I've come this far and I'm looking forward to accomplishing a lot here and celebrating more birthdays on hive.
Thanks for reading this far. I love you😘🥺. Yes you!!!
---
---