Did you know?
Children are the heritage of the Lord, a source of joy and happiness that I meant from the Bible.
I also got to find out that these same set of humans called kids are wonderful comedians.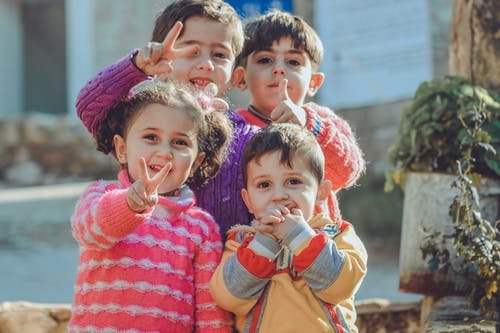 Source
The Joy a child brings is nothing compared to sitting as an audience of a professional comedian. Just grab one kid and let him/her show you how skillful they could be at making you laugh to your heart content.
I read this post https://www.proofofbrain.io/undefined/@kemmyb/ben-s-new-friend-or @kemmyb where I told her in the comment section that I'd read it out to my stubborn nieces if it would also teach them morals.
Wow! I couldn't help but read each line and listen to my mind picture the whole thing. This is an amazing story which got me smiling. I think I should read it out loud to my little nieces maybe it could help in getting rid of their stubbornness too lol.
😂😂 I hope your nieces agree with the moral in the story and turn a new leaf. Lemme know how it goes! Good luck!
I have three beautiful nieces; Joy, Grace and Goodness.
I eventually had to sit the three of them down and our storytelling began. I read the story line by line without omitting a word. They all sat like good children who were taking in every single detail though they were often looking at each other and grinning at some instances. I know these kids were up to something because they never ceases to amaze me.
After reading the whole story out to them , Joy the eldest asked me to re-read the story all over again which I eventually did after a long fight with the three of them.
The funny thing is this; after reading the story a second time for these kids Grace got up from her seat telling me she needed further explanations. I opened my eyes wide to look at her silly face and the other two rooted for her proposal so you could imagine it was three against one. I had to be patient enough to explain in detail.
Goodness, the smallest who had been drinking water on many occasions during my story telling. Got up, stretched and wanted to leave when I held her back and asked her what she learnt from the story and to my surprise this four year old child gave me this reply;
"Aunty, I really don't look like Ben so I did not learn anything"!. She said this with a smile on her cute little face. I was disappointed lol.
Her mom, whom I supposed was sleeping, got up and bursted out laughing. Grace spiced it up by saying "yeah! We are pretty girls and not a guy, Ben is a guy plus we don't steal we only take what belongs to our aunty right Joy? Joy responded with a "yeah"!. They told me they needed a story which had to do with girls not a boy. So @kemmyb maybe you could help me out lol. After all, you asked for an outcome here you have it.This is the outcome of the story you asked for lol. I couldn't help but watch these kids display what they know how to do best which made me laugh out so loud.
Kids are amazing and I love being around them no matter how they are, they are unique and super sweet.
---
Posted via proofofbrain.io
---
---