Babysitting my niece.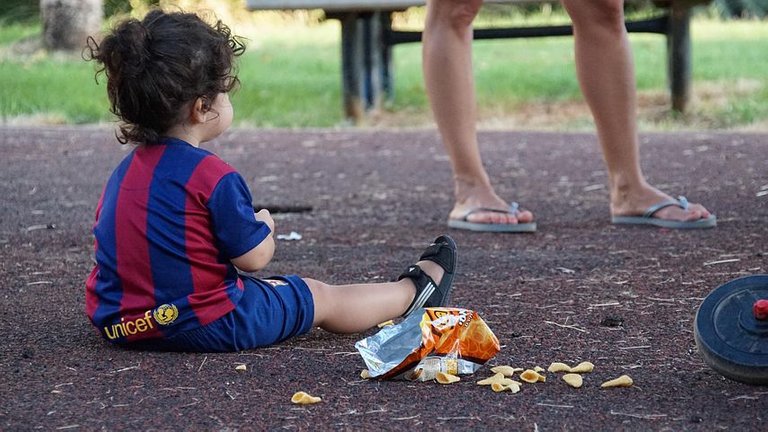 pixabay
The beautiful thing in motherhood is seeing your children run around happily and bearing that name mother but have you ever thought of their mischief?
Children can be really mischievous at times and this is my story.
I was called by my sister to babysit her four year old daughter while she went to her friend's wedding as she couldn't afford to miss it. I've never had to babysit my niece while her mother is away. It was actually the first time I was gonna babysit her all by myself.
I got to the house and off my sister went, her daughter waving her goodbye and smiling. Yes my niece is fond of me and we get along sometimes when she's being a good girl just so she could get praises and chocolates.
After playing with her, singing, dancing, and watching cartoons together, she fell asleep. I let out a deep breath because I was already tired of the whole thing. My niece is never calm except she's asleep. After tucking her properly in bed, I went back to the living room to put back the throw pillows we had dropped on the floor. When I was done, my back hurt a little so I went to sleep beside my niece in her cozy room.
I was having a good dream until I turned and smelt something off laying close to me so I opened one eye to get a quick look even though it was kinda blurry because I just woke up. I could see that what was beside me in bed was a little human painted in white from head to toe lying comfortably beside me.
I shut my eyes again and pinched my skin just to be doubly sure that I wasn't dreaming. I let out a scream after pinching myself then I realized that it was reality afterall. All I had to do was pray that it wasn't what I was thinking. I took a quick look at the clock on the wall and it happened to be that I had slept for four hours.
I quickly jumped out of bed to my biggest surprise, there were trails of little feet covered in something that looked like powder, I bent over and sniffed it. "Flour"! That was me letting out a scream, the little girl who lay on the bed quietly was covered in flour, her hair was a total mess, her body, her hands, her mouth. Where do I start from? I asked myself without even having to look at the kitchen.
When I finally found the courage to get out of the room, the house had been turned to something else. The floor was covered in flour and guess what the kitchen was a total mess. There was a big bag of flour in the kitchen as her mom usually bakes when she's in the right mood, my little miss mischievous had dug herself into it and poured out a whole lot which she literally spread over the whole house and I'm like 'where did she get the strength to do all of this'?
While I was pondering on how to start the clean up, she walked majestically to the living room looking like someone that had been infected with leprosy and sat on the couch and crossed her legs.
"Are you just gonna stand there and not do anything about this?'' She asked me boldly and clearly. "Don't tell me you still have the mouth to speak even with flour in it" I responded and she grinned. How can a four year old be like this, if all children were to be this way then I'd rather stay without one but I'll keep complimenting other people's because obviously they're trying.
"Hey Zoe, get a broom and let's fix this mess yuuno it's more like what you learn in doc McStuffins so let's get on with it" I said trying to tease her. There was silence for a while and the next thing I heard was "nope! Doc McStuffins teaches those things to her toys but I'm a full human or wait do I look like a toy to you?" she said jumping off the couch cat walking towards me with her pointing finger stretched out. "You're supposed to be babysitting me and not asking me to do things toys do." "Oh toys huh? How many toys go about messing up the house like this, a full grown human is messing up the whole house now imagine that!" At this point I was losing my mind. ''I won't stand here and watch you judge me" she said, returning back to her seat and putting on the TV looking all whitish.
I was really pained that a little baby who's still struggling to make speeches was really talking back at me. Not just that, she was nailing me. I ran to the room, grabbed my phone and put the mother on the line; "oh! Hello sister, I really miss you, Zoe and I are missing you like hell, we need you back like right now this house is so boring without you in it" all this was said with tears of pain in my eyes and the next thing I heard was someone tap me. The moment I turned, she spoke into the phone "hey Mommy, I'm having fun with aunty can she stay for the night please, please please….." and her mother goes 'of course' and hangs up the phone. "Boom! We're stuck together, just so you know I'm a full grown adult in a child's body" she laughs and rolls on the floor while I sit back and watch her. Indeed I believe her that she's an adult in a child's body and I'm yet to ask my sister where she got her child from so I can avoid it when I'm going for mine.
PS: I still love her so much, she's just a kid who knows nothing.
---
---