A picture is worth More than a thousand words: Shapeshifting.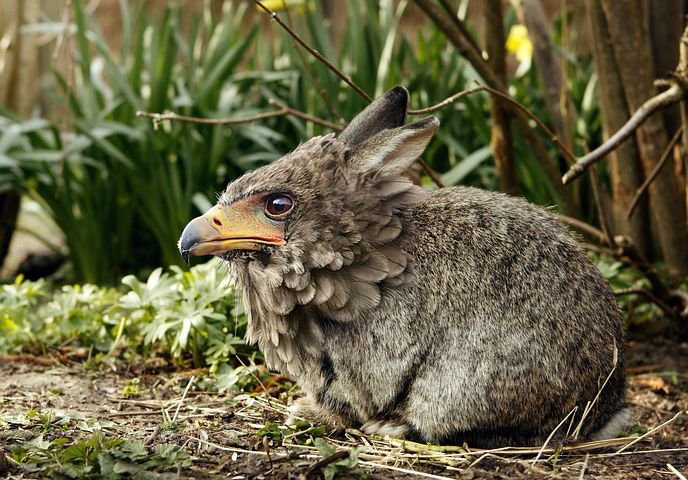 Jason was practicing his shape shifting skills as ordered by his grandma the goddess of Trang kingdom.
She wanted to pass on her powers to him because he was her favorite grandchild. She was named after her kingdom because she was the rightful heir after her father at that time she was still young.
She was growing older and so someone had to succeed her and so she choosed her favorite grandchild Jason.
She hung her shape shifting amulet on his neck as they got to the forest where he was gonna begin his lesson process.
"For a start, you're gonna turn yourself into a hawk" grandmother Trang said to Jason as she moved out of his way after giving her instructions.
To shapeshift to his desired animal, he had to say the name of the animal. Jason shouted the word hawk and leaped as he wished to spread his wings and fly but found himself to be half hawk, half rabbit. He felt bad as he stayed down on the ground with eyes fastened to grandmother Trang for help.
She clapped for him, because afterall it was his first trial and he could even get a half hawk. Grandmother Trang saw the disappointment in her grandson's face and decided to cheer him up.
"Jason"! Grandmother Trang called, Jason looked up at her as if ready to pounce on his prey.
"That's the spirit dear, you know when I began my shape shifting process, on my first lesson,I couldn't shapeshift but you did try to turn from human to animal and that's impressive".
"Your next lesson is tomorrow and I'm looking forward to seeing you shapeshift into a real hawk and fly. Congratulations on your first trial darling".
@wongi join the fun.
With love from teknon 💙.
---
---