Rising Star Journal #72 : MONDAY BLUES LEVELING! 🎶🌈
LETS PLAY RISING STAR


risingstargame.com
Hello everyone!! Its Monday, Monday Blues Leveling!🎵
Last night was a blast in Radio Evolve Live Stream!! More people joining in the event! ITS AWESOME!!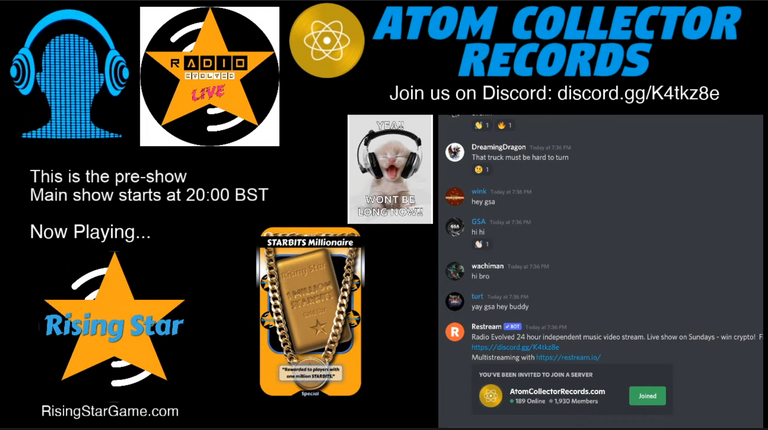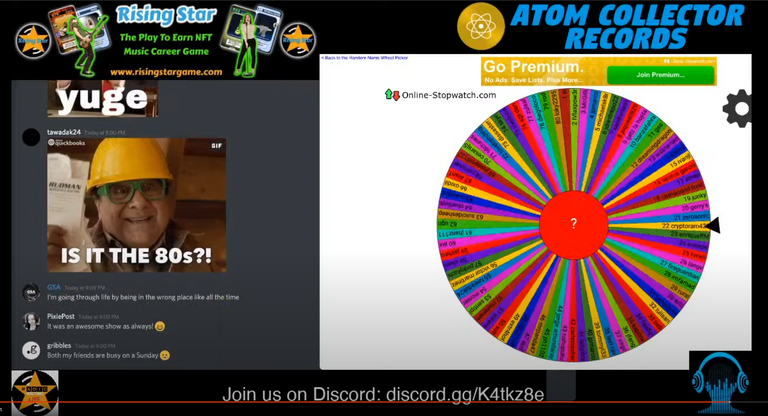 80 people in the wheel of fortune is just crazy!! I gave up on getting the card giveaway when I saw 70+ name on the wheel.🤣 . The discord chat went so fast, lucky did I got one of @stickupboys pizza giveaway. Thank you so much for the pizza buddy!! Its always the pizza and music that keeps me awake during the live stream! 🤣😂

3:12 am my time 😂 half asleep but never missed the pizza giveaway.
Thank you for the awesome Live Stream Jux @risingstargame! And to all Rising Star artist you guys ROCK!!! 🤟🤟
Now for my daily progress report update in @risingstargame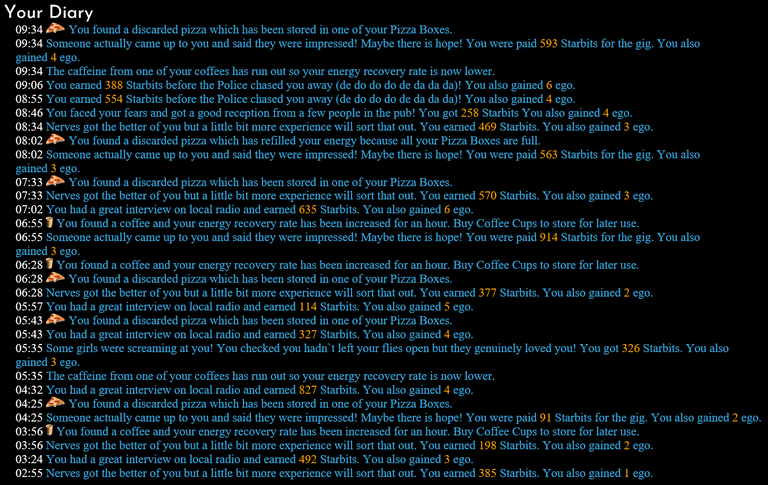 Today is a good day, SIX pizza dropped until now. This makes my game plan today very smooth. Stocked up pizza sliced in the box for later usage. Still my ego is on the minimum level but, I need to start music lesson soon, my ego will go up if I get too my fan from my mission.
My 1st milestone on Rising Star is to reach 1000 STARBITS reward on Illegal Busking. (82% progress).
My 2nd milestone on Rising Star is to get to level 75 and unlock the Band Auditions mission (98.7% progress) and to be able to do the Band Audition mission and get my 1st band member.

One more level to unlock the Band Audition mission. Maybe in 2 days I will be able to start unlocking the band member! Cant wait to get to level 75!
My 3rd milestone on Rising Star is to be able to open the 12packs of cards every week. (0% progress) Still doing calculation on my average reward for daily for seven days.
My current achievement:
Total mission = 2399 / 3000 (79.9%)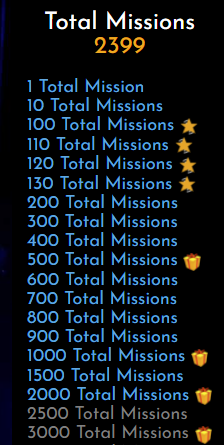 Home Town
Illegal Busking = 515
Open Mic Night = 260
Mid Week Support = 247
Licensed Busking = 23
Midweek Headline Slot = 46
Saturday Support = 9
Saturday Headline = 34
Local Gig Circuit
Radio Interview = 466
Radio Studio Session = 89
Shopping Mall Performance = 262
Record A Demo = 23
Local Festival Acoustic Tent = 23
Local Mini Tour Support = 34
601 mission left to go to 3000 total mission.
Below are my current rank as for today.



Highest Rank: #98
My current rank went up to #98 from previous rank #108.
Wow I cant believe it I just got 10rank up from yesterday. Its my highest rank that I reached today. I hope that I can maintain this position or not dropping too much. xD Lots of player are pushing the card collection nowadays.
My current card collections :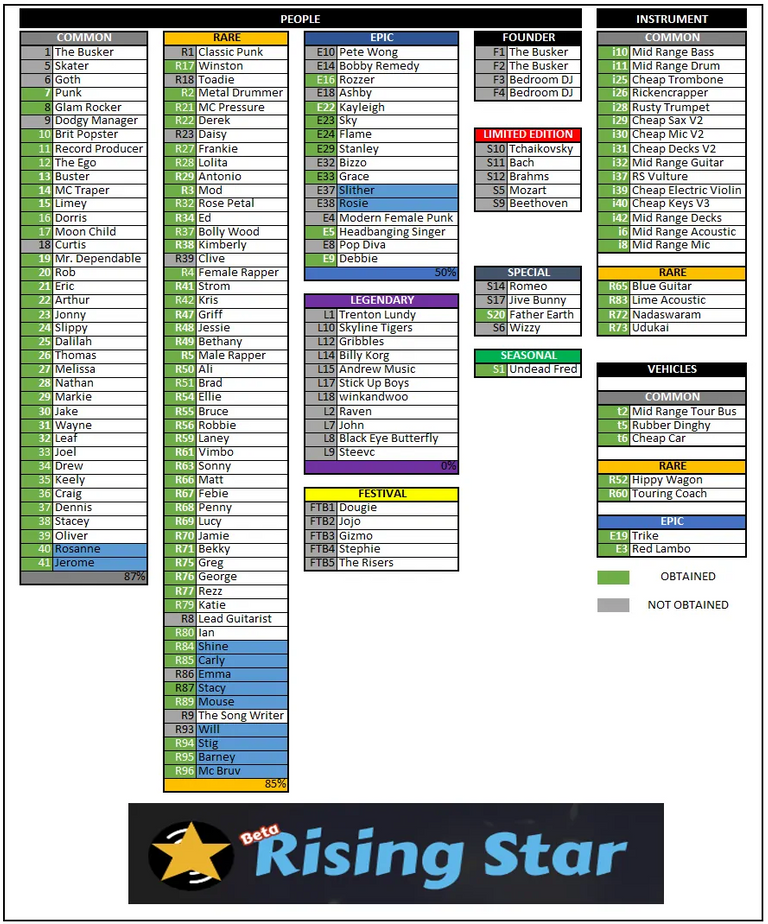 Common People cards:
33/38 : 87% Obtained (+0%)
Rare People Cards:
45/53 : 85% Obtained (+0%)
Epic People Cards:
8/16 : 50% Obtained (+0%)
And that is for today's progress at Rising Star Game
Keep on ROCKING!! and HIVE ON!!
Current Market (STARPRO)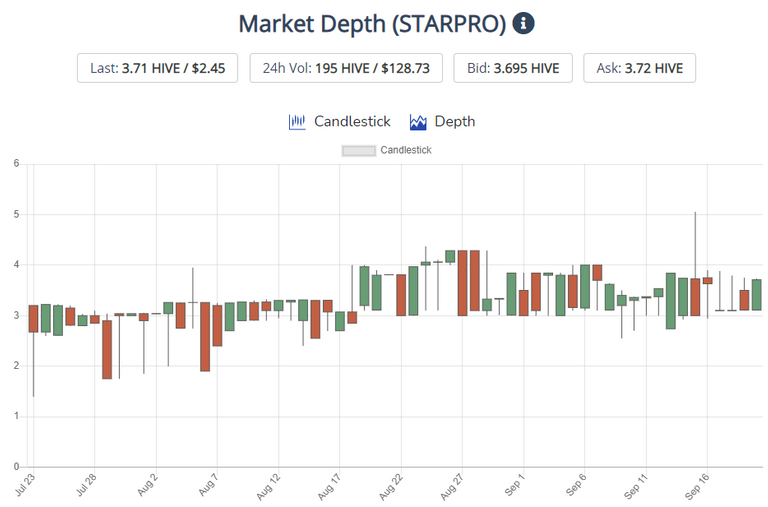 Highest Bid : 3.69500000 (Higher than yesterday)
Lowest Ask : 3.72000000 (Lower than yesterday)
Current Market (STARBITS)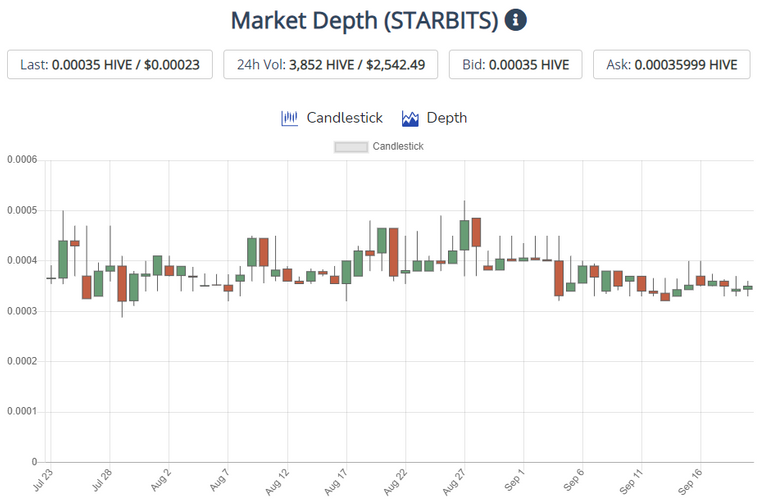 Highest Bid : 0.00035000 (Higher than yesterday)
Lowest Ask : 0.00035999 (Higher than yesterday)
The STARBITS price is still in stable range for 79 days around 0.00035 average. Weekly average is around 0.00035
STARPRO price still stable for 30 days, around 3.6000 average today. A constant movement this week.
---
---