Rising Star Journal #71 : SUNDAY FUN DAY! Opening 12 Packs!🍕🍕
LETS PLAY RISING STAR


risingstargame.com
Hello everyone! How are your weekend? I hope you all are doing great and enjoys Rising Star Game while spending time during this weekend.
==================================================
🎶🎶We will have Radio Evolve Live Stream TODAY!!! Do not forget to tune in and have fun together. It is on 20:00 UK Time and 3am (GMT+8) my time xD. See you there!!🍕🍕
===================================================
NEW CARD UPDATE!!
I won new card from @manclar Giveaway thank you my friend! , the new card is the i23 Bargain Beater. Another new unique card obtained today.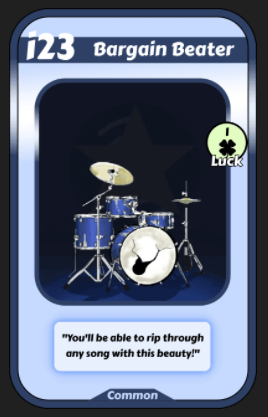 Now for the 12 pack reveal!
New unique card from the pack is: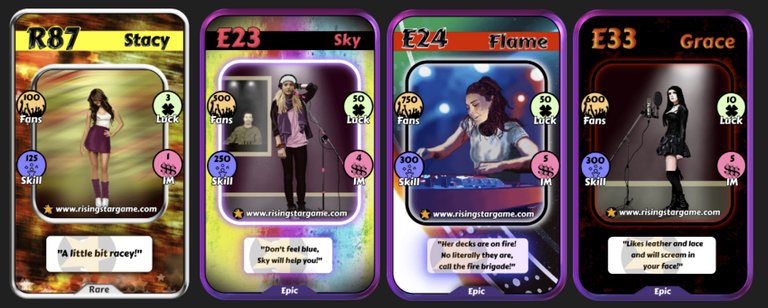 R8 Stacy | E23 Sky | E24 Flame | E33 Grace

Below are the full list of cards that I get from the 12 Packs.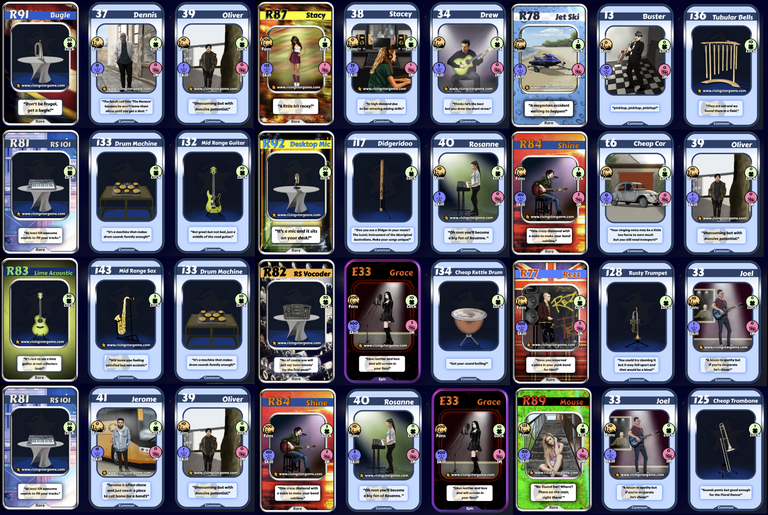 This round of 12 packs opening had given me lots of stat upgrade. But at the same time I took lots of damage from the increasing of fans count. Now I had to go to Music Lesson everyday to control my ego.
Stat upgraded from the packs!
+2 280 Fans
+395 Luck
+1 345 Skill
+24 IM
+36 Cards
This stat upgrade amount is better than my previous 12 packs.
Now for my daily progress report update in @risingstargame


I am finishing today's curation early so I can join the livestream later xD. With previous dairy I was doing the Music Lesson too. I need to get more Skill to control my ego from now on.
My 1st milestone on Rising Star is to reach 1000 STARBITS reward on Illegal Busking. (82% progress) New card added into my collection!
My 2nd milestone on Rising Star is to get to level 75 and unlock the Band Auditions mission (97.3% progress) and to be able to do the Band Audition mission and get my 1st band member.
My 3rd milestone on Rising Star is to be able to open the 12packs of cards every week. (0% progress) Still doing calculation on my average reward for daily for seven days.
My current achievement:
Total mission = 2355 / 3000 (78.5%)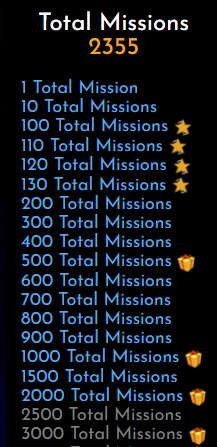 Home Town
Illegal Busking = 507
Open Mic Night = 258
Mid Week Support = 236
Licensed Busking = 23
Midweek Headline Slot = 46
Saturday Support = 8
Saturday Headline = 34
Local Gig Circuit
Radio Interview = 455
Radio Studio Session = 80
Shopping Mall Performance = 260
Record A Demo = 23
Local Festival Acoustic Tent = 23
Local Mini Tour Support = 34
645 mission left to go to 3000 total mission.
Below are my current rank as for today.



Highest Rank: #107
My current rank went up to #108 from previous rank #117.
I did dropped like 10 rank yesterday, but today I managed to climb back into the rank.
My current card collections :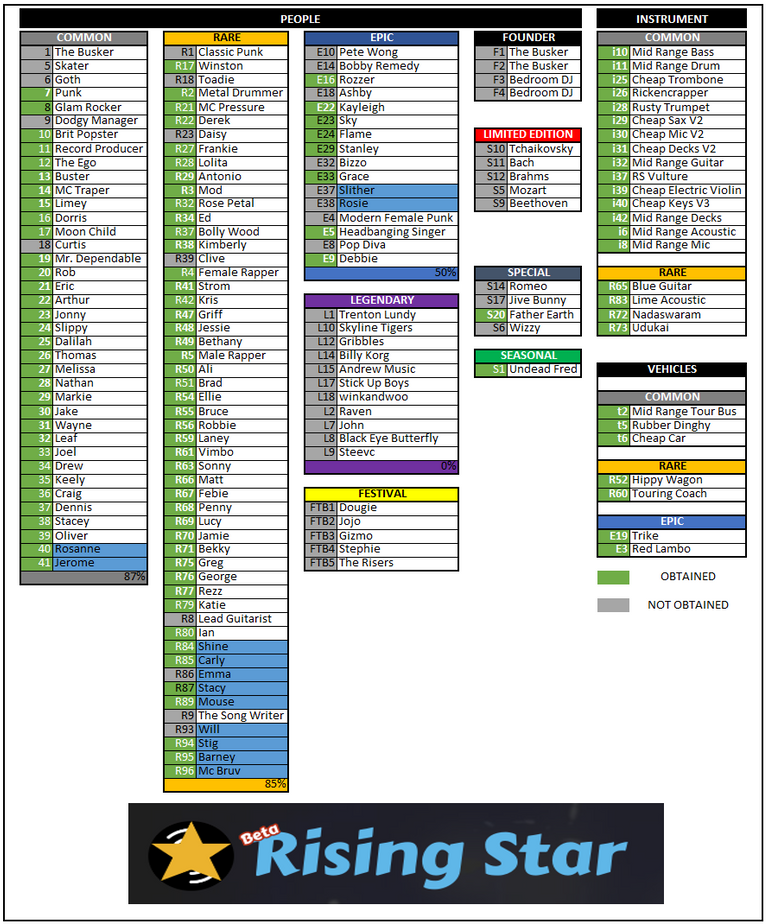 Common People cards:
33/38 : 87% Obtained (+0%)
Rare People Cards:
45/53 : 85% Obtained (+2%)
Epic People Cards:
8/16 : 50% Obtained (+25%)
And that is for today's progress at Rising Star Game
Keep on ROCKING!! and HIVE ON!!
Current Market (STARPRO)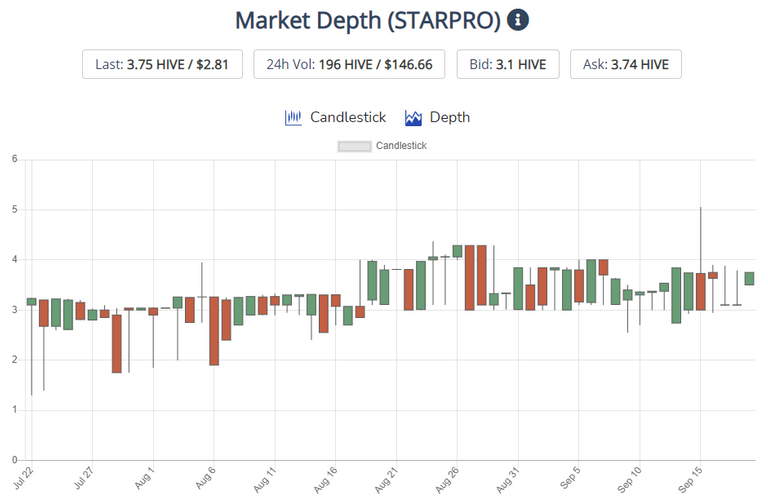 Highest Bid : 3.10000000 (Lower than yesterday)
Lowest Ask : 3.74000000 (Lower than yesterday)
Current Market (STARBITS)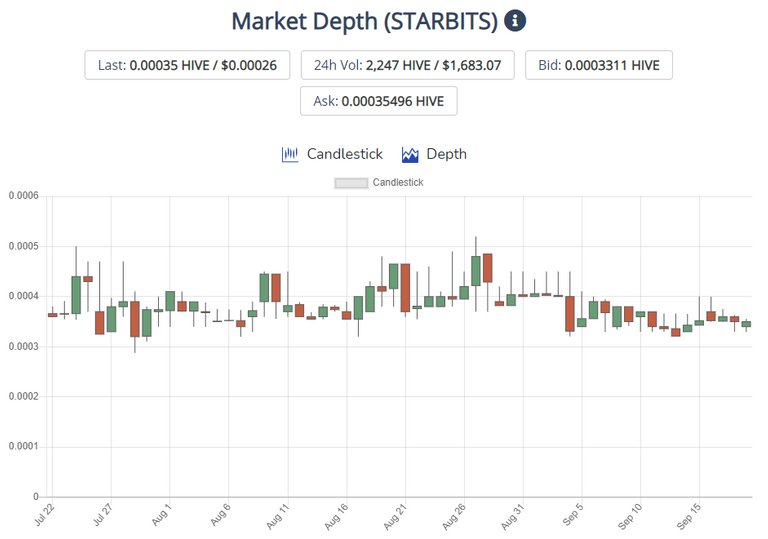 Highest Bid : 0.00033110 (Lower than yesterday)
Lowest Ask : 0.00035460 (Lower than yesterday)
The STARBITS price is still in stable range for 78 days around 0.00034 average. Weekly average is around 0.00034
STARPRO price still stable for 29 days, around 3.4000 average today. A constant movement this week.
---
---