Rising Star Journal #66 : Weekend Power Leveling #2! 🍕🍕
LETS PLAY RISING STAR


risingstargame.com
Hello everyone!! How is your weekend? I hope all are having an awesome weekend and keep on gaining those STARBITS and STARPRO!
Just incase you guys missed the giveaway, here are the list of all the giveaway
==============================================
And do not miss today's Live Stream : Radio Evolve at 20:00PM UK time. You guys can tune in to this youtube channel : https://www.youtube.com/c/AtomCollectorrecords
Also who have not join the discord server please join us, lets have some fun together and listen to new awesome song from our artist. Join us now!
==============================================
Today I won a card and 1000 STARBITS giveaway from @tommyl33 . Its the 36 Craig cards. Thank you my friend!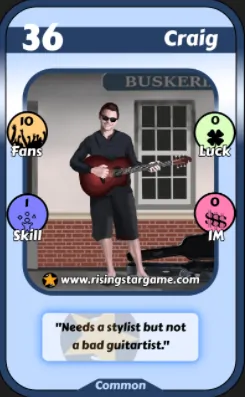 Now for my daily progress in @risingstargame 📈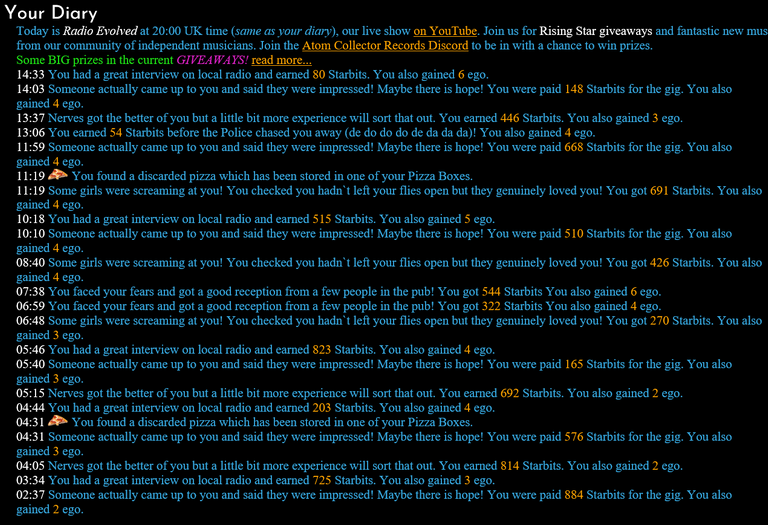 Today is the 3rd day in a row I had only two pizza slices dropped from mission. Some of the mission I had to wait till the energy slowly refilled especially the Illegal Busking mission and the Radio Interview mission.
I had to divide the energy carefully so that I can maximize the energy consumption while getting the most experience and most STARBITS possible. I am hopping that more pizza slice will drop tomorrow and fill my empty pizza boxes 😭
My 1st milestone on Rising Star is to reach 1000 STARBITS reward on Illegal Busking. (60% progress) Still no new cards added into my collection.
My 2nd milestone on Rising Star is to get to level 75 and unlock the Band Auditions mission (95% progress) and get my 1st band member.
My 3rd milestone on Rising Star is to be able to open the 12packs of cards every week. (0% progress) Still doing calculation on my average reward for daily for seven days.
My current achievement:
Total mission = 2110 / 3000 (70.3%)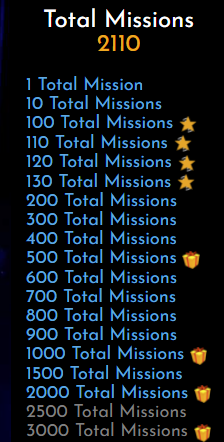 Home Town
Illegal Busking = 456
Open Mic Night = 226
Mid Week Support = 196
Licensed Busking = 22
Midweek Headline Slot = 46
Saturday Support = 8
Saturday Headline = 33
Local Gig Circuit
Radio Interview = 398
Radio Studio Session = 43
Shopping Mall Performance = 247
Record A Demo = 23
Local Festival Acoustic Tent = 23
Local Mini Tour Support = 29
890 mission left to go to 3000 total mission.
Below are my current rank as for today.


Highest Rank: #109
My current rank went up to #109 from previous rank #114. Steadily climbing into the 100th league. One more step to get into 108! I hope I can continue my momentum in climbing the rank and not going to drop too far.
My current card collections :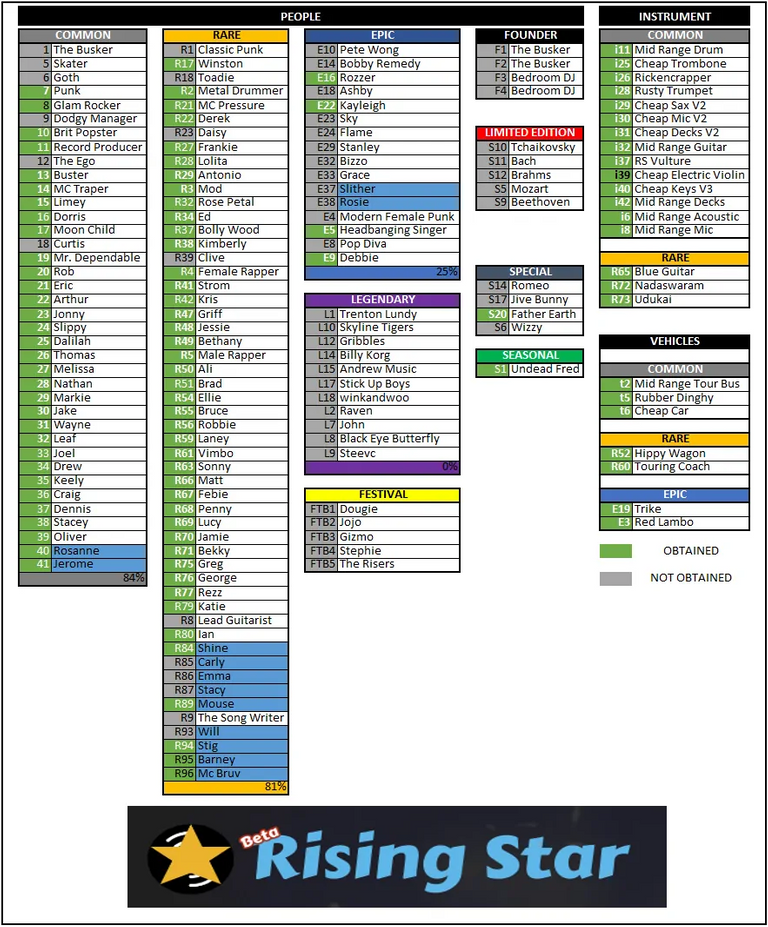 Common People cards:
32/38 : 84% Obtained (+0%)
Rare People Cards:
43/53 : 81% Obtained (+0%)
Epic People Cards:
4/16 : 25% Obtained (+0%)
And that is for today's progress at Rising Star Game
Keep on ROCKING!! and HIVE ON!!
Current Market (STARPRO)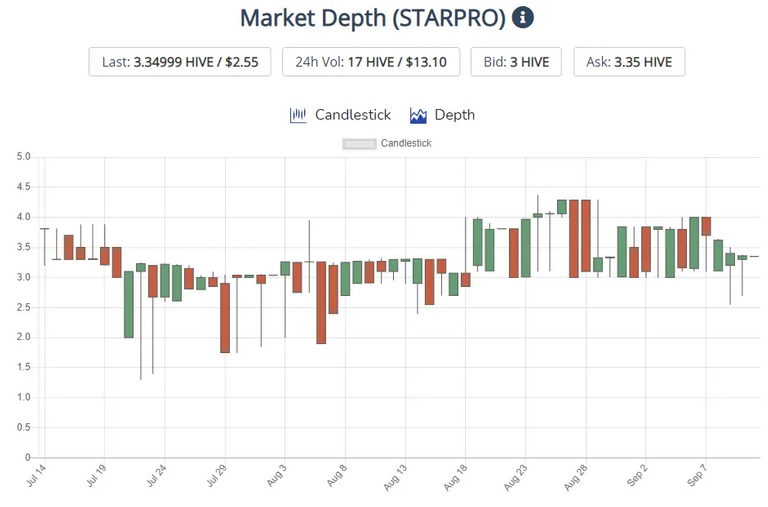 Highest Bid : 3.00000000 (Higher than yesterday)
Lowest Ask : 3.35000000 (Lower than yesterday)
Current Market (STARBITS)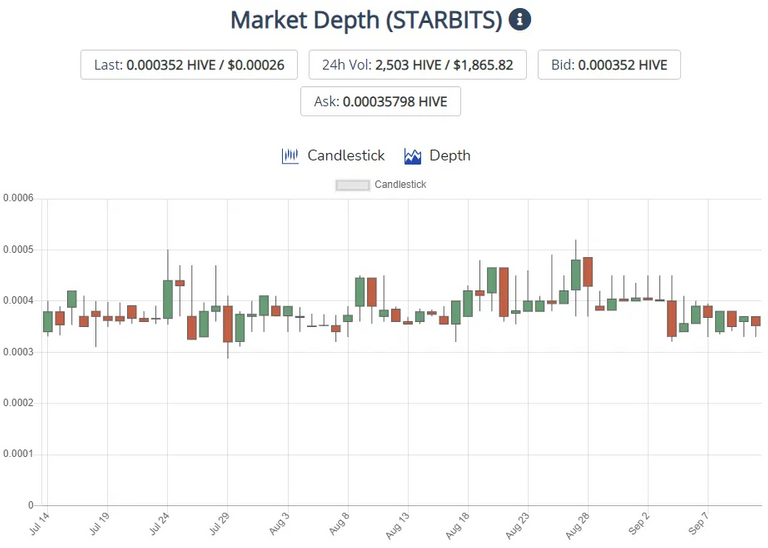 Highest Bid : 0.00035200 (Higher than yesterday)
Lowest Ask : 0.00035798 (Lower than yesterday)
The STARBITS price is still in stable range for 72 days around 0.00035 average. Slightly lower than weekly average price.
STARPRO price still stable for 24 days, around 3.1000 average today. A big difference between the Bid and Ask price.
---
---