Cardano (ADA) Price Projection #10
Hello everyone, it is a great day today. We can see the Cardano (ADA) is making new ATH and the price now is around 1.75 - 1.80, and we may see Cardano (ADA) reaches the 2.00 price soon.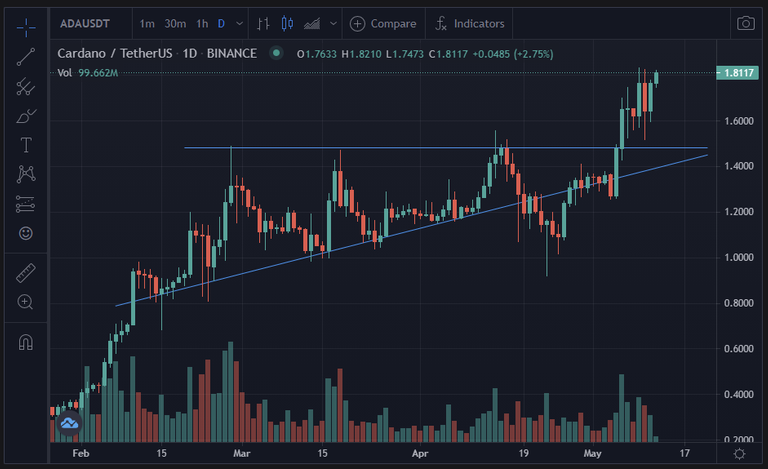 As you can see the price chart above, Cardano (ADA) price during this screenshot is 1.81.
The price continue to go up after the last two day correction/ rejection. Some of the trader may sold their Cardano (ADA) due to the price reaches the new ATH, but then more people buys back Cardano (ADA) at the lower price (me did the same xD) and add up to their stacking.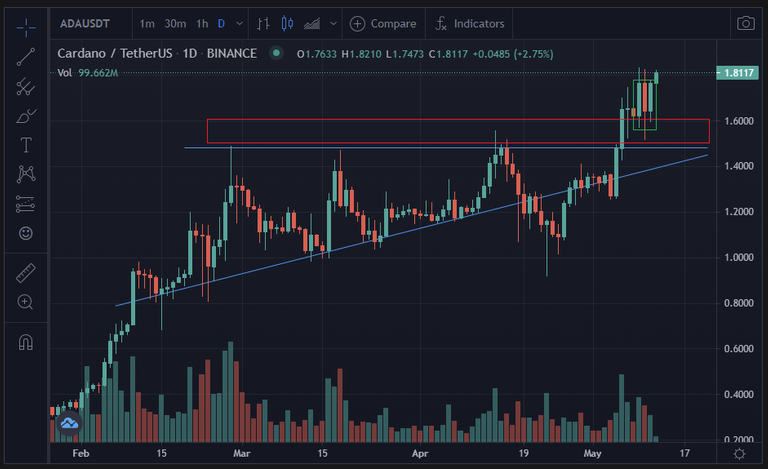 As you can see the price chart above, Cardano (ADA) has tested the support area for five times before it continues its move up.
The red rectangle is the strong resistance area for the CARDANO (ADA) before it was penetrates and become support. This will be a strong support for the price.
The green rectangle shows that now more people are buying Cardano (ADA). Last two days, people sell their Cardano (ADA) for some profits. Then the day after that more people are actually waiting for the price to go down and buy Cardano (ADA) at lower price.
But before that,
DISCLAIMER:
I'm not a certified financial planner/advisor nor a certified financial analyst nor an economist nor a CPA nor an accountant nor a lawyer. The contents on this site are for informational purposes only and does not constitute financial, accounting, or legal advice.
This is a good signal for bull run continuity, and we will see Cardano (ADA) will hit the 2.0 price anytime soon.
For Cardano (ADA) trader, all the best and keep up the good work, and for the HODLer out there. KEEP ON HODLING! XD
CARDANO (ADA) IS THE FUTURE FOR CRYPTO!
Have a great day and continue to HIVE!!
Posted Using LeoFinance Beta
---
---