Moody Metals - Gold Photography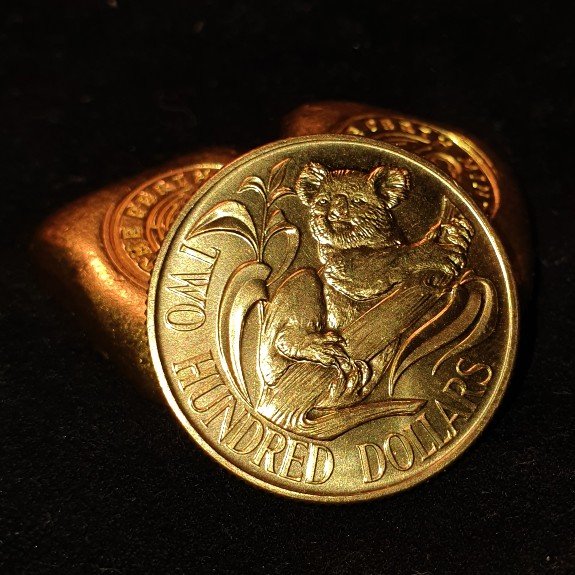 My post this evening is the third in my precious metals photography series. This evening I am displaying the beauty of gold, which in my opinion is the premium precious metal.
The $200 Gold Koala coin in the picture is one that I picked up today and was my inspiration for taking some gold bullion photos this evening. We went out for a family lunch today, after that I popped into the local coin shop to see if they had any thing new or interesting. They had some great items there today, but my budget only allowed for this $200 koala coin.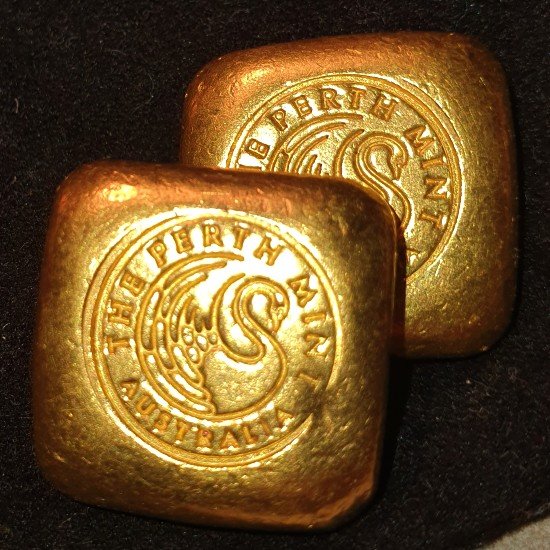 I decided to go for a moody feel to the photos for this post. I love how gold pops when it is photographed on a dark background. There is something authentic and real about a 1oz gold bar, the ability you have to pick it up and touch it. 1oz gold bars seem small, but they are compact lumps of awesomeness.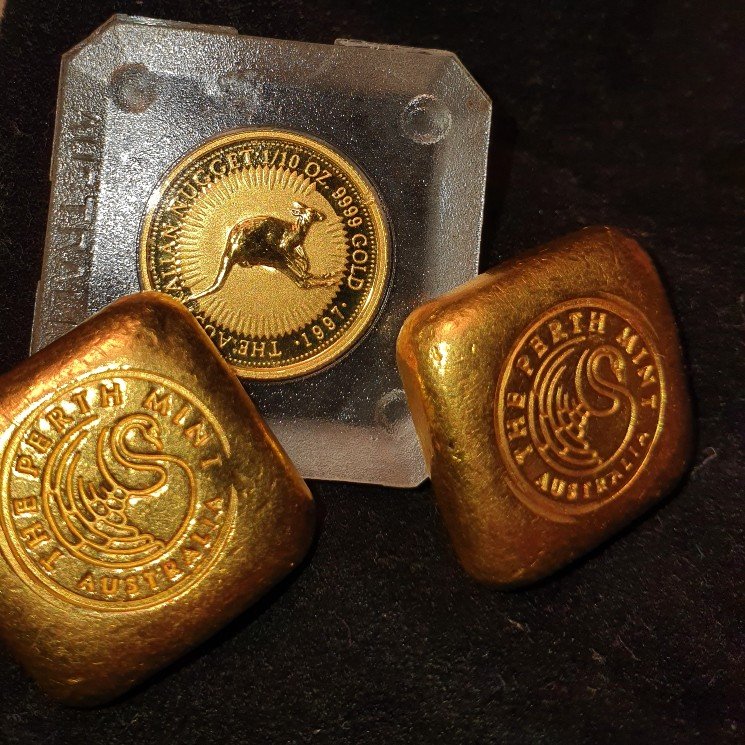 For those of you who follow my 1oz silver kookaburra post series, you'll know that I am a big fan of collecting silver kookaburra coins. Similarly, I also love collecting the 1/10oz gold nugget coins, with their various kangaroo designs.
The gold nugget coin above is from 1997, it is in a square plastic capsule, these were used for earlier year Perth Mint coins. I still think I prefer the square capsules to the modern day capsules.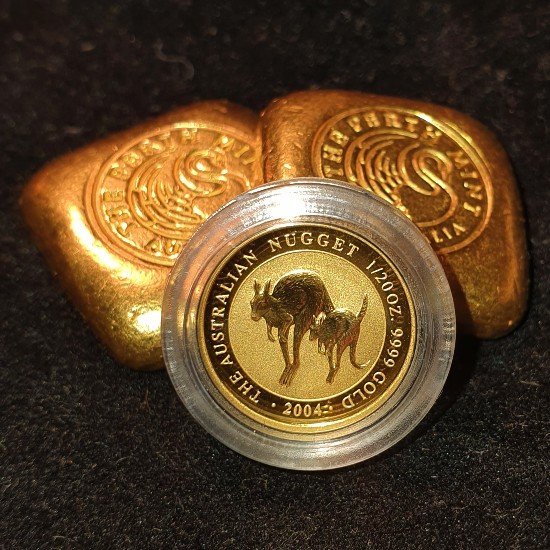 Although my preference is 1/10oz gold nugget coins, when I do come across a well priced 1/20oz gold nugget coin I will snap it up. I love the design simplicity of the 2004 gold nugget, with the mother and baby kangaroos.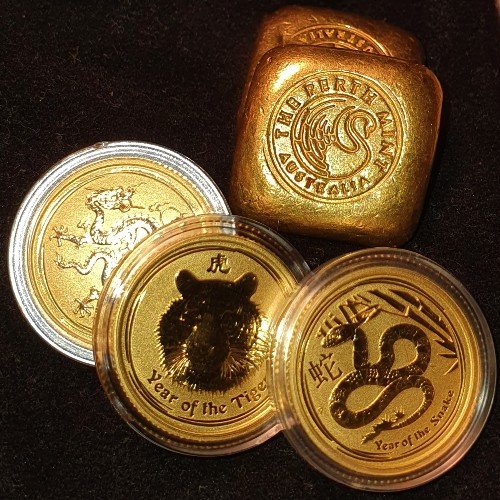 More recently, I have started adding lunar series 1/10oz gold coins to my stack. Is this photo is the 2010 1/10oz tiger 🐅, the 2012 1/10oz dragon 🐉 and the 2013 1/10oz snake 🐍 coins.
On day in the near future I will take some photos of my 1oz silver lunar coin designs, with their corresponding 1/10oz gold lunar coin designs. The gold and silver coin designs are often quite different from each other.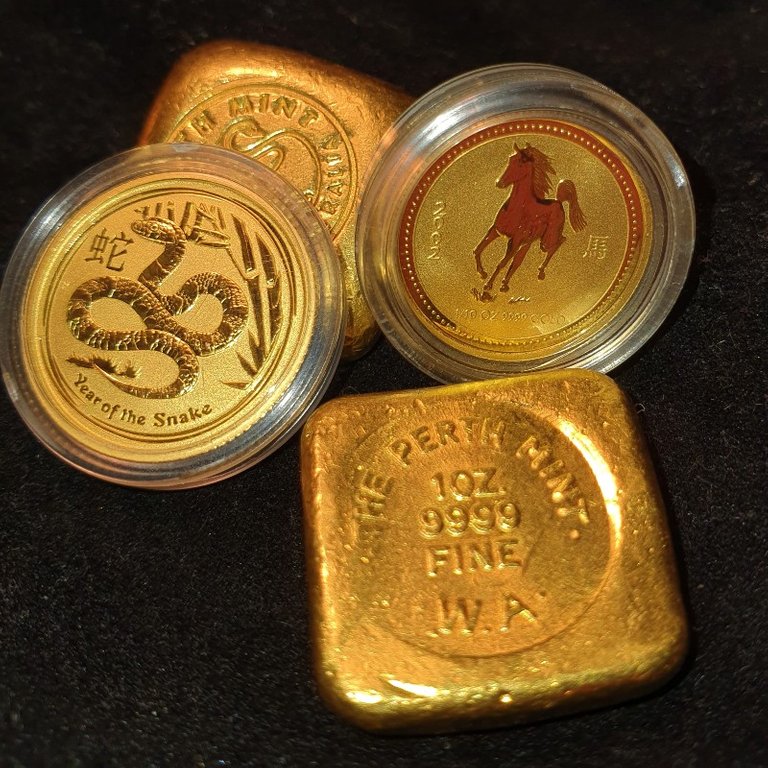 Once again, I just cannot turn down a good gold buy when I come across one. When I walked into a coin shop a number of years back and saw this 2002 1/10oz lunar horse in the cabinet window. I was convinced that it was going to be out of my price range, but to my surprise it was very reasonably priced. Obviously, I could not walk out without finding a home for this stunning coin. 🐴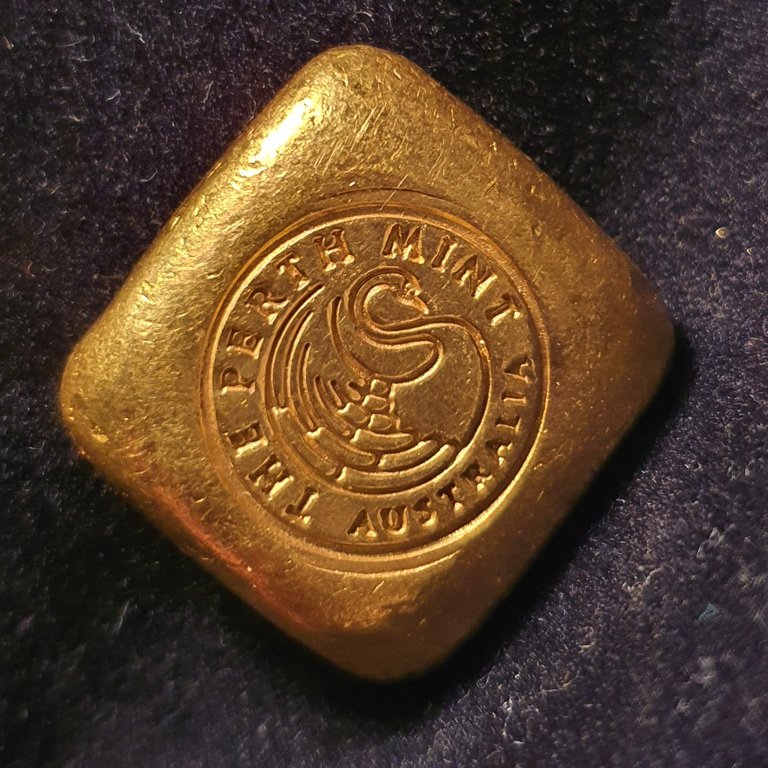 Finally, to close out the post this evening, I want to re-highlight the true champion, the humble yet awesome 1oz gold cast bar. If I was told that going forward I was only allowed to buy 1oz gold cast bars and no other type of coin or bar, I think I would be quite content. 😃
Post authored by @strenue


---
---