I came across the letter FUD....what the FUD is it? my advice on FUD (not financial or in anyway useful)
We don't post much in Leo.... we not got a lot of sensible financial advice to give....however we were reading @nickyharvey post https://peakd.com/hive-167922/@nickyhavey/what-the-fud-crypto-and-mental-health but I did not know what FUD was lol So in my mind this is what I was thinking.....like I said to him I only get FUD when creating music and art but hey maybe that lets us all get rid of the FUD. Nicky had lots of suggestions to help with FUD. Our response to things are usual artistic so our response to watch the halving of our money is, as ever, music, poetry and comedy!
So if you got the FUD then sending big love from Brighton UK and leave a comment if you want a chat or have an extra line for this poem! All suggestions valid!
Some music to go with your FUD!
https://open.spotify.com/track/19B8IHf549OGsrLwrxJyAc?si=162fbdfea25e4e0b
A Gif to go with your FUD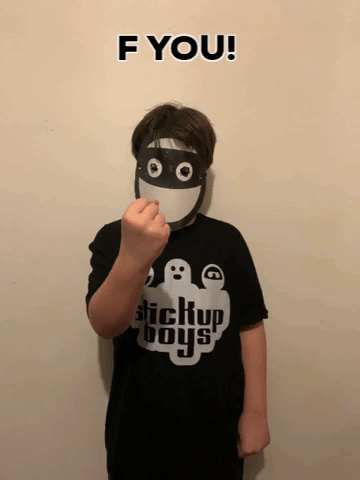 A poem to go with your FUD
Flipping Up Dangerously (true dat)
Fucked Up Dog...
Free Undressed Dancing (you know you want to)
Fantastic Ultra-violet Dream ( nothing wrong with sleeping pils?)
Fart Under Duvet (we all do)
Ferrets Use Doors (not my door)
Frogs Use Drains (not my drain)
Finally Usurped Dictator (again)
Fuck You Daddio (said Freud)
For Undecided Dickheads (ello)
Fleeing Ugly Ducklings (bye)
Feeling Upset & Down (DONT, listen to this https://open.spotify.com/track/6mWSkh1S5wPOEgjabY6Vxe?si=9a5573fde9b54159)
Full Unique Distraction (play @risingstar)
Flying Usually Down (or up)
Frantic Undeniable Disapproval (welcome to downvotes)
Fecking Upstart Doge (to be fair we did alright with it.....)
Fanciful Undying Diversity (welcome to Hive)
Frightening Unkind Detriment (don't)
Fresh User Definition (define it yourself)
Free User Decentralised (why we are here...)
Happy for some comments on more possible meanings for FUD!
Big up, don't cry and listen to music!
Love
the Stick Up Boys
https://linktr.ee/StickUpBoys
PS if that ain't cheered you up then listen to this...
https://open.spotify.com/track/25cKAFuRkB1JSkAf3A5PPv?si=c07cd6494b654e3f Posted Using LeoFinance Beta
---
---