AI or not? Read, be inspired, build. Hive savings. My Actifit Report Card: January 6 2023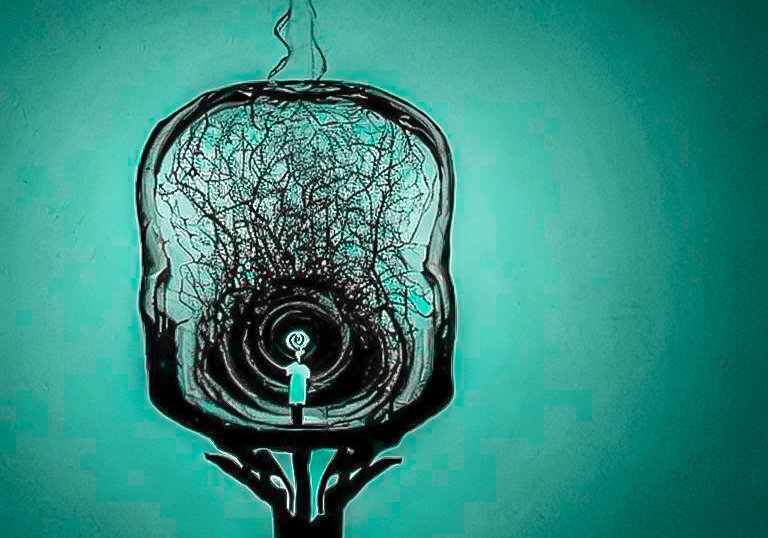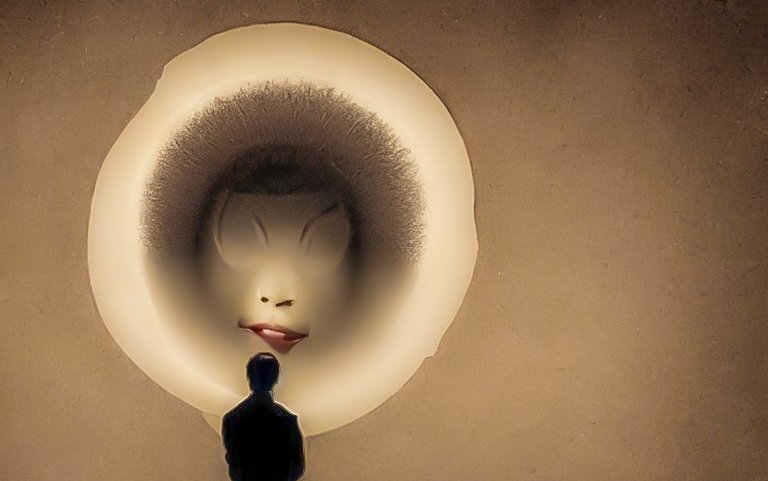 Made with AI Hugging Face
Playing with Ai

Hey there!
You can treat AI any way you want, but if something enters this world, it's impossible to undo it. Especially if it is convenient, beautiful, fast, interesting, and so on. Cryptocurrency has gone the same way, from complete denial to gradual acceptance. We're still halfway to full adoption. No one knows where it will end up. We're just using what we have at the moment.
AI is already there and doing some pretty good stuff. I think it does even cooler things if you pay for a premium account. And since it's a self-learning machine, we'll soon see a lot of AI work even in Hive. It's impossible to undo, so I decided to try some of them.
The ringing emptiness inside your head. This is what I felt all those 3 days and still do. That's the kind of query I put in when I got enough of it. Above are a few images that I cropped and re-processed in photoshop to my liking. It was interesting and didn't take long. About 30 minutes.
I'm not a fan of using AI when I don't need to, either. But these 3 days all my walks ended up with gray pics and cold inside. The cold of minus 12 degrees Celsius and a drop in energy brought me to the AI. I came for the colors. And I got them. Even if they weren't mine. Not as bright as I wanted them to be. But I liked the result.
Of course, it's scary that soon all the work of artists and designers will be replaced by AI. In part this will be true. But I believe that no one can replace a piece of the soul. It is specifically about the soul of each of us. It's a long, interesting topic that could be talked about endlessly. For now, I'll just let it be what it is. And have a little fun in the process, after these hard days for me...
RU: Можно как угодно относится к ИИ, но если что-то попадает в этот мир, то невозможно это отменить. Особенно если это удобно, красиво, быстро, интересно и так далее. Криптовалюта прошла тот же путь от полного отрицания до постепенного принятия. Мы ещё на пол пути к полному внедрению. Никто не знает чем это закончится. Мы просто используем что есть на данный момент.
ИИ уже есть и делает неплохие вещи. Думаю оно делает ещё более крутые вещи, если оплатить премиум аккаунт. А так как это самообучающаяся машина, то скоро мы увидим очень много работы ИИ даже в Hive. Это невозможно отменить, поэтому я решил попробовать некоторые из них.
The ringing emptiness inside your head. Это то, что я чувствовал все эти 3 дня и до сих пор чувствую. Такой запрос я и ввёл, когда наигрался вдоволь. Выше несколько изображений, которые я обрезал и повторно обработал в фотошоп по своему вкусу. Это было интересно и не заняло много времени. Примерно 30 минут.
Я тоже не любитель использовать ИИ, когда это не нужно. Но эти 3 дня все мои прогулки заканчивались серыми фото и холодом внутри. Холод минус 12 градусов по Цельсию и упадок сил привёл меня к ИИ. Я пришёл за красками. И я их получил. Пусть не мои. Пусть не такие яркие, как я хотел. Однако результат мне понравился.
Естественно страшно, что скоро всю работу художников и дизайнеров заменит ИИ. Отчасти это и будет так. Но я верю, что частичку души всё же не заменит никто. Речь конкретно о душе каждого из нас. Это длинная интересная тема, на которую можно разговаривать бесконечно. Сейчас я просто позволю этому быть так как есть. И немного повеселиться в процессе, после этих тяжёлых для меня дней...

Hive savings report
I will continue to play the game in the numbers of my achievements on Hive. Below is a table of my daily accumulation of Hive, HP, and layer 2 tokens:
RU: Продолжу игру в числа моих достижений на Hive. Ниже таблица моих ежедневных накоплений Hive, HP и токенов второго уровня: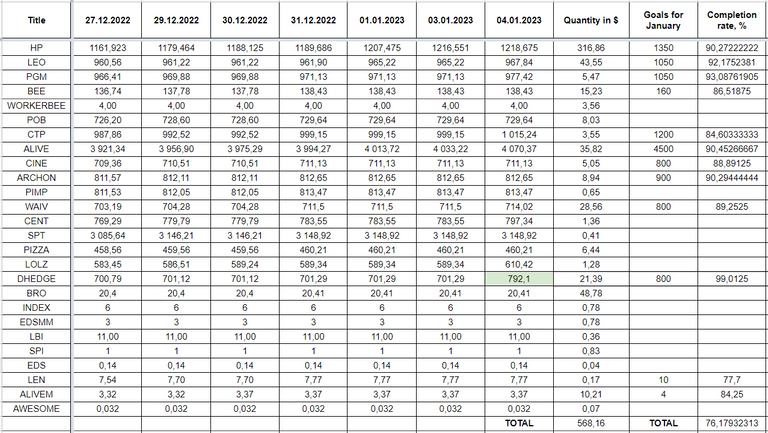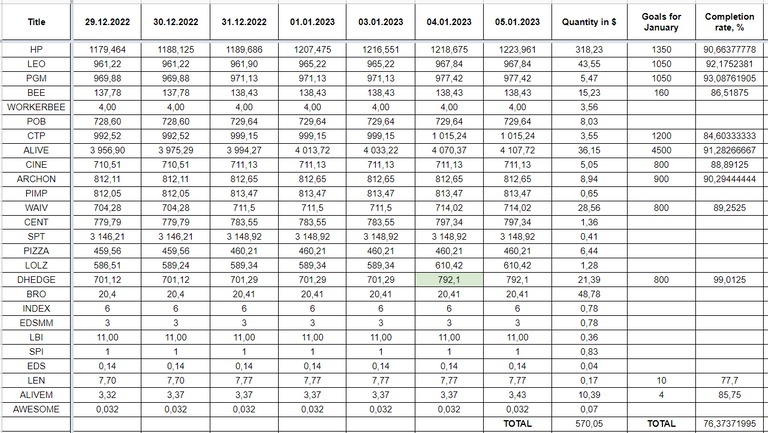 On this block, I would suggest reading more now. Those people who are inspiring. Reading the ones that panic won't make a difference. There are so many people at Hive who write great things about finance, crypto, and the future. You just need to read now, be inspired, and keep building!
For now ⬇️
Savings today is $570.
RU: В этом блоке я бы посоветовал больше читать сейчас. Тех людей, которые вдохновляют. Читать тех, которые в панике, ничего не изменит. В Hive очень много людей, которые отлично пишут о финансах, крипте и будущем. Сейчас просто нужно читать, вдохновляться и продолжать строить!
А пока ⬇️
Сбережения на сегодня 570$.

Hive On! Hive Five! Let's go!

I am also a member of the following communities!⬇️
All banners are clickable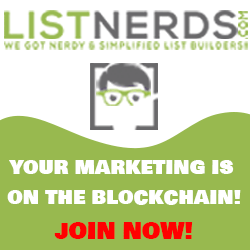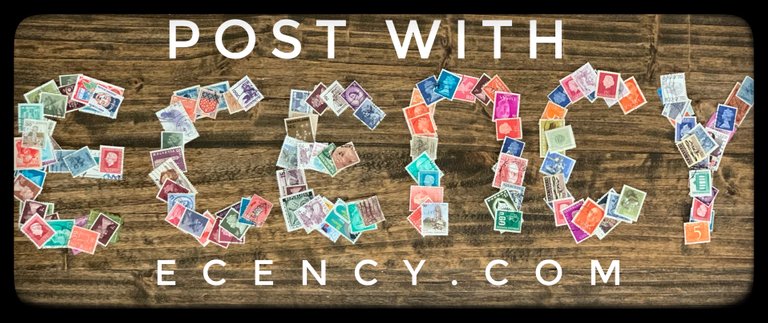 This report was published via Actifit app (Android | iOS). Check out the original version here on actifit.io




06/01/2023

32383

Daily Activity,House Chores,Photowalking,Shopping,Walking
---
---