Thoughts. Small steps to big goals. Hive savings. My Actifit Report Card: June 23 2022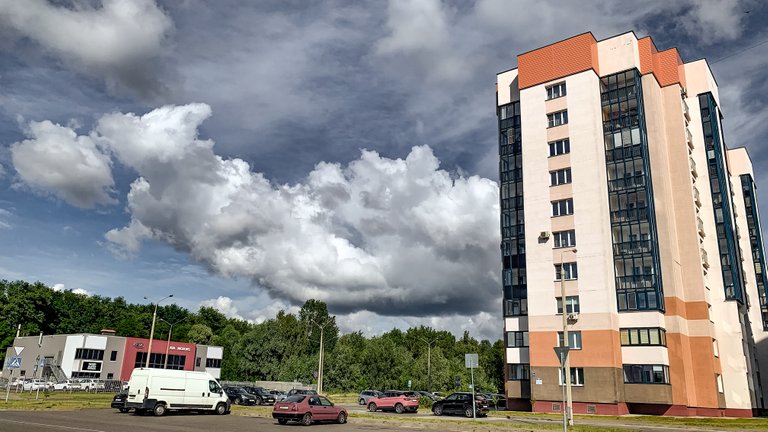 Clouds are cotton candy

Hey there!
Yesterday was a long day. It didn't end until dawn, as there was business to attend to. A photo of the cloudy dawn below, at the end of this block. I greeted the dawn with a cup of cocoa and Python on my laptop. Half a year without a job, on pure earnings from cryptocurrency, has come to an end. I'm going back to hiring, so I'm accelerating my study of IT in all directions to get an interview for training, followed by a job placement. And as it turns out, I love to learn. Hopefully, with my new knowledge, I will bring even more value to Hive and cryptocurrency in general. This is exactly my plan: to dive deep enough to eventually create my own LEOFINANCE scale project. That's a great goal, isn't it?)
RU: Вчерашний день был долгим. Закончился только на рассвете, так как были дела, которые необходимо было решать. Фото облачного рассвета ниже, в конце этого блока. Рассвет я встречал с чашкой какао и Python на ноутбуке. Пол года без работы, на чистом заработке с криптовалюты пришёл к концу. Я возвращаюсь в найм, поэтому ускоренно изучаю IT во всех направлениях, чтобы пройти собеседование на обучение, с последующим устройством на работу. И как оказалось, я люблю учиться. Надеюсь с новыми знаниями я принесу ещё больше пользы Hive и криптовалюте в целом. План именно такой: нырнуть настолько глубоко, чтобы в итоге создать свой проект масштабов LEOFINANCE. Отличная же цель?)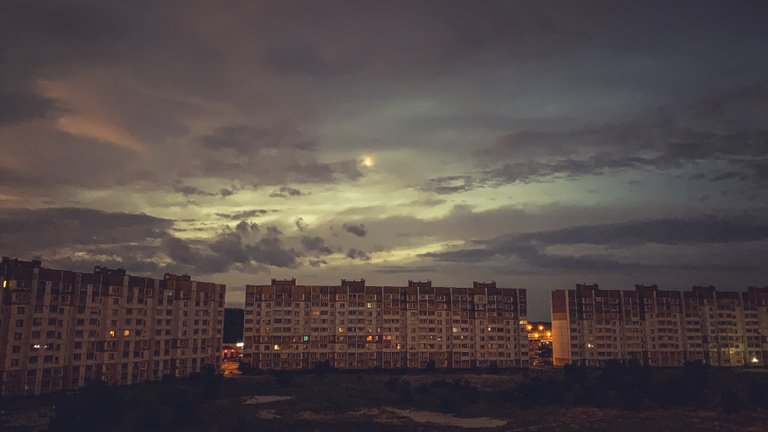 Hive savings report
I will continue to play the game in the numbers of my achievements on Hive. Below is a table of my daily accumulation of Hive, HP, and layer 2 tokens:
RU: Продолжу игру в числа моих достижений на Hive. Ниже таблица моих ежедневных накоплений Hive, HP и токенов второго уровня: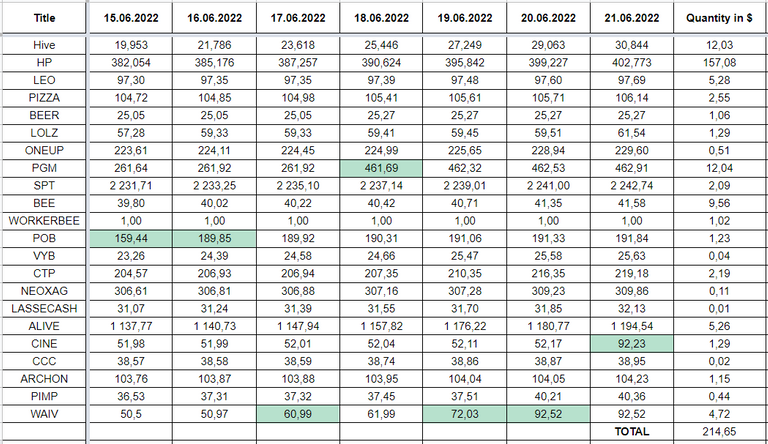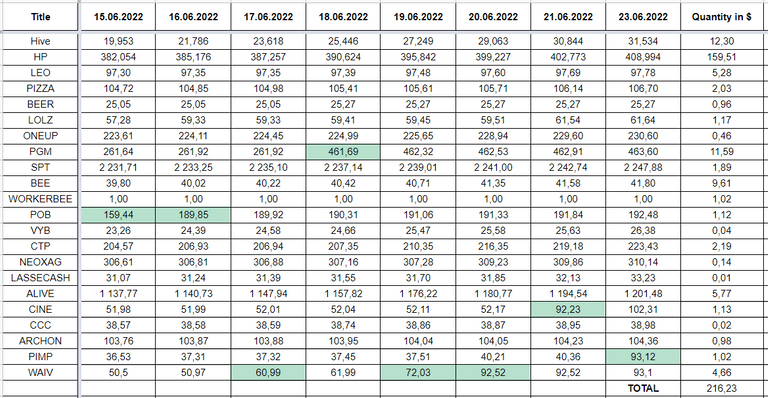 Getting into the habit of doing a second layer token report has been a good start to figuring out this myriad of Hive features.
It's getting more transparent by the day, I think there will be a lot of posts about it soon. The possibilities of Hive are enormous!
I finished up 50 PIMP today to close out the last goal for this month. There are a few cents left to accumulate on some tokens, which I will confidently do.
In the meantime, my savings showed growth again, but only by $2 in 2 days. The market is in accumulation and everyone is waiting for growth. I'm looking forward to it more than anyone, but don't get my hopes up until September. For now, I suggest we enjoy summer! I am Alive! And Hive Five!
RU: Привычка делать отчёт по токенам второго слоя стала хорошим началом разобраться в этом бесчисленном множестве возможностей Hive.
С каждым днём становится всё прозрачнее, думаю скоро будет много постов по этому поводу. Возможности Hive огромны!
Сегодня я докупил 50 PIMP, чтобы закрыть последнюю цель на этот месяц. Осталось накопить несколько центов по некоторым токенам, что я уверенно сделаю.
Тем временем мои сбережения снова показали рост, но всего на 2$ за 2 дня. Рынок в накоплении и все ждут роста. Я жду этого больше всех, но не надеюсь на это до сентября. Пока предлагаю насладиться летом! I am Alive! And Hive Five!
That's all for now, the next reports will be more and more voluminous and interesting thoughts and plans, I'm already doing it).
RU: На этом пока всё, следующие отчёты будут всё объёмнее и интереснее по мыслям и планам, я уже это делаю.)

Photo: Belarus, Gomel, June 2022



This report was published via Actifit app (Android | iOS). Check out the original version here on actifit.io




23/06/2022

20745

---
---