The Awakening. Small steps to big goals. Hive savings. My Actifit Report Card: June 21 2022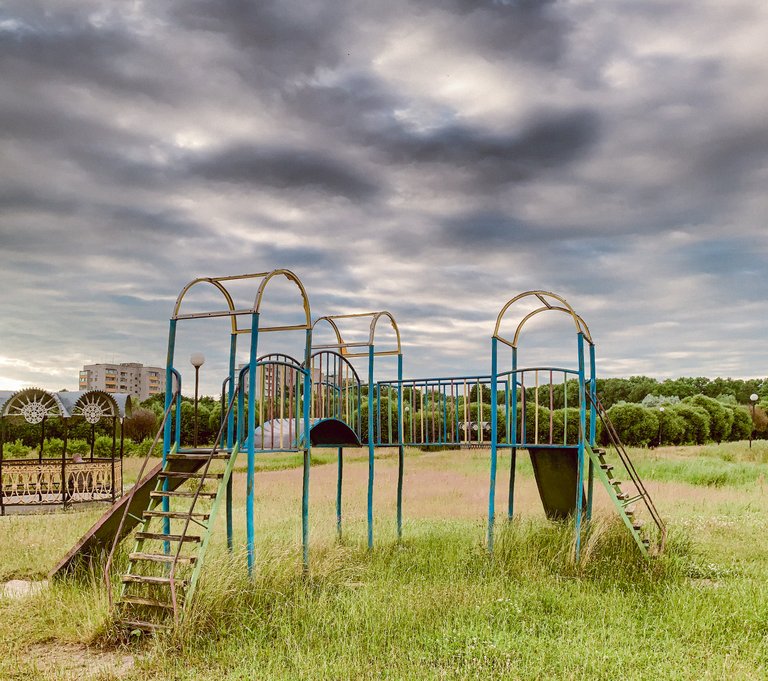 A couple of hours after the rain

Hey there!
It rained half a day today. After the 30-degree heat, of course, it was a nice respite, but I love the heat. I had plans for a few days, to drive around and take pictures of different locations. Take a mental break from the computer, write down some ideas that always come up on walks in places I rarely go. The day promised to be dreary, but in the evening the rain stopped. Going out for a walk and to the store, I took pictures of the sky again. The sky would make any day of mine if it drew its patterns...
I was born again when I saw the beauty of the sky. It wasn't always there, it happened about a year ago. At the same time, I fell in love with photography. I started to notice beautiful moments in ordinary things. That's why I call it a new life. Or an awakening. Before, it was like I was dreaming, now the light and colors are on. And it doesn't matter so much what place you find yourself in tomorrow. It has its own beauty and its own colors...
RU: Сегодня пол дня лил дождь. После 30-ти градусной жары, конечно это было хорошей передышкой, но я люблю жару. У меня были планы на несколько дней, поездить пофотографировать разные локации. Отдохнуть морально от компьютера, записать некоторые идеи, которые всегда приходят на прогулках в местах, где я бываю редко. День обещал быть унылым, но вечером дождь кончился. Выйдя на прогулку и в магазин, я снова фотографировал небо. Небо сделает любой мой день, если оно рисует свои узоры...
Я родился заново, когда увидел красоту неба. Это не было всегда, это случилось примерно год назад. В это же время я полюбил фотографию. Стал замечать красивые моменты в обычных вещах. Поэтому я называю это новой жизнью. Или пробуждением. До этого я как будто видел сны, сейчас включили свет и краски. И уже не так важно в каком месте ты окажешься завтра. Там своя красота и свои краски...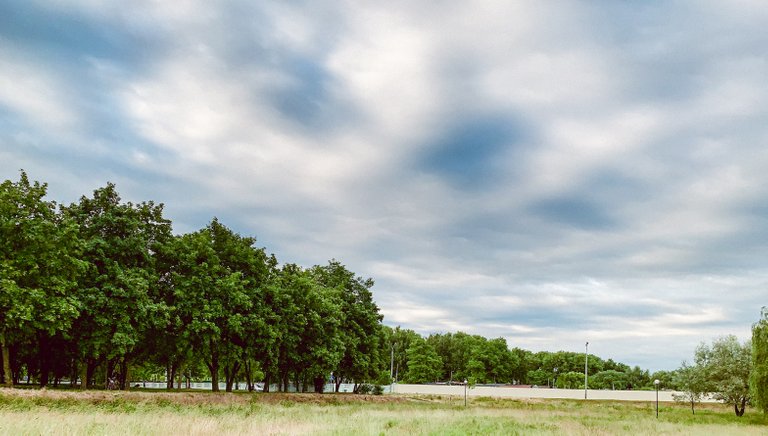 Hive savings report
I will continue to play the game in the numbers of my achievements on Hive. Below is a table of my daily accumulation of Hive, HP, and layer 2 tokens:
RU: Продолжу игру в числа моих достижений на Hive. Ниже таблица моих ежедневных накоплений Hive, HP и токенов второго уровня: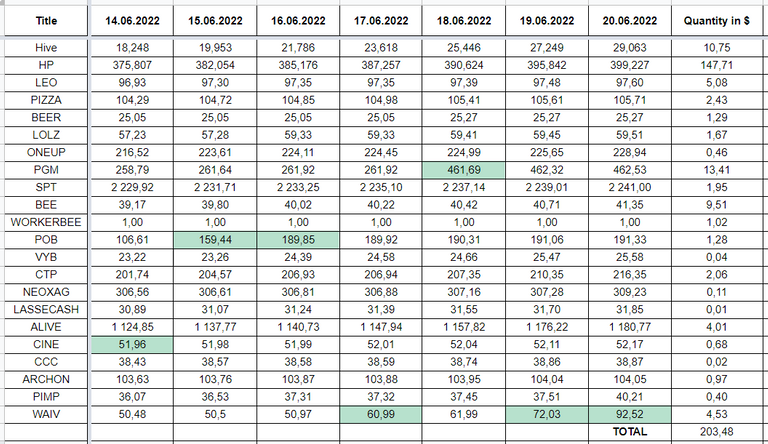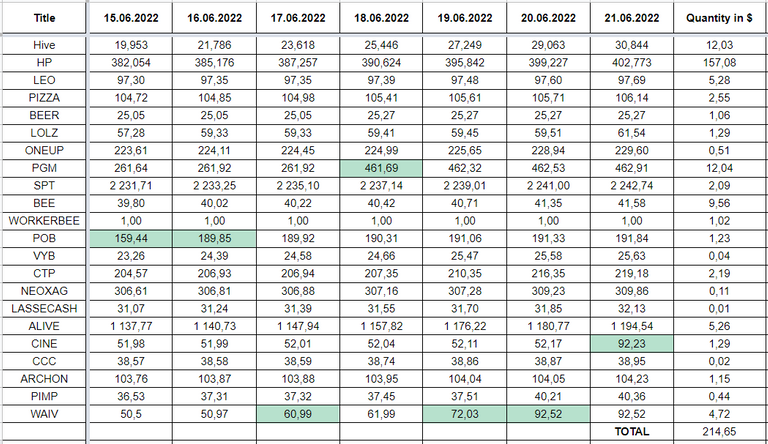 Today I was researching Hive tokens, which mine second layer Hive tokens. There is a lot of information, it should be put in a separate post, but I liked some of the solutions. I think for next month I should consider buying some of them. If anyone has any links to information on this, please drop me some in the comments.
In the meantime, I've finished 40 CINE and tomorrow I'll only have PIMP to meet my goal for this month. Next, I will prepare a goal for the next month, using the pareto principle. That is, I will try to take those tokens that will bring me an 80% return for 20% of my efforts, including my time.
Today my savings went from $203 to $214, which was + 5%.
RU: Сегодня изучал токены Hive, которые майнят токены второго слоя Hive. Информации очень много, это следует вынести в отдельный пост, но мне понравились некоторые решения. Думаю на следующий месяц нужно рассмотреть покупку некоторых из них. Если у кого-то есть какие-то ссылки на информацию по этому поводу, то прошу скинуть мне её в комментариях.
А пока я докупил 40 CINE и завтра мне останется только PIMP, чтобы выполнить цель на этот месяц. Дальше я буду готовить цель на следующий месяц, используя принцип парето. То есть я попытаюсь взять те токены, которые принесут мне 80% отдачи за 20% моих усилий, включая моё время.
Сегодня мои сбережения выросли с 203$ до 214$, что составило + 5%.
That's all for now, the next reports will be more and more voluminous and interesting thoughts and plans, I'm already doing it).
RU: На этом пока всё, следующие отчёты будут всё объёмнее и интереснее по мыслям и планам, я уже это делаю.)

Photo: Belarus, Gomel, June 2022



This report was published via Actifit app (Android | iOS). Check out the original version here on actifit.io




21/06/2022

17888

---
---