Hedgehog. Small steps to big goals. Hive savings. My Actifit Report Card: June 20 2022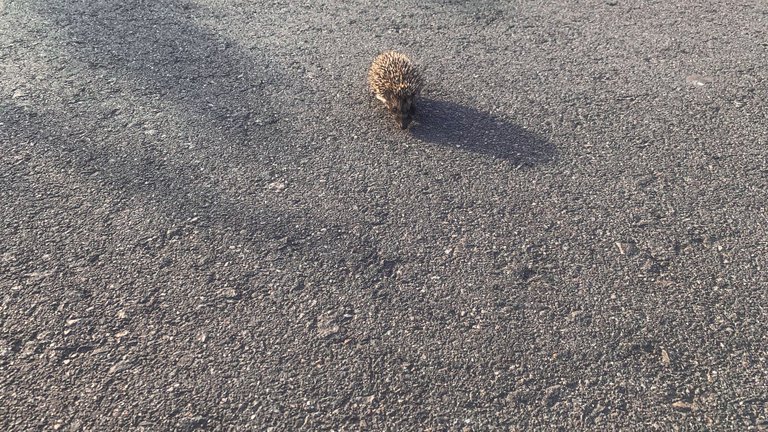 A hedgehog baby on the pavement

Hey there!
The night before yesterday, as I was leaving my house in the evening, I saw a hedgehog running out onto the road by the stairs of my house. It was dark, so I didn't take a picture. And he quickly ran off into the grass himself. And today I saw a baby hedgehog that apparently got lost. I don't think at this age a mother hedgehog lets such babies go from her. And what's amazing is that it's right in the city, it's pretty far to the woods or fields. And he ran out on the pavement and stared at me with his beady eyes. I really almost stepped on him. He completely blends in with the asphalt. To avoid being crushed by someone, I moved him into the grass, and at the same time pricked a couple of fingers of my hand. The thorns of the young growth are very sharp. Yes, like I said once, a new day means new adventures on the walk...
RU: Позавчера, выходя из дома вечером, я увидел ёжика, который выбежал на дорогу у лестницы самого моего дома. Было темно, я не стал фотографировать. Да и он сам быстро убежал в траву. А сегодня я увидел малыша ёжика, который видимо потерялся. Не думаю, что в таком возрасте мама ежиха отпускает от себя таких малышей. И что удивительно, это прямо в городе, до леса или поля довольно далеко. А он выбежал на асфальт и уставился на меня своими глазками бусинками. Я правда чуть не наступил на него. Он совсем сливается с асфальтом. Чтобы его кто-то не раздавил, я перенёс его в траву, попутно проколов пару пальцев руки. Уж очень острые колючки у молодой поросли. Да, как я и говорил однажды, новый день - новые приключения на прогулке...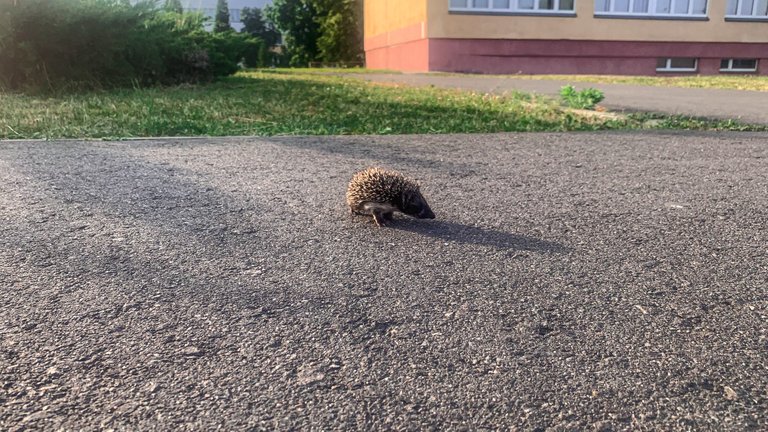 Hive savings report
I will continue to play the game in the numbers of my achievements on Hive. Below is a table of my daily accumulation of Hive, HP, and layer 2 tokens:
RU: Продолжу игру в числа моих достижений на Hive. Ниже таблица моих ежедневных накоплений Hive, HP и токенов второго уровня: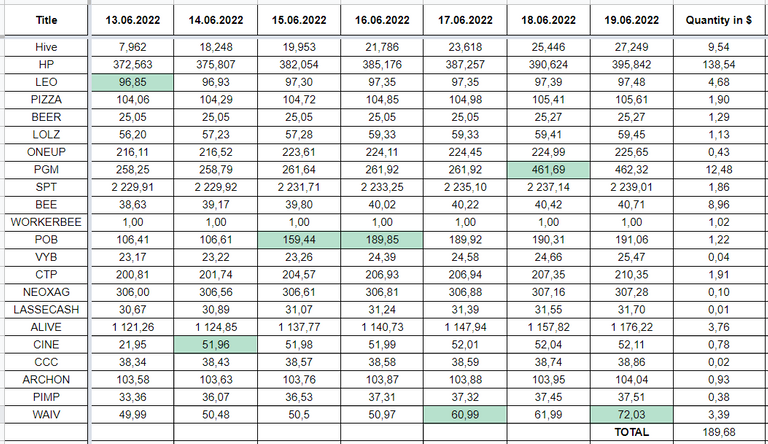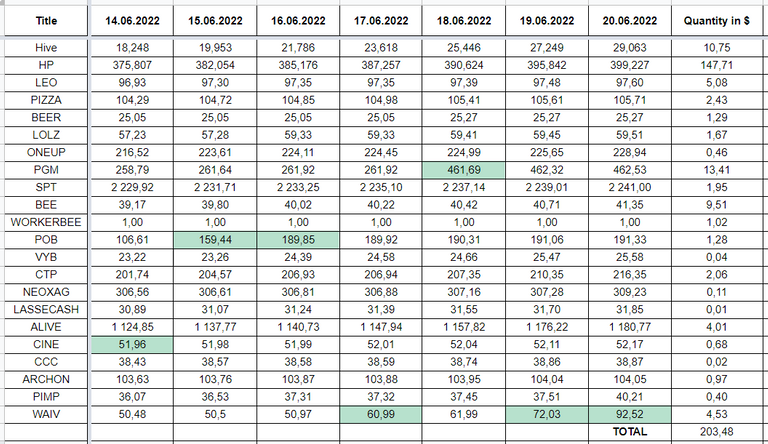 Today, I finished 20 WAIV again, thereby meeting my goal for the month for this token. I have two tokens left to purchase this month. They are PIMP and CINE. I think I will meet my goal this month. Next month I will concentrate on HP and a few tokens, which I will accumulate until I become a shark.
In the meantime, the markets have come to life and I've gotten a boost in my savings again. Today I reached $200 again, or rather went from $189 to $203. A gain of about + 6%.
RU: Сегодня я снова докупил 20 WAIV, тем самым выполнив цель на месяц по этому токену. У меня осталось 2 токена, которые требуется закупить в этом месяце. Это PIMP и CINE. Думаю я справлюсь с поставленной задачей в этом месяце. А в следующем я сконцентрируюсь на HP и нескольких токенах, которые буду накапливать, пока не стану акулой.
А тем временем рынки ожили и я снова получил рост по моим накоплениям. Сегодня я снова достиг 200$, а точнее поднялся со 189$ до 203$. Прирост примерно в + 6%.
That's all for now, the next reports will be more and more voluminous and interesting thoughts and plans, I'm already doing it).
RU: На этом пока всё, следующие отчёты будут всё объёмнее и интереснее по мыслям и планам, я уже это делаю.)

Photo: Belarus, Gomel, June 2022



This report was published via Actifit app (Android | iOS). Check out the original version here on actifit.io




20/06/2022

23040

---
---