The daily way to rest. Small steps to big goals. Hive savings. My Actifit Report Card: June 10 2022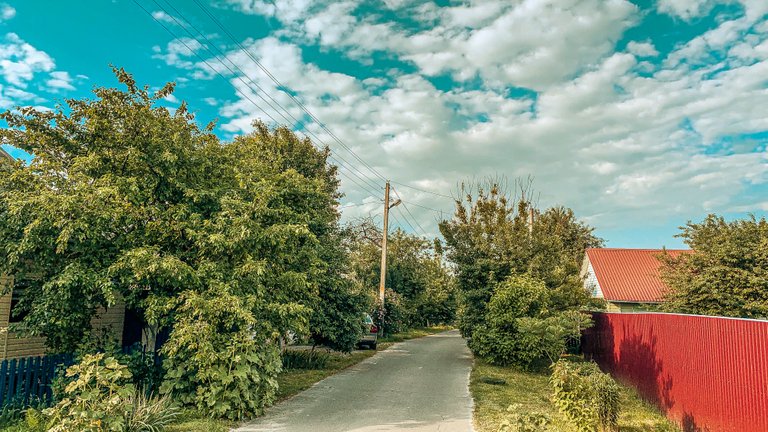 Countryside Street

Hey there!
I also love roads. Any new paths that life takes us down are unique. I mean our travels, our walks, and just the events that happen to us every day. It's not every day that we have something interesting happen. It is also a road, a road of boredom. And for some, it may be a road of tranquility. But there is never a journey without problems or obstacles in our way.
Friday. A day that everyone looks forward to, and that changes people's faces. Have you noticed? Anything that was a problem on Monday becomes nothing on Friday. If you compare Friday to the road, it's the last hours before a rest stop. A few steps to the destination. My point is, if we trick our brains on Monday, the whole week can be just like Friday. Think about that next week on your first day of work. 😜
RU: Ещё я люблю дороги. Любые новые пути, по которым проводит нас жизнь, очень своеобразны. Я имею в виду и наши путешествия, и прогулки, и просто события, которые случаются каждый день с нами. Не каждый день у нас происходит что-то интересное. Это тоже дорога, дорога скуки. А для кого-то может и дорога спокойствия. Но никогда не бывает путешествий без проблем или препятствий на нашем пути.
Пятница. День, который ждут все с нетерпением, и который меняет лица людей. Замечали? Всё что было проблемой в понедельник, в пятницу становится пустяком. Если сравнивать пятницу с дорогой, то это последние часы перед привалом. Несколько шагов до цели. Я к тому, что если мы обманем наш мозг в понедельник, то вся неделя может быть такой же, как в пятницу. Подумайте об этом на следующей неделе в свой первый рабочий день. 😜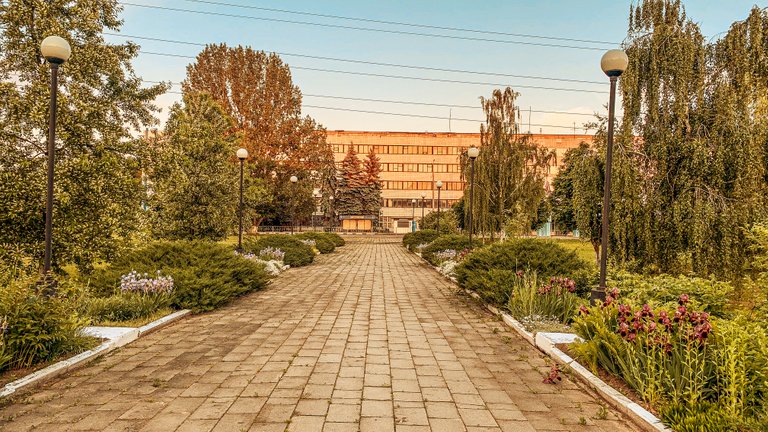 Hive savings report
I will continue to play the game in the numbers of my achievements on Hive. Below is a table of my daily accumulation of Hive, HP, and layer 2 tokens:
RU: Продолжу игру в числа моих достижений на Hive. Ниже таблица моих ежедневных накоплений Hive, HP и токенов второго уровня: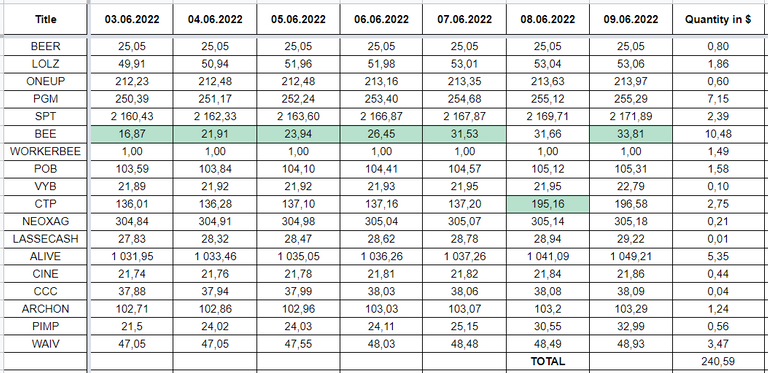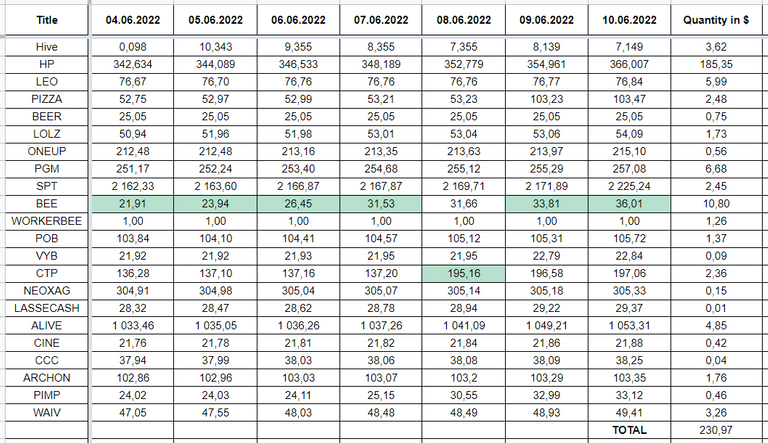 The market is blood-red again. We are being tested every day and many are giving up because not everyone has the patience to wait. It's not even clear how long to wait. No one will say that for sure. Many say until the end of the summer at least. So it's time to exhale, study those issues that I haven't had time to do and spend some time outdoors!
I added 2 BEE again today, now I have 4 BEE left before the month's goal. My total savings went from $240 to $231, which was - 3.8%. Hive On!
RU: Рынок снова кроваво-красный. Нас каждый день проверяют на прочность и многие сдаются, потому что не у всех хватит терпения ждать. Даже не понятно сколько ждать. Этого никто не скажет наверняка. Многие говорят, что до конца лета как минимум. Значит настало время выдохнуть, изучить те вопросы, на которые не хватало времени и провести время на природе!
Сегодня я снова докупил 2 BEE, теперь мне осталось 4 BEE до цели месяца. Общая сумма сбережений уменьшилась с 240$ до 231$, что сотавило - 3.8%. Hive On!
That's all for now, the next reports will be more and more voluminous and interesting thoughts and plans, I'm already doing it).
RU: На этом пока всё, следующие отчёты будут всё объёмнее и интереснее по мыслям и планам, я уже это делаю.)

Photo: Belarus, Gomel, June 2022



This report was published via Actifit app (Android | iOS). Check out the original version here on actifit.io




10/06/2022

18556

---
---