Small steps to big goals. Hive savings. Thoughts. My Actifit Report Card: May 22 2022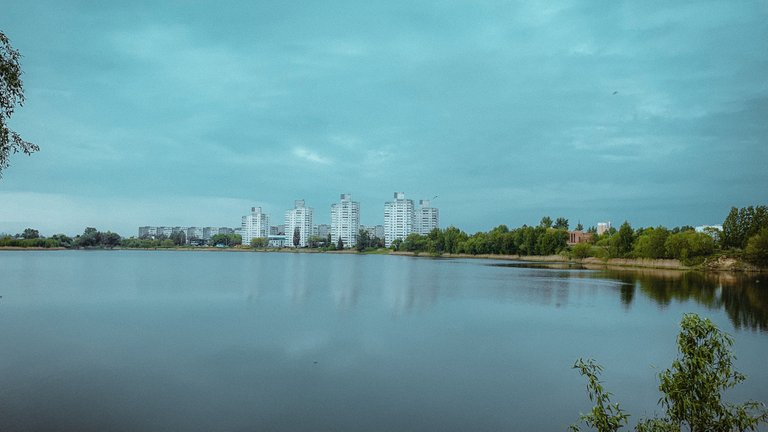 Almost the sea

Hi there!
Triple Failure. Cutting off the heating, cutting off the hot water and freezing temperatures. I can only remember something like this here in Belarus. I returned home after eight years and in the first six months I felt all the delights that I was hiding from all these 8 years. But here they are!) It doesn't freak me out like it did before. For the most part, it doesn't even make me sad. I have learned to be happy everywhere, under all circumstances. With all that said, I'm not staying here. I grew up in this city, this country, and I don't understand these people anymore, except for my loved ones. I don't understand how you can work for a bottle of beer and chips on Sundays at the bar. Then wait for the next paycheck, buying whatever to eat. I don't understand talking about bad things and discussing other people when my own life isn't sugar. There's a lot I don't understand. Or rather, I understand everything! And I am kindly sorry that they don't understand it... Period!
RU: Тройной факап. Отключение отопления, отключение горячей воды и похолодание. Такое я припомню только здесь, в Беларуси. Я вернулся на родину спустя 8 лет и в первые же пол года ощутил все прелести от которых скрывался все эти 8 лет. Но вот они тут!) Это не выводит меня из себя, как раньше. По большому счёту даже не печалит. Я научился быть счастливым везде и при любых обстоятельствах. При всём при этом я не останусь тут. Я вырос из этого города, этой страны и не понимаю больше этих людей, кроме своих близких. Не понимаю как можно работать ради бутылки пива и чипсов по воскресеньям в баре. Потом ждать следующей зарплаты, покупая поесть что попало. Я не понимаю разговоров о плохом и обсуждения других людей, когда своя жизнь не сахар. Я многого не понимаю. Точнее я всё понимаю! И мне очень жаль по доброму, что они этого не понимают... Точка!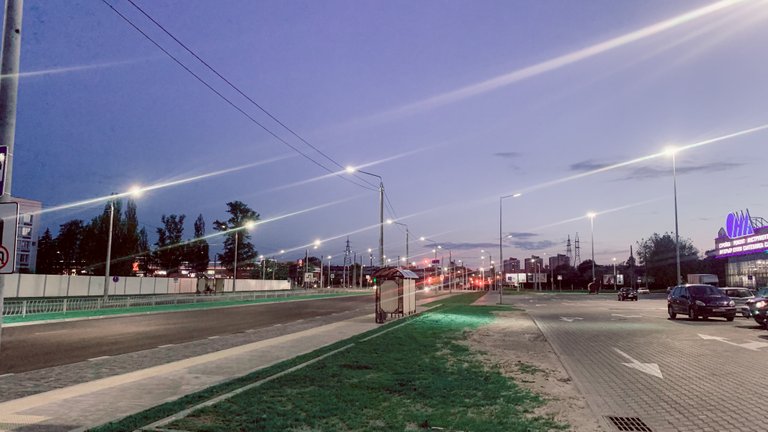 Hive savings report
I will continue to play the game in the numbers of my achievements on Hive. Below is a table of my daily accumulation of Hive, HP, and layer 2 tokens:
RU: Продолжу игру в числа моих достижений на Hive. Ниже таблица моих ежедневных накоплений Hive, HP и токенов второго уровня: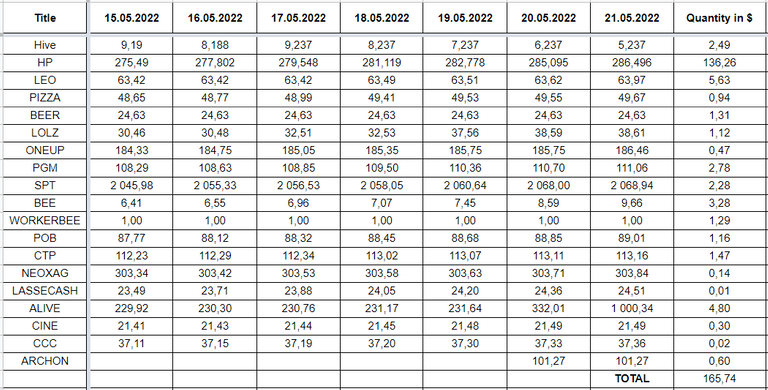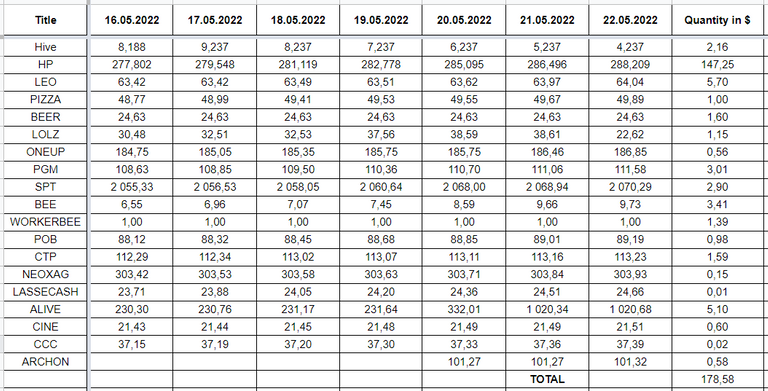 I got so involved in this game that it's hard for me not to learn new tokens or buy the ones I already have. Another target for me is PIMP. I have it, but very little. So I put an order to buy 10 #PIMP, hopefully it will be executed. Also seeing waves in the market every day, I decided to try my hand at trading small amounts. Let's see what happens. I will definitely share my successes or failures. Maybe this numbers hobby will grow into something even bigger than it is...
My savings increase today was + 7.8%, from $165 to $178. Hopefully this report will bring me some thoughts on how I can use it. You can't do it any other way. Otherwise, it doesn't make sense...
RU: Я втянулся так сильно в эту игру, что мне трудно уже не изучать новые токены или не докупать уже имеющиеся. Очередной мишенью для меня стал PIMP. У меня он есть, но очень мало. Поэтому я выставил ордер на покупку 10 #PIMP, надеюсь его исполнят. Также видя волны на рынке каждый день, я решил попробовать себя в трейдинге на небольшие суммы. Посмотрим, что получится. О своих успехах или не удачах я обязательно поделюсь. Возможно это хобби с числами вырастет в что-то ещё большее, чем оно есть...
Прирост моих сбережений сегодня составил + 7.8%, с 165$ до 178$. Надеюсь этот отчёт принесёт мне какие-то мысли, как это можно использовать. Иначе нельзя. Иначе тогда не имеет смысла...
That's all for now, the next reports will be more and more voluminous and interesting thoughts and plans, I'm already doing it).
RU: На этом пока всё, следующие отчёты будут всё объёмнее и интереснее по мыслям и планам, я уже это делаю.)

Photo: Belarus, Gomel, May 2022



This report was published via Actifit app (Android | iOS). Check out the original version here on actifit.io




22/05/2022

22225

---
---