Small steps to big goals. Move2earn. STEPN vs. Actifit. Hive savings. Thoughts. My Actifit Report Card: May 4 2022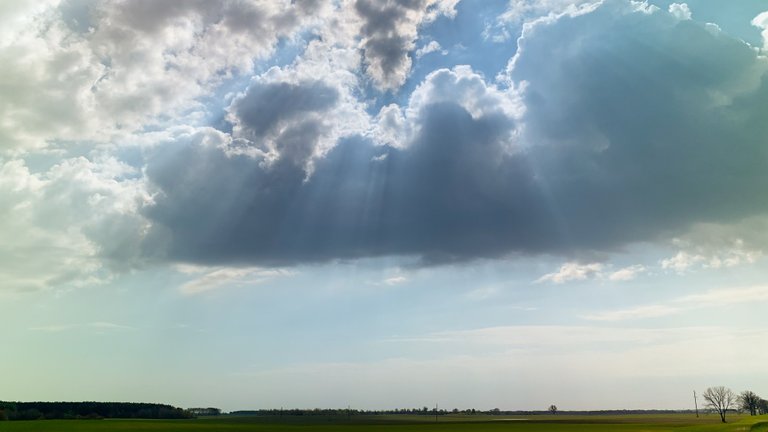 The Magic of the Sun 2

Hi there!
Move2earn has become very popular lately with the arrival of STEPN. Now even people who are far from crypto know that you can earn coins for using virtual sneakers in your runs and walks. But there has been Actifit on Hive for quite some time now. I've been with Actifit for over a year, and the old-timers have over 1100 reports, which suggests Actifit is over 3 years old. Will STEPN displace Actifit from the market? I don't think it will. Especially since the economics of the project are built on mass purchases of virtual sneakers from $1000+, and that can't last forever. We have seen such projects more than once, they die just as quickly as they burst in here. Unlike STEPN, the Actifit economy has been running for over three years, without any significant user investment. What I mean by that is that no investment is required for new users to get started. Just a Hive account!
Was I a member of STEPN? No, in my opinion it is a temporary project with no predictable lifespan and the risk of losing money. Would I have entered if I had known about it at the start? I don't know, maybe. But I usually don't enter projects like this with such a considerable investment for me. To begin with I need to increase my portfolio apparently.) Which is actually what I'm doing now.
RU: Move2earn стал очень популярен в последнее время с приходом STEPN. Сейчас даже люди, которые далеки от крипты, знают что можно зарабатывать монетки за использование виртуальных кросовок в своих пробежках и прогулках. Но ведь на Hive был Actifit уже довольно давно. Я с Actifit уже больше года, а у старожил более 1100 отчётов, что говорит о том, что Actifit уже более 3-х лет. Вытеснит ли STEPN с рынка Actifit? Я думаю, что нет. Тем более что экономика проекта построена на массовых покупках виртуальных кросовок от 1000+ долларов, что не может продолжаться вечно. Мы видели такие проекты не раз, умирают они так же быстро, как и врываются сюда. В отличии от STEPN, экономика Actifit работает уже больше трёх лет, без каких либо существенных вложений пользователей. Я имею в виду, что для новых пользователей не требуется никаких вложений, чтобы начать. Только учётная запись Hive!
Входил ли я в STEPN? Нет, по моему мнению это временный проект, срок жизни которого не прогнозируем и есть риск потерять деньги. Вошёл бы я, если бы знал о нём на старте? Не знаю, возможно. Но обычно я не вхожу в такие проекты с такими немаленькими инвестициями для меня. Для начала мне необходимо увеличить свой портфель видимо.) Чем собственно я сейчас и занимаюсь.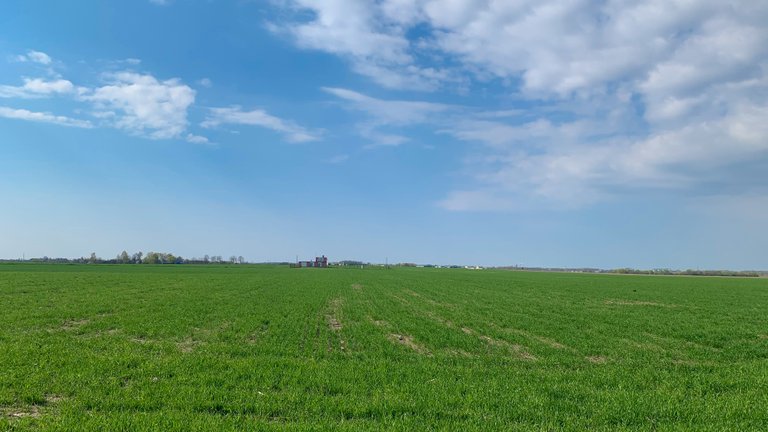 Hive savings report
I will continue to play the game in the numbers of my achievements on Hive. Below is a table of my daily accumulation of Hive, HP, and Level 2 tokens:
RU: Продолжу игру в числа моих достижений на Hive. Ниже таблица моих ежедневных накоплений Hive, HP и токенов второго уровня: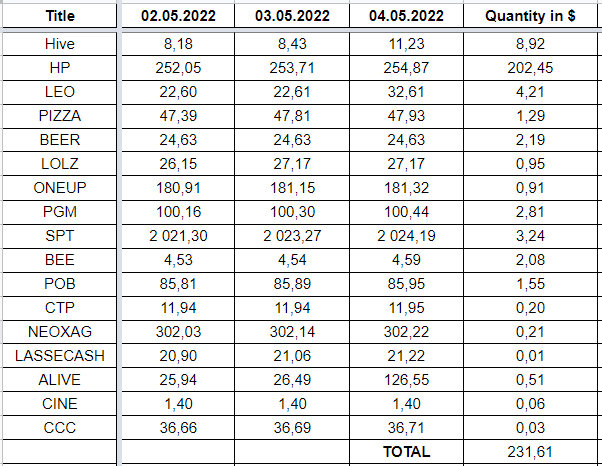 We are in a bear cycle, and I hear worries everywhere about what will happen next. Now I understand roughly how crypto-enthusiasts felt in 2014, for example). But thanks to Hive, LeoFinance, and everything I've learned this year, I'm willing to wait as long as it takes. Am I scared? Yes, as I think everyone is. I wouldn't want to get stuck in some assets for a year or more. So after reading a couple of posts today, I realized that my thoughts are generally rational and I've decided to buy LEO and Alive. With LEO I think it's pretty obvious. I like Alive as a community and what they bring to the world. Alive feels similar to Actifit, I think that's why I often see Alive Challenges in Actifit reports. That's great! And by the way, AFIT is already trading on PancakeSwap. I'm cheering for Alive to get them beyond Hive too!
RU: Мы в медвежьем цикле, я ото всюду слышу беспокойство о том, что будет дальше. Сейчас я понимаю примерно, как чувствовали себя криптоэнтузиасты в 2014 например.) Но благодаря Hive, LeoFinance и всему, что я узнал за этот год, я готов ждать столько, сколько это будет нужно. Страшно ли мне? Да, как и всем думаю. Не хотелось бы застрять в некоторых активах на год и более. Поэтому почитав сегодня пару постов, я понял что мои мысли в целом рациональны и я решил докупать LEO и Alive. С LEO думаю всё очевидно. Alive мне нравится как сообщество и то что они несут в мир. По ощущениям Alive похож на Actifit, думаю поэтому я часто вижу челленджи Alive в отчётах Actifit. Это здорово! И кстати, AFIT уже торгуется на PancakeSwap. Болею за Alive, чтобы они тоже вышли за пределы Hive!
That's all for now, the next reports will be more and more voluminous and interesting thoughts and plans, I'm already doing it).
RU: На этом пока всё, следующие отчёты будут всё объёмнее и интереснее по мыслям и планам, я уже это делаю.)

Photo: Belarus, Gomel, May 2022



This report was published via Actifit app (Android | iOS). Check out the original version here on actifit.io




04/05/2022

12860

---
---