#BEERSATURDAY: MY COLLECTION OF CANS Part 1
In addition to having a great passion for all the craft beers in the world, i love to collect the cans that I think are the most beautiful and strange.
Today I wanted to show you the first 5 cans I collected and tell you a little about these delicious beers and their breweries.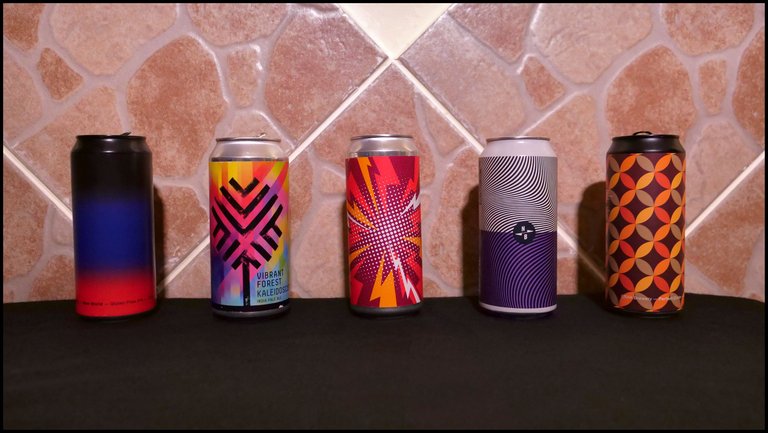 Over the years I have always had a preference for beers with a high alcohol content, I am of the idea that alcohol helps to give strength to the flavor of the various hops.
The experience, however, led me to find pleasure also in beers with very low alcoholic strengths such as session beers and I realized that the kind of beer I absolutely prefer is IPA.
But let's find out the first of these 5 very special cans!
A Perfect Circle 8.5%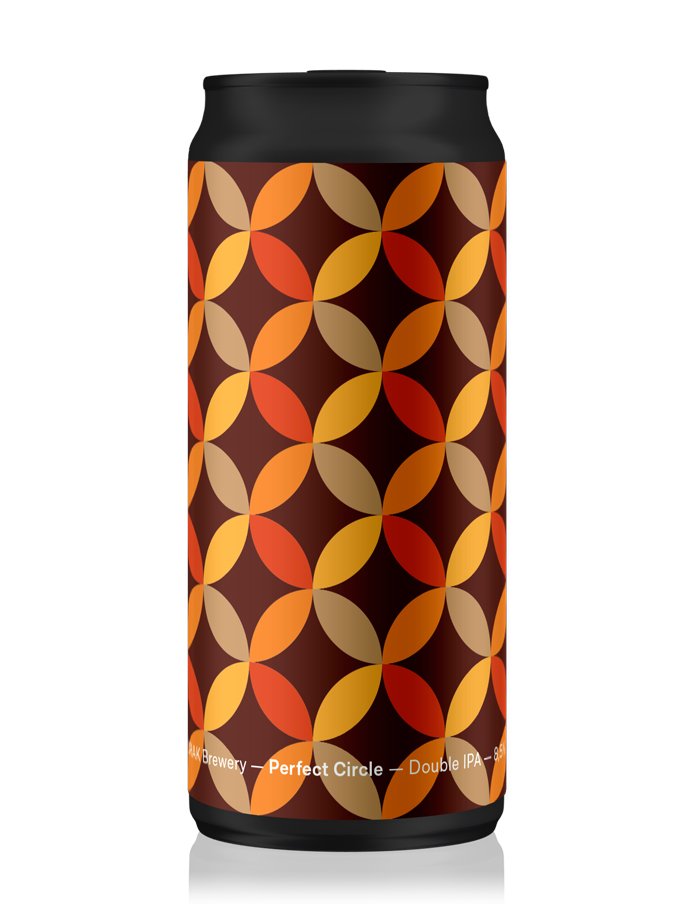 A range decidedly oriented to hops and, in more general terms, to the exploration of the possibilities of aromatization, this is certainly one of the keys to presenting the current profile of the Cr / Ak brewery, a denomination taken on by the Venetian brand (Italy). after the transition to the status of proprietary plant, from the previous condition of beerfirm, when he made himself known as Olmo.
And so, in this brewery where imagination is not lacking, the product I am talking about fits well: a Double Ipa in which, alongside a hopping team composed of Tomahawk, Apollo and Chinook, we find the whimsical addition of syrup by agave Azul. To the pouring test, the Perfect Circle shows a luminous and amber body, with coppery colors and a beautiful head of foam, which melting structure different aromatic levels: malted bases (caramel, biscuit), fruity central layers (pineapple, mango, papaya), citrus fruits (grapefruit, bitter orange).
It is interesting to note how the taste in one's mouth builds slowly while drinking it, with an alcohol content of 8.5 the alcohol plays a not insignificant role in taste.
---
North Brewing Co x Ritual Lab Triple Fruited Gose Blueberry + Apricot + Blackberry 4.5%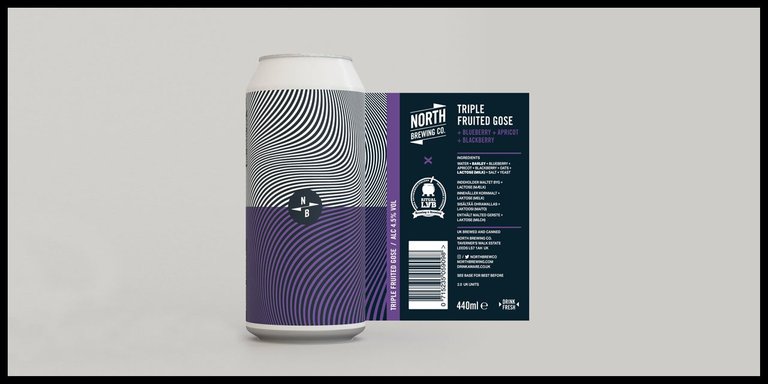 North's latest Triple Fruited Gose (triple fruited meaning that three different fruits have been liberally applied to this beer, in this case blueberry, apricot and blackberry) is brewed in collaboration with Italy's Ritual Lab. The can is as striking as you'd expect from North, with their award-winning branding twisting its way around your eyeballs. The beer inside is no less striking, pouring cosmic purple, the foam even more vibrantly rouge than the beverage itself.
This brewery can be called one of the most interesting realities of the "modern" English brewing scene. Four regularly produced cans are accompanied by an ever-increasing number of occasional, special and collaborative productions, to always offer enthusiasts something new to drink.
It is a very special drink not suitable for beginners, but and you love the discovery of new flavors and eccentric tastes, this beer is really for you.
---
Thunder Ipa 7%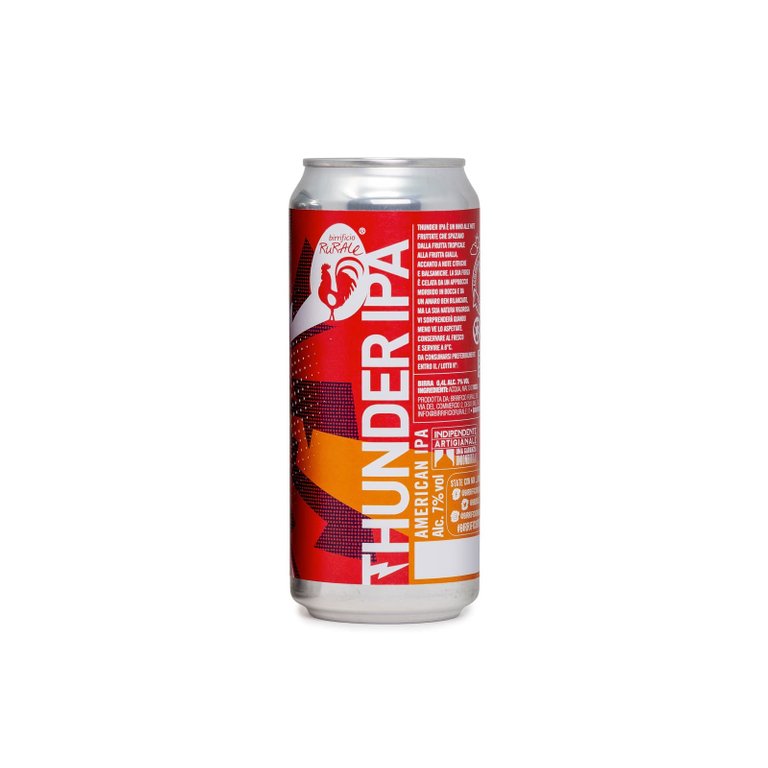 The craft beer THUNDER IPA of the RURALE brewery (Italy) is American Ipa style, is a beer born to celebrate the 11th birthday of the brewery, it presents itself with fruity notes ranging from yellow to tropical fruit, citric and balsamic notes that give it great freshness and the usual great ease of drinking that characterizes all the beers created by the brewery.
Much more recently, hops have also come to be appreciated for the wide range of flavors and aromas they can contribute, especially if added late in the brewing process. This is one reason why it's often unhelpful to describe a beer simply as "hoppy". In some contexts that word is used to describe where a beer falls on the sweet-to-bitter spectrum. In this sense, "hoppy" is not a word that describes a flavor; instead, it describes the sensation in your mouth as the beer washes over your tongue. That sensation is either more like strawberries (sweet) or more like arugula (bitter). But in other contexts the word "hoppy" might refer to those deliciously fruity or citrusy flavors and aromas, regardless of how bitter the beer is.
In this case the two sensations merge, generating a bitter / sweet mix that is very reminiscent of a tropical cocktail to be sipped on the beach, I recommend drinking it in the summer evening in a large cup, an enviable cocktail!
---
Vibrant Forest Kaleidoscope 6.5%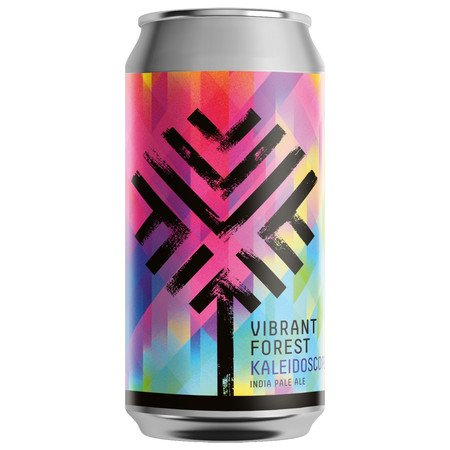 Kaleidoscope is a vibrant tribute to all the West Coast IPA seen through the prism of the UK's Vibrant Forest Brewery. Huge hops, explosion of tropical fruit and citrus aromas, a hop juice whose finish turns sour but without ever becoming annoying.Vibrant Forest is a small microbrewery located on the edge of The New Forest in Hardley and our passion is to develop, experiment and brew richly flavoured beer full of exceptional character.
The aroma is piney and citrusy, grapefruit and a touch of orange, with pale malt hints in the far back. It's full-bodied, quite dry and smooth on the palate, and pleasantly carbonated. A nice bitterness lasts forever, in the good company of piney hops and some citrus, mostly grapefruit. Not the most complex IPA I've had, by far, but who needs complexity when it's as good as this one 😆
The finish is a juicy hop bitterness that continues to warm the tongue long after this brew has uttered its last breath.
---
New World CRAK 7%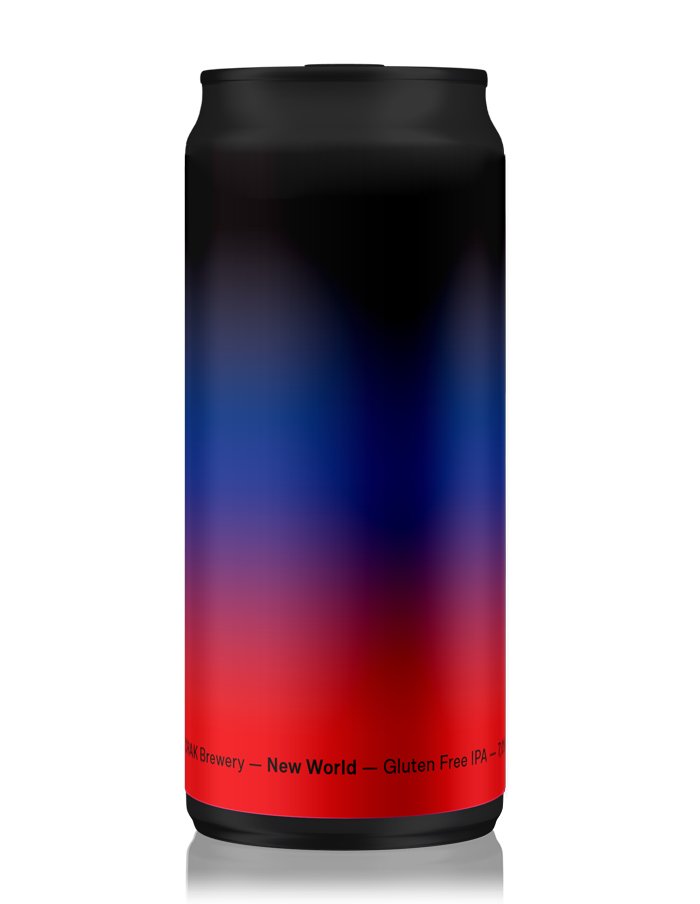 Gluten-free beer that owes its name to the suggestions of the New World. A base reminiscent of New Zealand where we abounded with US hops.
I think they wanted to create a gluten-free beer with character that distanced itself from the fruity and softness of New Zealand, leaving more room for a strong but never biting bitterness. New World is extremely characterized by the mix of hops, which makes you forget that it is a gluten-free beer. Citrus fruits (grapefruit and bitter orange), exotic fruit, pine needles, aromas of dank and delicate shortcrust pastry. A mix of hops that I had never experienced before: Centennial, Ekuanot, Amarillo.
One of New Zealand's leading hops, Ekuanot, was used in its production, which not only contributes, but definitely marks the whole personality of this IPA: aromas of tropical and citrus fruits and a discreet and pleasant bitterness on the palate. Well balanced with sweet fruits and cereals from the Paduan fields. As I said, the mouthfeel is always pleasant, drinkable, very fruity and obviously you never get the impression of sinking a beer with 7%.
---
In conclusion, I can only advise you to try them all again, because they are definitely a discovery that can increase your vision of the world of craft beers. All the breweries that I have mentioned produce many cans with psychedelic or sparkling designs, if you love to collect cans from the world take a look!
---
---