EDS miners (EDSM) for sale - Currently paying out a 60% ROI
SPinvest is a tokenized investment fund/club experiment open to all HIVE users. The concept of SPinvest is to get rich slowly by using time tested methods of earning, saving and compounding long term. We encourage long term investing on and off the blockchain. We hope someday everyone will HODL some SPI tokens that can be bought directly from hive-engine by search SPI.
SPinvest has a proven history of success
---
Hello everyone, today's we are going to look at EDS miners. Forget about CUB finance with it ROI's in the 1000s of percents and remember good old EDS tokens that pay out a consistent 18-20% AYP HIVE income for as long as you hold them. Long after CUB finance is made its last millionaire, EDS tokens will still be paying out HIVE incomes of 18-20% per year.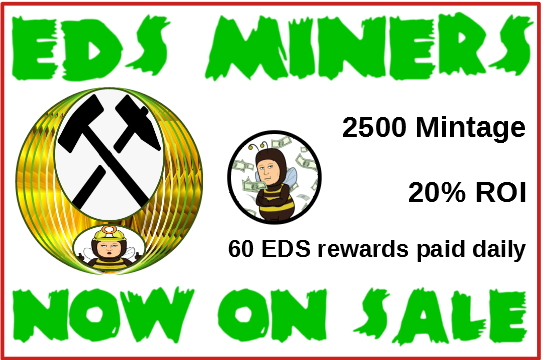 The @eddie-earner account/project was created and is maintained by @silverstackeruk on behalf of @Spinvest. EDS tokens or HIVE income tokens that are loosely pegged to 1 HIVE. No staking is required and all token holders receive a HIVE income payment every Monday evening. EDS tokens sold out months ago with no more going on public sale. The only way to mint new EDS tokens is through EDS miners.
What are EDS miners (EDSM)
EDS miners are a mining token for EDS. They work the same as tribe mining tokens expect EDS miners are using tokens backed by HIVE POWER. Each new EDS minted will be backed by 1 HIVE POWER. How?, EDS makes more HIVE than it gives away in mining rewards. 100% of EDS token sales and account earnings are powered up. EDS miners are set up to pay an ROI of roughly 20% per year based on hive-engines lotto-style mining format. Each EDS miner token should yield an average of 2 EDS per year.
EDSM miners
There will only ever be 2500 EDS miners (EDSM) issued
Each EDS miner (EDSM) will cost 10 HIVE each
Each EDS miner (EDSM) will provide an average of 2 EDS tokens per year
This will not change and provide a 20% return on investment for as long as you have EDS miners staked
Mining rewards issuing account is @eds-holdings
Mining Rewards
3 Pools per day, one draw every 8 hours
20 mining rewards per draw
Each mining reward = 0.228 EDS token
Unstaking
1-week unstaking in 1 transaction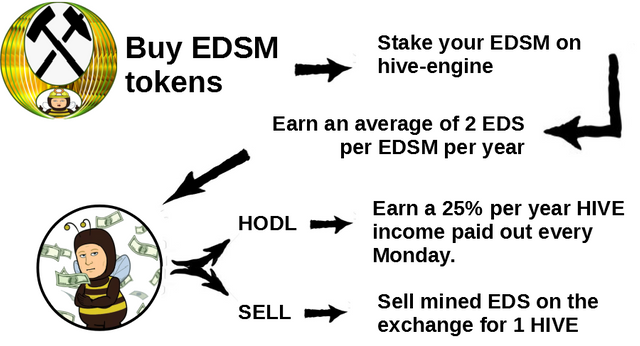 Current EDSM ROI
Mining rewards are set up one time so they do adjust as new EDS miners are issued. Right now, EDS miners are set to inflation of 5000 EDS tokens per years based on issuing 2500 EDS miners at 10 HIVE each. This is 20% but only when 2500 EDS miners are staked. As these are new to the market and still being sold, there is an opportunity for early miners to reap some big mining rewards.
Currently, there are 720 EDS miner circulating with 715 staked. Im happy to see 99.3% of EDS miners staked. But with 720 miners staked out of a possible 2500, the current rewards to EDS miner are just over 3 times better. Because the mining reward pool is set, 5000 EDS tokens will be distributed to EDS miners regardless of if there is 100 are 2500 EDSM staked. The result is 5000 EDS split between either 100 or 2500 EDSM tokens yearly, the same reward pool is paid out every 8 hours.
The early miner gets the best ROI
Thank you for reading this post, I hope you can see the opportunity that EDSM token offer. Questions are welcomed below.
LeoDEX link to the exchange
https://leodex.io/market/EDSM
Hive-engine link to exchange
https://hive-engine.com/?p=market&t=EDSM
---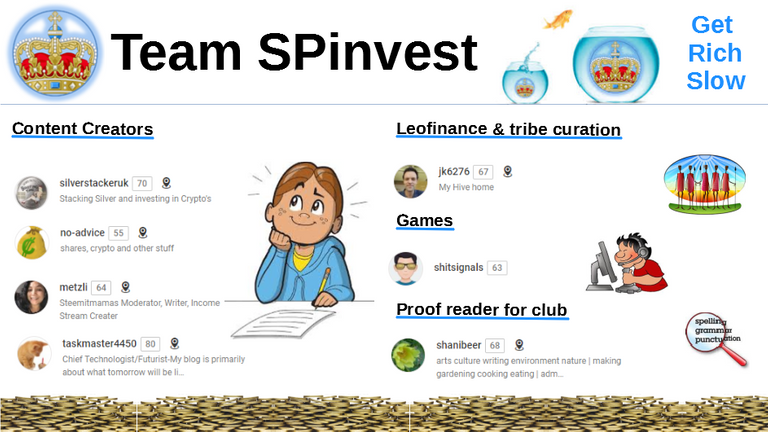 Today's post comes to you from @
Posted Using LeoFinance Beta
Posted Using LeoFinance Beta
---
---