Tales of the Urban Explorer: The Ripper Flats

I do feel a little guilty about leaving @anidiotexplores out of 'The Ripper Flats' as he pinned down the location. Logistics meant a huge driving backtrack as at the time, he had no transport. Some other time perhaps?
Instead, I dragged @goblinknackers along as I was over at his haunt that day and I know he likes his history, especially when it involves, murder, prostitutes, death and horror.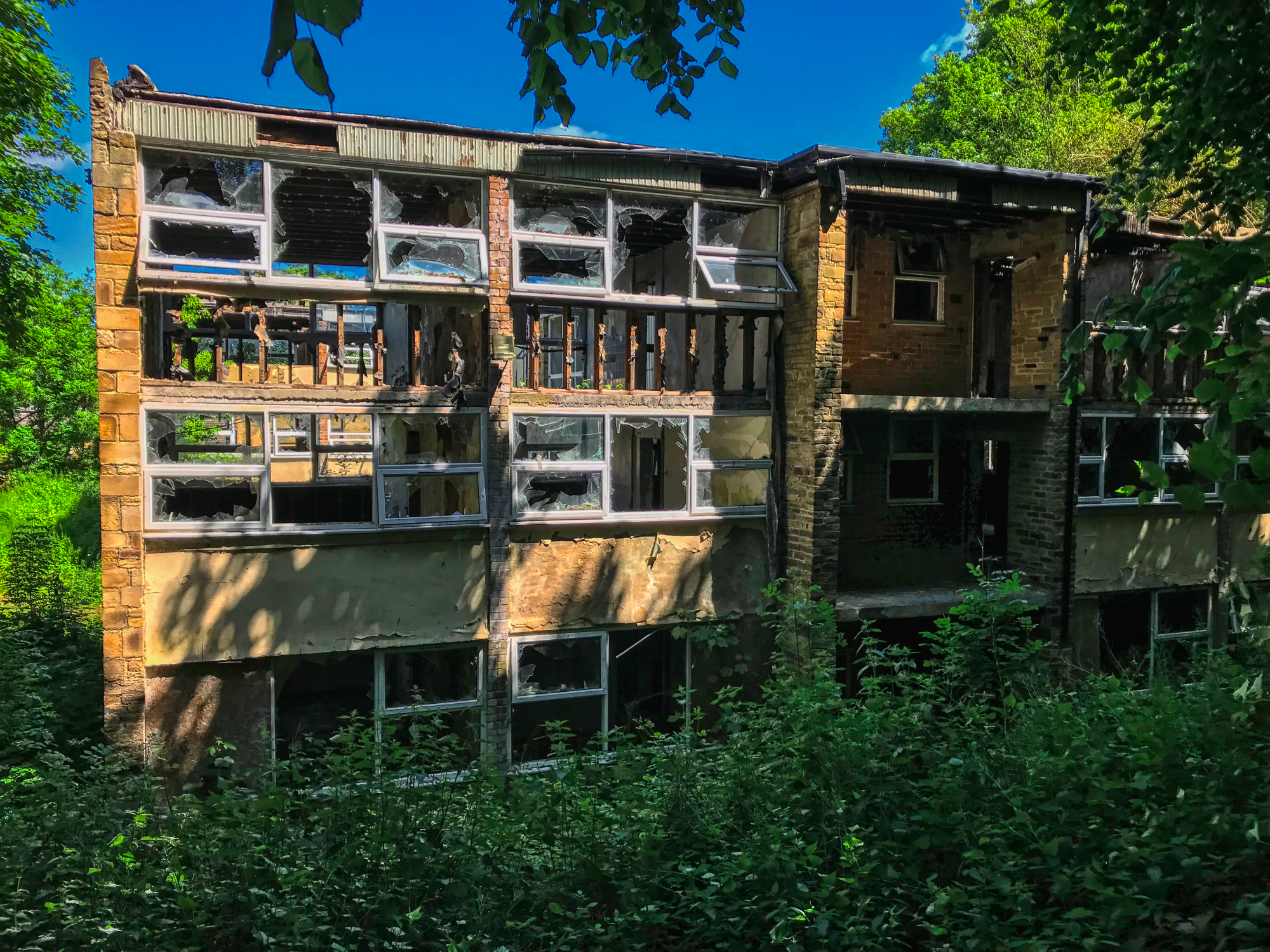 Being situated in a maze of streets, I figured we may be hassled with Karen's but that was not the case at all. Saturday afternoon has it's merits, they are out shopping.
It was a decent day, mid-afternoon when we arrived and I noticed the original entry-point had been semi-sealed with some makeshift boards.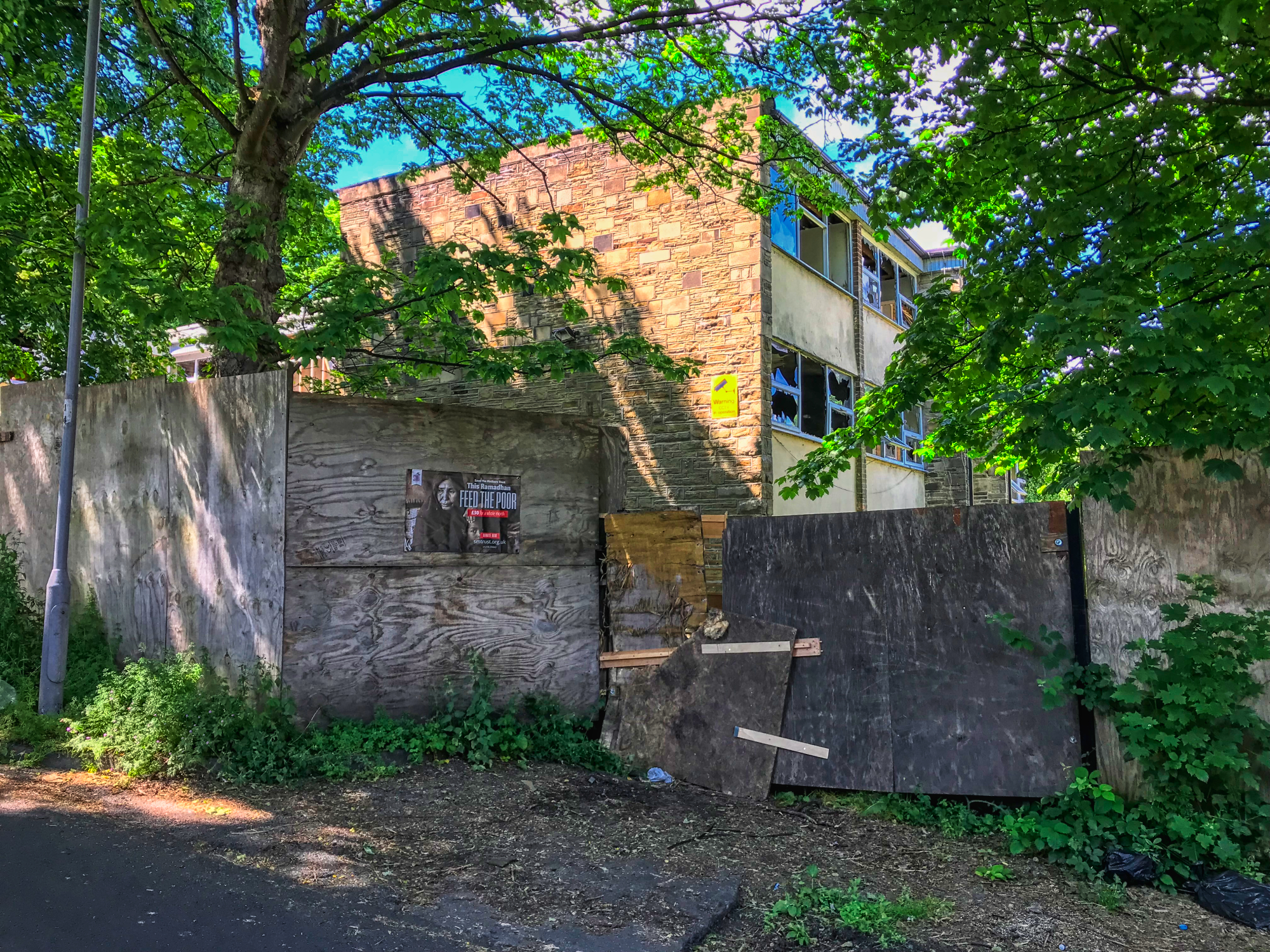 Although quite climbable, we decided to scout the perimeter and quickly found a much easier access point.
So why 'The Ripper Flats'?
This one has quite a gruesome history and I was here to try and feel the atmosphere and make some conversation with the spirit of Patricia Atkinson the prostitute, who in 1977 fell victim to the infamous Yorkshire Ripper.
Peter Sutcliffe (The Yorkshire Ripper) was driving through the grim streets of Manningham when he spotted Patricia Atkinson, obviously the worse for drink, banging on the roof of a parked car, and shouting obscenities. He stopped the car and she jumped in without any coaxing, and she told him she had a flat not far away where they could go. They then drove the short trip to Oak Lane. As he was leaving his car, Sutcliffe retrieved a claw hammer from under his seat and hid it in his coat.
Once inside, after hanging up his coat, he retrieved the hammer and hit her on the back of the head with a total of four massive blows. She fell off the bed and onto the floor leaving lots of blood on the floor. He hit her again and then hoisted her up back onto the bed by picking her up under the arms.
Sutcliffe then pulled down her jeans and pants and exposed her breasts. He then began hitting her with one end of the hammer and clawing her with the other end, leaving oblong marks and grazes. He also stabbed her six times in the stomach with a knife as well as some stabbing attempts on her back, and slash marks along the left side of her body.
Source
Sutcliffe, who died in 2020 at the age of 74, went on to murder 12 other women before eventually being nabbed in 1981 after a nationwide manhunt.
He was jailed for life and never released.
This was a new kind of exploration to me, one where something monstrous had happened. I was not expecting to see bloodstains, but I had enough knowledge to know just where the room was where it all happened.
Watching YouTube does help in these cases.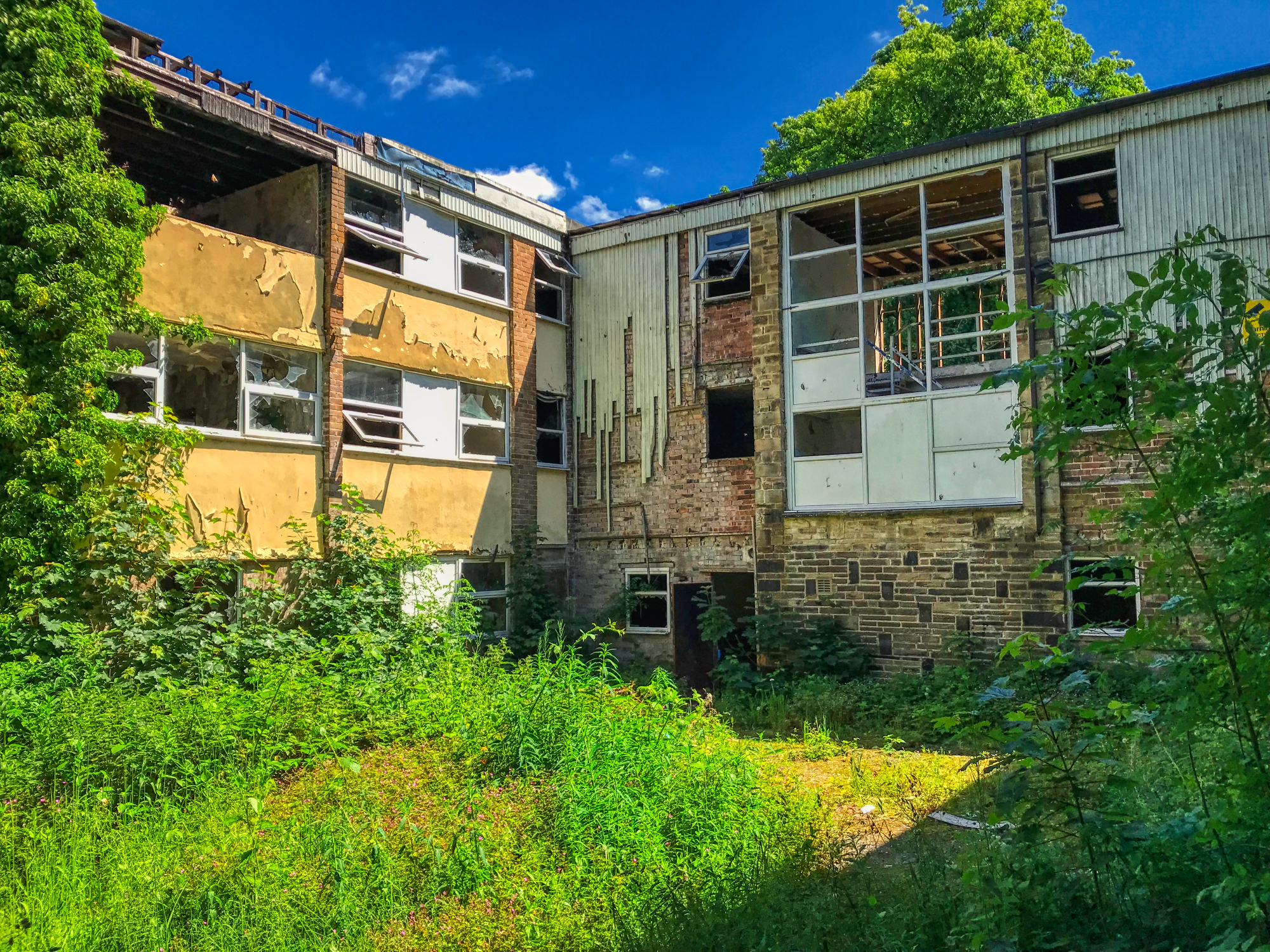 Having breached the fencing we were out of eyeshot of most Karen's beside the ones upstairs who happened to be gazing out over this wonderful mess of an ex-council block.
We quickly got inside by means of the many windows and doors which were gone or wide open.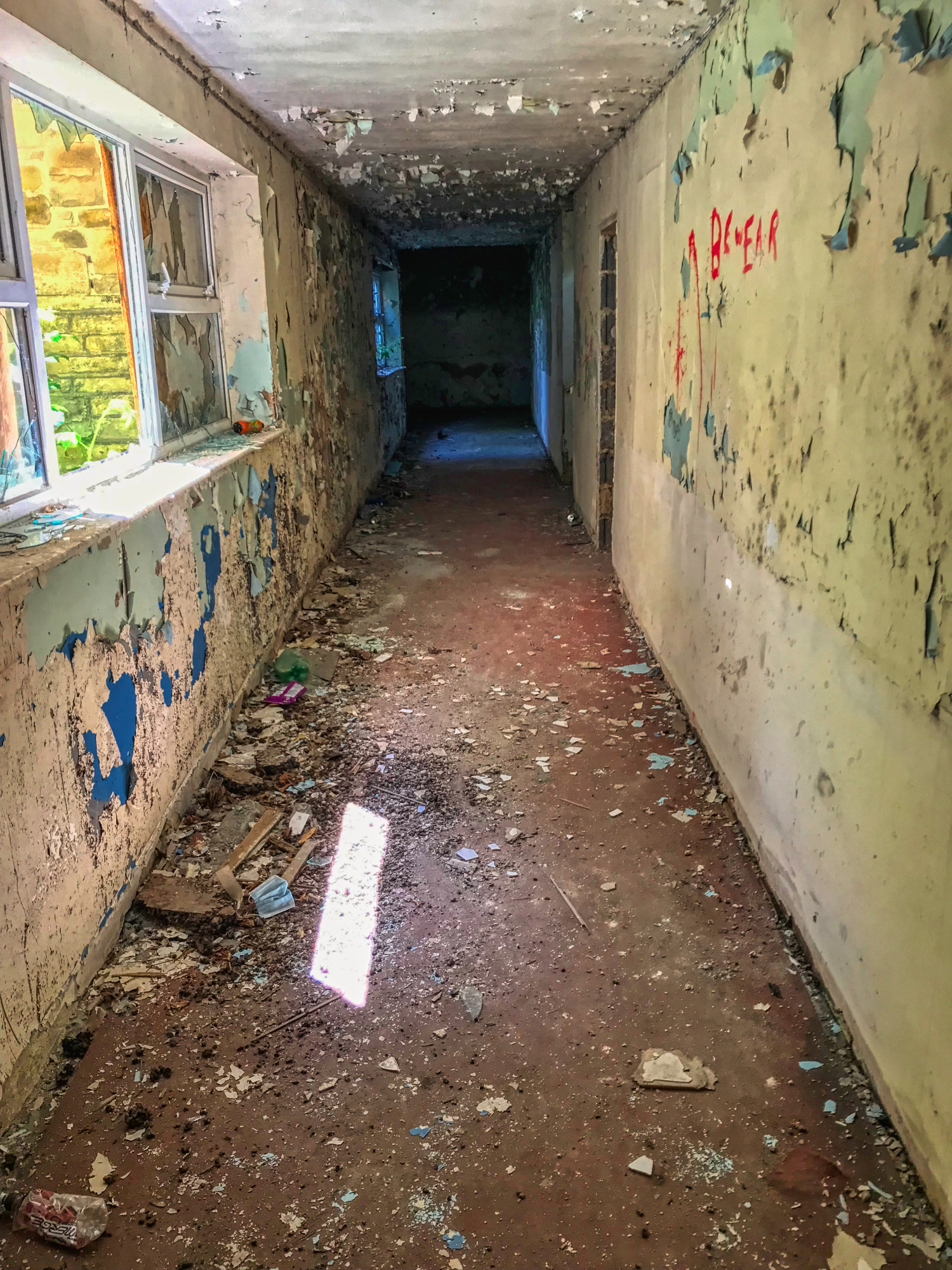 I could see this was going to be the derpiest of derps and besides Room 3 (where it happened), I might be lucky to see anything other than bad graffiti.
I am unsure how long these flats have been empty but found an old report about a blaze in 2010. It wouldn't surprise me if it's been abandoned for 20 years or so.
Walking through the empty corridors I felt the same as usual; absolutely nothing. @goblinknackers had wandered off in another direction so I was quite alone.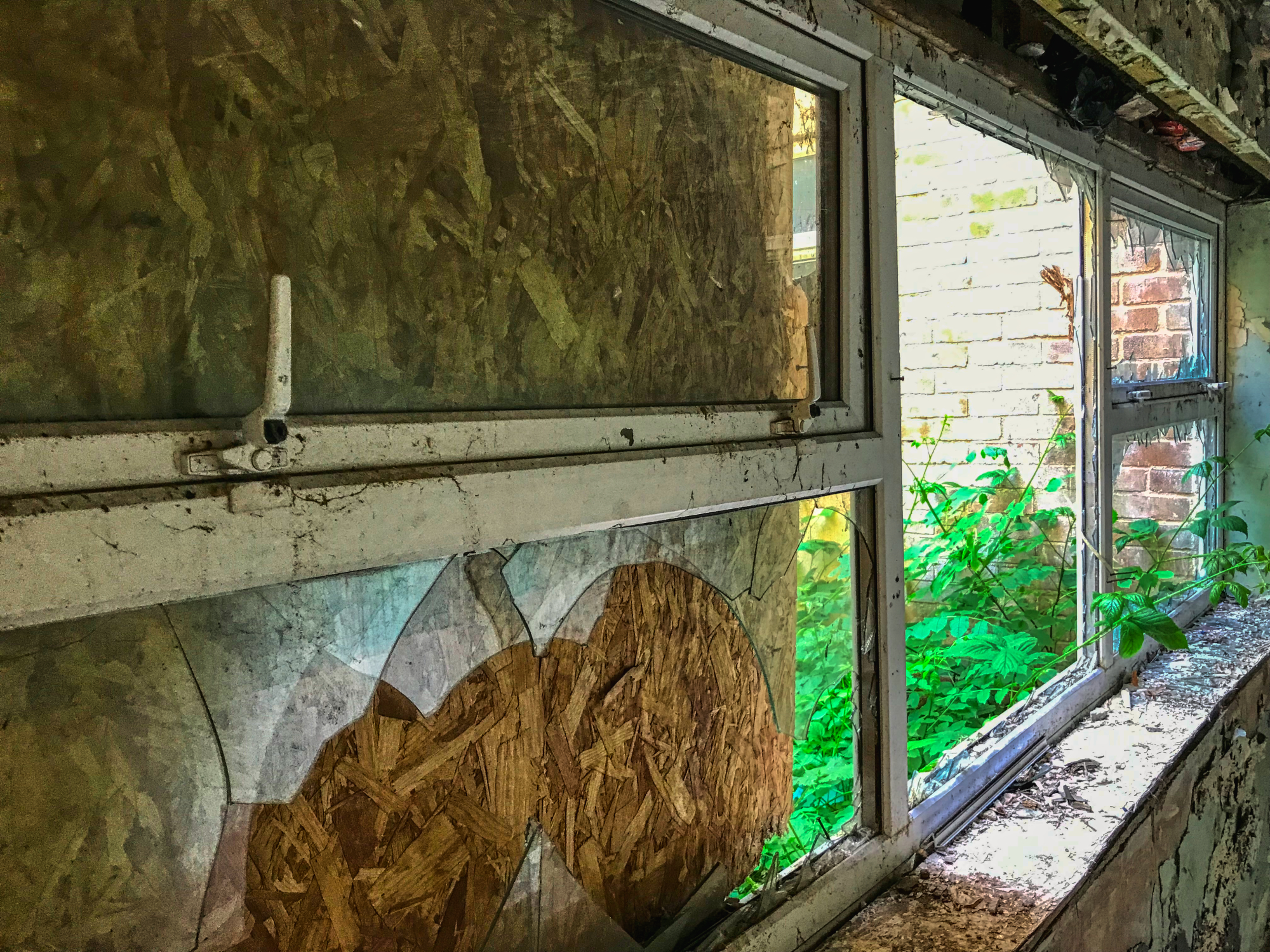 One could easily escape the Ripper Flats by jumping out of the many glassless windows (probably into a nettle patch).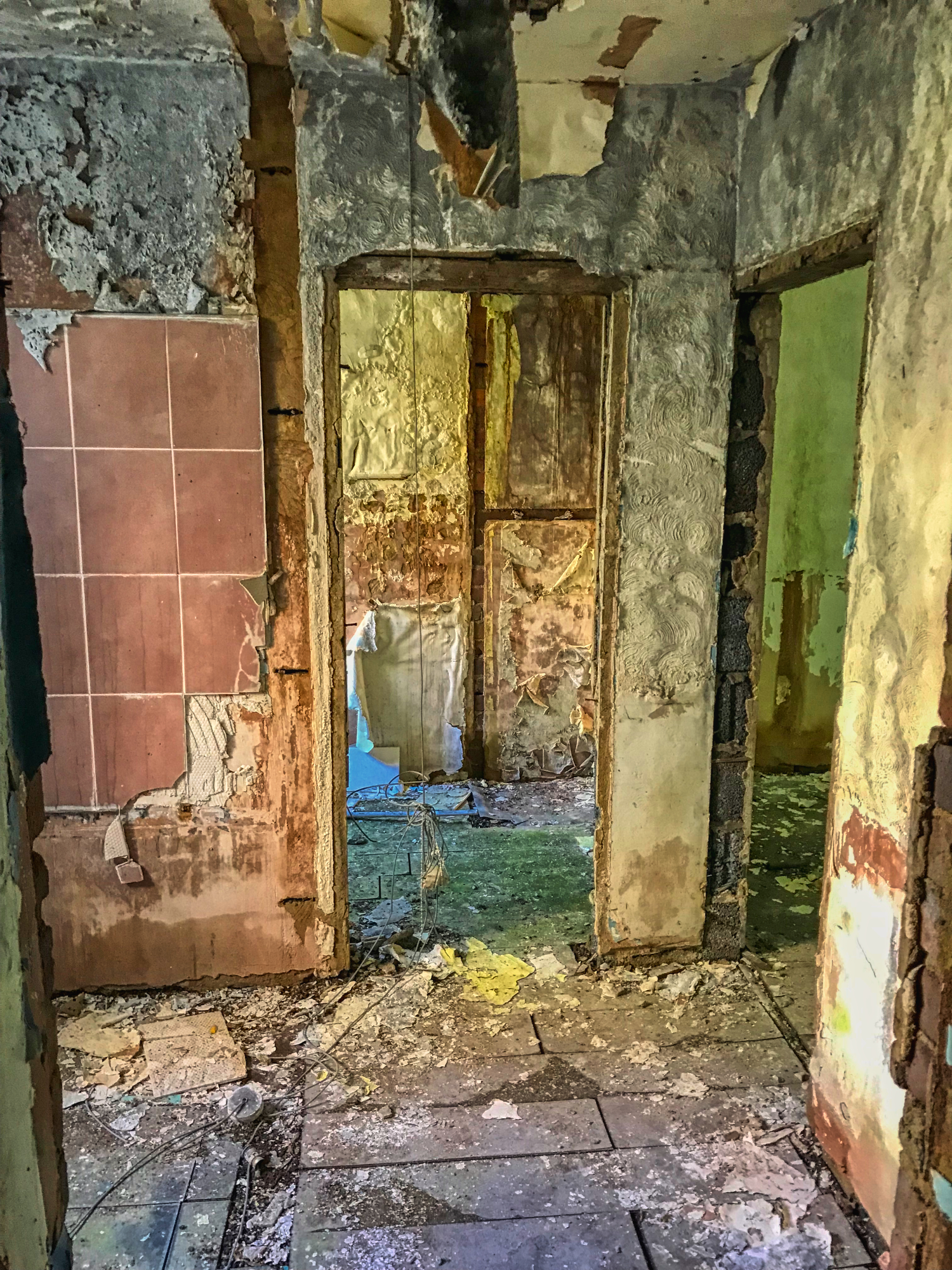 Some string, wire or rope left behind by someone. It's always very useful if you come here to kill yourself.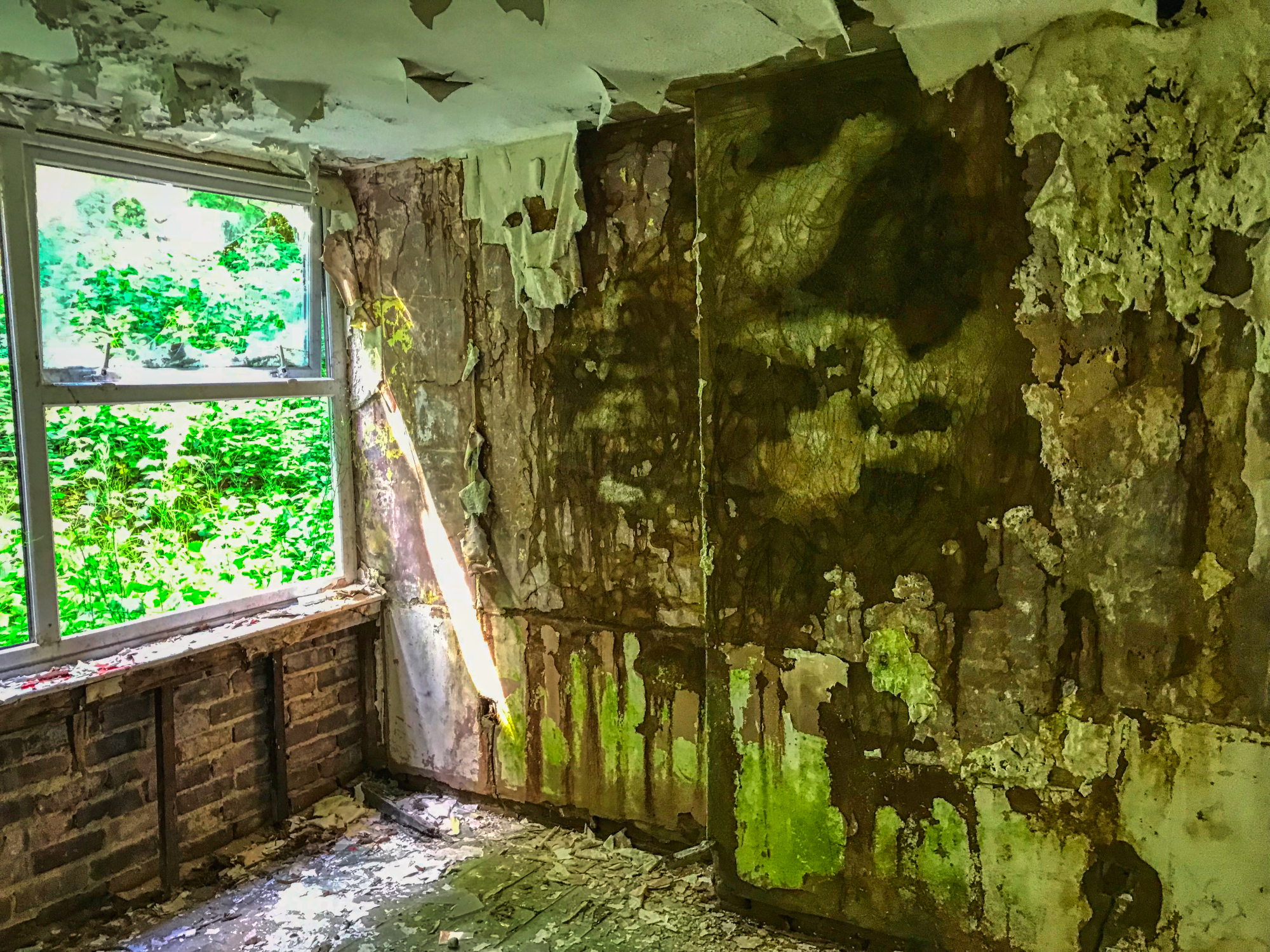 Much of the flats had been affected by the blaze mentioned above in 2010. There could well have been others since.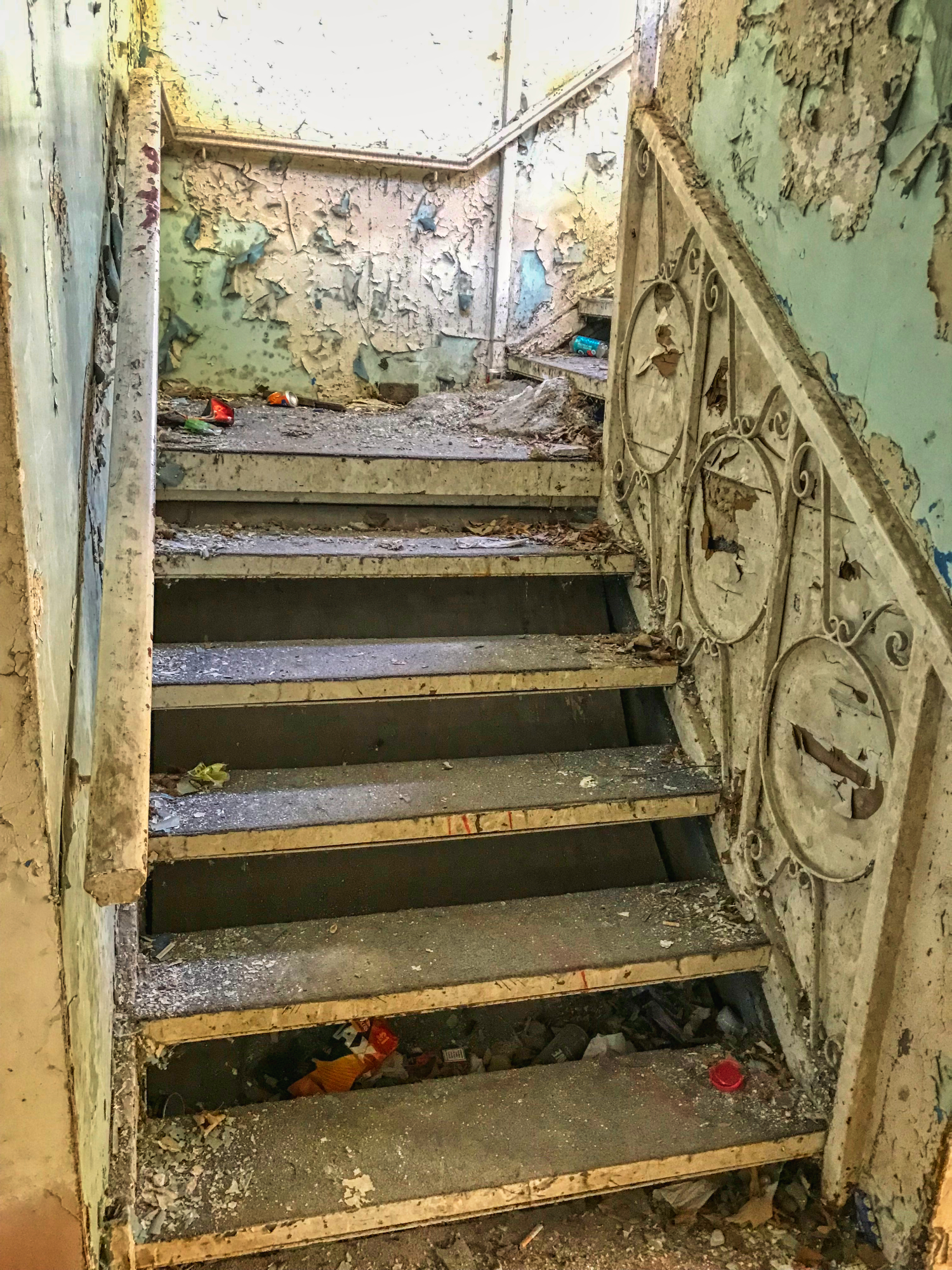 The stairs were very sturdy. The flats were likely a by-product of the late sixties or early seventies. Despite being unsightly, they don't collapse too easily.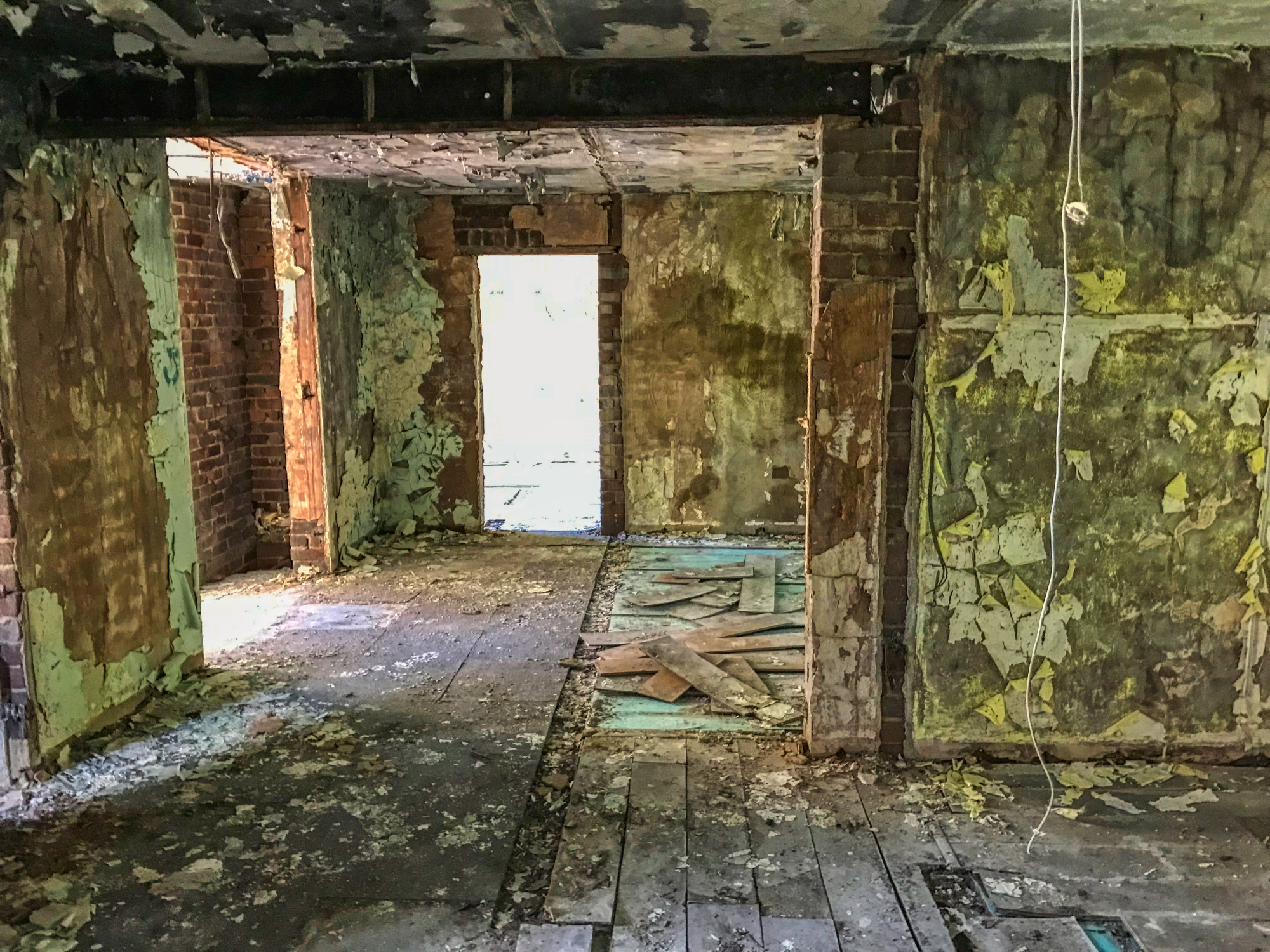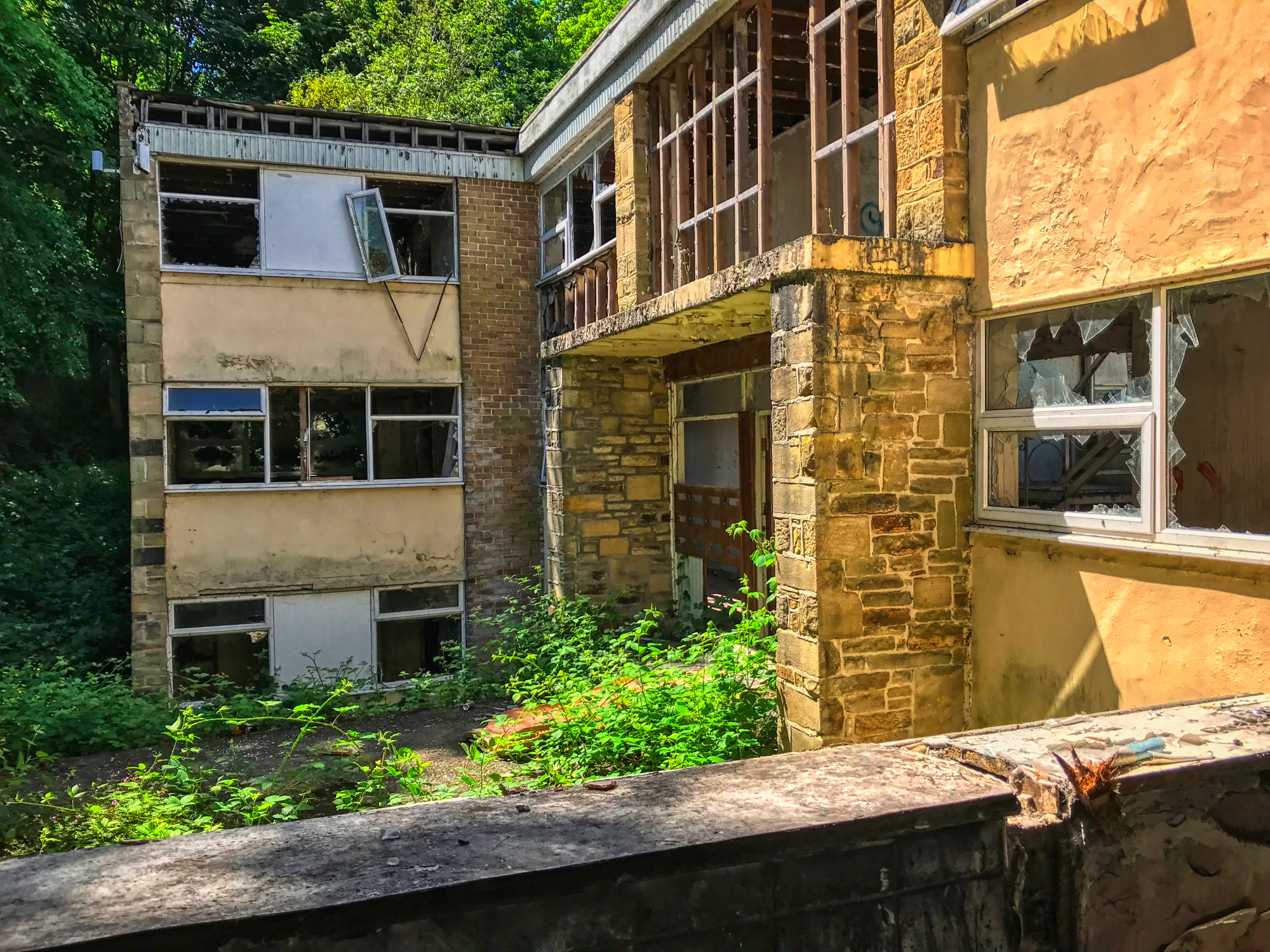 This was the front door once; compare it with the image from 1977 that is taken from a different angle (below). Scenes like the black-and-white one remind me of my youth and childhood. The woman is Patricia Atkinson, the victim.

Source
Mailboxes or lockers? Probably the former having seen these in apartments in the USA. It was gratifying to see some form of ex-human existence.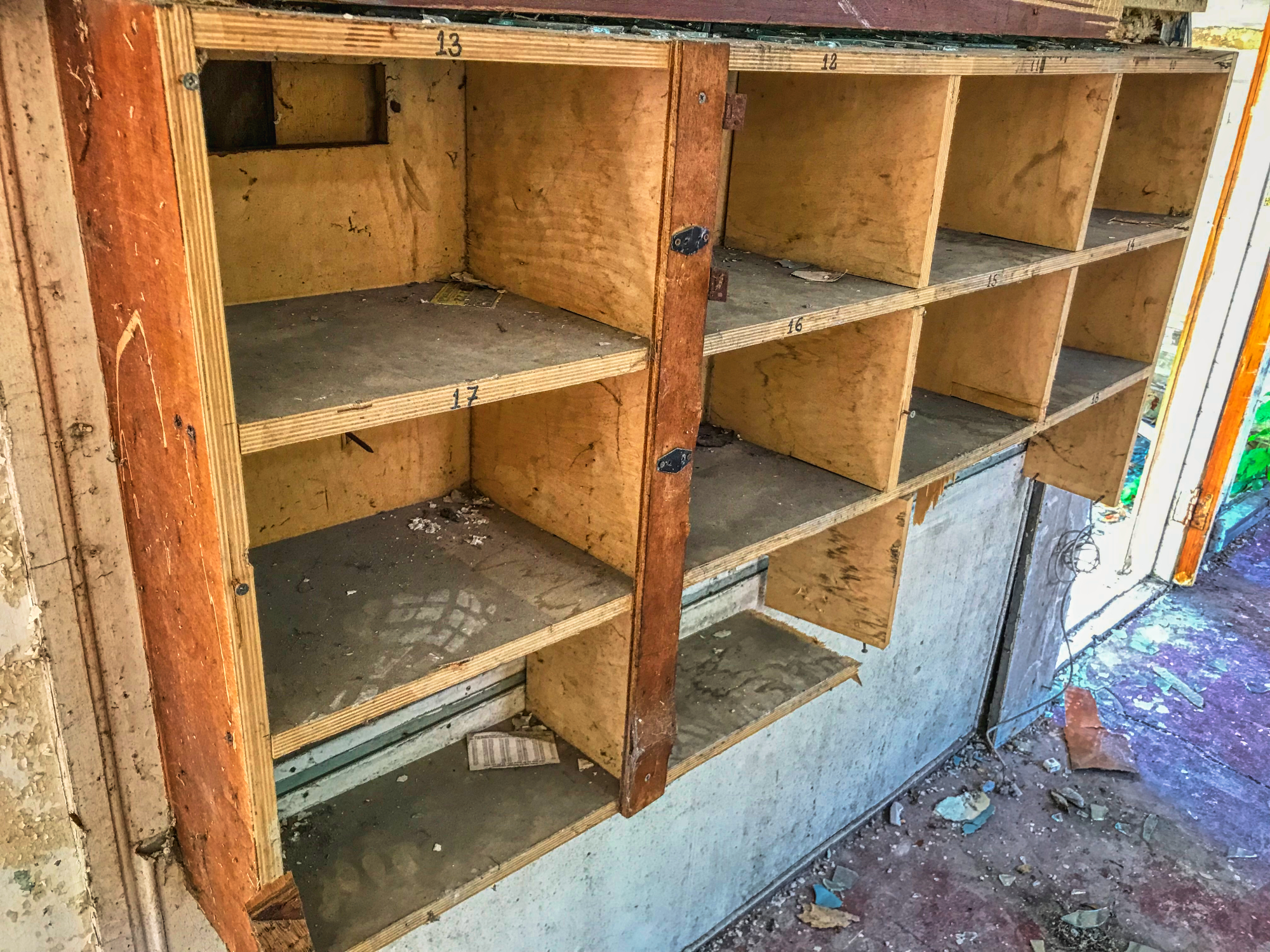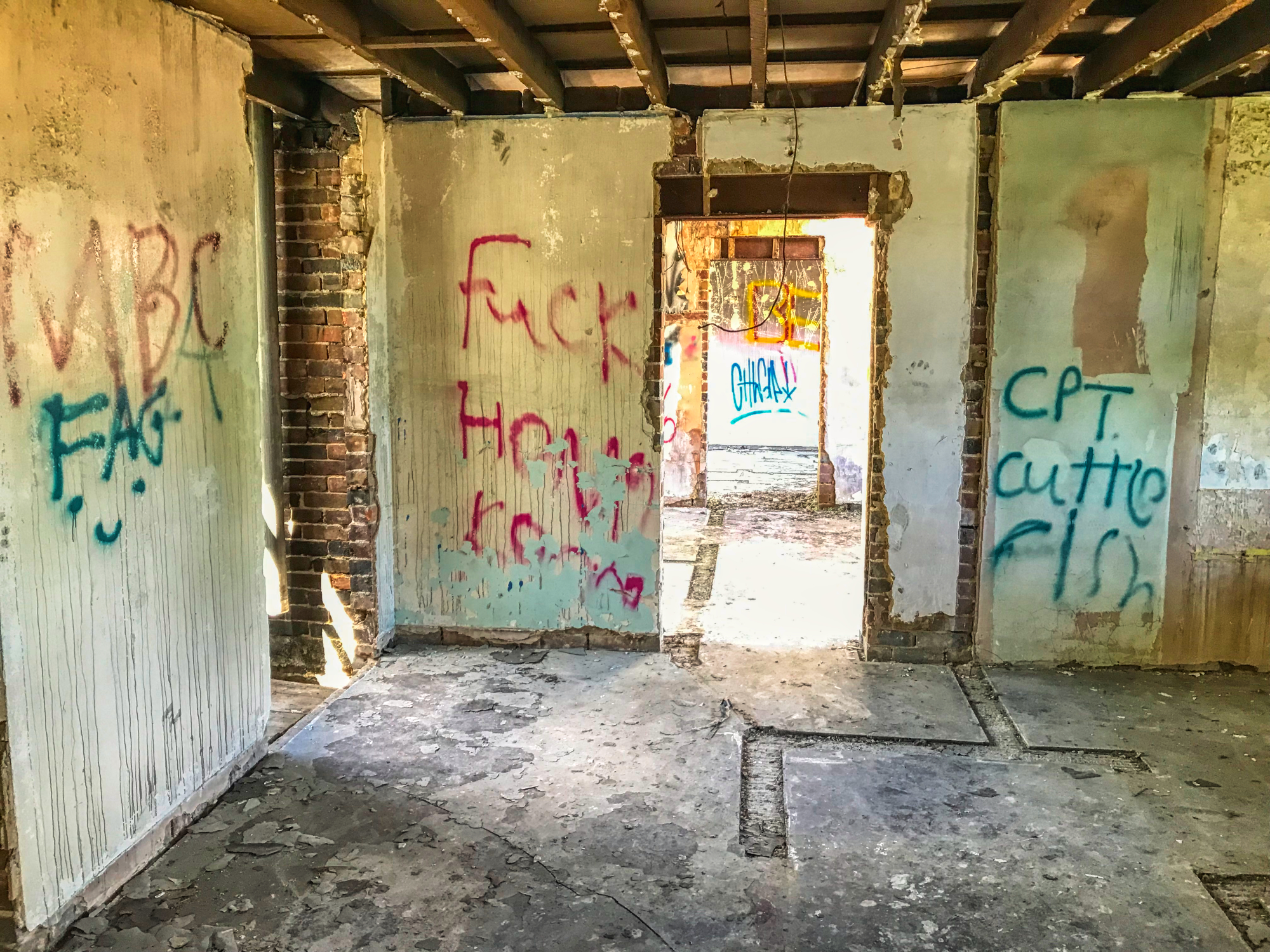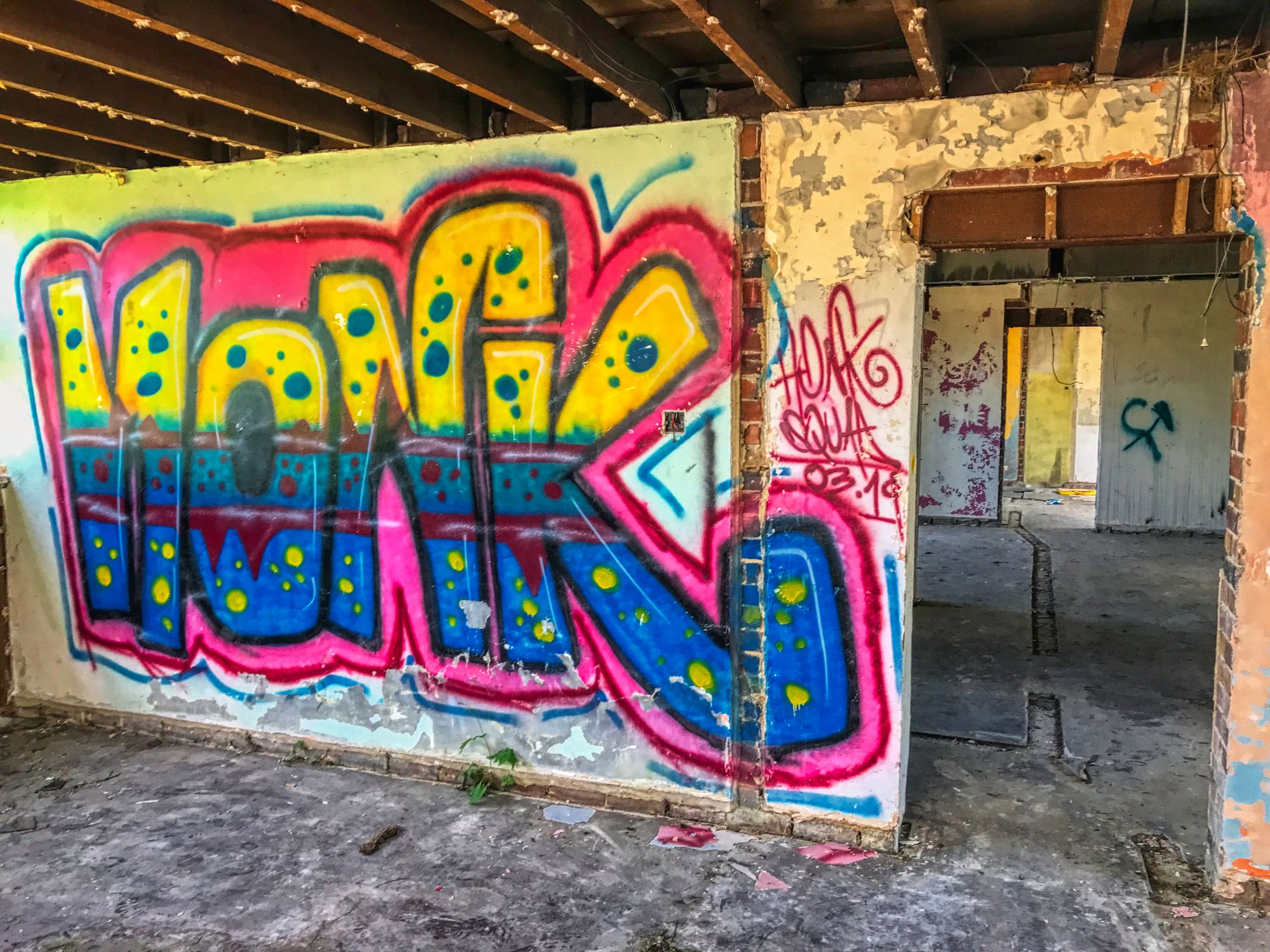 I would have been disappointed not to find any graffiti. Some of it was better than others, but Bradford is hardly renowned for its creative artists.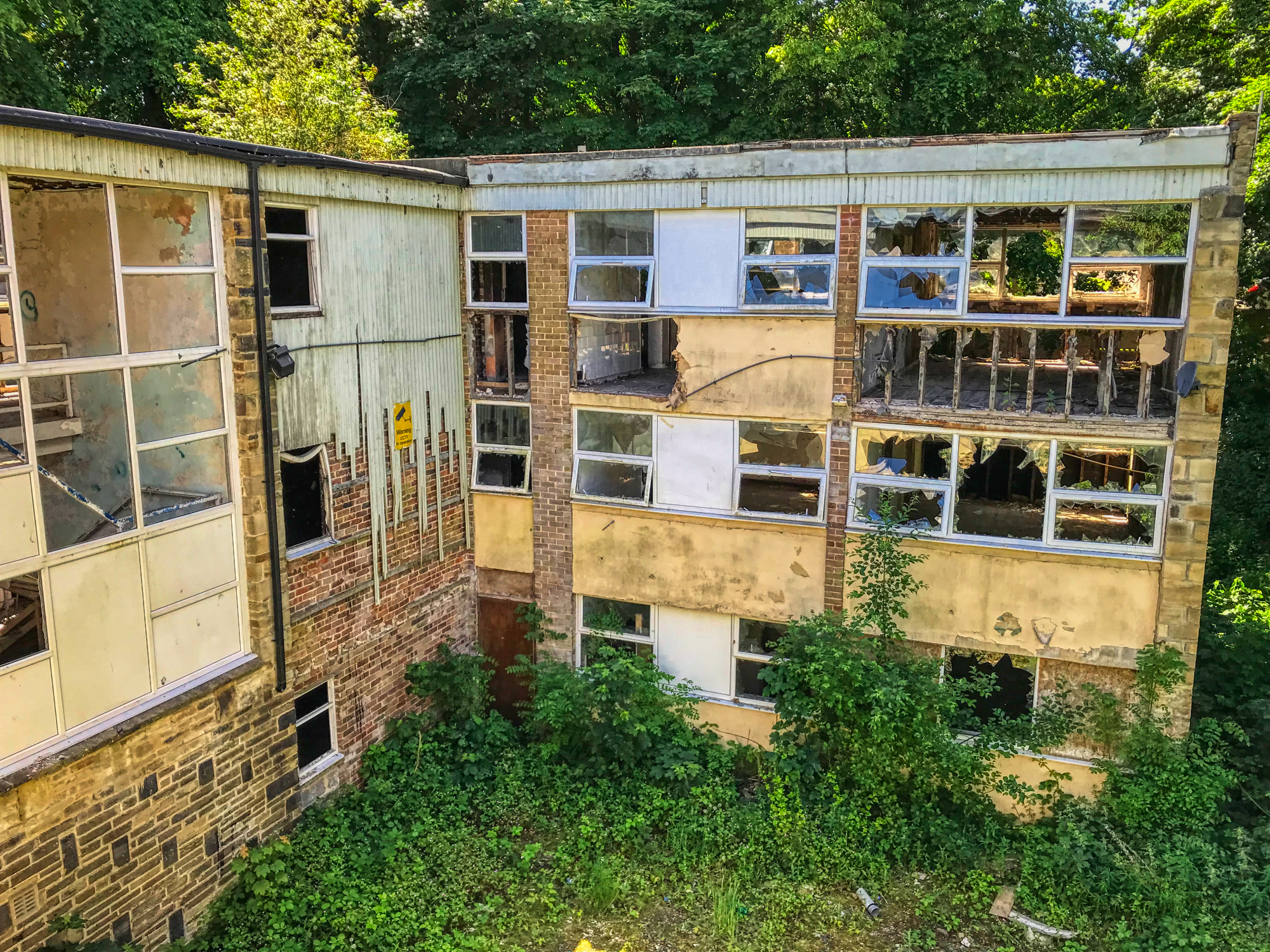 Besides external views from the upper sections, it was not going to get much better.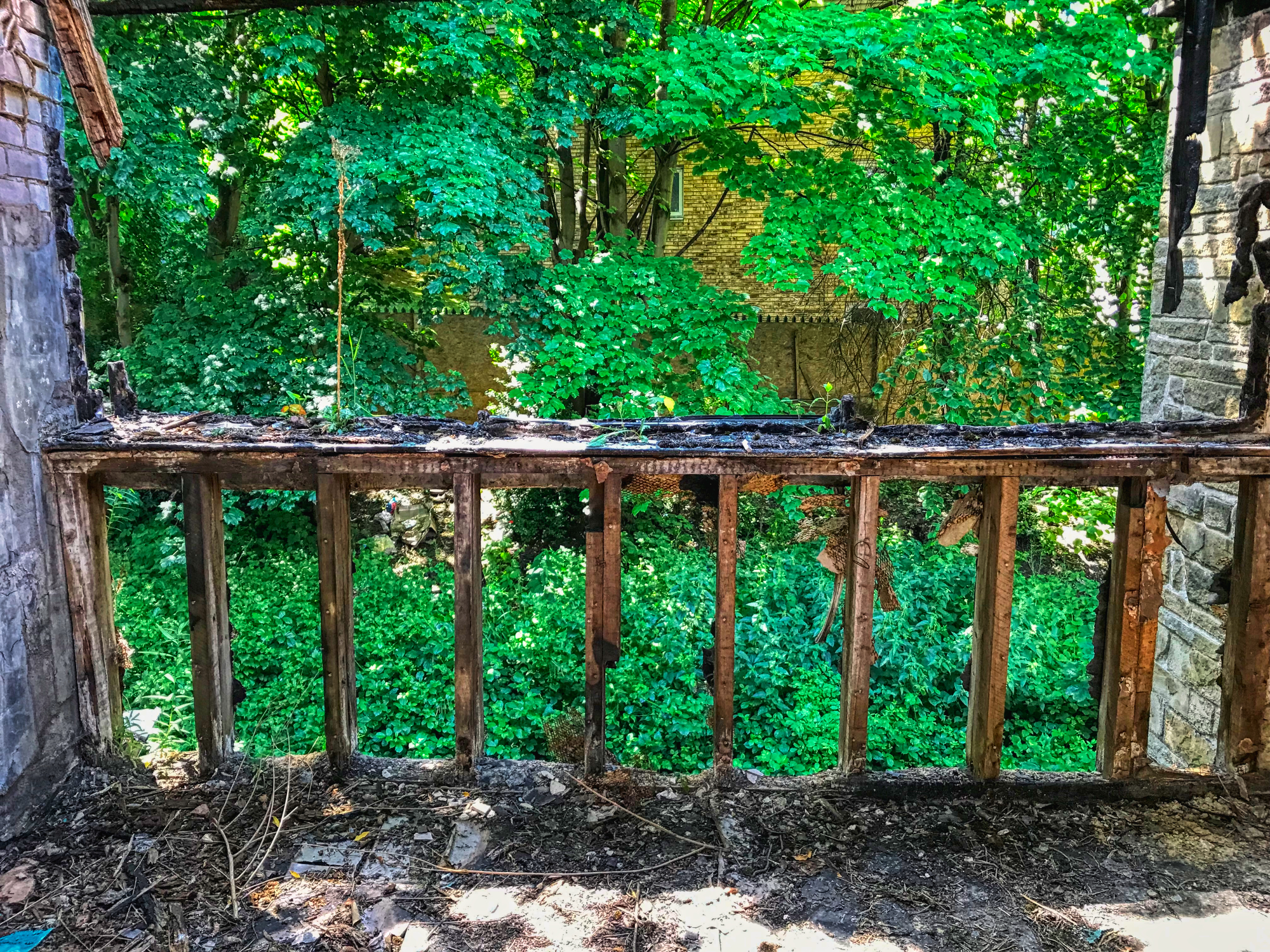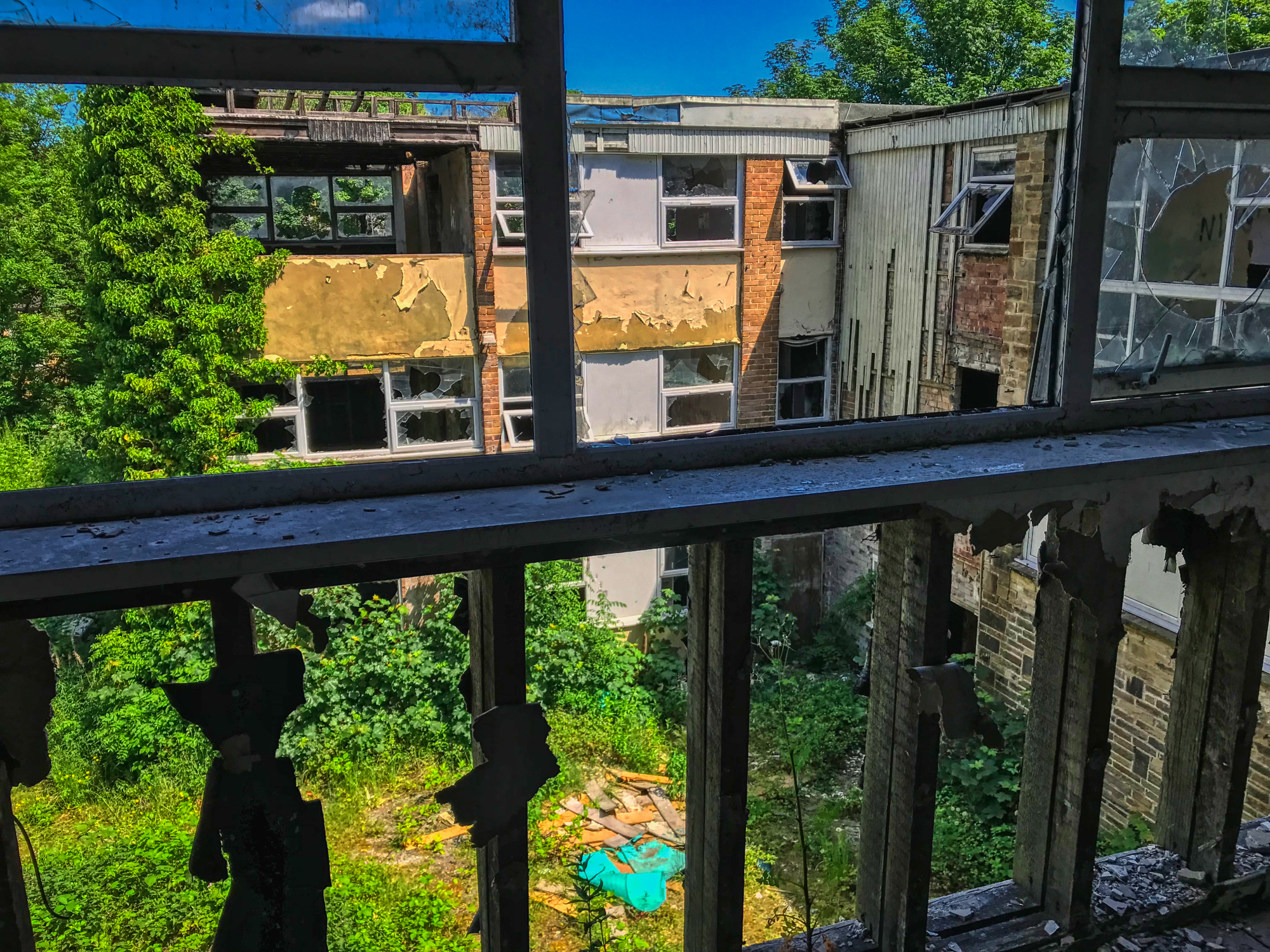 Exploring 'The Ripper Flats' was much like any other explore. We did not encounter anyone else while inside.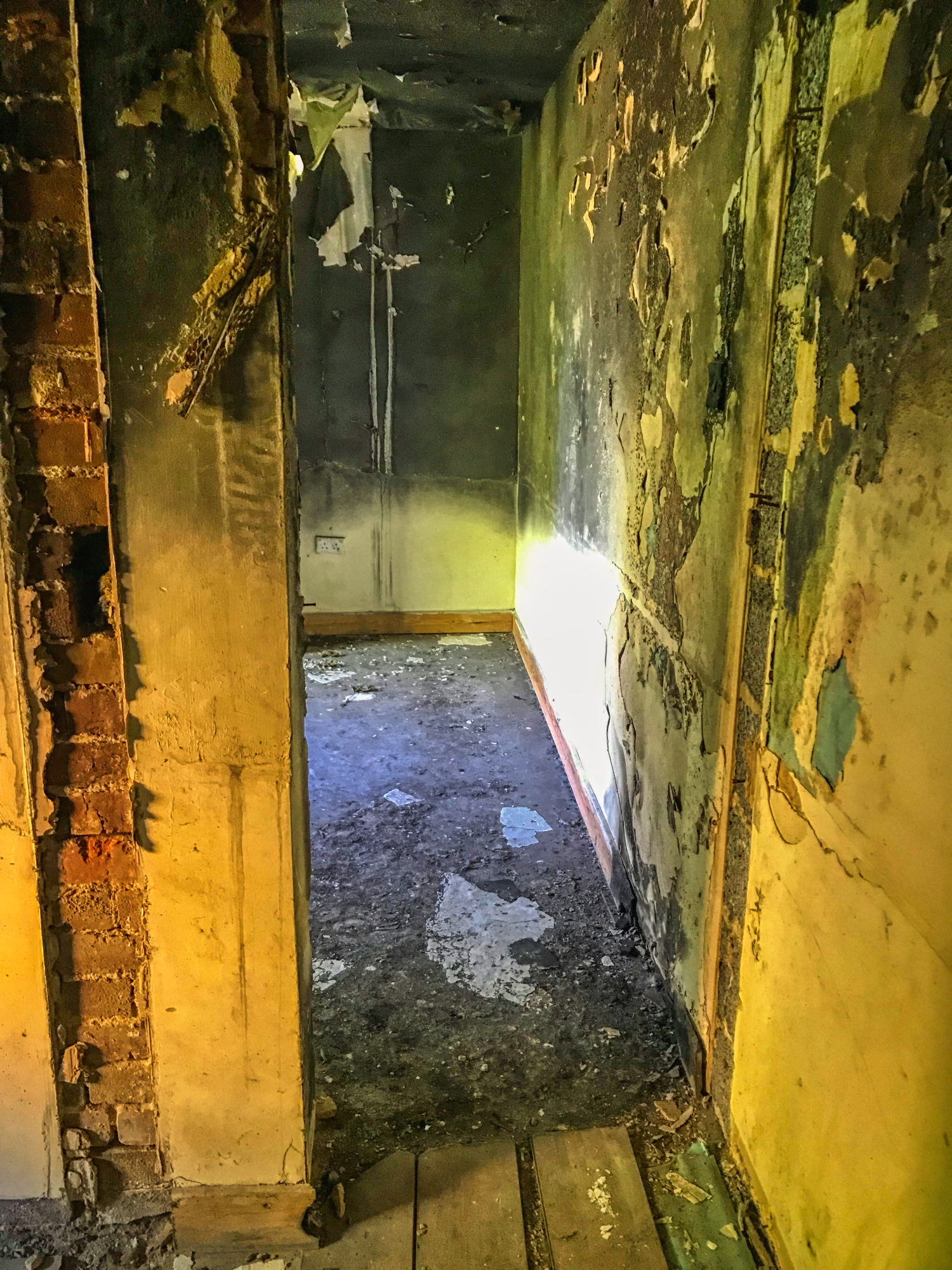 After some hunting, I found the room in which it all happened. The entrance to Room 3; the distinctive marks on the wall gave it away.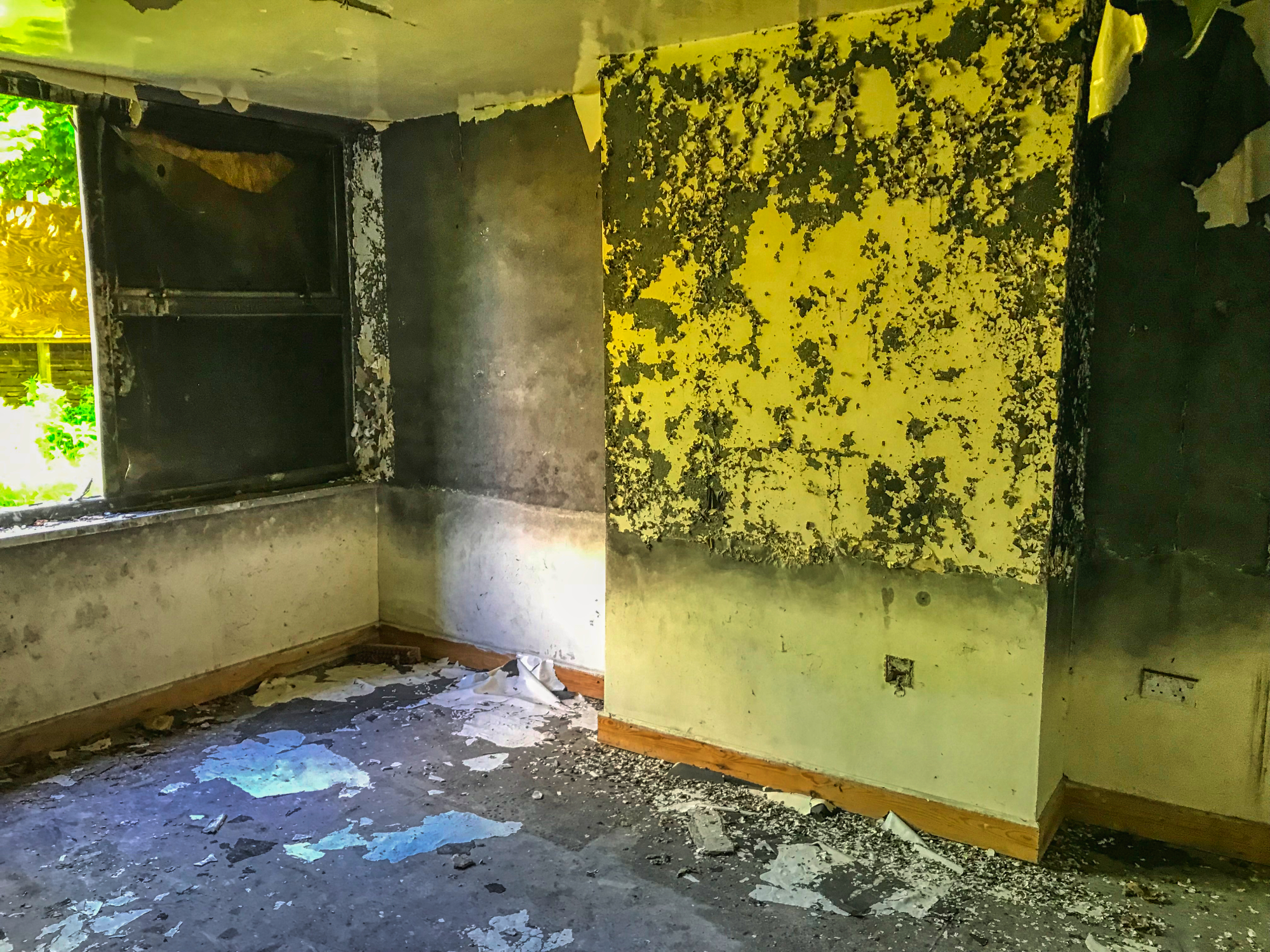 Where the jut is in the room once housed a table with the murder bed to the right. The curtains are long gone.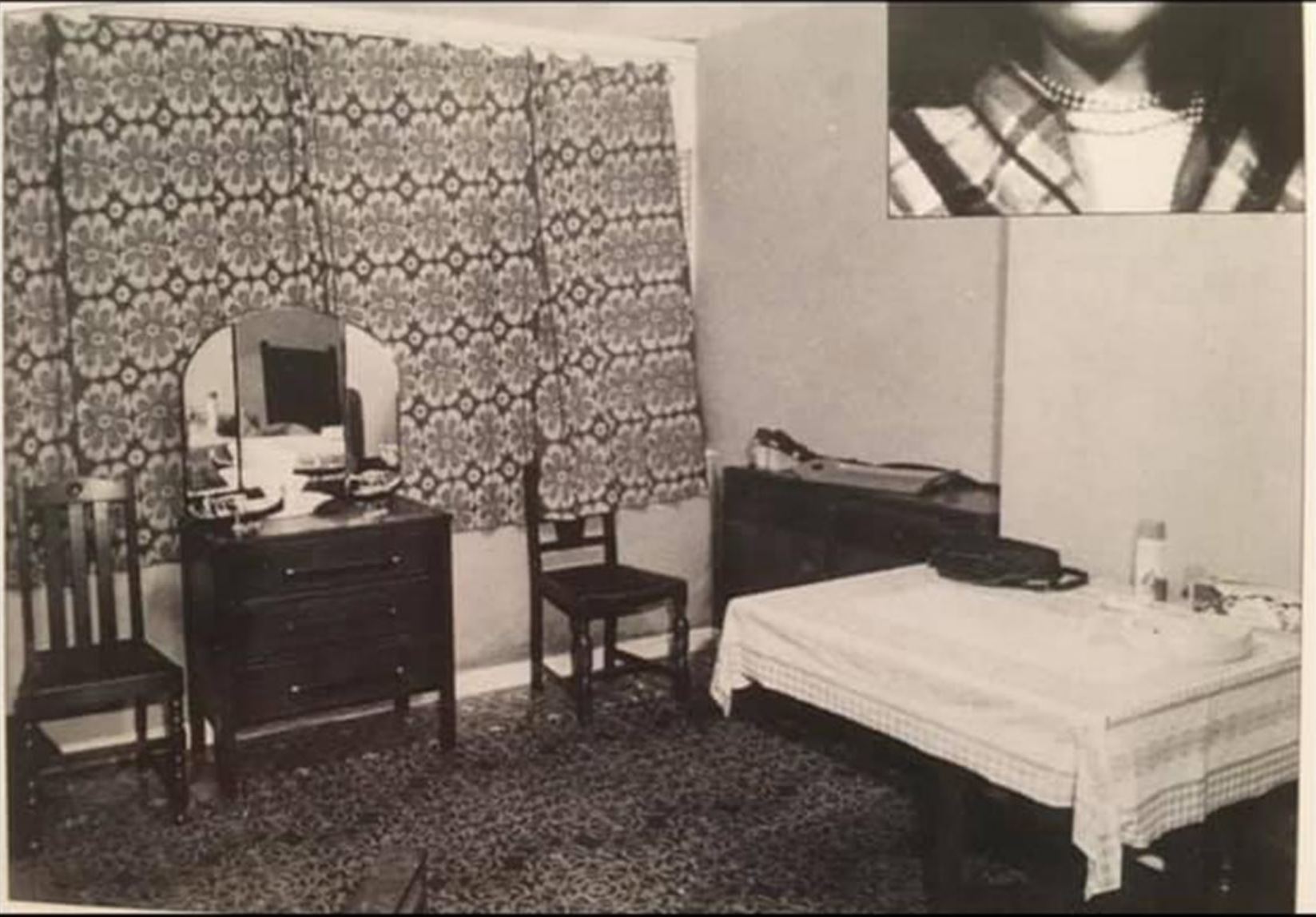 All old images are sourced here: Source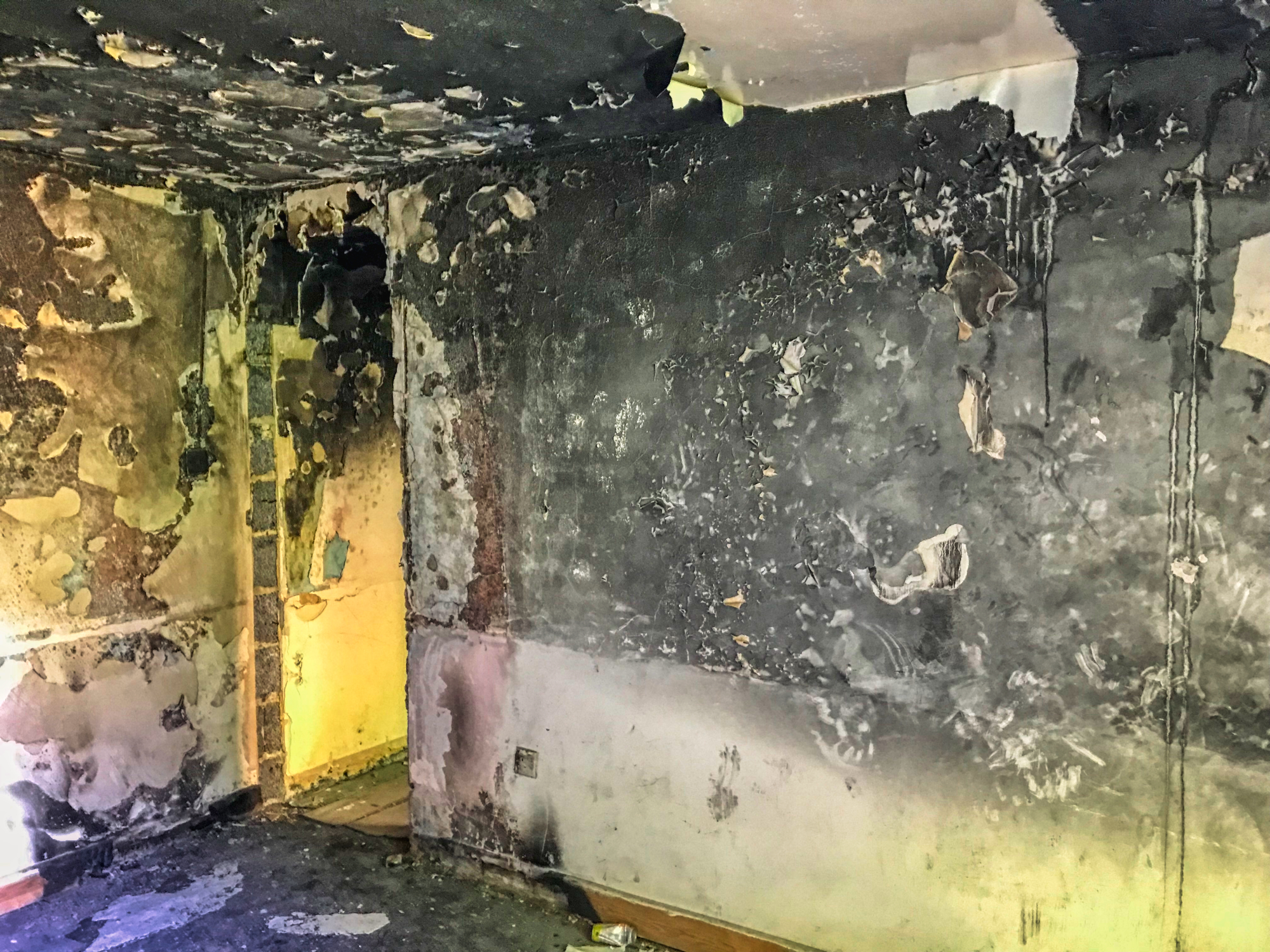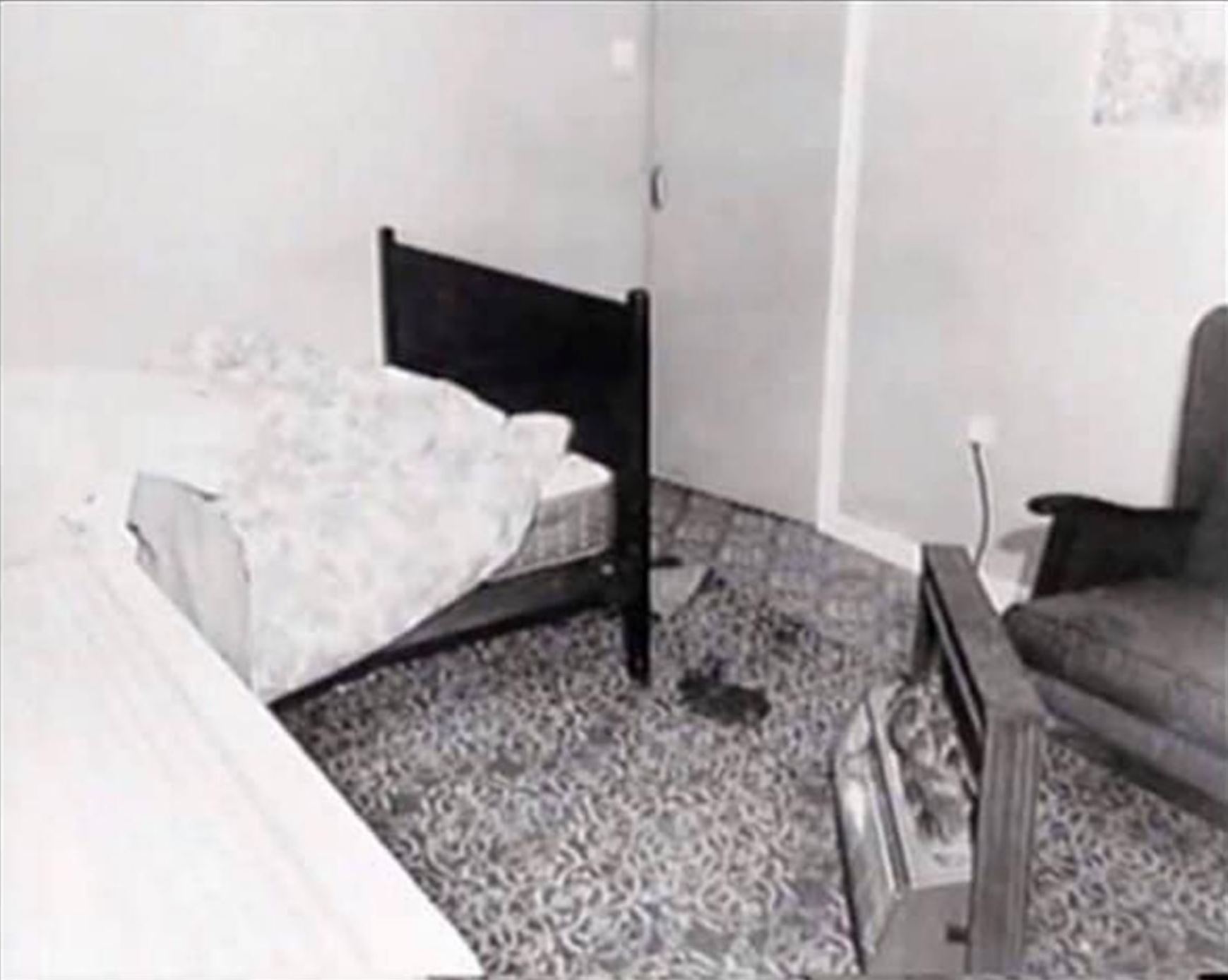 Looking back at the fire-tormented door we can see where the bed used to be, and where the murder took place.
Did I feel anything? Not even a prickle on my skin. I am far too de-sensitised about such things.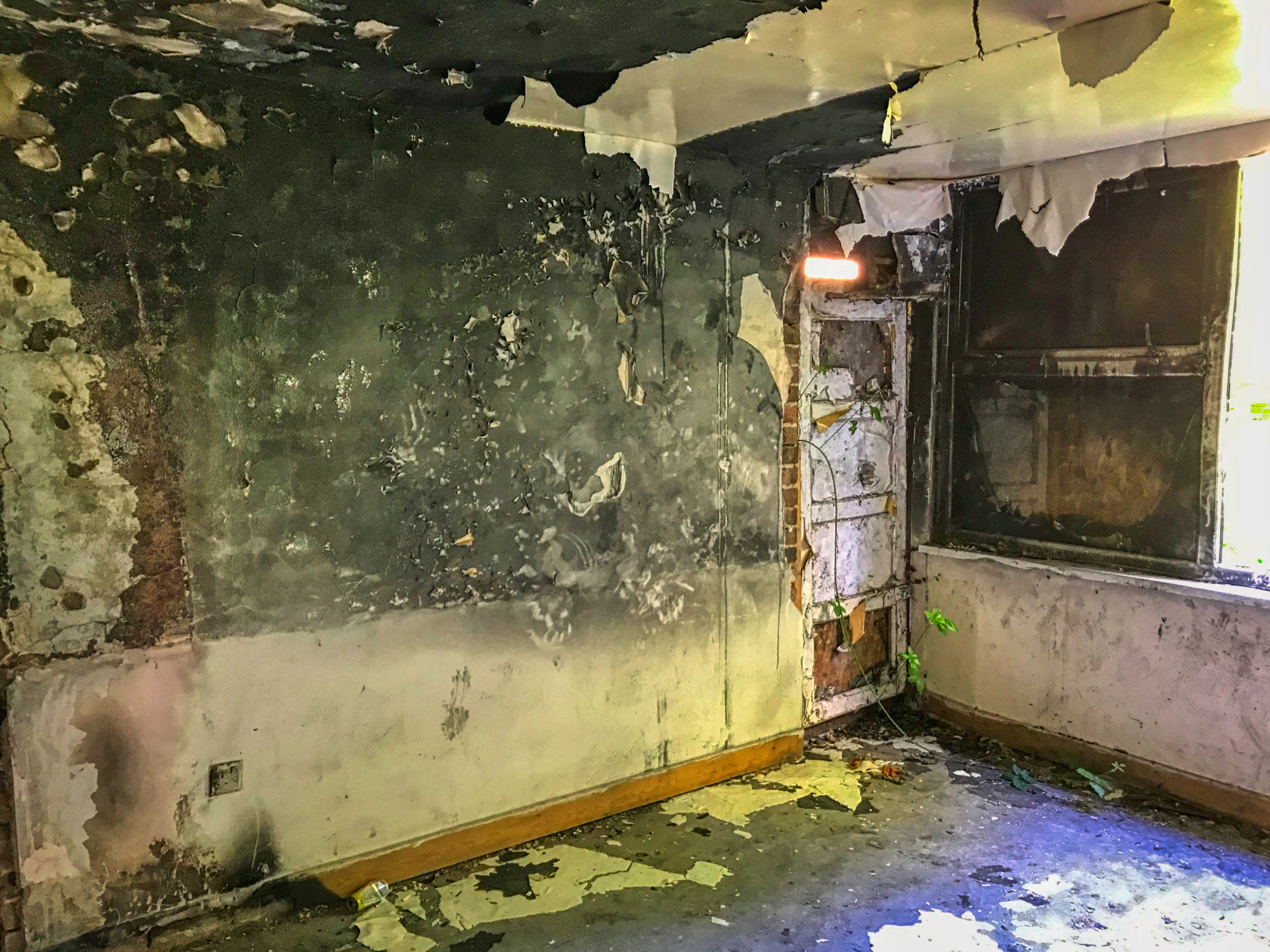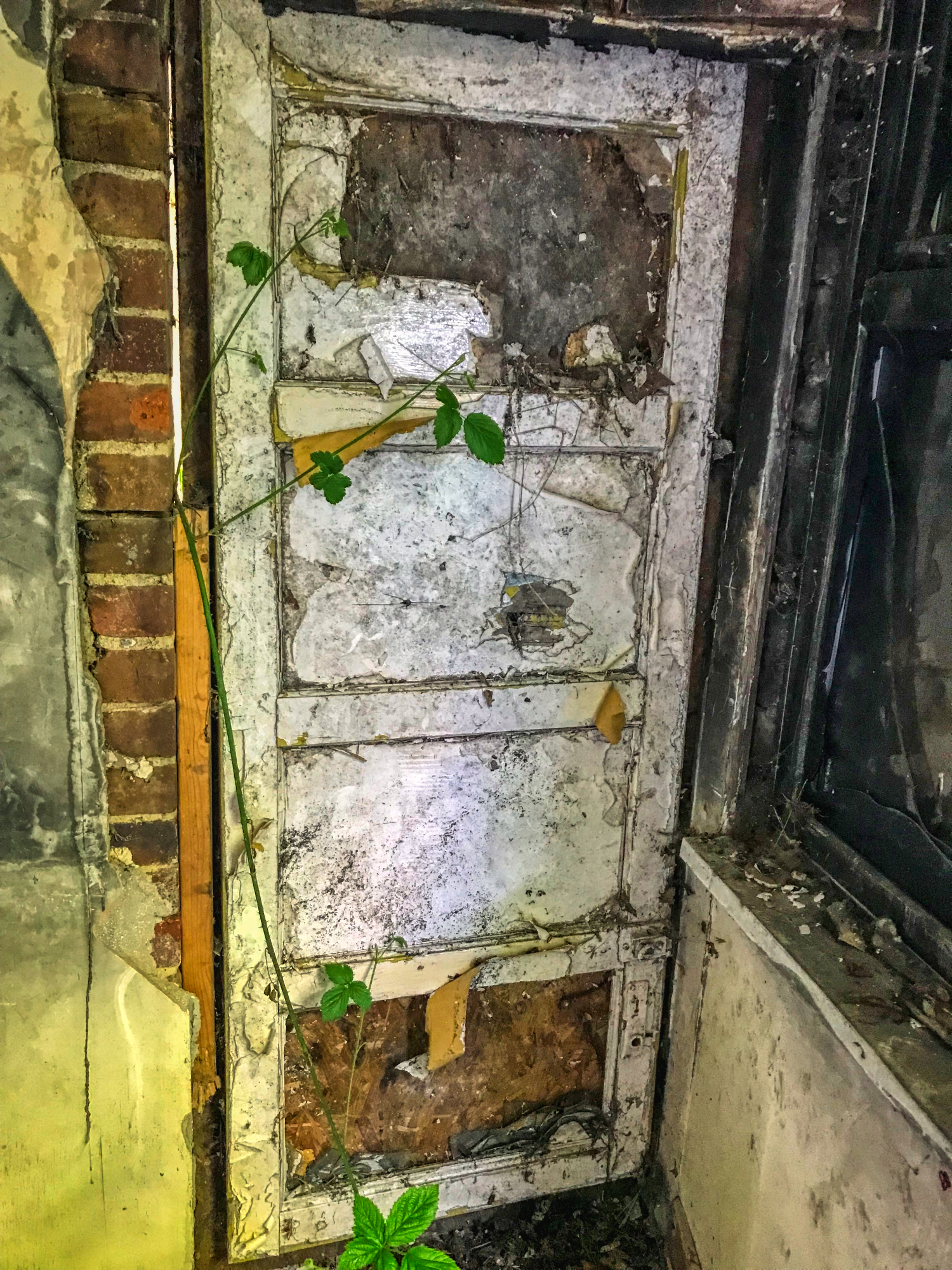 What that other door is I can guess to be the bathroom which I didn't photograph. It was quite empty, though access is now from outside the room as this door is severely jammed tight.
If this was the major attraction then it was quite disappointing. No blood, no screams..., I shouldn't jest. We worked our way back to the original entrance point getting lost as it was quite the maze inside.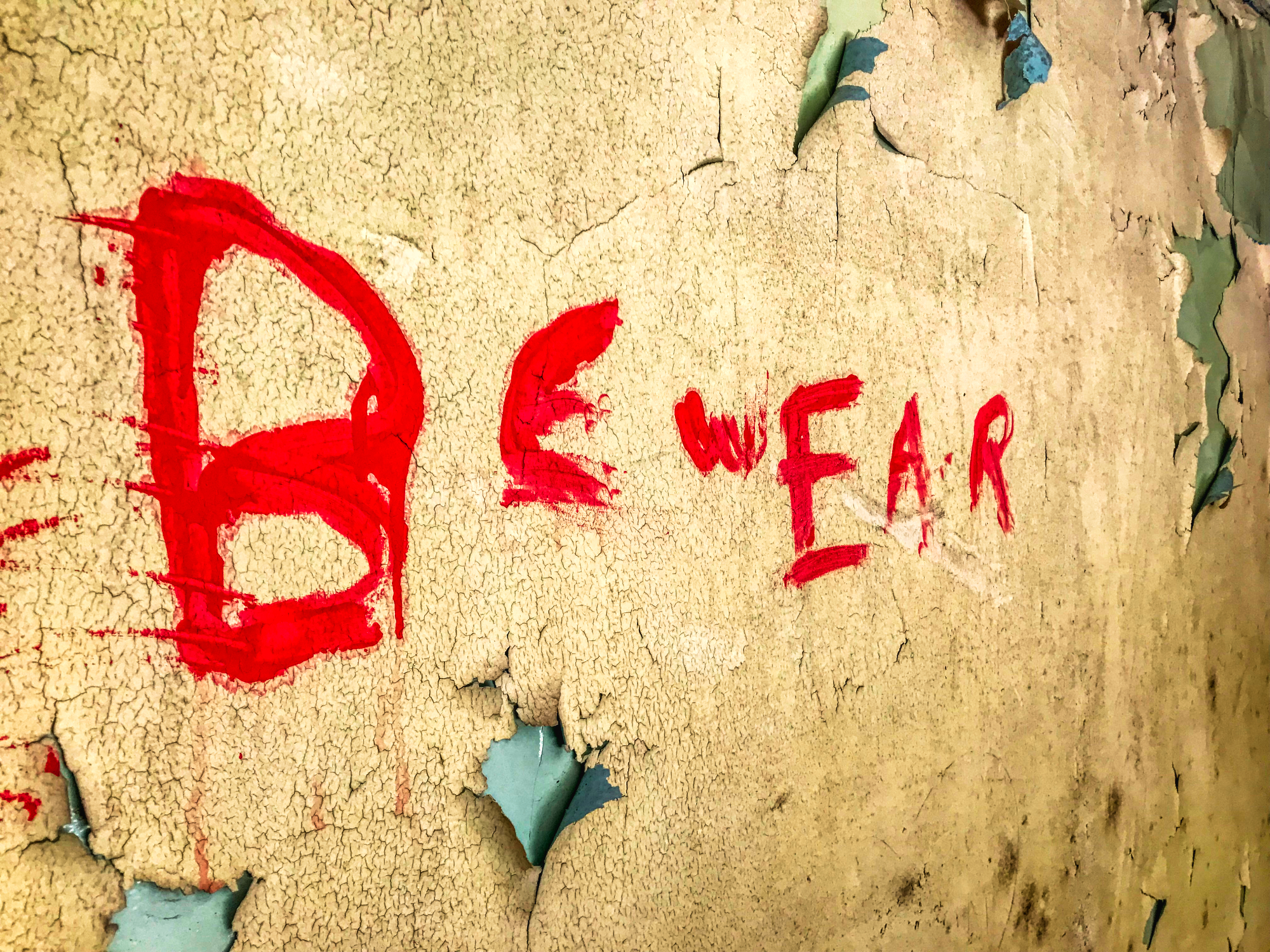 Such blood-curdling warnings written in blood send shivers down my spine. The shivers would have been intensified severely if the retard who wrote it could spell.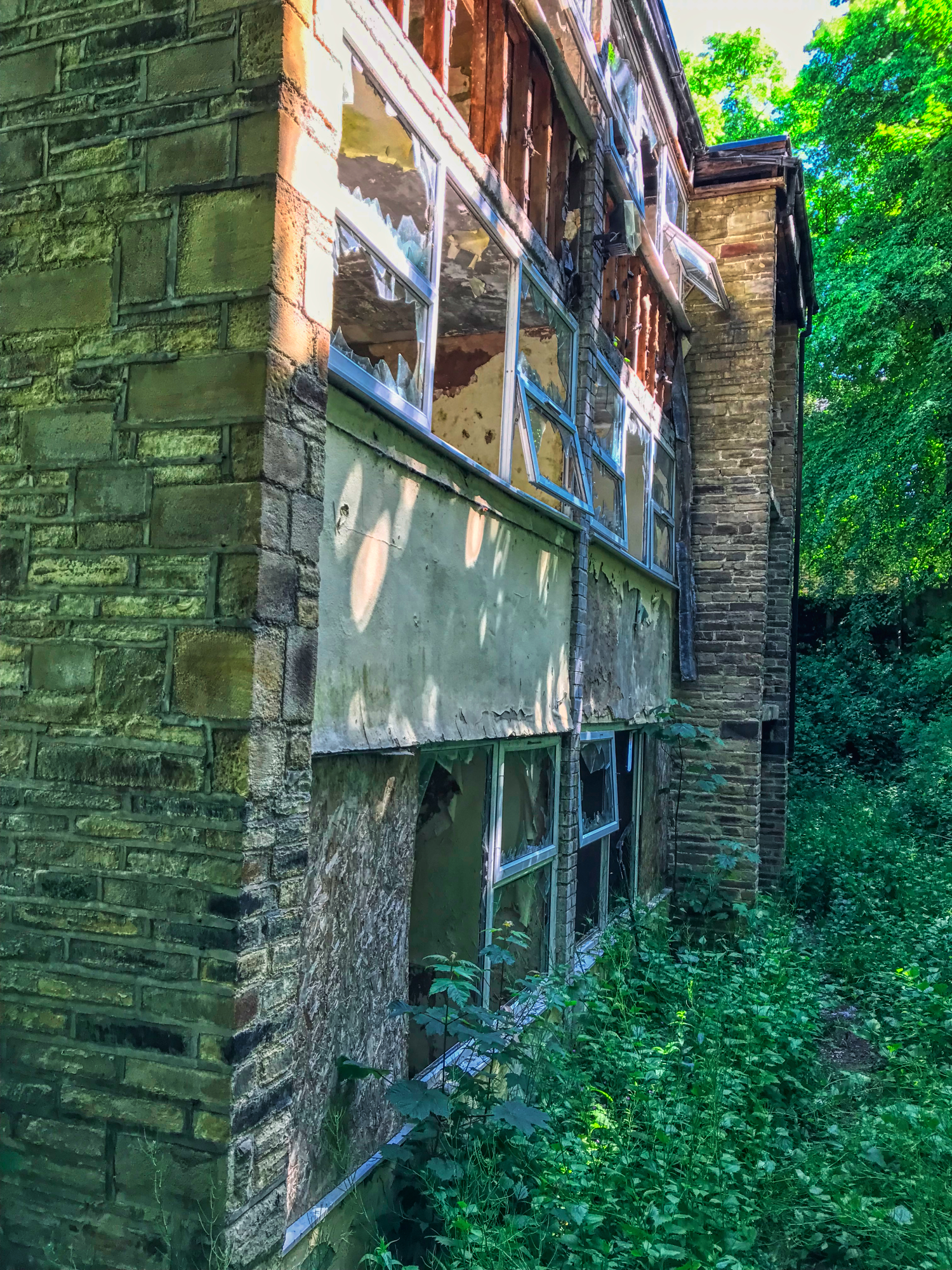 I think it's time to rip this horror down, Bradford council. It's hardly a tourist attraction and will attract nobody besides the likes of ME and those weird paranormal idiots who visit at midnight.

Do you like posting your Urbex content and photography for FREE on Facebook and YouTube? I like to get some form of reward for my work and every time I create I do just that. Take a look at The Urbex Community on HIVE.
If you want to keep creating for FREE then ignore what you are reading. If you want to be like me and gain something other than BUGGER ALL for your work then click here and learn about posting on the HIVE blockchain.


All my 'Tales' content is easy to find on my personal website:
'Tales of the Urban Explorer'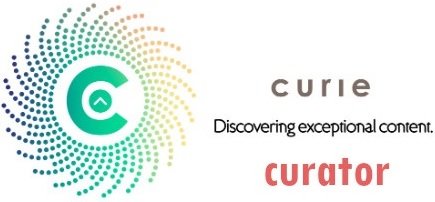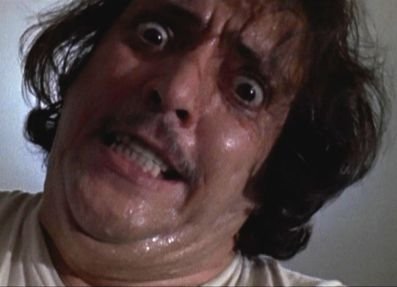 If you found this article so invigorating that you are now a positively googly-eyed, drooling lunatic with dripping saliva or even if you liked it just a bit, then please upvote, comment, rehive, engage me or all of these things.
---
---