Tales of the Urban Explorer: The Remains of Hoyle Ing Dyeworks

"This looks a bit pants", I said to @anidiotexplores. We gazed upon the sight before us and guessed hidden relics may not be inside this time
The truth is I should have explored Hoyle Ing Dyeworks last year with @dizzydiscovery during our last large Huddersfield outing.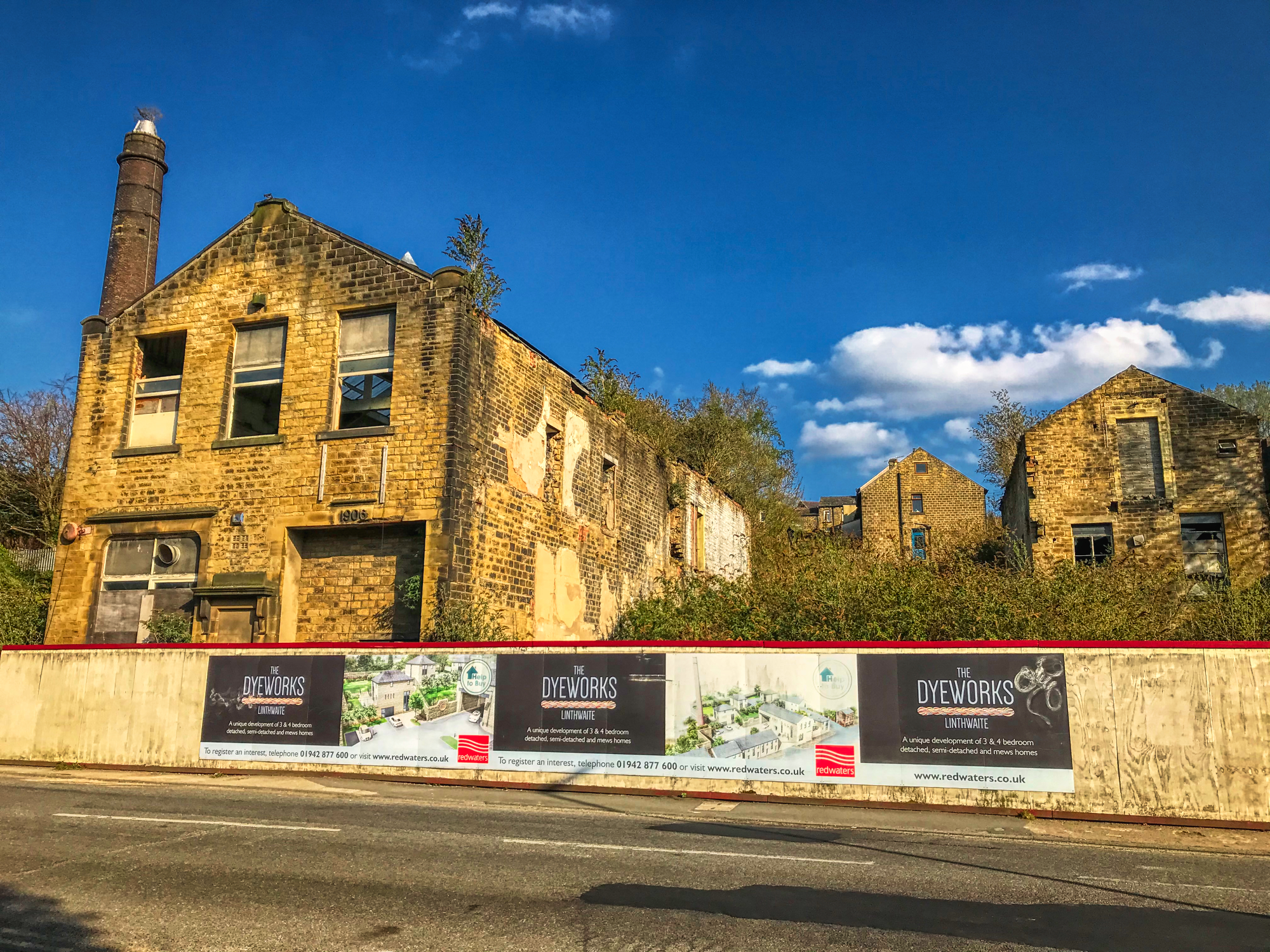 Somehow it had slipped off my radar and maybe there was a reason for that.
There was not a lot left to see
Any longer and it would be worm food and digested into those new-fangled 'little boxes' type houses.
Despite being bad-looking, it was not easy at all to get into the grounds of Hoyle Ing Dyeworks. The front area was covered with herras fencing, and the sides had natural massive mill walls.
Clambering around the back, we sidestepped the annoying fencing only to be greeted with a 10-foot climb with dodgy decaying brickwork and an uneven landing just waiting to destroy our legs and feet on jump impact.
Surely it can't be that tough to get in this shitheap?
We had give up on the back and walked around to the front again and I fingered the fencing absently.
What fencing? Someone had made a long sharp incision and one could simply walkthrough.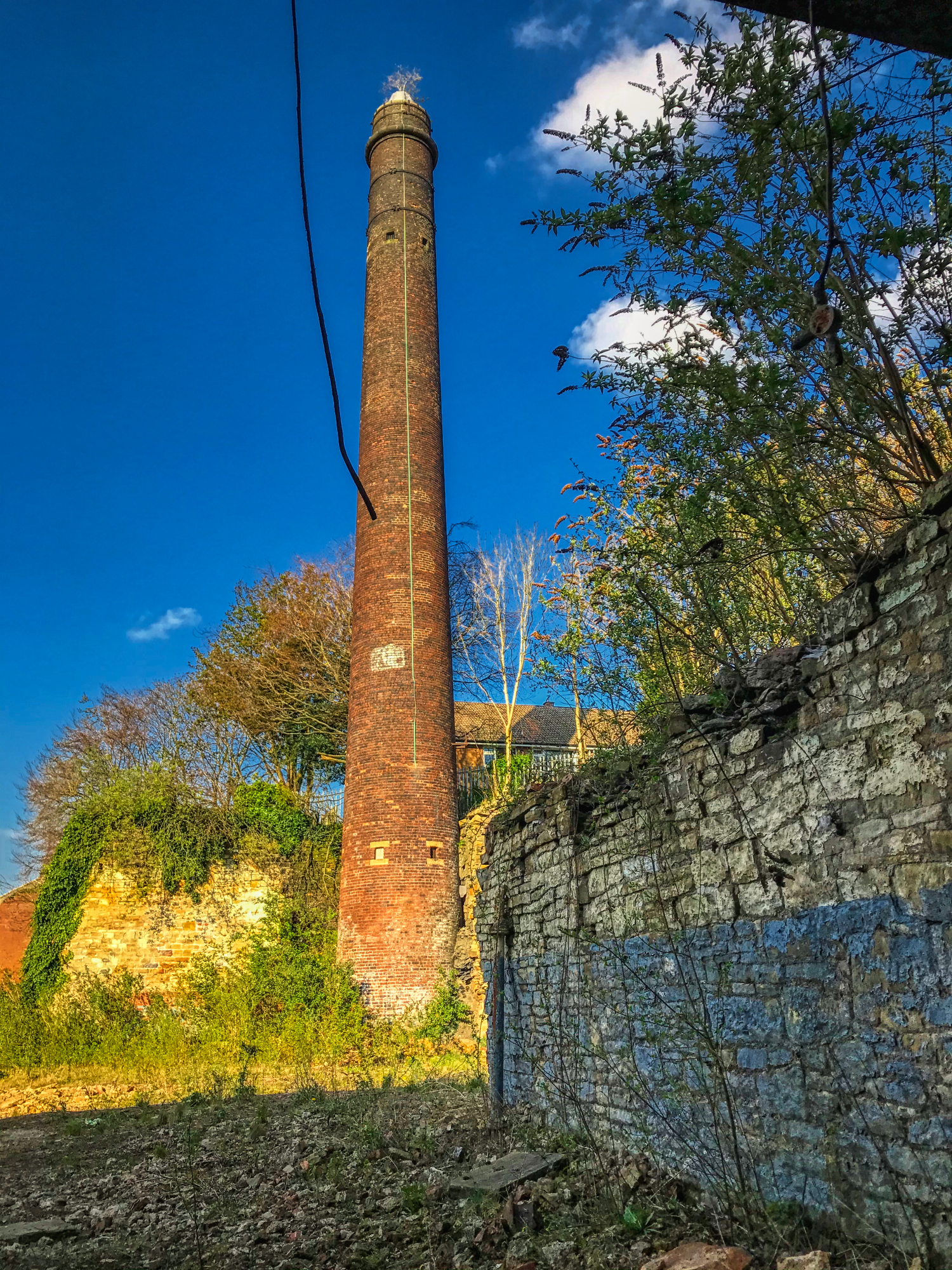 ...'climbing down this wall was never going to happen, I am not a fan of hospitals unless they are abandoned ones'...
It had been looking at me all the time. Talk about almost missing this gem of a place. I would not have been able to sleep for weeks thinking of endless disappointments I would face when entering the dye-works ruins.
The Dyeworks is not as old as the usual type of mills I visit, being built in 1908 and operated as a business until 2008.
It was then used as storage until 2013 when the local arsonists decided it would be nice to burn it down causing extensive damage.
Since then, it has been partially demolished and partially left. Who knows, maybe the funding for the ball and crane ran dry?
We scrambled through gorse and thick bushes to see this sight. It didn't look very welcoming.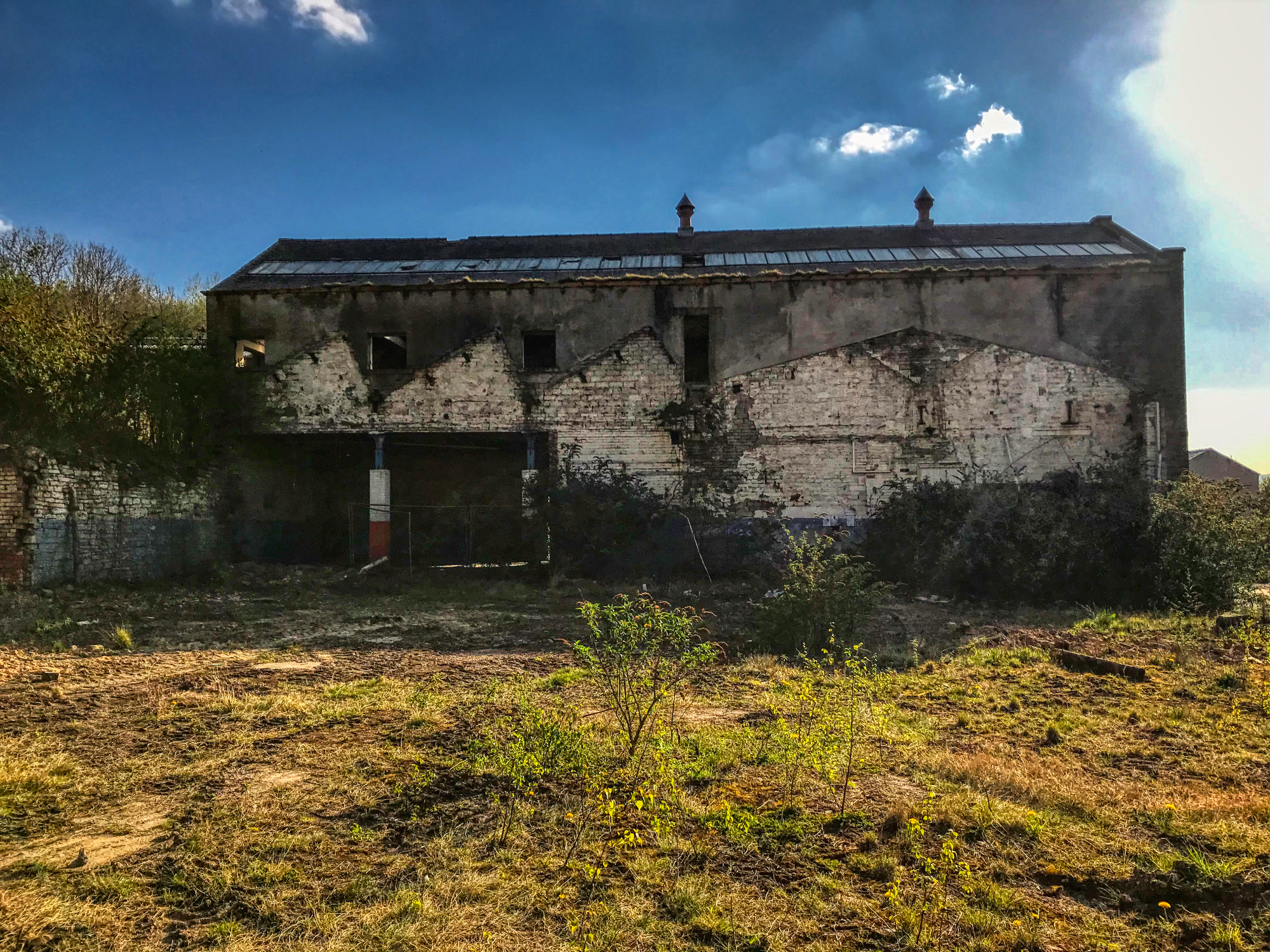 Inside was quite bare but graffiti-free. I usually acknowledge these come hand in hand and was surprised.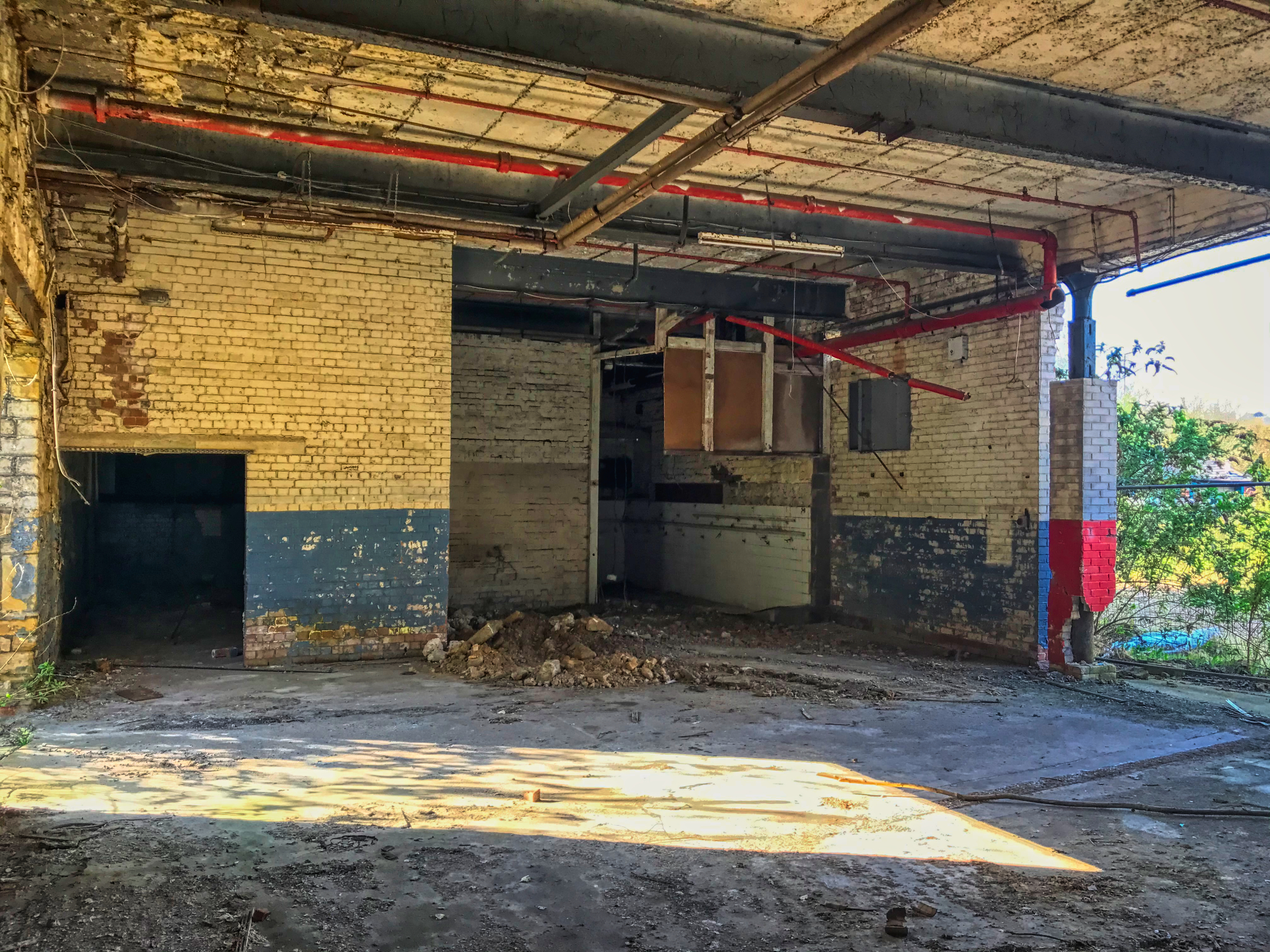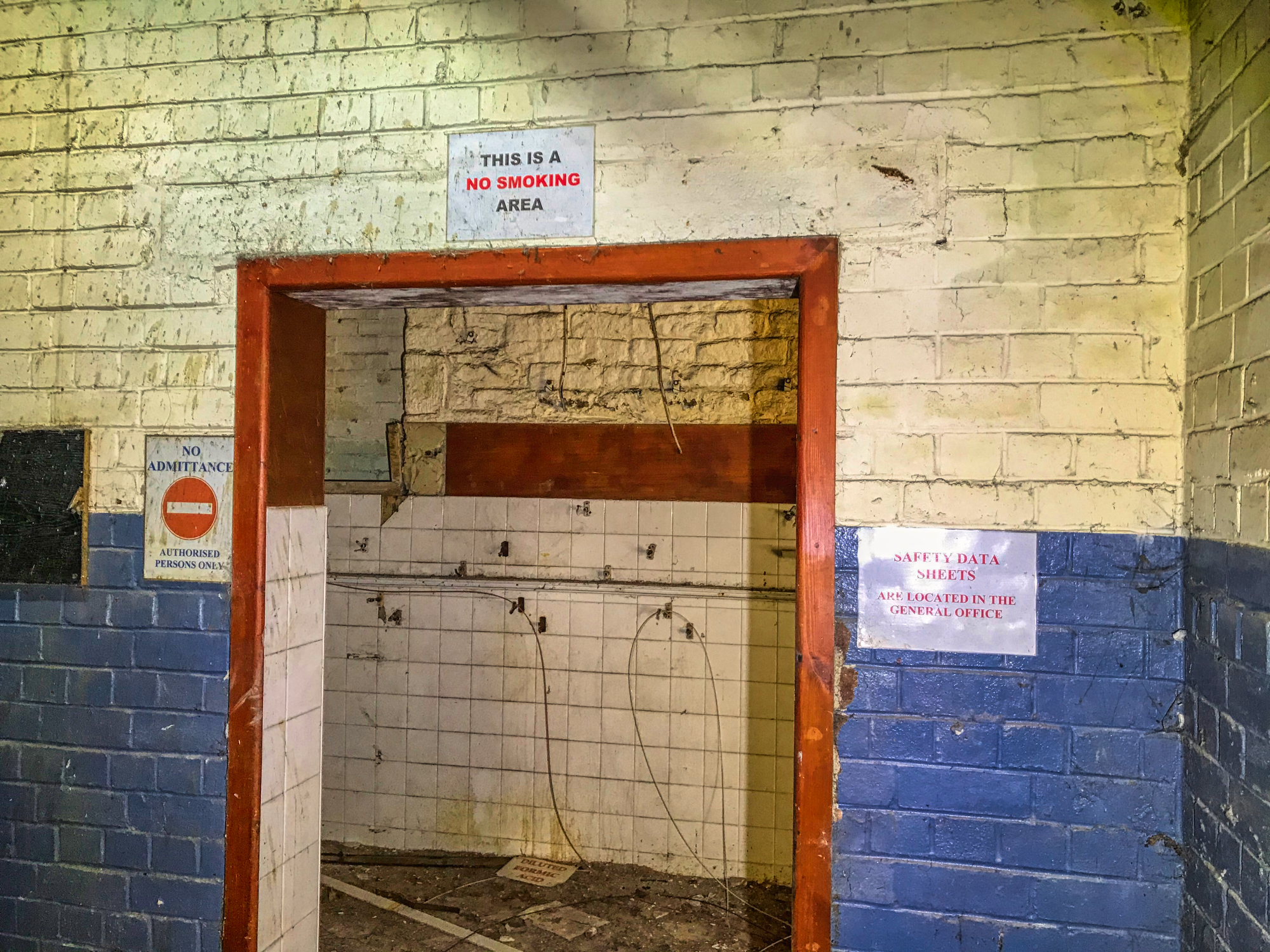 I don't think the 'General Office' exists any longer. I could see no signs of it.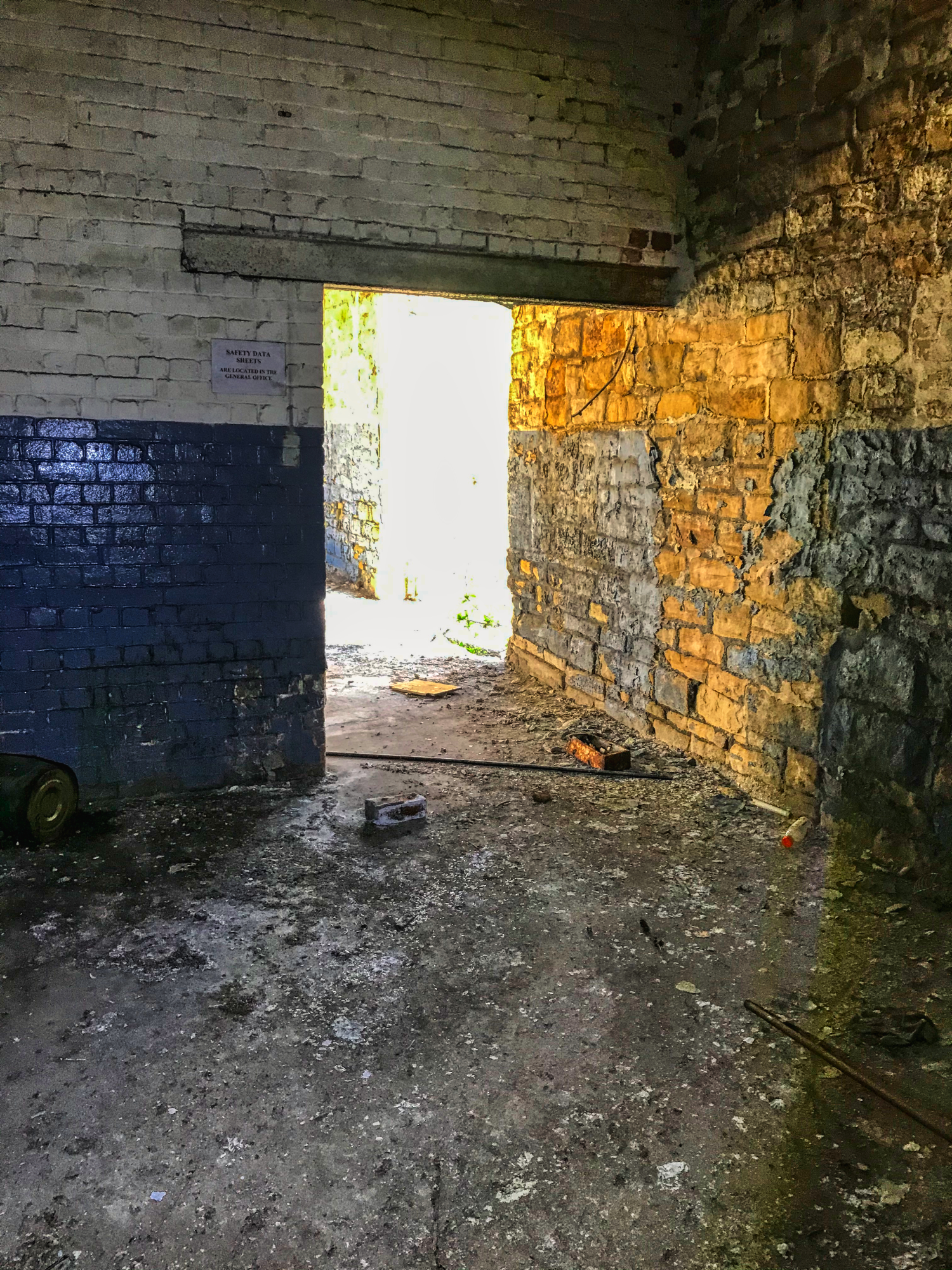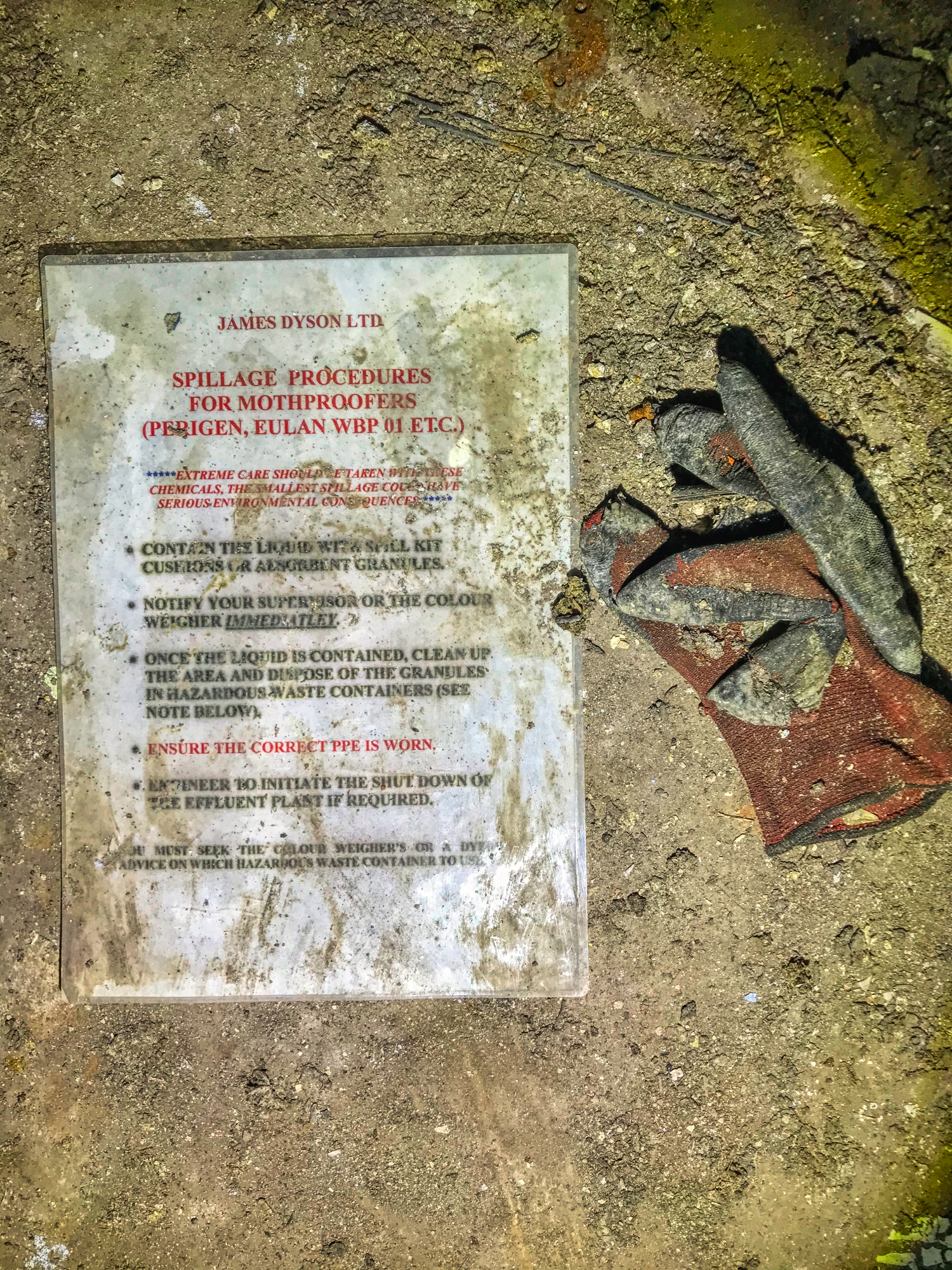 The term 'PPE' was invented before COVID then. I would not have recognized the acronym before the virus times.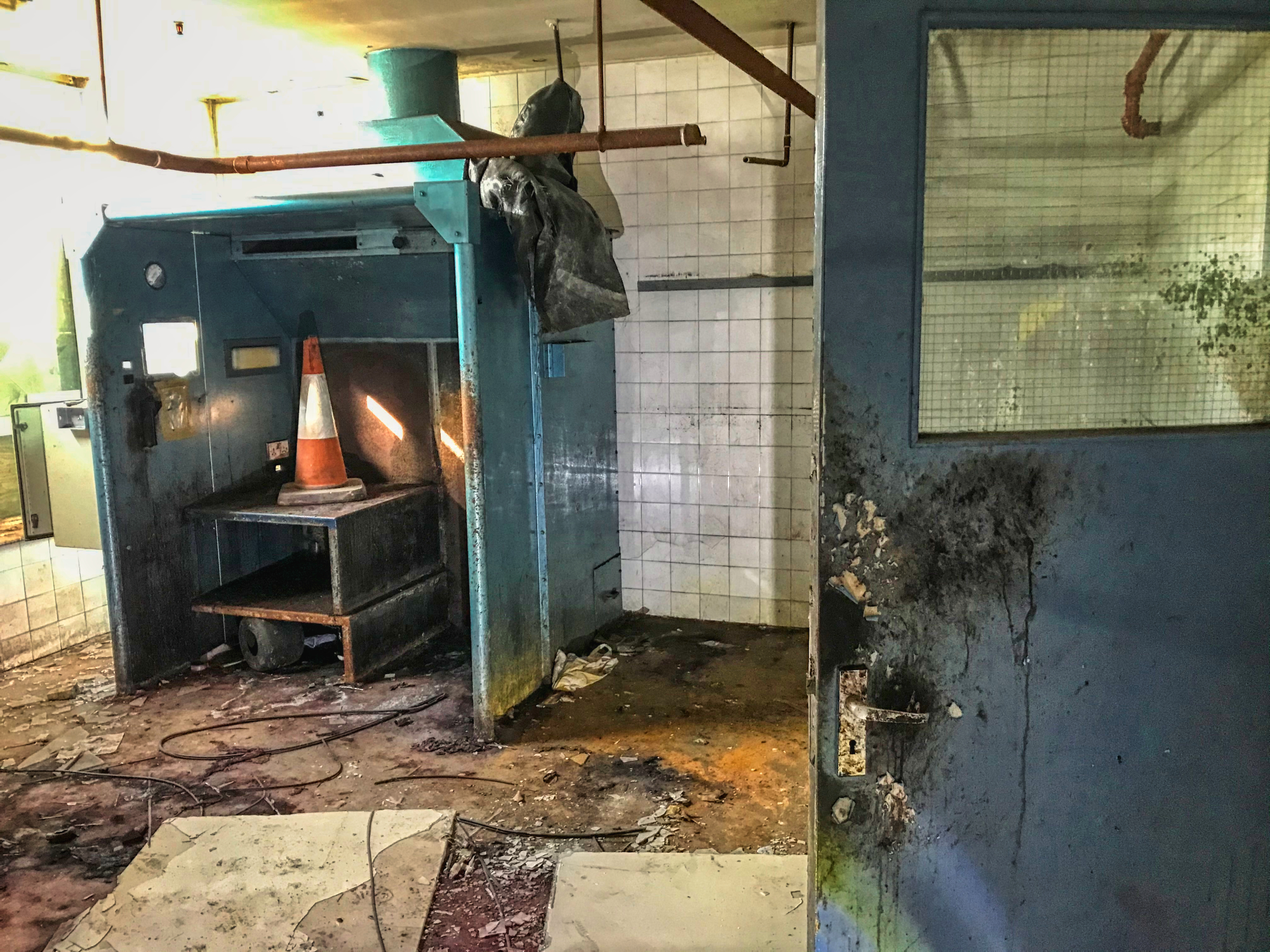 Traffic cones get everywhere; I was amazed not to see a shopping trolley as they are usually more ubiquitous than the former item.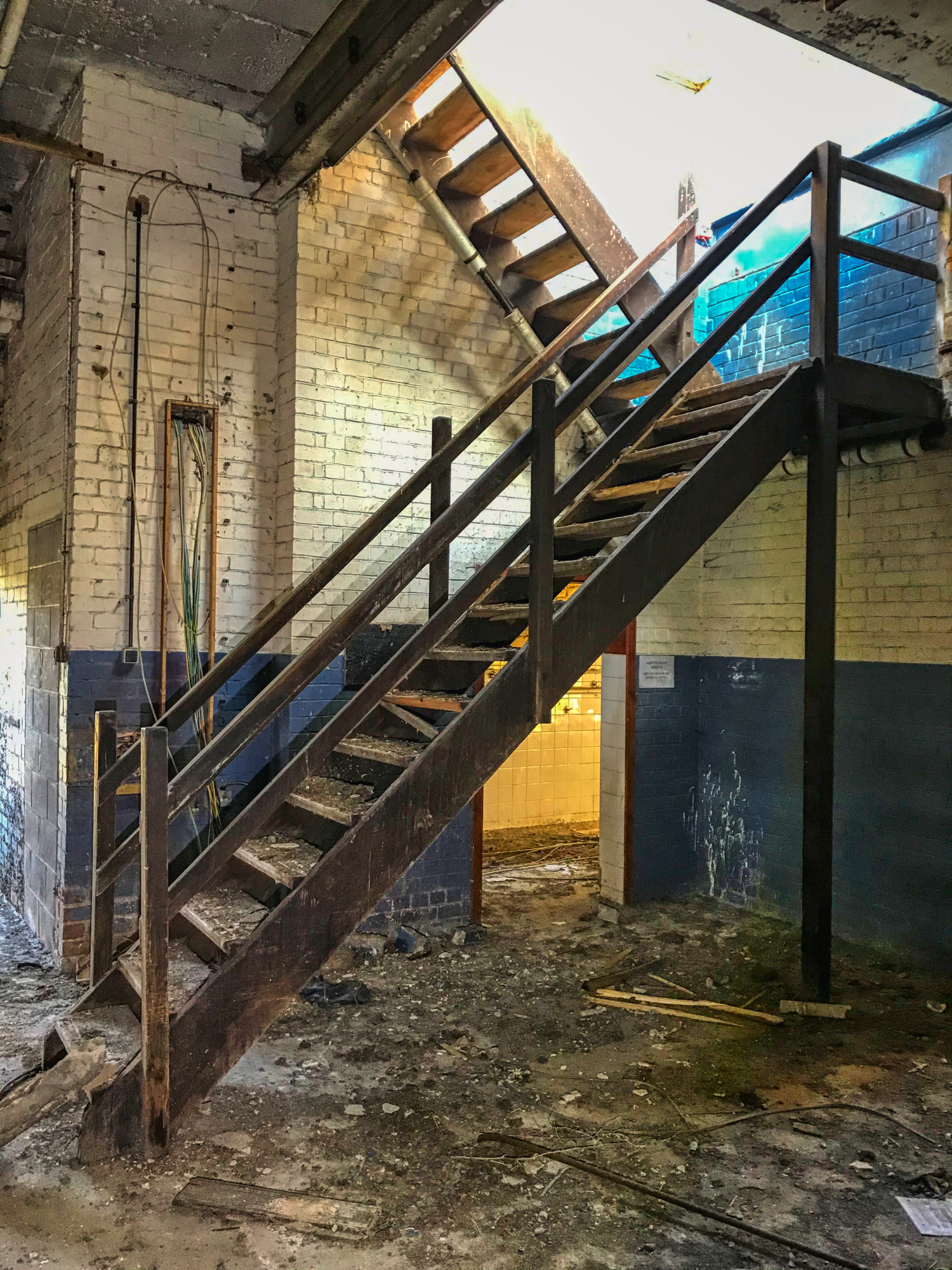 The stairs were wooden and sparingly sturdy. The arson attack could have been in the section that has already been demolished.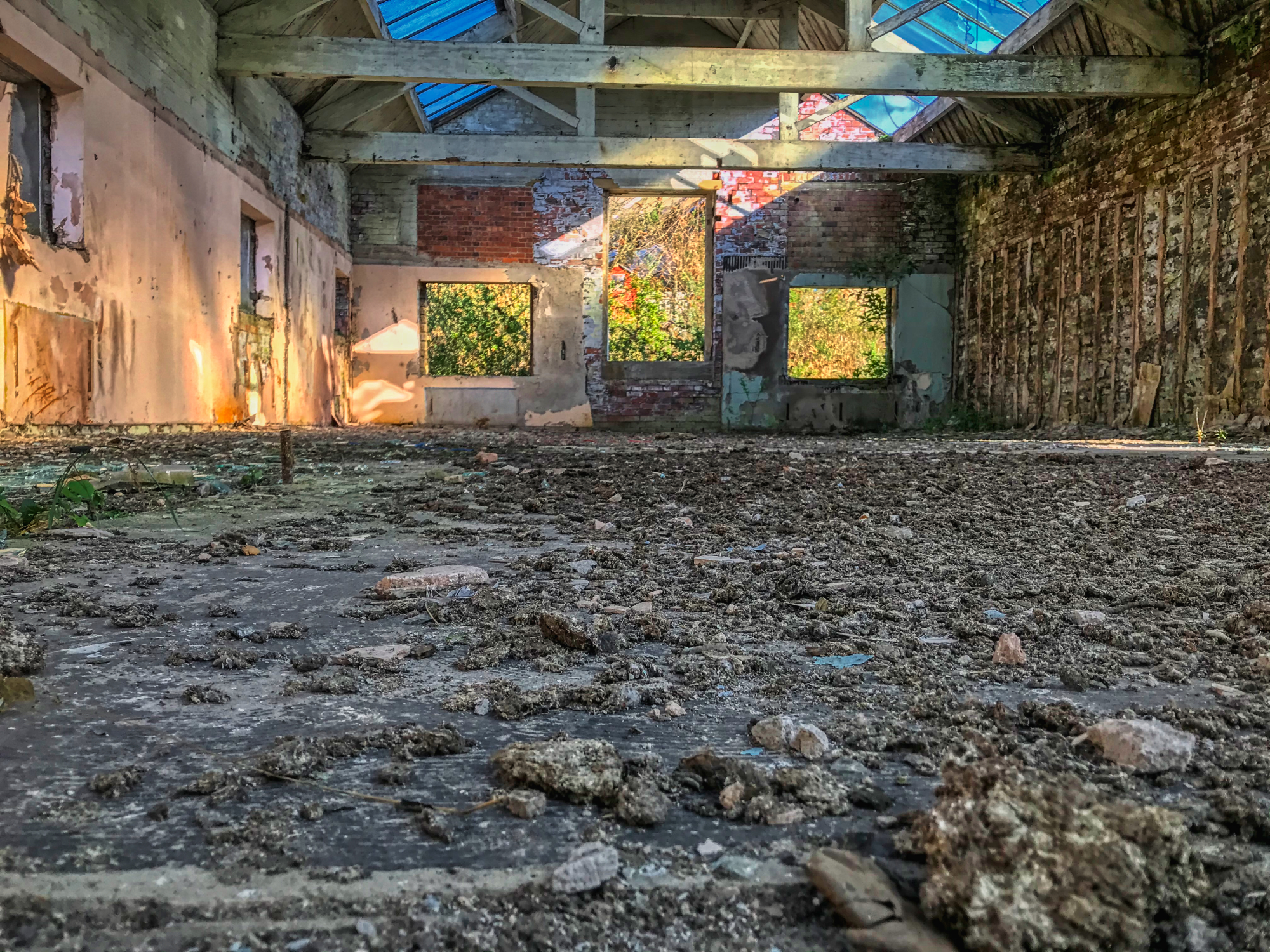 Up the steps revealed copious amounts of pigeon shit and little else. The views were quite nice though revealing another nearby wrecked building.
We had already tried to get in this one from the back entrance and failed. You can see the drop from the wall left of it, which would have resulted in jumping into weeds that were 7 feet tall with an unknown type of landing.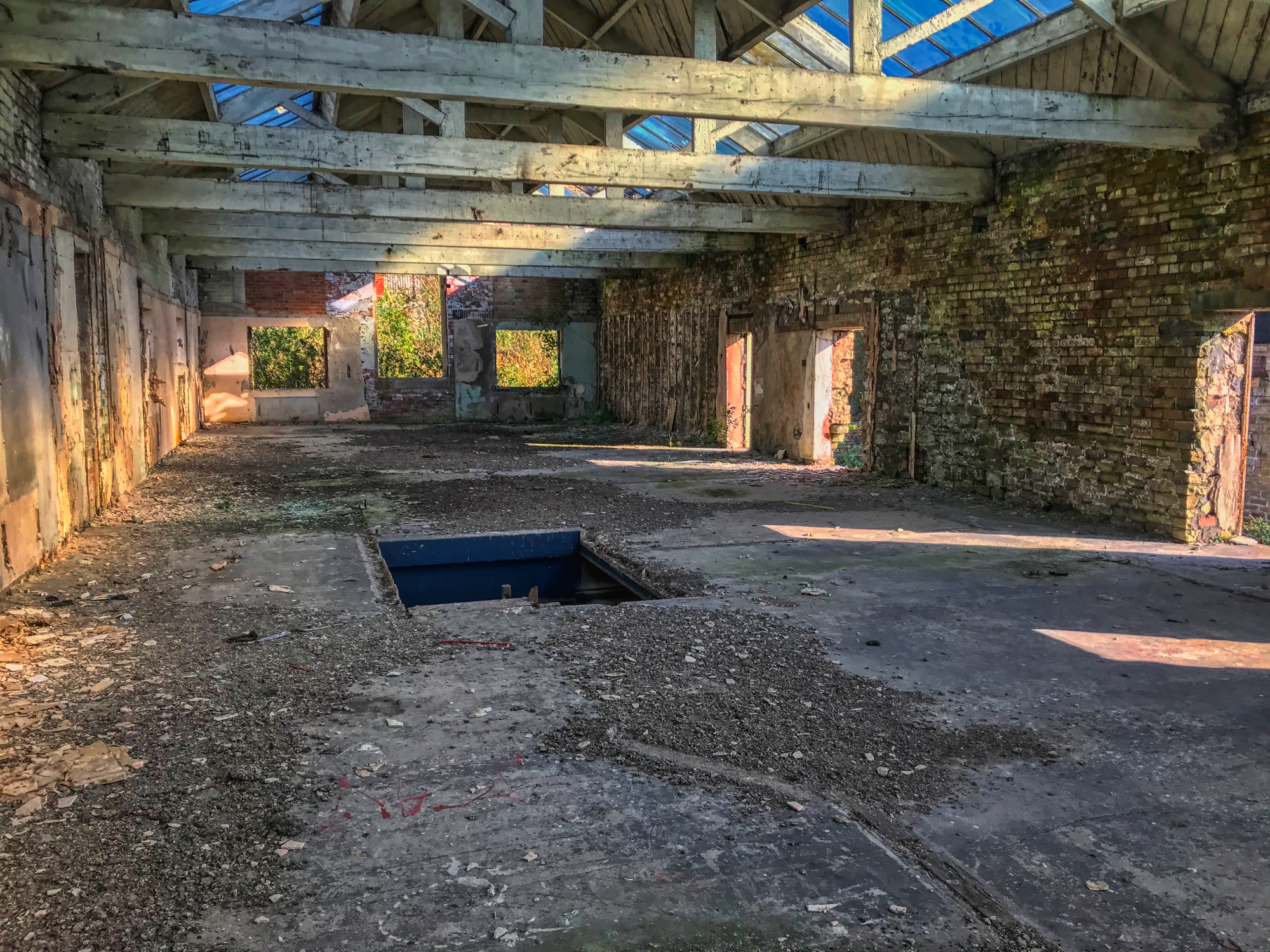 It looks like a big hole but there were steps.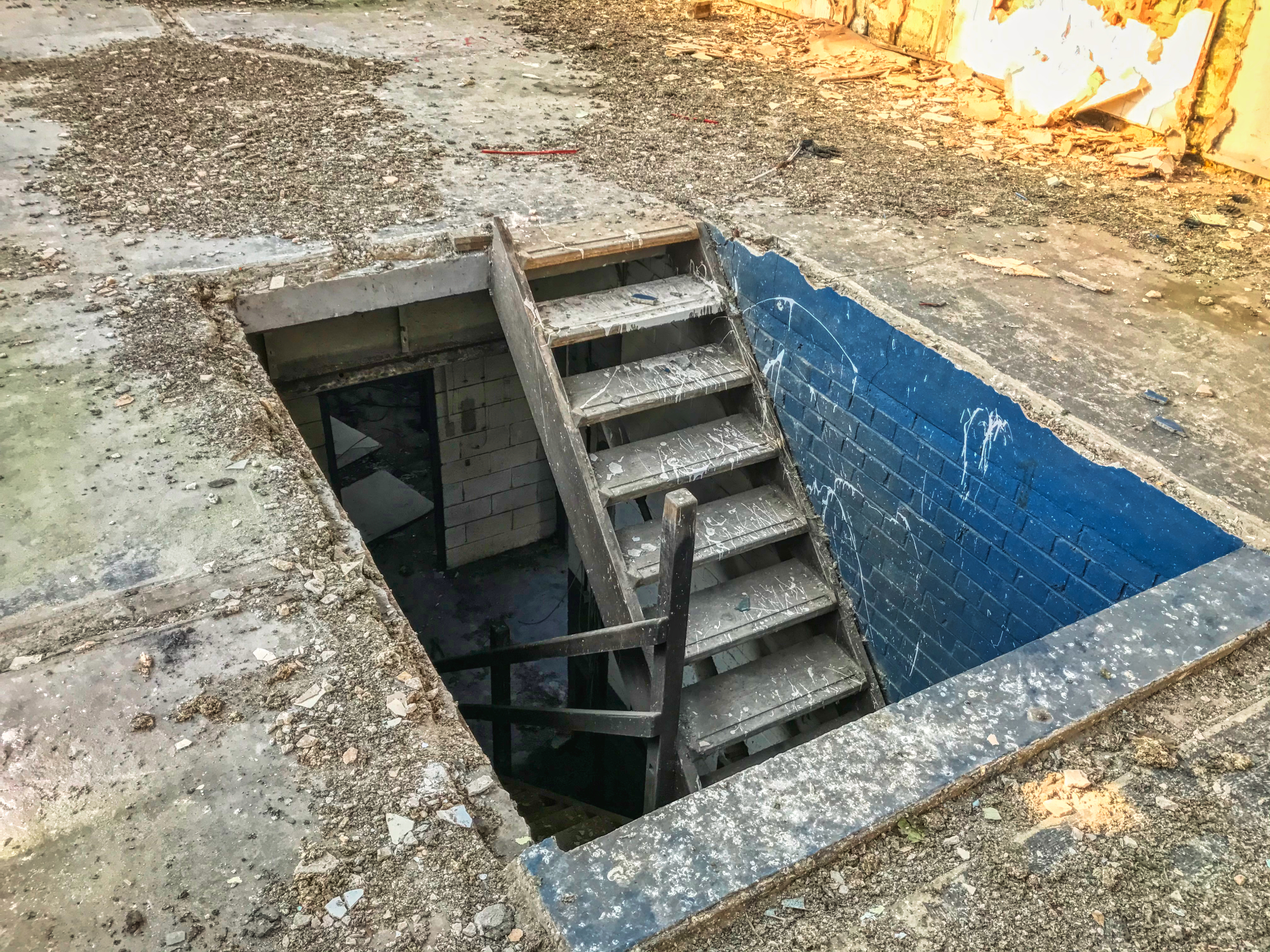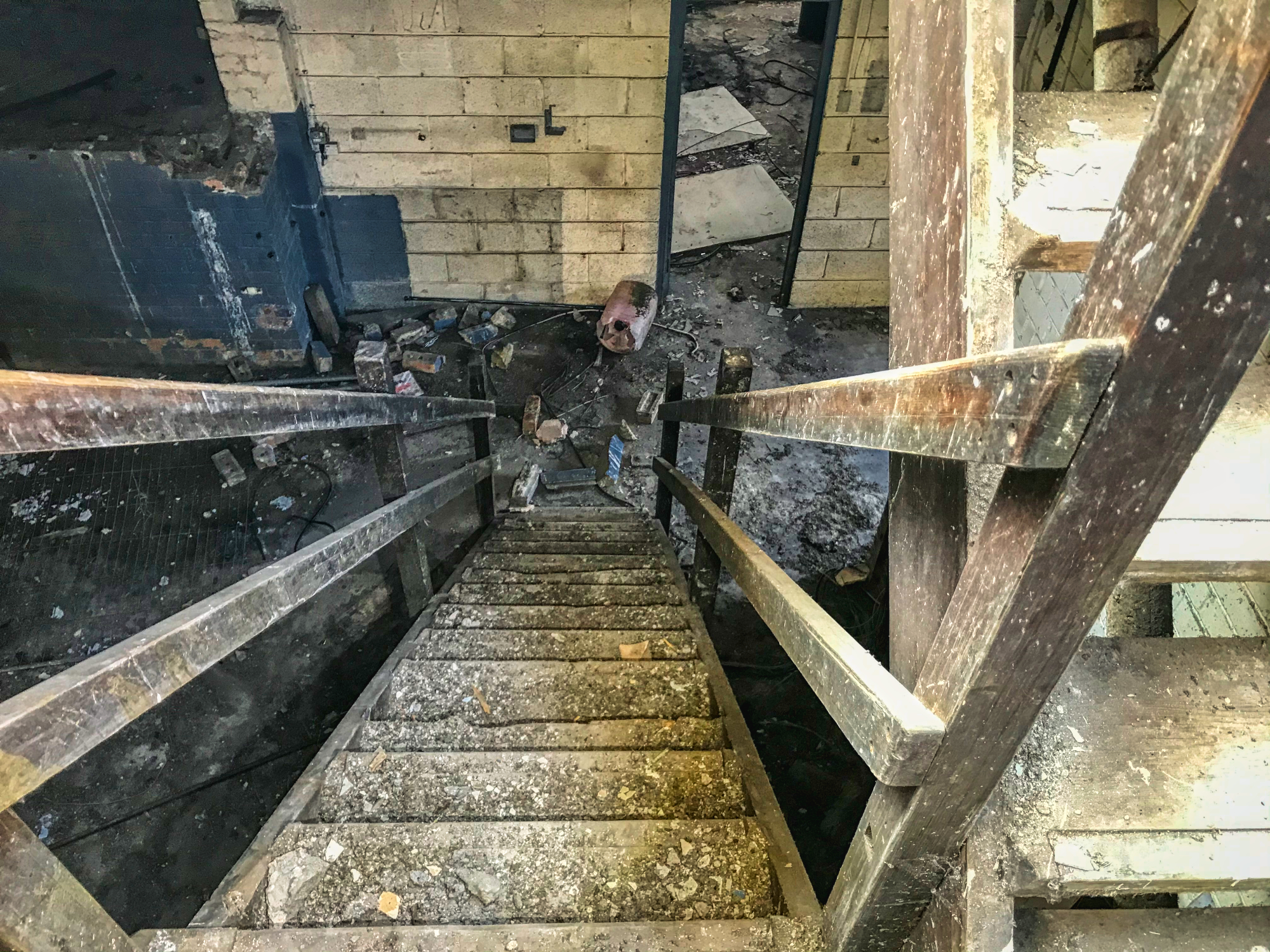 Descending we exited in search of more delectable sights and slavering images in the far building.
After meandering through a dense jungle of tall weeds we got to the entrance point.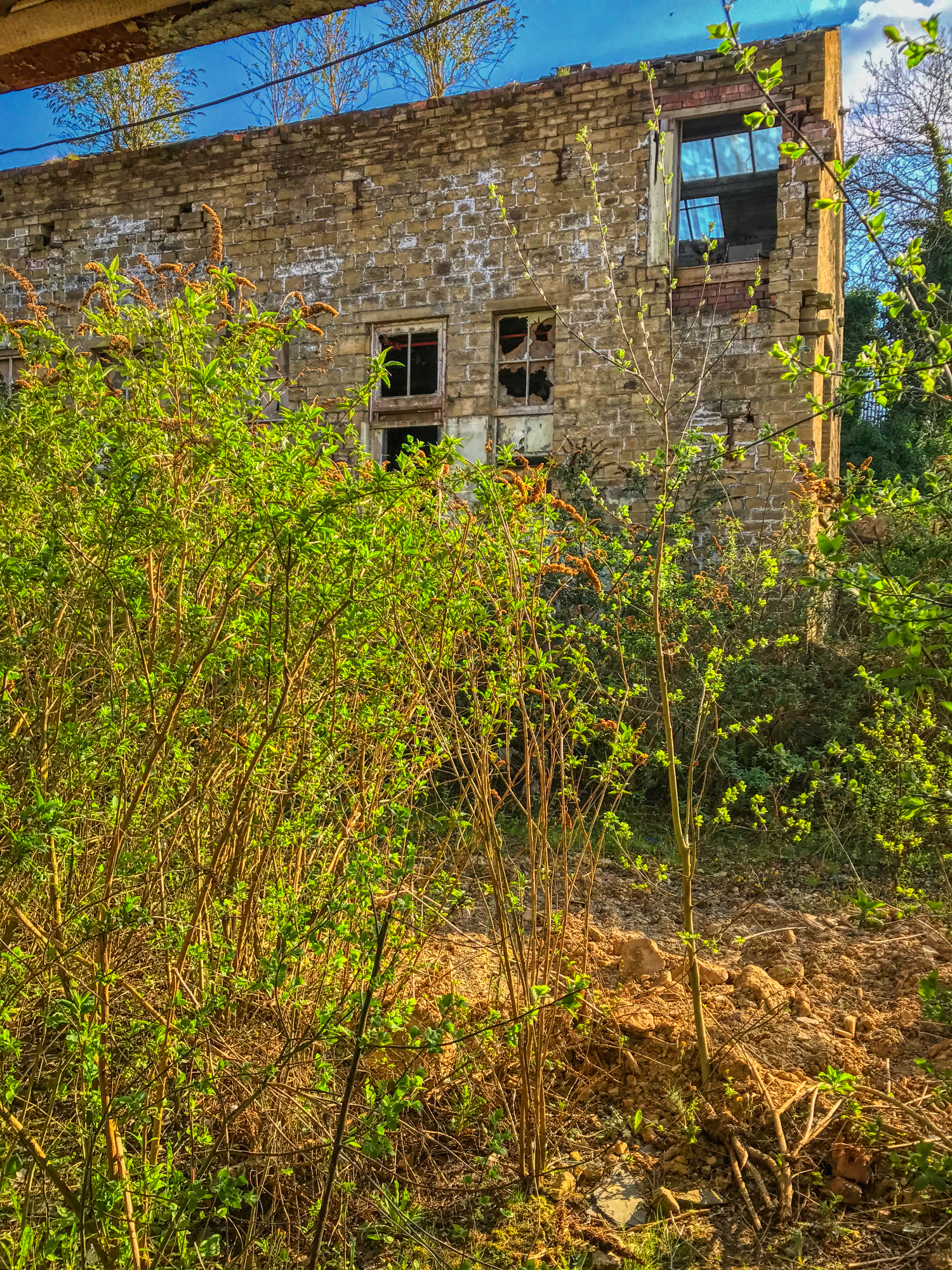 @anidiotexplores made it before me and was already inside having navigated 'the plank'.
"What's in there?", I yelled up and looking dubiously at the wobbly-looking wood placed up against the wall.
"A fire exit sign", came the reply. The tone in his voice came back as distinctly unimpressed.
"Yeah man, I think I will pass", I said testing the plank which was a little too thin and steep for my liking.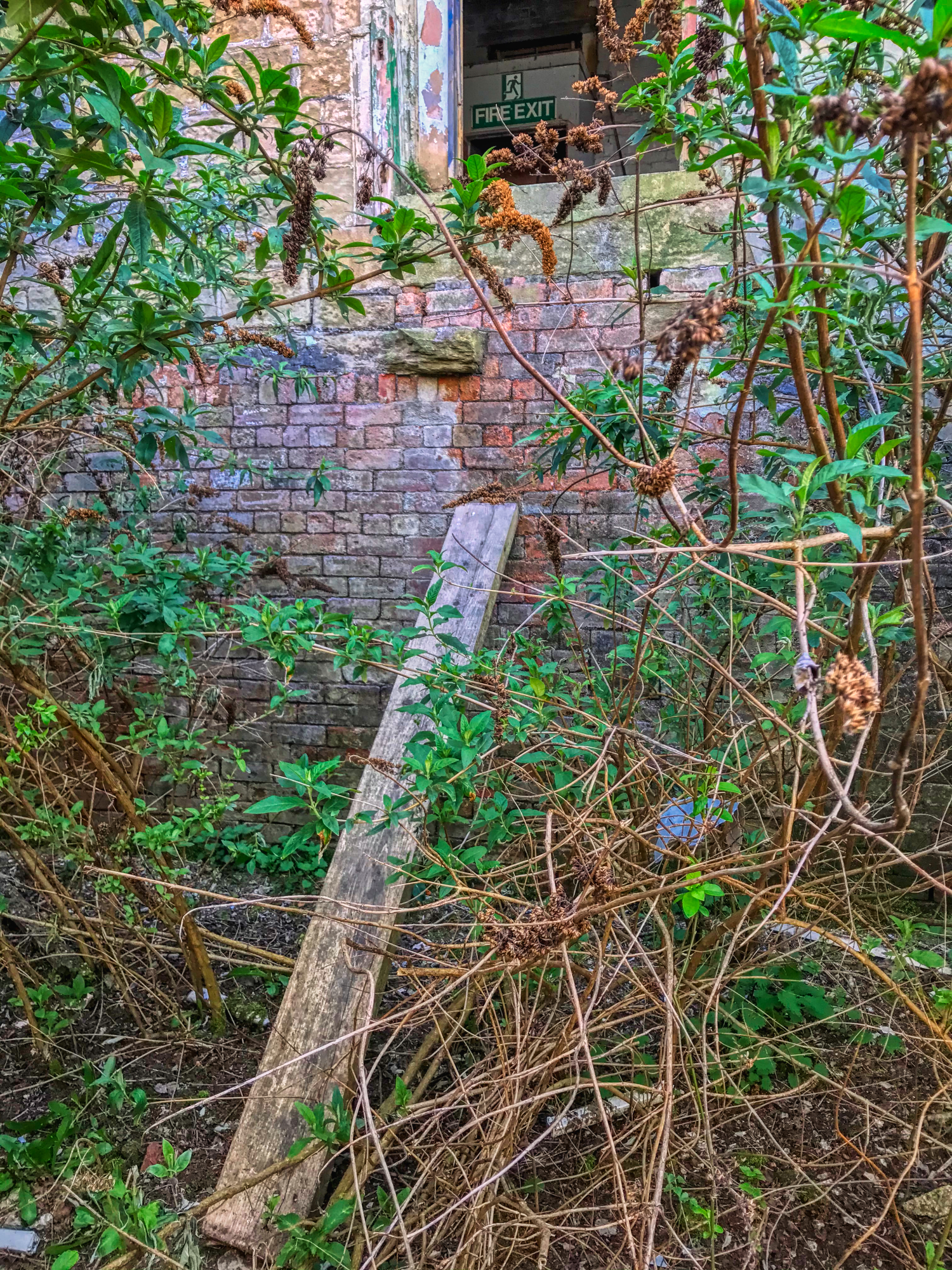 I know my limitations and besides, I could already see 'fire exit' from the outside. Talk about clutching at straws for anything interesting.
It had been a long day and this was our last port of call. Not technically a failure but the most boring of that day's excitement for sure.

Do you like posting your Urbex content and photography for FREE on Facebook and YouTube? I like to get some form of reward for my work and every time I create I do just that. Take a look at The Urbex Community on HIVE.
If you want to keep creating for FREE then ignore what you are reading. If you want to be like me and gain something other than BUGGER ALL for your work then click here and learn about posting on the HIVE blockchain.


All my 'Tales' content is easy to find on my personal website:
'Tales of the Urban Explorer'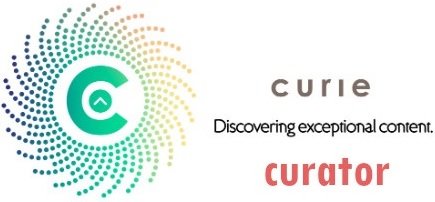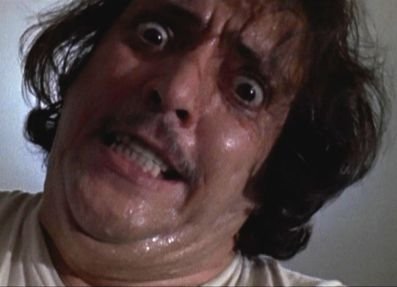 If you found this article so invigorating that you are now a positively googly-eyed, drooling lunatic with dripping saliva or even if you liked it just a bit, then please upvote, comment, rehive, engage me or all of these things.
---
---