Tales of the Urban Explorer: The Industrial Church

Several other explorers have visited 'The Industrial Church' and have been turned away. By whom you may ask?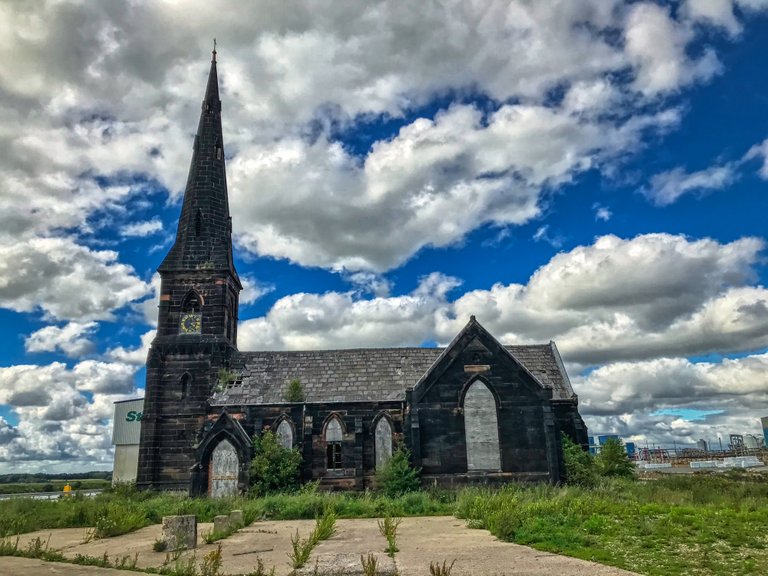 Churches are places of worship so I can only imagine that once upon a time this particular one was not located in the middle of a large industrial estate and that all this has been built around it.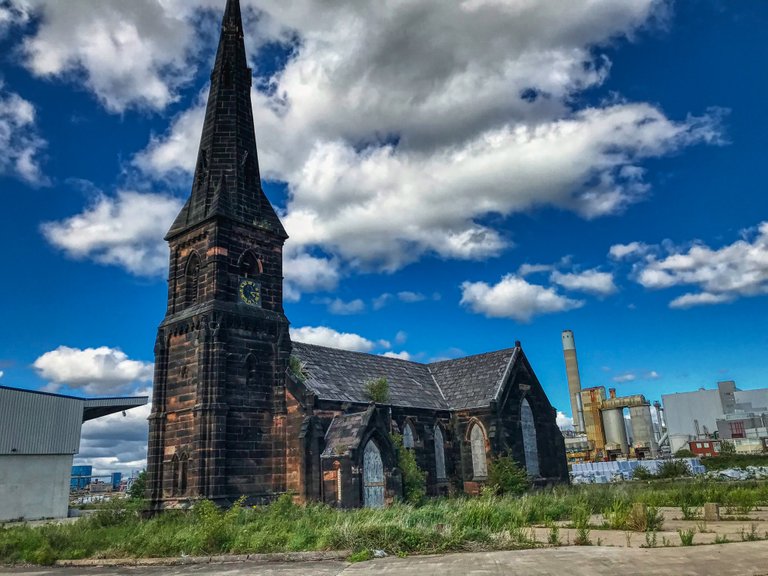 Perhaps this is not the case and the church was built in mind for labourers carting heavy machinery and doing manual labour? Maybe not.
The church was built in 1841 in Gothic style using local sandstone, primarily for the employees of the Weaver Navigation. At that time, the church stood on a headland jutting out into the River Mersey. However the Manchester Ship Canal was built on its river-side, and the Runcorn and Weston Canal on the land-side; access to the church was restricted by the movement of lock gates.
When the lock gates were in use the church was effectively cut off from the mainland, and for this reason, it was said to be the only church in Britain in use standing on an uninhabited island. The church was declared redundant in 1995 and later deconsecrated.
To get close to 'The Industrial Church' you need to get through the industrial yard's security who will tell you to 'fuck off' unless you have a great reason to enter.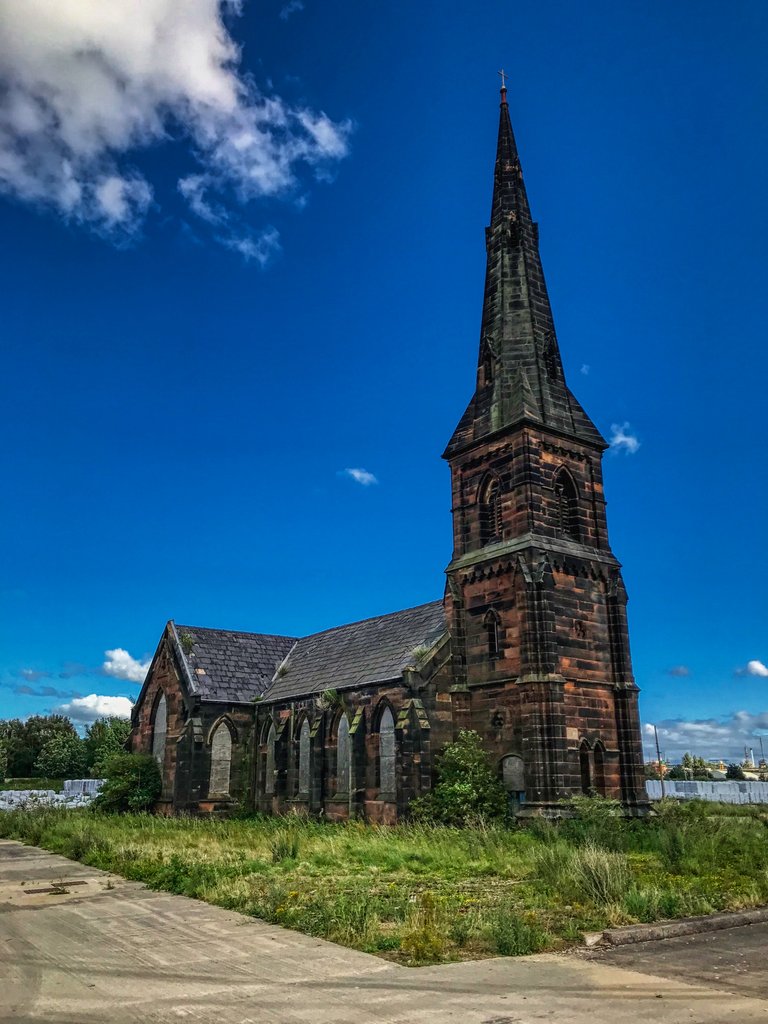 Visiting this abandoned church for any reason at all is not a good reason (according to them), and so you need to visit at the weekend when they are not at work.
At least that is what we did and I guess we were lucky not knowing the rules of entrance beforehand.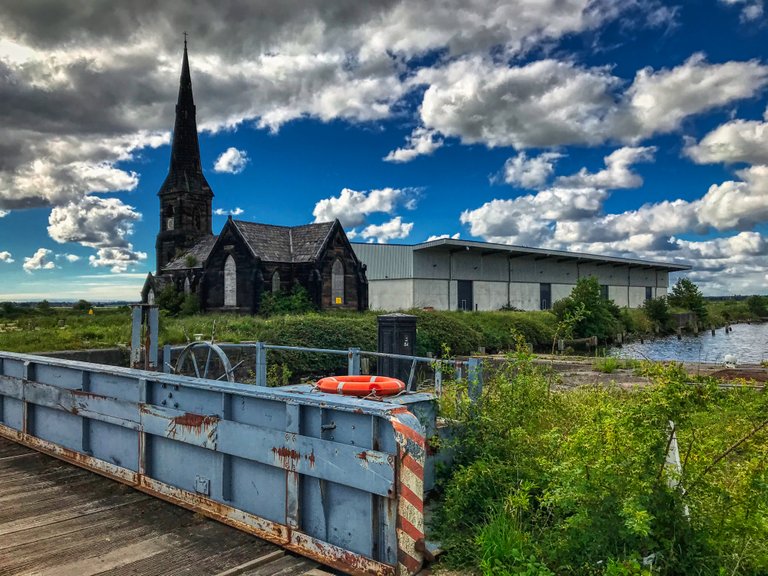 I looked at what I would consider a small church and wondered what had become of it, and why it was even in this location.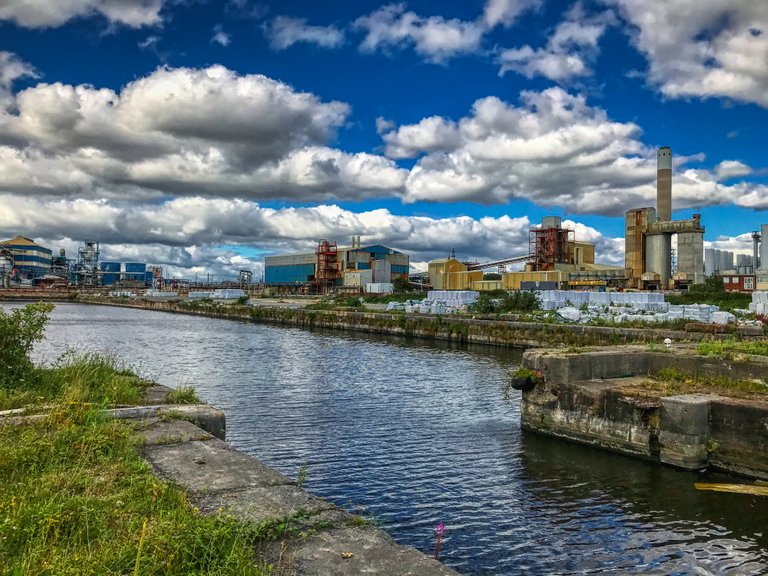 Looking around I could see piles of merchandise on pallets and a sprawling urban landscape. It seemed so out of place.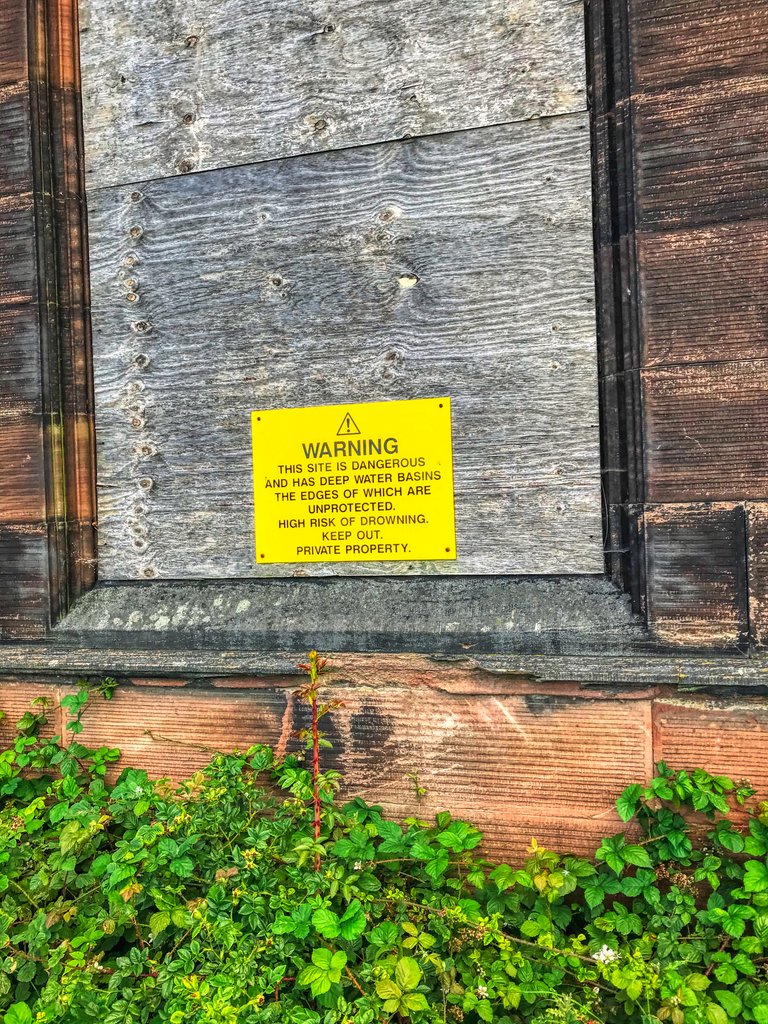 The high risk of drowning did not deter us in the least. After seeing what's inside I consider this yet another bullshit sign to keep the unwanted out.
Getting in was not too difficult though I had to be careful my ball-sack was not pierced with shards of glass. Just one of those hazardous things you need to expect once in a while.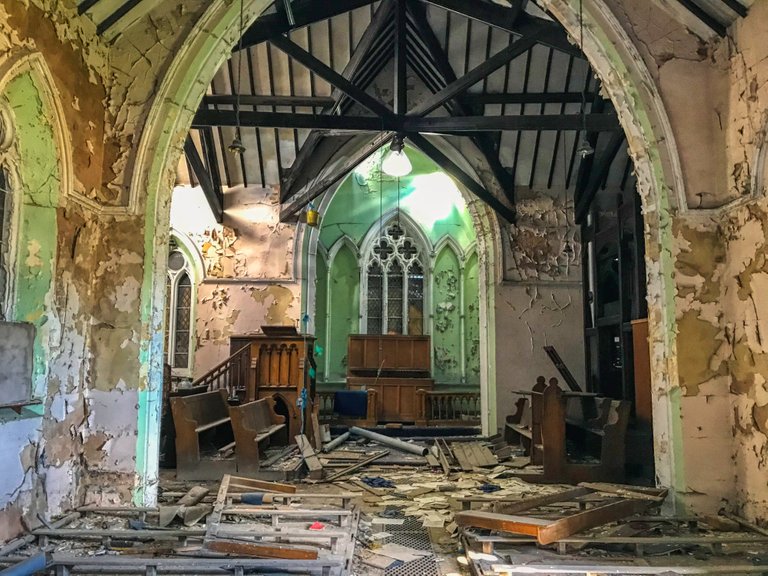 The interior was in better condition than I would have expected. 1995 is 25 years ago, and I was happy to see some signs of human civilization within.
The bell tower appeared to be off-limits once again (I have terrible luck with bell-towers) and so we had to make do with the main church which was quite small.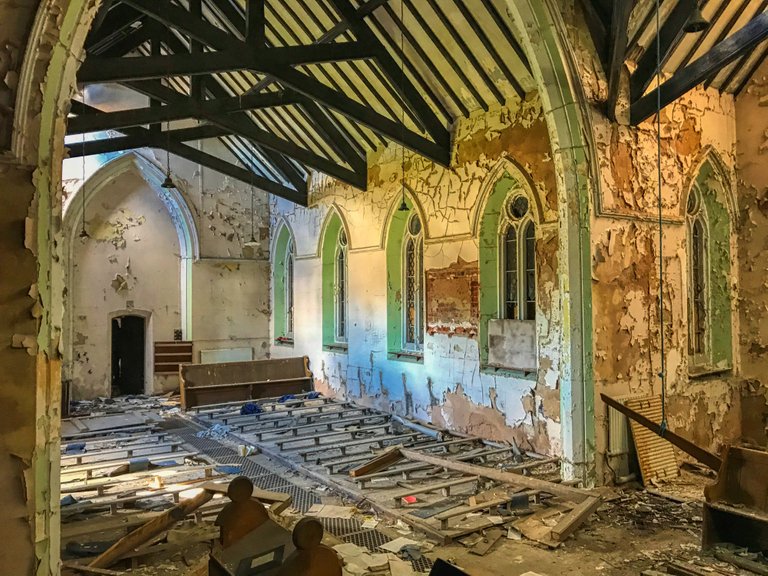 It was light inside and the big light was mostly not needed for once.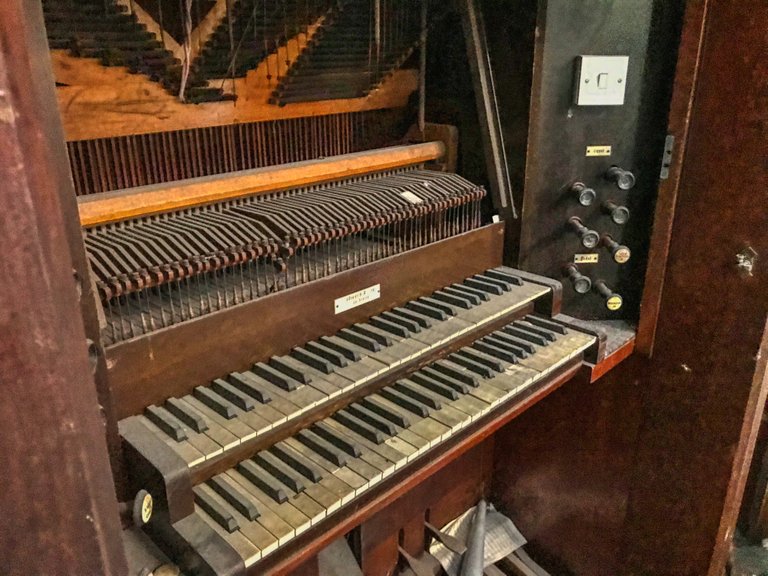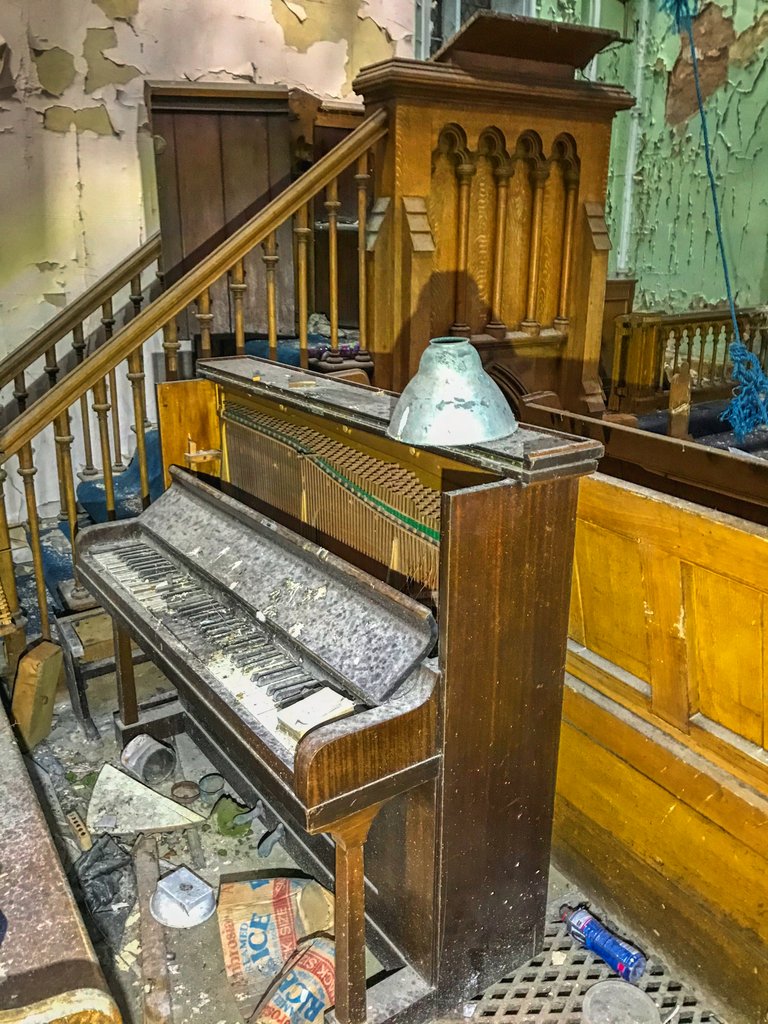 Even a couple of vintage musical instruments were still inside. It must have been sealed up tight for years, or not many had visited.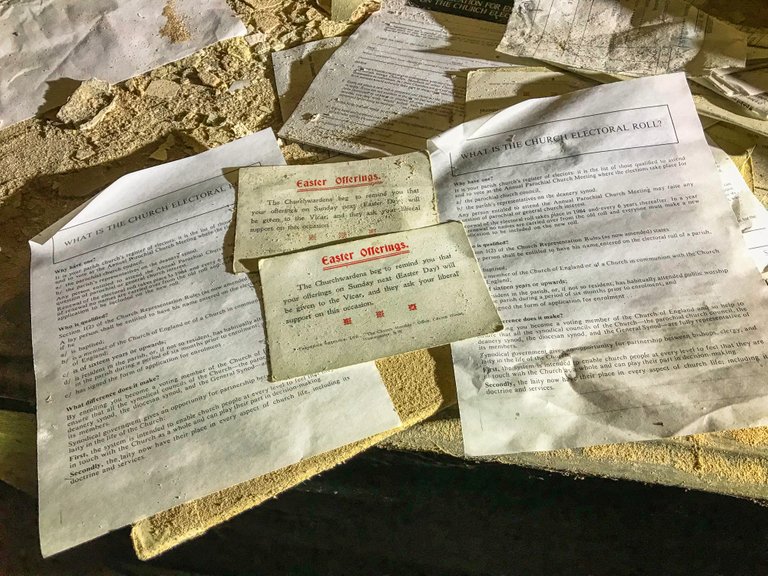 No graffiti and no 'Satan Rules' markings often associated with desecrated churches.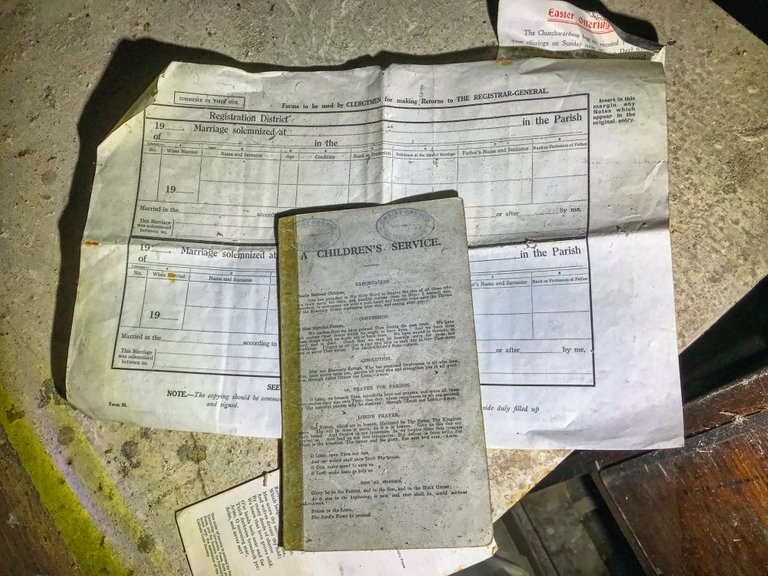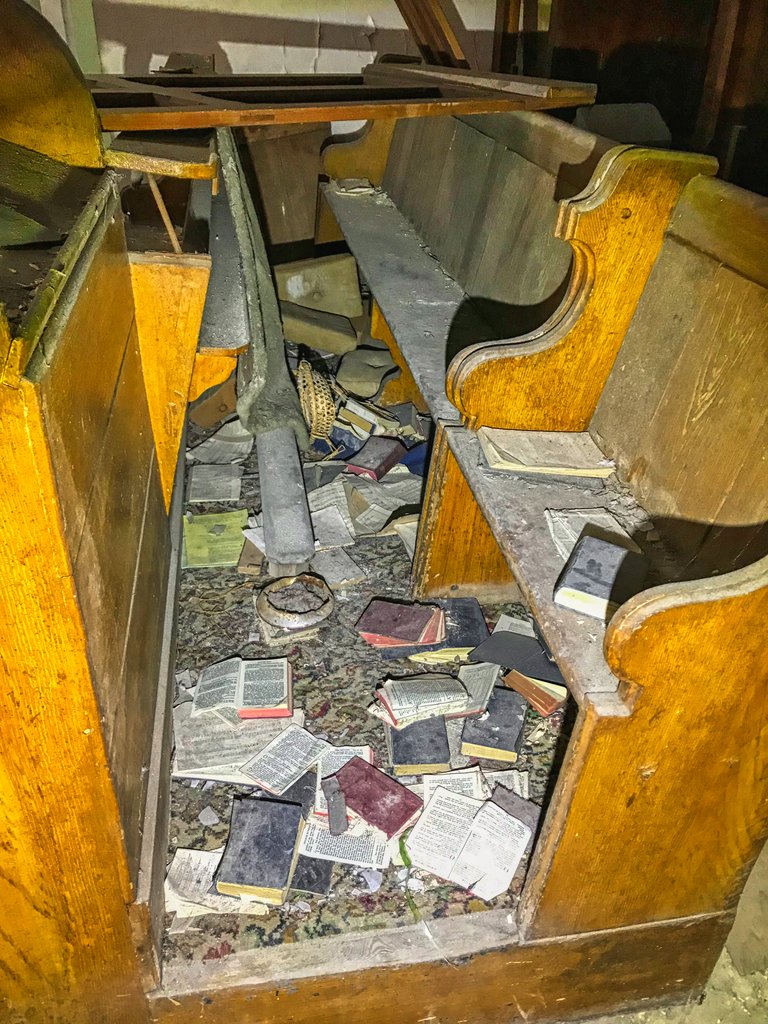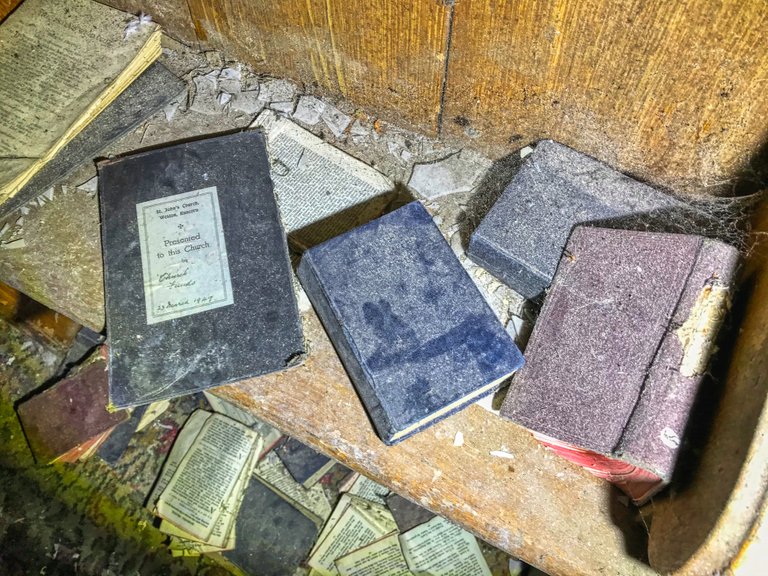 Lots of bibles left behind. What else would you find in a church?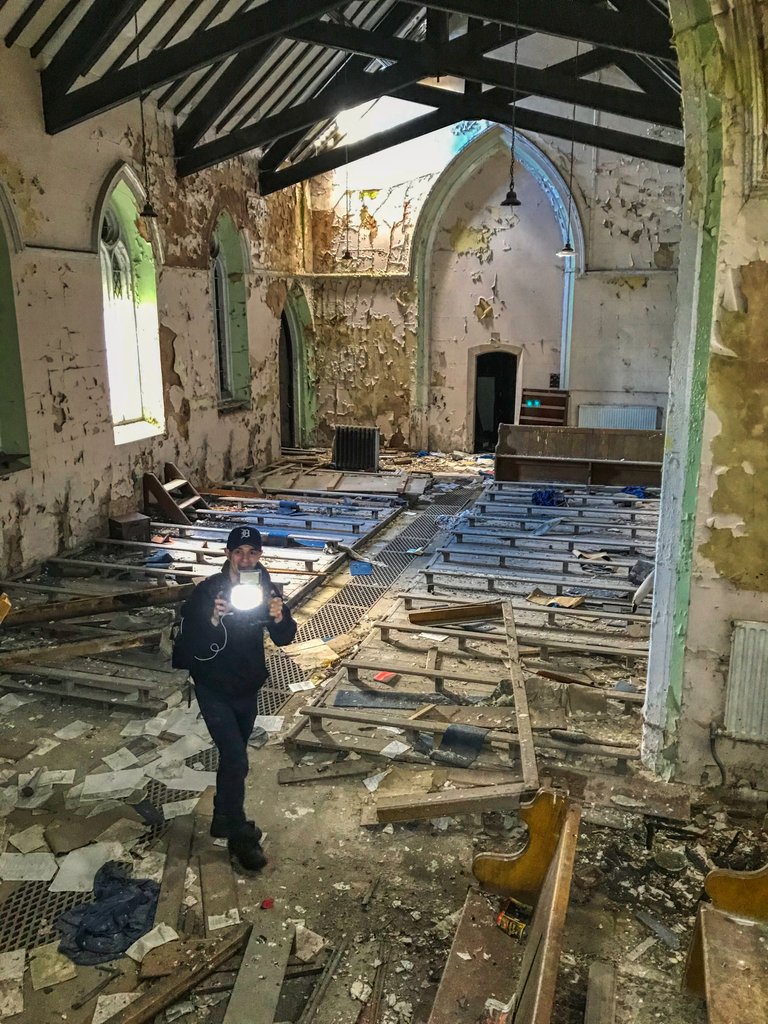 @dizzydiscovery can be a poser at times.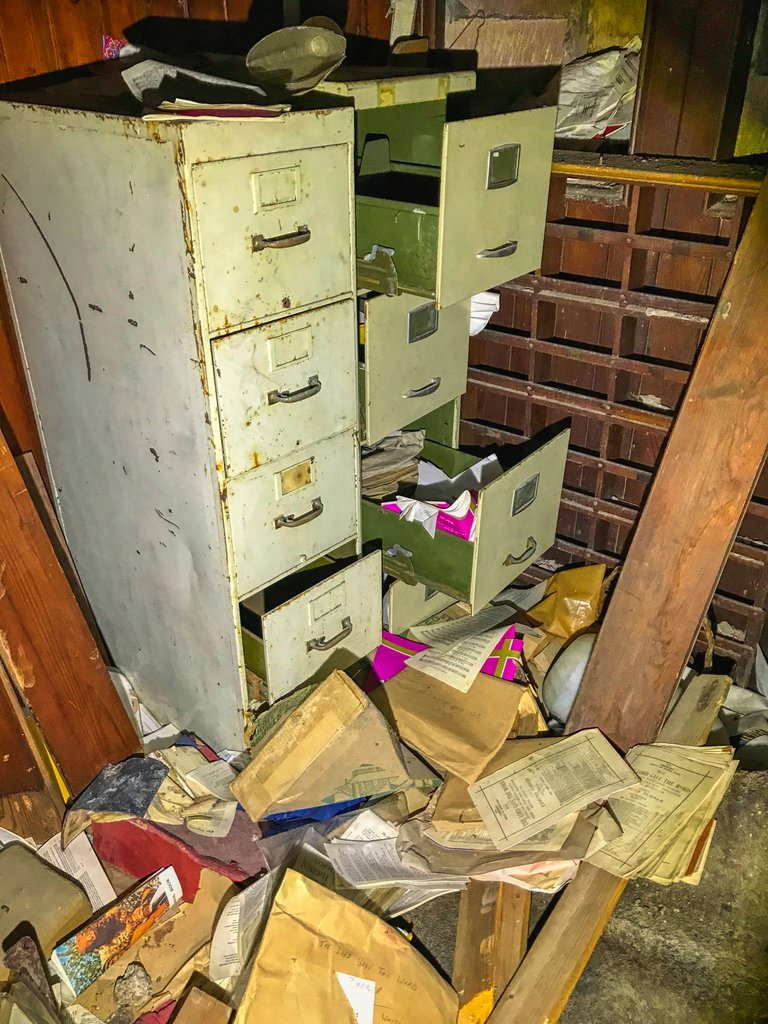 Plenty of stuff to rifle through in the drawers, you need to come back here on a Saturday @grindle!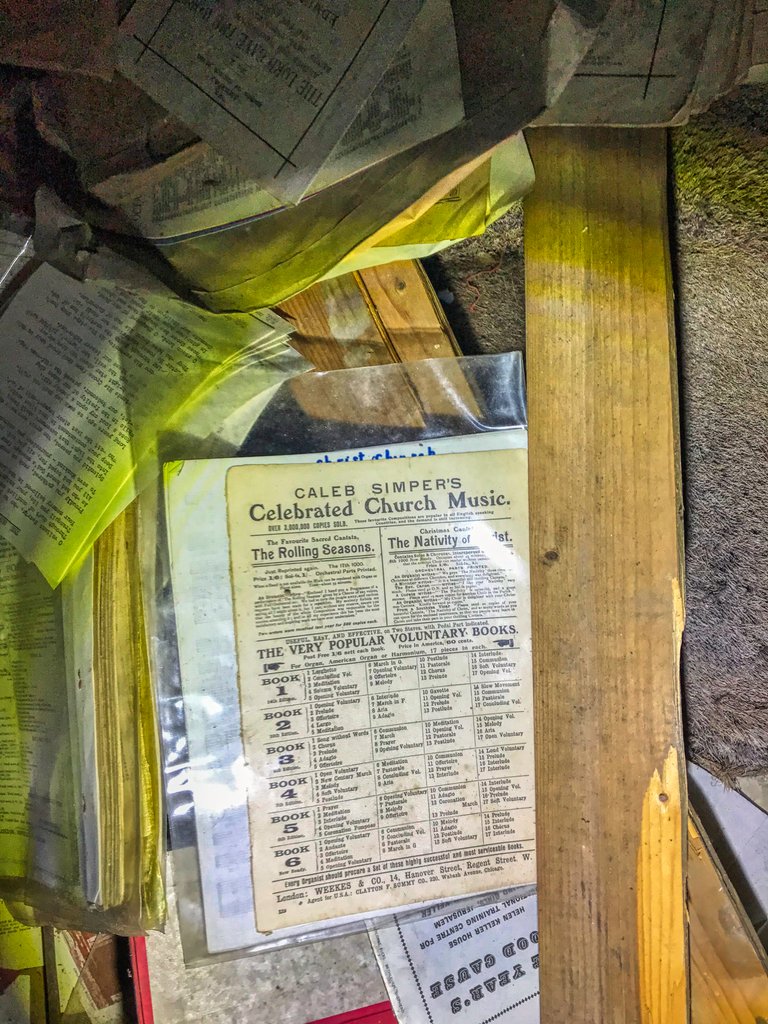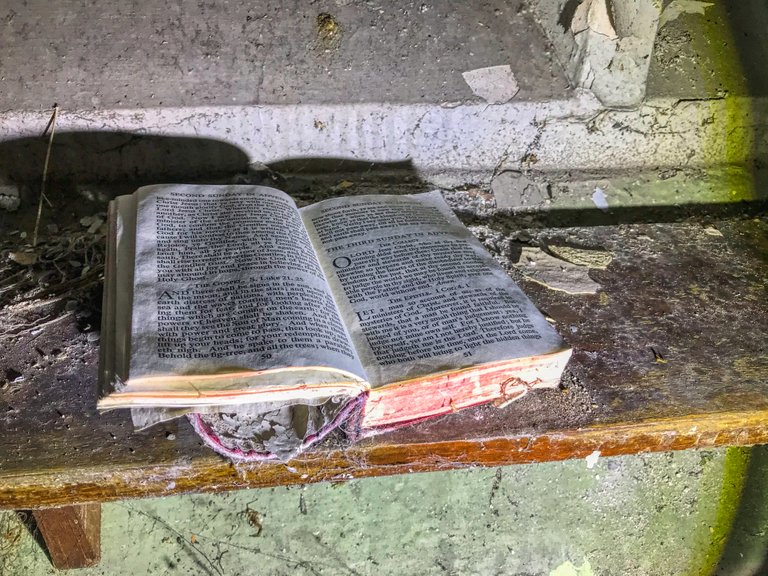 Cobwebs on the bible, I could have gotten a better shot but it's not a bad one.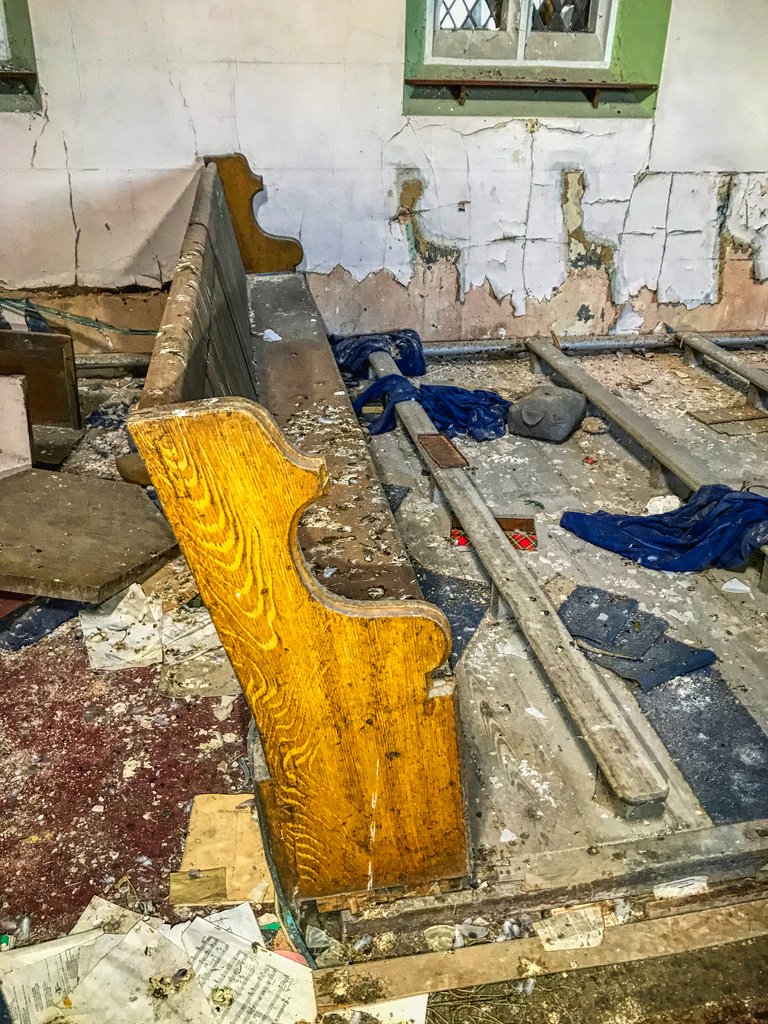 Most of the church pews have vanished; I wonder what happened to them?
This was a strange explore and a quick one as there was one large area and little else inside.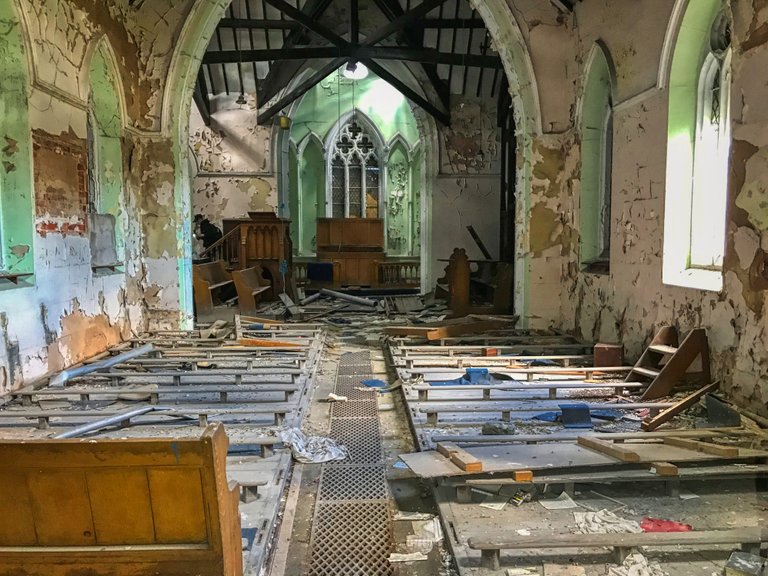 Exiting, I looked around once again. Not a person in sight, no whirring machinery; no sound, no noise. Now if every explore could be like this I would be happy.

Do you like posting your Urbex content and photography for FREE on Facebook and YouTube? I like to get some form of reward for my work and every time I create I do just that. Take a look at The Urbex Community on HIVE.
If you want to keep creating for FREE then ignore what you are reading. If you want to be like me and gain something other than BUGGER ALL for your work then click here and learn about posting on the HIVE blockchain.

Earn FREE EOS from Coinbase by taking partaking in a simple quiz here
Earn currency while you play brewing virtual beer with CryptoBrewMaster
Earn currency while you play and become a global Rock Star with Rising Star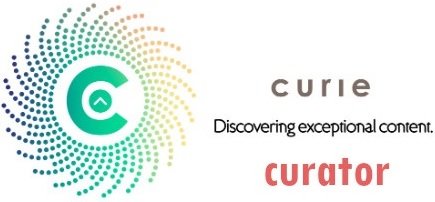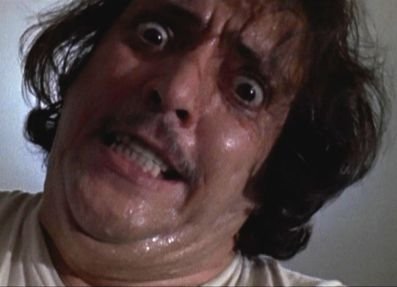 If you found this article so invigorating that you are now a positively googly-eyed, drooling lunatic with dripping saliva or even if you liked it just a bit, then please upvote, comment, rehive, engage me or all of these things.
---
---