Tales of the Urban Explorer: Storthes Wood Lodge
"What's that… with no roof in those woods", I asked @anidiotexplores.
We were looking for an old derp named quite inappropriately, "The Shag Pad" by another explorer and were using Google Maps with it's Satellite view.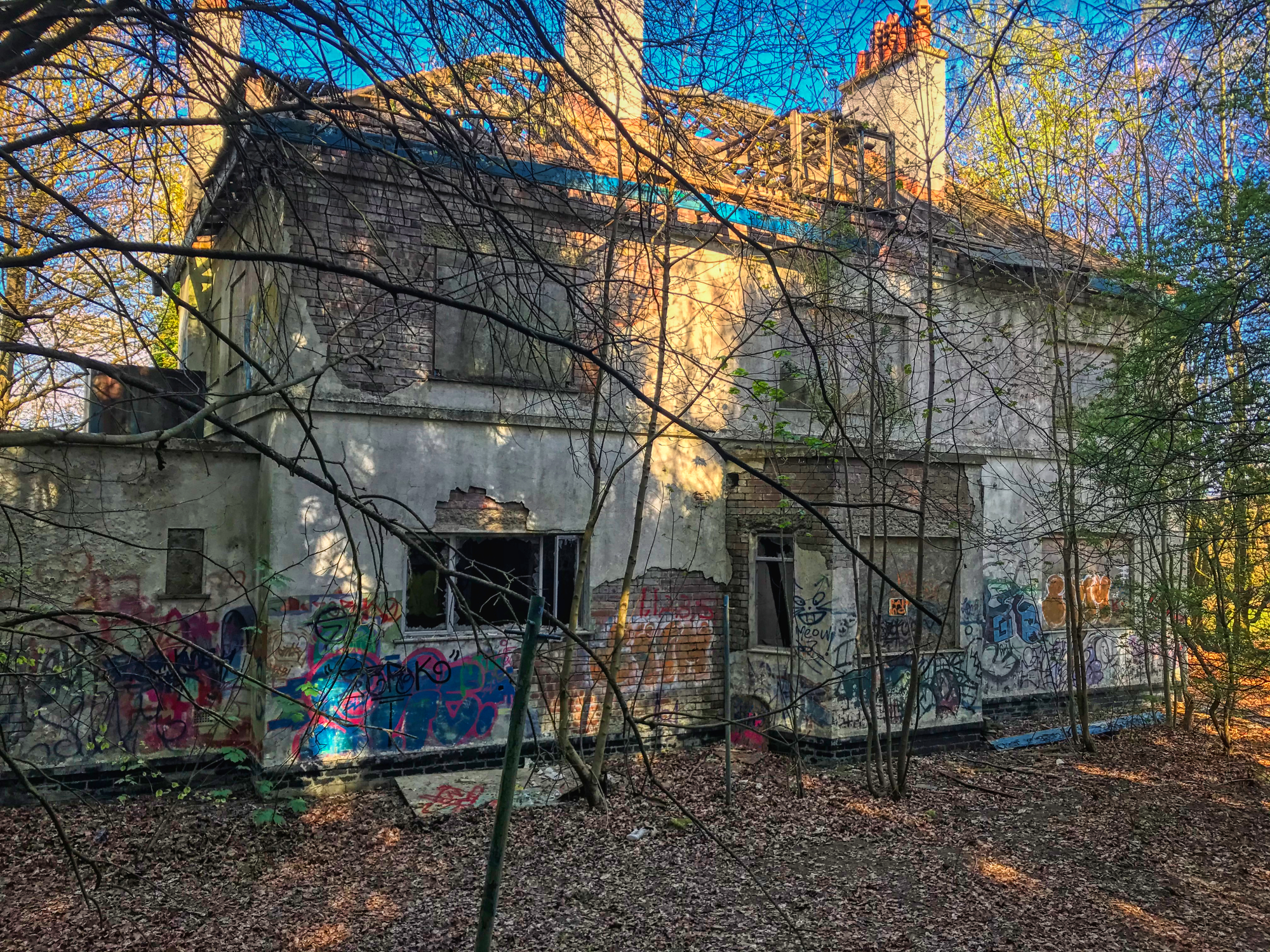 It didn't look anything special but as we were planning to do a mammoth full-day in the area it needed to be checked out.
It did look like our target and was probably dropping to bits. An old gatehouse or lodge perhaps as nearby was one of those stately homes lived in by the affluent.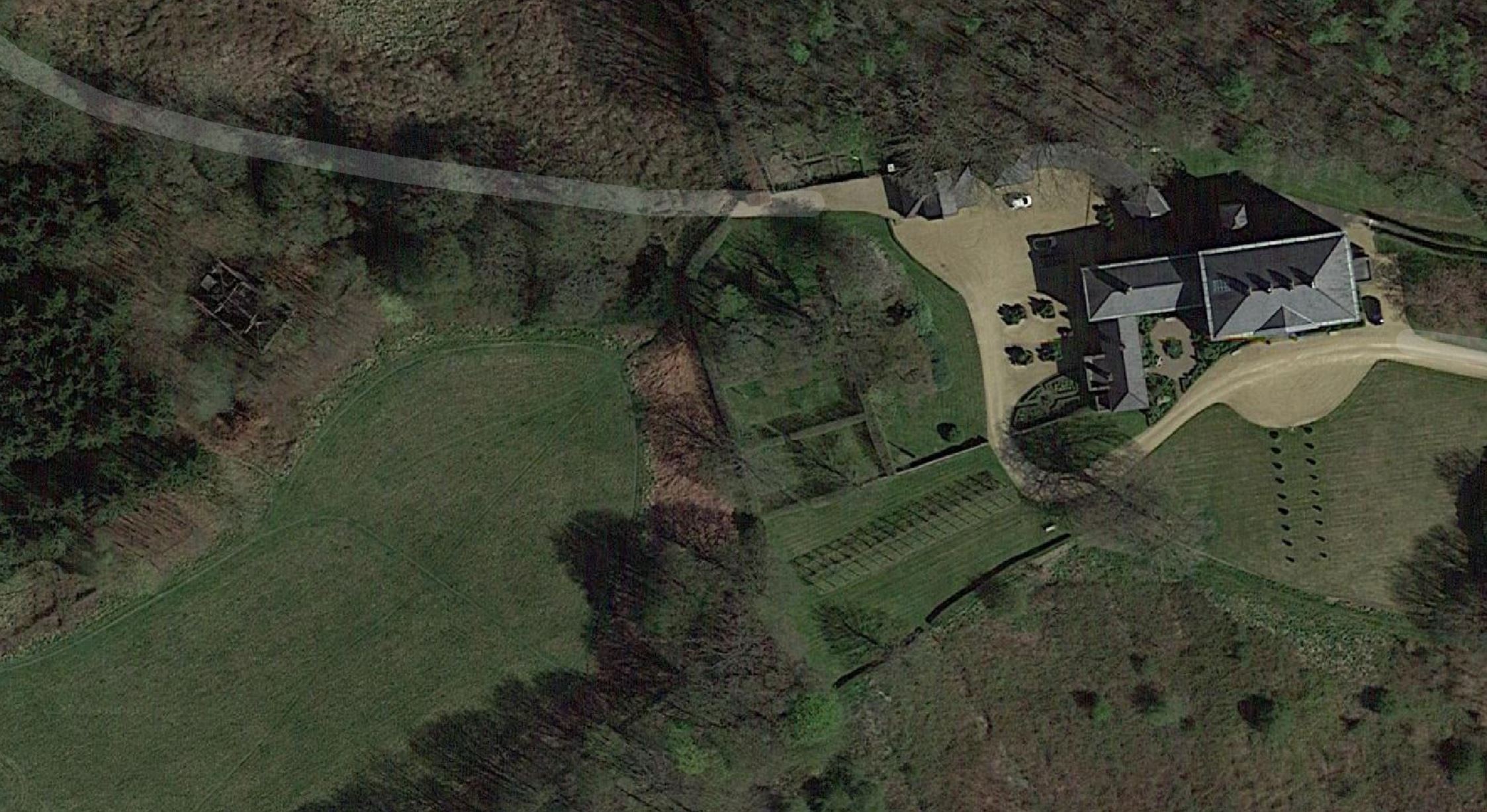 I could see the old road was no longer used and those posh people had another way into their residence.
Still, we would have to be careful as they always have some dogs; dogs, with their ears capable of hearing the likes of us crashing through the undergrowth from the west. Dogs are a bane to explorers.
One of the bad things about summer exploring is the substantial amounts of vegetation you have to stand on to get anywhere.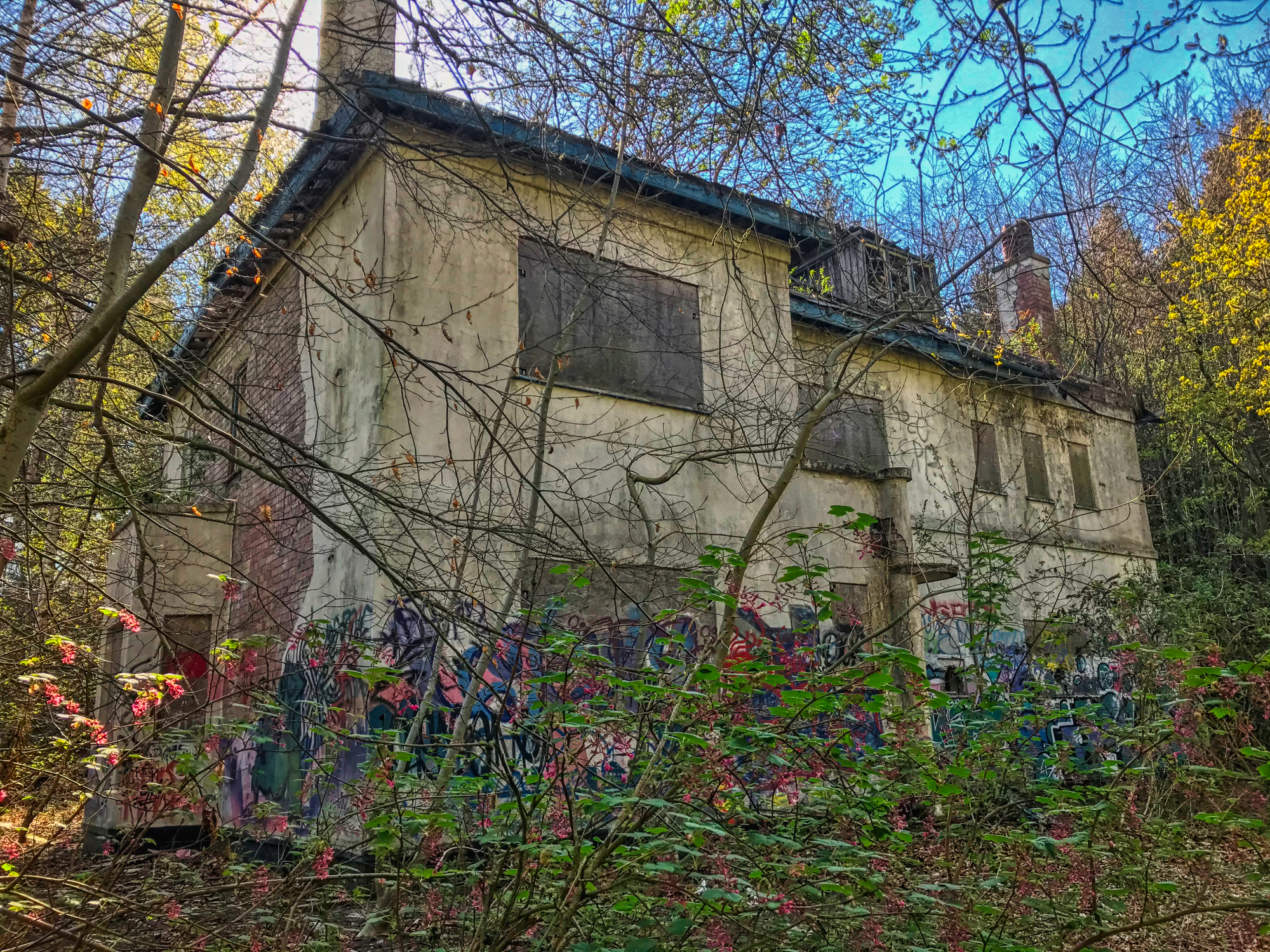 This one was no exception and I was grateful to see emerging in the distance an old rotting house appearing before my eyes.
"No problem accessing this one", came into my thoughts as I brushed away another tree branch intent on poking my eye out.
It looked like a detached council house in the middle of a forest. How weird?
Even if it was dropping apart I could see a lot of graffiti everywhere. They had gone to town on this one.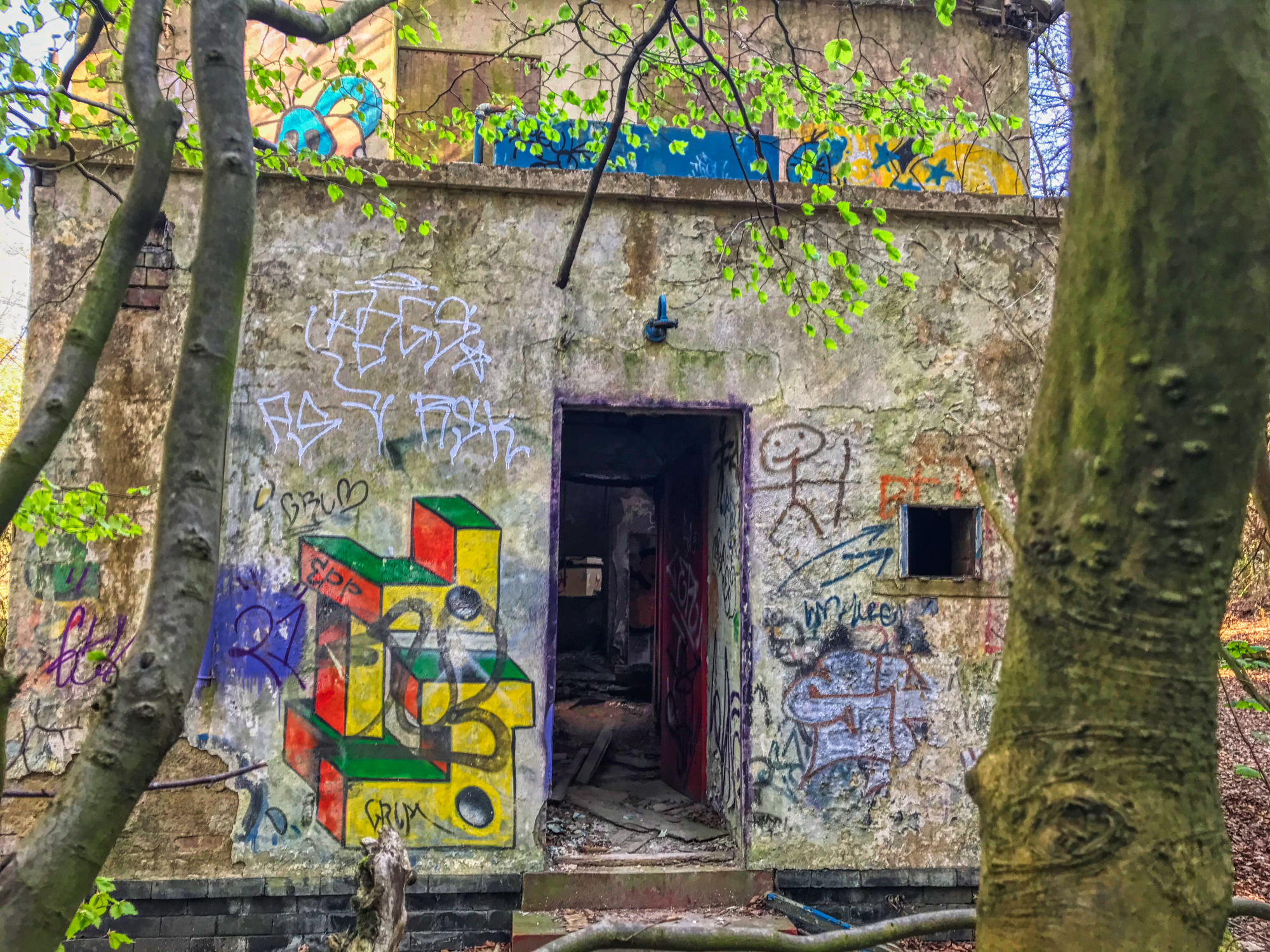 Would we have to climb through a window? No need if the door is… erm gone.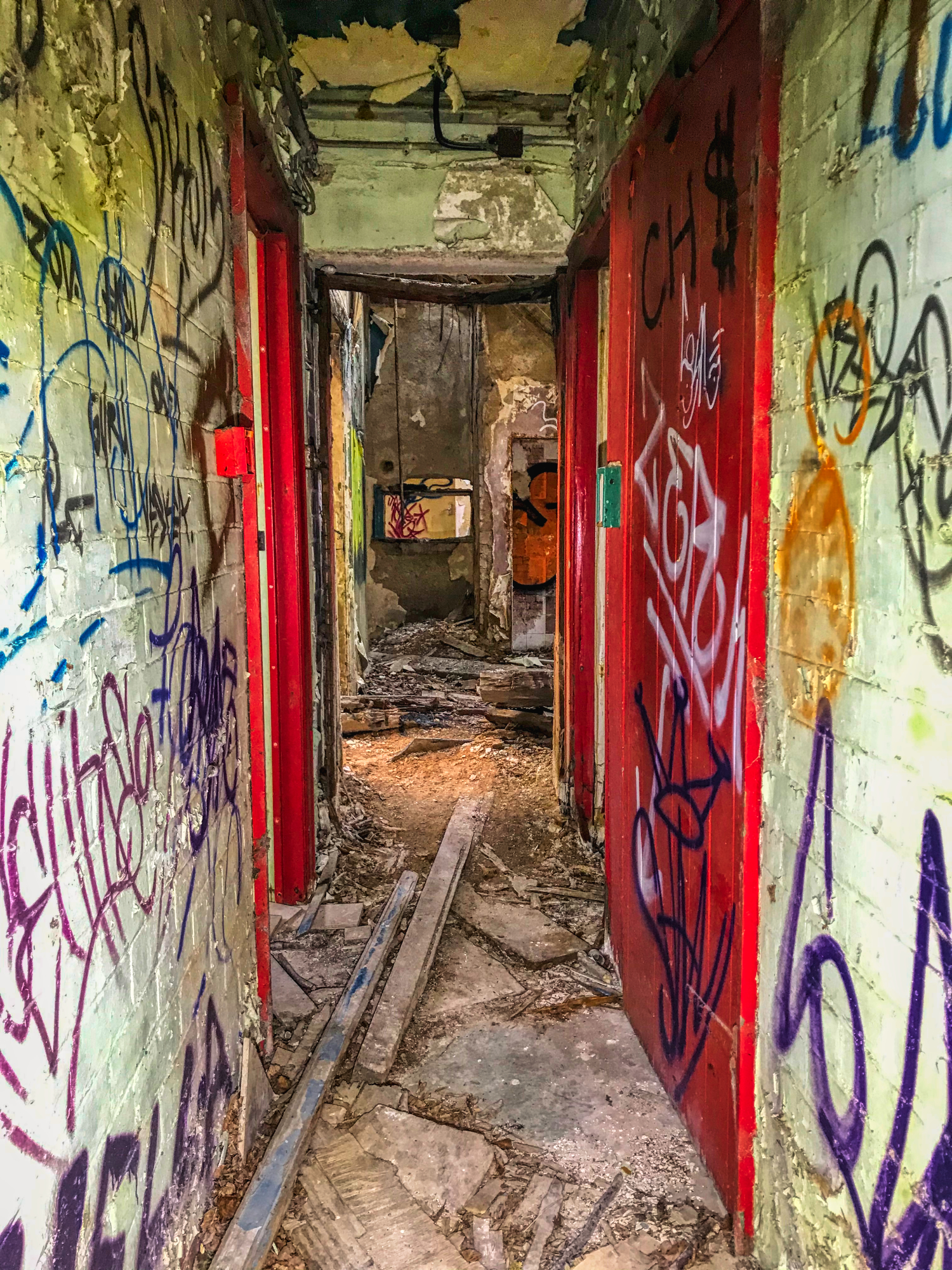 I wondered just how many scribblers had been here. Was it many or just a few that had brought twenty cans of spray paint each?
The chair looked out of place. Had it been brought here with purpose? I inspected it and found no signs of blood, hair, or decapitated limbs.
The mansion was not far away, screams could well be heard easily, and there was no doubt they had dogs.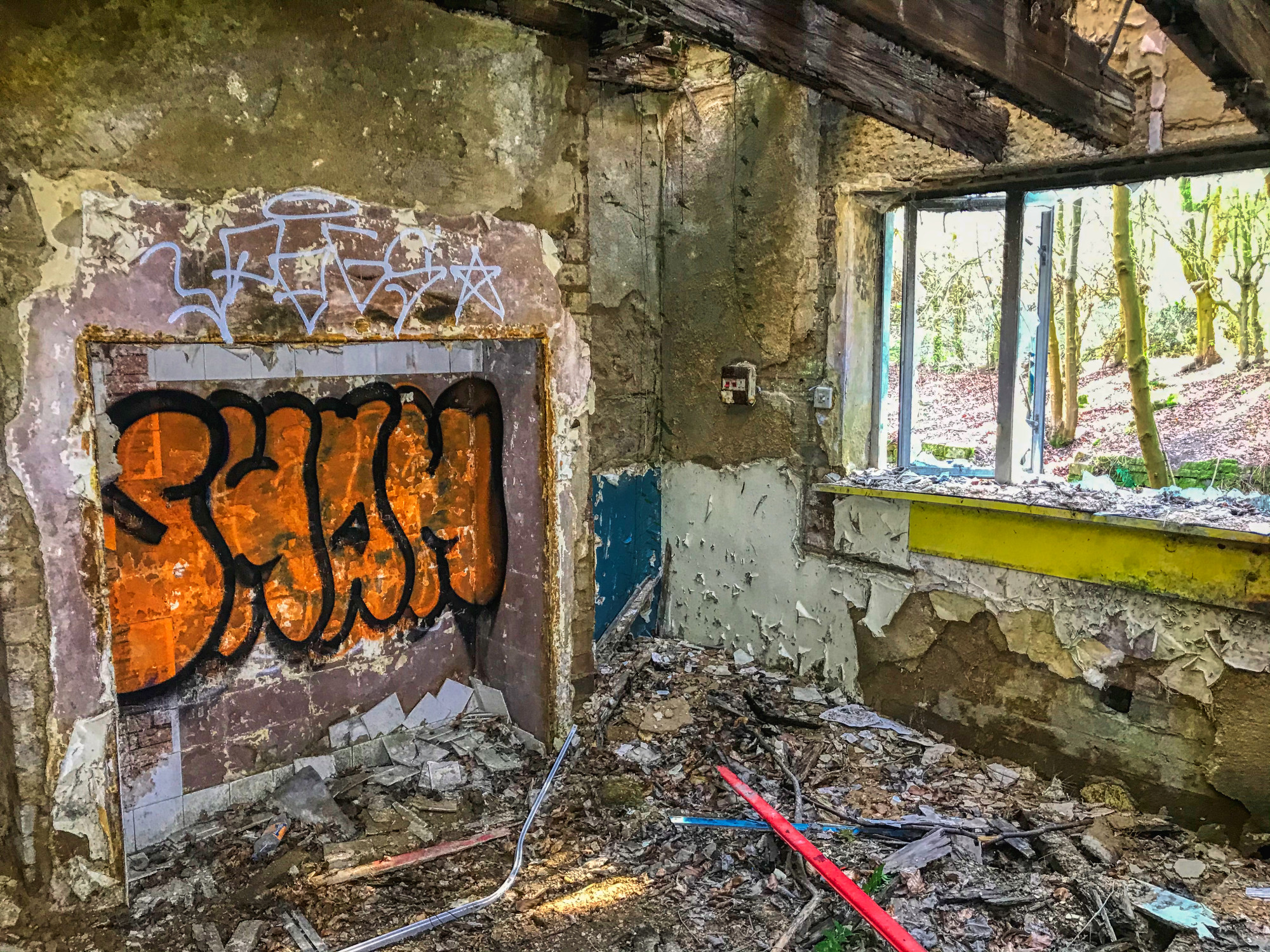 The house was a typical derp and so badly decomposed that upstairs was not going to be an option today.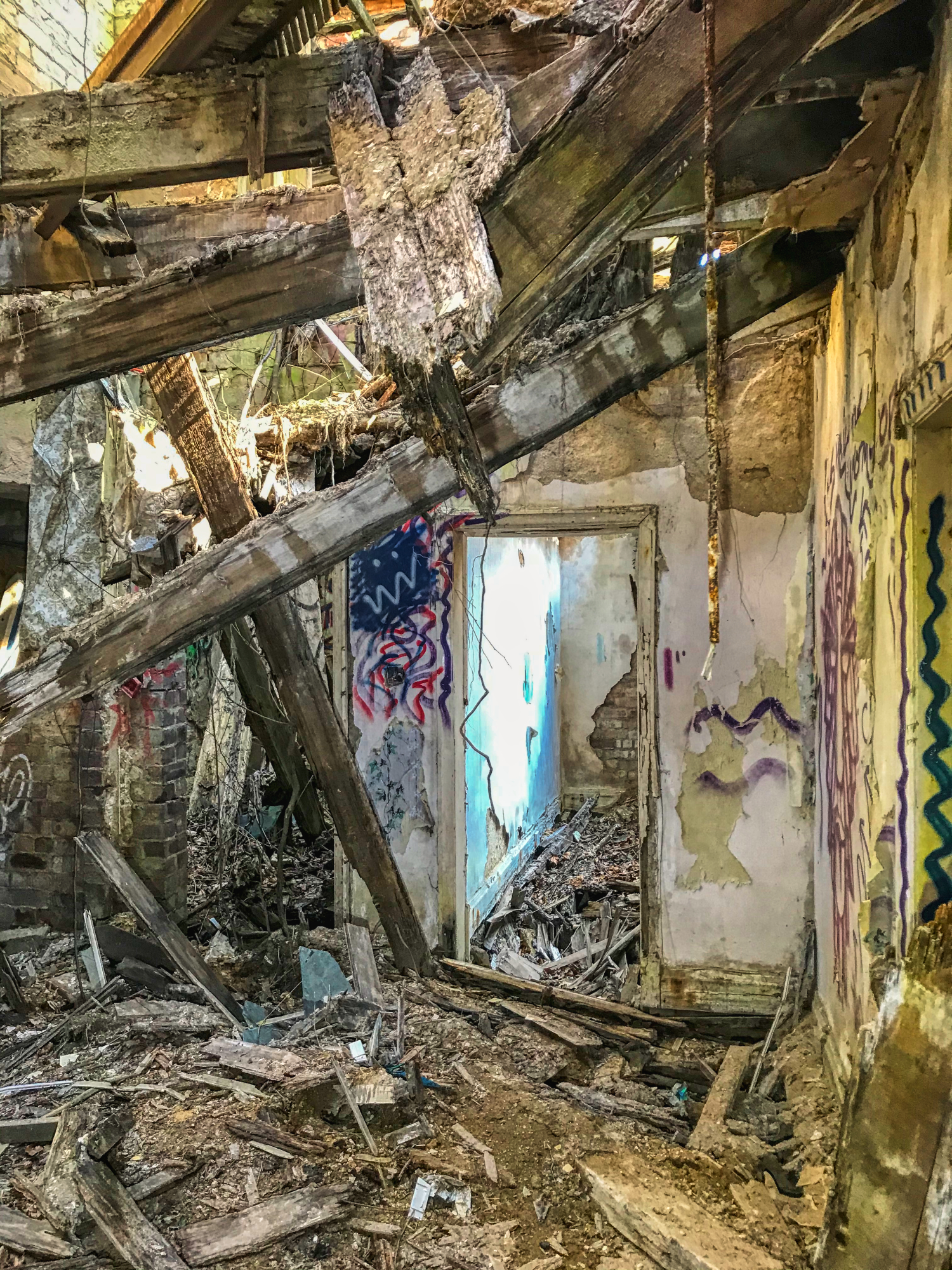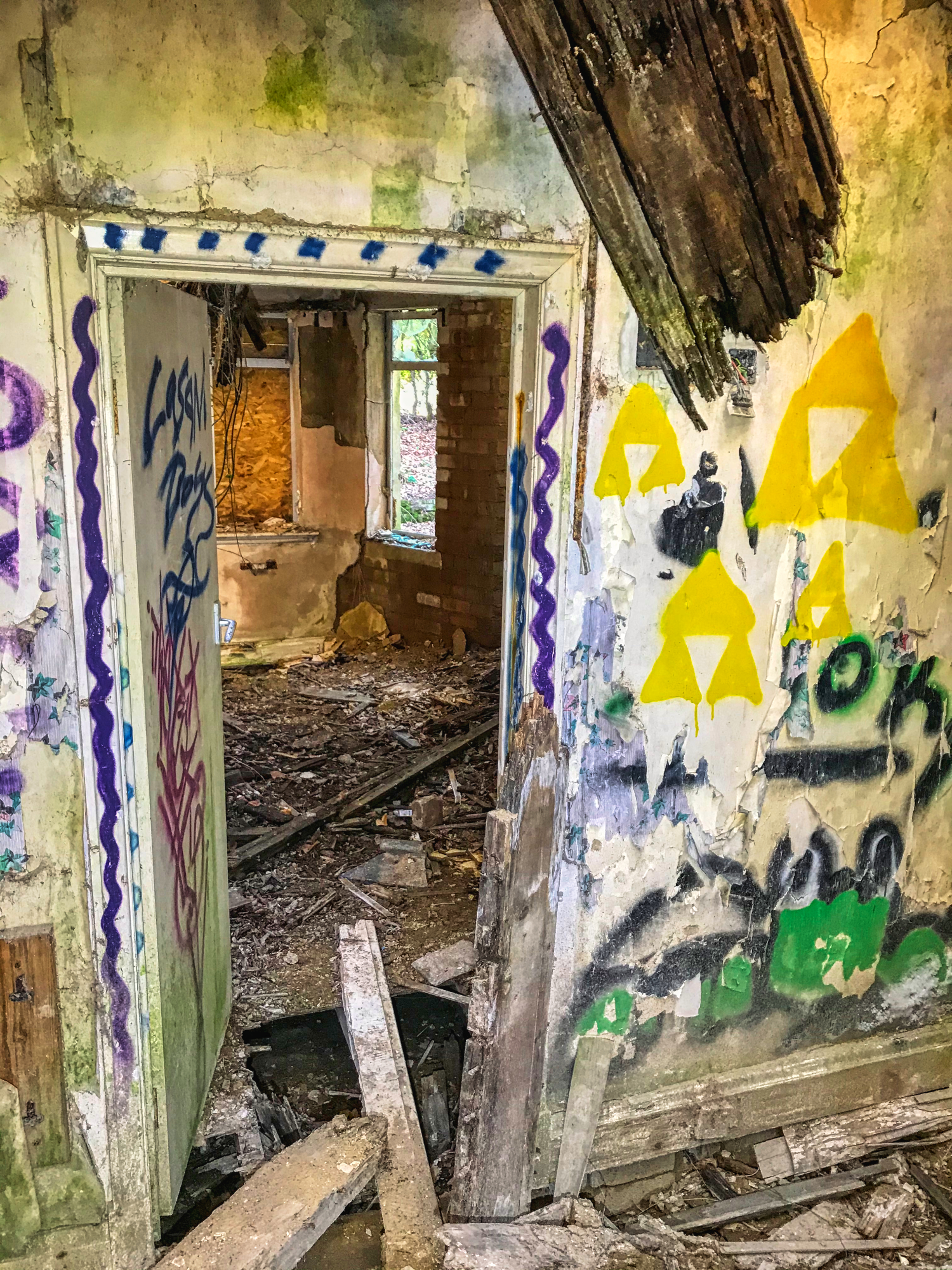 The décor could grow on me; don't you think the wavy purple etching is catchy?
That's a very sixties type old fireplace from the days when we had to add coal and clean the things out daily.
@anidiotexplores tried to get beyond all this into a far room but dislodged the balanced masonry which wobbled violently and threatened to bury him alive. He backed off and gave it a miss.
Not to be discouraged I threaded my body through the fallen beams, and into the other room.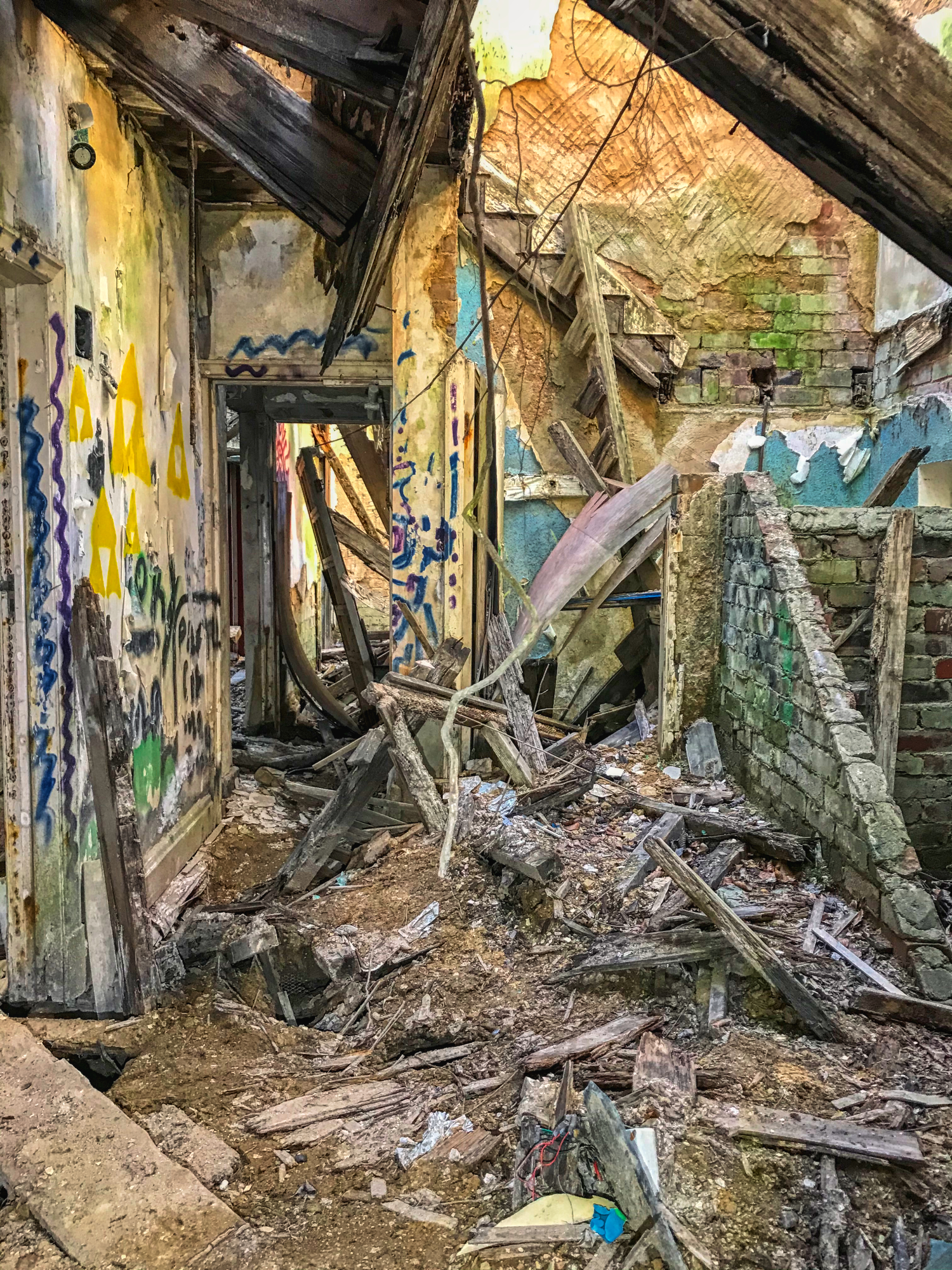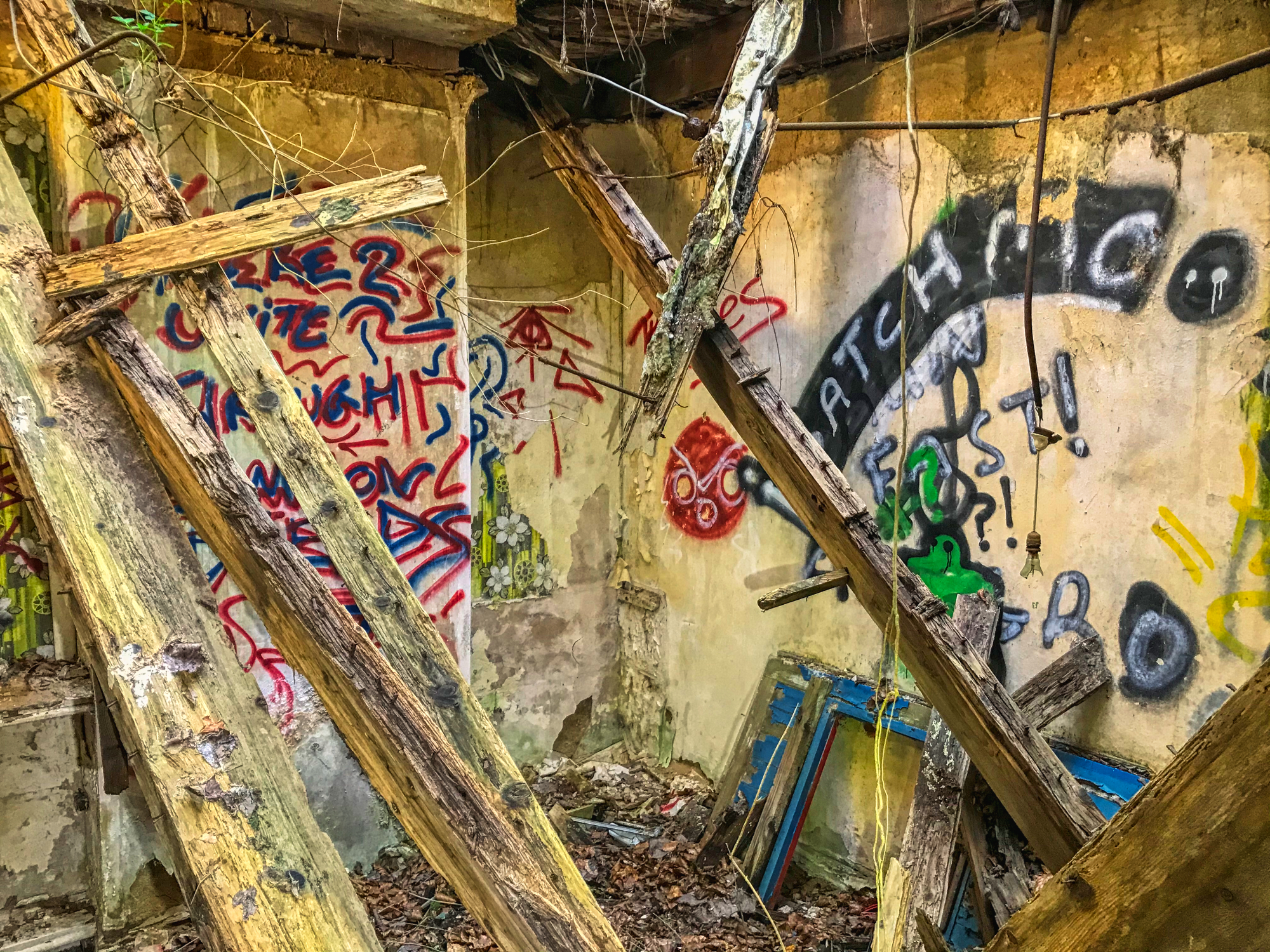 The reward was hardly worth it. More scribbles on the wall, albeit in a different style.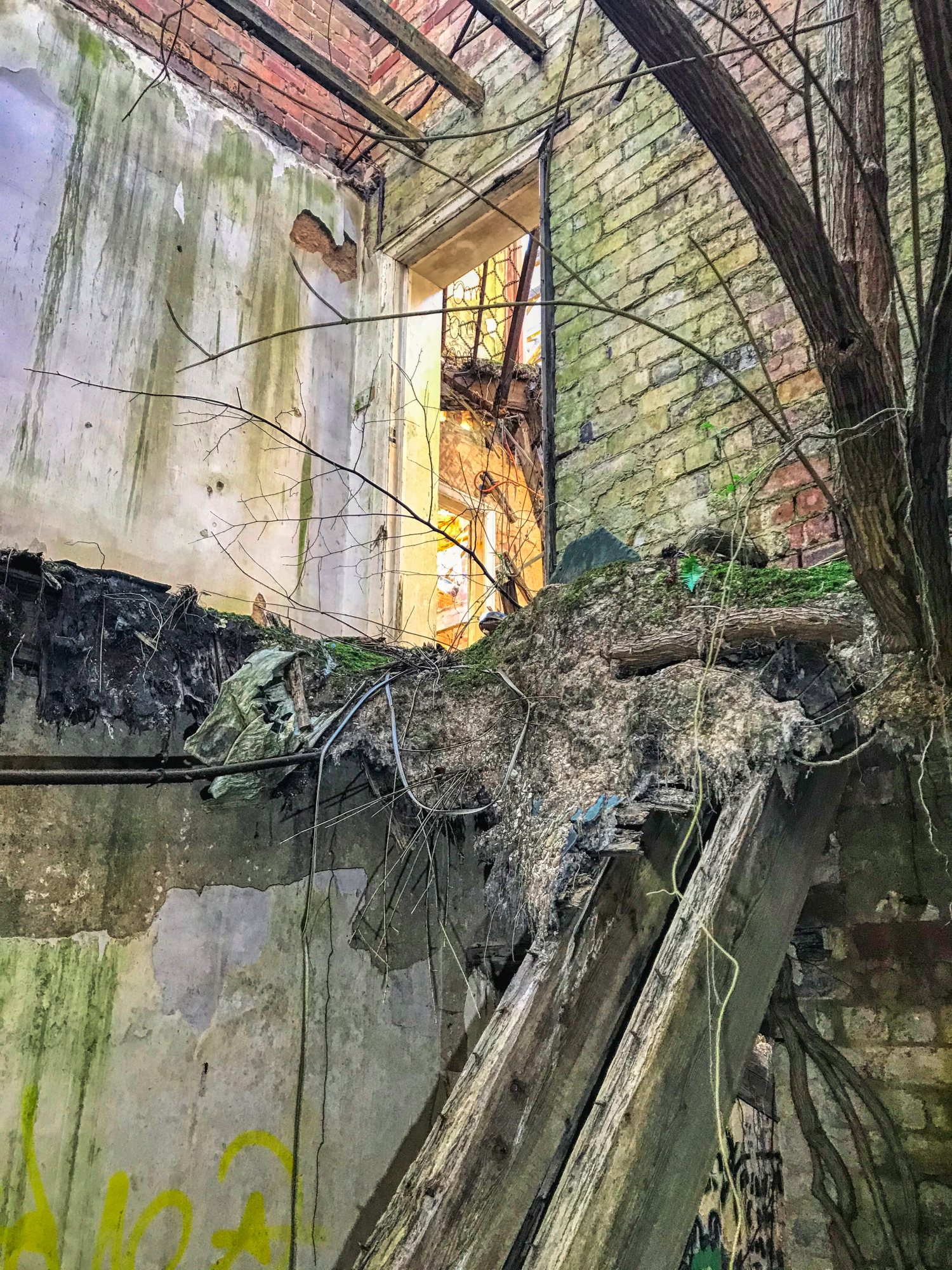 …'could I balance up this beam and get upstairs without holes appearing on the bottoms of my feet?'…
You have to have eyes in the sides of your head in these places. Beams with sharp edges threaten you from all sides. Wood splinters in your cheeks hurt... a bit.
Am I glad there was an accessible door. The window frames were not looking particularly friendly to climbers. I had left those damn gloves in the car again.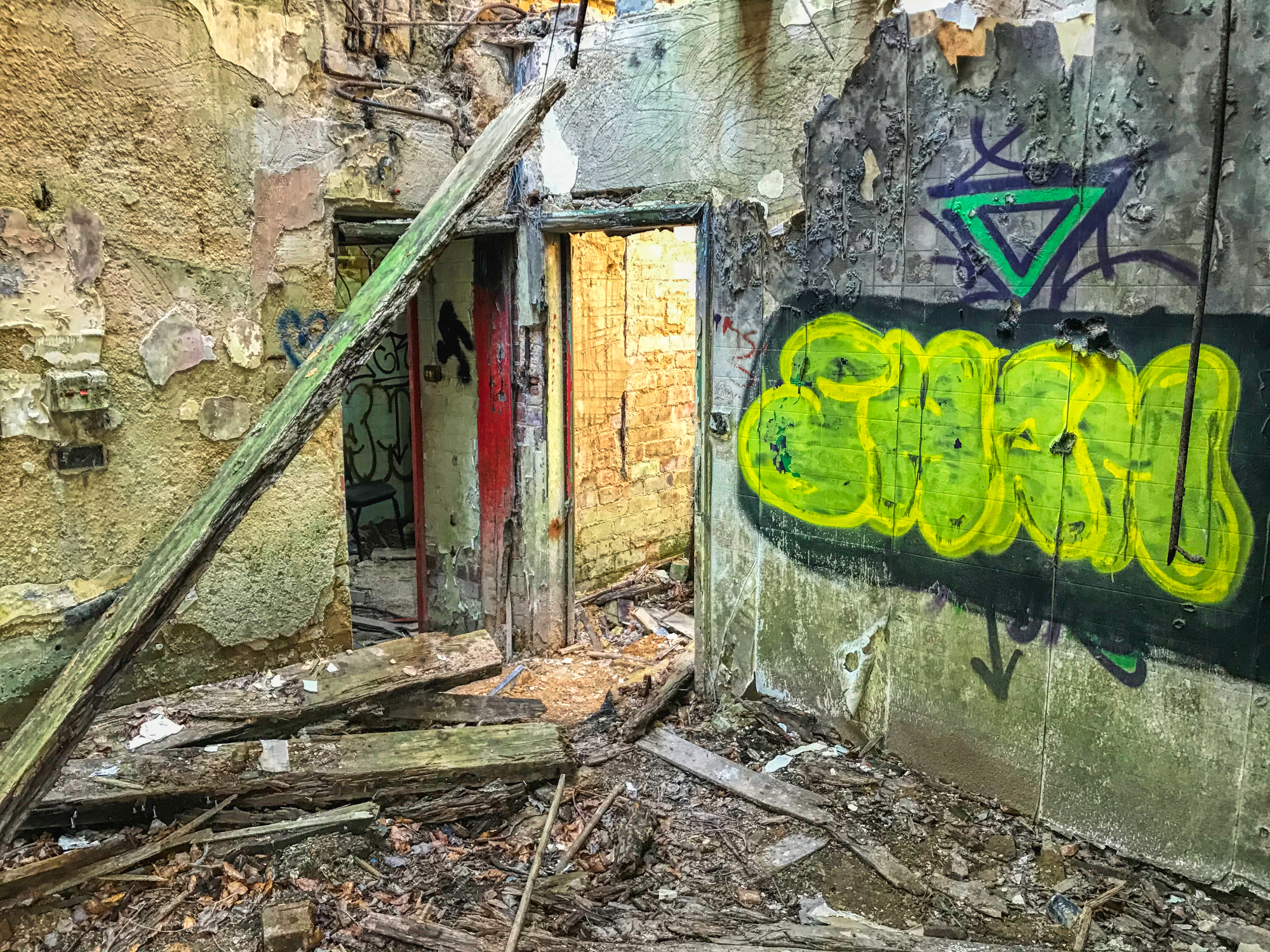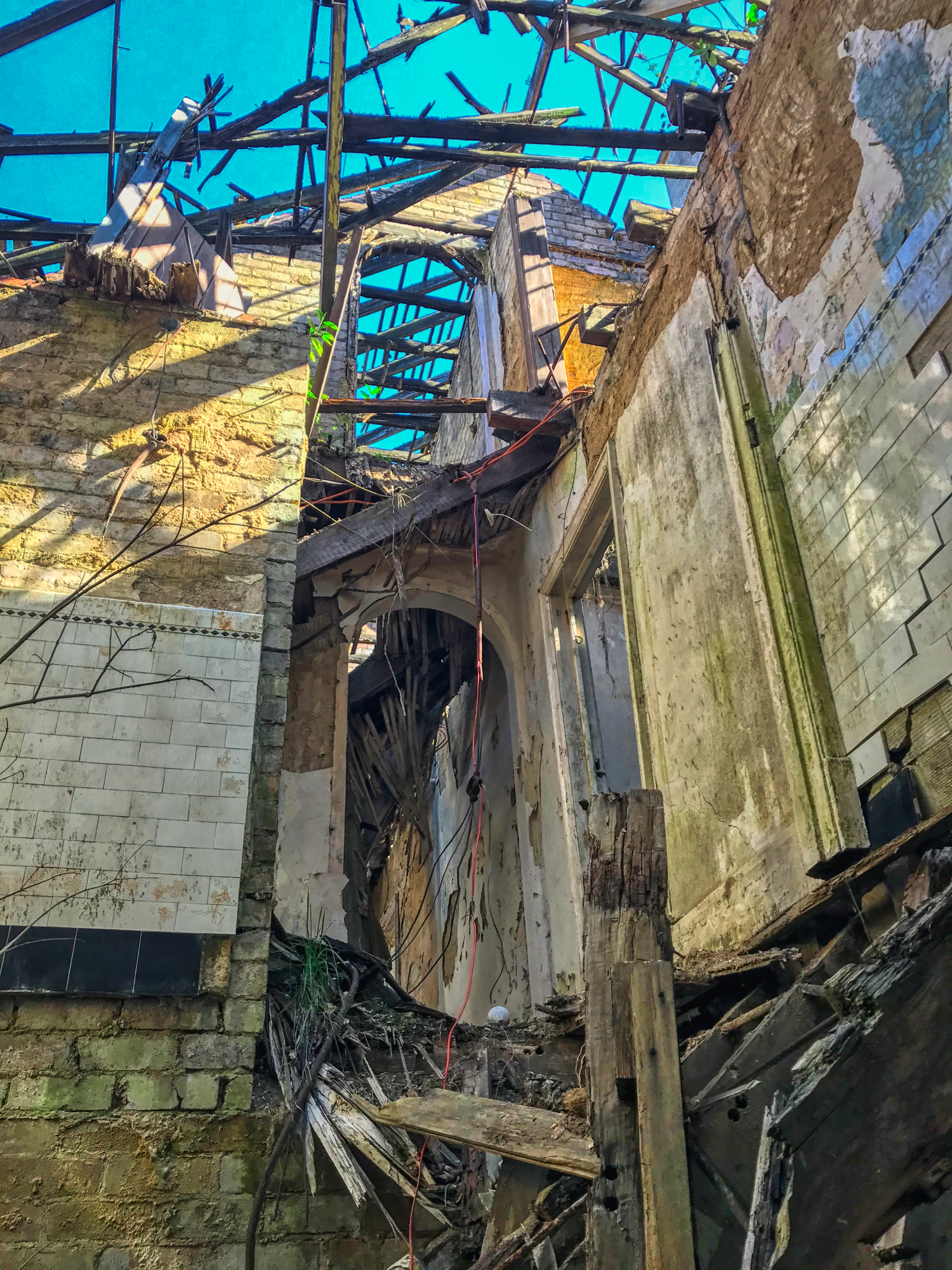 The bathroom was up there on the left. That tiling looks like it was pulled directly from public conveniences. No expense was spared in the decor.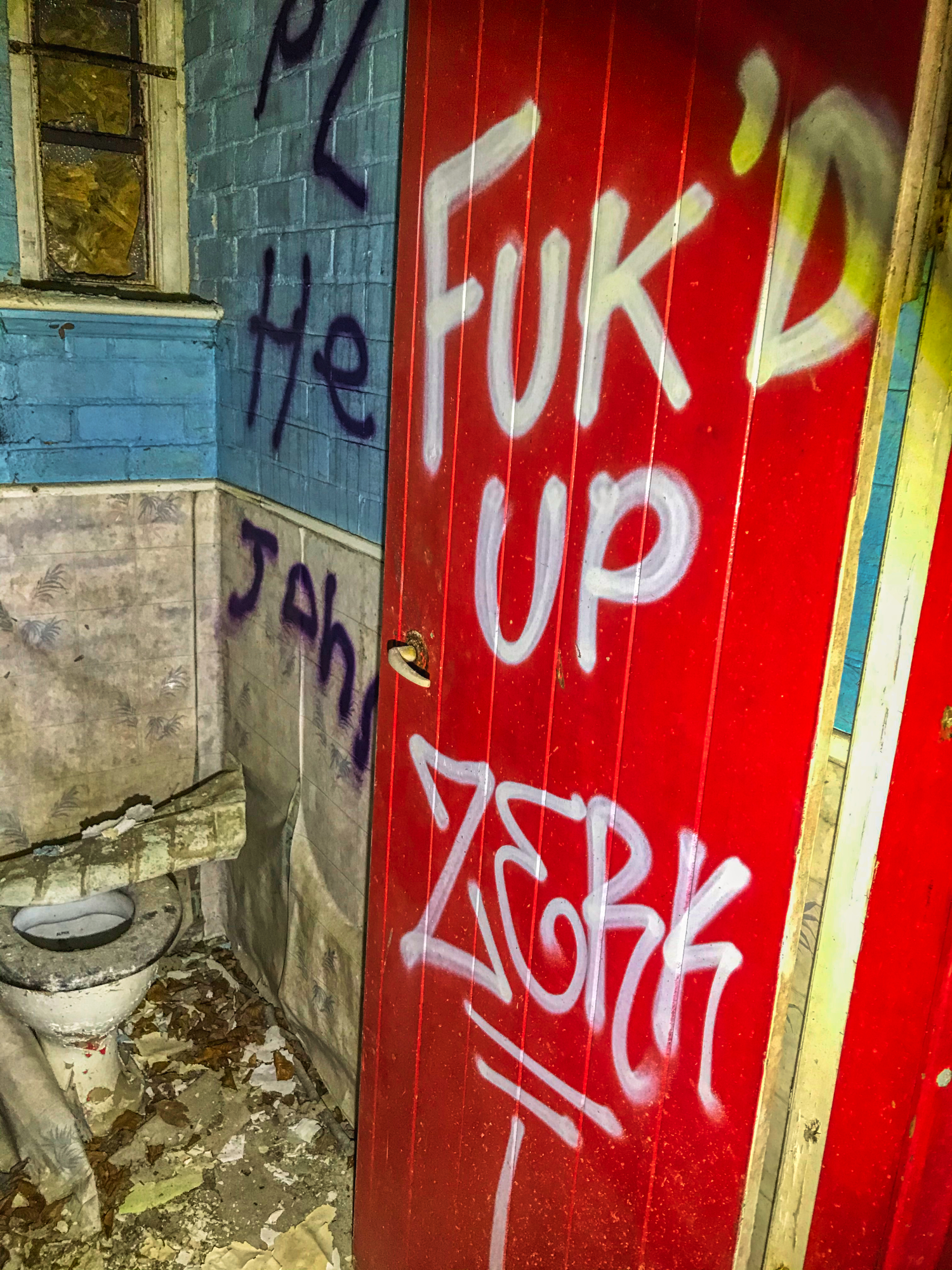 The graffiti level was extreme. This is not an urban location, so where had they all come from?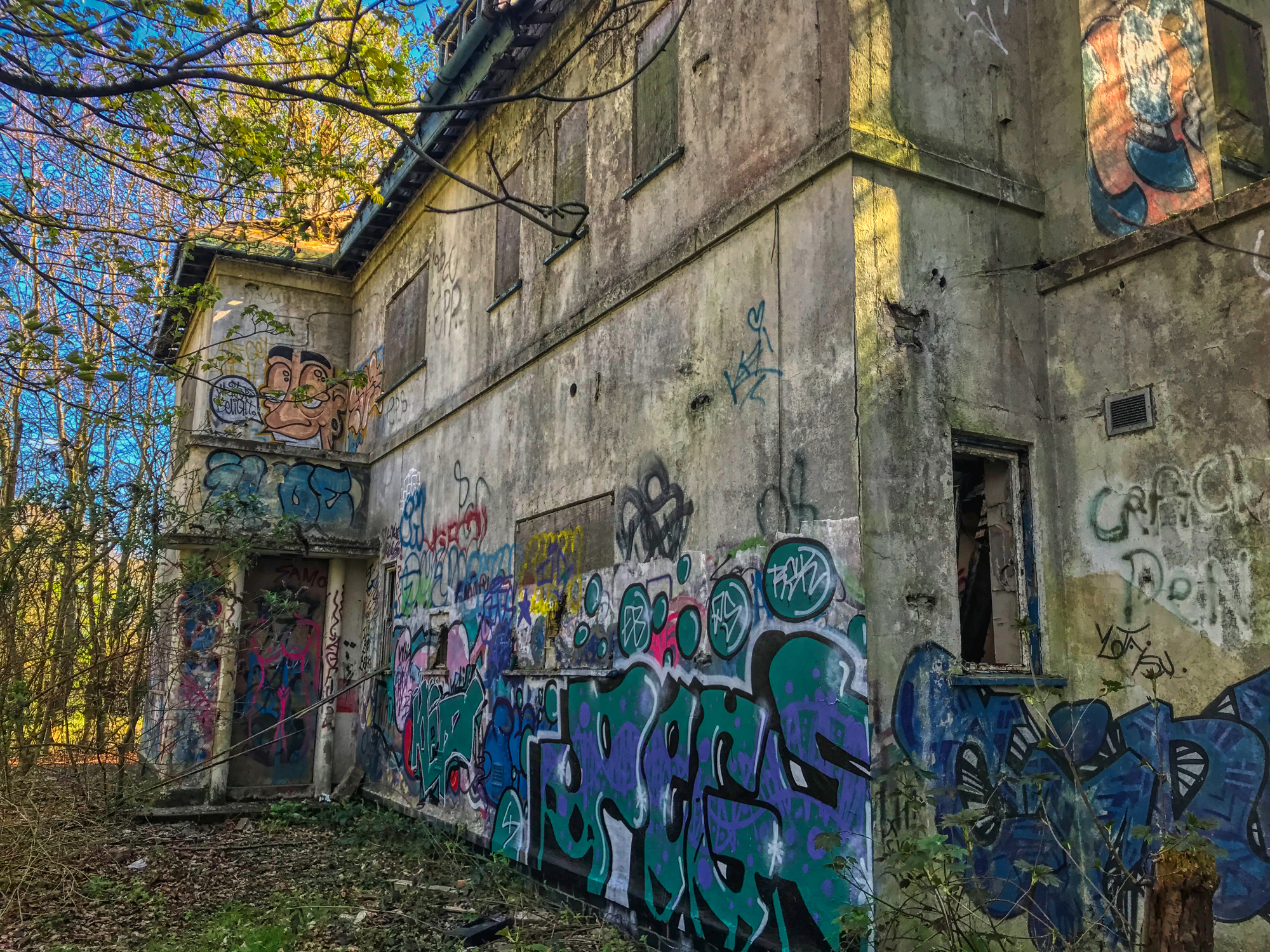 How do you get up there to draw that great cartoon imagery? It looks like there is a ledge, but there is not! These artists take more risks than me to get the prime locations for their work.
We left down a lane that connects to the main road now indifferent about the mansion owner. Nobody was about, the dogs were even quiet.

Do you like posting your Urbex content and photography for FREE on Facebook and YouTube? I like to get some form of reward for my work and every time I create I do just that. Take a look at The Urbex Community on HIVE.
If you want to keep creating for FREE then ignore what you are reading. If you want to be like me and gain something other than BUGGER ALL for your work then click here and learn about posting on the HIVE blockchain.


All my 'Tales' content is easy to find on my personal website:
'Tales of the Urban Explorer'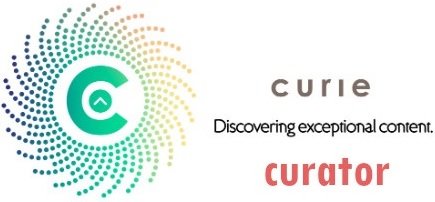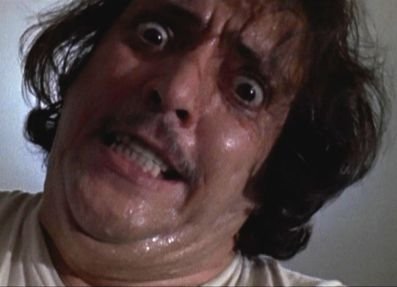 If you found this article so invigorating that you are now a positively googly-eyed, drooling lunatic with dripping saliva or even if you liked it just a bit, then please upvote, comment, rehive, engage me or all of these things.
---
---