Tales of the Urban Explorer: Smudges

It is always strange to me that my perception of an explore is rarely correct. Take Smudges, an abandoned pub, diner and Indian restaurant.
On seeing other reports I figured a night job, as it was too exposed during the daytime regarding access.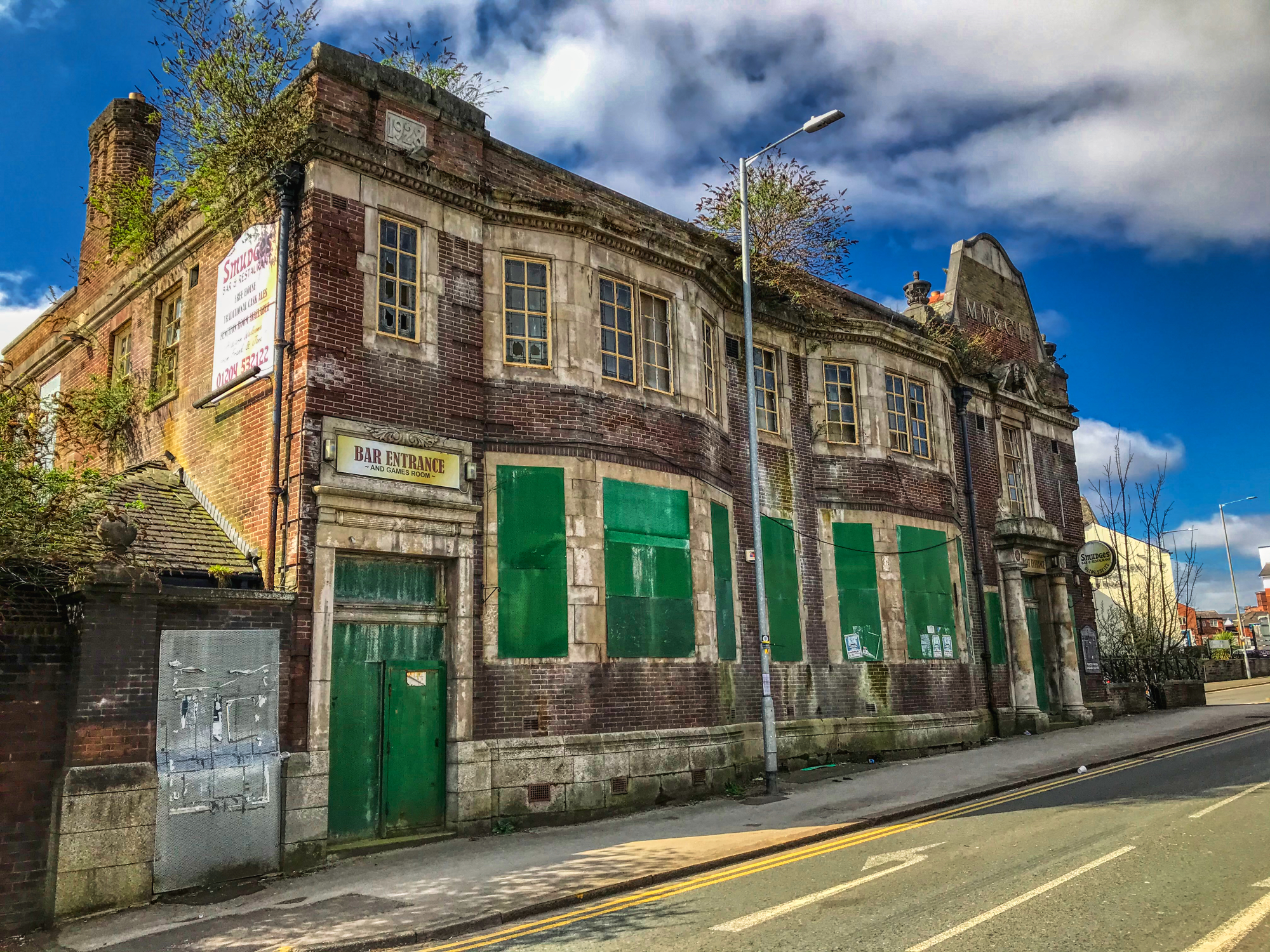 Once again I was wrong and on showing some interest to @anidiotexplores who had already been, I was told….
"You need to climb a 7-foot wall to get in there", it's not that hard.
Whoa, hang on a minute. 7 feet is not so easy for me anymore. Hauling your body up is harder than it looks. Don't assume you can still do it, because you could at 14 years old. It doesn't work that way.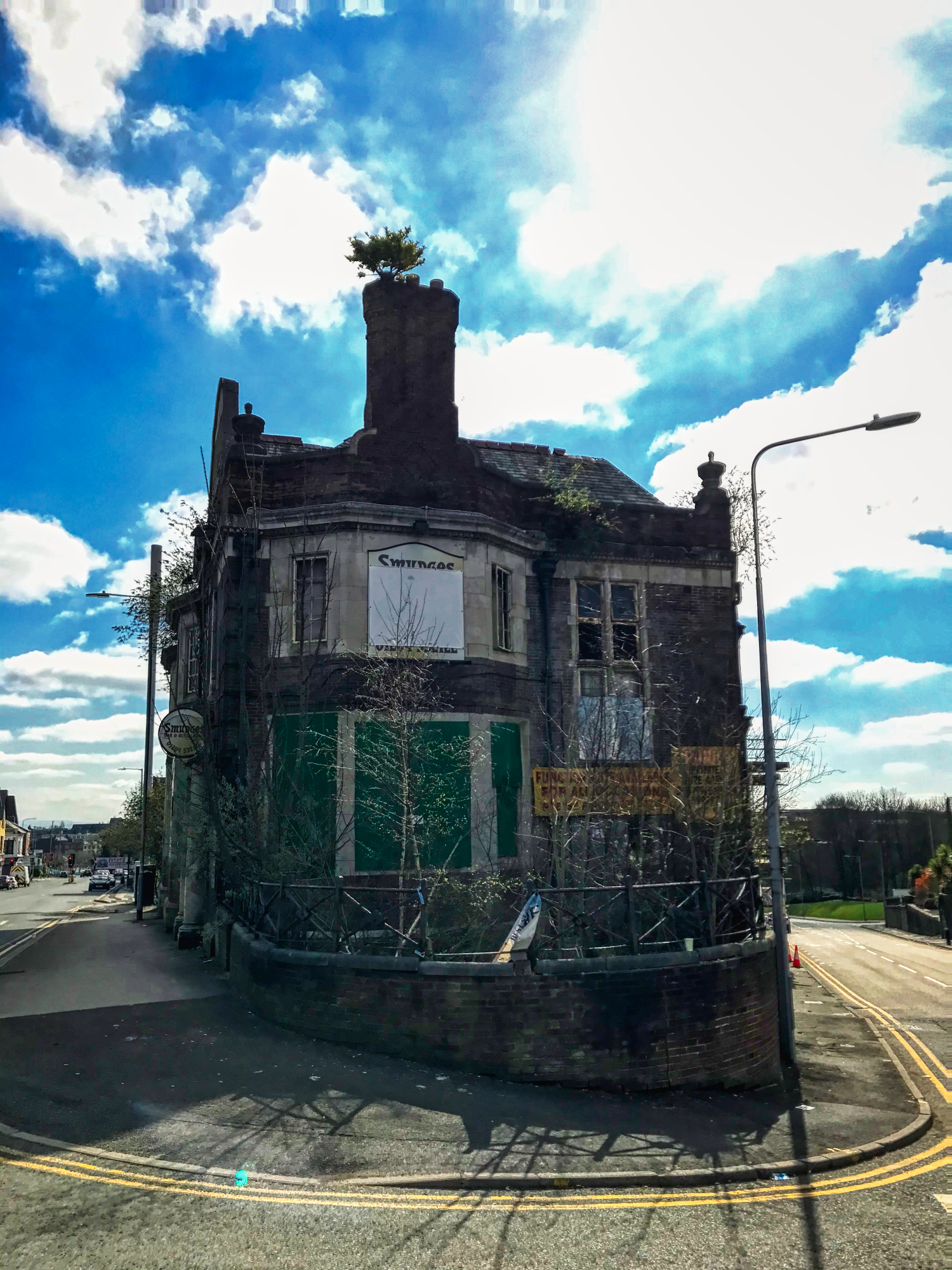 "One of the other big belly lads who's 17 stone managed it…, you can too", he continued with a grin.
That was it, we were going to Smudges and that stupid wall would not get in my way, however big it might be.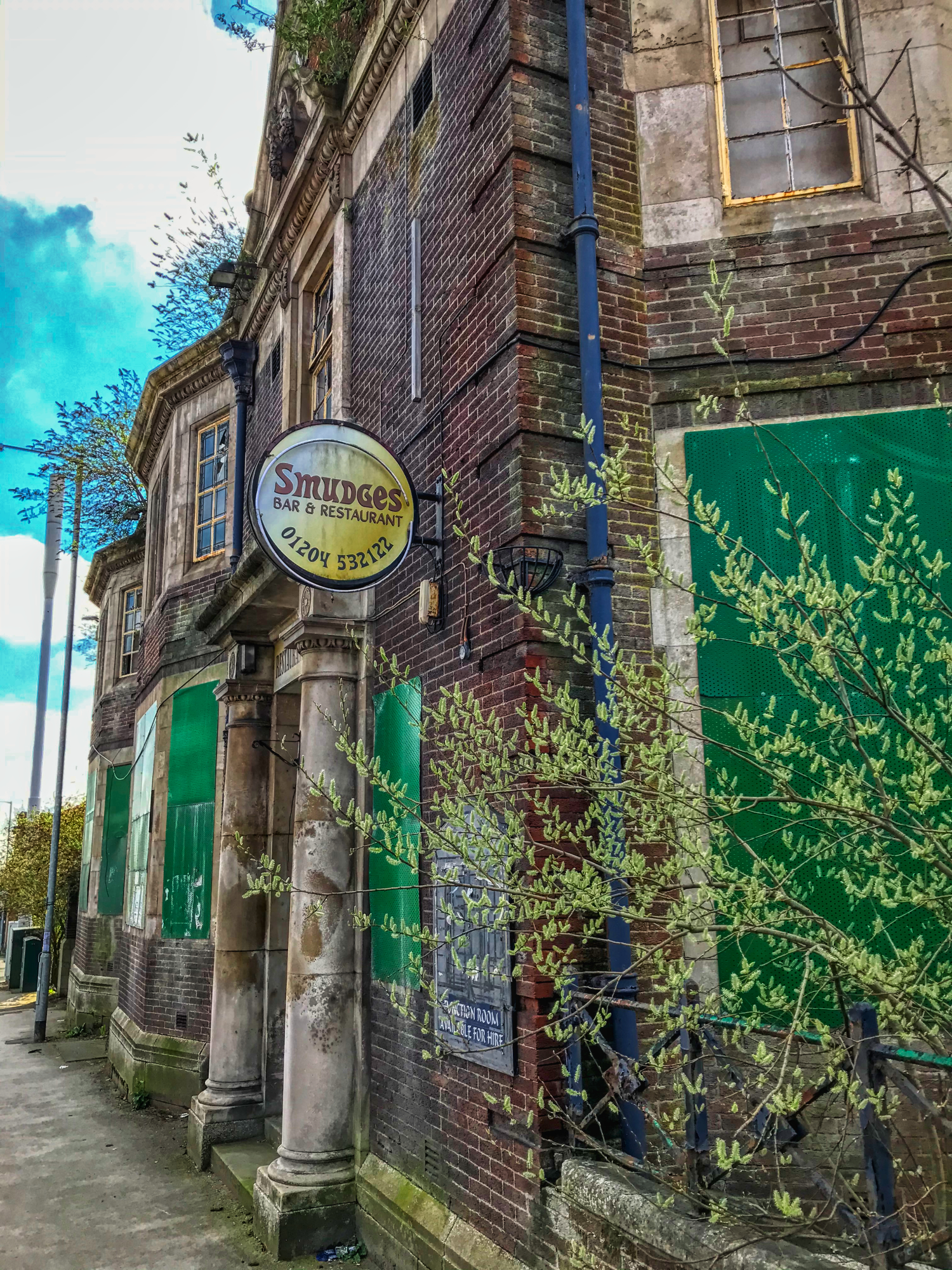 Smudges has been gifted several names over the years, The Crofters Arms and Magees being a couple. The building dates back to around 1870. An Indian restaurant under the guise of 'Moghuls Palace' appeared to be in the basement area at closure.
In 2009 the pub was taken over by Jane McDonald and Frank Smith, the then licensees of the Howcroft and the Roundhouse in Halliwell. Ms. McDonald and Mr. Smith evicted squatters who had taken up residence in the pub and spent around £30,000 on refurbishment. The pub became known as Smudge's – Mr. Smith's nickname.
Sadly, Frank Smith died in September 2010 and the pub closed shortly afterwards.
There's more history here if you care to read about it. Smudges was the last known name, and not for long.
…'Smudges in 2012, looking a little forlorn but much better than now'…
We arrived, parked up and I looked at that large wall. I did struggle a little but in the more recent months my fitness has improved in the area. Fat blokes would definitely struggle with it, something I am determined not to become.
I was more concerned with the motorists passing by seeing a couple of blokes appearing to be in some kind of burglary act in broad daylight. This thought only hastened my ascent and we were out of sight within 20 seconds.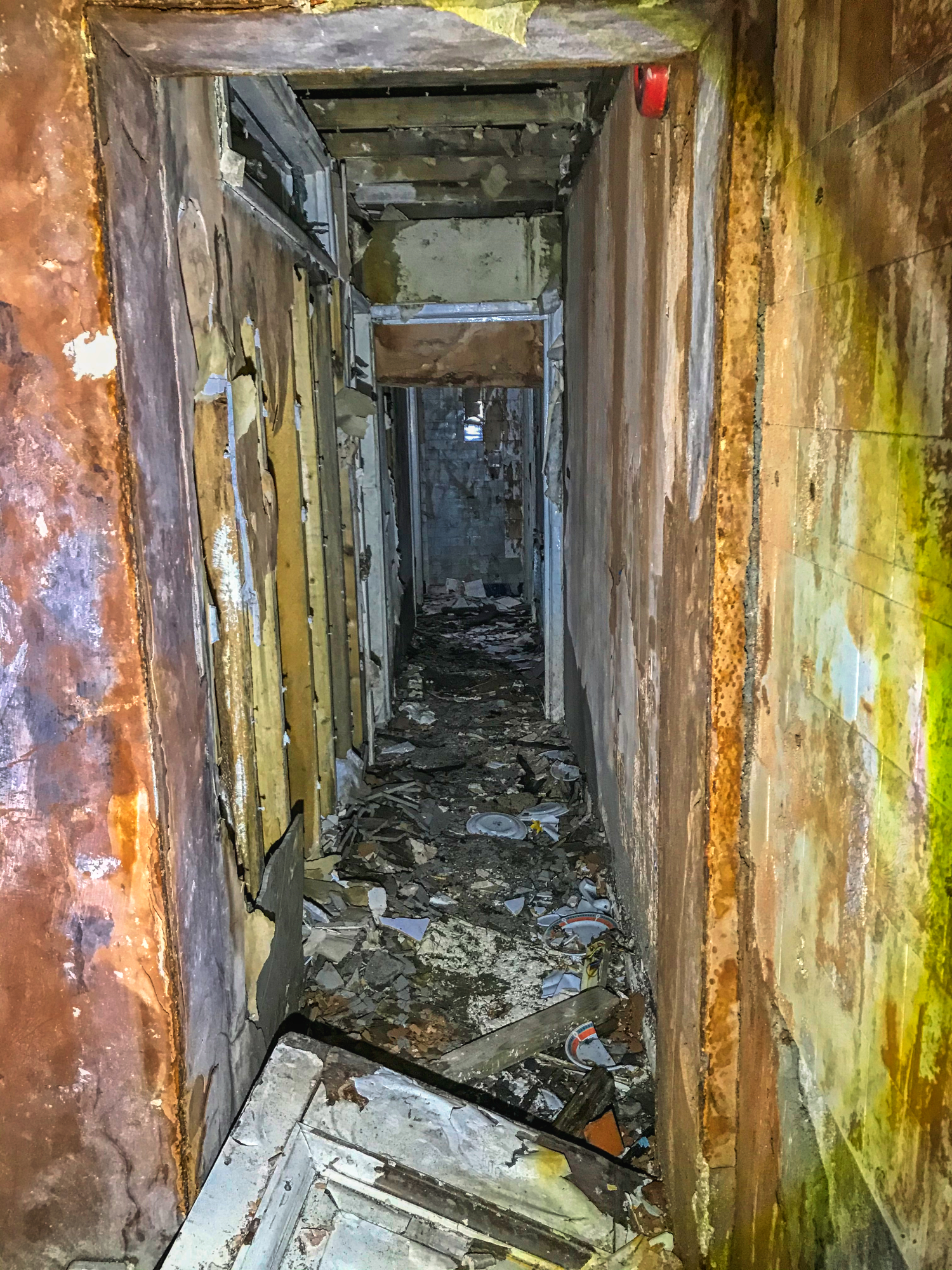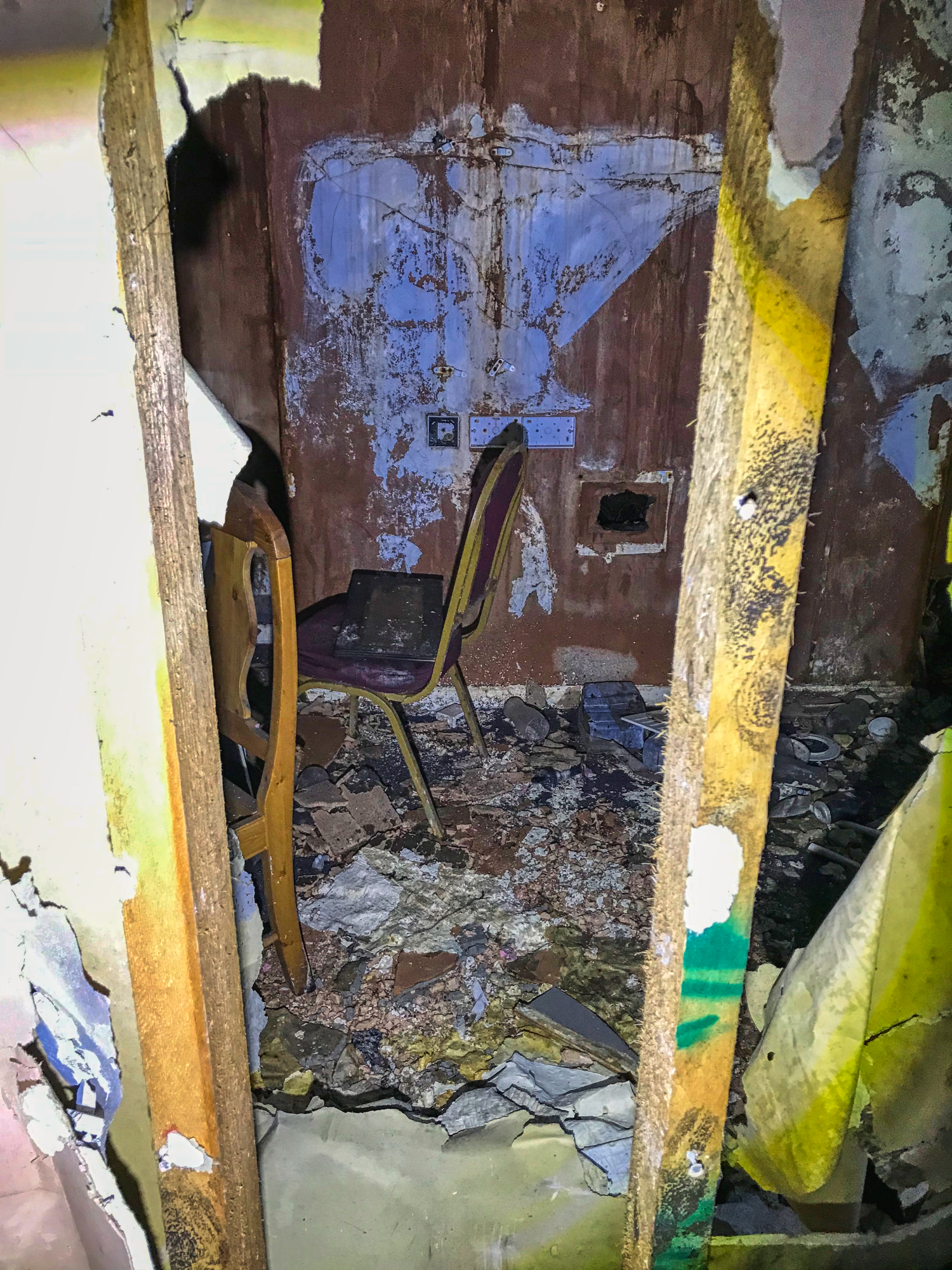 11 years of abandonment may mean collapsing ceilings but I was surprised at the state of the interior. It was wrecked but in better shape than many.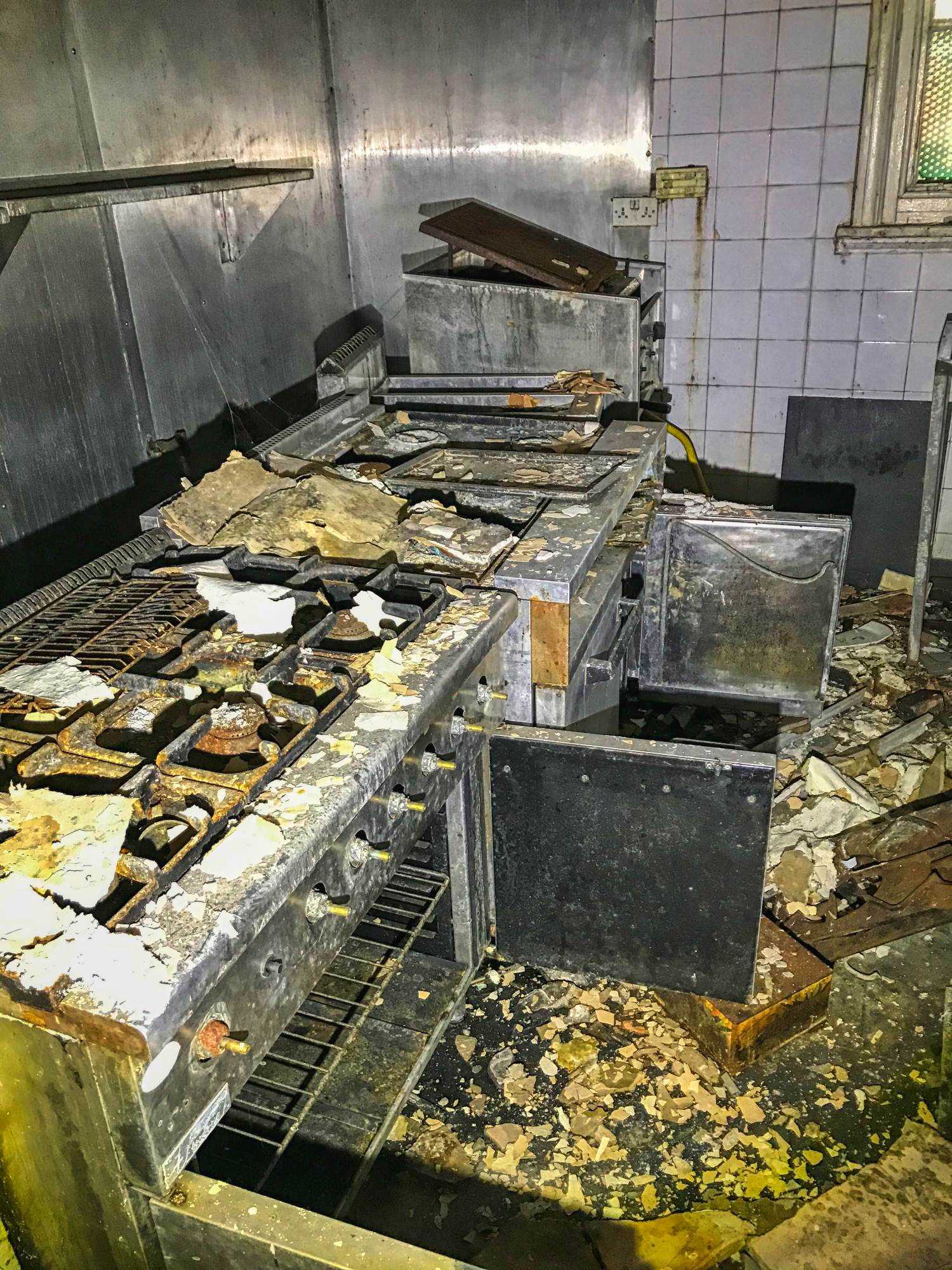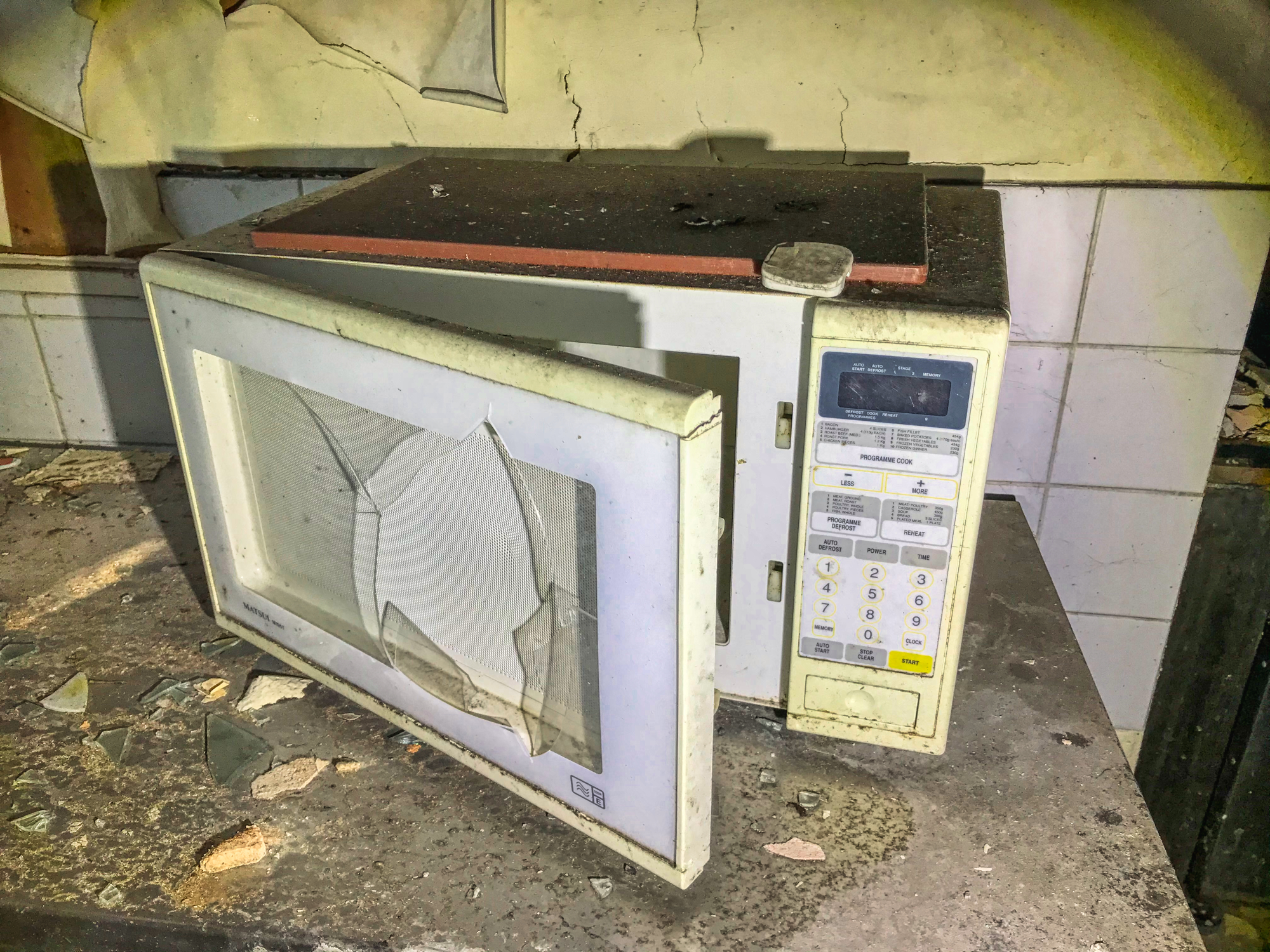 Thankfully there was no 11-year-old rotting meat in the kitchens. Still, I did not hang around for too long.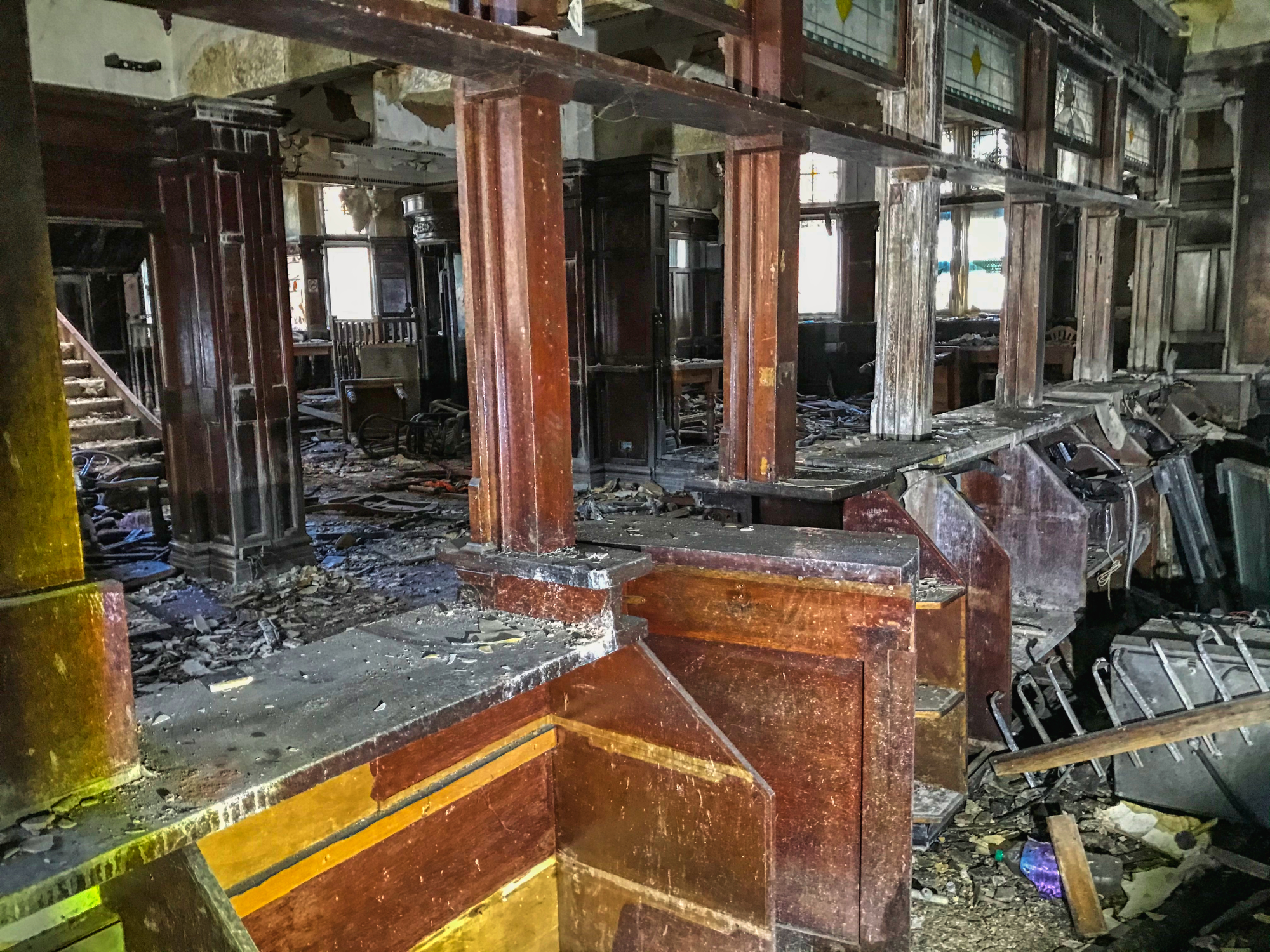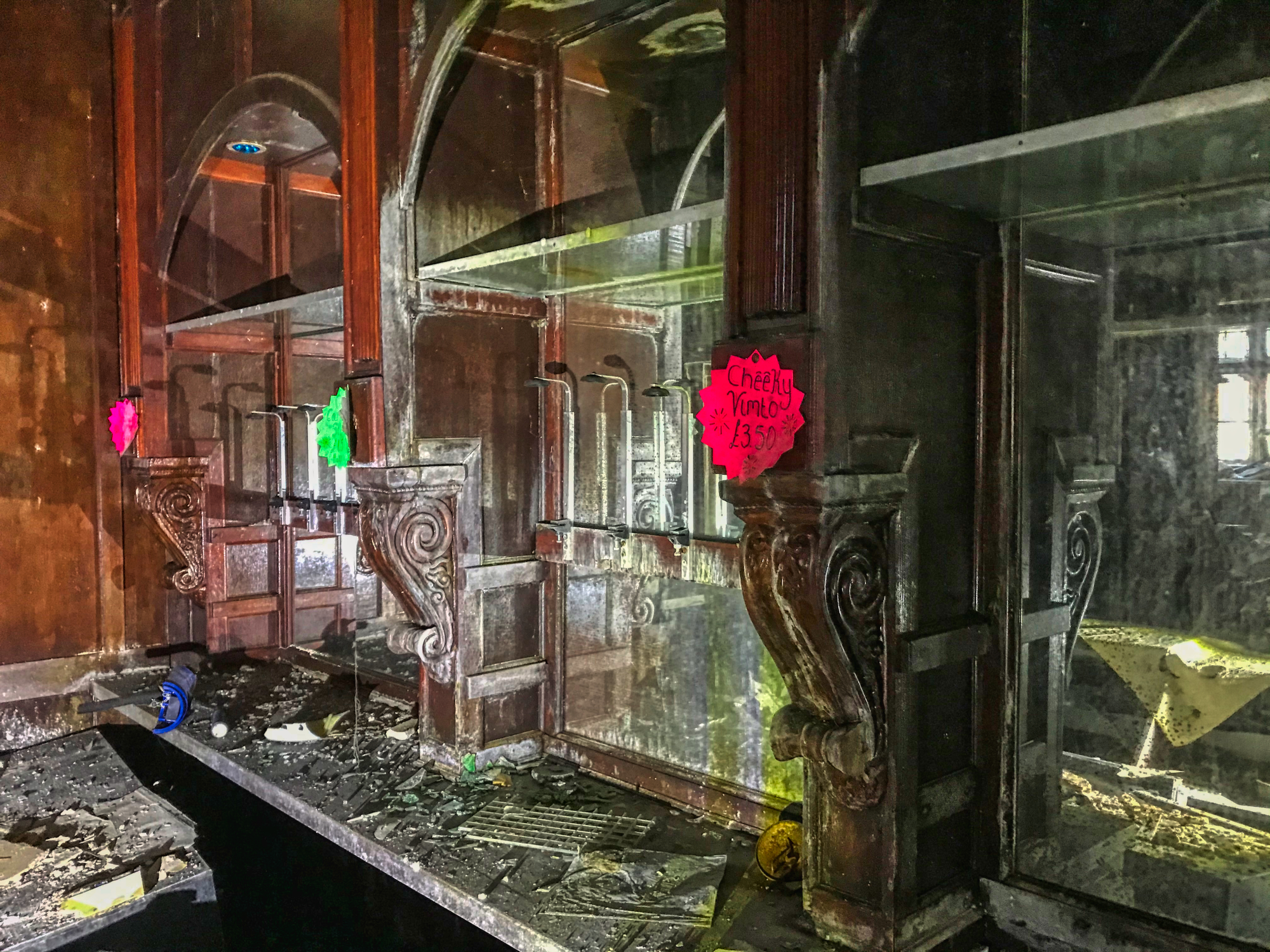 We made our way up to the bar and looked upon a familiar sight. If this would be your first explore, it would likely take your breath away.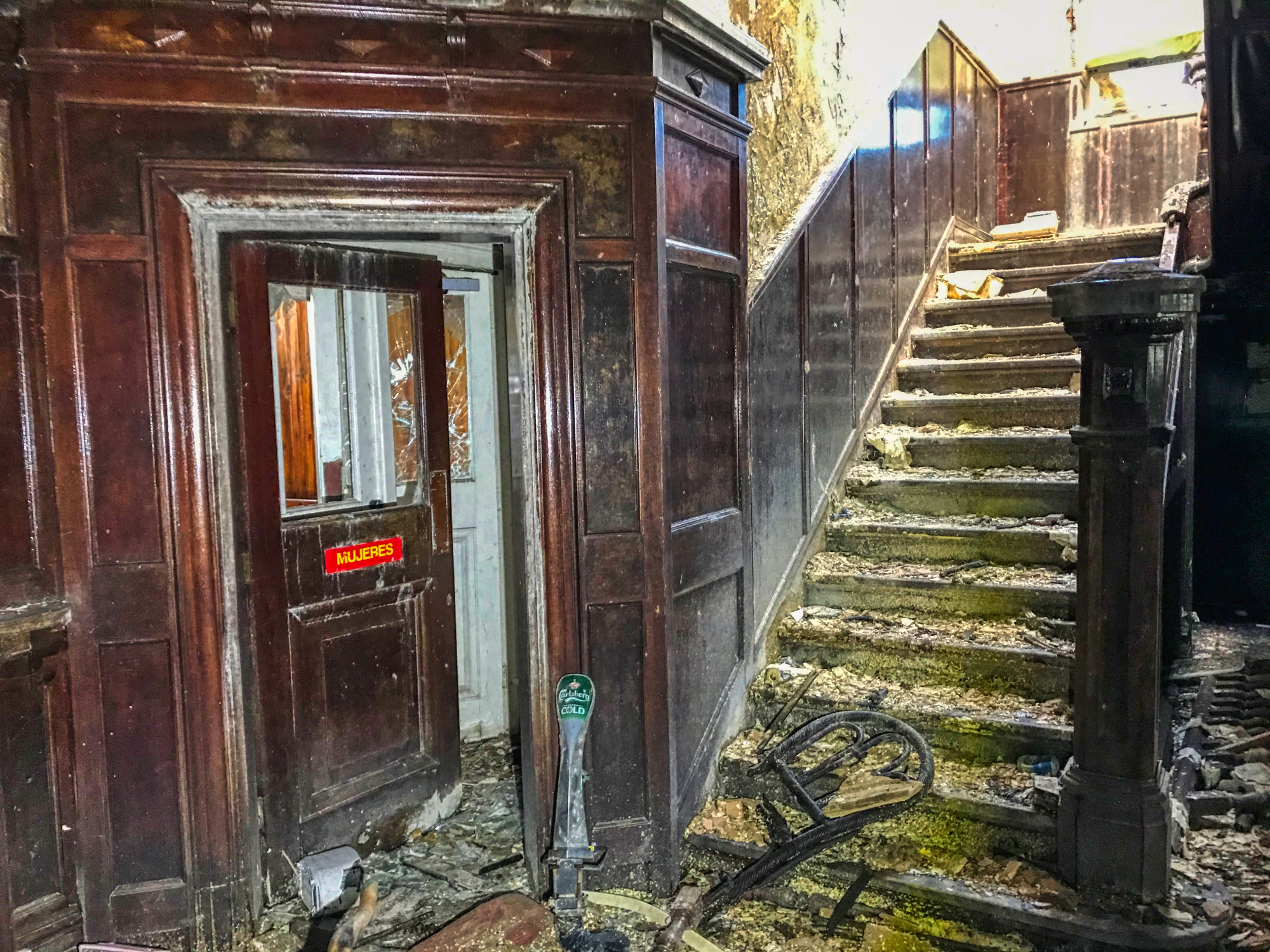 The average person is not used to taking in such sights and being there is a different experience than simply viewing these images online.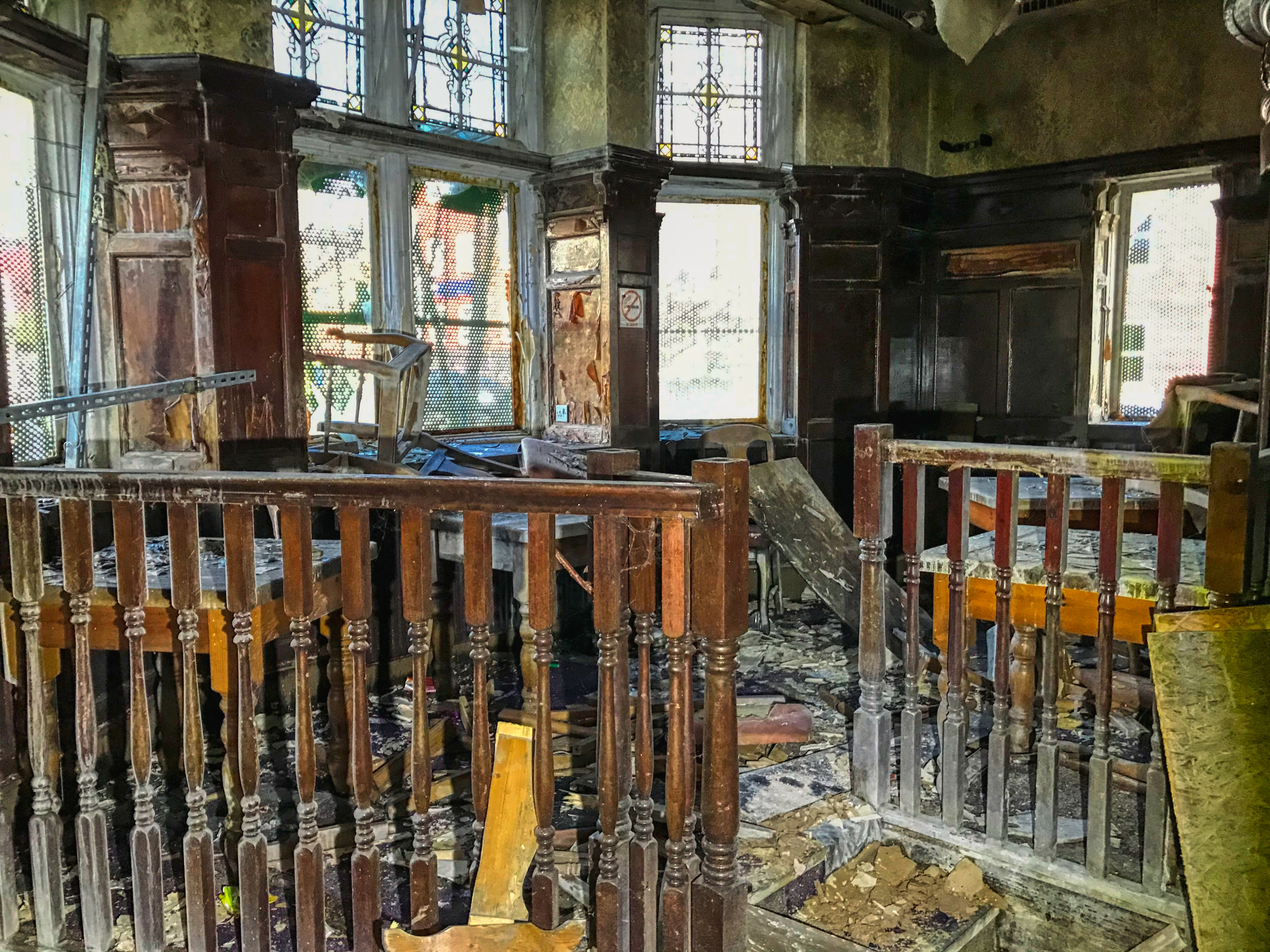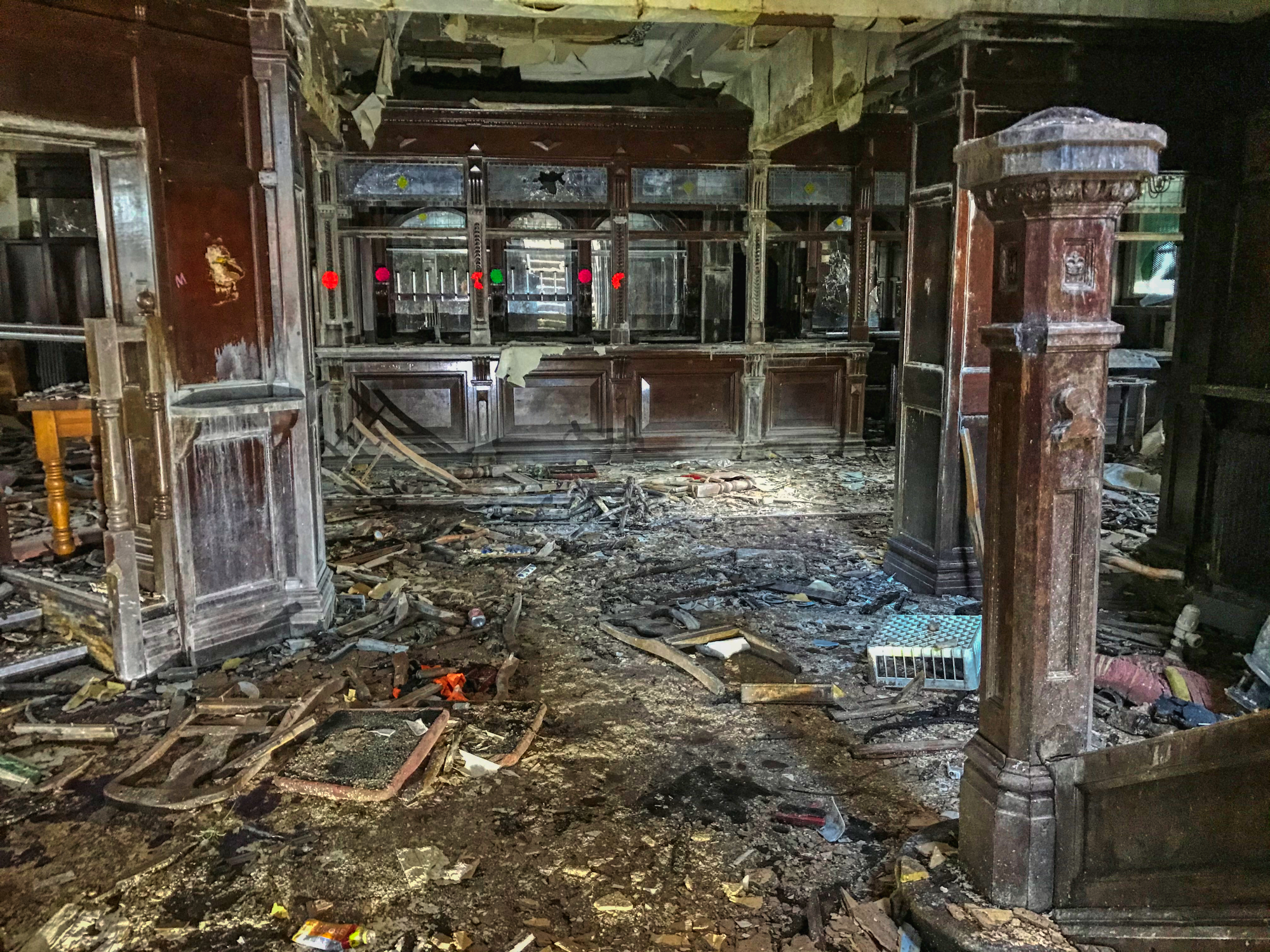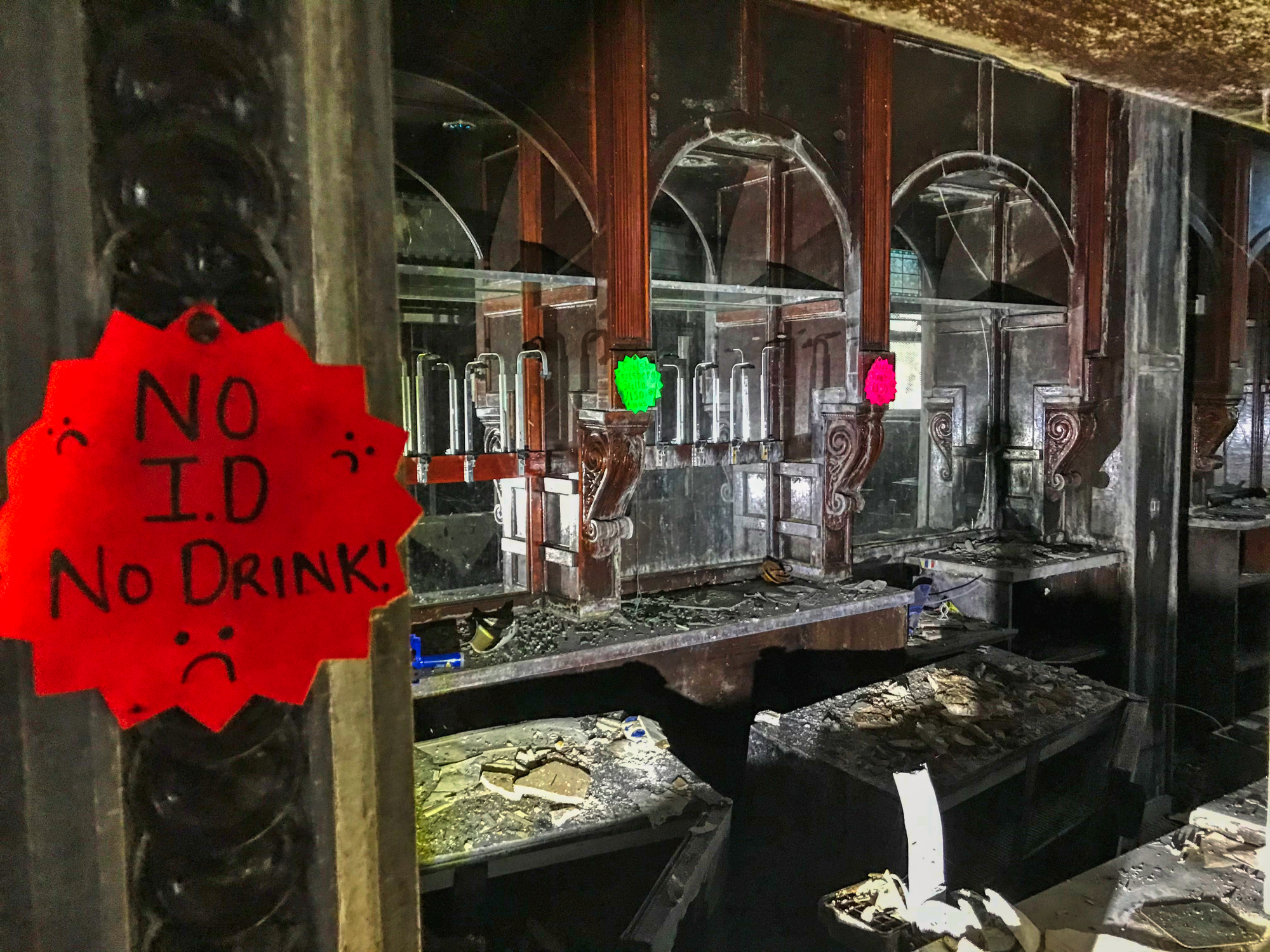 I could imagine Smudges was once quite classy, the wooden panelling and odd chandelier that was still attached to the ceiling revealed its past character.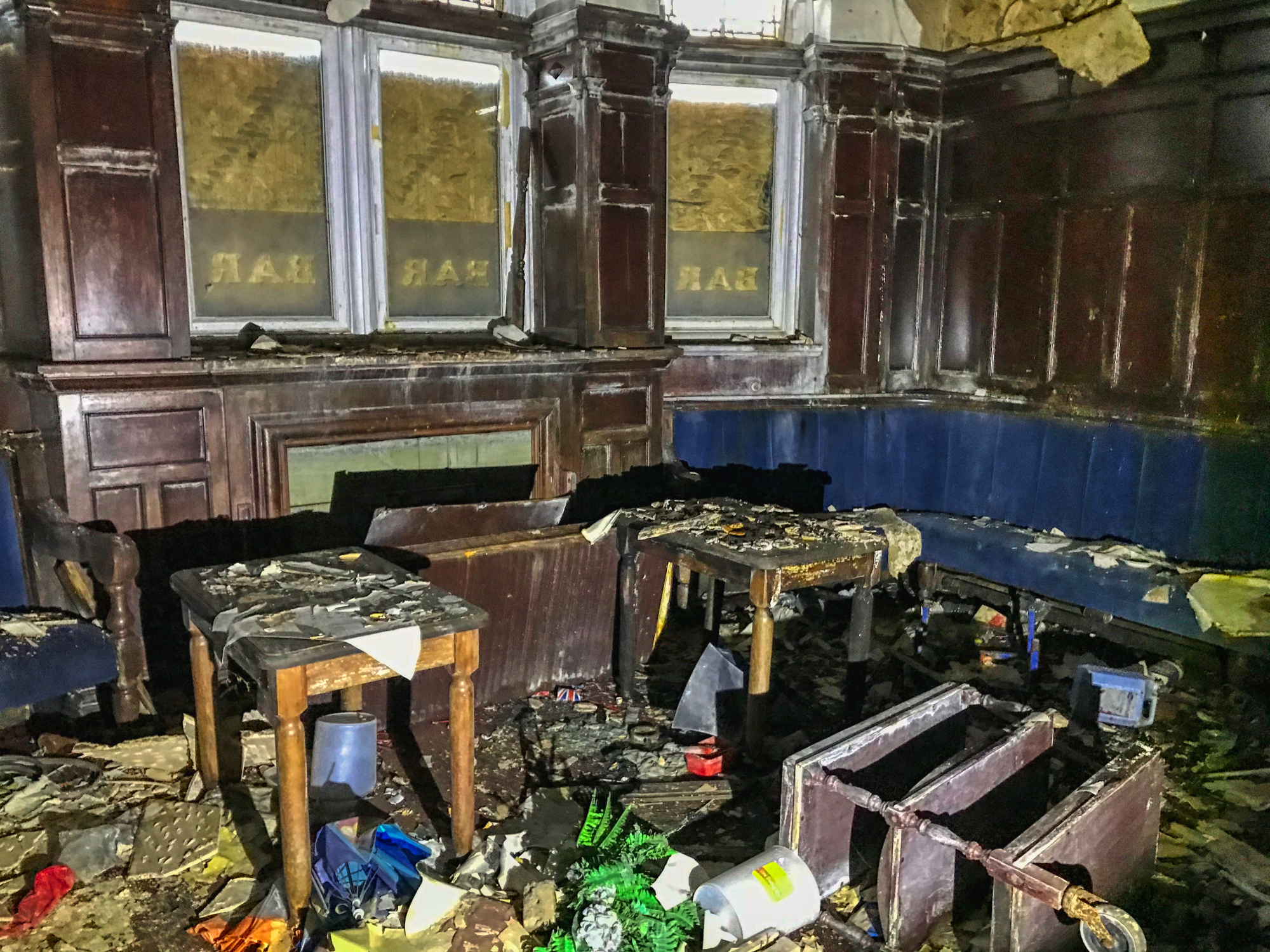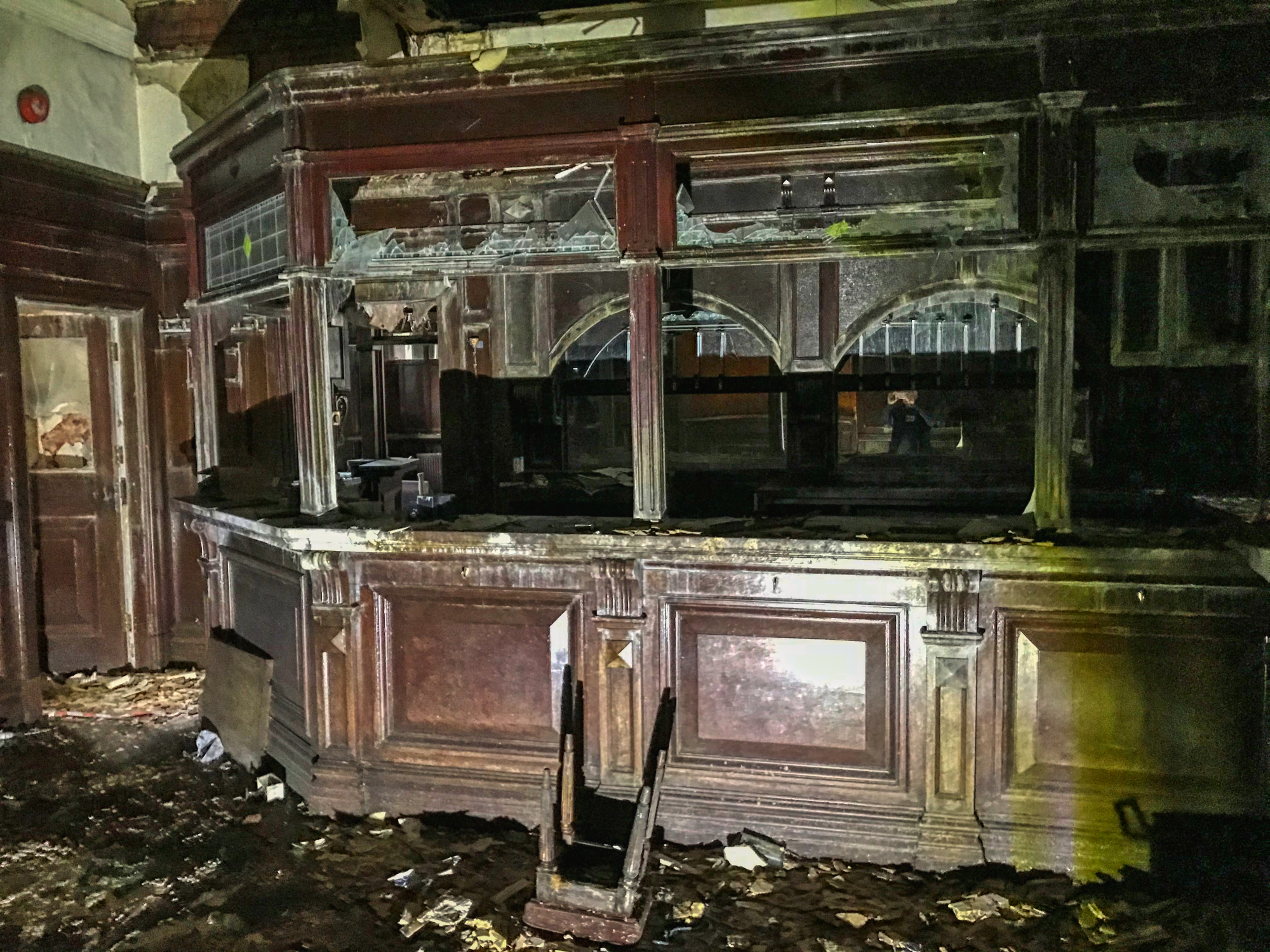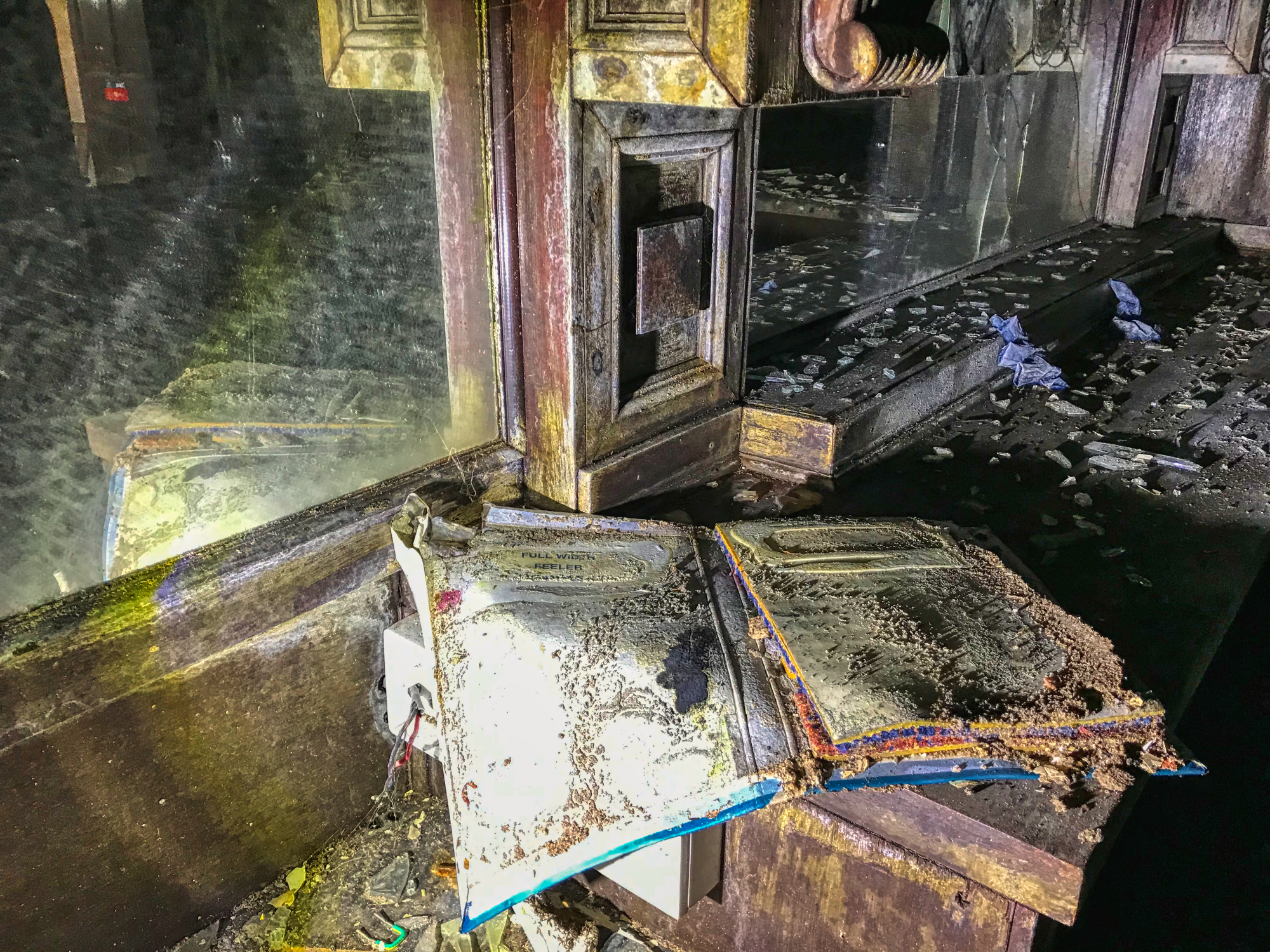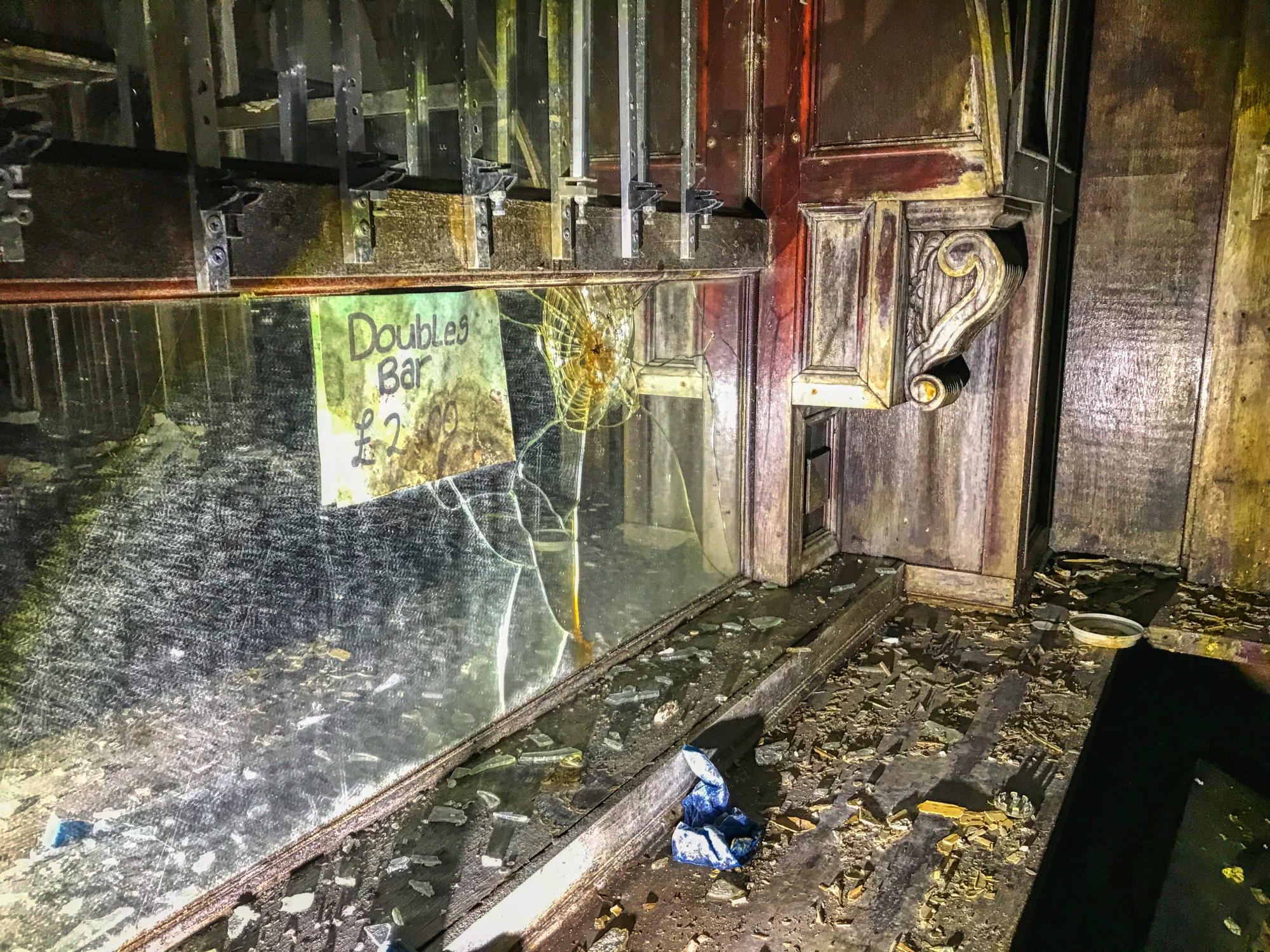 The stairs were surprisingly sturdy, though slippery due to all the fallen crap underfoot.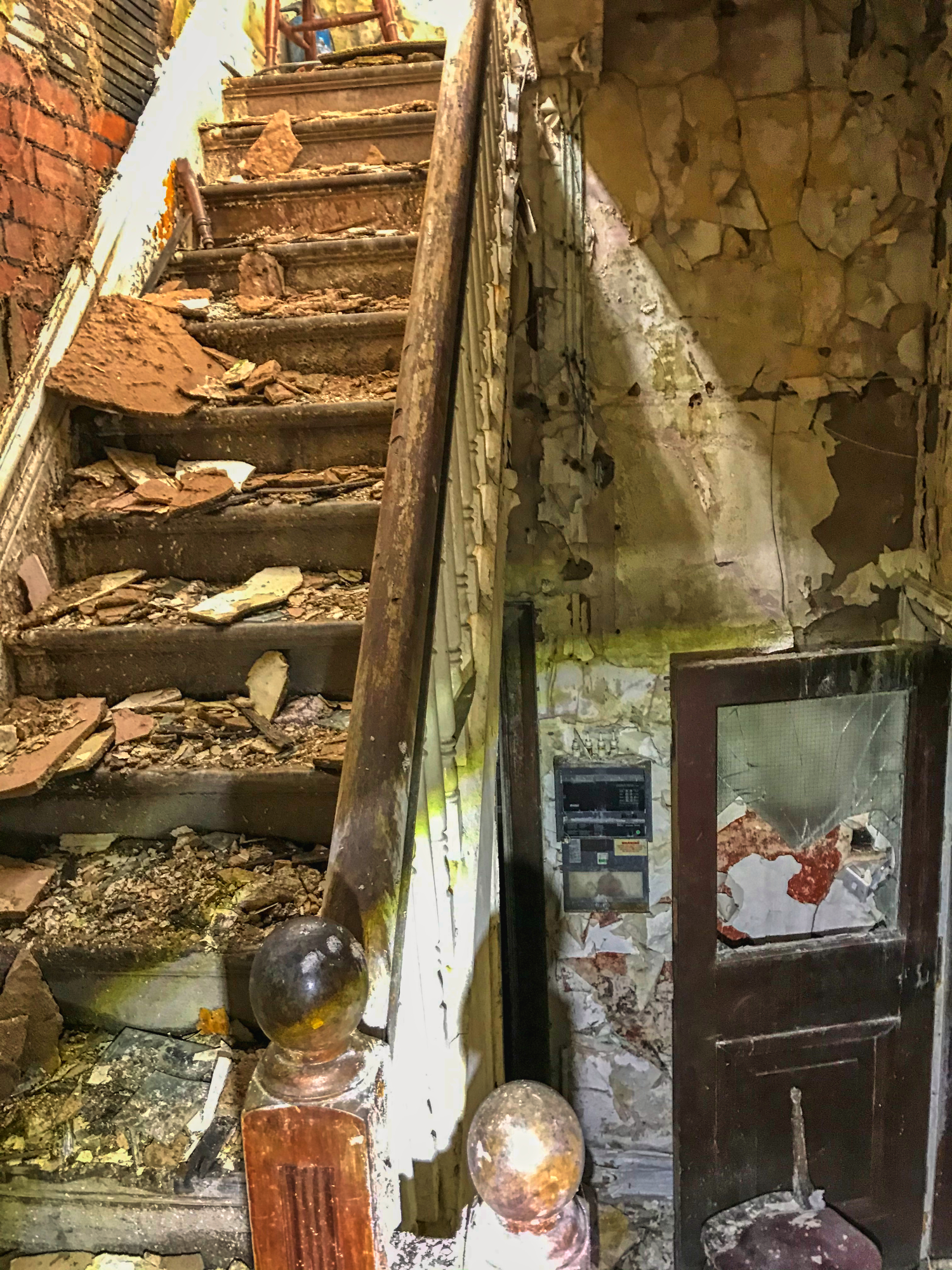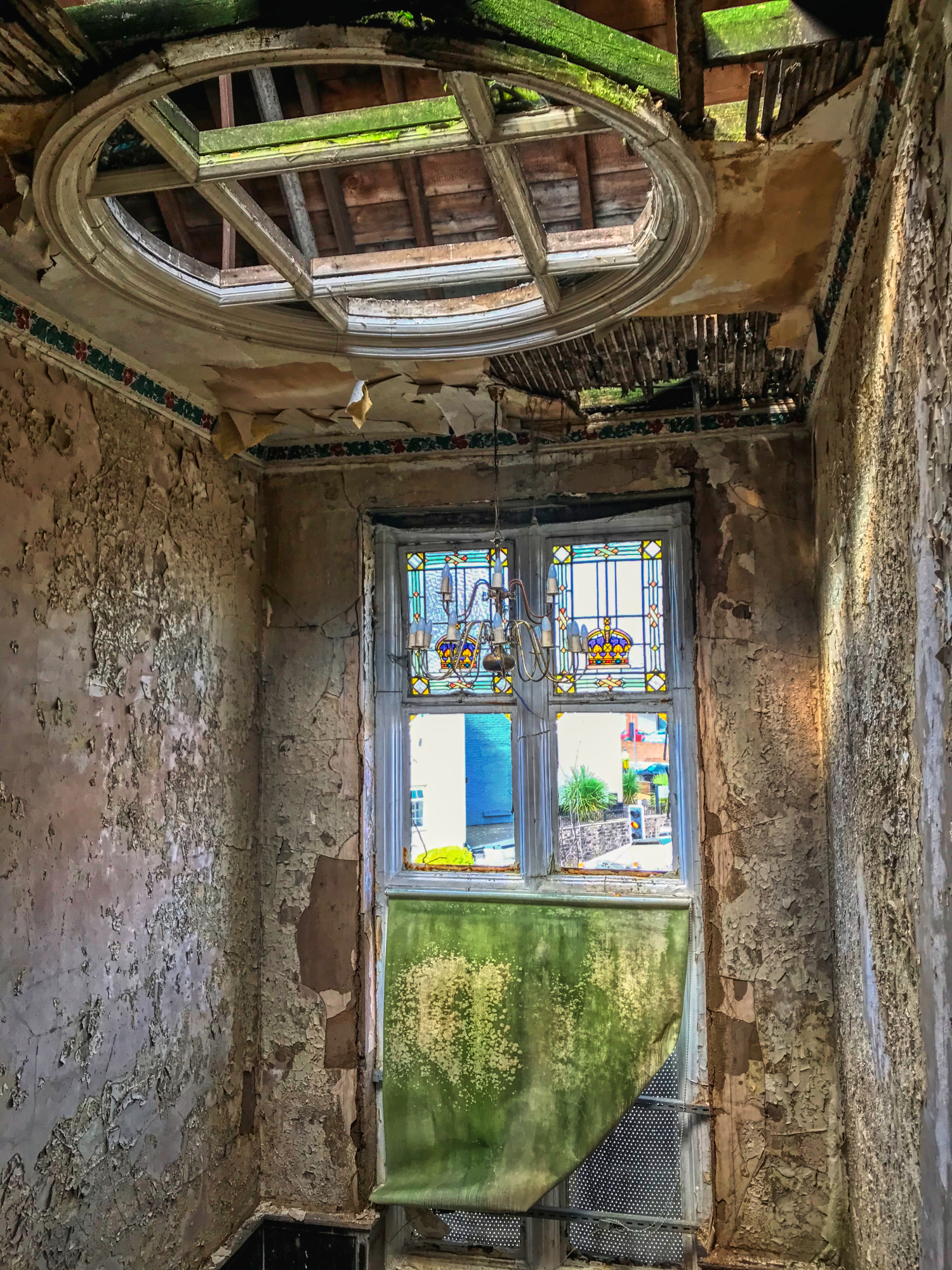 A lovely window at the turn of the stairs; I struggled with the photograph as it really needs a wide angle to get it all in.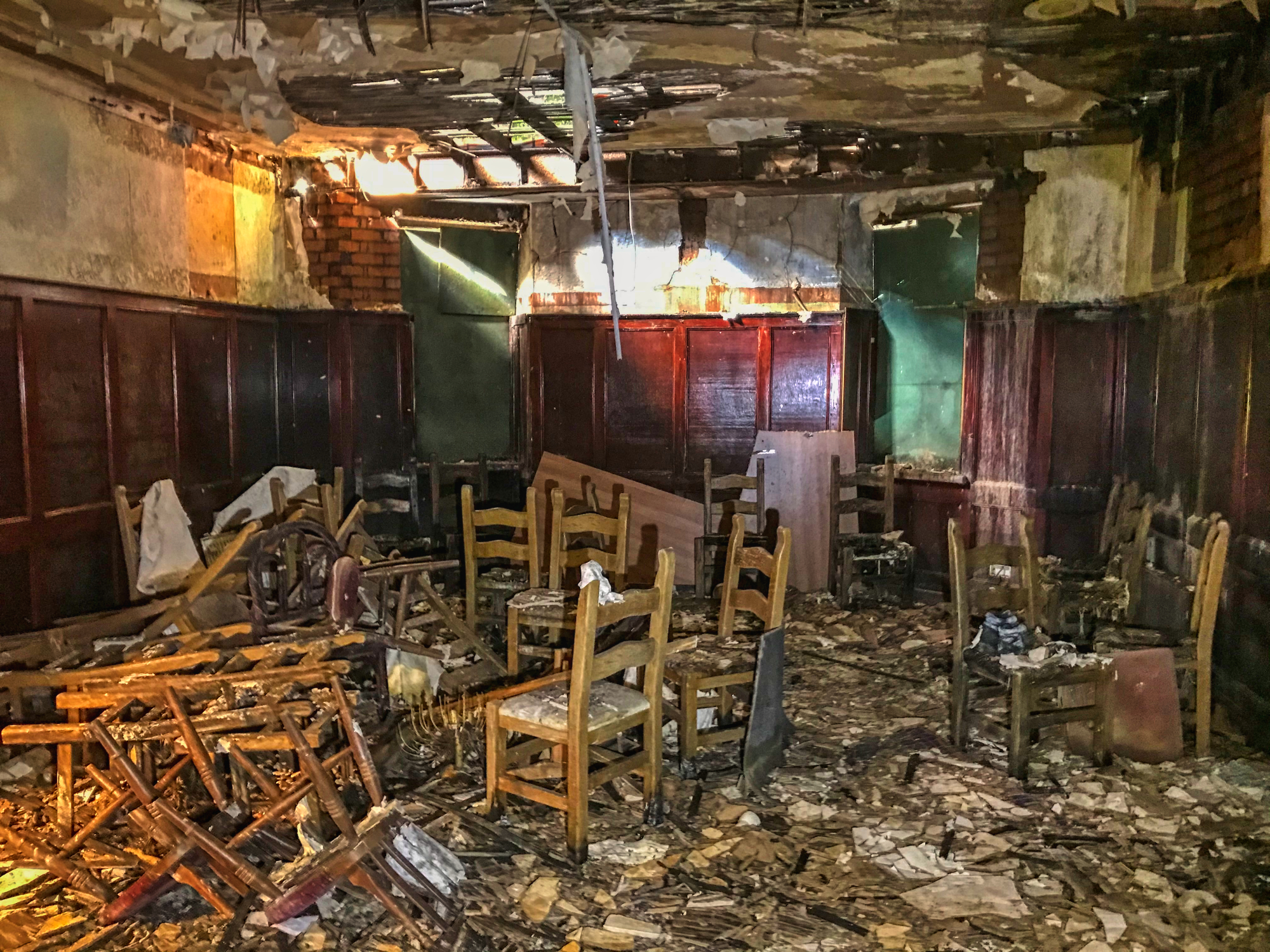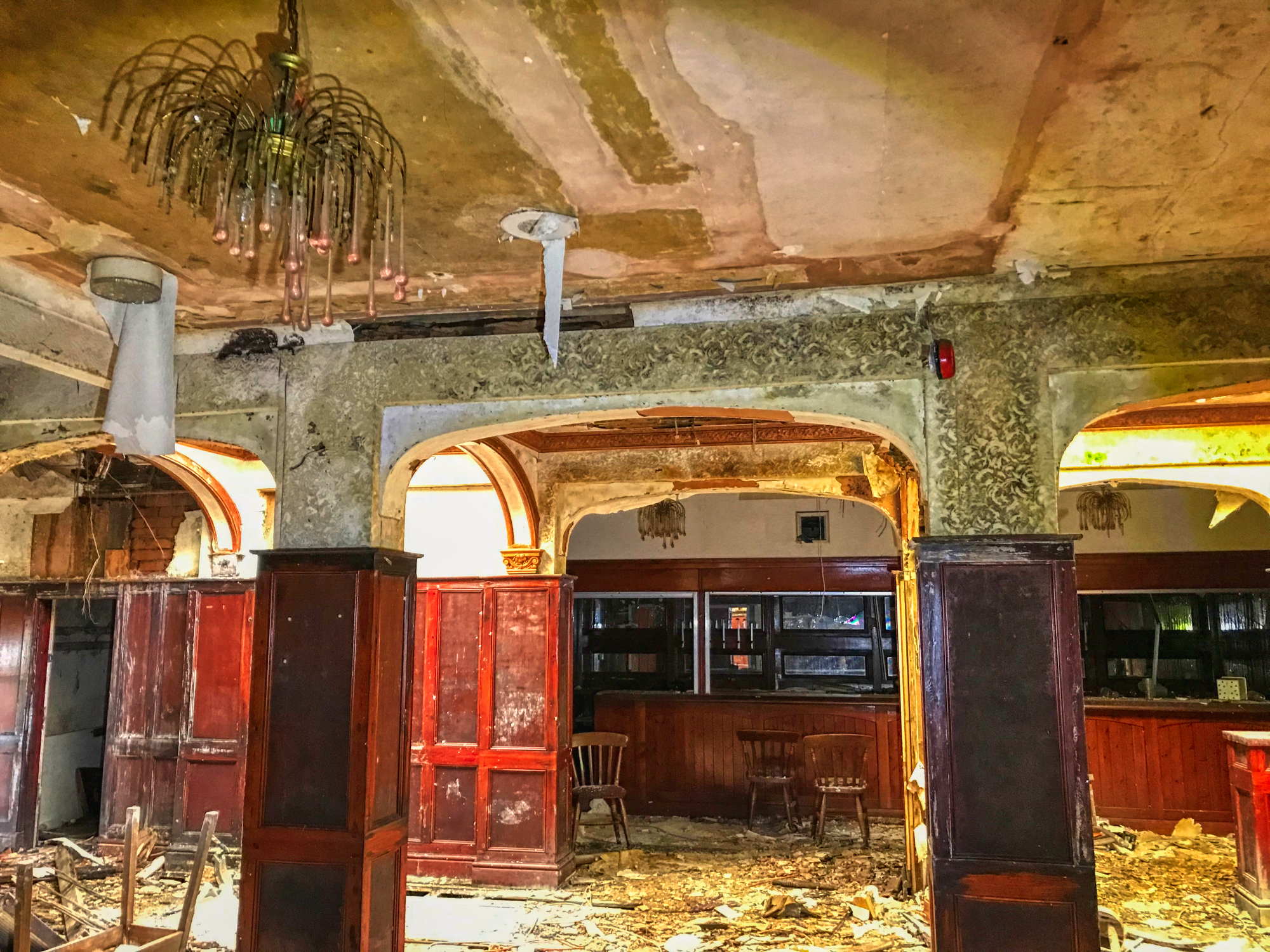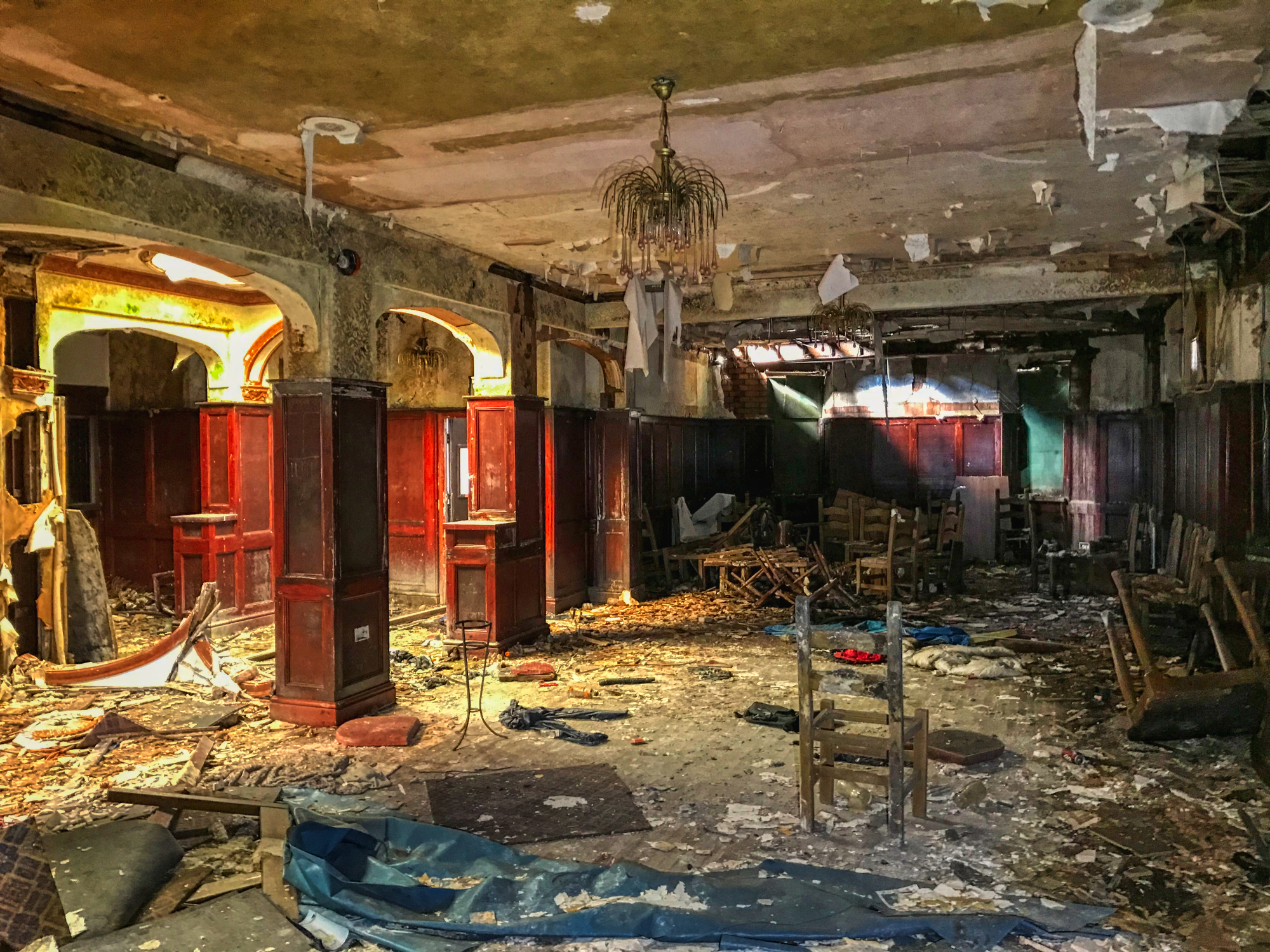 On the second level was yet another bar and in better shape than the previous one.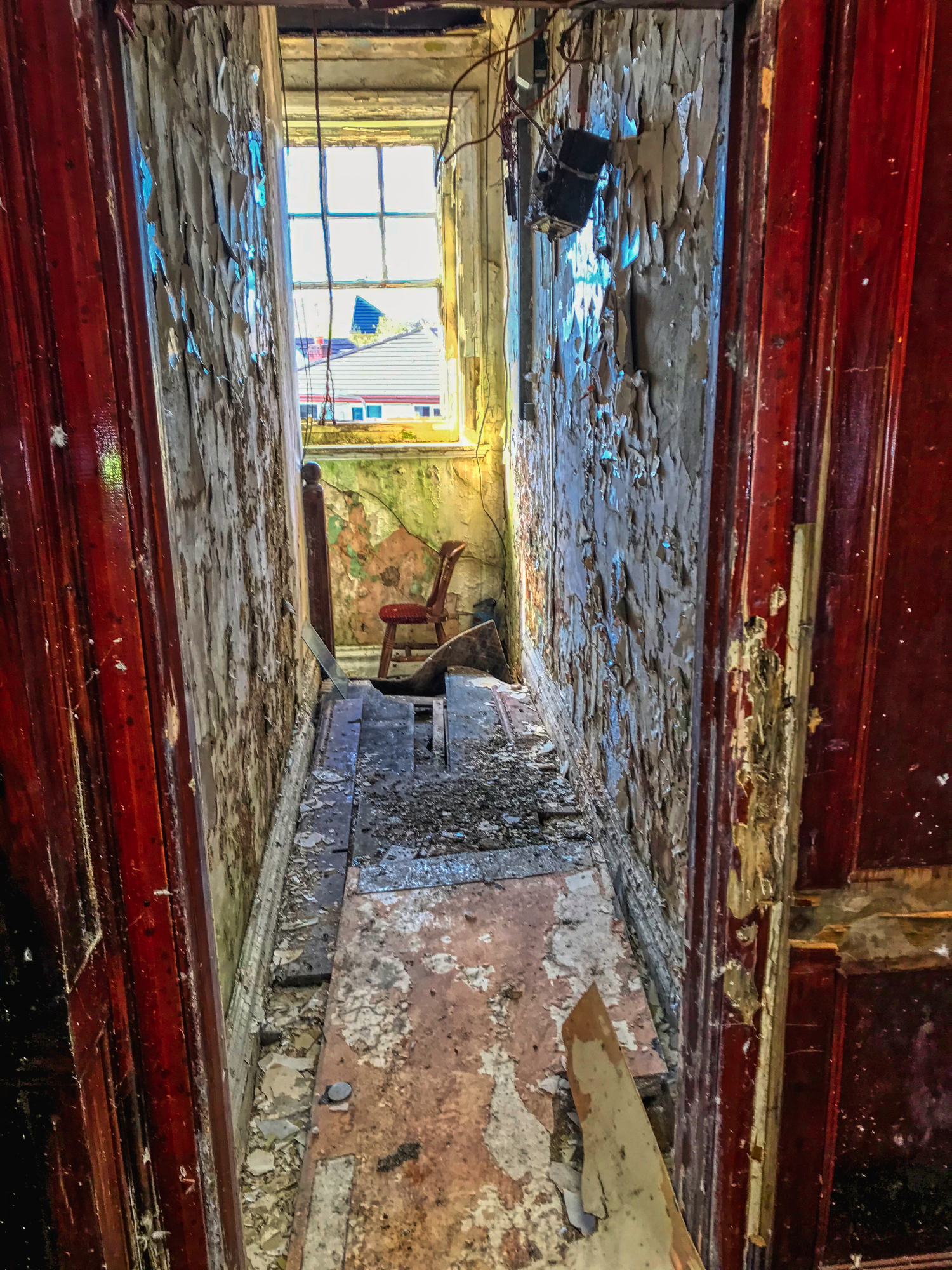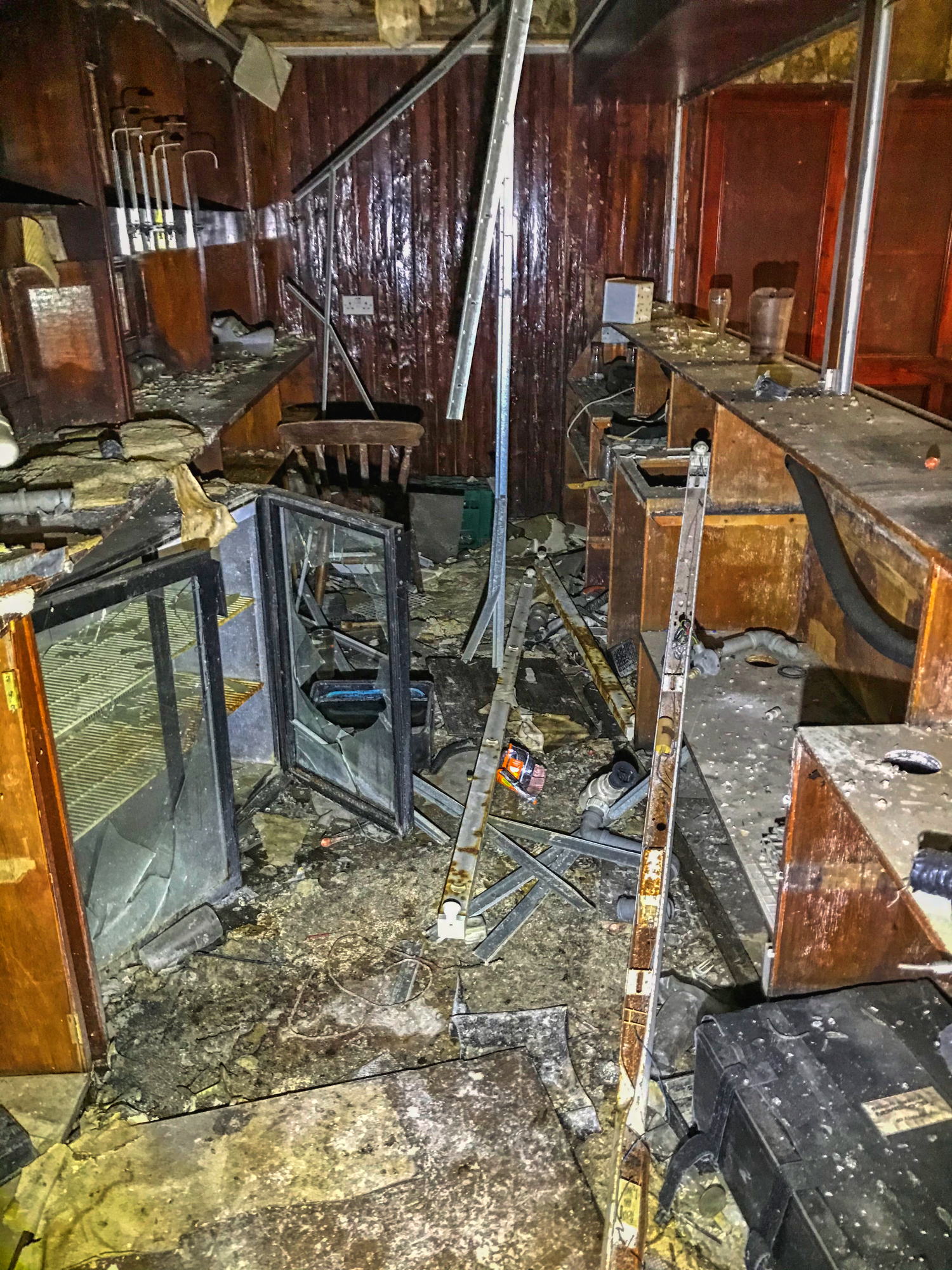 I guess Smudges had not had years of Urban Explorers visiting. To have beer glasses resting here since 2010 is quite something.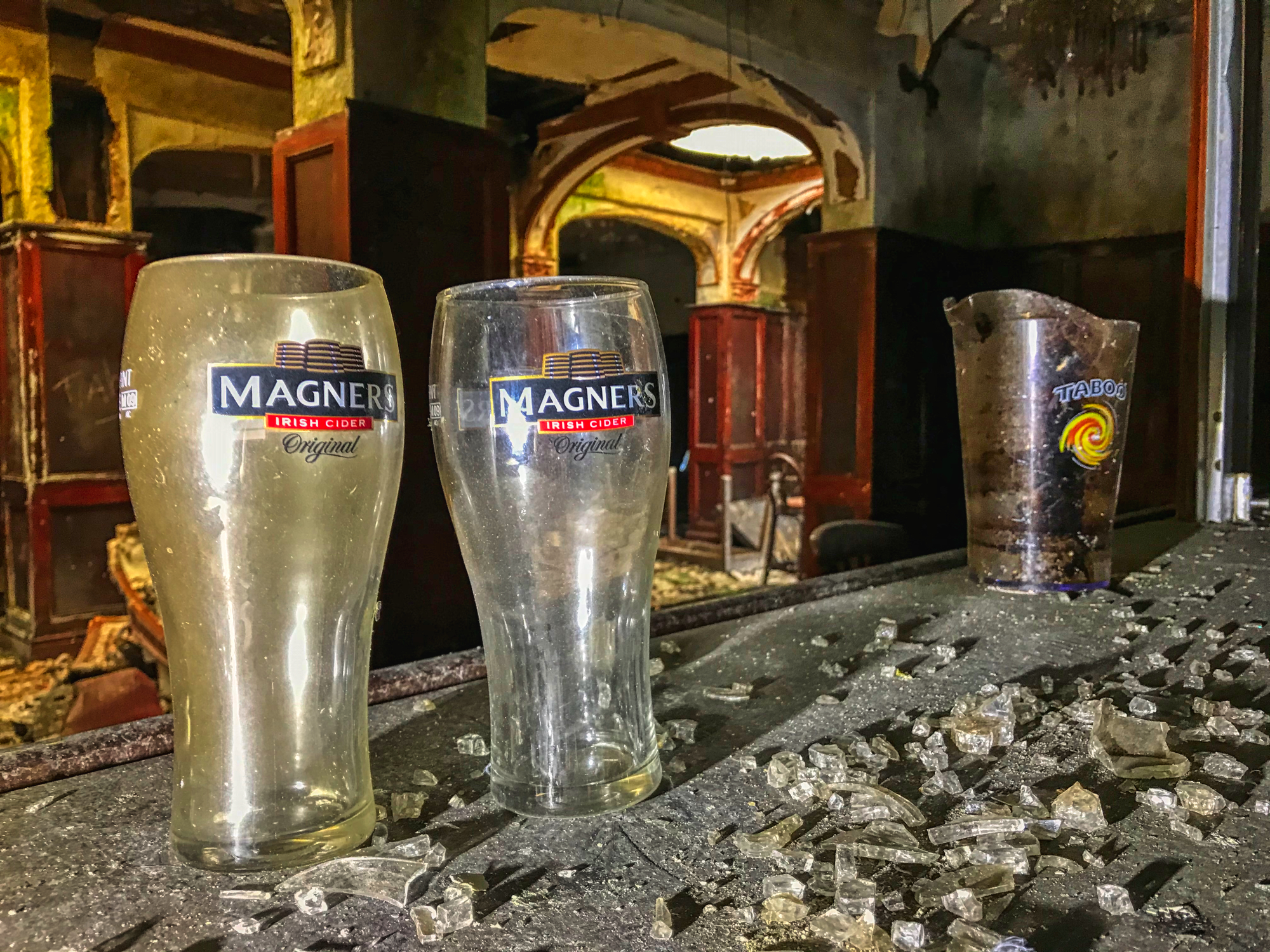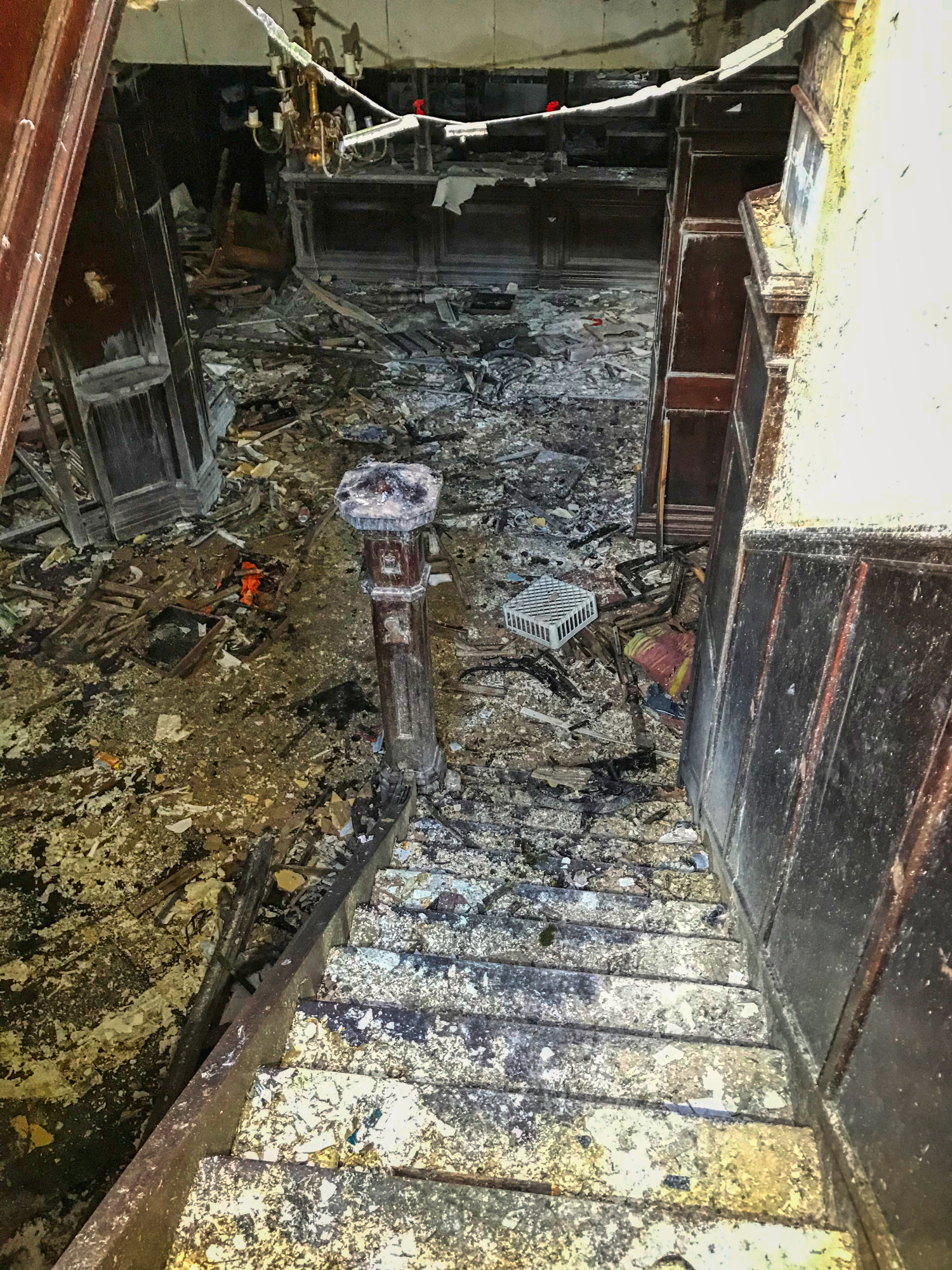 I descended intent on checking out the basement area.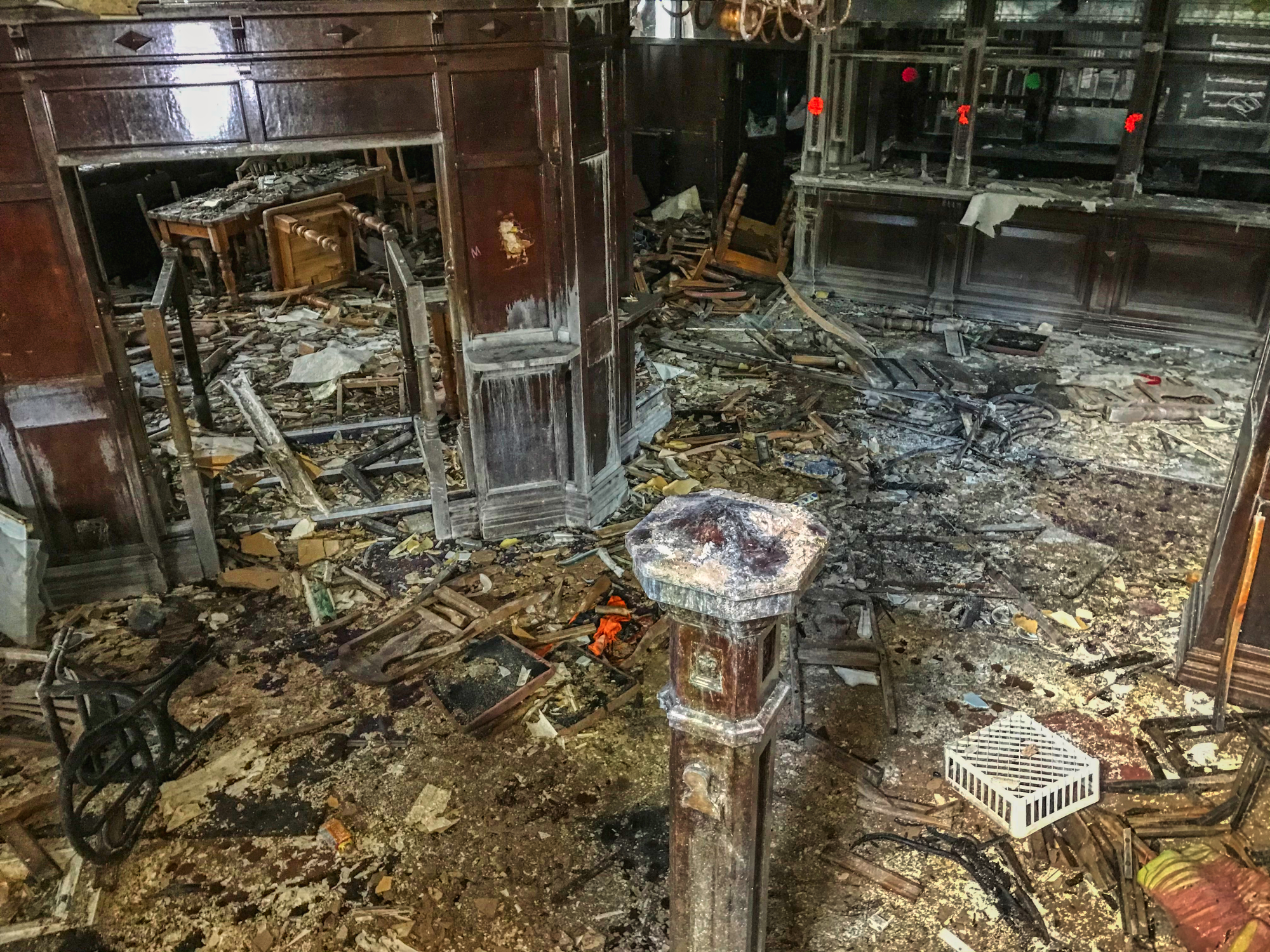 @anidiotexplores had wandered off and it was deathly quiet as he was not in a singing mood on this day.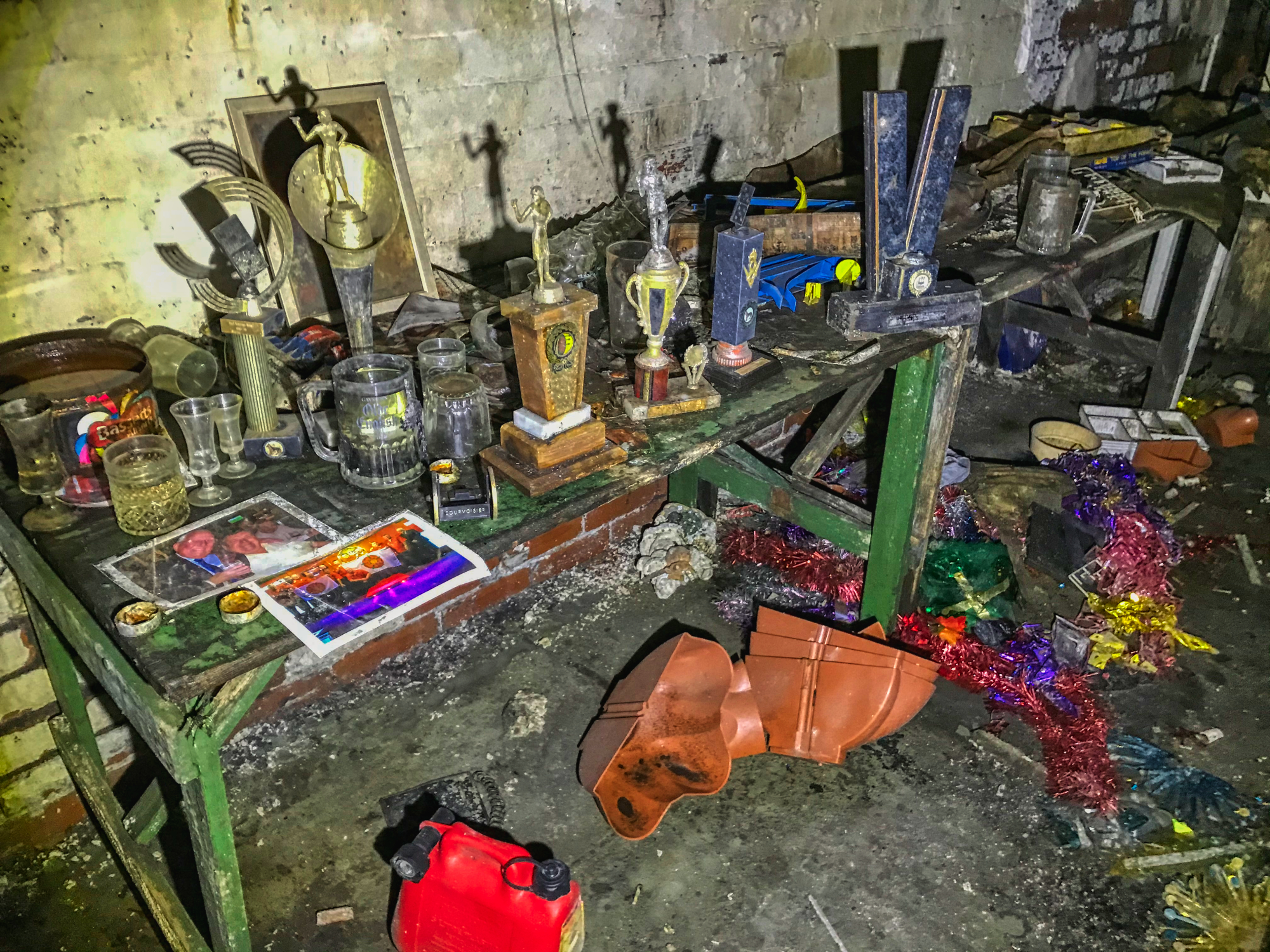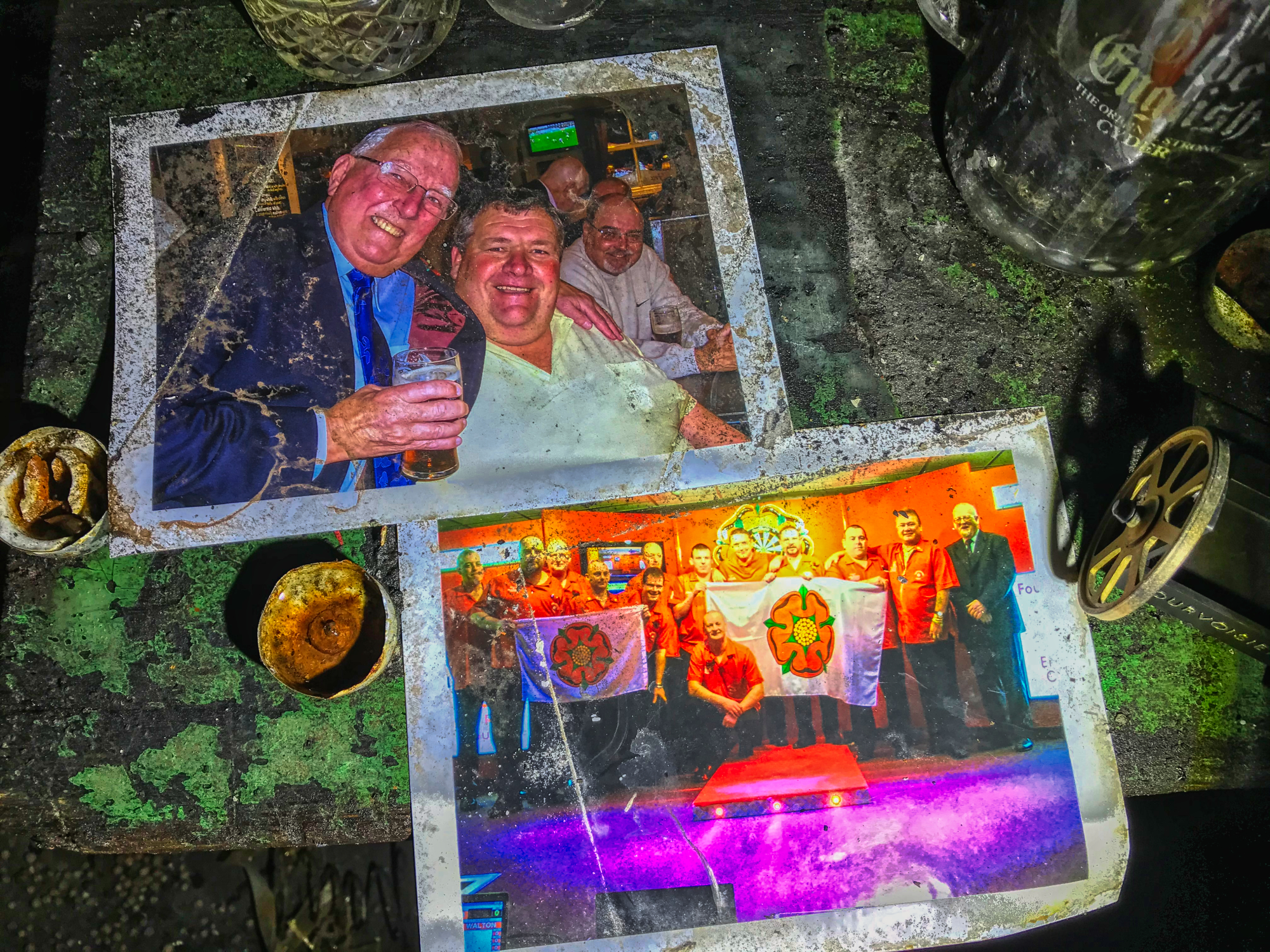 There were plenty of mementoes left behind on the lowest of levels. Trophies, photographs, books, magazines as well as the mandatory old beer barrels.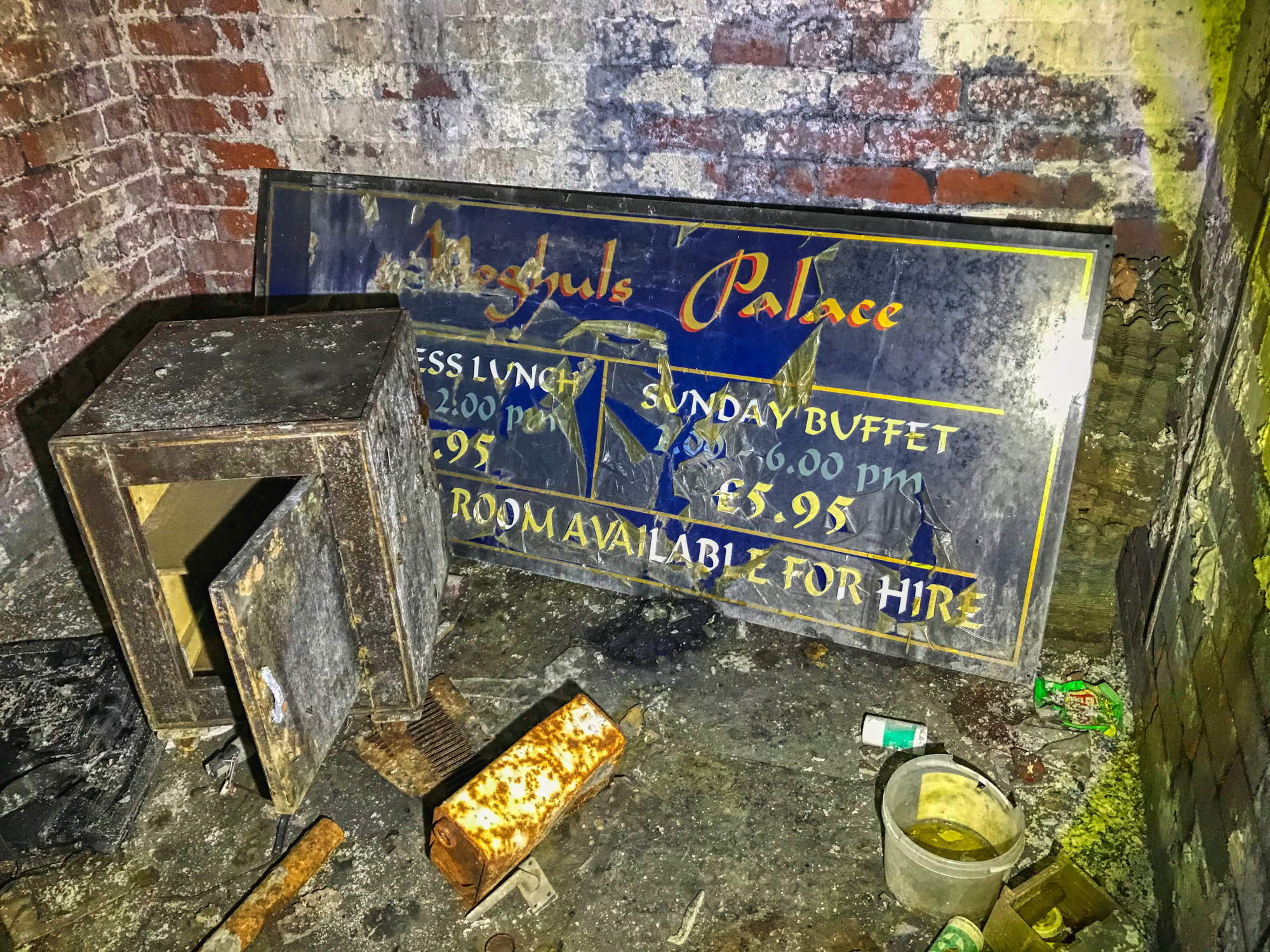 If Moghul's Palace was located in the basement, I don't think I would have liked to dine there.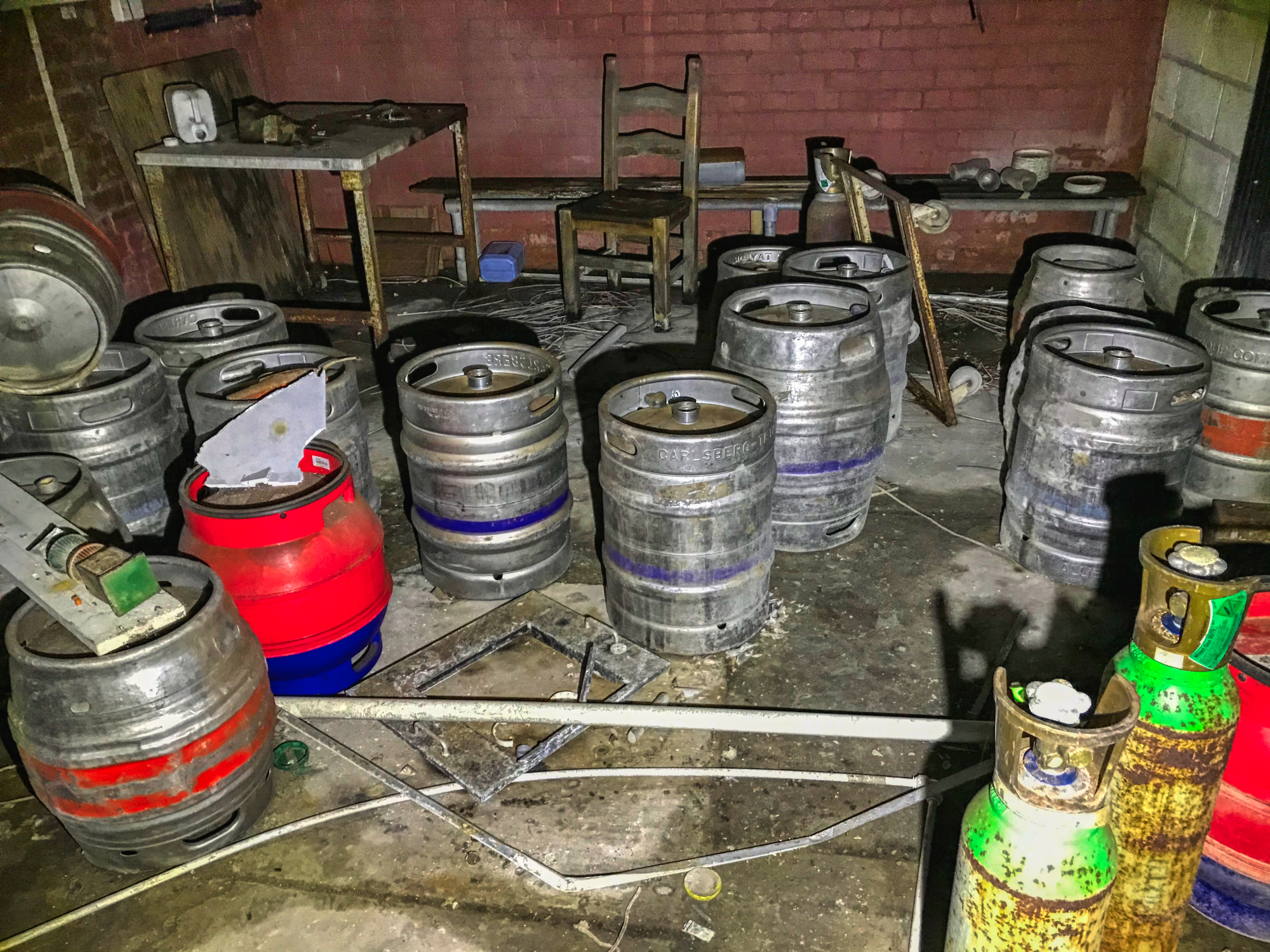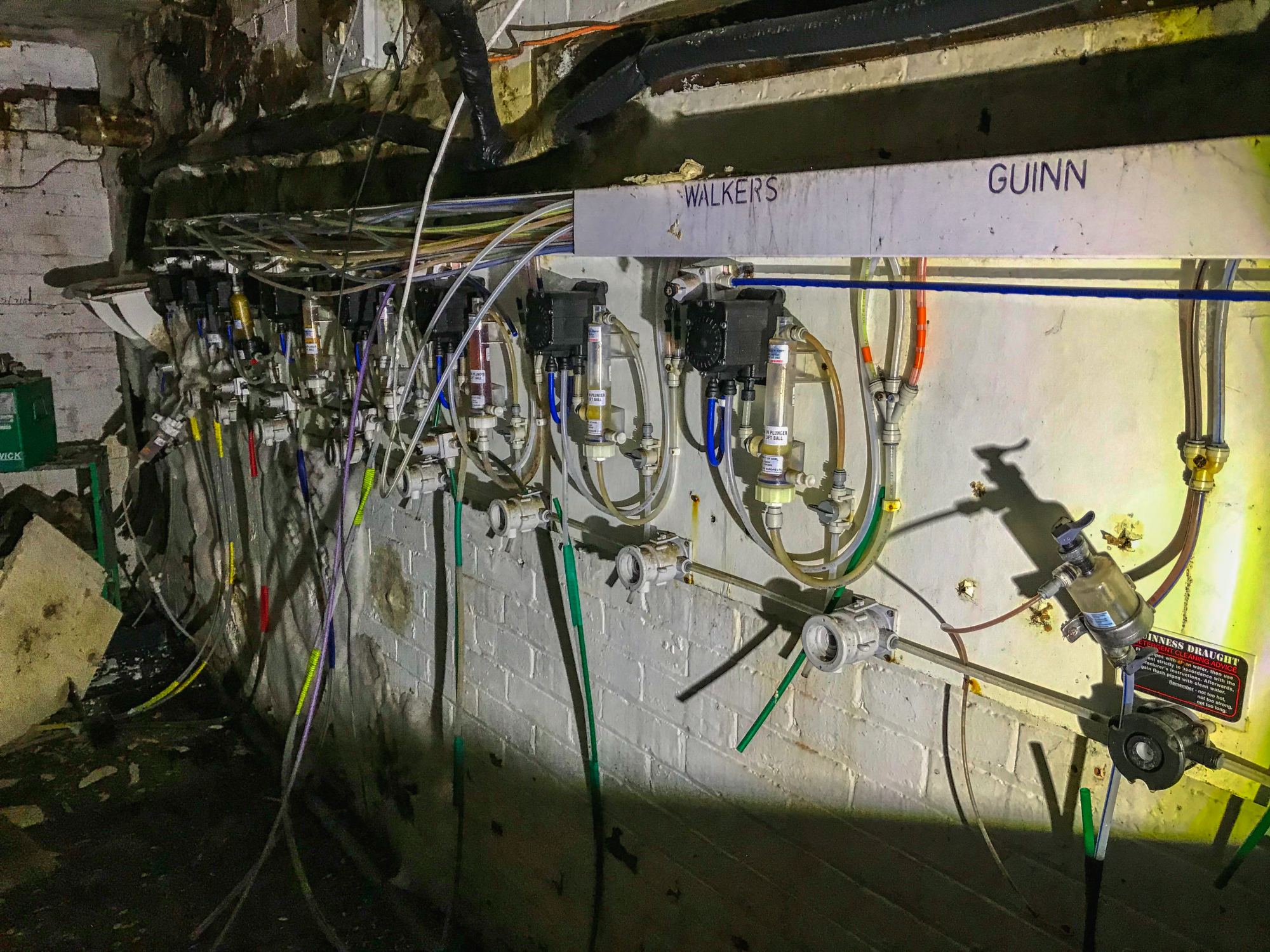 This was a large area and besides the old pumps, there was this pool of questionable liquid.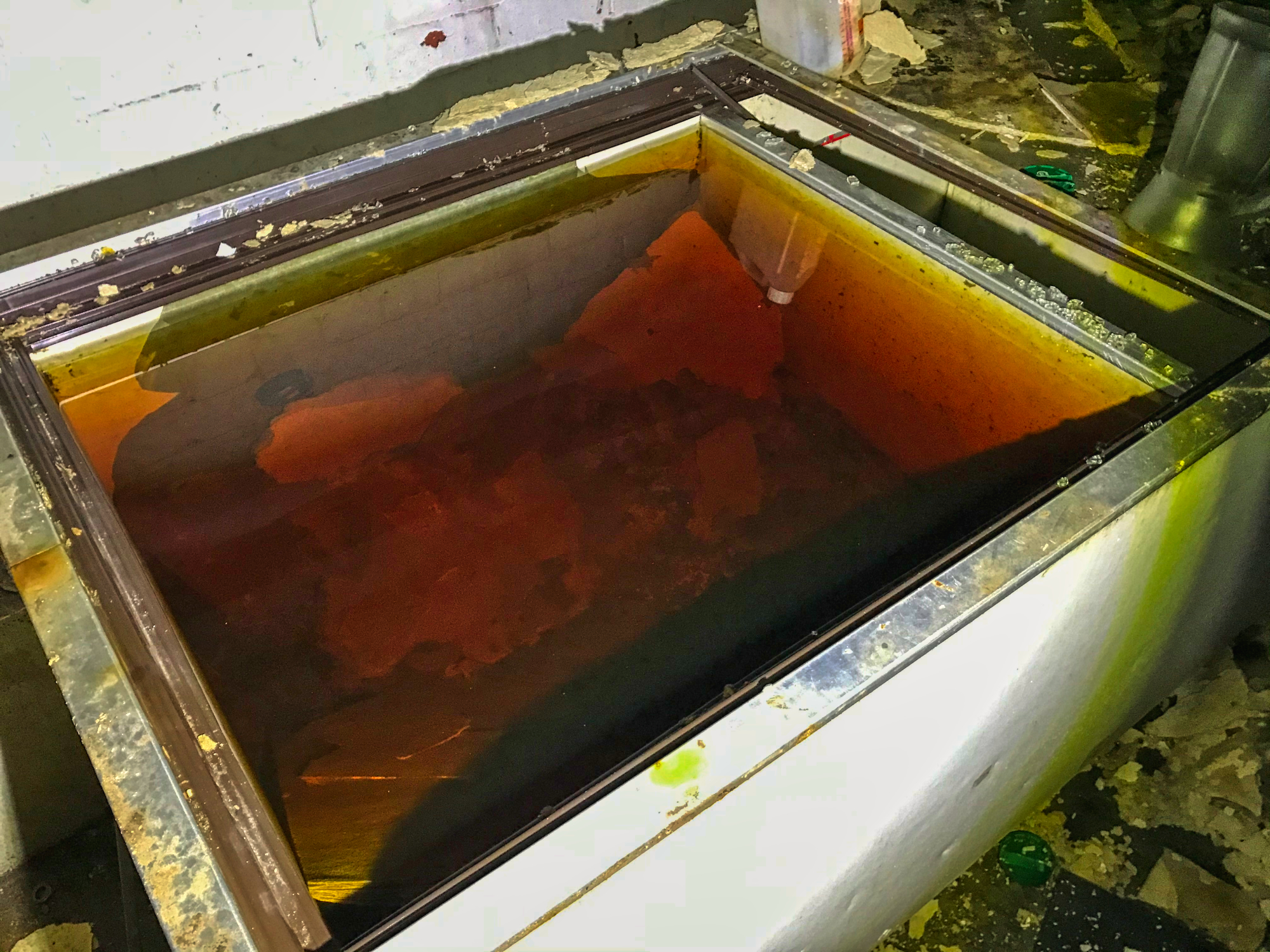 Blood? I fucking hope not; I'm an explorer, not a discoverer of old corpses left behind after being murdered.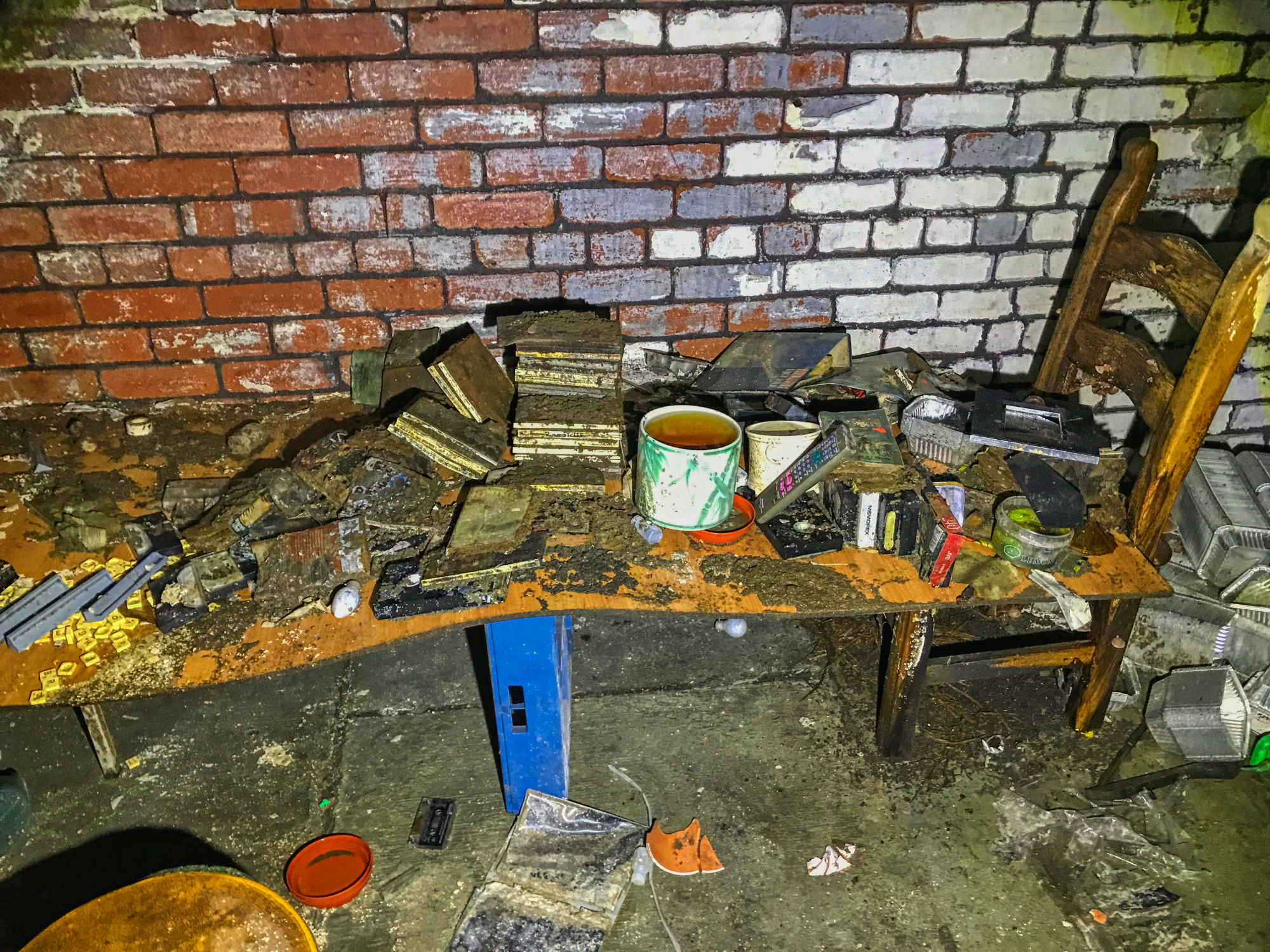 Finding myself alone once again, I continued poking around the basement.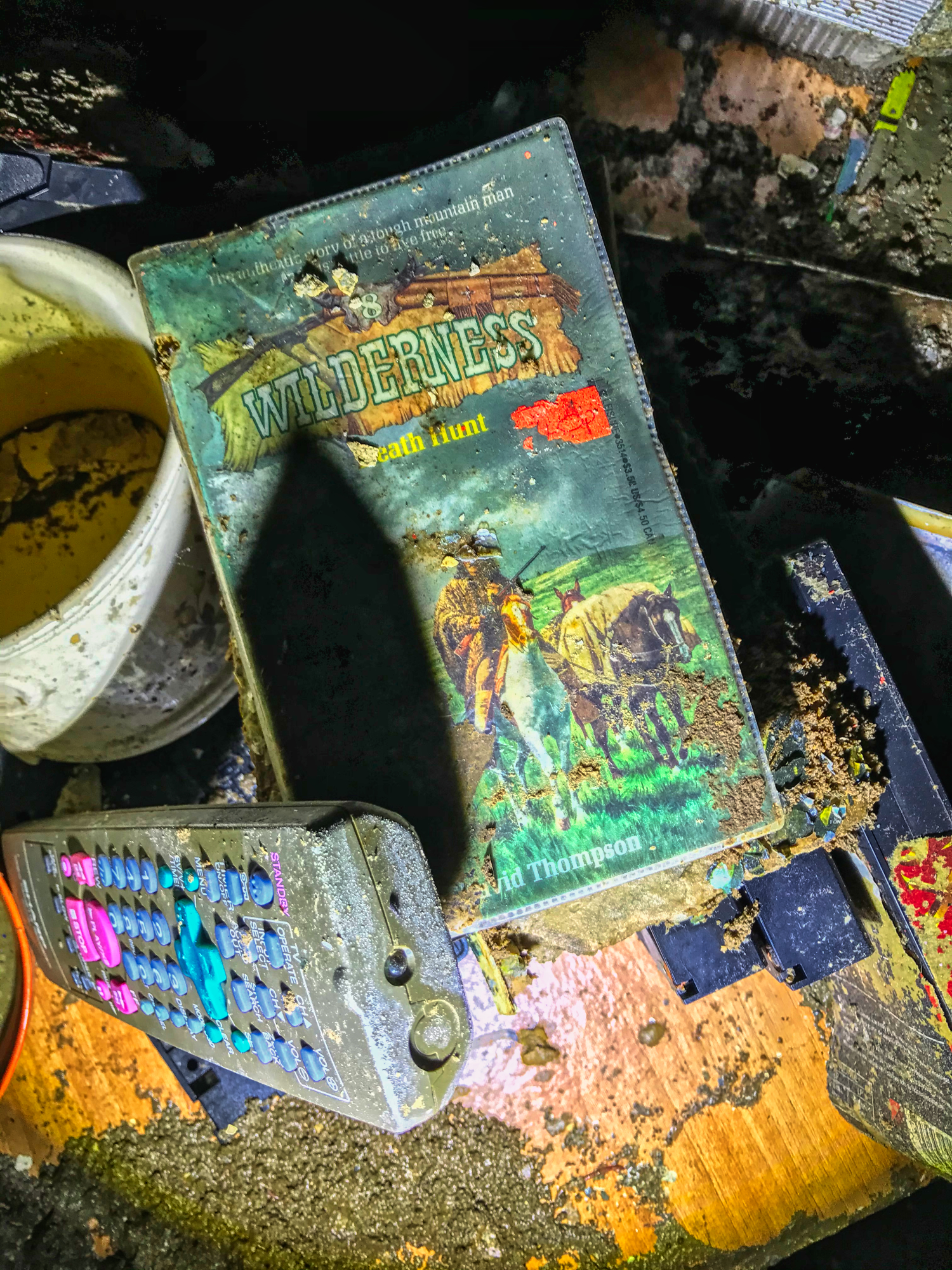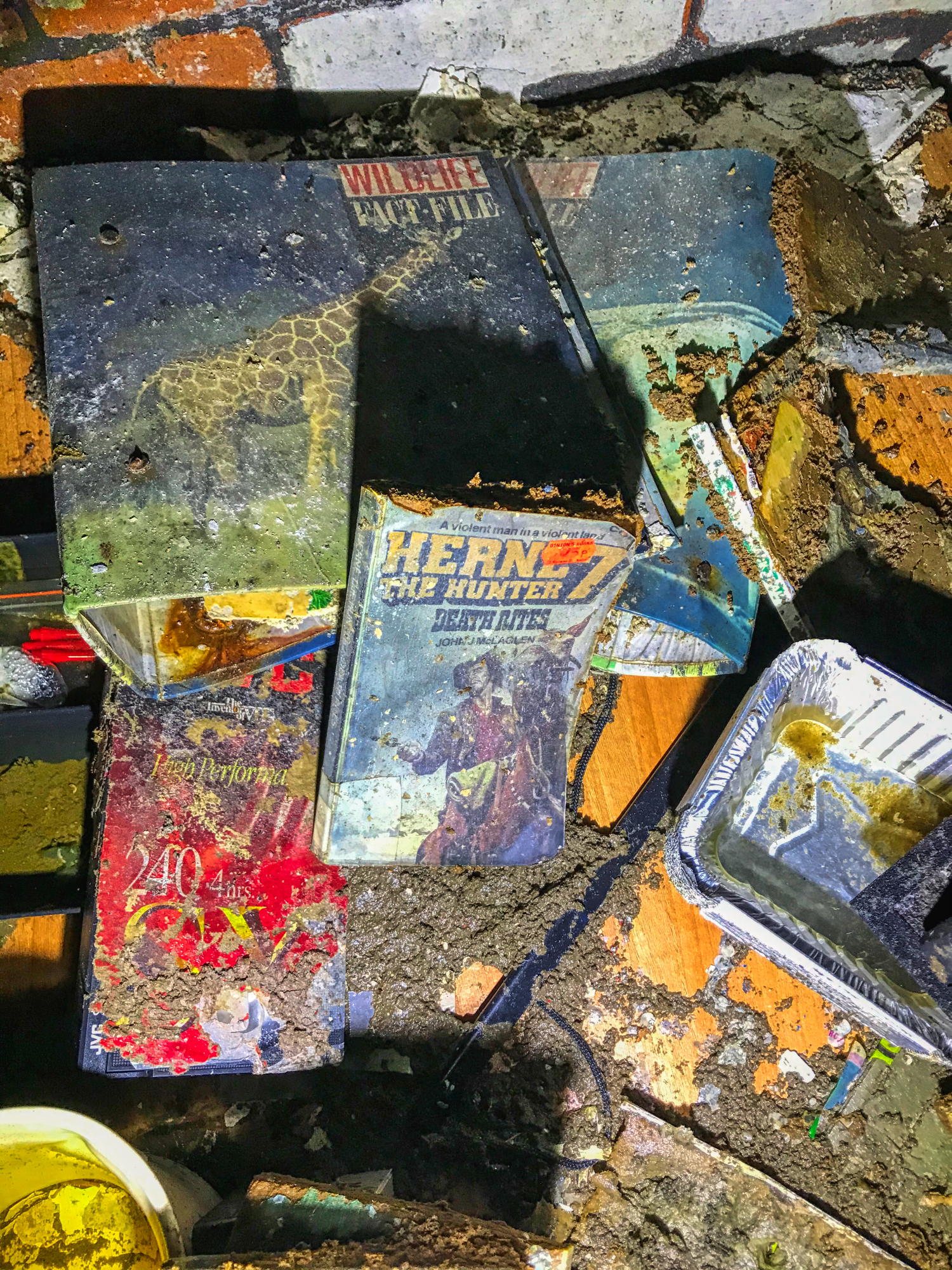 The books and old VHS tapes were so grotty I didn't want to handle them.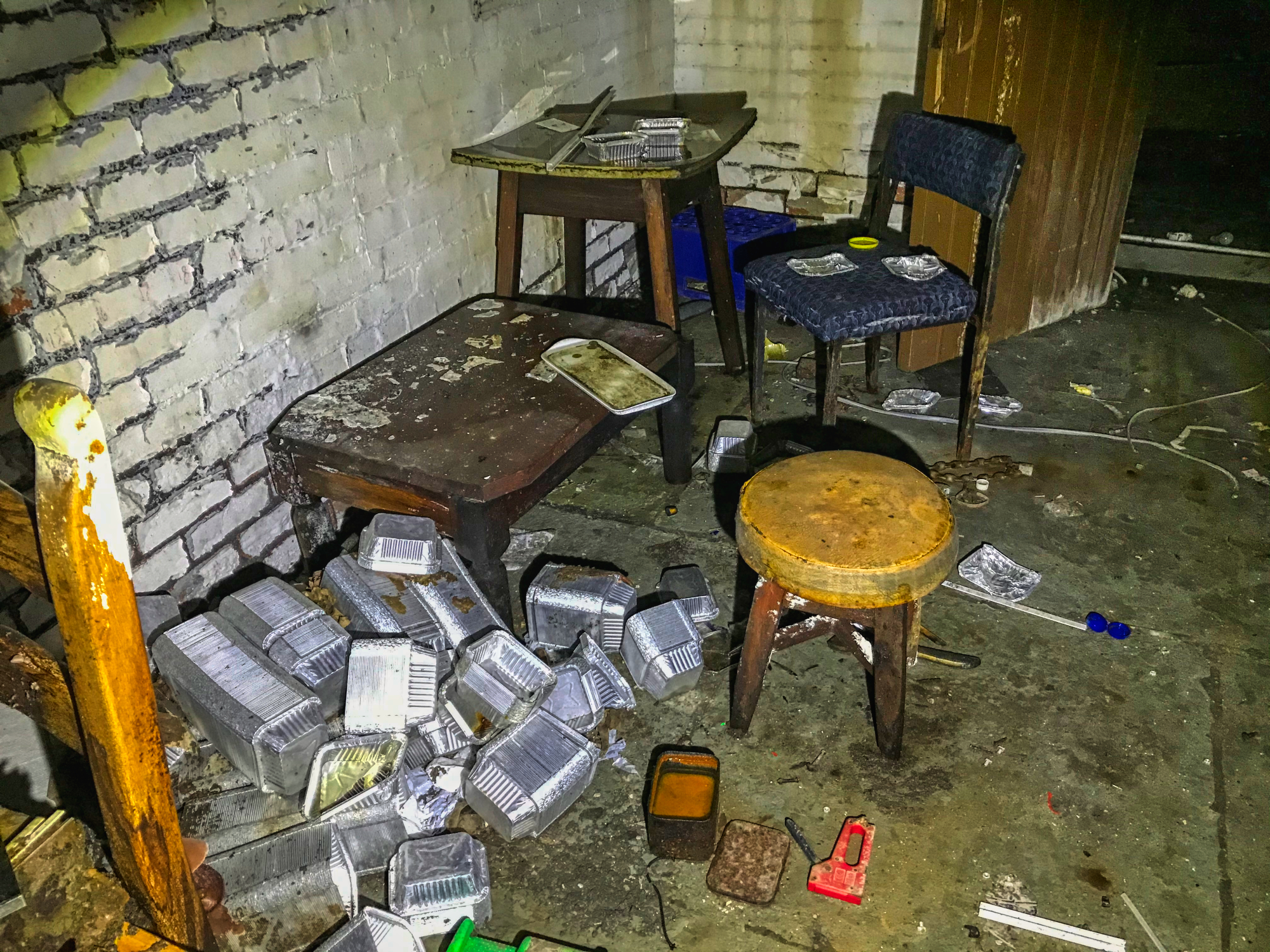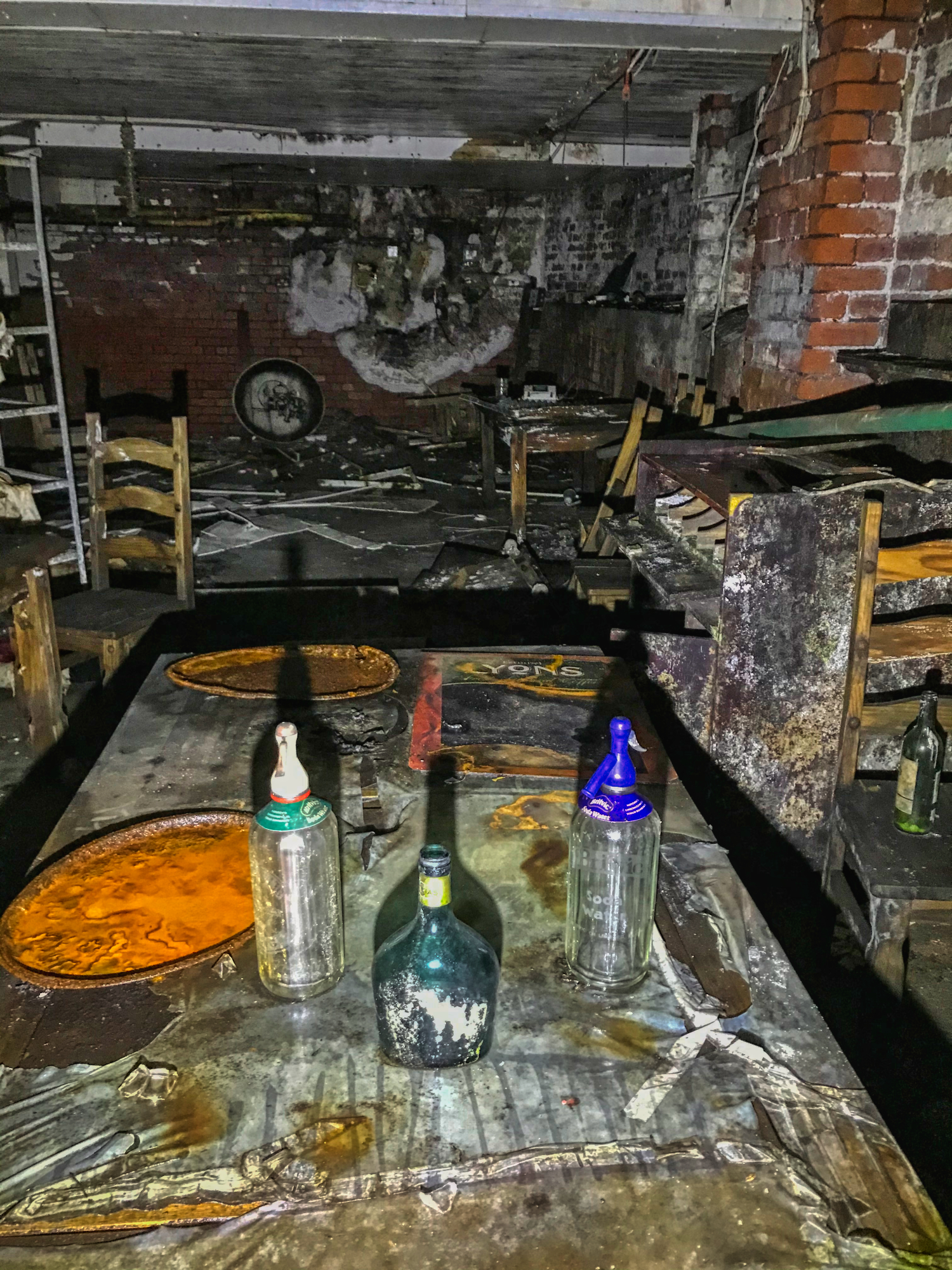 The restaurant must have supplied takeaway food as well as dining in this creepy cellar of doom.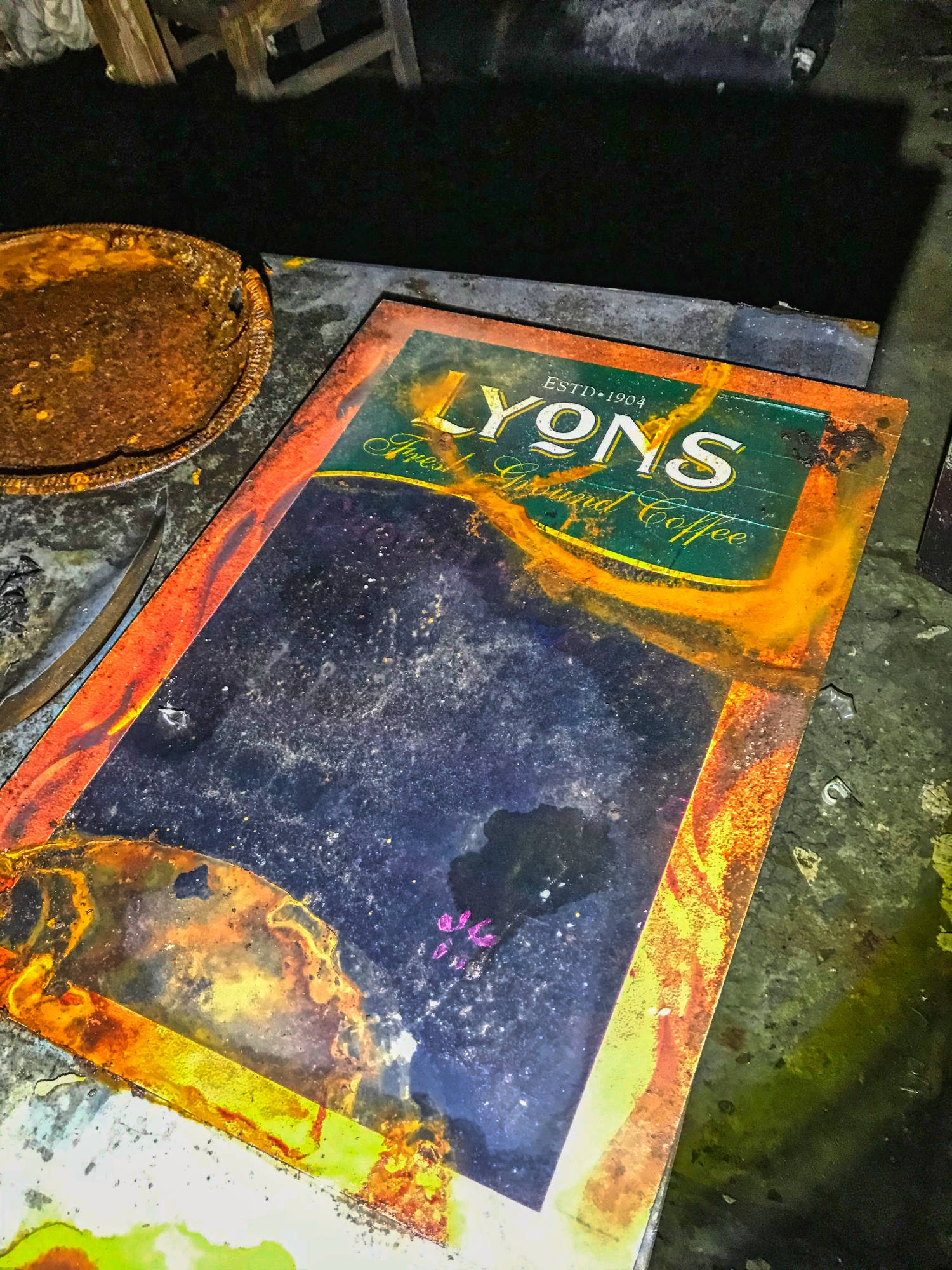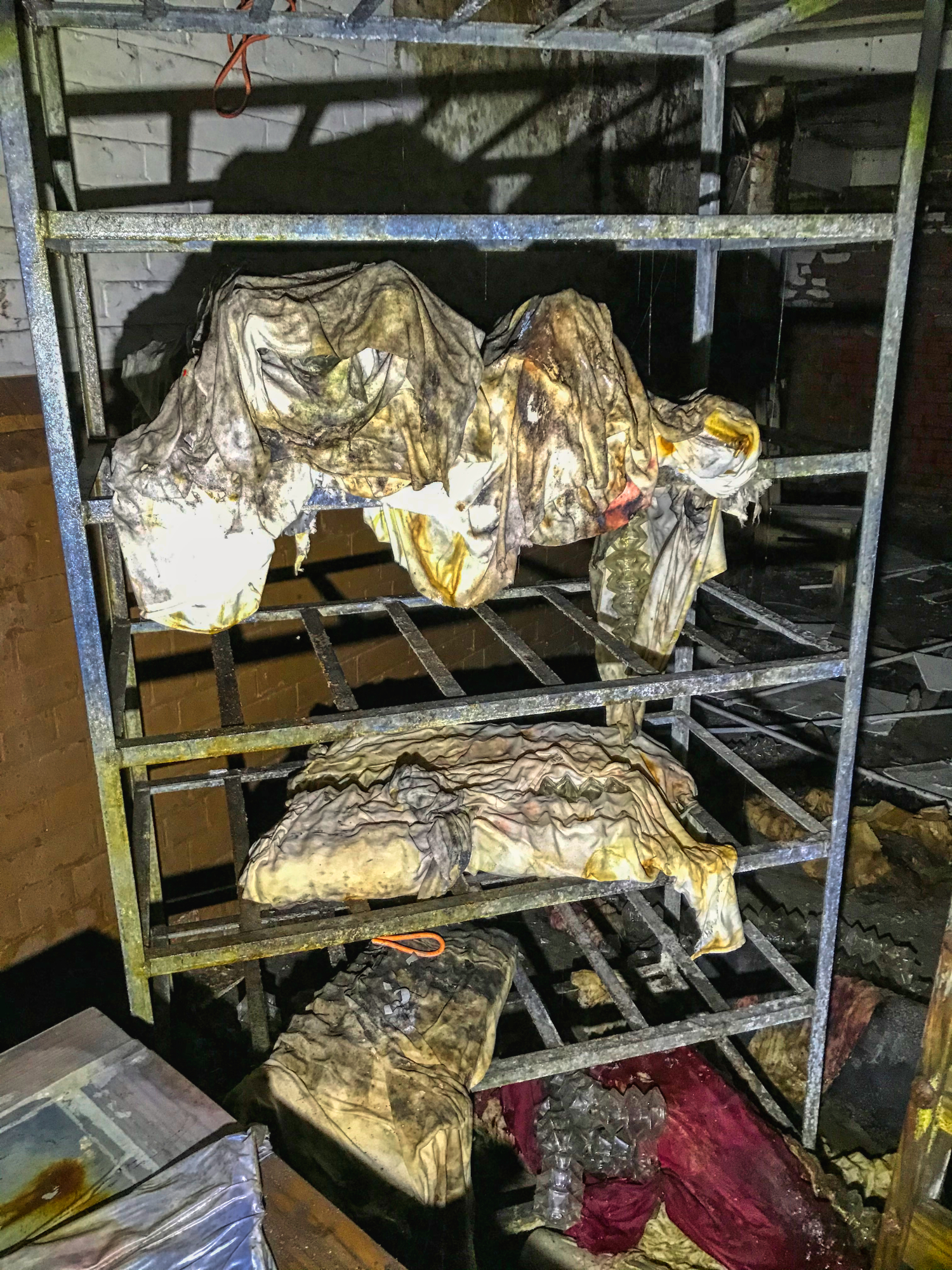 Not your freshly ironed laundry anymore. Body parts inside? I was not going to look.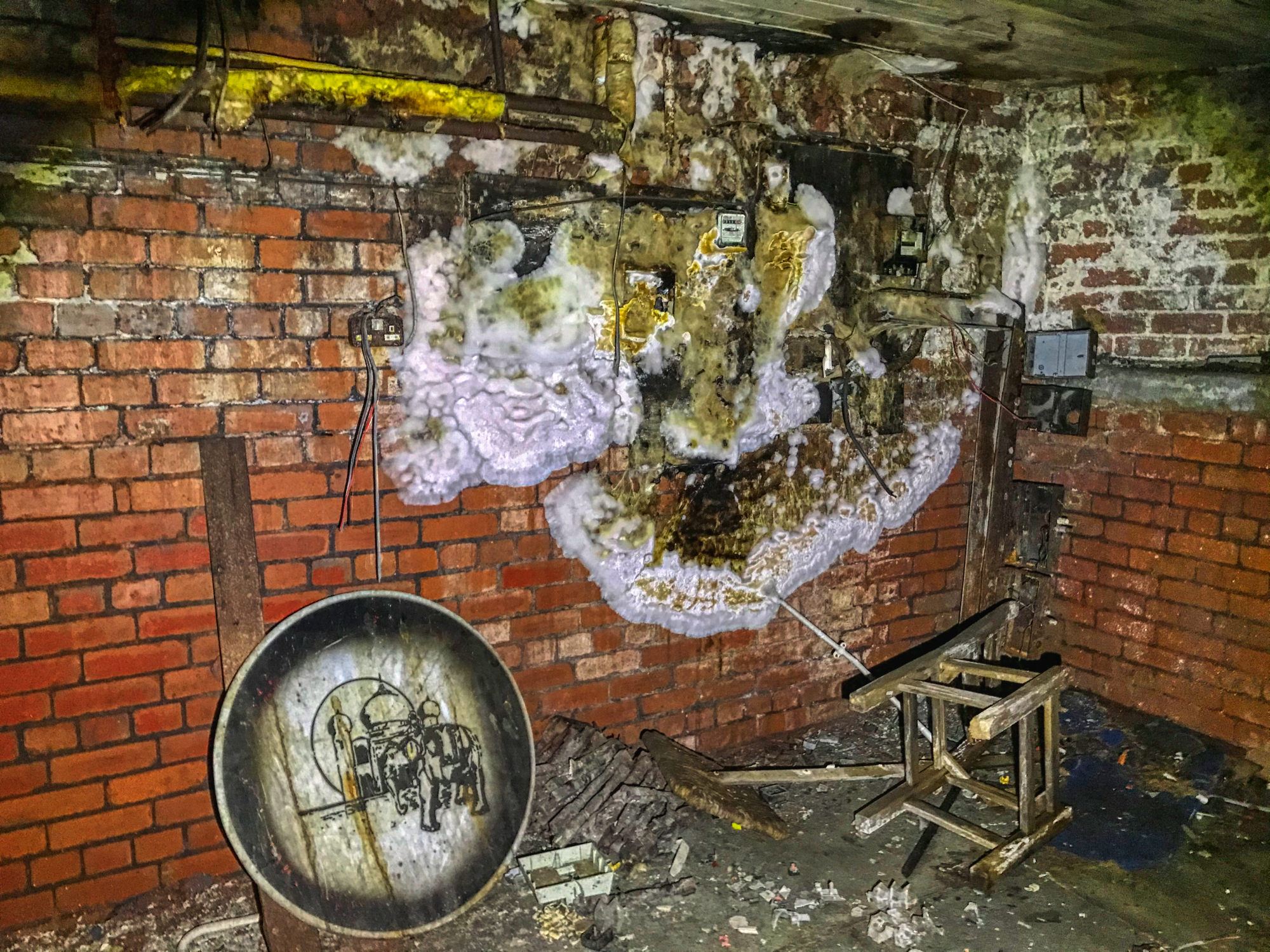 I didn't touch the white mouldy stuff in the corner. That's an impressive infestation.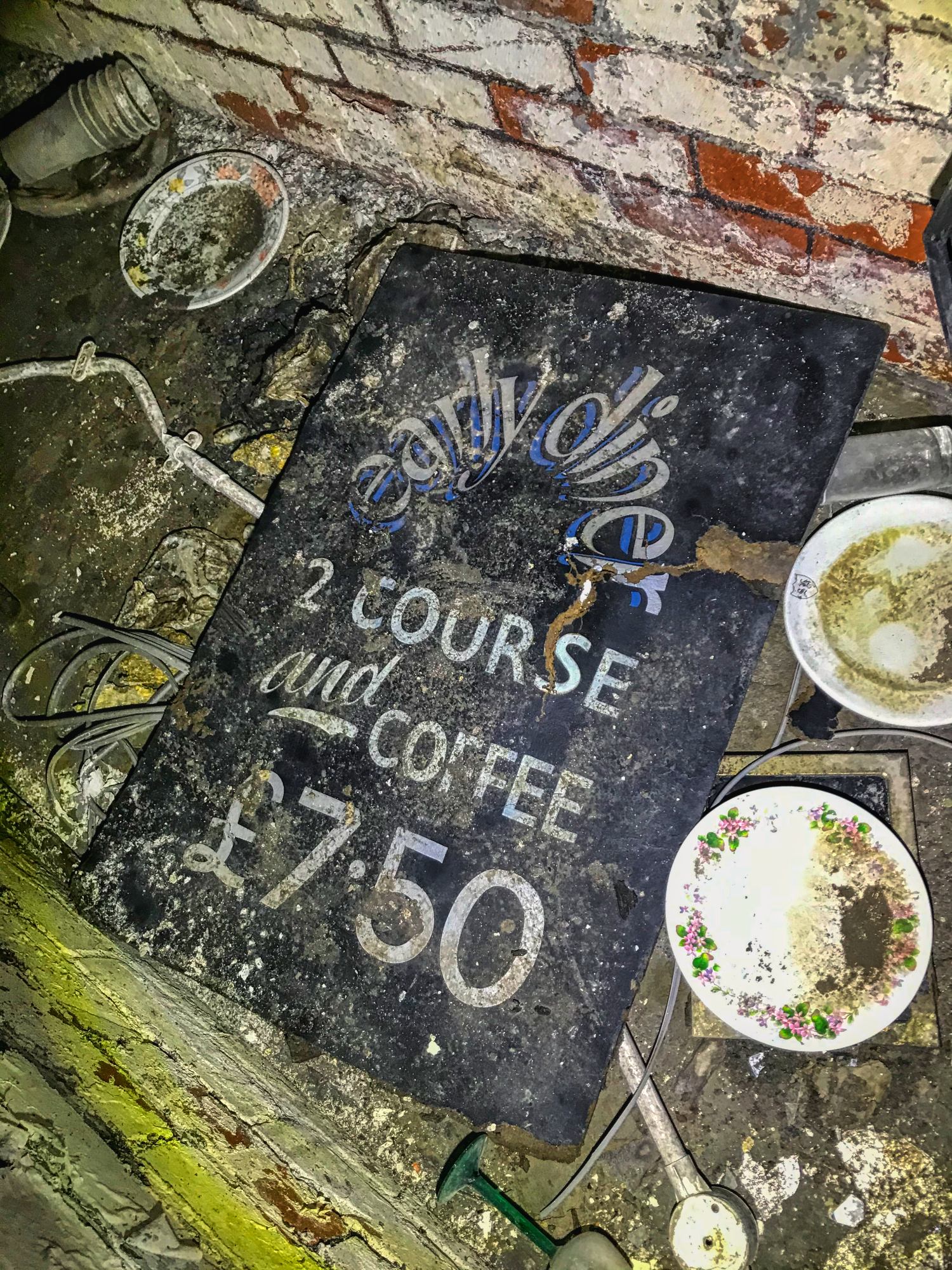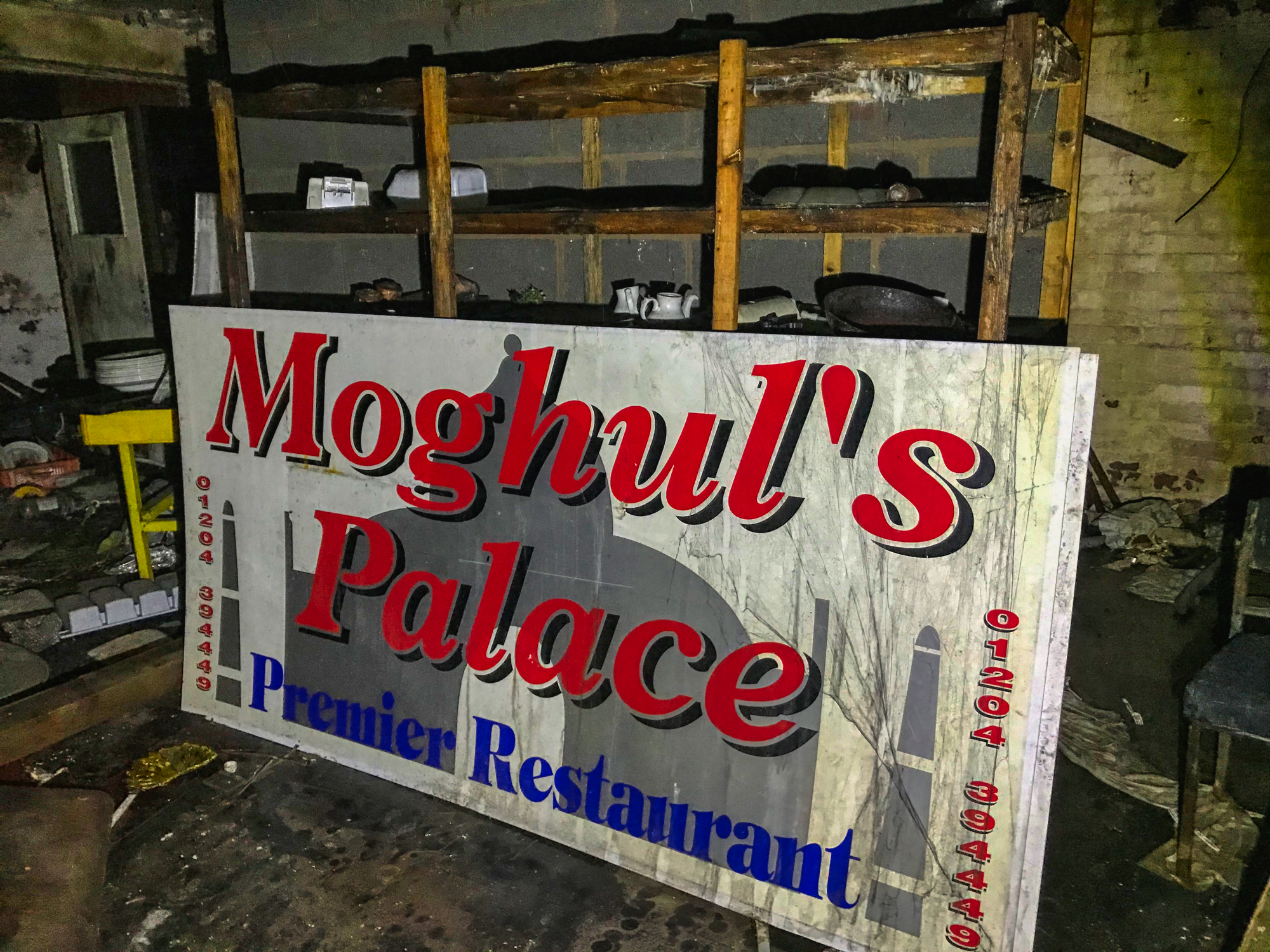 Moghul's Palace – A Premier Restaurant? The food would have needed to be premier to counteract the dire-looking surrounding.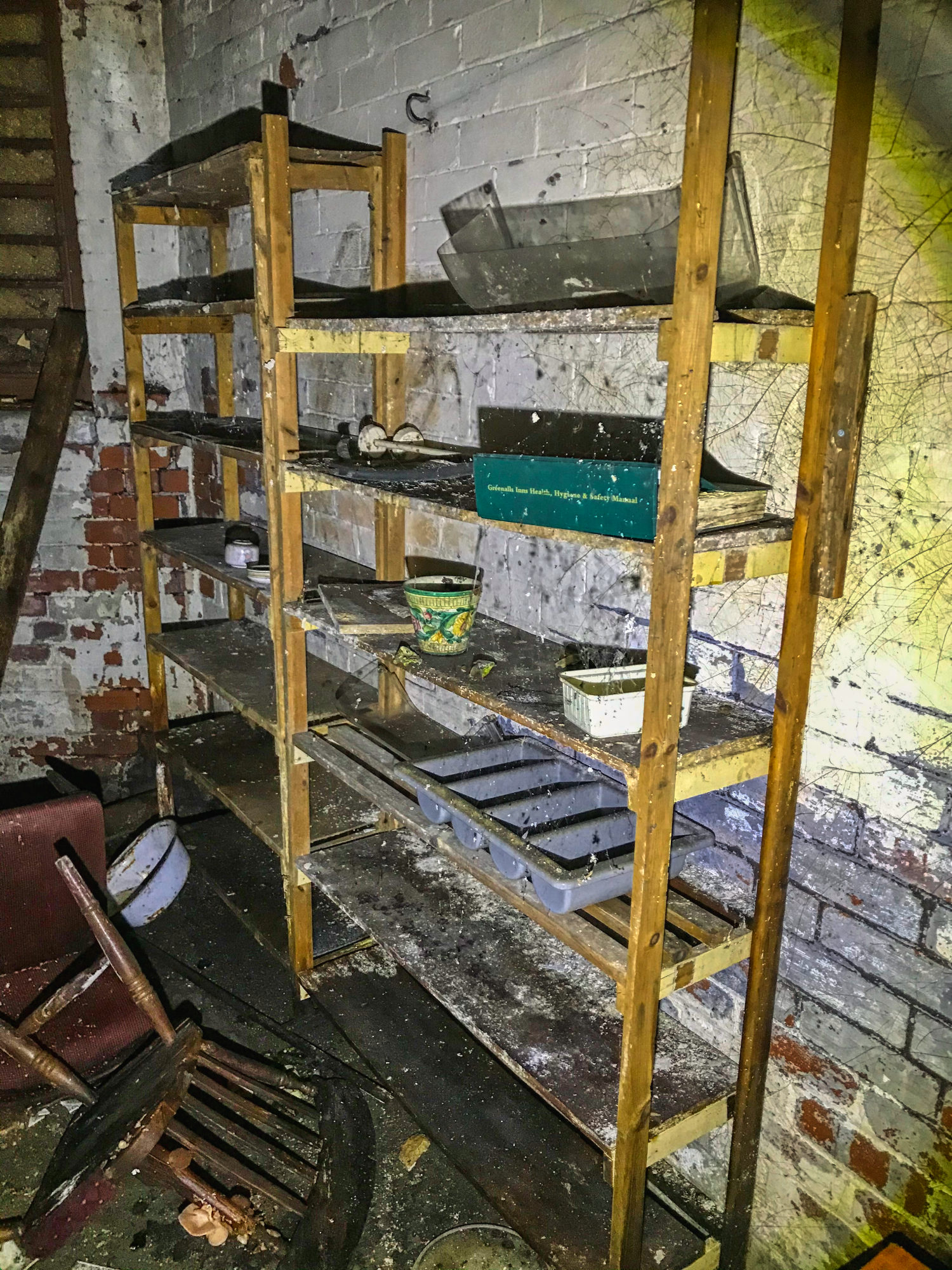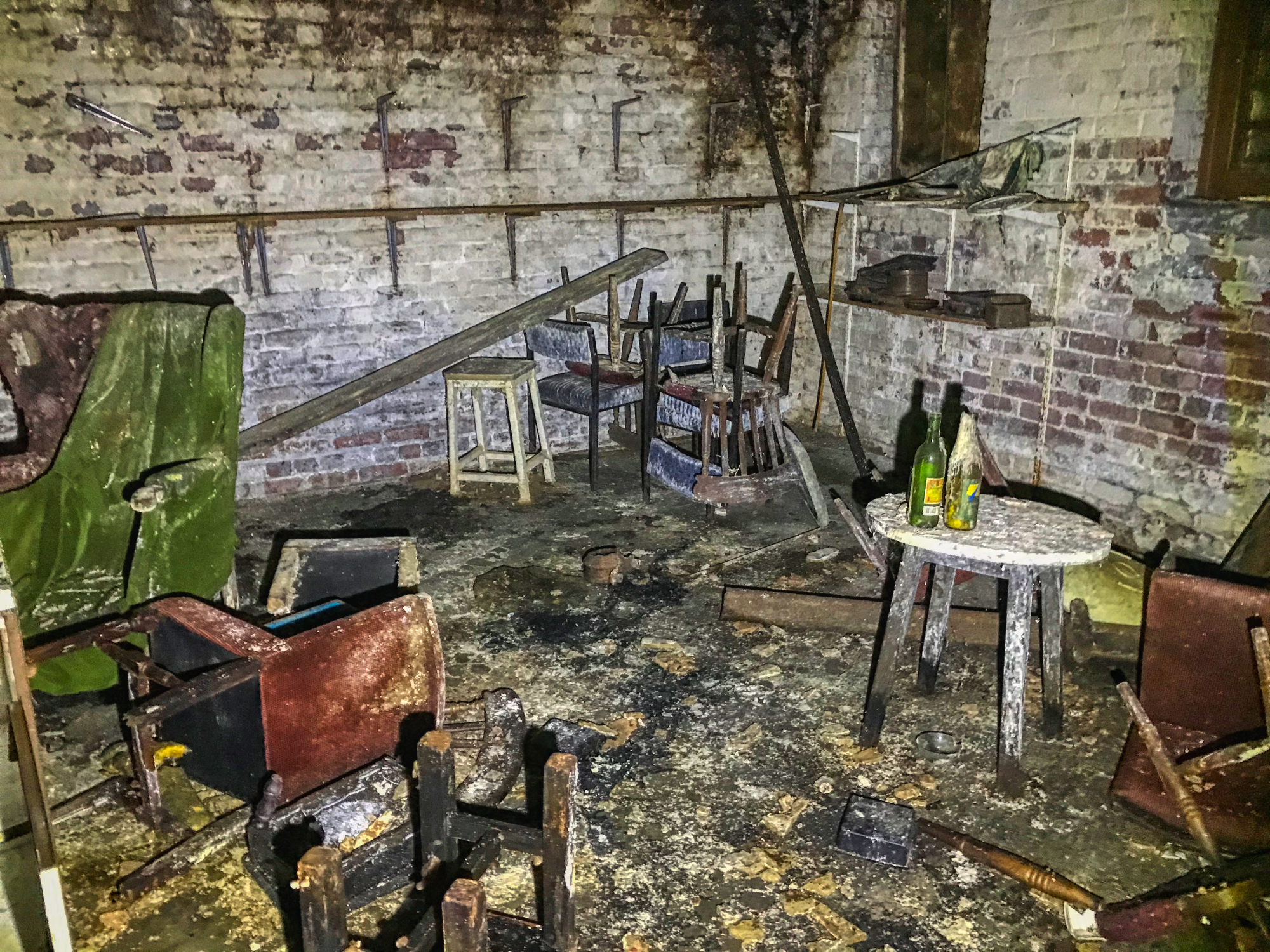 Was this the old dining area? I was wondering when I was going to finish down there, the area was large, to say the least.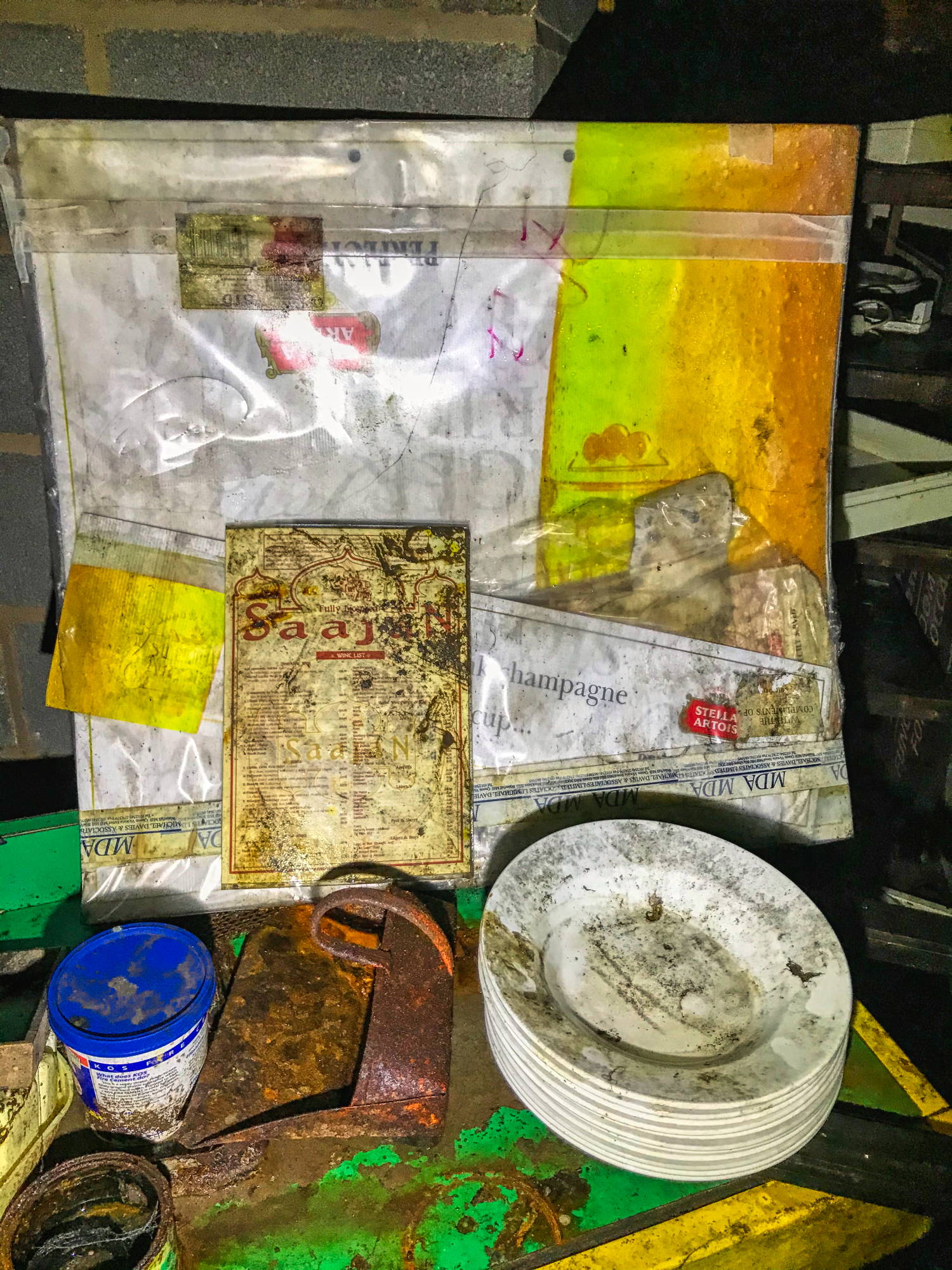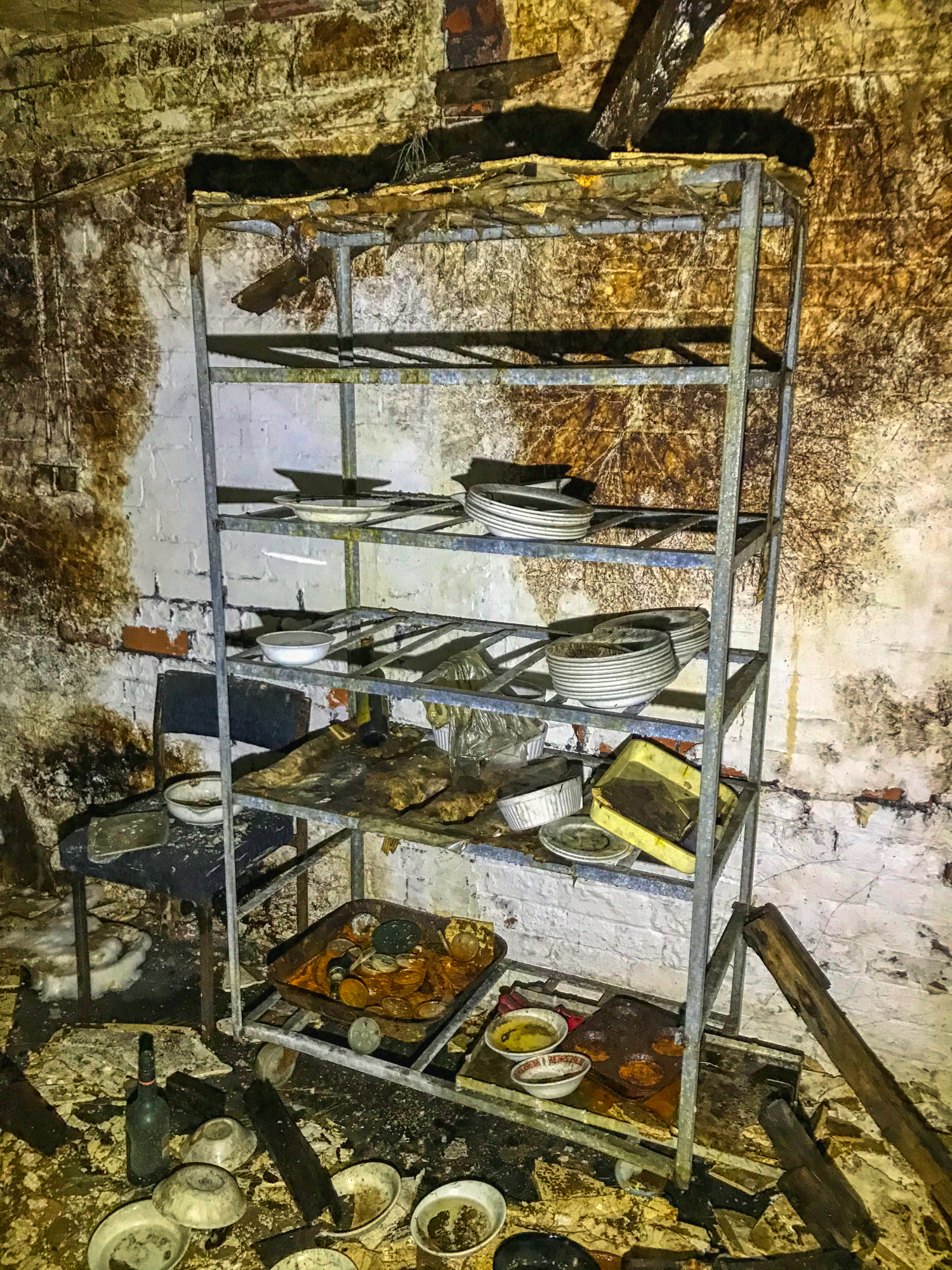 Seeing this room was one of those moments. It looked like a room from hell itself, or had someone shit themselves and wiped it all over the walls?
It made me shudder and that takes some doing after the sights I have seen.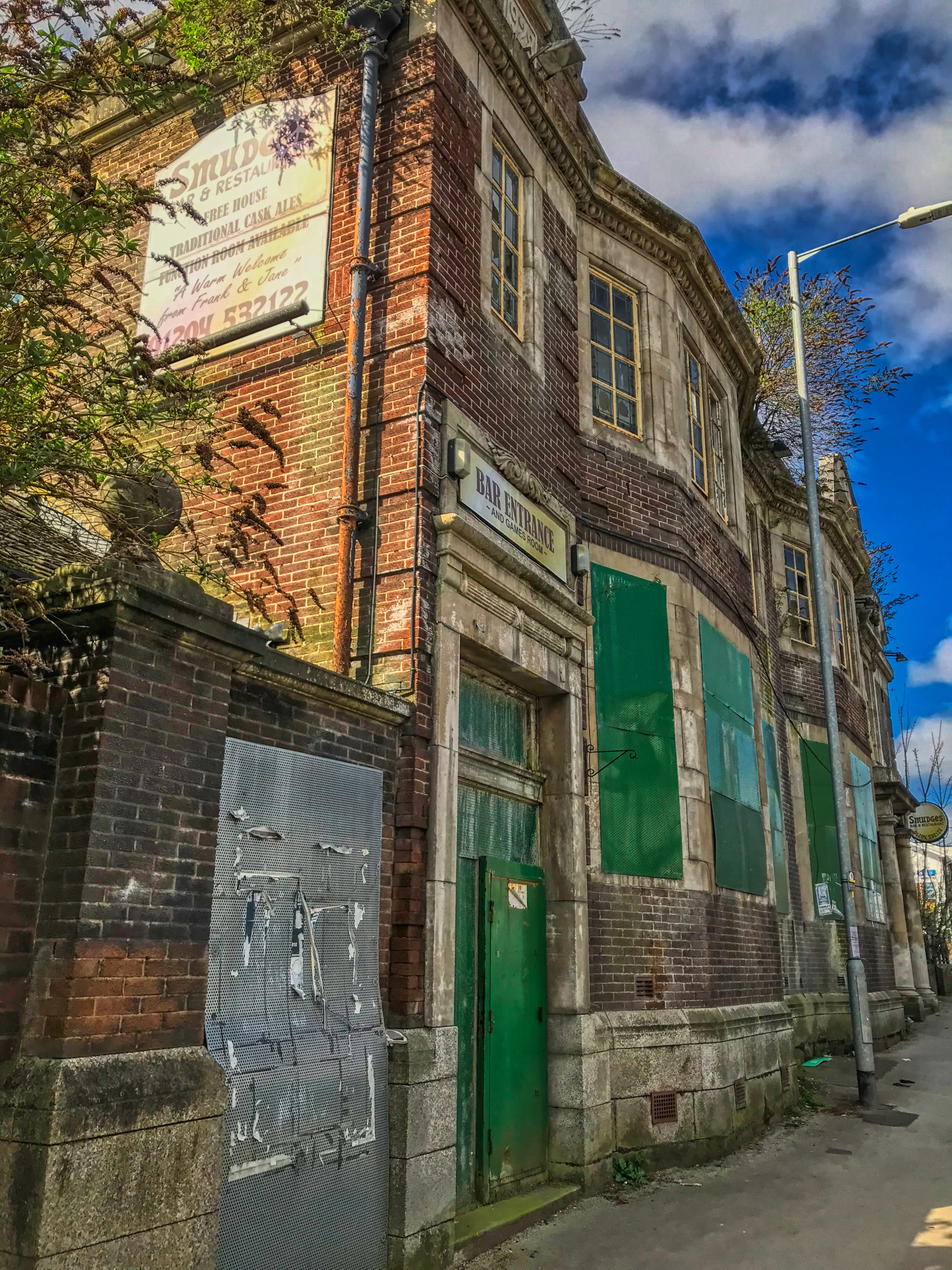 We left Smudges victorious. Just 2 weeks ago we needed to drive past and the front is now full of scaffolding. Does that mean it is now off-limits?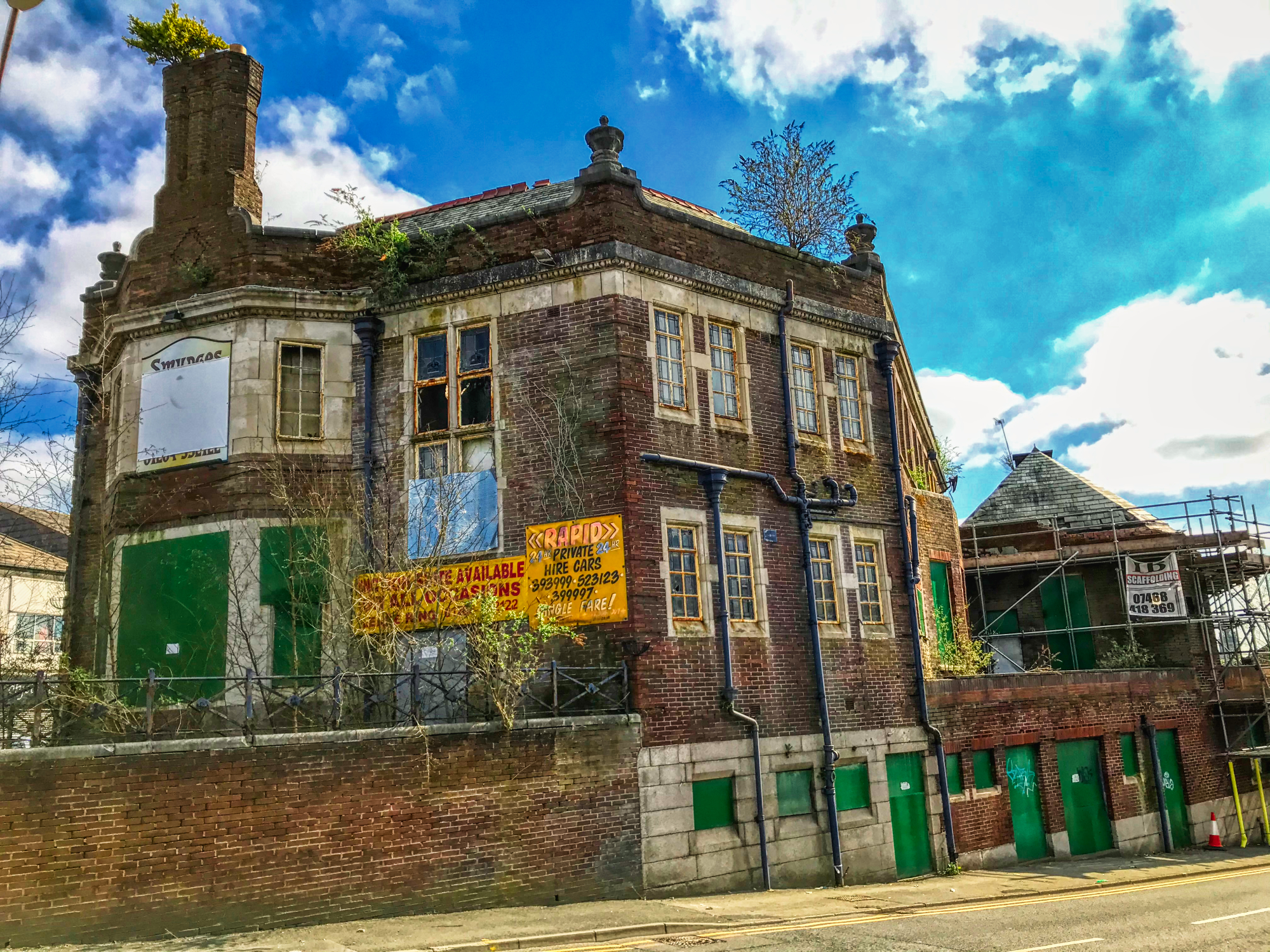 Possibly and a shame as it's definitely worth a visit before the refurbishment starts.

Do you like posting your Urbex content and photography for FREE on Facebook and YouTube? I like to get some form of reward for my work and every time I create I do just that. Take a look at The Urbex Community on HIVE.
If you want to keep creating for FREE then ignore what you are reading. If you want to be like me and gain something other than BUGGER ALL for your work then click here and learn about posting on the HIVE blockchain.

Earn FREE EOS from Coinbase by taking partaking in a simple quiz here
Earn currency while you play brewing virtual beer with CryptoBrewMaster
Earn currency while you play and become a global Rock Star with Rising Star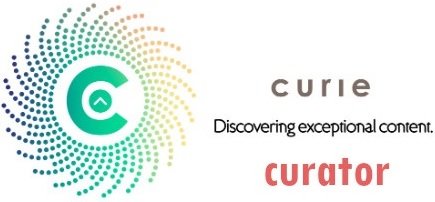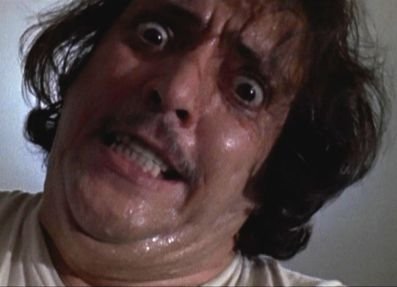 If you found this article so invigorating that you are now a positively googly-eyed, drooling lunatic with dripping saliva or even if you liked it just a bit, then please upvote, comment, rehive, engage me or all of these things.
---
---