Tales of the Urban Explorer: High Elms Mental Hospital
What's better than walking out of one mansion and straight into another?
A spectacular orgasm would be one thing or the initial rush of coming up on some dubious substance another, but seeing this monstrous hulking building lurking behind what looked like a solid fence was intriguing.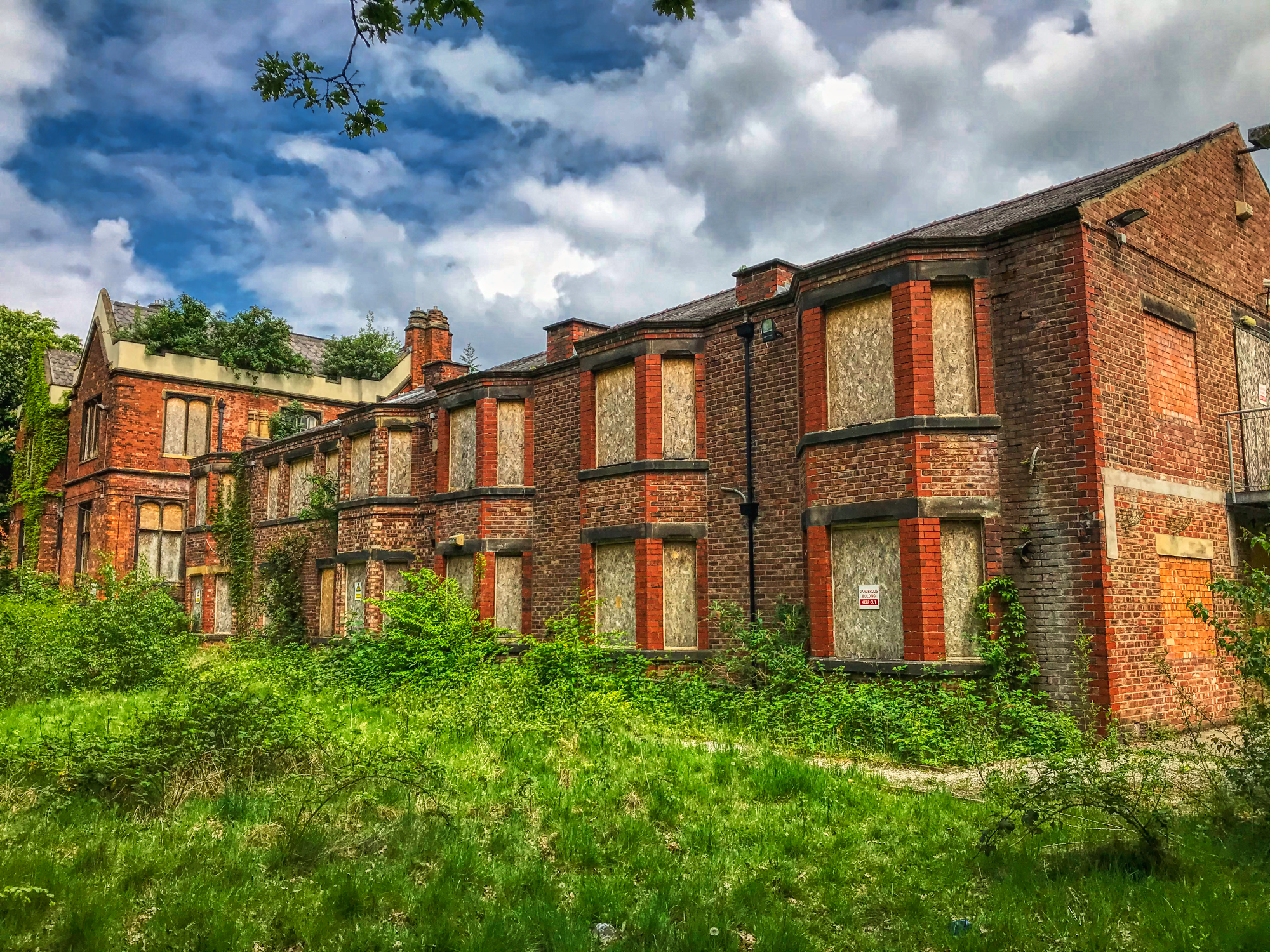 High Elms was until 2013 in use by the NHS as a rehabilitation centre for people with mental health issues. Since that time the site and building has been left vacant with the building falling into a poor state of repair.
We could hear some builders next door and so I had to unfasten my wad of disposable gags and attach one firmly to @anidiotexplores mouth lest he started his ritual singing.
This one was going to require stealth as we would need to sneak past whoever was making a racket in the adjoining property.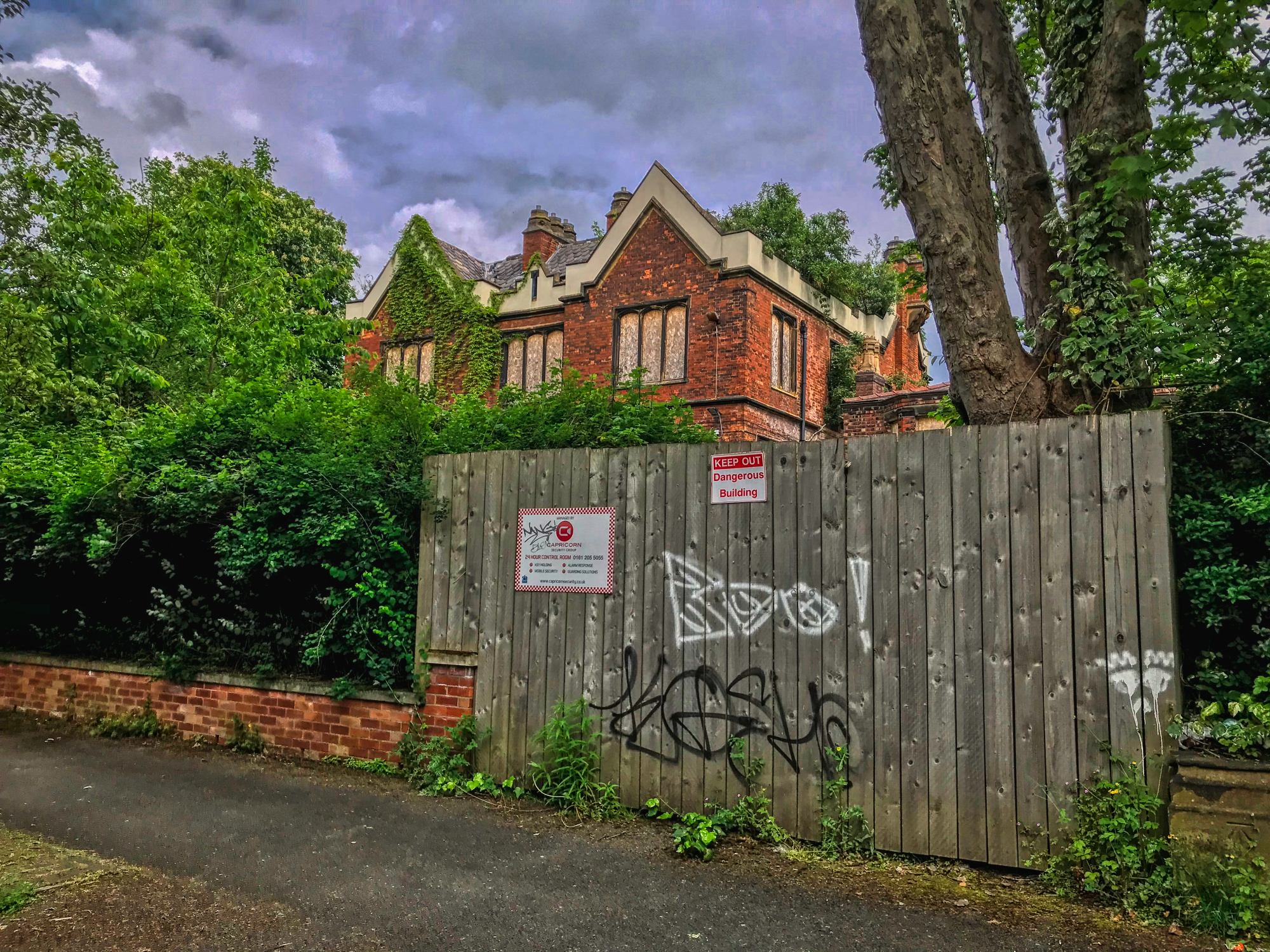 After some initial checking, @anidiotexplores climbed over a 12 fence and ushered me in through a much easier gap that neither of us had initially noticed.
We were on the grounds but that meant nothing. High Elms was not on the current TourBus which meant access was a complete unknown.
This mansion, or was it another ex-council building was big, too big for a family surely?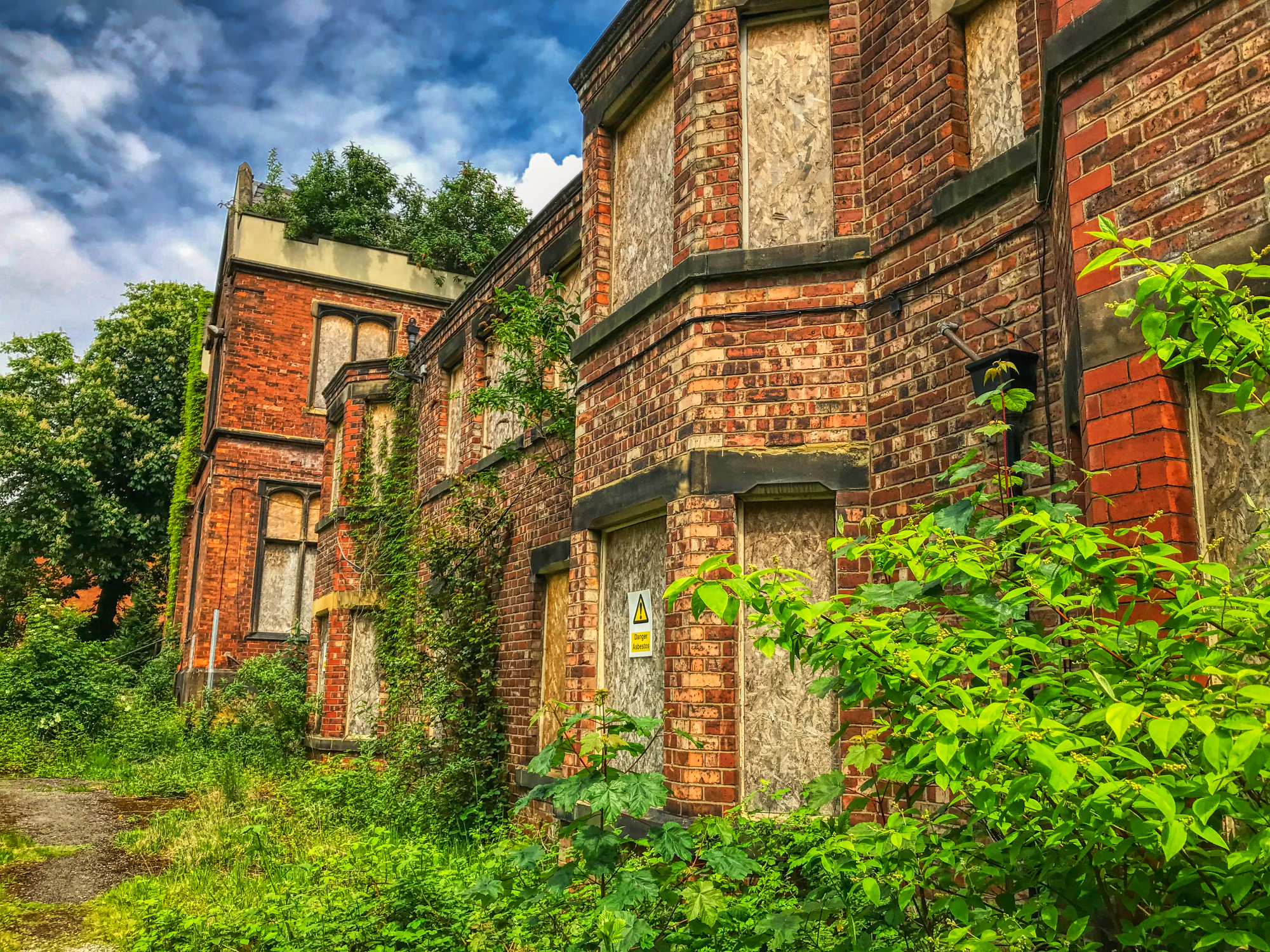 Scouting around the edges and trying to avoid some houses where potential Karen's could see us, we quickly found an access point and entered with ease.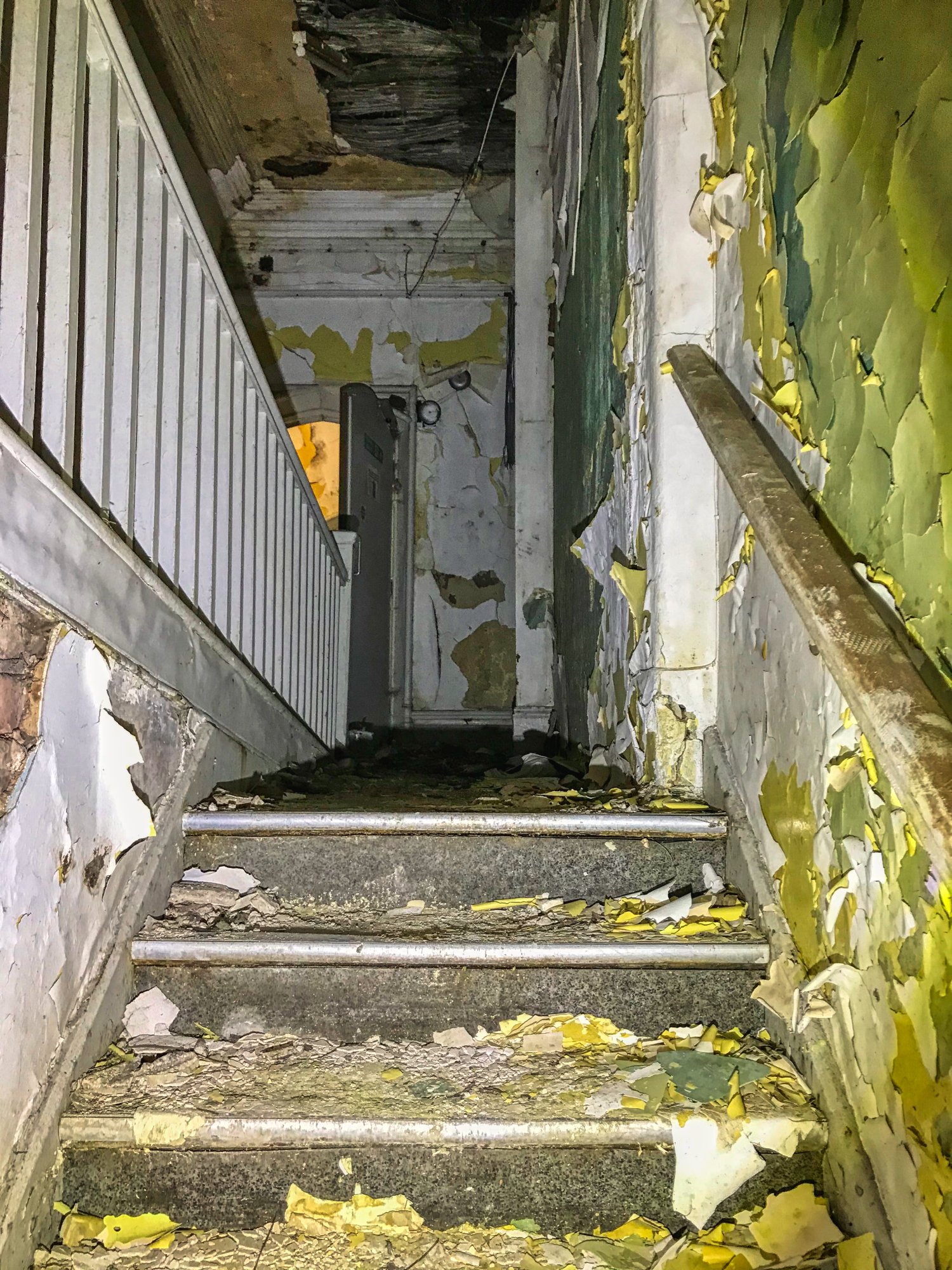 From the first seconds, I could see that High Elms was not another Brook House and I would have to be content with what has become my base quality of explores, that is derpy derps.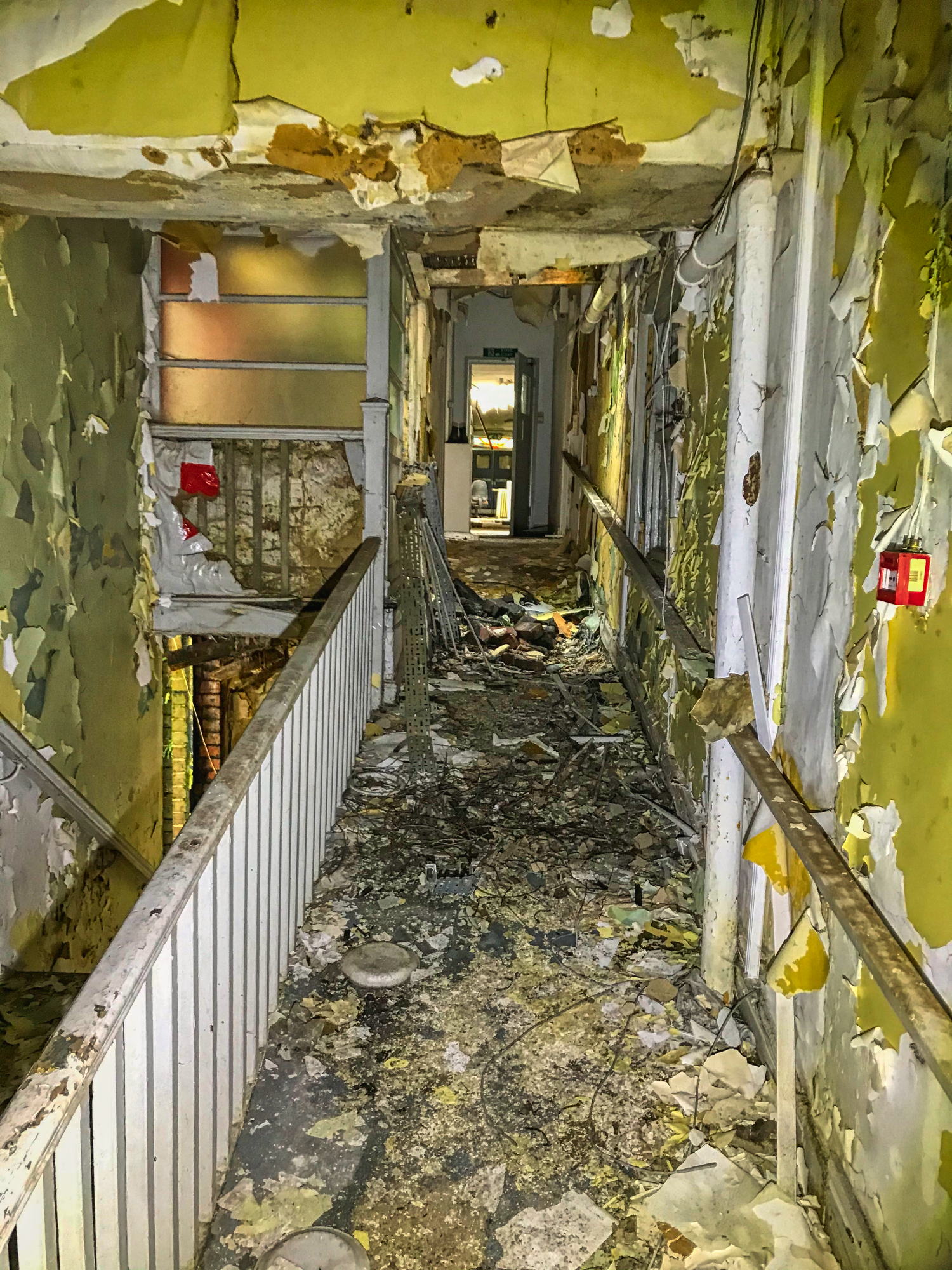 The paintwork was peeling badly and there were the frequent large holes in the floor I am so accustomed to.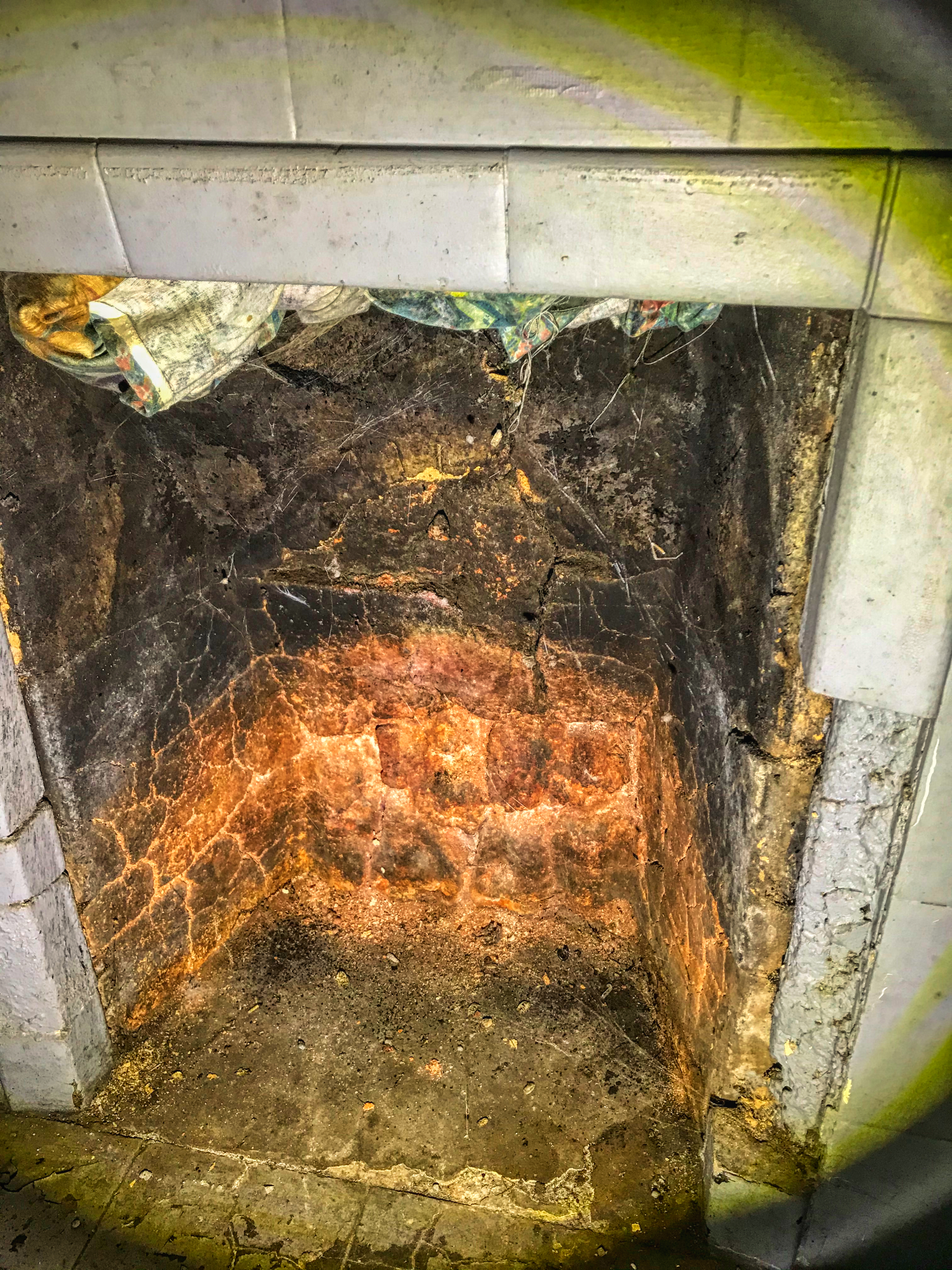 Someone has shoved some curtains up the chimney. I never noticed at the time. There could have been used banknotes or several kilos of cocaine there worth thousands up there. Tut, I need to become more vigilant.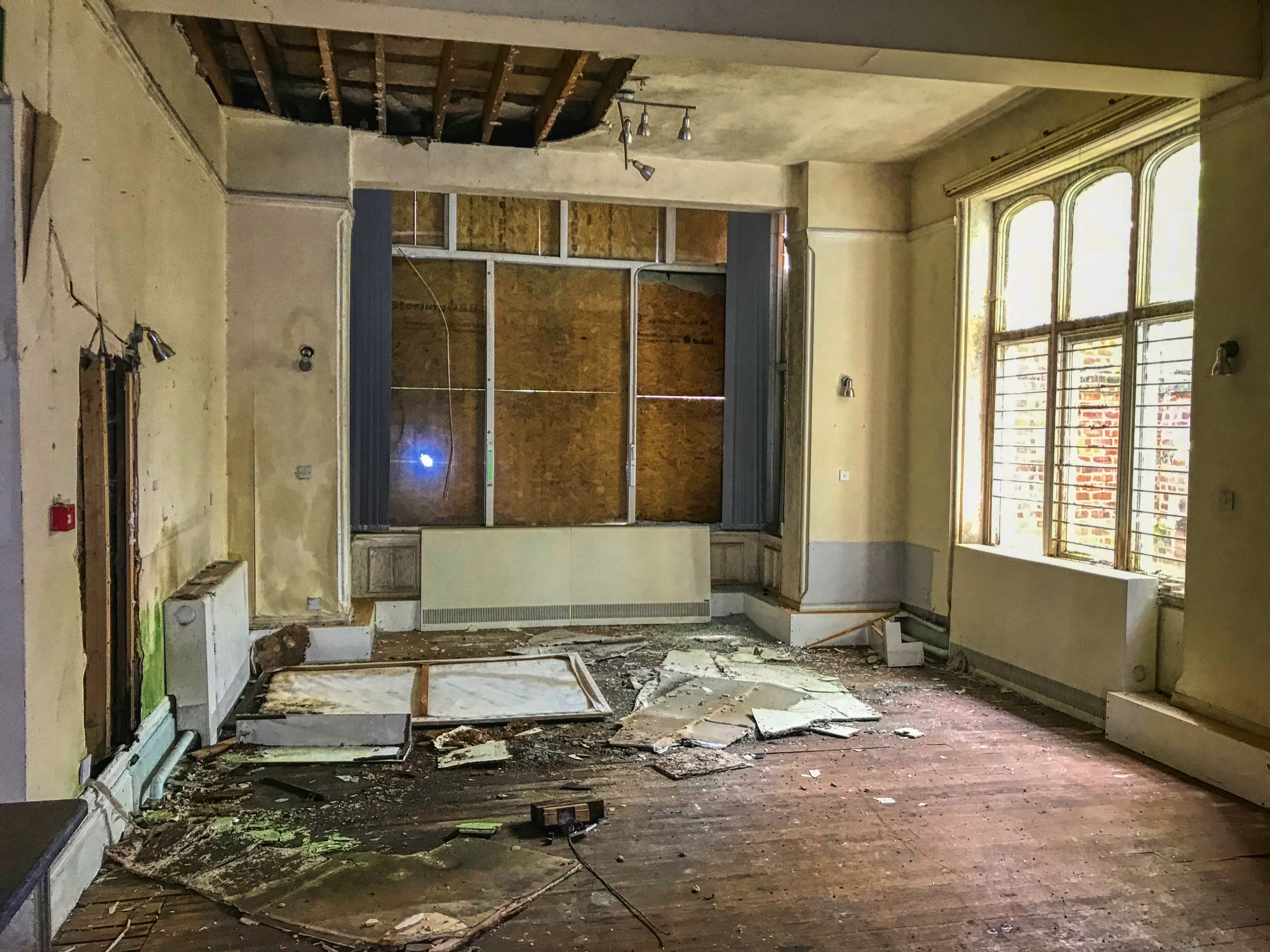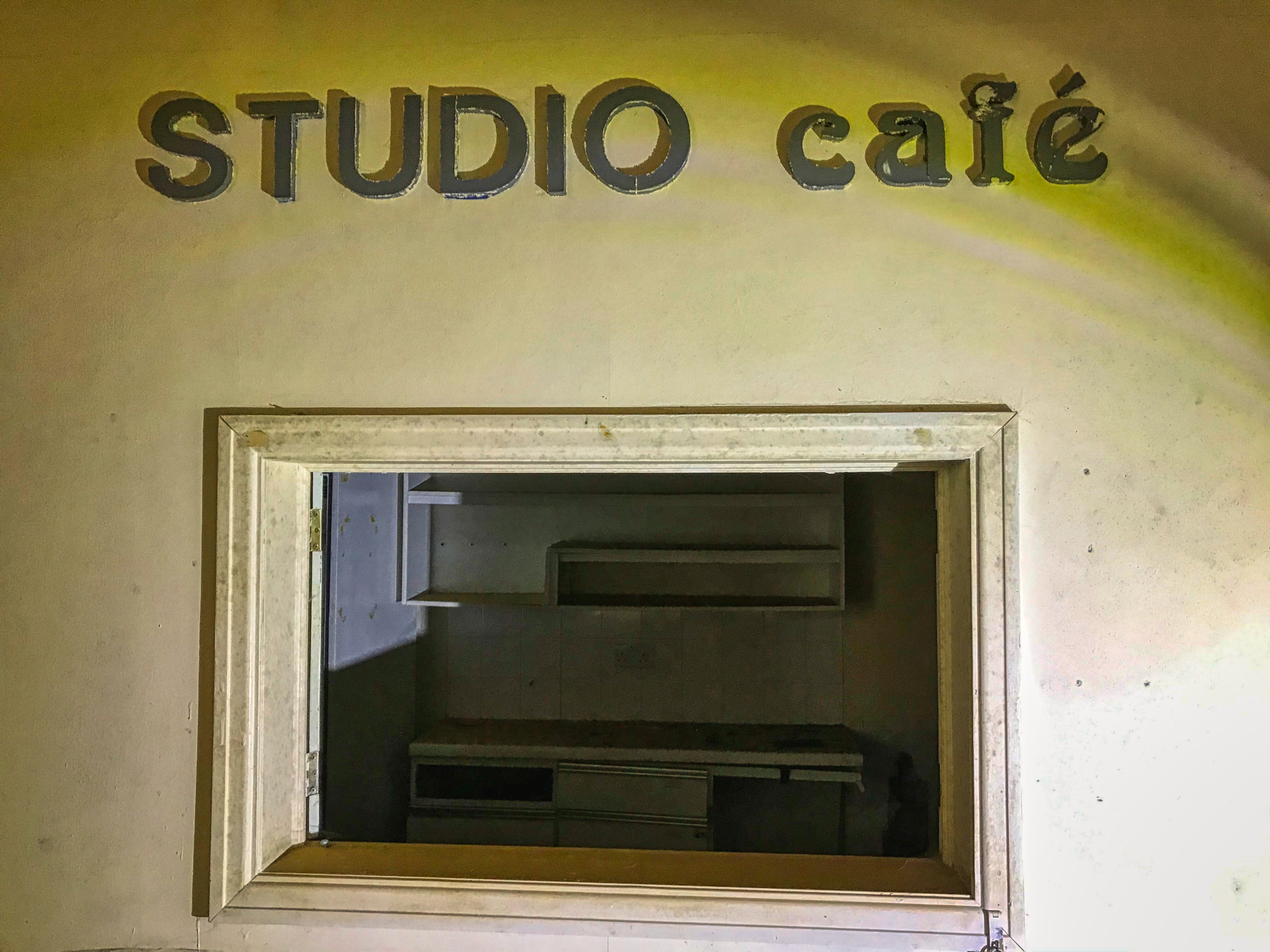 If this was a café then it was a small one. So High Elms was not an oversized manor house.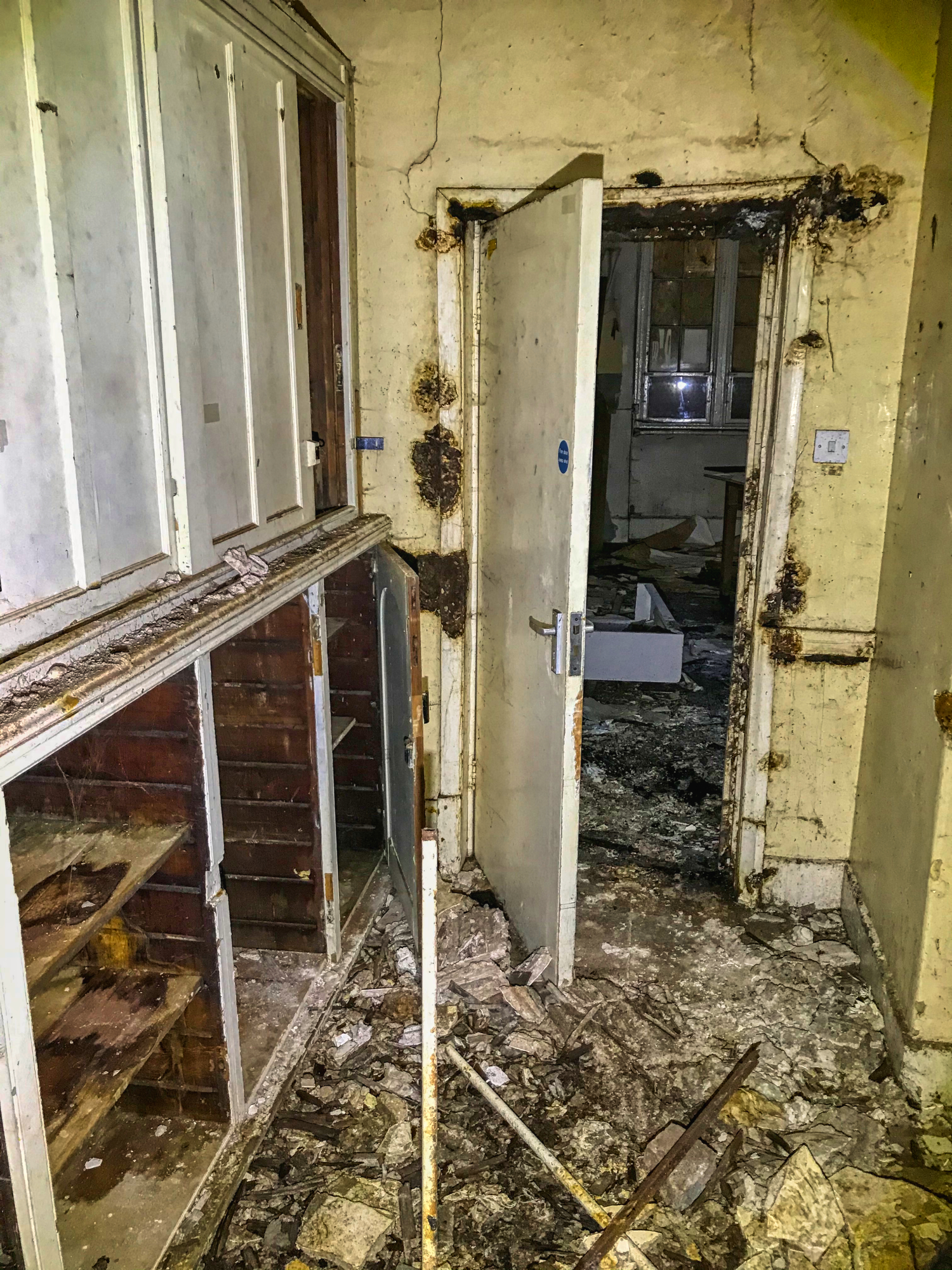 I think they may have been there for some time.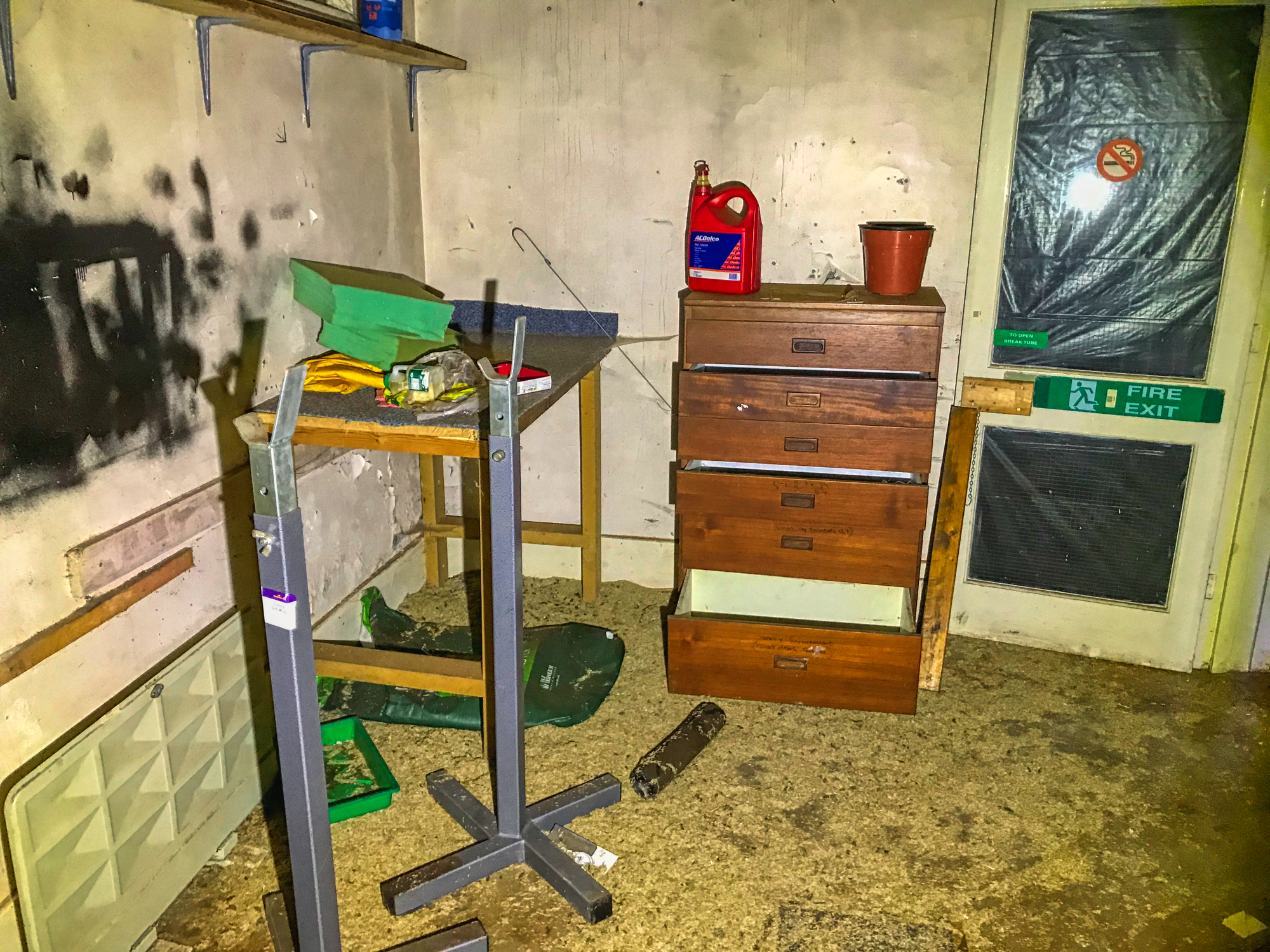 Sections of High Elms were significantly less damaged than others.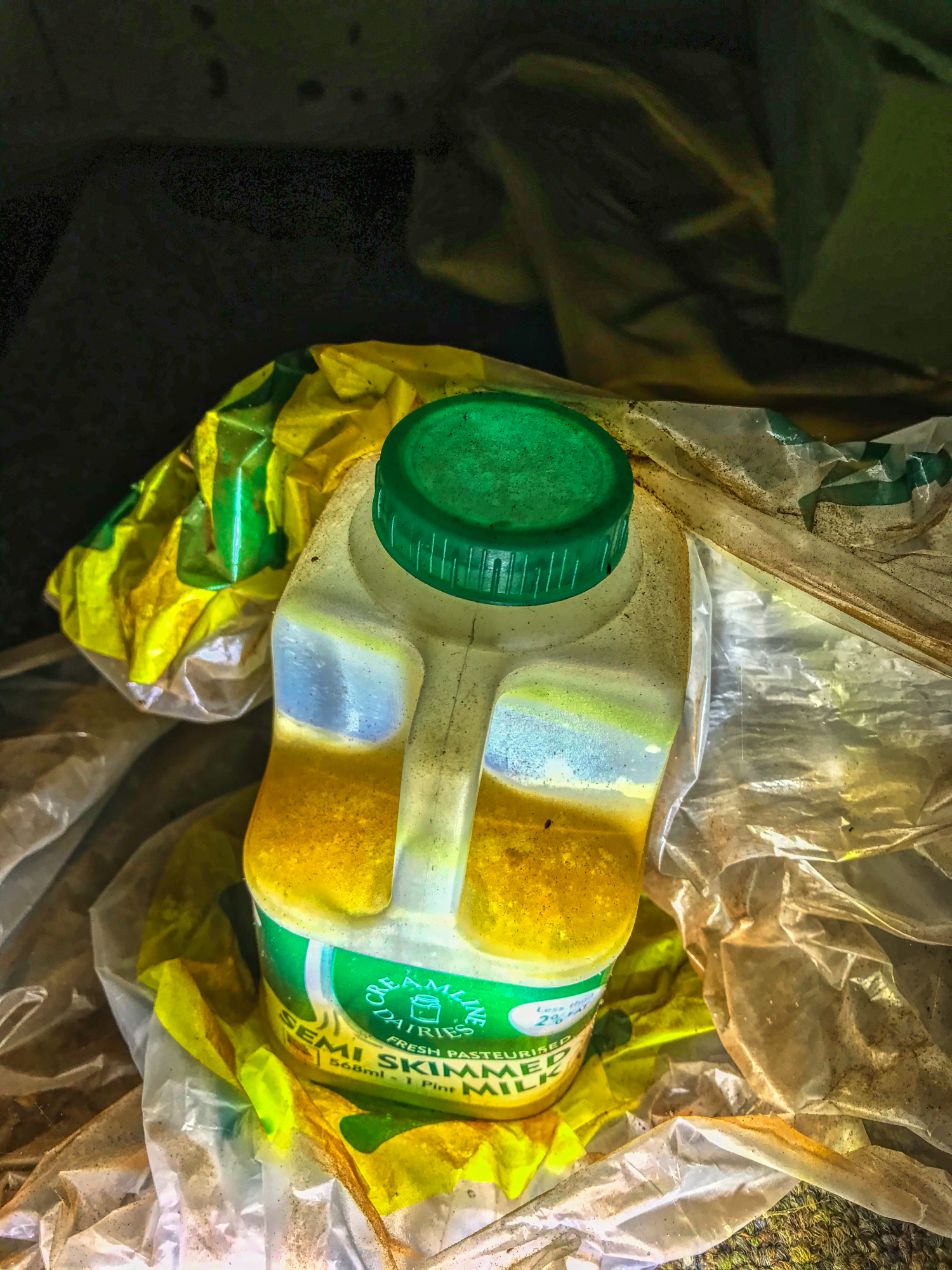 I was scared to even pick this up, never mind take a pull.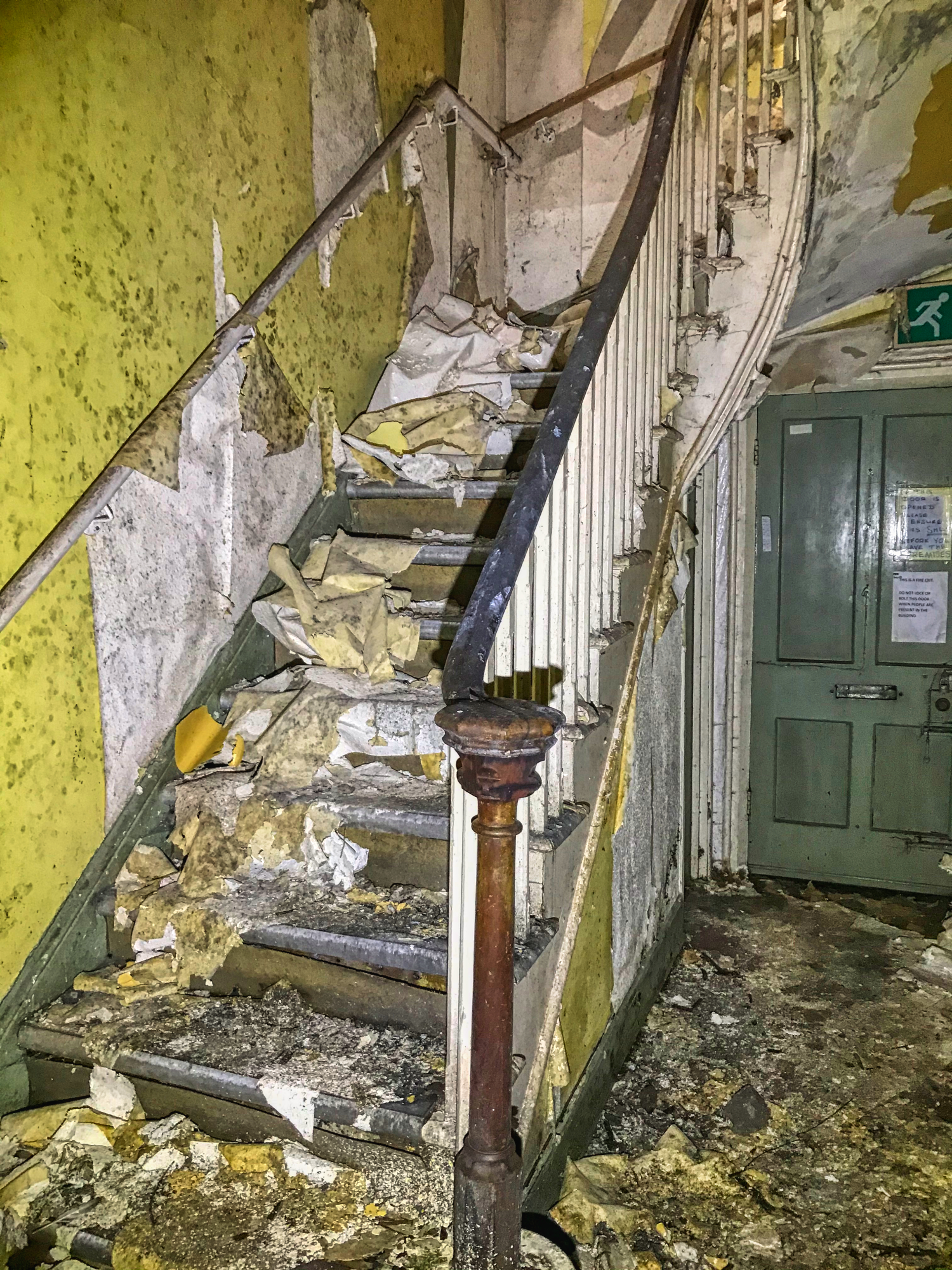 The banister is still attached, a sure sign of a vandal-free derp. You have to look at the positives.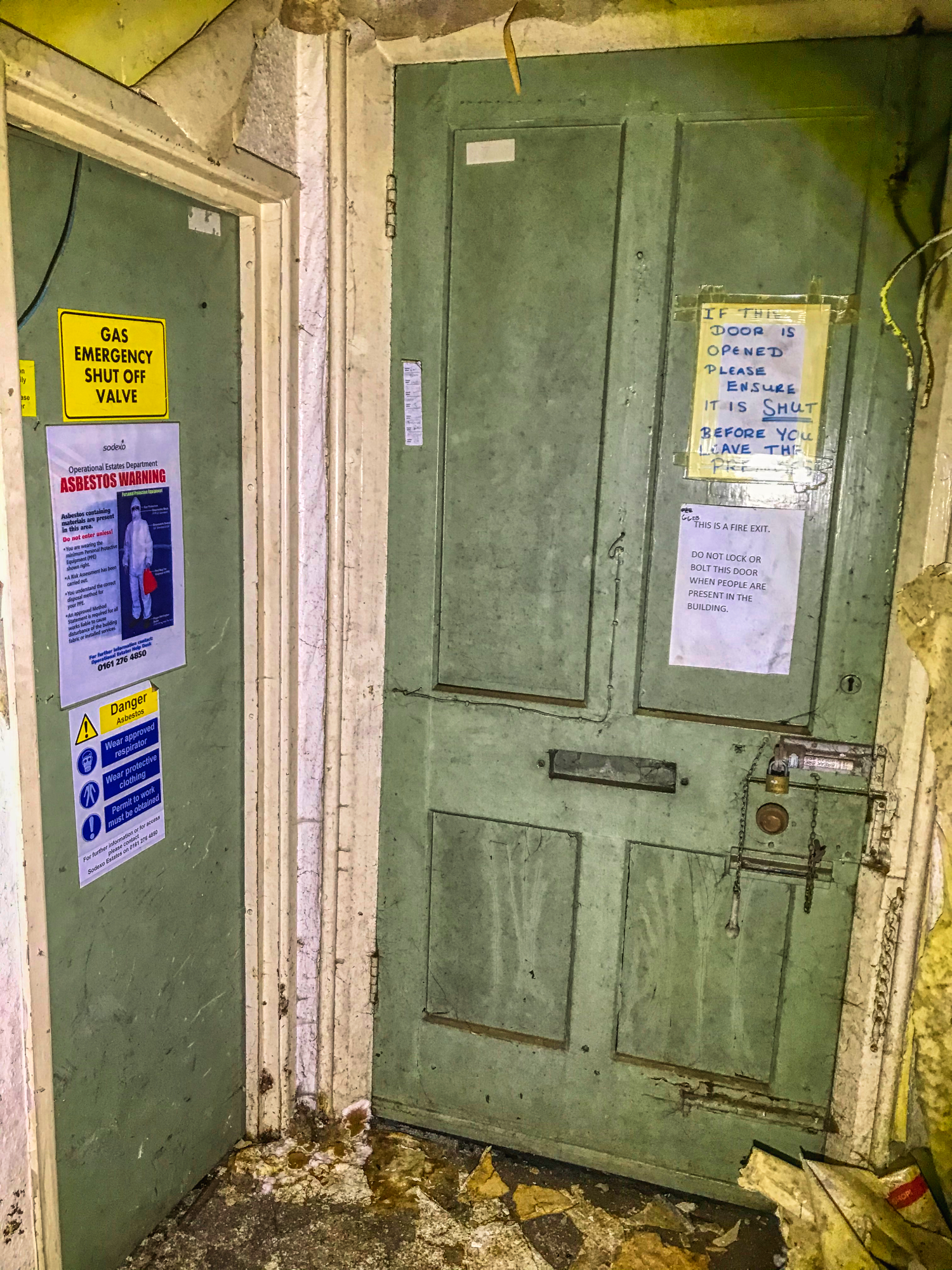 If I took any notice of asbestos signs then I would have to stop exploring. It's everywhere and the trick is to not disturb the dust.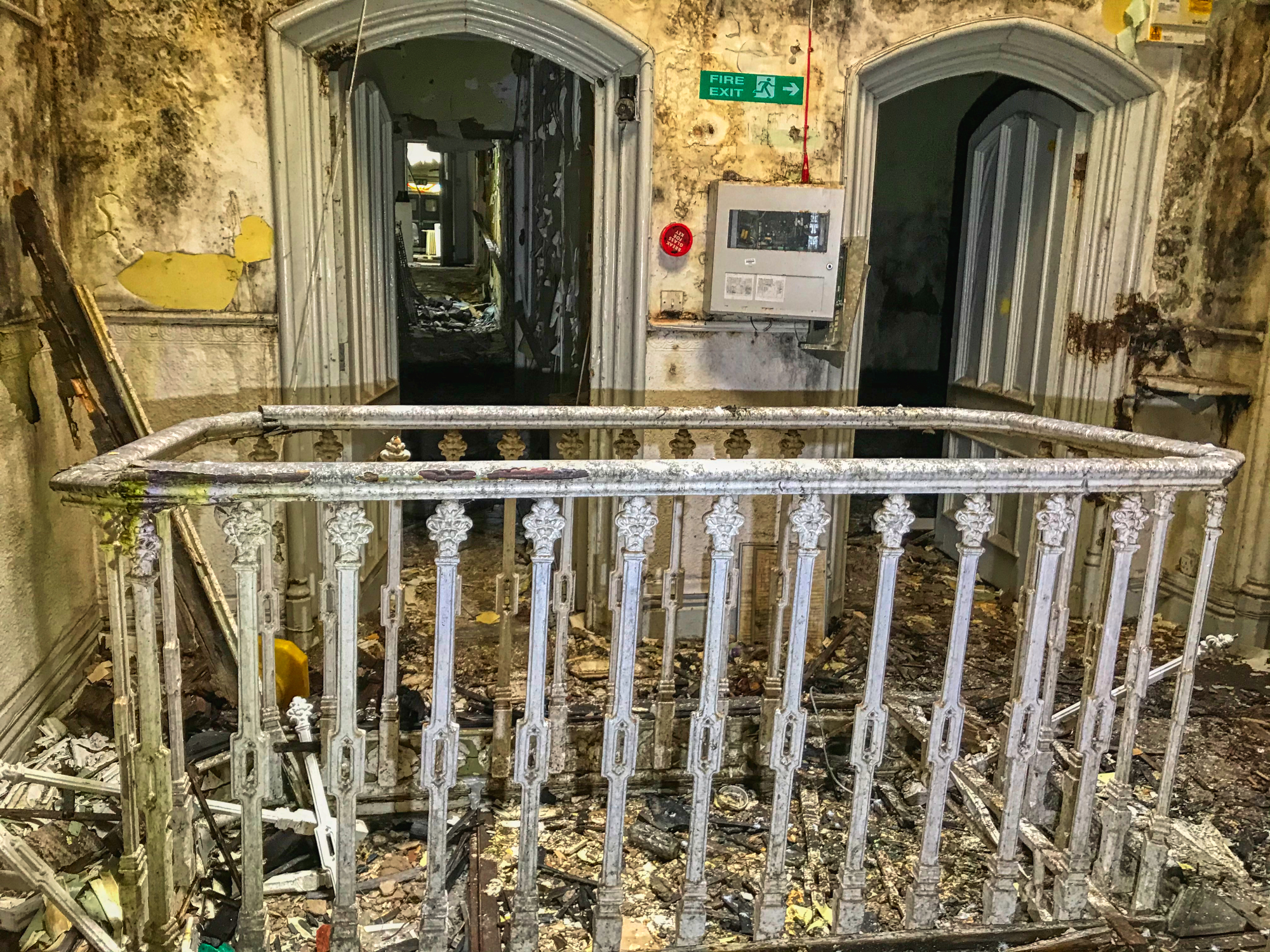 This is not what it appears to be and it took me a while to figure out just what had happened.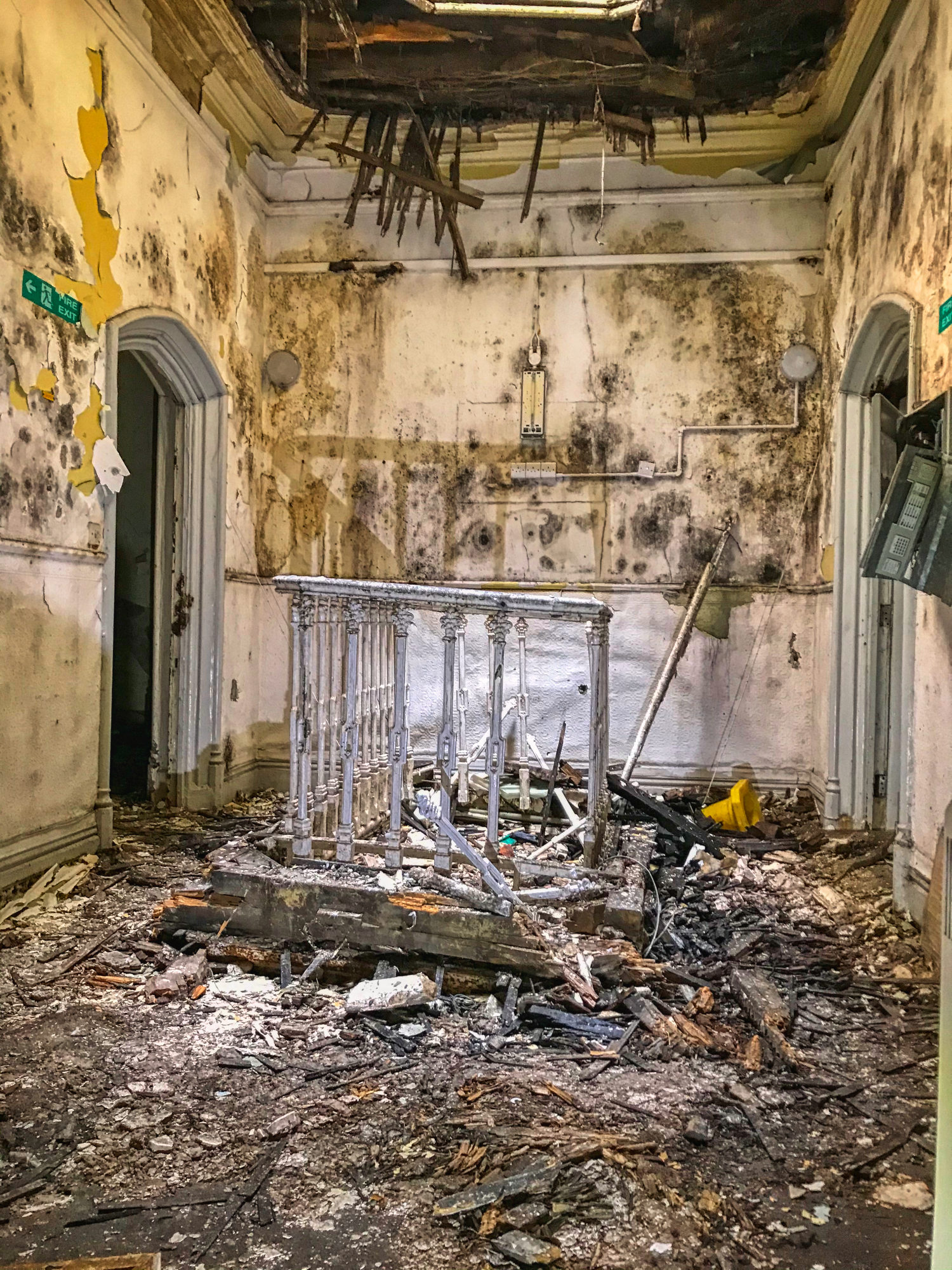 Look up...
.. and then look up a little farther. The damp must have been bad for this entire thing to collapse. It must have wakened the neighbours when it collapsed.
Edging around the fallen balcony I found what looked like an old bathroom that had seen better days but was very photogenic.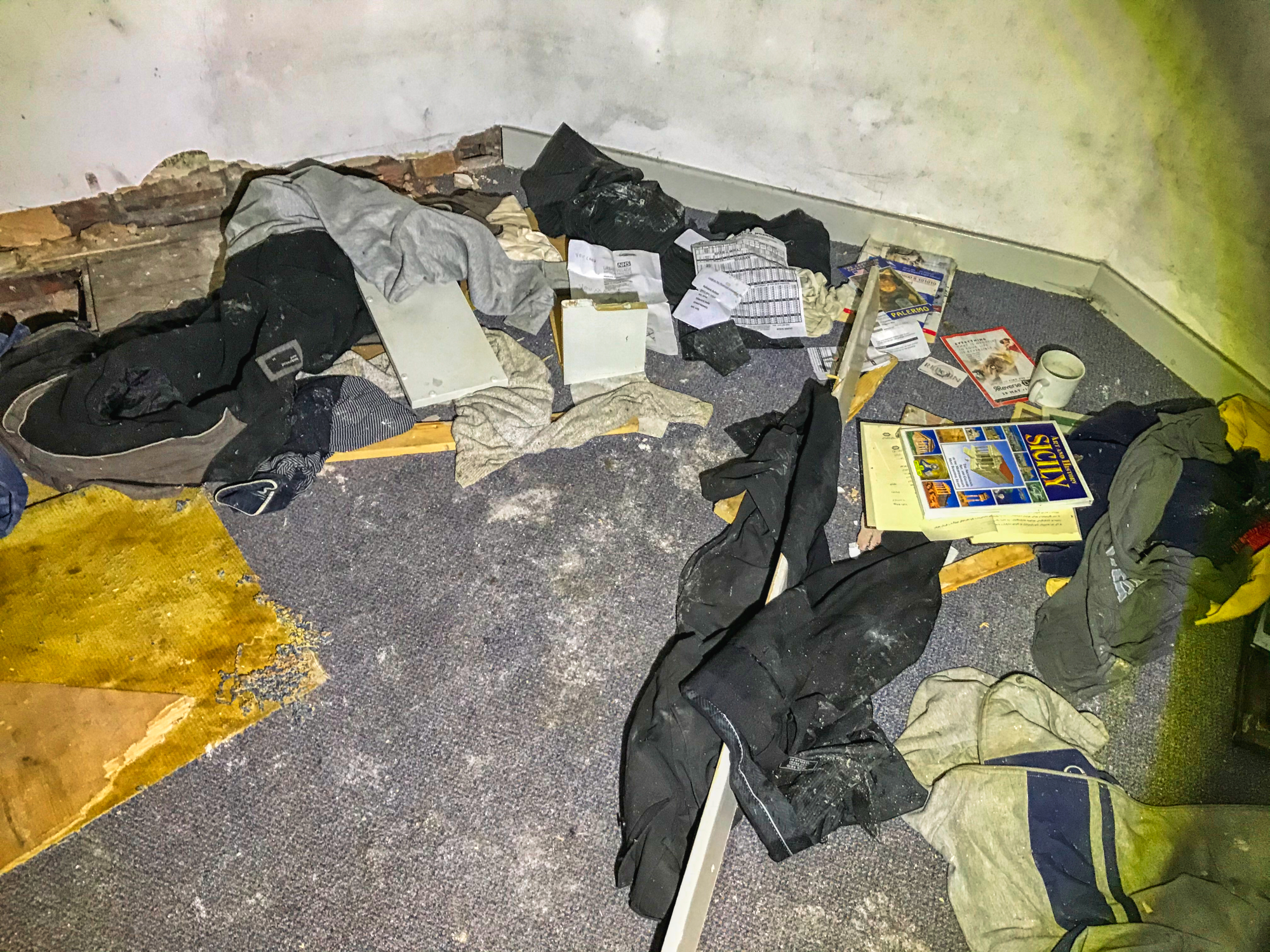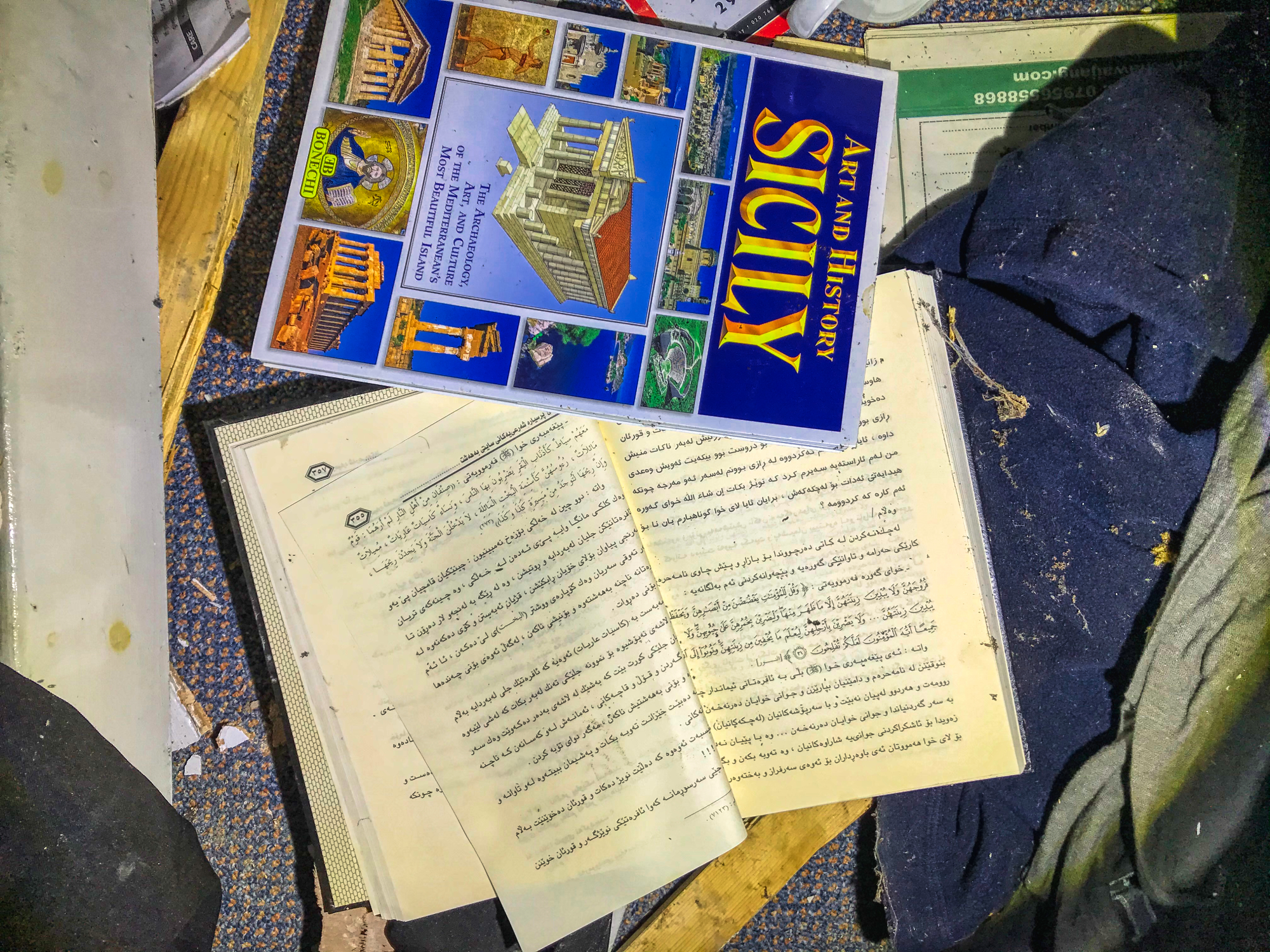 There's always someone living in these old wrecks and this was no exception. Rummaging around his belongings I figured this squatter was not a native and liked history.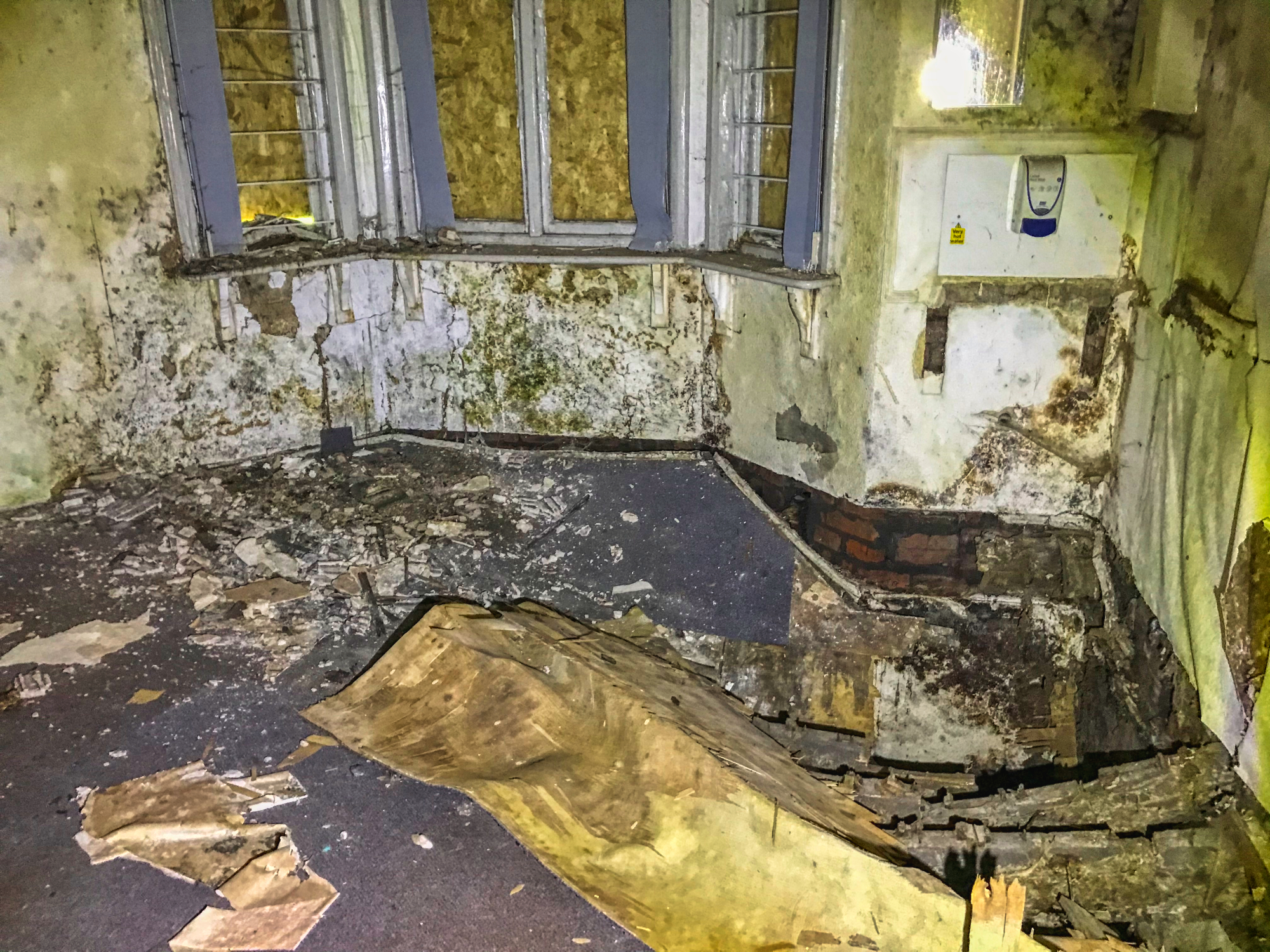 This area of the building was particularly treacherous. I needed the use of the COVID killer anti-bacterial liquid dispenser in the corner but that would have meant losing body parts.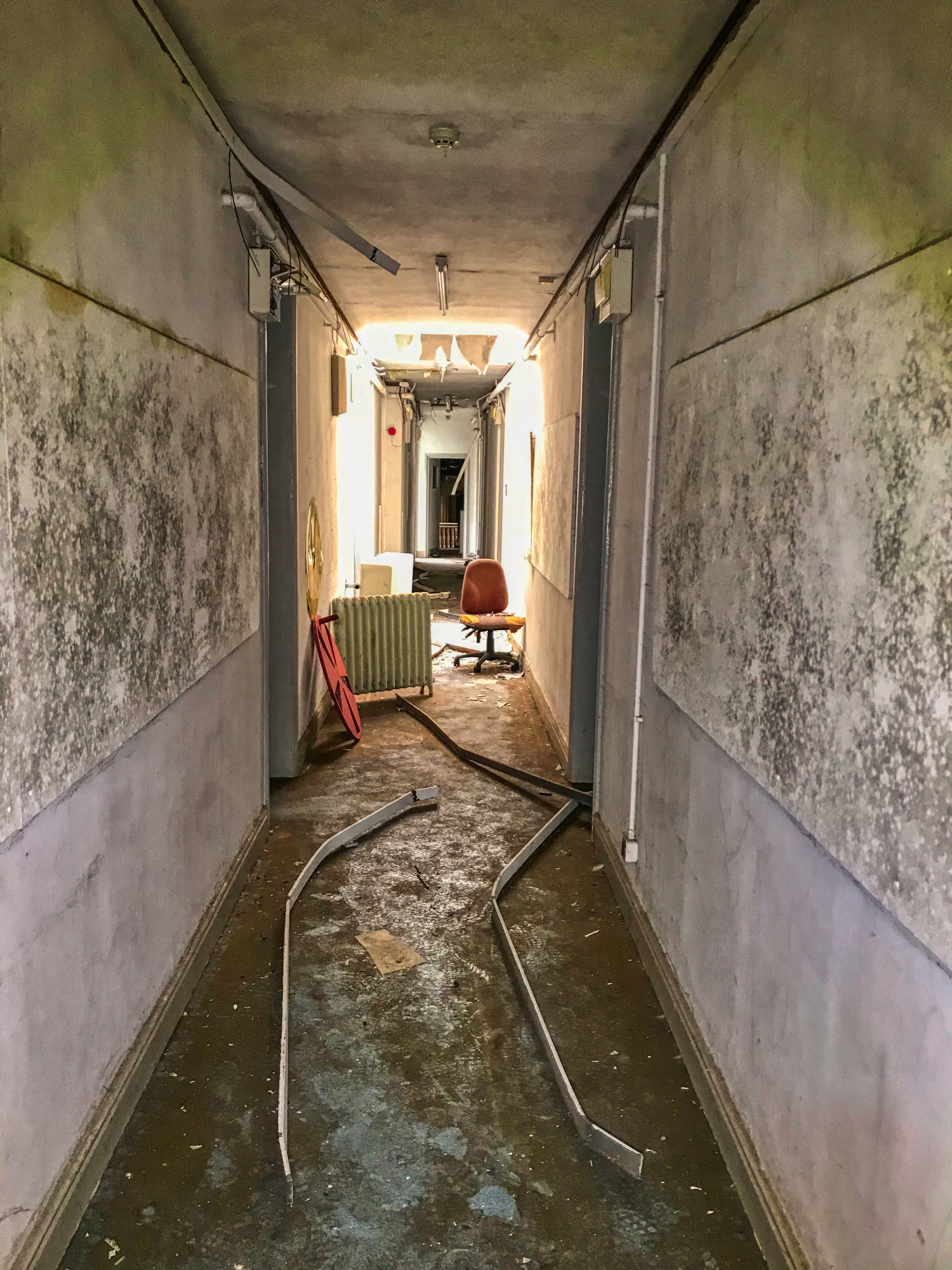 The long and creepy corridor is not so creepy when you have a partner accompanying you.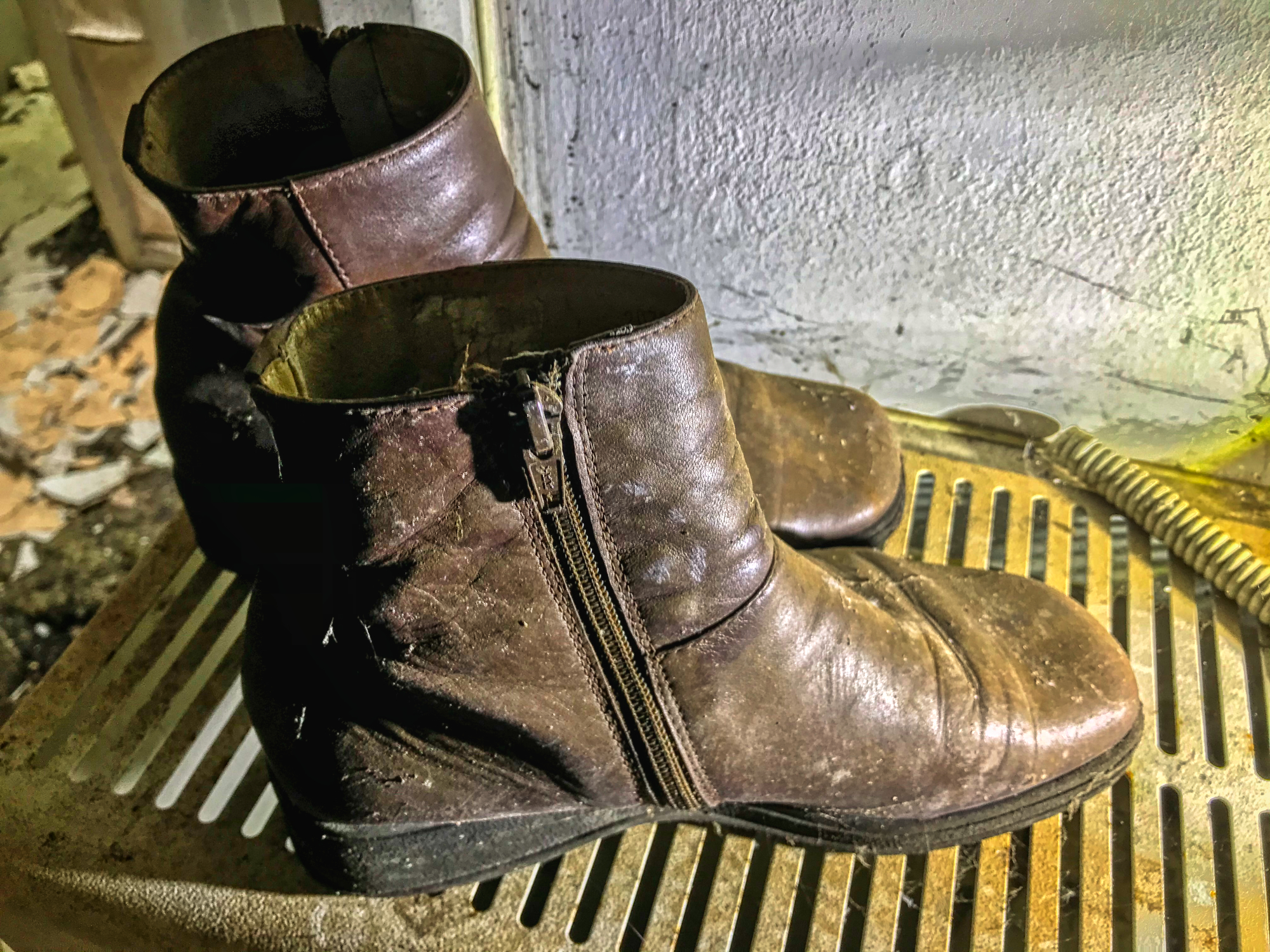 I would say those are perfectly serviceable if they are your size.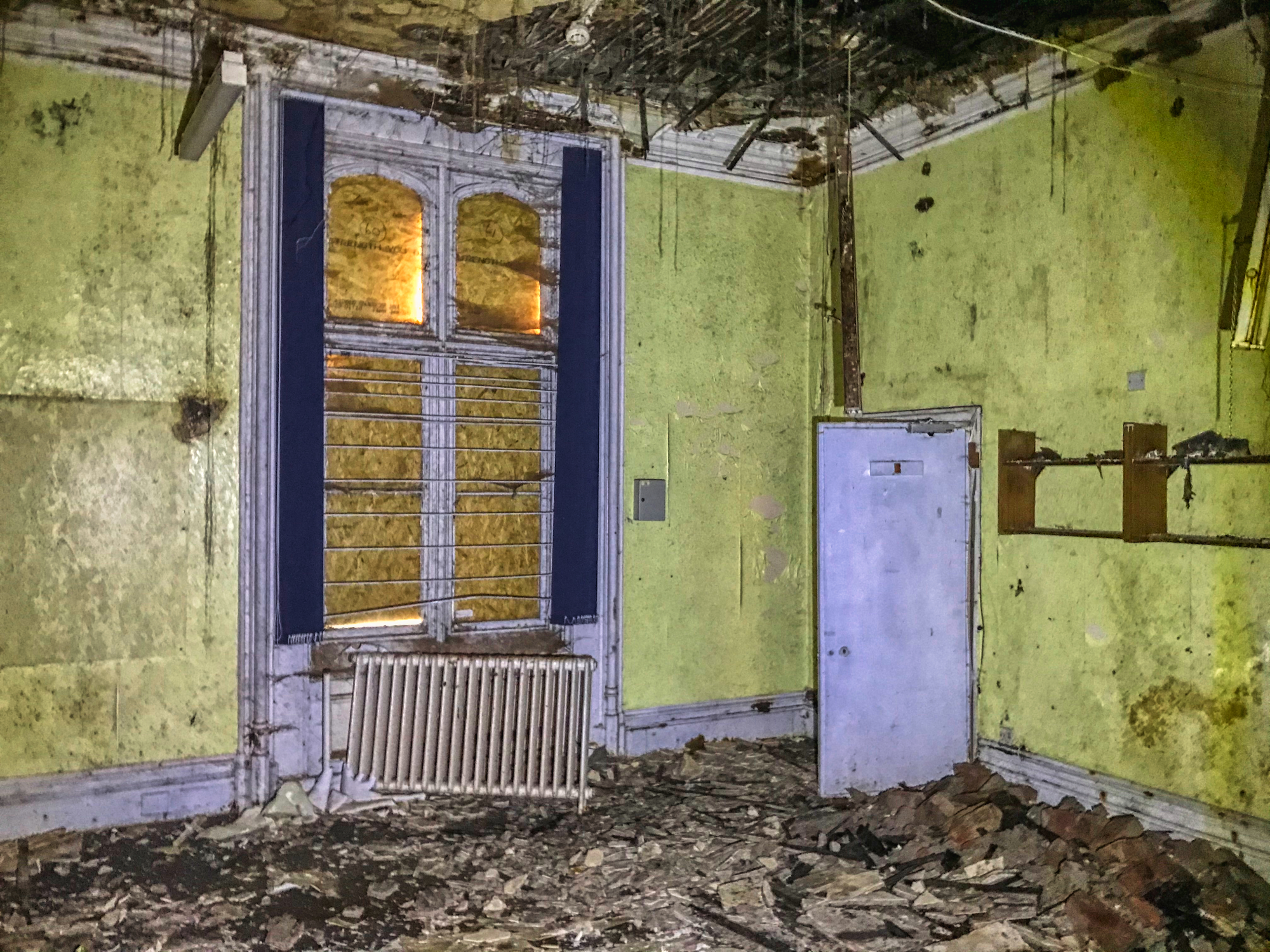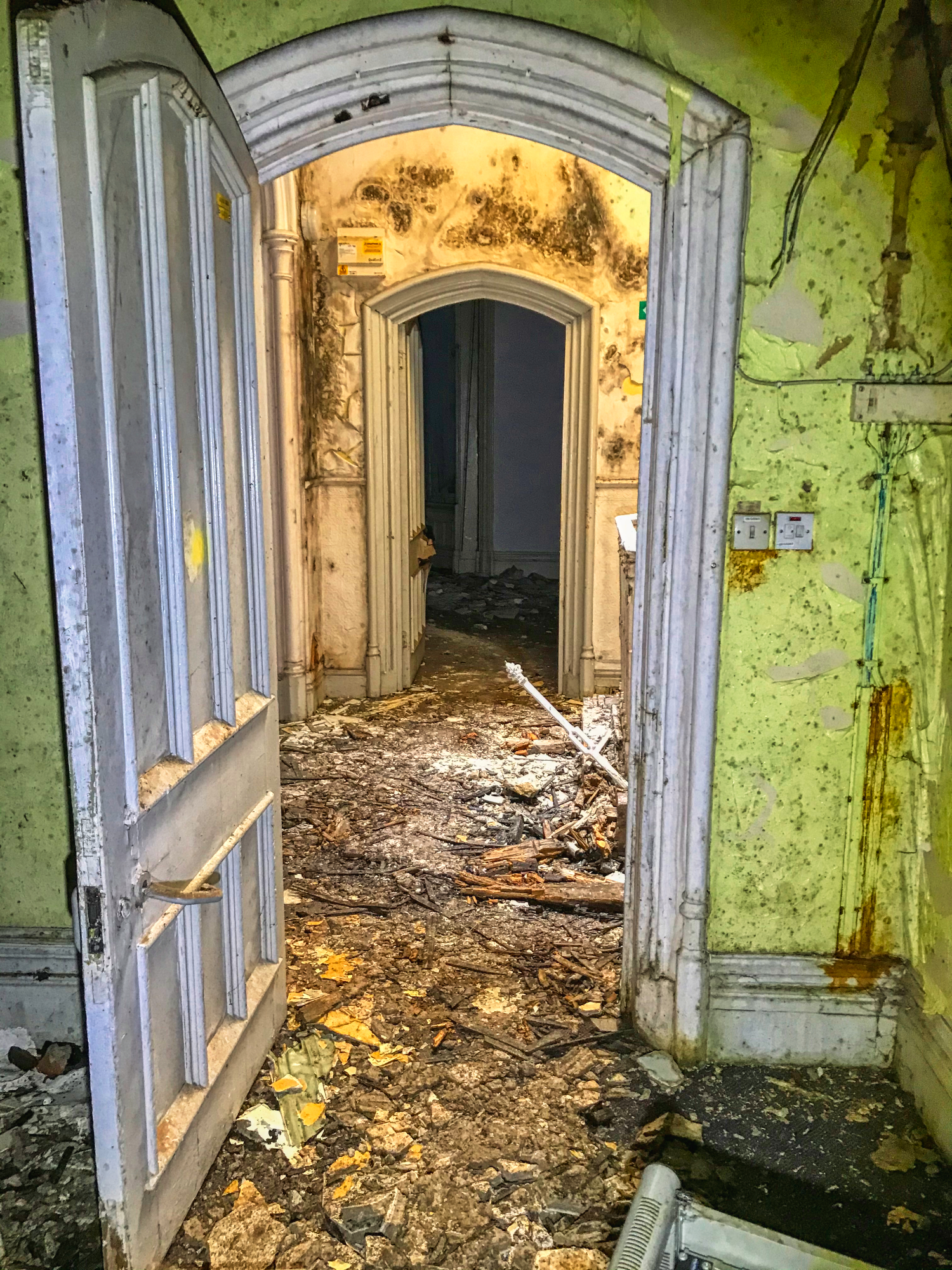 Most of High Elms looked like this; I try and find sights that are more unusual than this one.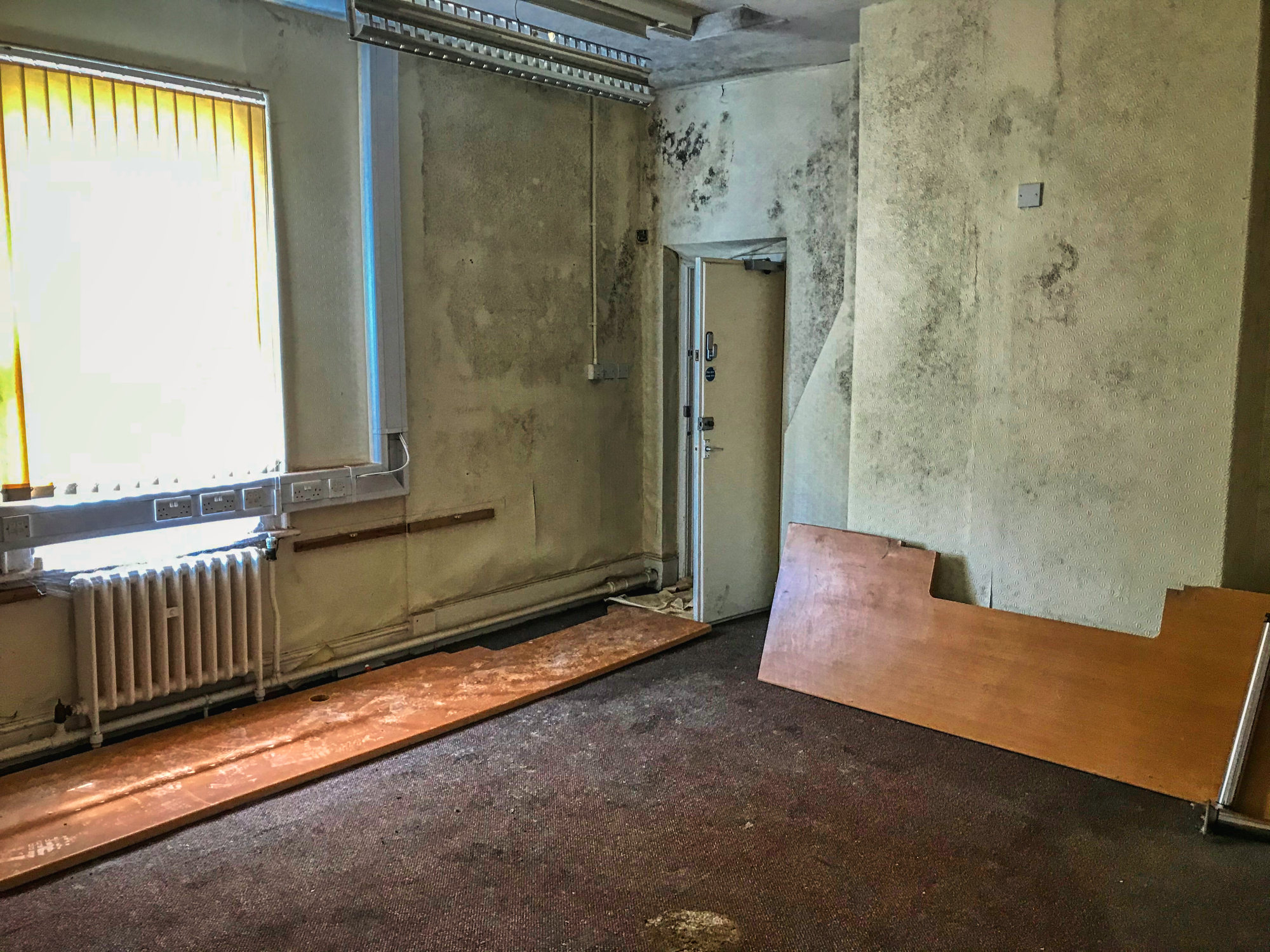 This one room was in much better condition than the parallel ones. It happened a few times during our visit.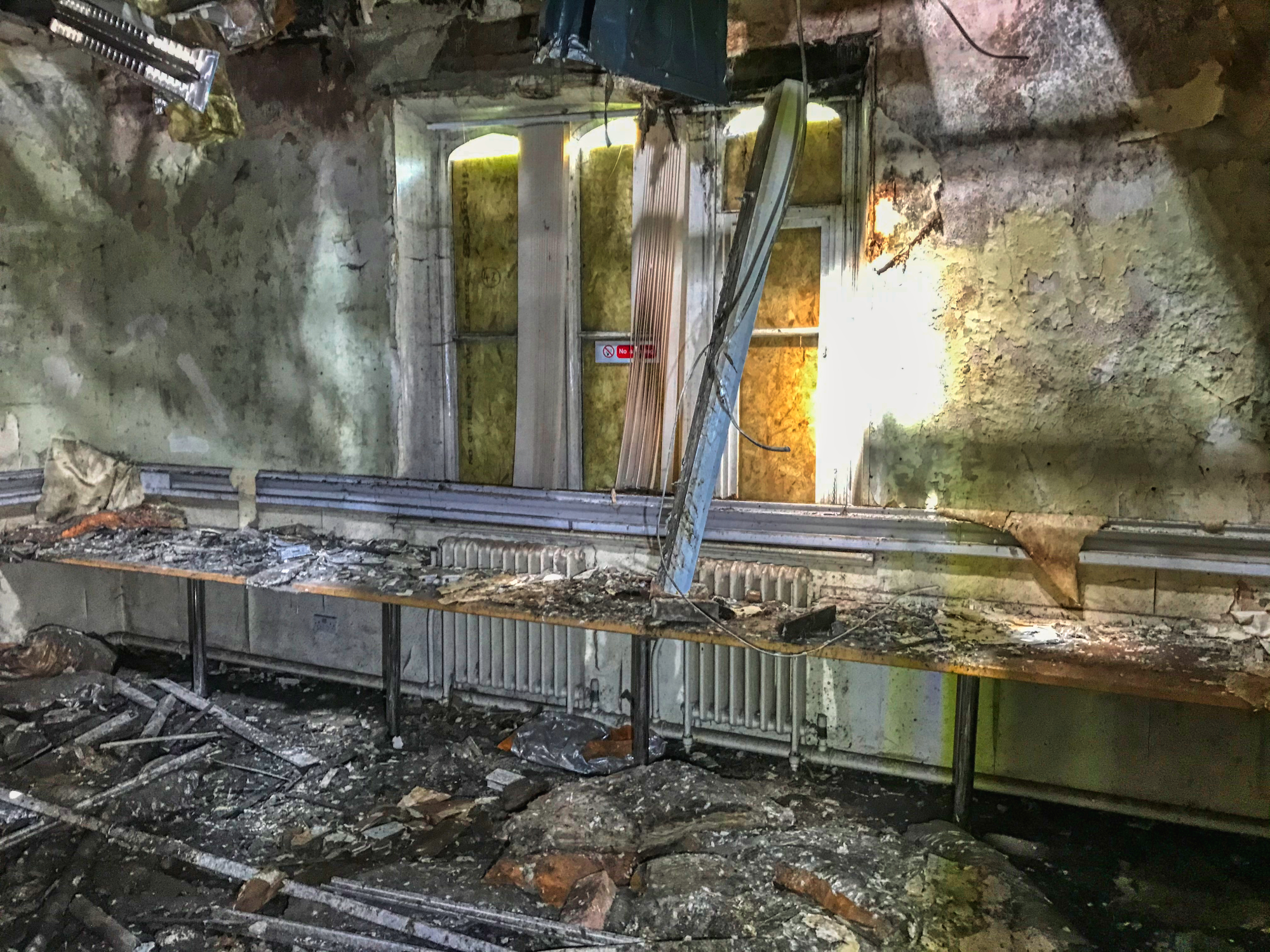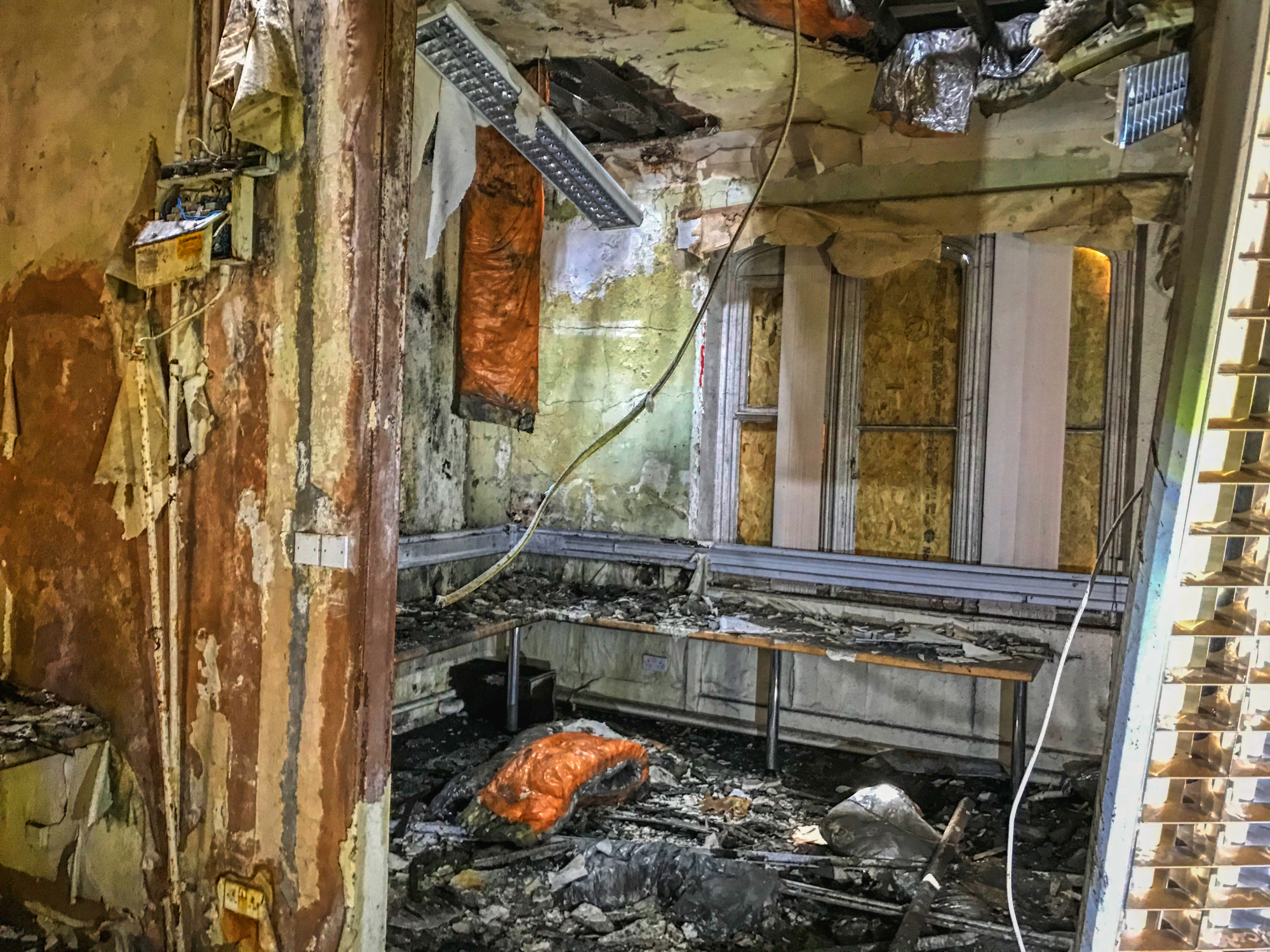 Was it some kind of school, they look like shelves or desks.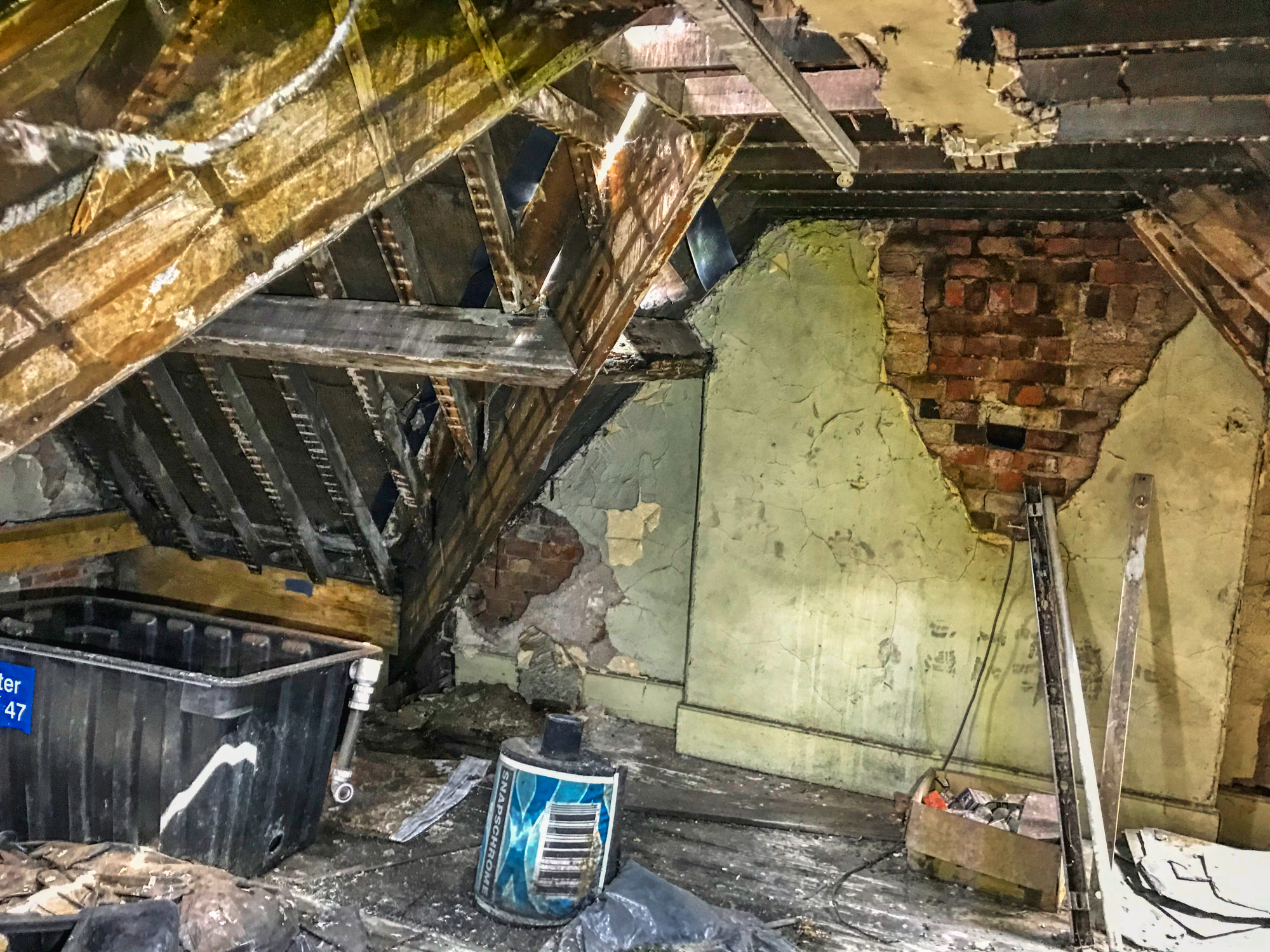 As we climbed up to the top floor it was getting worse. Roof hemorrhages are a common sight to me, if it's raining outside you can get wet.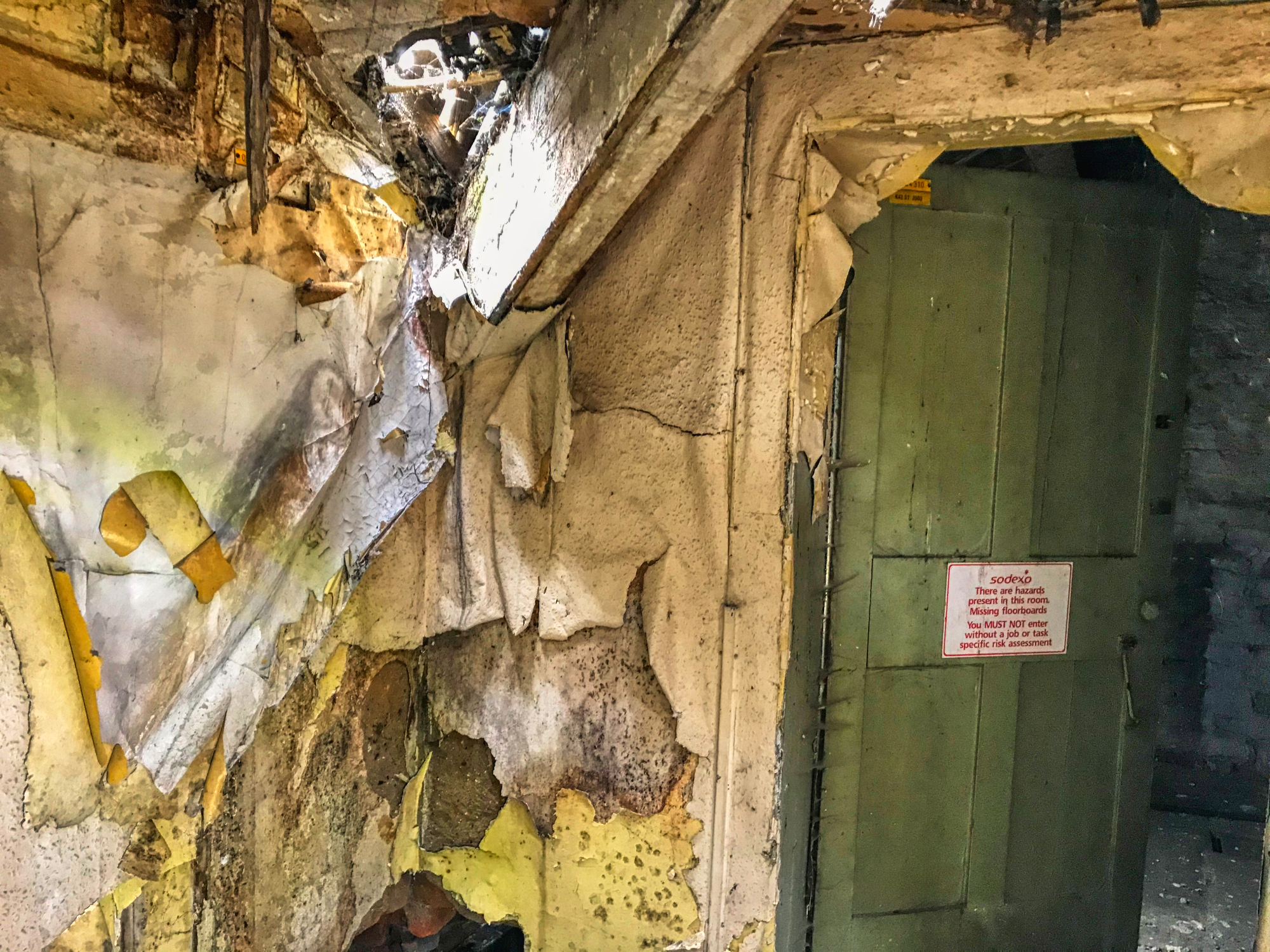 Do you think I kept out? Haha.. give me a break!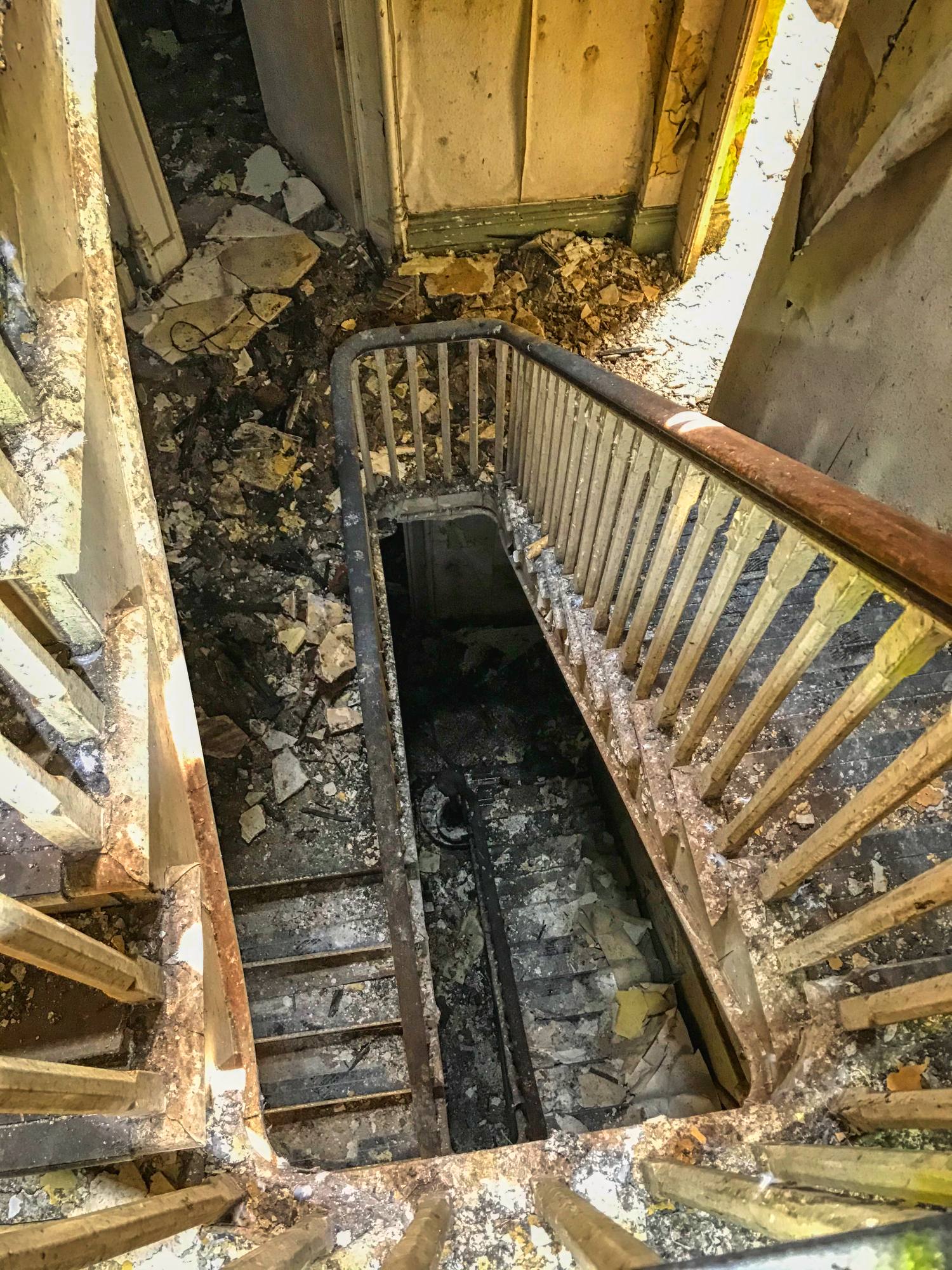 The stairs were miraculously solid albeit a little slippery and slimy at certain points.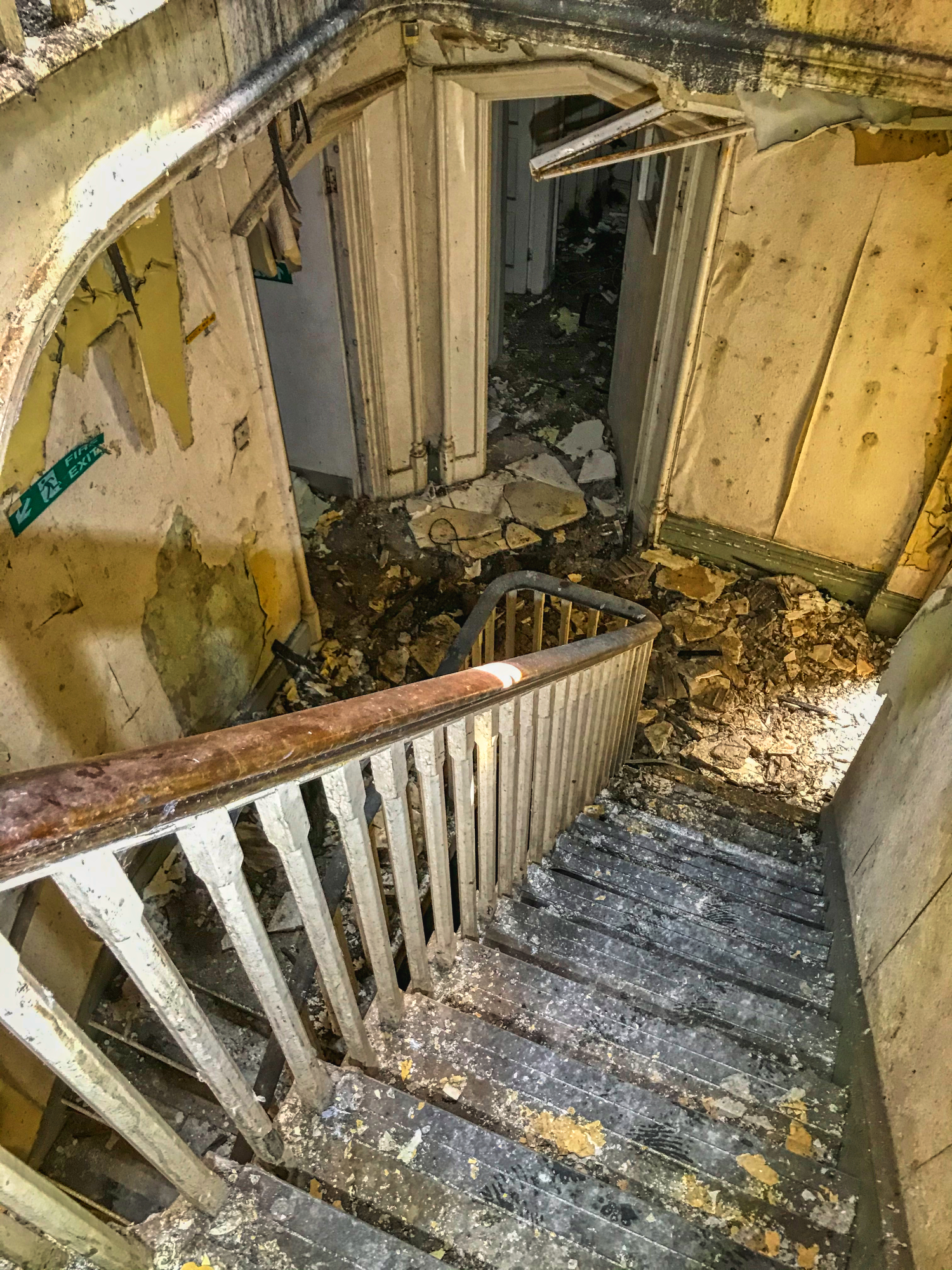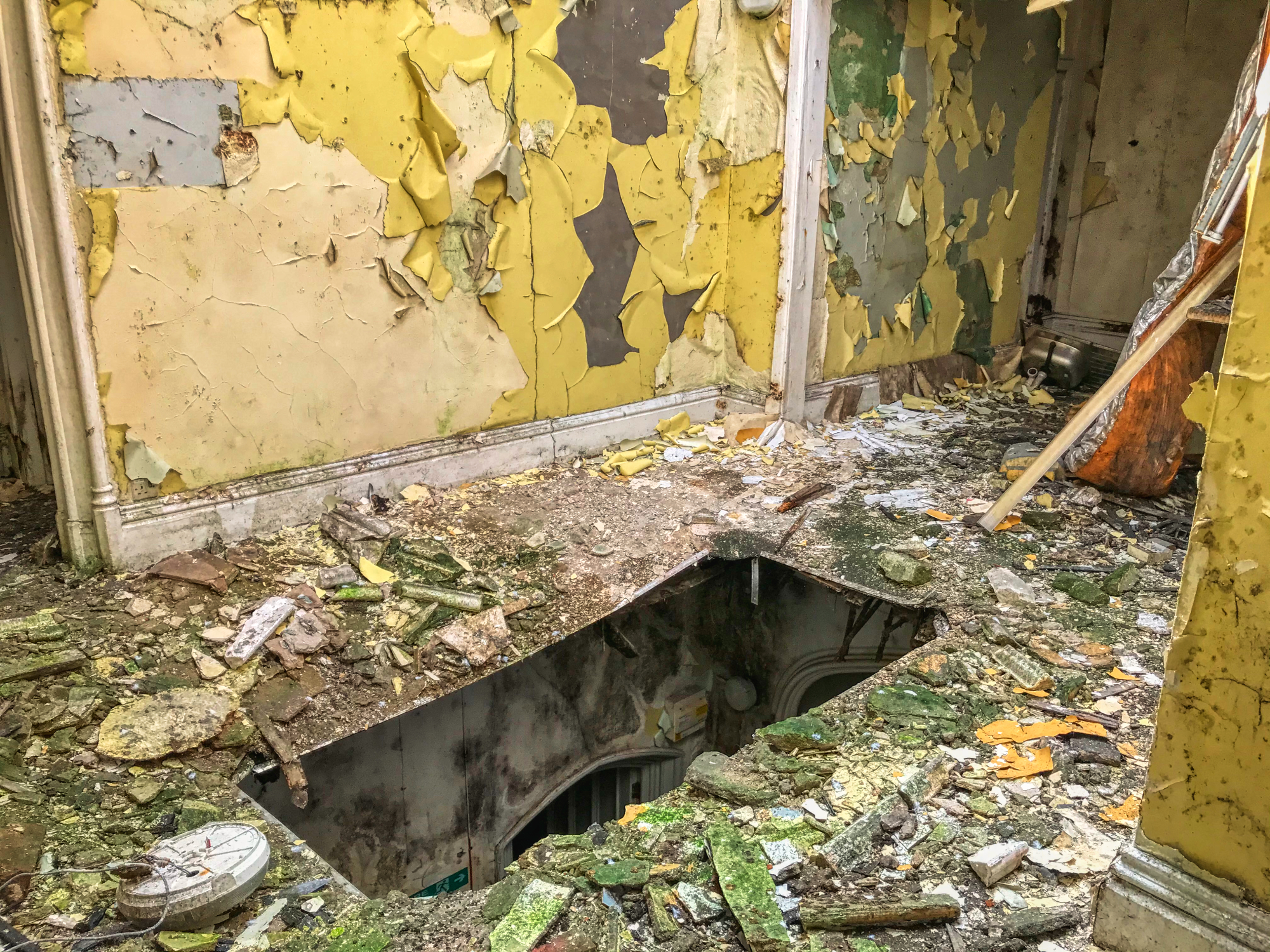 This is where the balcony collapsed leaving a very neat hole. The surrounding area was deadly as you might expect.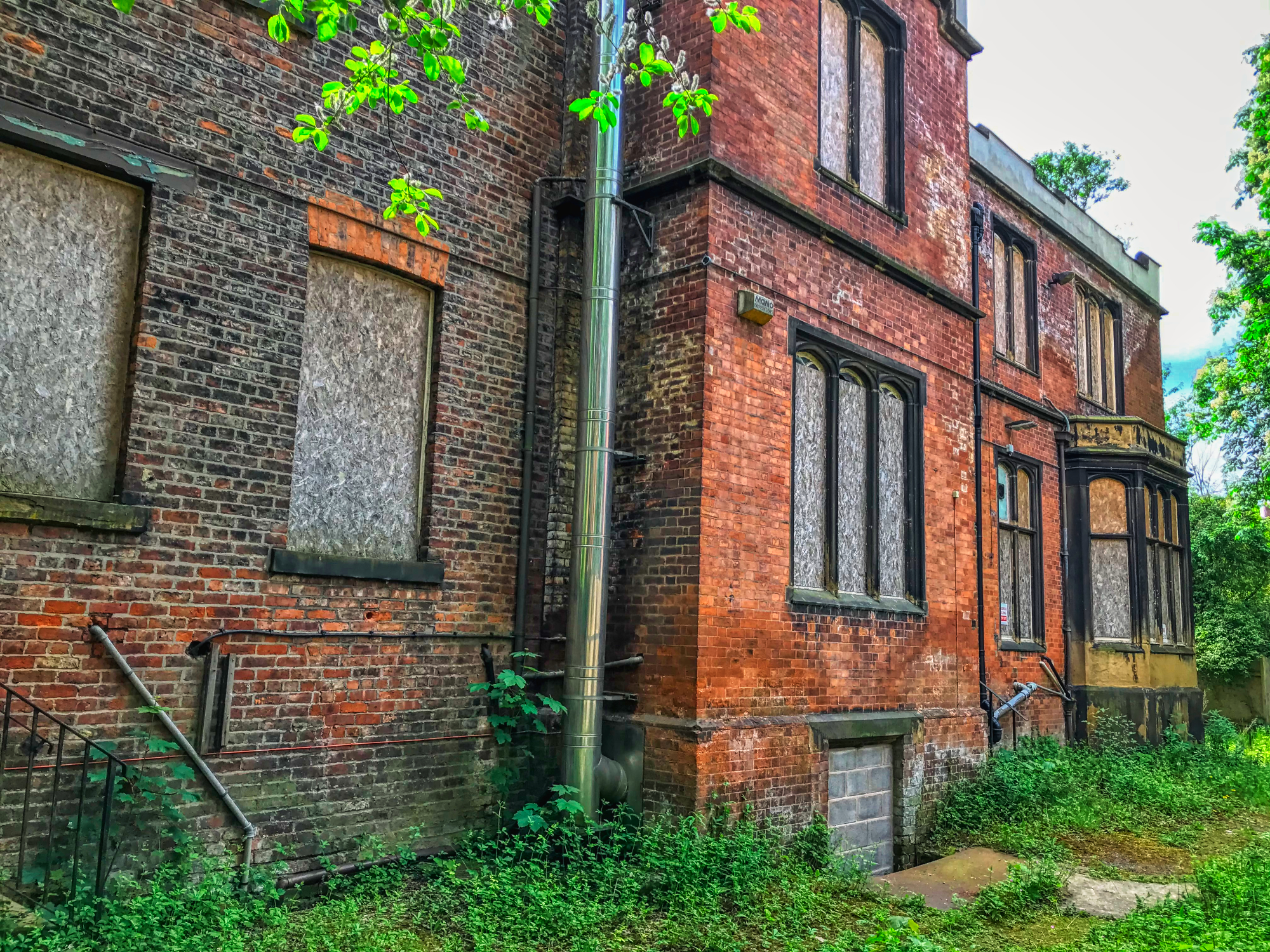 Exiting High Elms we walked around to the front noticing the 'label' attached to the property. Until now we had little idea of what we were exploring.
I recently saw a GoonTuber post of High Elms which was successful but entailed an extremely dangerous climb for access.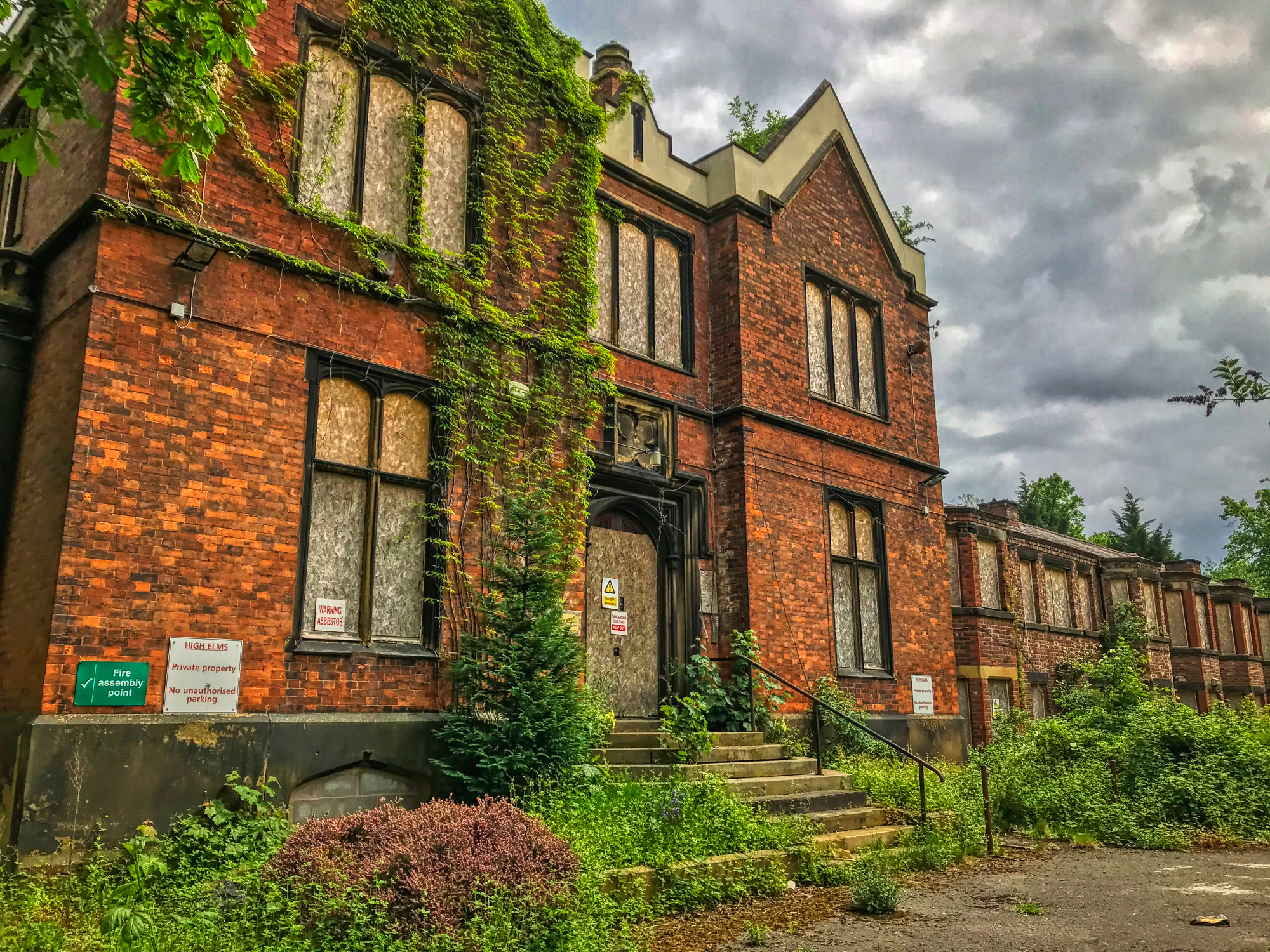 The property is now off-limits unless you are extremely determined or an expert climber.

Do you like posting your Urbex content and photography for FREE on Facebook and YouTube? I like to get some form of reward for my work and every time I create I do just that. Take a look at The Urbex Community on HIVE.
If you want to keep creating for FREE then ignore what you are reading. If you want to be like me and gain something other than BUGGER ALL for your work then click here and learn about posting on the HIVE blockchain.


All my 'Tales' content is easy to find on my personal website:
'Tales of the Urban Explorer'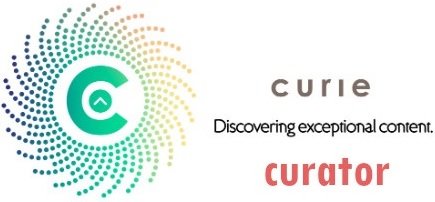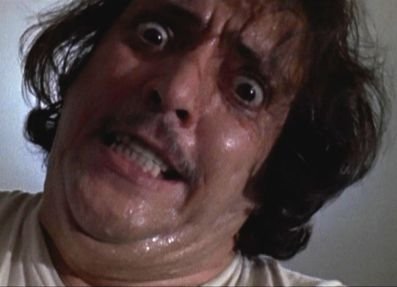 If you found this article so invigorating that you are now a positively googly-eyed, drooling lunatic with dripping saliva or even if you liked it just a bit, then please upvote, comment, rehive, engage me or all of these things.
---
---